If you're exploring the world of air fryer cooking and love the earthy taste of broccoli, these 29 delectable recipes won't disappoint.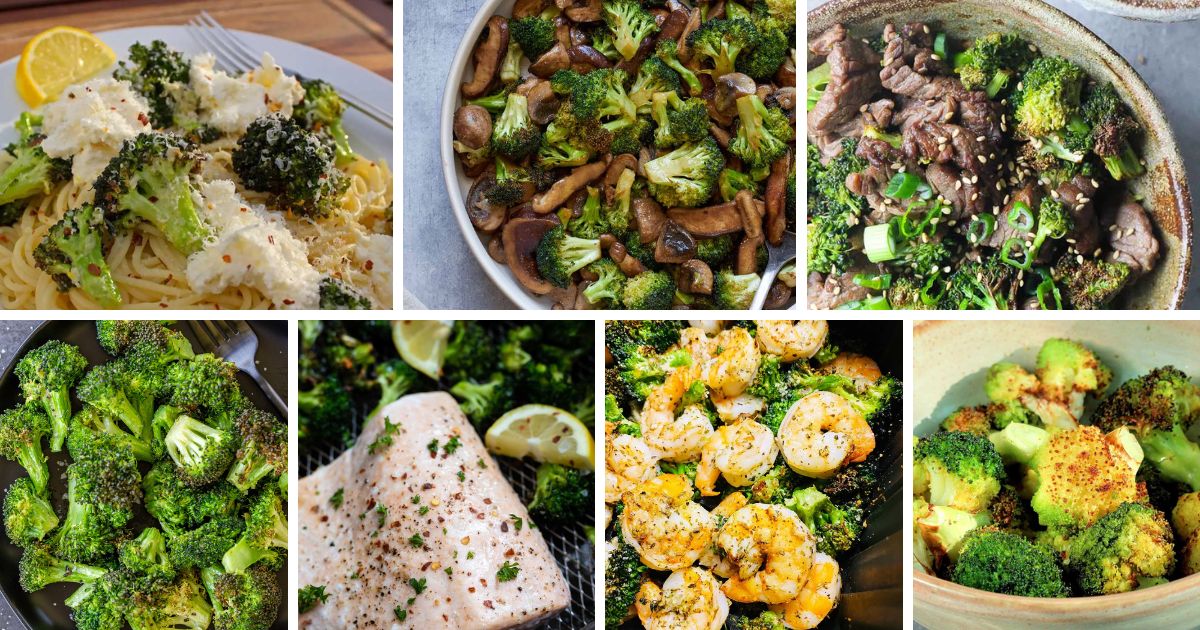 From crispy broccoli florets seasoned with aromatic garlic powder and tossed in heart-healthy olive oil to zesty parmesan cheese-topped creations, these recipes offer a tantalizing array of flavors and textures.
If you're an enthusiast of guilt-free side dishes or protein-packed main courses, air fryer broccoli recipes have you covered. These meals offer the perfect blend of crispiness and tenderness as your broccoli transforms into a delightful treat.
Incorporating these fiber-rich veggies into your meals not only adds vibrant color but also essential vitamins and minerals like vitamin C, potassium, and calcium. Prepare to save time and shake up your routine with these 29 delicious and nutritious air fryer broccoli recipes.
Contents
Air fryer broccoli delivers quick and crispy results in just 10 minutes, making it an ideal dish. Enhance it further by adding freshly grated parmesan cheese for a cheesy, flavorful twist.
This recipe is a revelation of crispy, garlicky, cheesy goodness prepared in minutes. Serve with tricolore salad, herby halloumi lentil salad or this green olive salad for a hearty breakfast.
Did you freeze your broccoli? No problem! This technique still ensures a soft center with crispiness on the outside. Add fresh lemon juice before serving for a "whole lotta yum!"
Air fryer broccoli comes alive with a mouthwatering garlic seasoning and crispy parmesan. Enjoy these low-carb bites as a delectable side dish or even a delicious snack for you and your kids.
This efficient and delicious air fryer recipe keeps your kitchen cool while delivering satisfying flavors and textures. Add olive oil, garlic powder, sea salt, paprika, and black pepper for an exquisite taste.
Take your broccoli out of the fridge because we found a guilt-free snack! With just 1 Weight Watchers point each, these bites offer a satisfying and nutritious snack, lunch, or appetizer.
Looking to minimize prep time while maintaining taste and nutritional values? Try this low carbohydrates meal that complements various mains like air fryer chicken legs, roasted potatoes, or spicy rice.
This broccoli transcends nutritional benefits, becoming an unparalleled taste sensation that works perfectly as a family dinner side dish for hearty vegan meals.
These bites are satisfyingly delicious, boasting a unique air-fried touch. Air Fryer Broccoli Cheese Bites redefine appetizers with their crispy exterior and cheesy interior, paired perfectly with a flavorful dipping sauce.
Crafting this recipe is simpler than it appears, resulting in a delicious outcome. Serve this exquisite dish over couscous with greens or alongside roasted potatoes, rice, or quinoa for a complete meal.
Whip up a speedy and healthful treat with this crispy air fryer beef and broccoli, bursting with Asian flair. Reduce your cooking time with a wholesome twist to your typical takeout dinner.
Looking for a delightful side or appetizer? Try this recipe and improve your veggie game with this crispy treat, paired perfectly with our authentic Chinese garlic sauce that your kids will love.
This recipe offers a quick and healthy solution for adding an Asian twist to your meal. This gluten-free, low-carb delight with a zesty dressing is perfect as an appetizer.
If you're counting your calories, this recipe provides a scrumptious way to infuse flavors into your dinner. This gluten-free and low-carb option, enhanced with zesty dressing is perfect for a side or appetizer.
In the mood to work out today? Try this speedy, colorful, and nutritious recipe that offers a low-carb, vegetarian side dish or main course.
If you love shrimp, this recipe is a must-try. By tossing them with olive oil, kosher salt, pepper, Italian seasoning, parmesan cheese, and garlic paste, you unlock a medley of savory delights.
This dish showcases the natural goodness of broccoli with minimal effort. Tossed with fresh lemon juice, oil, garlic, salt, and pepper, the broccoli achieves a perfect balance of flavors in 7-10 minutes.
These vegan, gluten-free, and dairy-free broccoli tots are a fantastic way to incorporate more veggies into your meals. With just 5 simple ingredients and 30 minutes, enjoy these tots filled with nutritious goodness.
Are you planning to have a picnic with the kids? This delicious side dish combines creamy cheese with nutritious broccoli for a fun, scrumptious, and nutritious meal that your family will love.
Air fryer lovers and keto followers will adore this bacon and broccoli dish! This decadent, slightly sweet broccoli, is a winning combo for salty bacon every time - a must-try for air fryer cuisine enthusiasts.
In the mood for some mouthwatering delights that deliver crunchy, tender, and flavorful broccoli? Try this recipe as a side dish with the perfect balance of tanginess and sweetness from balsamic vinegar.
This easy recipe creates crisp-tender broccoli florets with frizzled edges, enhanced by grated Pecorino Romano cheese. Add a touch of lemon zest for a pungent twist, making each bite truly irresistible.
Coated with a touch of olive oil and zesty seasoning, these perfectly air-fried broccoli florets make for a satisfying snack. Try it for a nutritious side dish bursting with texture and taste.
Looking to serve a complete meal in just 15 minutes? These juicy pork chops are perfectly seasoned, achieving a delightful taste and tender texture for a satisfying and speedy dinner.
Cooked to perfection, this meal is packed with wholesome ingredients like broccoli slaw, mushrooms, and water chestnuts. Serve it with spicy chili crisp for an extra kick, offering a new level of yum.
The combination of fresh broccoli florets along with invigorating seasoning creates a balance of flavors with the perfect smokiness. You can add a touch of cooking spray for more crispiness, perfect for any event.
Combining the ease of air frying with the richness of homemade ricotta, this dish will impress and captivate your palate. Spritz with fresh lemon juice for an amazing burst of flavor.
Gather your ingredients, including baby Bella mushrooms for their robust flavor, shiitake mushrooms for depth, and vibrant broccoli florets. Complement them with coconut amino or soy sauce for umami richness.
📋 Recipe
Frequently Asked Questions