Sweet, tart, tender, and juicy, peaches are delicious. So when the peach season comes in late summer through early fall, you must make the most of it!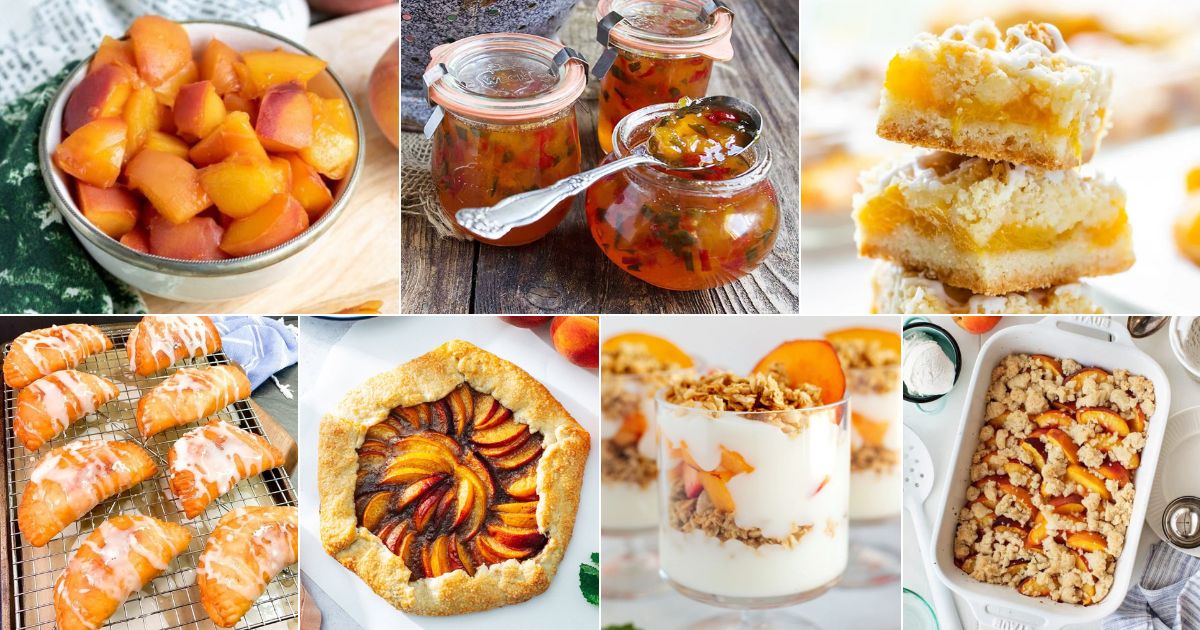 Savor the ambrosial and juicy flavors with these 11 recipes for a lot of peaches! Whether you're looking for a quick and easy dessert, a savory appetizer, or a refreshing drink, there's something here to please every peach craving. So let's get cooking!
Contents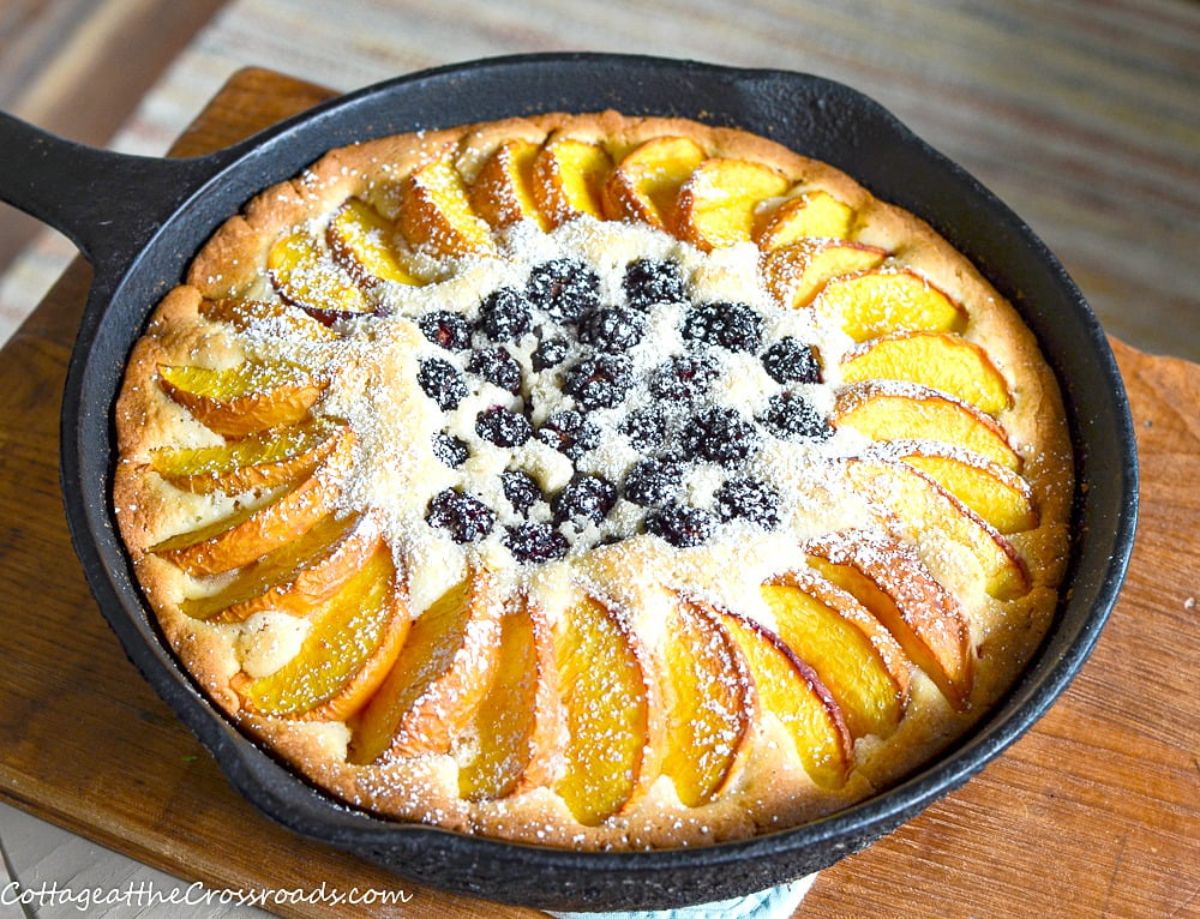 If juicy, fragrant, versatile peaches are what you're hungry for, then this Blackberry-Peach Buckle is a must. Never heard of this retro recipe? A buckle is an old-fashioned layer cake. Dense, fruity, buttery, and subtly sweet, it's like a cobbler or a crumble, except the batter-to-fruit ratio of a buckle favors the batter rather than the fruit. Sounds complex? Don't worry. Blackberry-Peach Buckle is easy to make and delicious.
The peaches' sweetness and the blackberries' tartness blend in this crumbly, buttery cake for perfect texture and richness. This old-fashioned dessert is a sophisticated crowd-pleaser.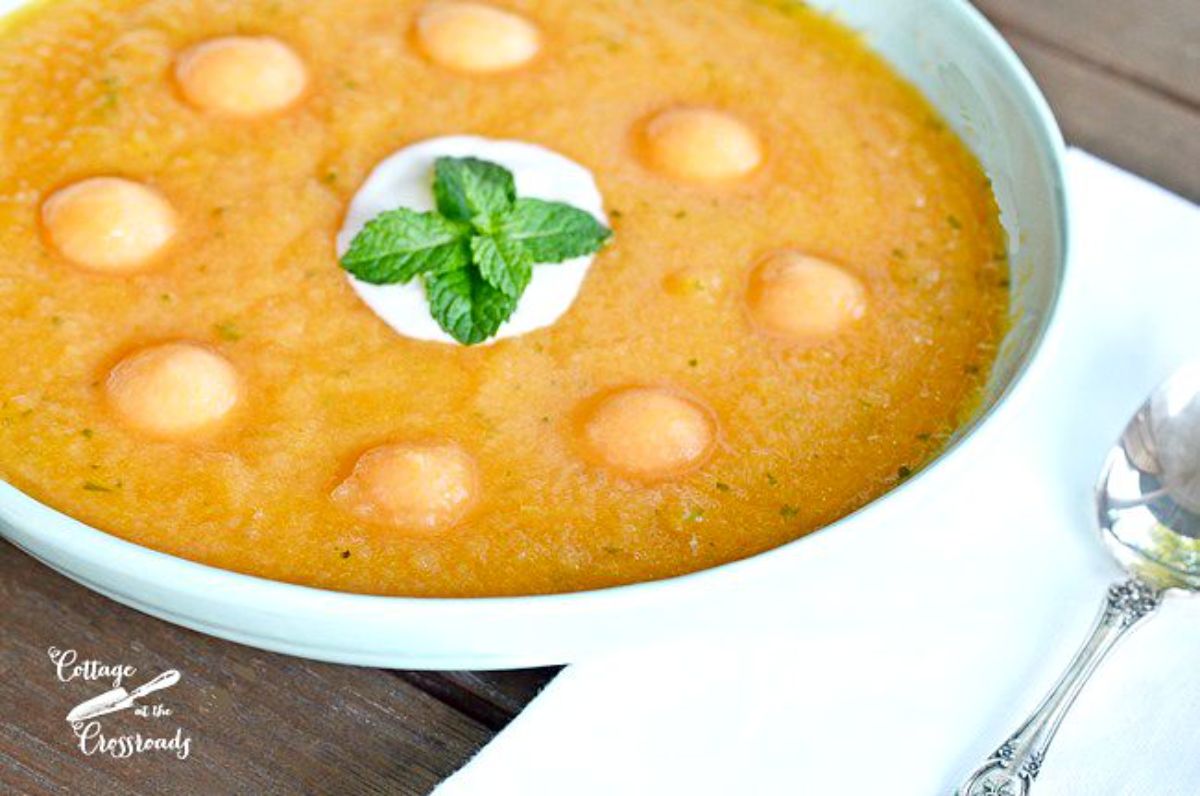 Soup isn't just a hot wintertime dish. There are a variety of chilled soups, and they're delicious. If you're nervous about the idea of chilled soups, start with a sweet soup rather than savory. This Peachy Cantaloupe Soup is a perfect intro to chilled soups.
Cream cheese, tabasco sauce, fresh ginger, and lime blend with cantaloup, peach, and honeydew melon for a subtle, spicy, creamy soup that will cool you down even in the hottest weather. Sweet ripe peaches meld with the mildness of the melon in this light, sweet, and refreshing soup that will use up your overripe peaches and wow you with its flavor!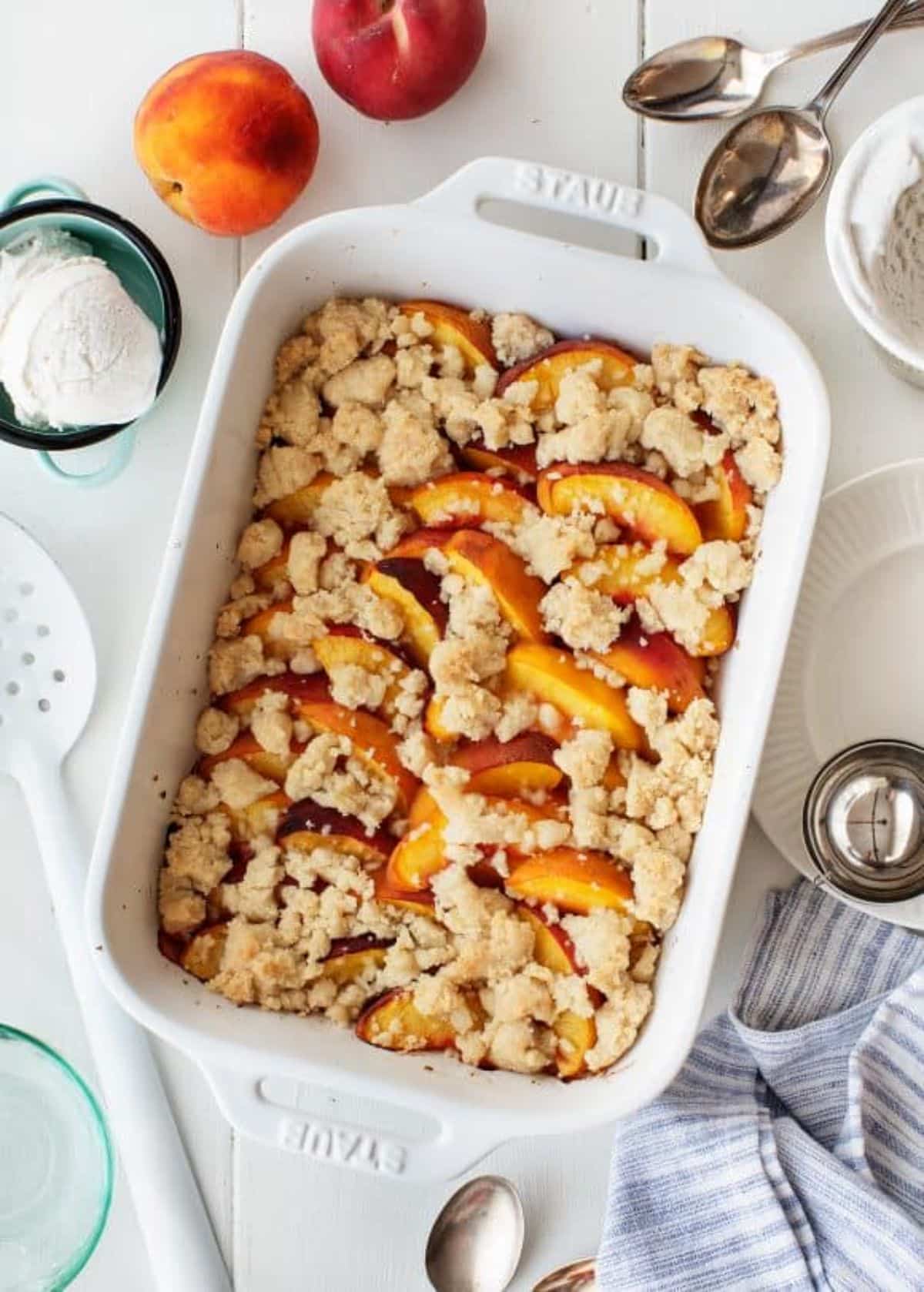 A tried and true classic for a reason, peach cobbler is practically required baking for cook-outs and picnics. It is easy to see why. Creamy, sweet peaches topped with a buttery crust- you can't go wrong with this combo. Peach quality is paramount in this recipe - the more ripe and juicy, the better.
Don't skimp on the crust. You want it flaky, buttery, with a subtle sweetness to complement the tartness of the peaches. Add a dollop of whipped cream or a scoop of vanilla ice cream on top, or don't; sweet peach cobbler has more than enough flavor to eat plain!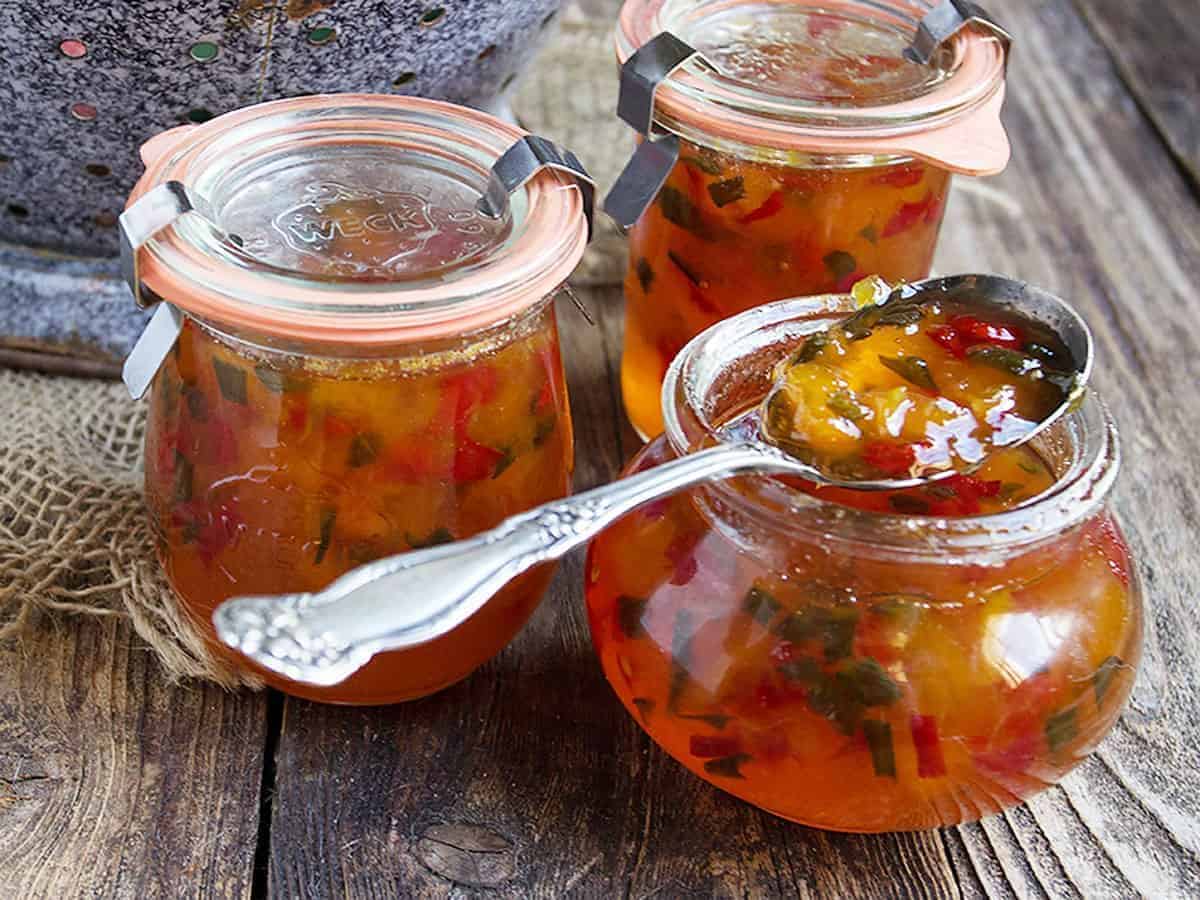 Soft fruits like peaches are delicate, and they ripen fast. So what to do when you've stocked up on too many peaches? Make jam, of course! Jams and jellies are the best way to preserve peaches. Ever tried putting jalapenos and peaches together? This recipe will convince you.
Tangy jalapenos and fragrant peaches with a hint of lemon rind make this the spicy spread you'll schmear on your morning toast, mix up in your meat marinade, or add to your favorite sandwich.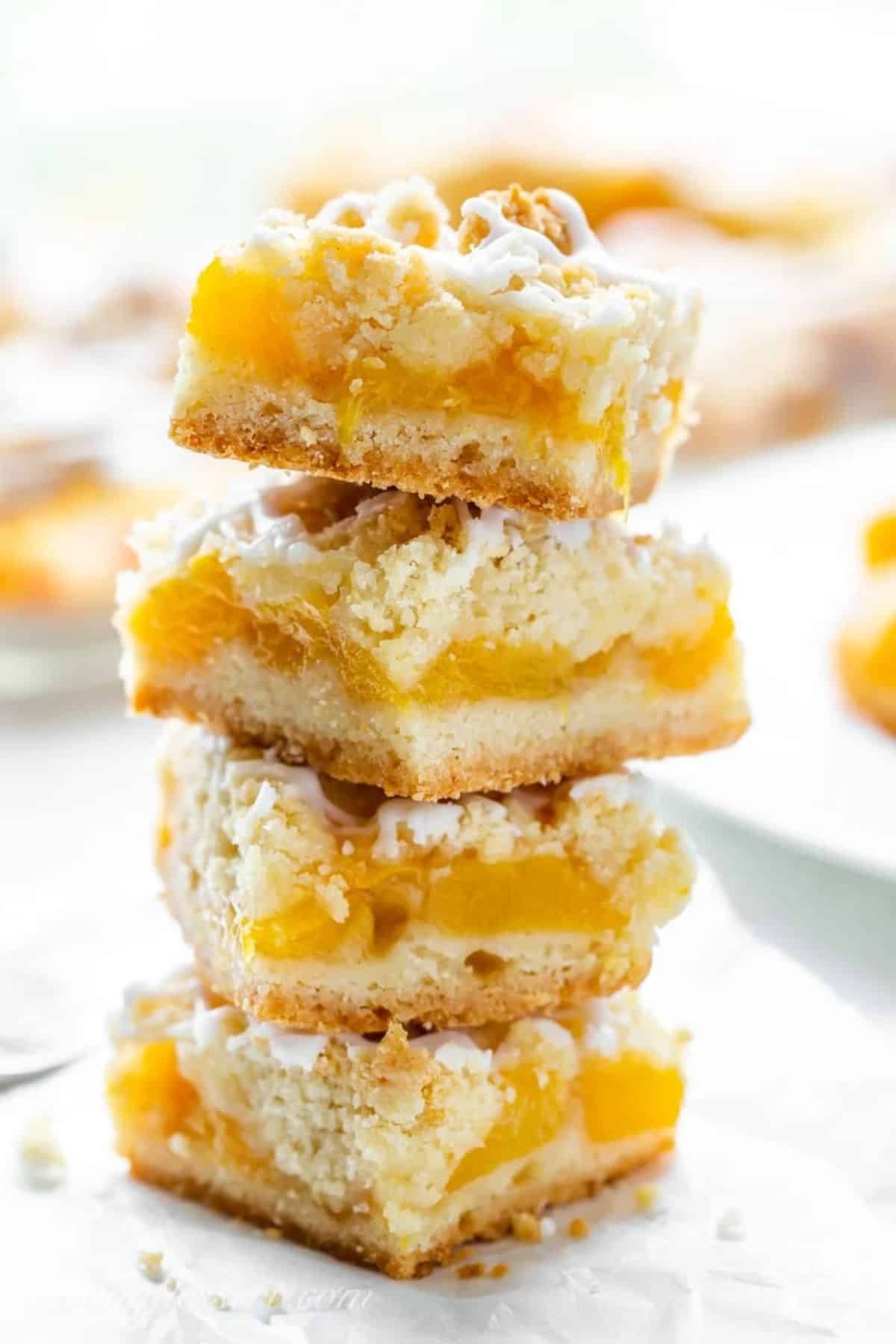 This dessert epitomizes summer with its buttery, crumbly crust and juicy peach filling. Perfect for any occasion, whether you're entertaining guests or looking for a sweet treat to enjoy on your own.
And the best part? You can make it in no time! Imagine a bite of that golden, crumbly crust, followed by the sweet, tangy burst of fresh peaches.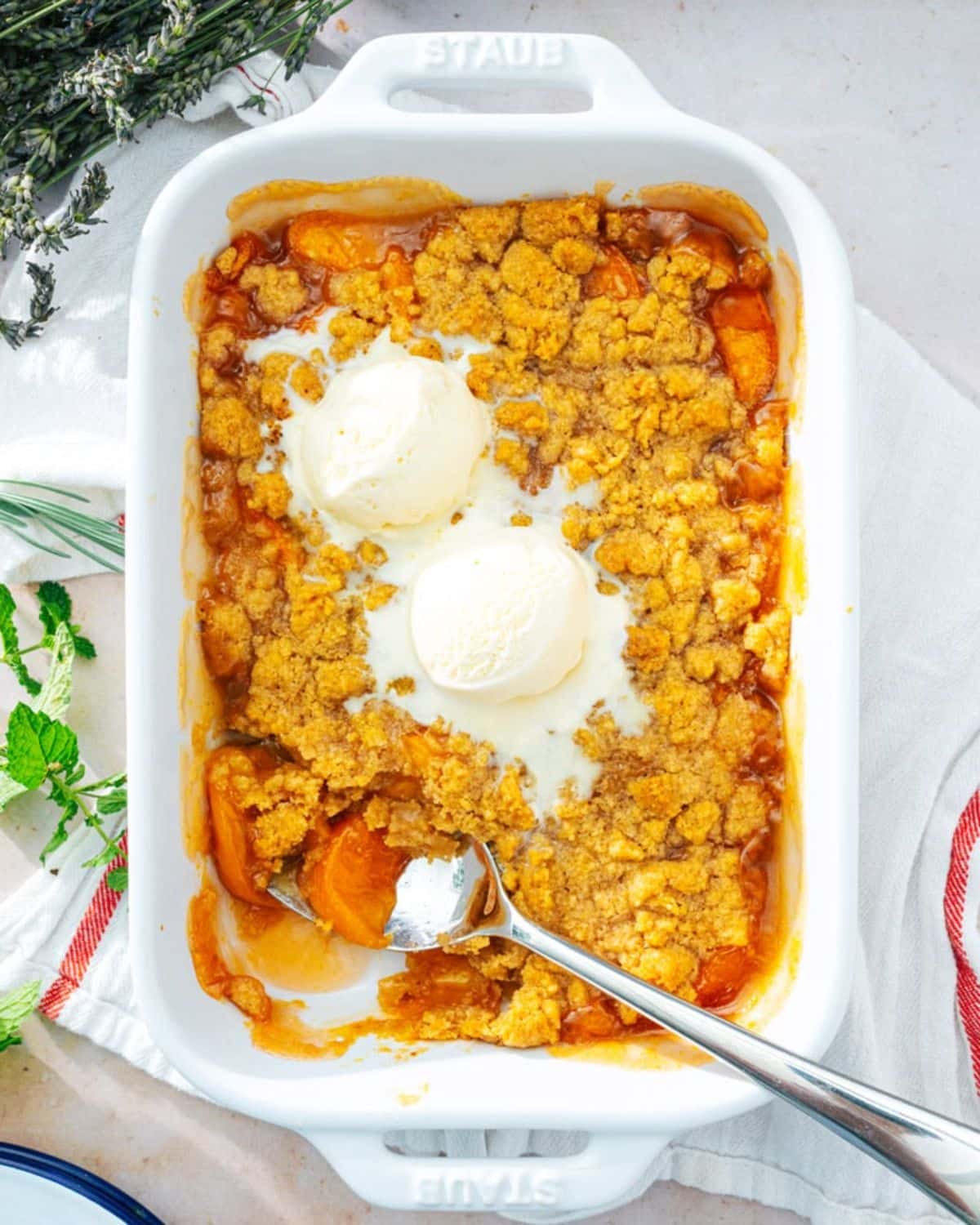 Classic peach crumble never goes out of style, and it's easy to see why. In this recipe, ginger and cinnamon bring subtle spice and heat. Topped with a buttery, crunchy crumble, the sweet, tender peaches make for a delectable treat.
The beauty of a crumble is its versatility and simplicity. Tweak the recipe to your liking, adding more or less sugar, cinnamon, or even a hint of nutmeg. There is nothing but basic ingredients here- cinnamon, flour, sugar, and butter, but there is so much flavor!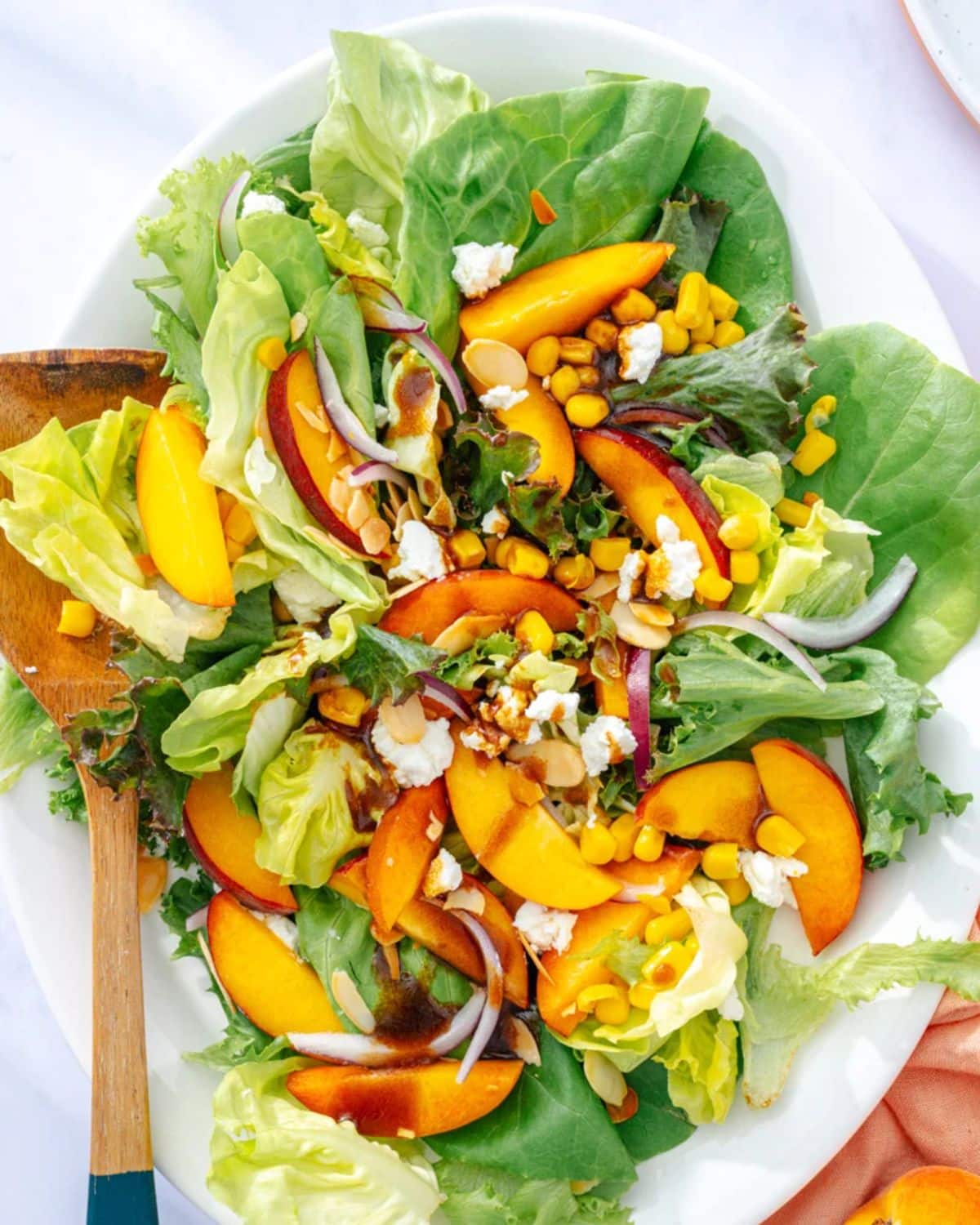 This dish is best when the peaches are at their freshest. Mix spinach, feta, pecans, red onion, and peaches with a splash of sweet honey-mustard-based oil and vinegar dressing. A tantalizing balance of sweet and savory, this juicy Peach Salad adds refreshing flavor to every bite.
Peach Salad will be your go-to when you want to cool down on a hot day. A wonderful side dish with a grilled chicken sausage kebab, or savor Peach Salad on its own!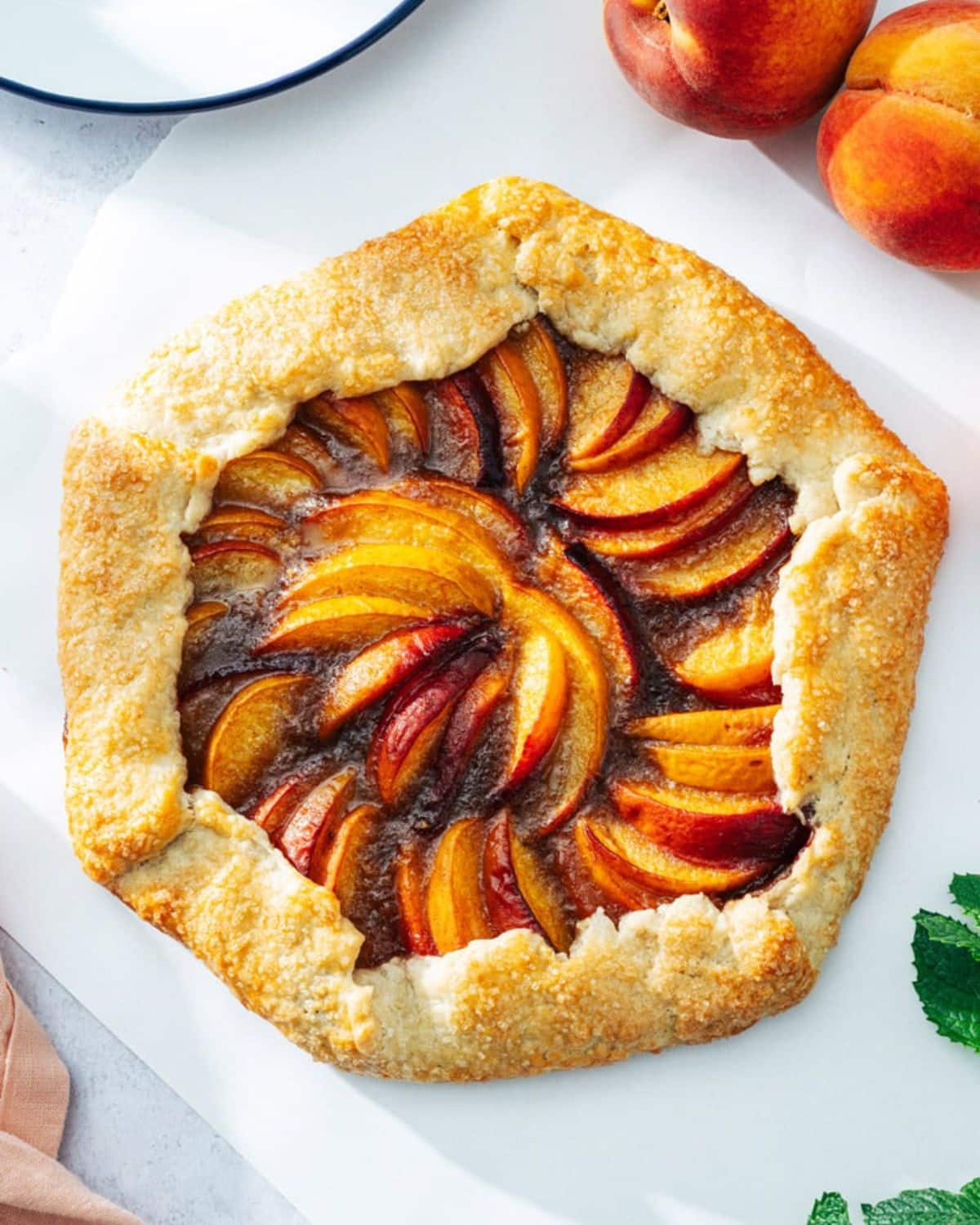 A rustic yet sophisticated dessert, Peach Galette celebrates the sweetness and juiciness of ripe peaches. The beauty of this dessert is the presentation- layered swirls of peaches surrounded by the delicate crimp of the galette crust's edges.
If you can master this recipe, you'll whip up a stunning pastry that showcases the fresh peaches' beauty. A crisp and flaky dough is the perfect filling foundation for lush peaches, sugar, and a touch of cinnamon.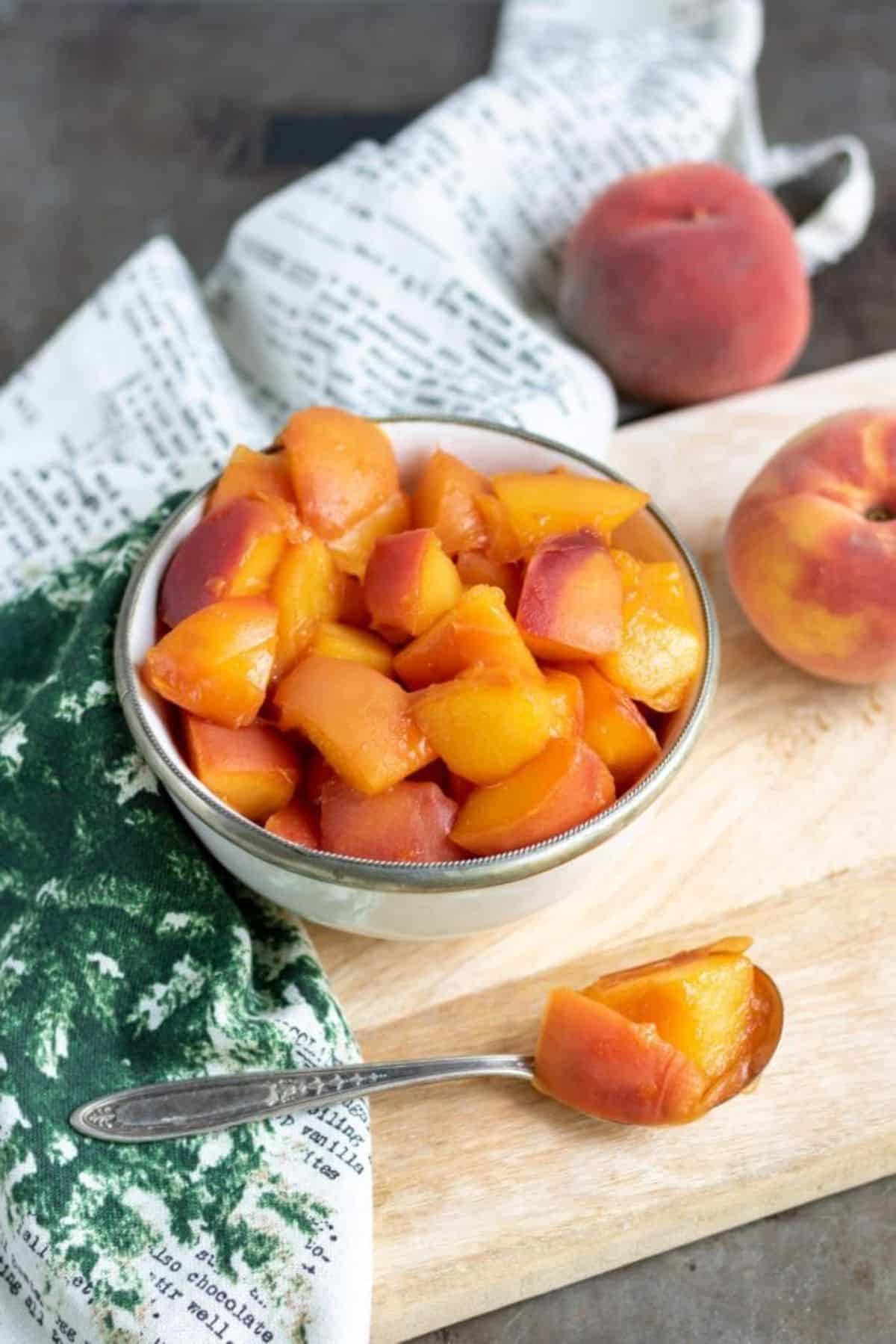 Preserve peaches at the peak of freshness and sweetness with Peach Compote. All you need are some fresh peaches, sugar, lemon juice, and a pinch of salt to bring out the natural sweetness of the fruit.
Drizzle this compote over ice cream, spoon it onto pancakes, or use it as a topping for yogurt or oatmeal. This perfect peach preserve won't disappoint!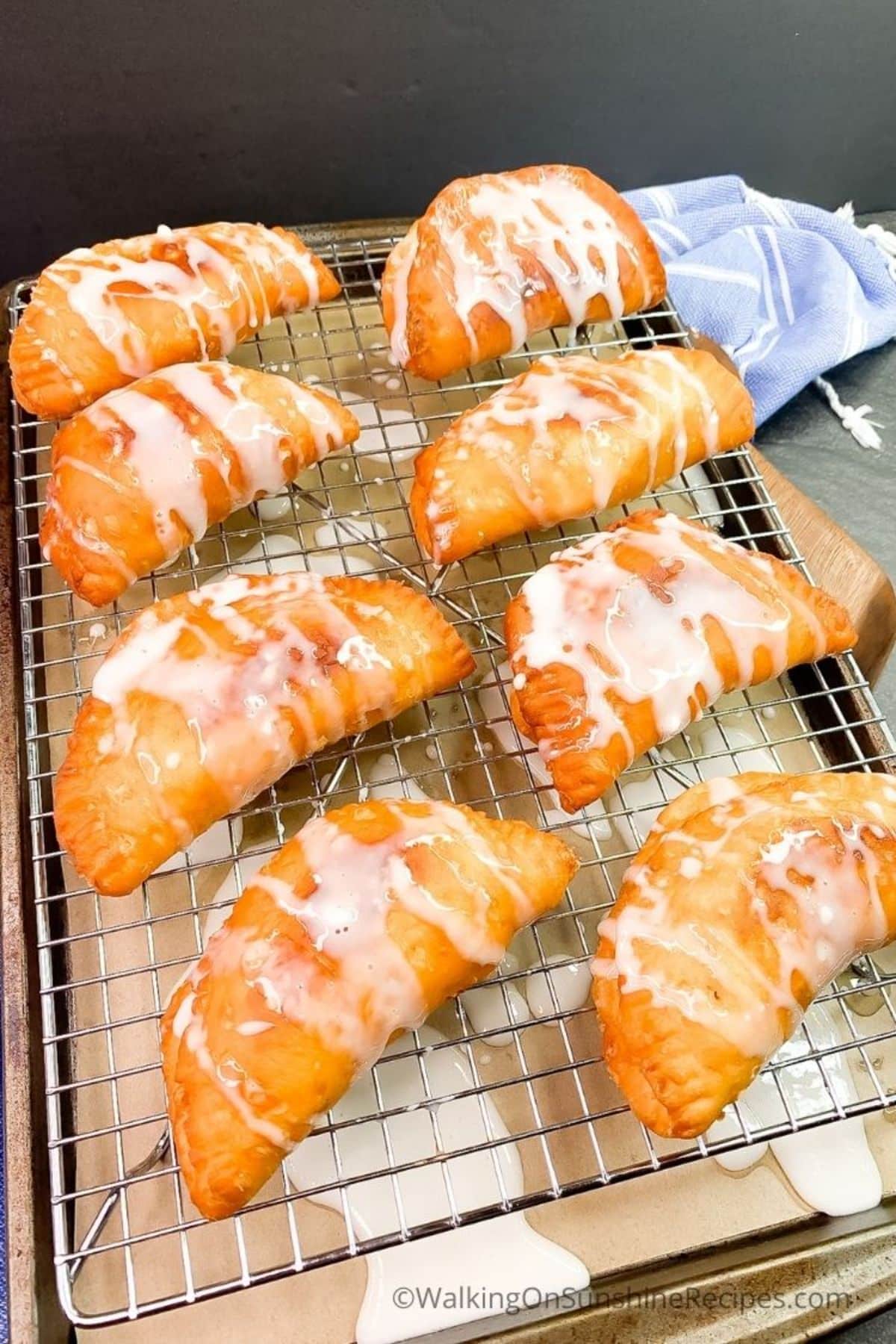 There's nothing like biting into a piping hot, crispy, fried peach pie. This classic Southern recipe is made for alfresco porch dining. We don't think there is a better combination than a flaky crust filled with juicy, syrupy peaches. No wonder these little pockets of goodness are such a beloved treat in the southern United States.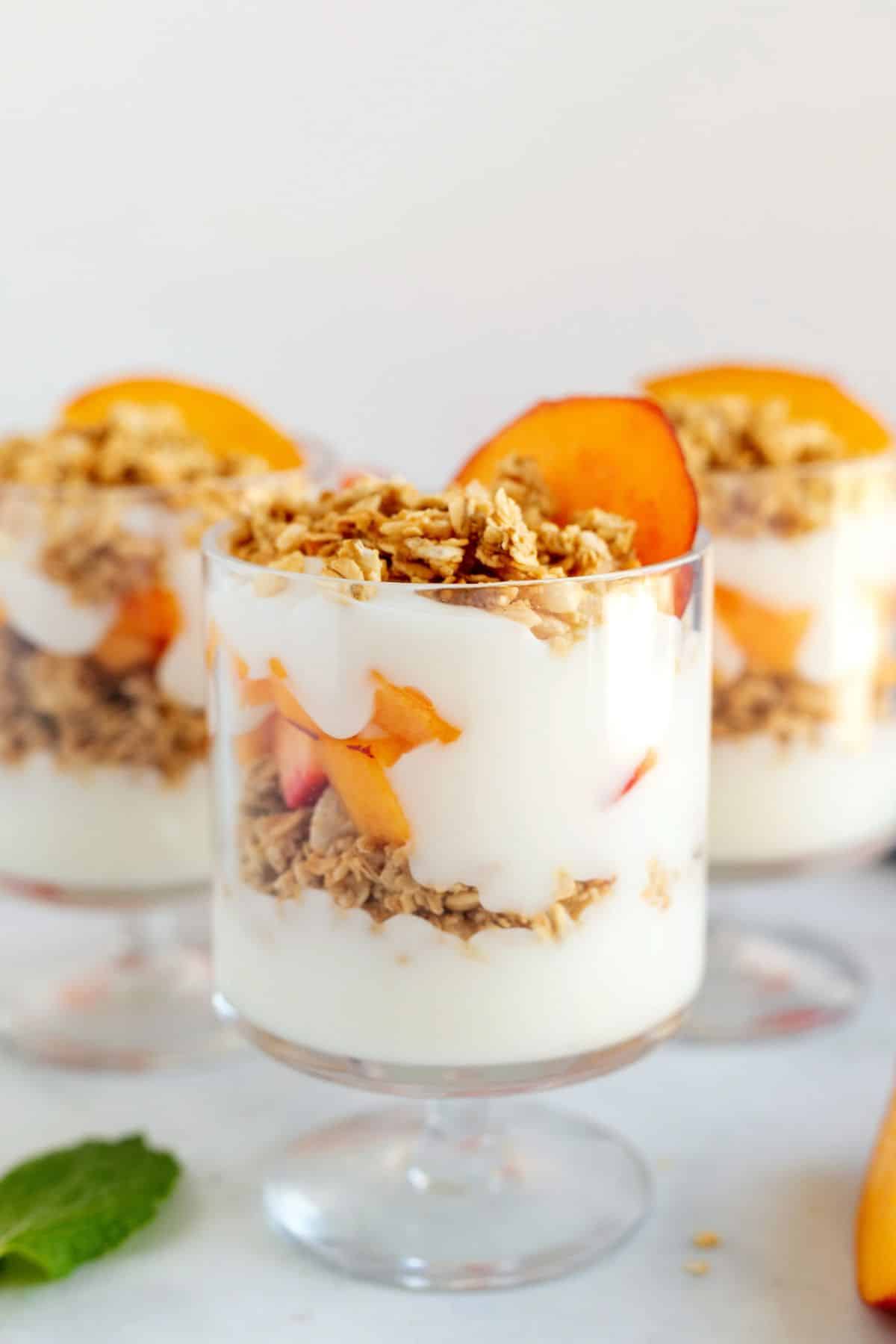 Creamy parfaits are the perfect breakfast or brunch option for those who crave a decadent yet nutritious dessert. Yogurt, dates, and peaches give this parfait some Meditteranean flavor, while the granola adds a crunchy texture. Peach Yogurt Parfait's lovely balance of flavors will keep you wanting more.
Final Thoughts
Peaches are a very versatile fruit, and their sweet-tart flavor is exquisite, but they're only around for a little while. These recipes for a lot of peaches will help you make the most of the brief peach season, whether you love cakes and parfaits, soups and salads, or compotes and jellies. No matter which you try, you'll peach craving will be satisfied.