The weather here at Windham's Crossroads has been just glorious for the past week or so.  My sister-in-law Jean and I have been potting up some pansies and other fall flowers.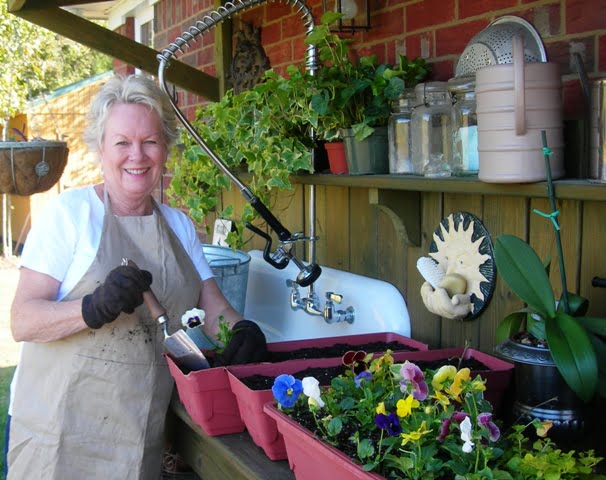 Here's Jean working at her awesome potting bench that she and her husband Jim had made when they were building their new house.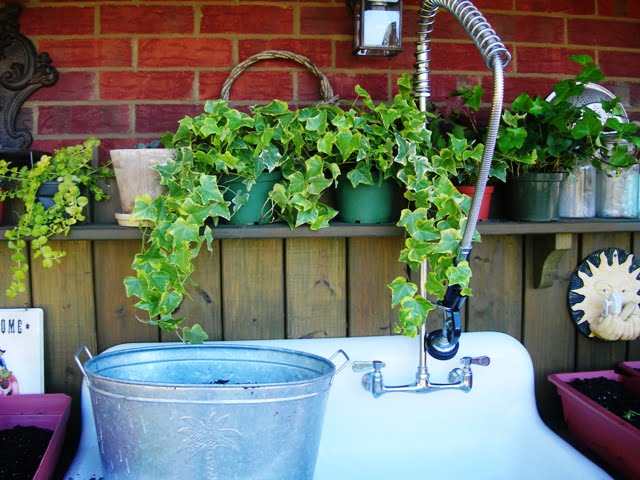 The main feature of her potting bench is this large, antique cast-iron sink that she and Jim had reglazed. The bench was designed to accommodate the sink and to have plenty of work space.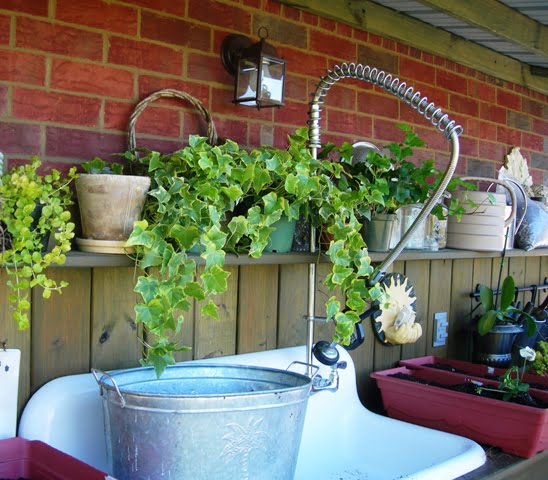 Jim found the awesome faucet with that sprayer that will wash away all the mess that you always have when you're potting flowers.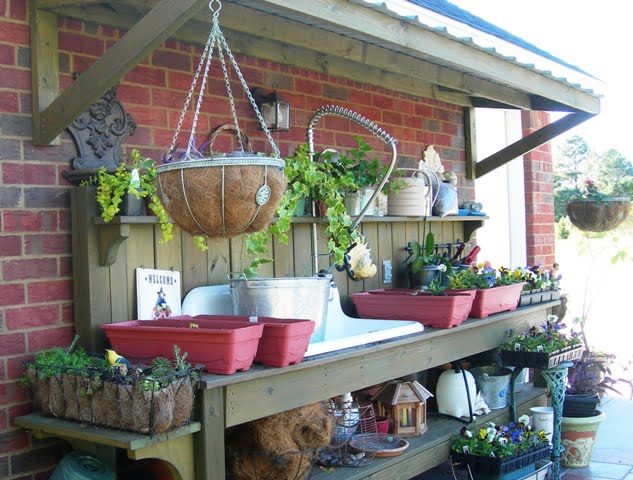 There's even a metal roof over the bench to provide some shade for the plants and Jean.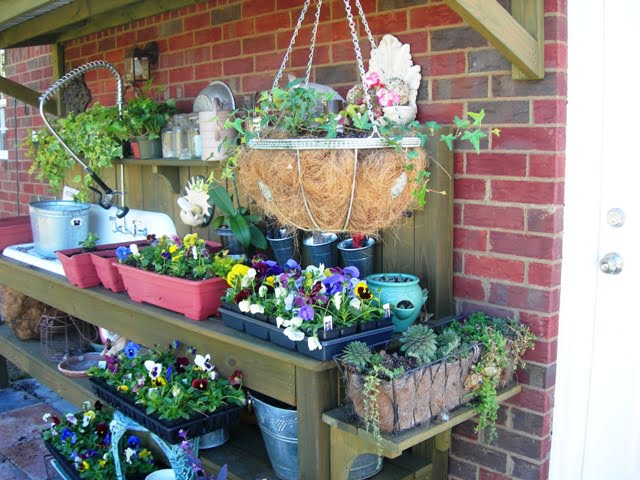 Yep! All those flats of pansies got potted recently. Some of them went here.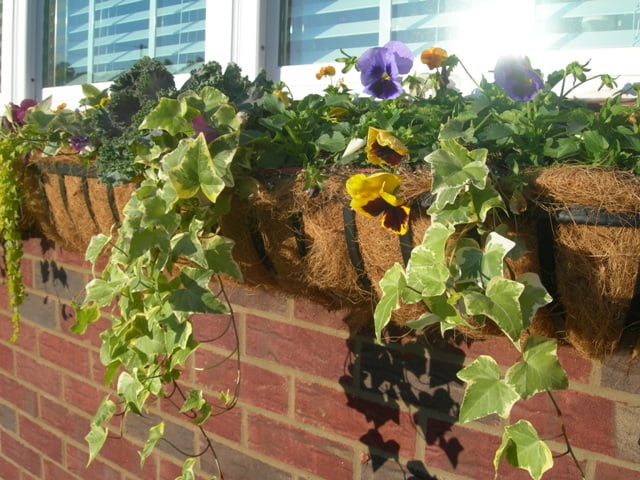 Jim hung two really large window boxes under the dining room windows, and Jean filled them with all these gorgeous flowers.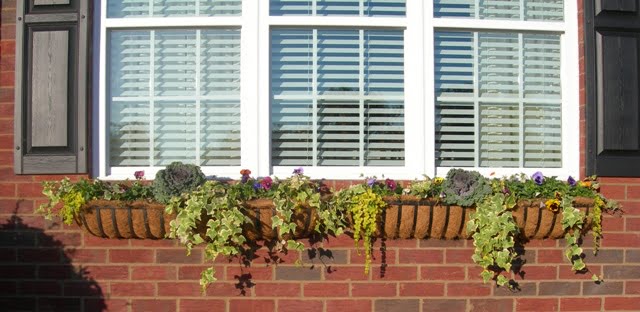 They look fabulous now, but will fill in nicely in the cooler weather. The pansies and the ornamental cabbage will provide color all winter long.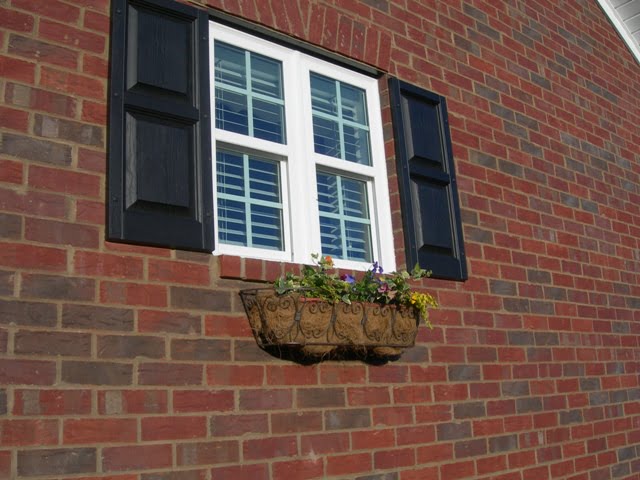 They hung a smaller flower box underneath the kitchen window.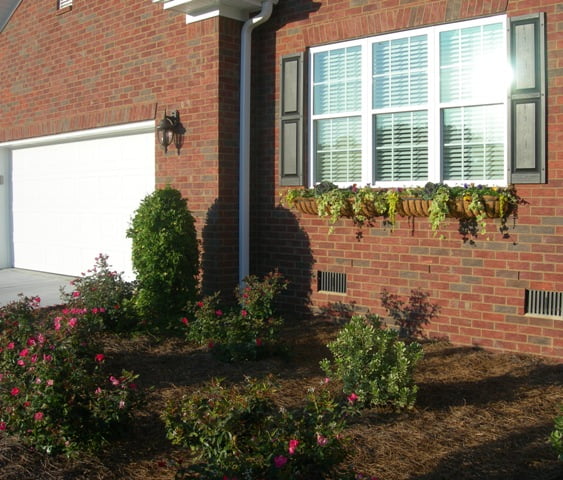 Look at all the nice landscaping. You'd never know that they just moved into their house about a month ago.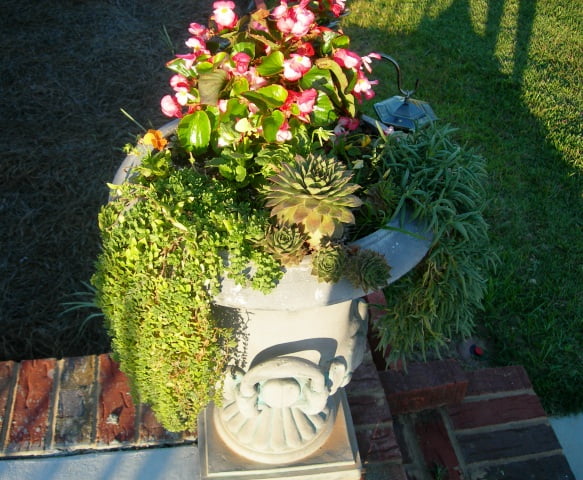 This pot, along with many others, was moved from their other house.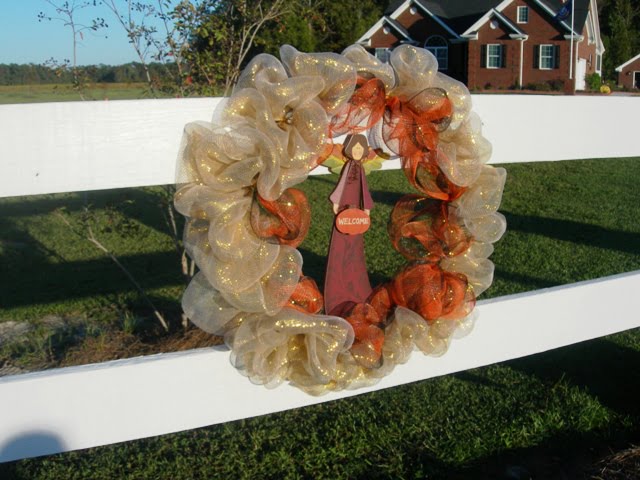 Jean loves decorating for the seasons. She created these two wreaths for their front entrance and hung them this weekend.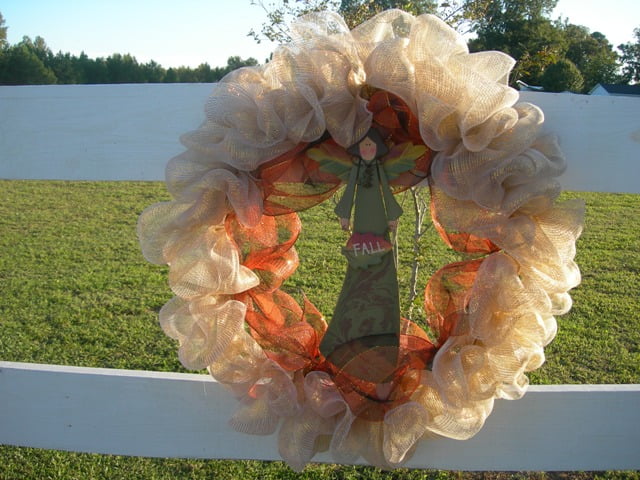 That wire mesh ribbon glistens in the sunlight. Jean had a few pansies that she didn't use, so she gave them to me. So yesterday, I potted and placed them on the back deck.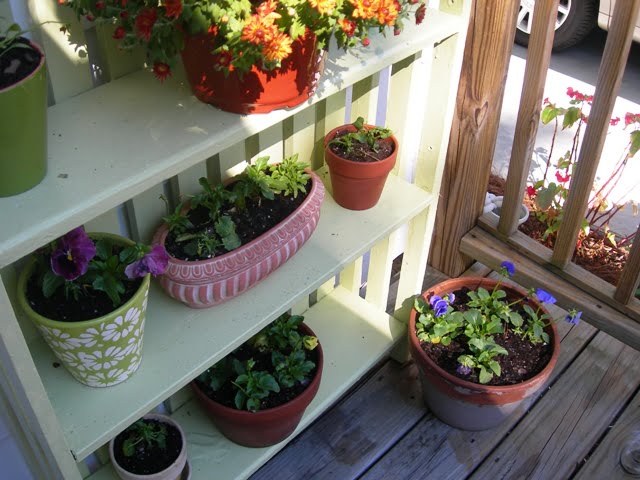 I placed some of the pots on this little bookcase that I recently painted green.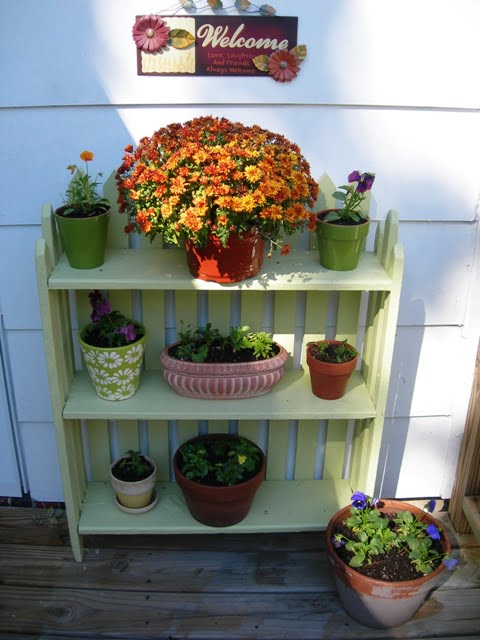 The bookcase sits beside the back door.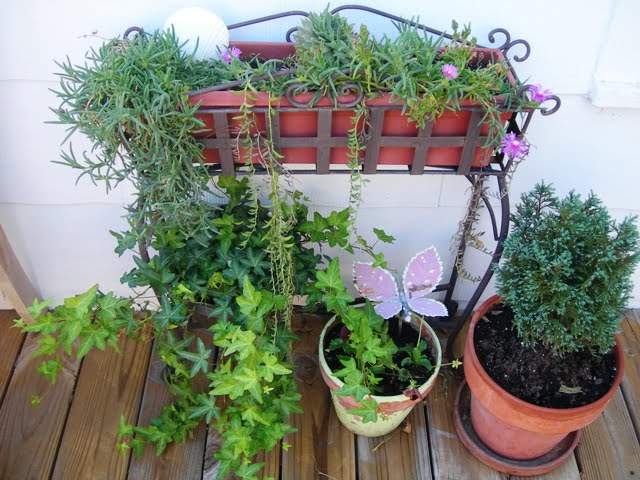 This planter is on the back deck, too, and is filled with succulents that Jean gave me last year. I repotted the blue spruce tree that I've had since last Christmas. I'm really surprised that it made it through our hot summer.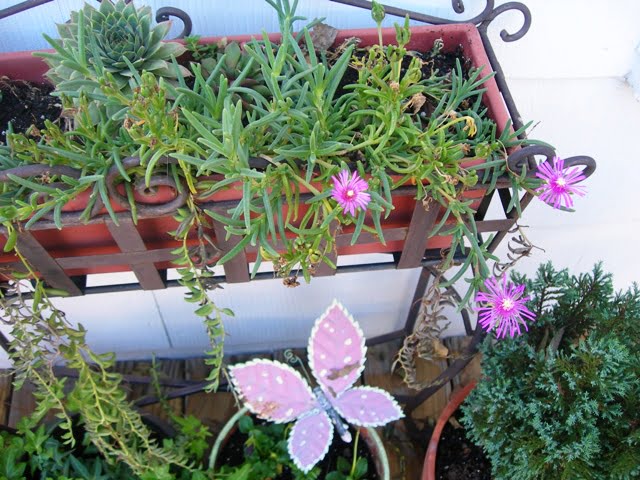 The colors of the ice plant in the planter look beautiful with the pansies that I potted.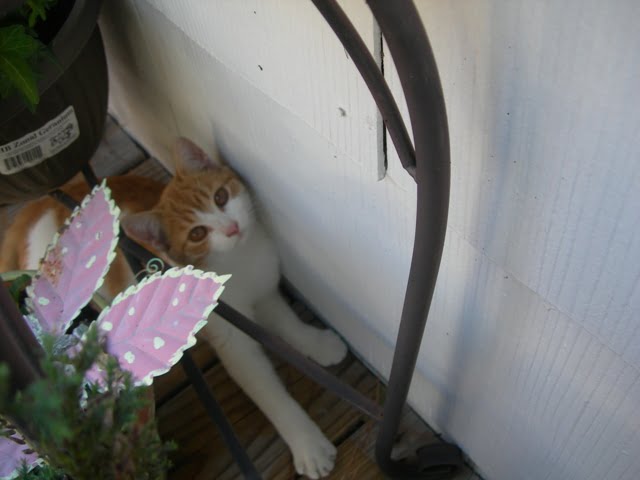 Look who arrived! It's Juicy, our new stray kitten that has found a home at the Crossroads.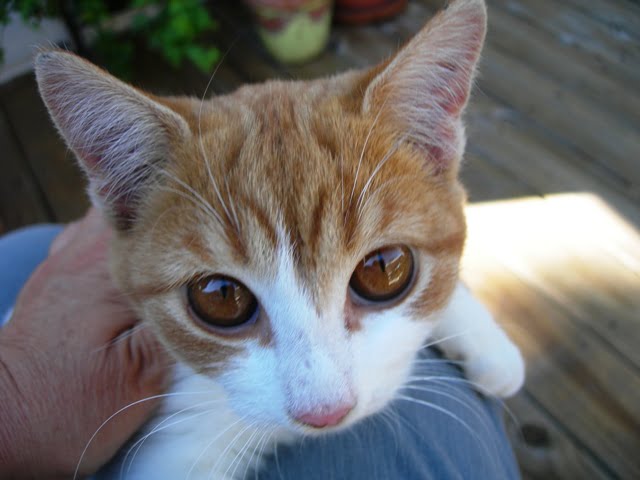 We didn't name her until she'd been here for about 2 weeks.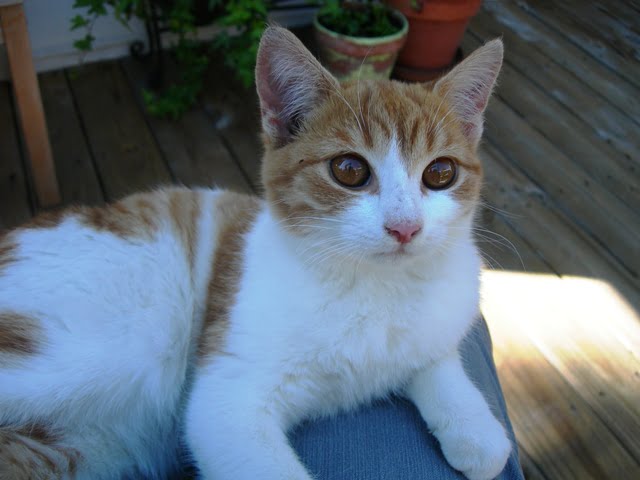 Isn't she beautiful? Do you want to know something funny? The kitten will sit in my mother's walker and let my mother push her around the yard. She will even sit in her lap as she is rocking. Yep, I'd say she's definitely made her home here.
Have you been planting any fall flowers? Let me know how you've been spending your time this weekend.