A few weeks ago, we showed you the beginning of one of our latest DIY stone walkway from our front door to the driveway. I hope this how to build a stone walkway, helps you build yours.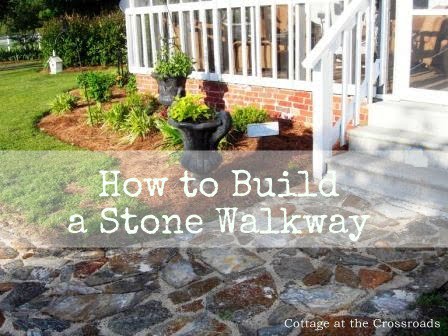 We had several requests to post a tutorial on how we did it. So here it goes.
I was warned that this little project might turn out to be time consuming, and I learned quickly that it can also be frustrating. But the finished product is worth it.
First, you'll need to make a few decisions such as how wide you want it to be. We decided to make ours 5 feet wide-big enough for two people to walk side-by-side. You may want to make it 3 or 4 feet wide. It's totally up to you.
Step 1
Grab a tape measure and a can of spray paint. Draw an outline with the spray paint, keeping the width of the walkway consistent all the way to the end.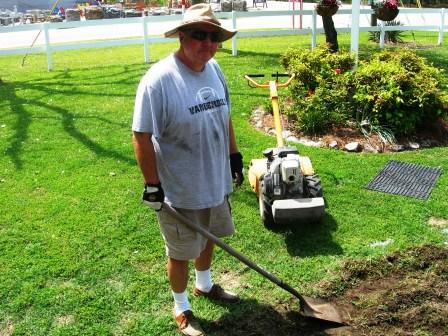 Step 2
Next, I used my garden tiller to soften the ground and tear up the turf. I set my tiller at 6 inches. If you don't own a tiller, you may want to consider renting one.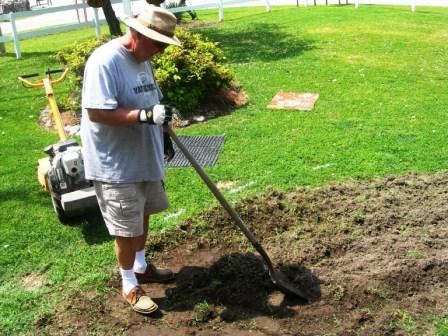 Step 3
After that, I took a flat blade shovel and scooped out the dirt. Think about it, our walkway is 5 feet wide and 75 feet long and 6 inches deep. That's a lot of dirt and a lot of shoveling!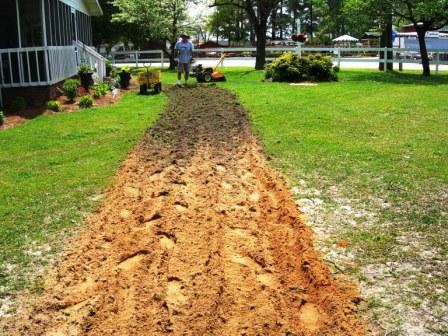 Right about here is when you have second thoughts about this project.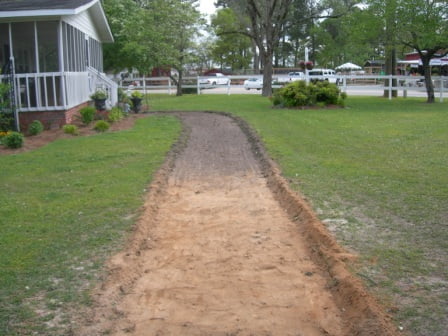 But the good news is, there's always a place in your yard where you can use some good topsoil.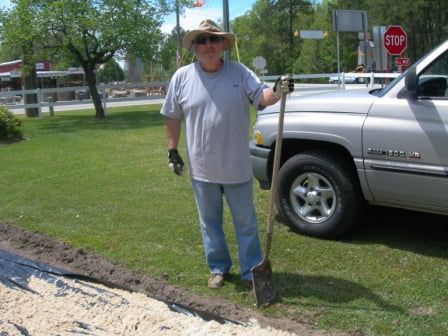 Step 4
I went to Lowe's and bought a 100 foot roll of black plastic. It was 10 feet wide, so I doubled it and it fit perfectly in my trench. The black plastic will keep weeds and grass from coming up in your walkway. It won't work forever, but it's a good start.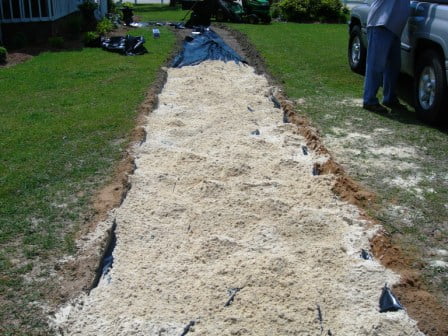 Step 5
Now you are going to need some sand. Don't even think about buying it by the bag. I found a sand and gravel company and had them dump 1 yard of sand in my pickup truck. By the way, 1 yard of sand is one giant scoop from a front-end loader. It was only $30. It would have taken me over $200 to buy sand in bags. See what I mean?
Step 6
Spread about a 3 inch layer of sand on top of the black plastic in your trench. Now you are ready to lay your stones. You don't know how much to get? All I can tell you is we used 2 pallets of stones for our walkway.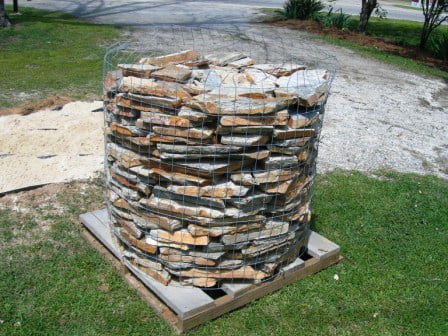 I had mine delivered via forklift from Jay's Trading Post right across the street. How convenient is that?
Step 7
After laying about 5 stones, I realized that this job was too frustrating for me. I just don't have the patience to find the perfect stone for the perfect place. And that is why you need a good wife or a good partner who will take the time to do the job right. Putting the stones together is just like doing a jigsaw puzzle, and I never liked to do puzzles! Since I had done all the physical labor so far, Jane agreed to lay the stones. That's right, piece by piece by piece.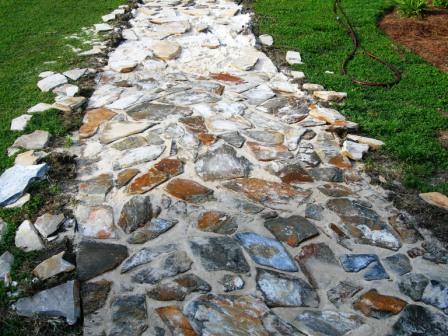 It's not necessary to get the stones perfectly level, but you don't want any jagged edges either. This is where the tedious part comes in. You want to place the stones as close together as possible. Also, place the straight edged stones on each side and then work your way inward. As you place each stone, use the loose sand to level the stones. Use hand-fulls of sand to fill in the cracks between the stones. Do as much as you want each day, but don't over do it. It's just like doing a jigsaw puzzle. When you feel yourself getting frustrated, stop. Come back to it another day.
Step 8
When you decide to stop laying stones, give yourself some satisfaction by taking a broom and sweeping the sand on top of the stones to completely fill in the cracks. Now here is the magic. With your garden hose set on "shower," wash the remaining sand off each stone so it will settle into the cracks.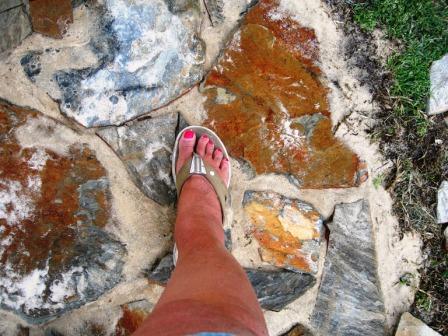 Now doesn't that look nice? Some satisfaction after a day of frustration.
Step 9
Repeat these steps until your walkway is finished. By the way, I had to go get another ½ load of sand to complete this project.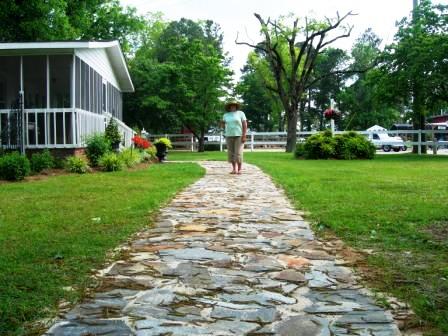 It took us almost a month to do this, and we took a week off after we finished. Then it was much easier to get the job finished.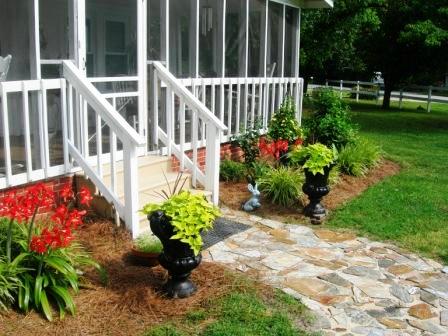 Since our new walkway looked so nice, we spruced up the front of the house by painting the steps and the urns.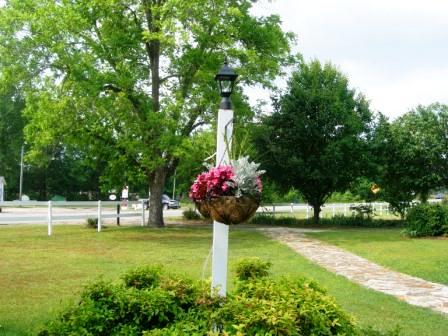 There you have it. After all my whining, I' m sure glad we did this. Just adds a little more character to our Cottage at the Crossroads.