If you are a camper or wish you were, then you are going to love our campy fall front porch! And as a bonus, you can gather more fall decor ideas.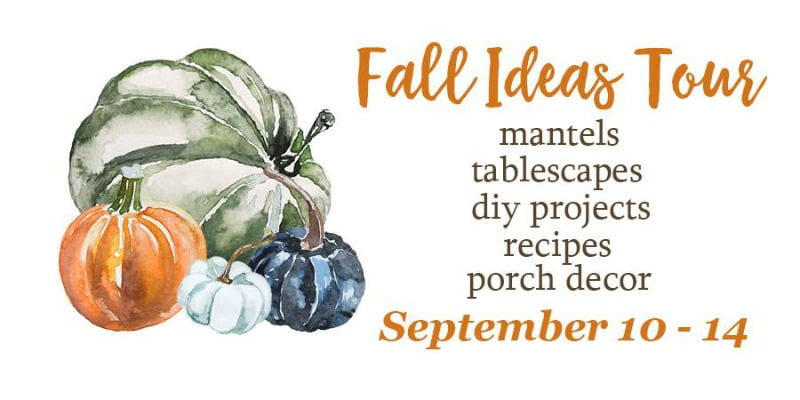 Hello everyone! Welcome to our campy fall front porch! In case you've never visited before, we are located in South Carolina and live in a small country cottage that has a large screened-in porch on the front.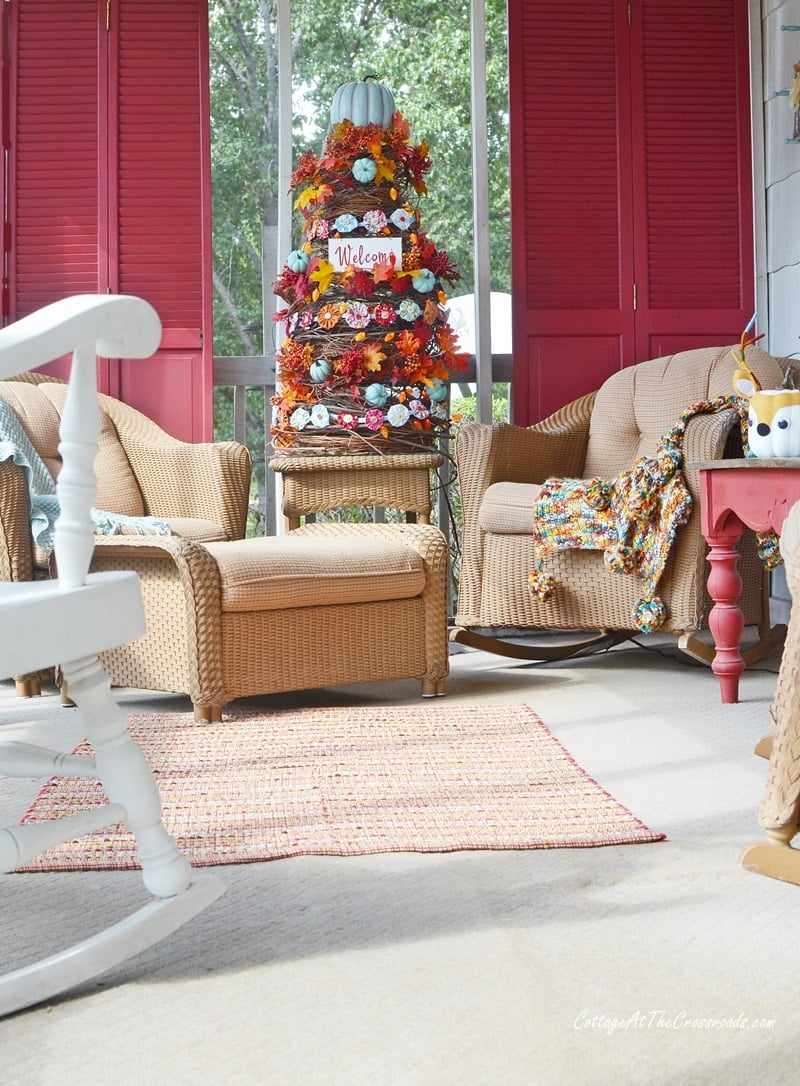 Our front porch is long and is divided into two areas: a sitting area and an eating area.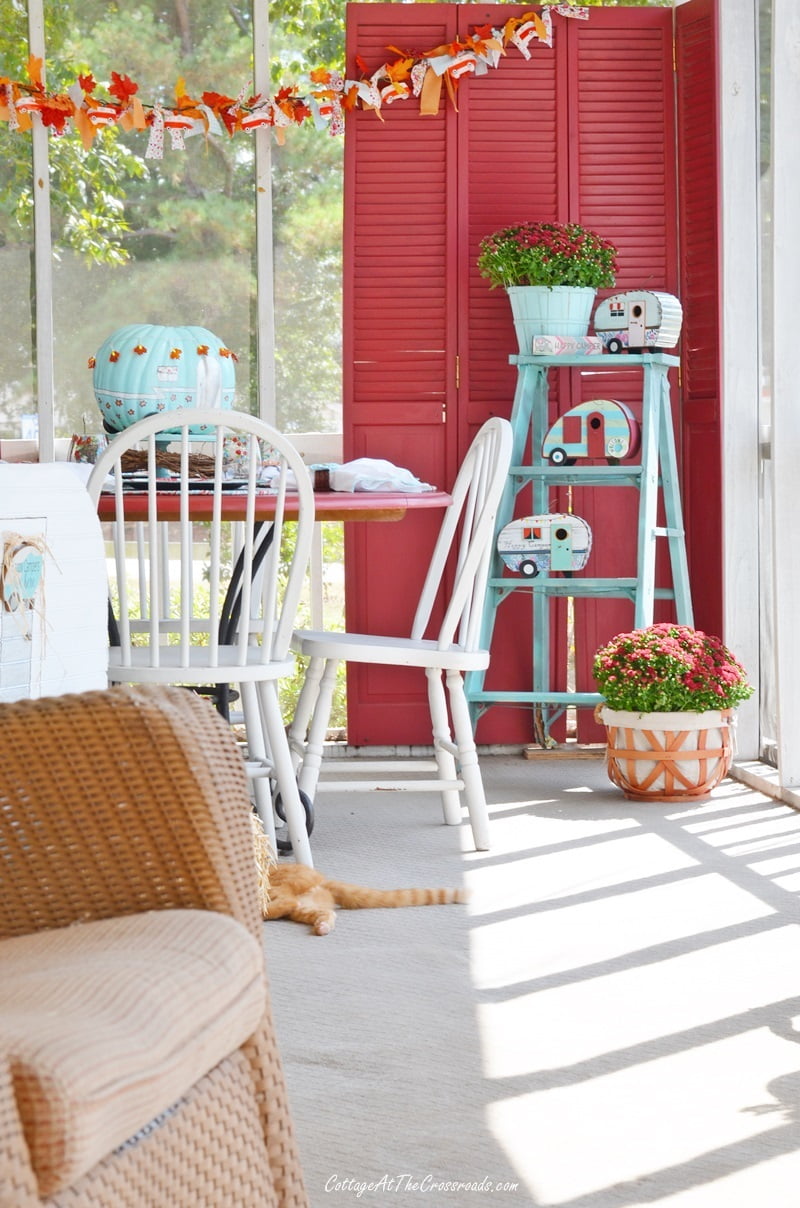 You can see our cat Henry's tail sticking out in the photo above. Not only do we spend a lot of time on our front porch, our pets prefer being out there as well.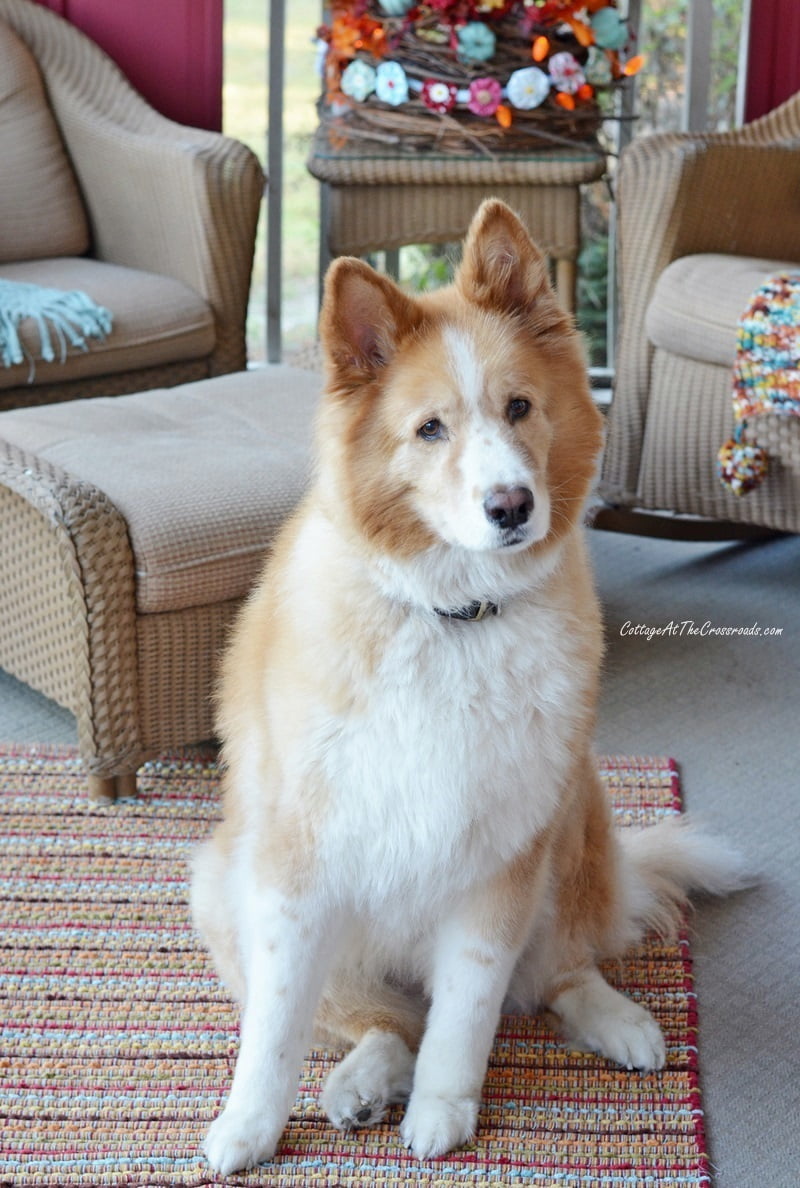 This is Lucy saying hello!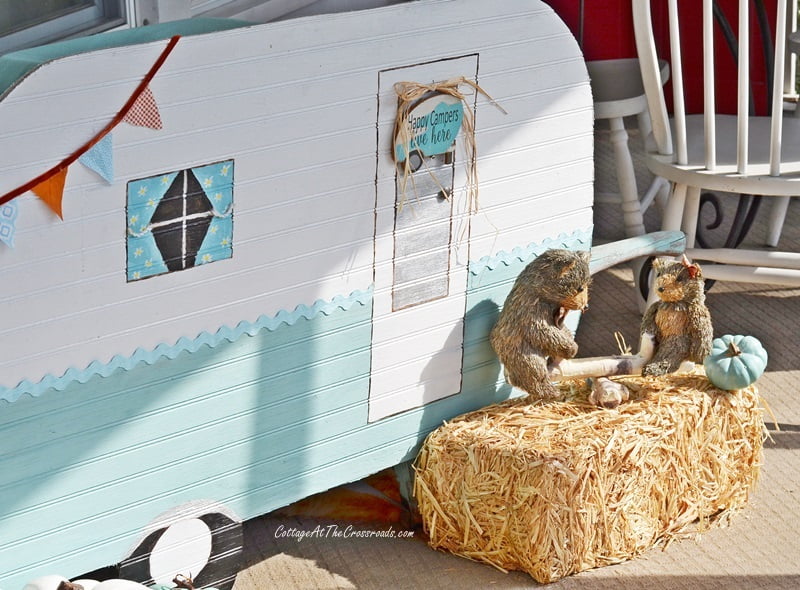 I decided to go with a camping theme on our fall front porch because the wooden cutout that we made and used on our vintage camper Christmas porch was still on our porch so I just went with it!
This time, though, there are some bears visiting and playing on a see-saw in front of the camper.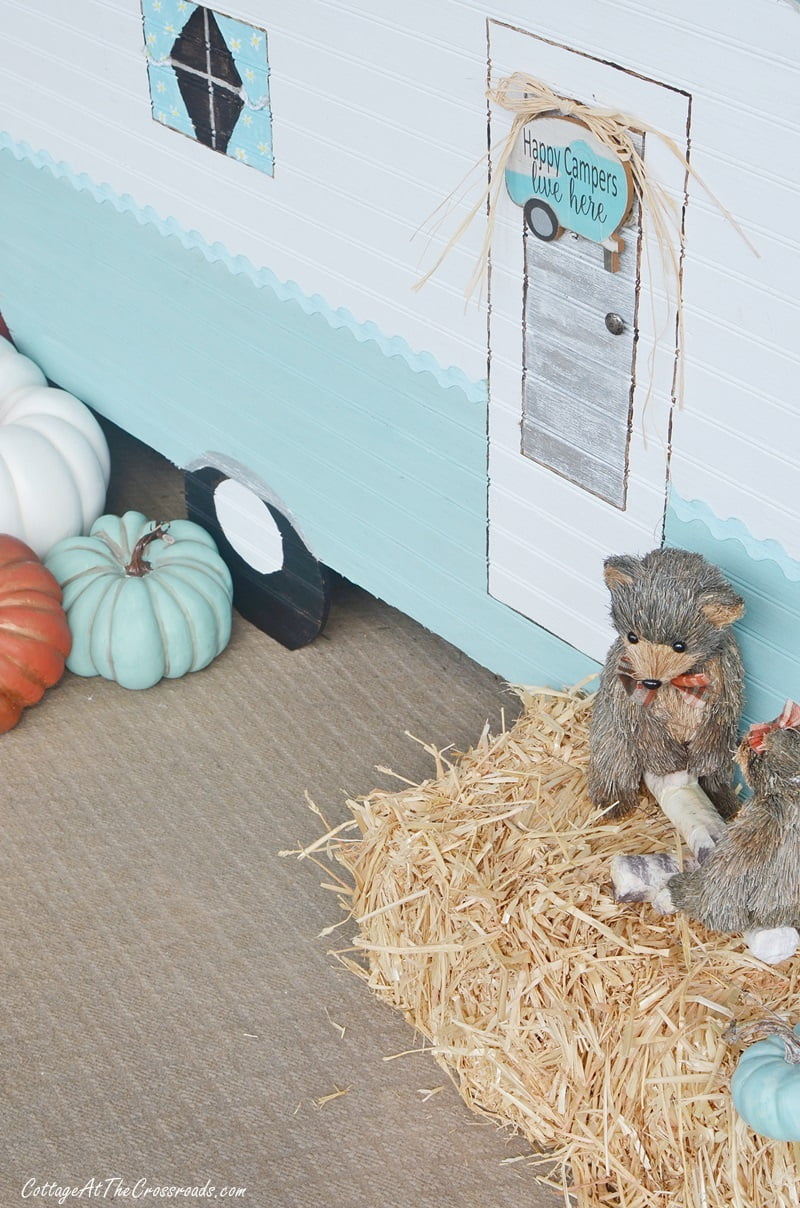 I hope we're able to go camping in the mountains soon and see some real bears!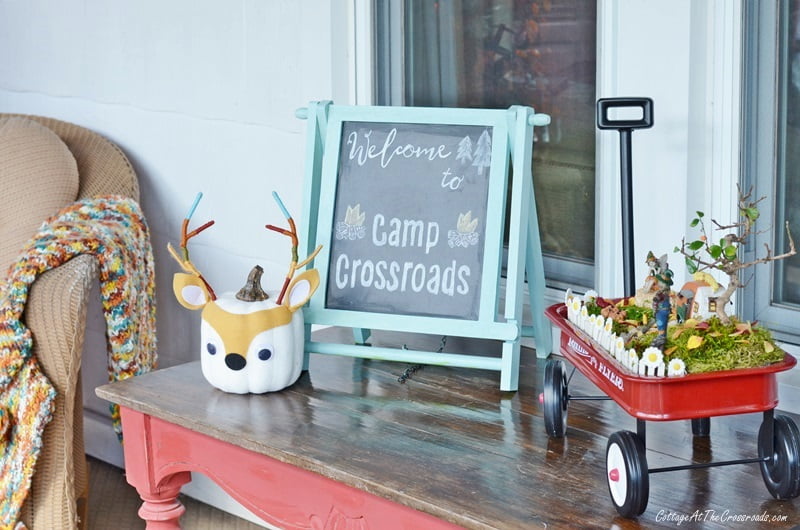 I have dubbed our front porch "Camp Crossroads" and I created a fall version of our fairy garden in a little red wagon.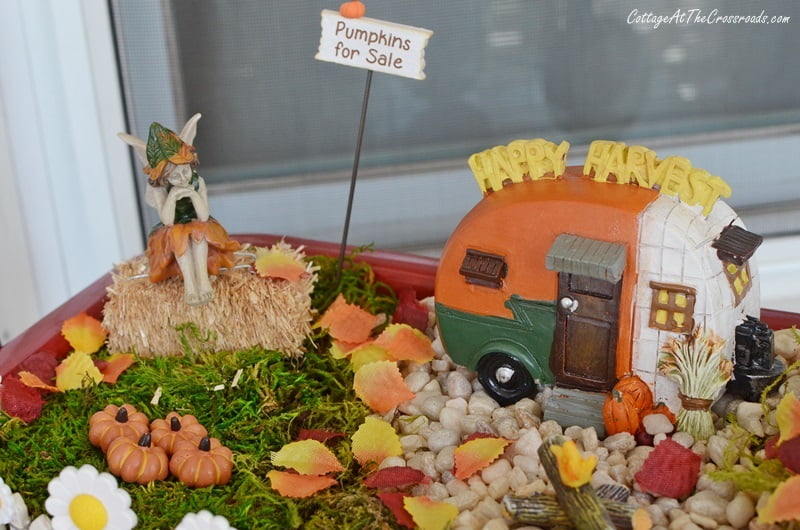 Here a little fall fairy is sitting beside her vintage camper parked in a pumpkin patch!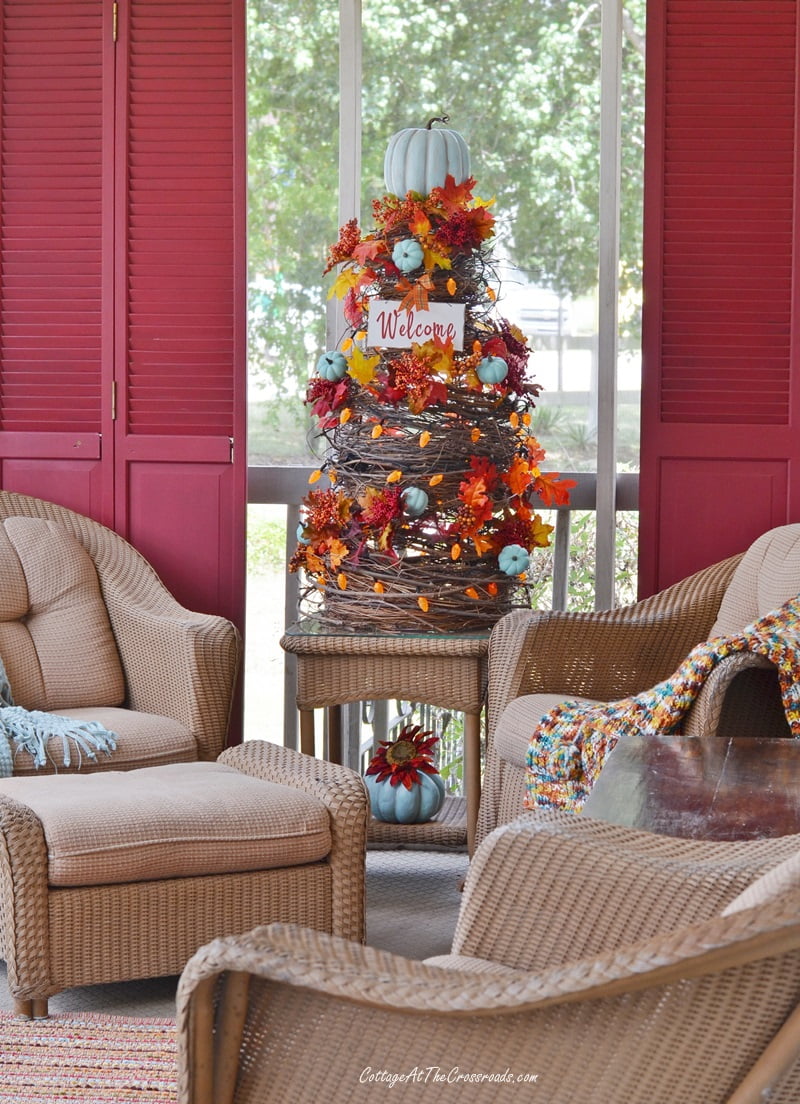 Nearby is a grapevine tree that I decorated for fall. It looked fine as you see in the photo above, but I like to get all "campy" and go over the top so I added a yo-yo garland to the tree.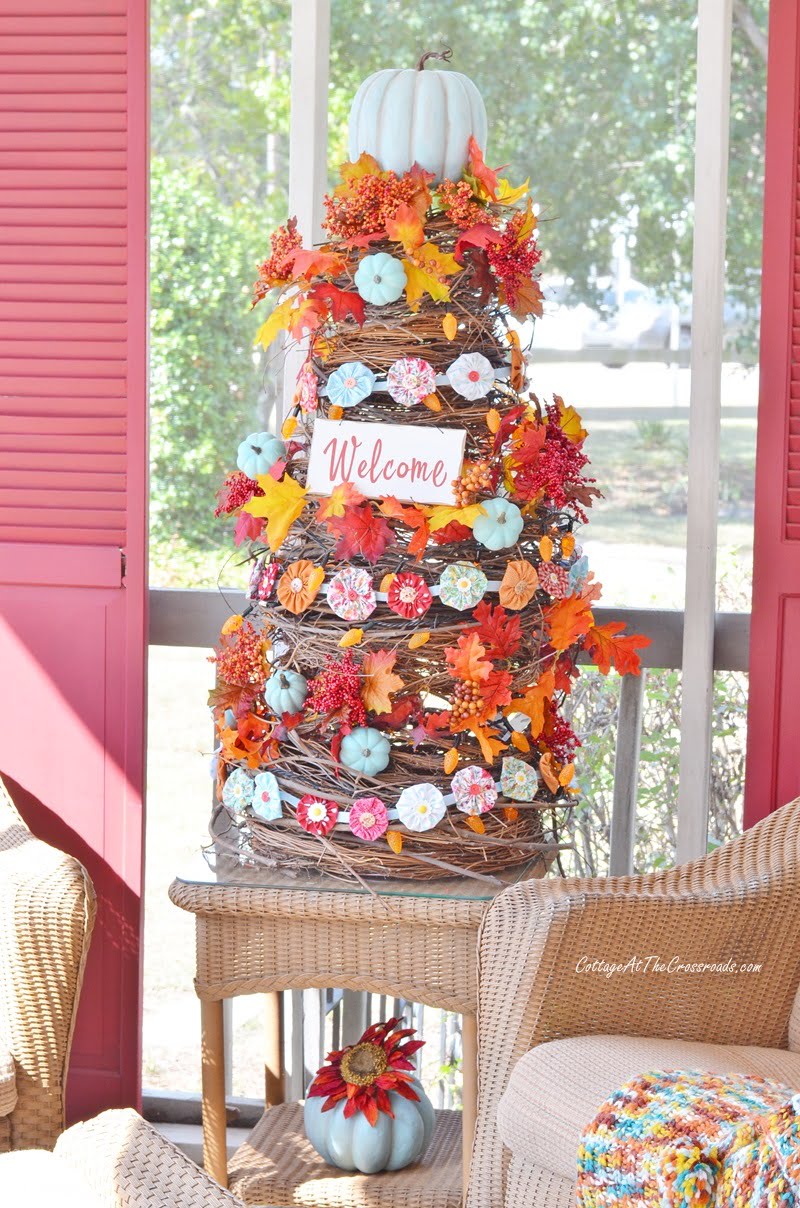 And I'm so glad I added it!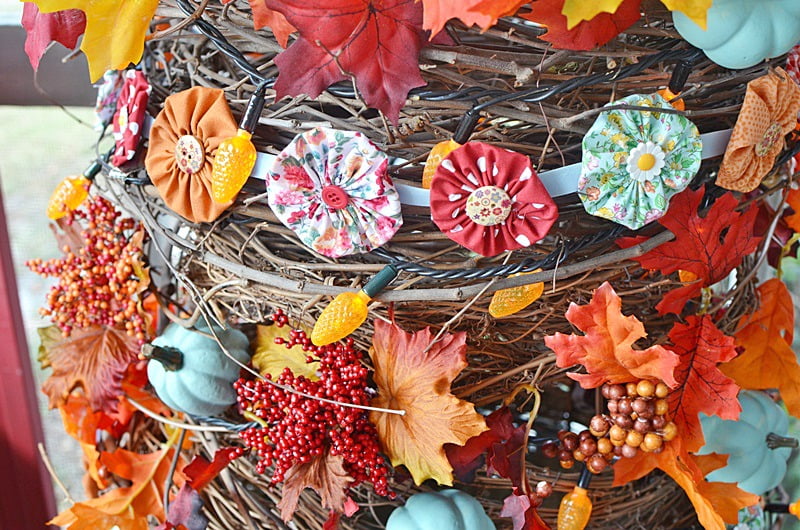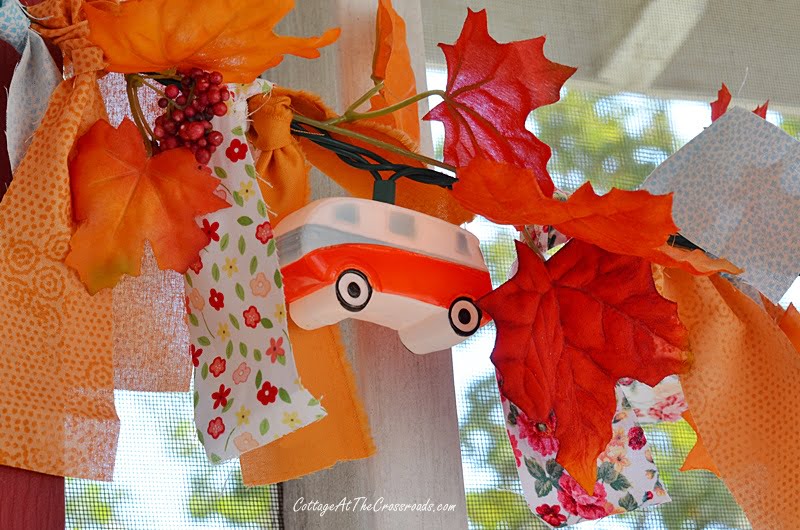 Speaking of garlands, I added one to the eating area of the porch. I used some of the same fabrics that were used to create the yo-yos. The little campers light up.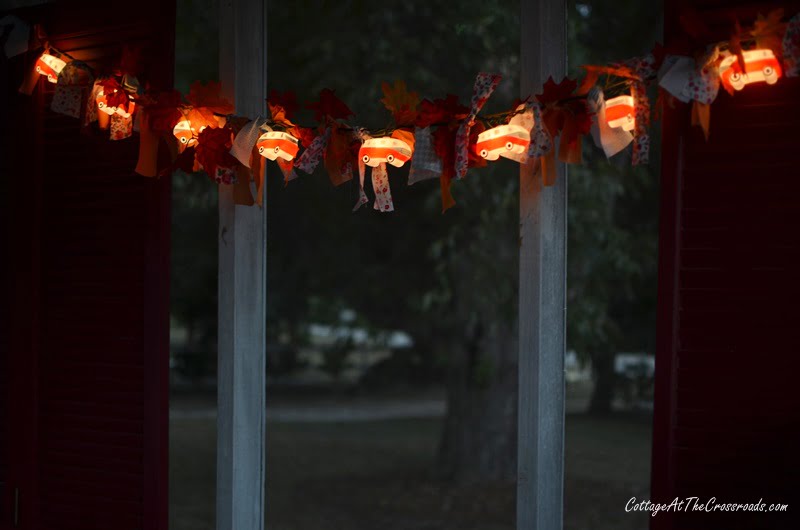 It is a little over the top but gives such a warm glow while we are sitting on the porch at night.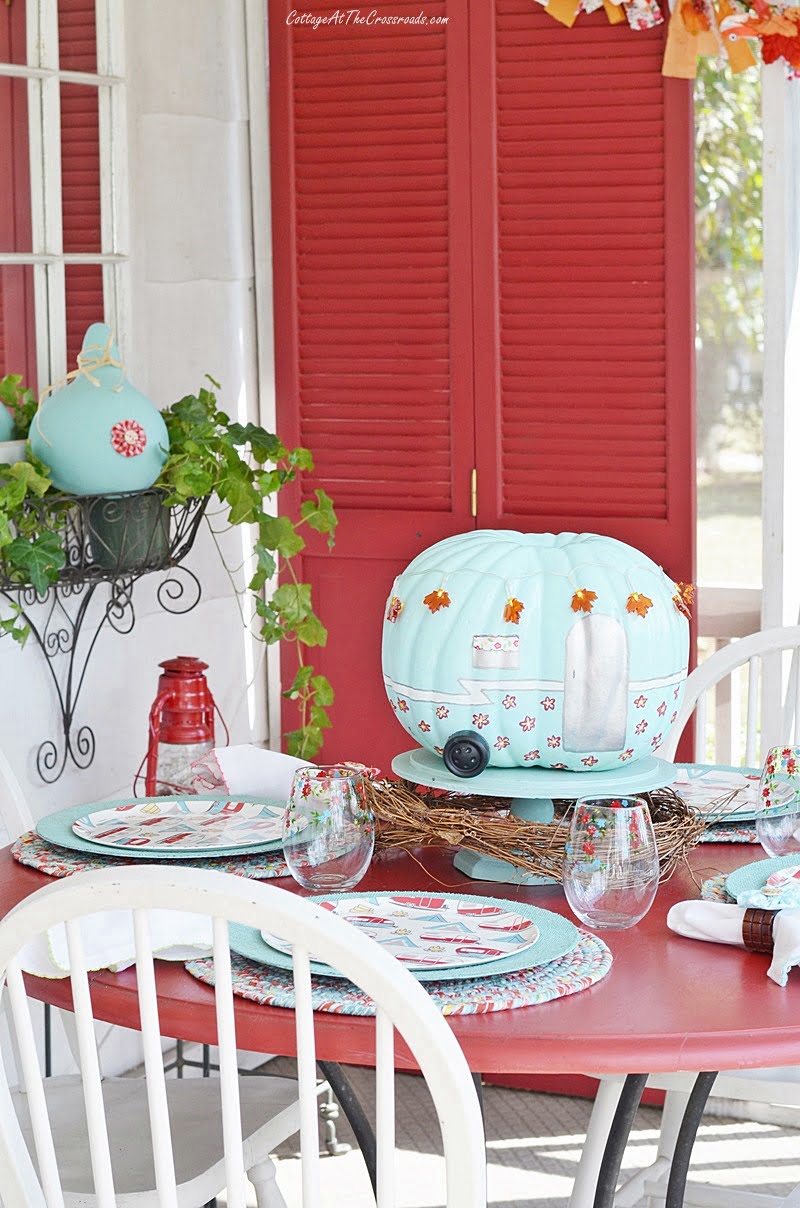 On the table I've created a fall tablescape with a camping theme, of course!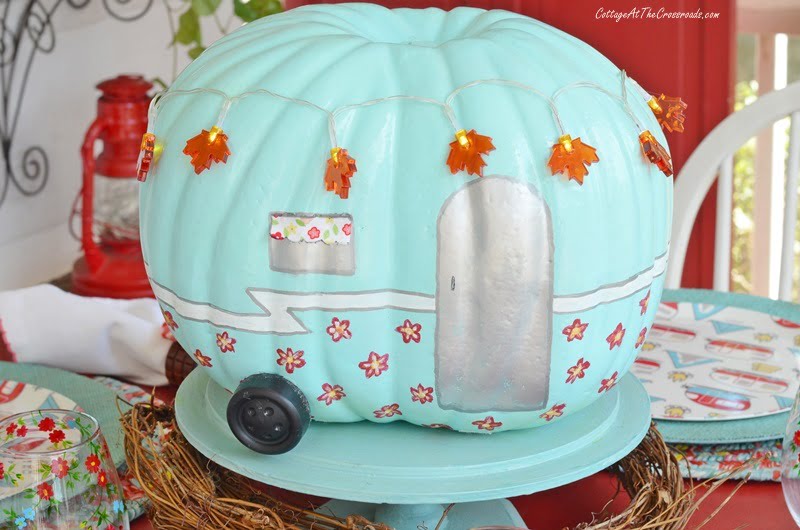 A faux pumpkin got converted into a vintage camper!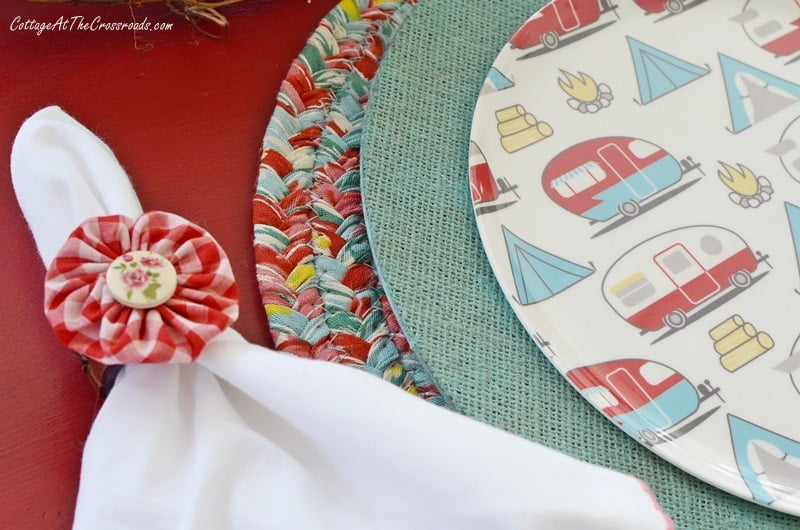 I found the vintage camper plates on sale at Hobby Lobby and you can see that I made some napkin rings out of more yo-yos!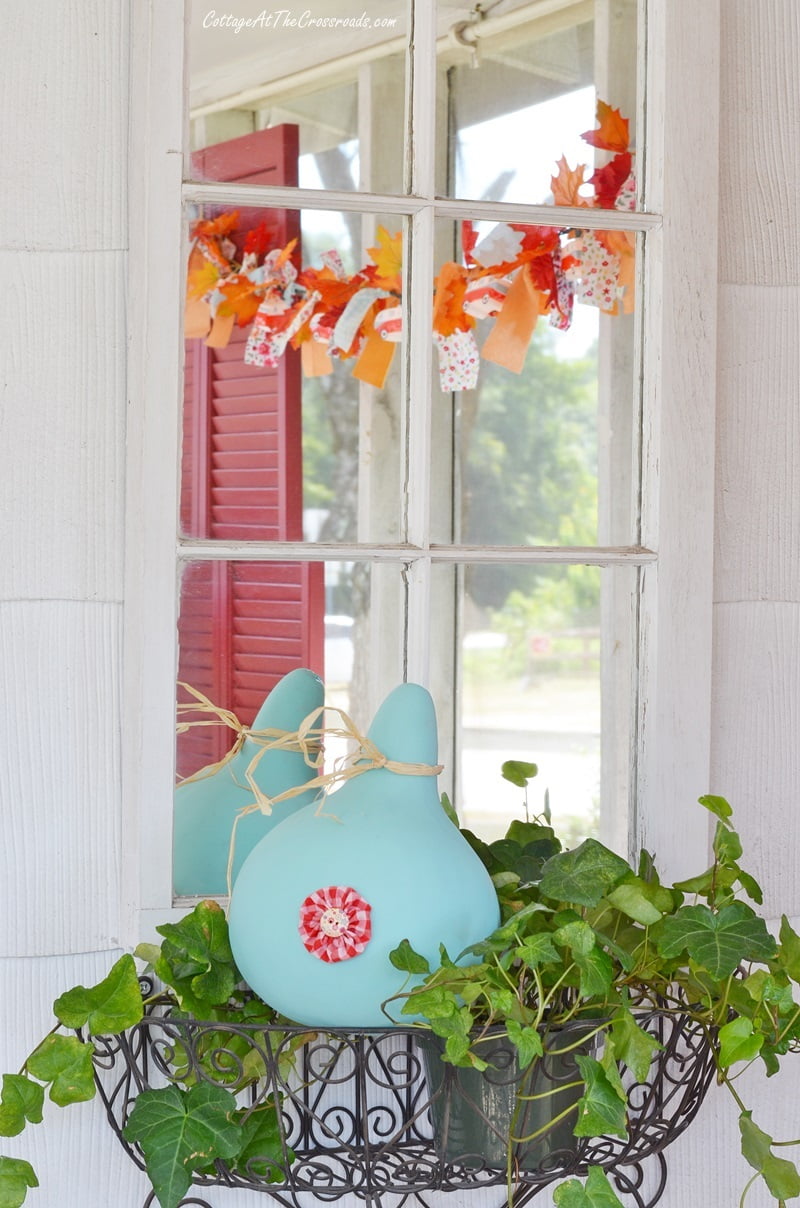 And even a nearby gourd got the yo-yo treatment!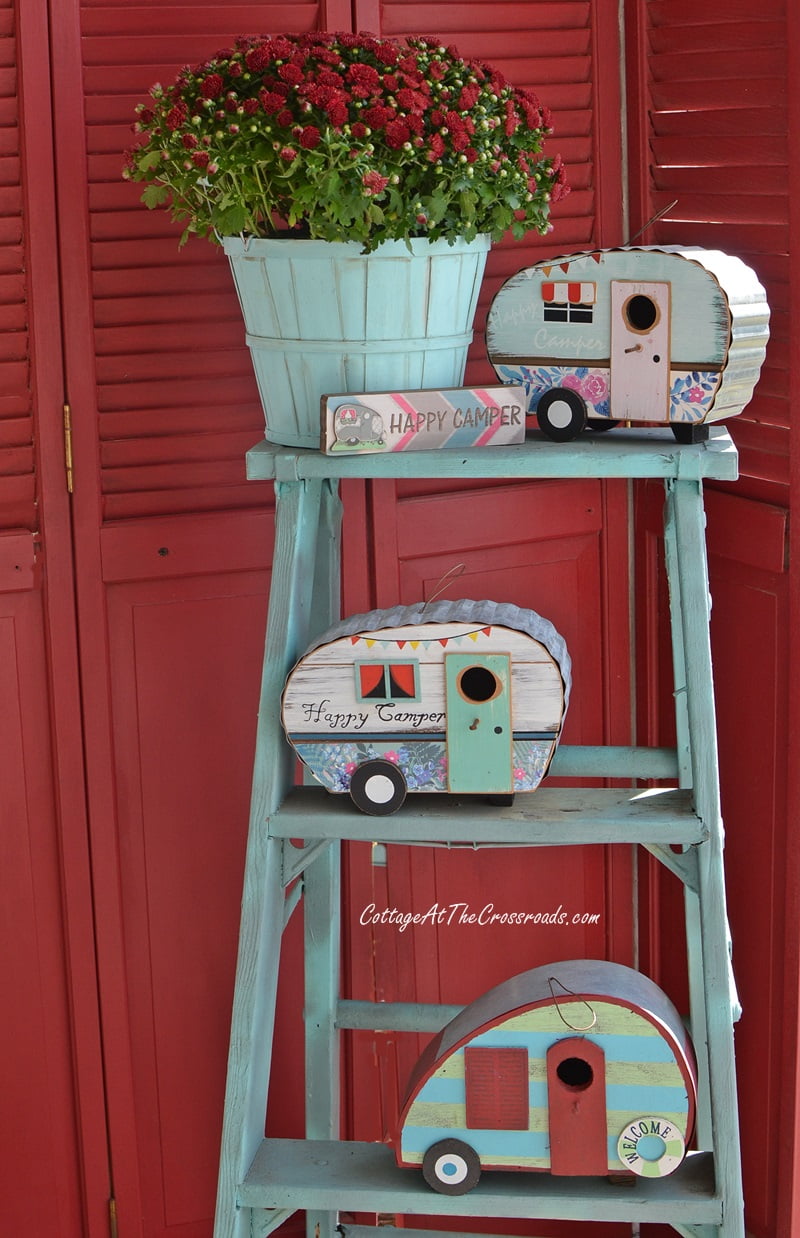 In the corner is a collection of vintage campers. Some were given to me and others I found at the dollar store during the summer.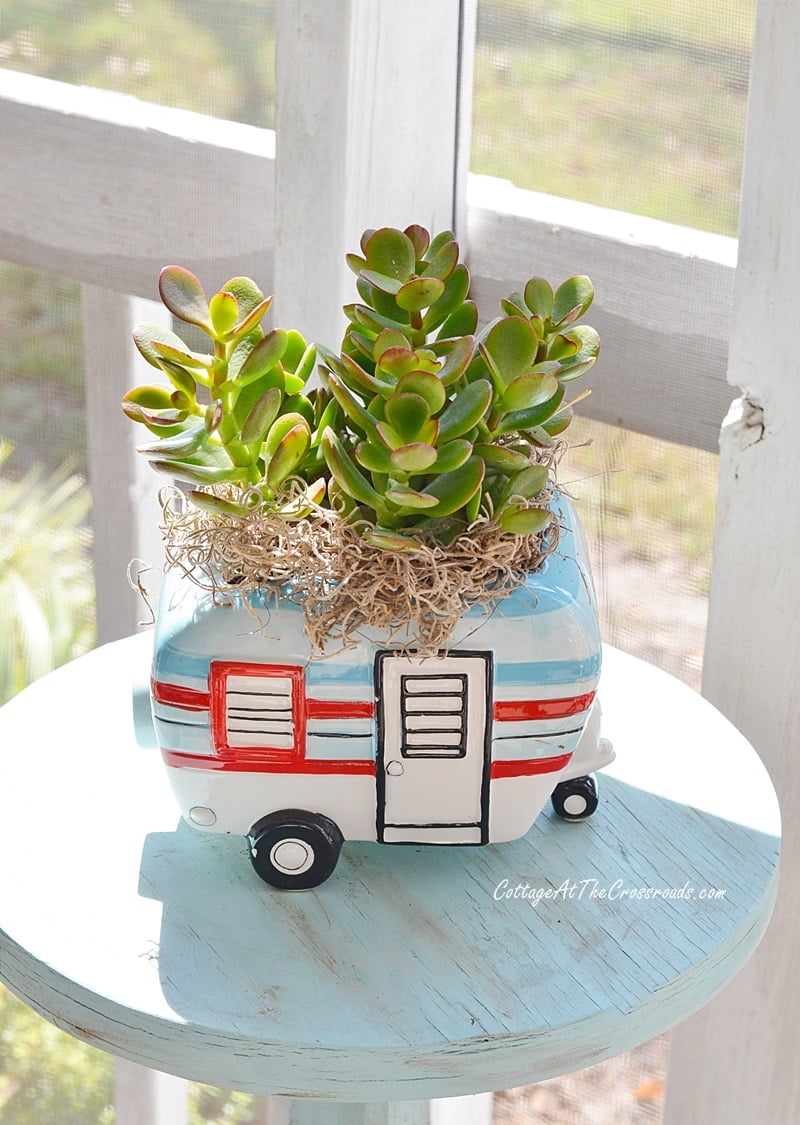 And this vintage camper planter is as cute as can be, don't you think?
I hope you enjoyed seeing our campy fall front porch. It was fun to decorate it for you to see and I hope you share it with your friends and family.
Check out these Fall Ideas for more inspiration and creative ideas.