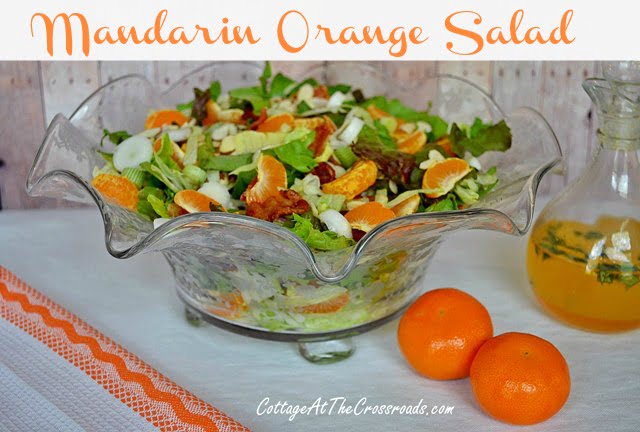 I have a delicious mandarin orange salad recipe for you today, and it's so good that Leo has already asked me to make it again! This recipe is an old one that I used to make a lot, but I had forgotten about it until I was looking for my lemon cheesecake recipe. When I ran across it in my old recipe book, I knew that I'd be making it soon and sharing it with you guys because it's that good!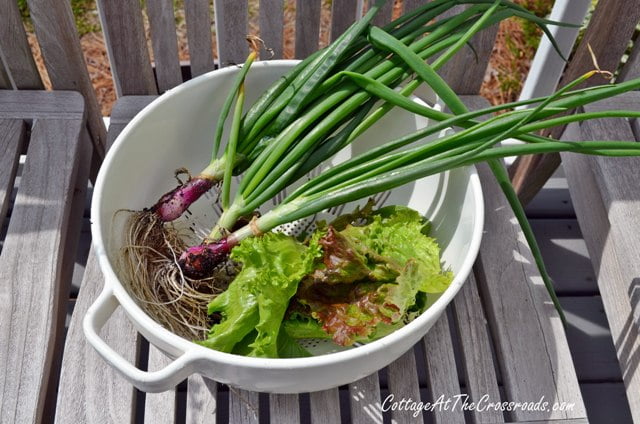 This post may contain Amazon or other affiliate links. As an Amazon associate, I earn from qualifying purchases. If you purchase anything through any affiliate link, I may earn a small commission at no extra charge to you. All opinions are my own.
Even though this salad would be good anytime of the year, it's especially wonderful right now because spring onions and fresh lettuces are available.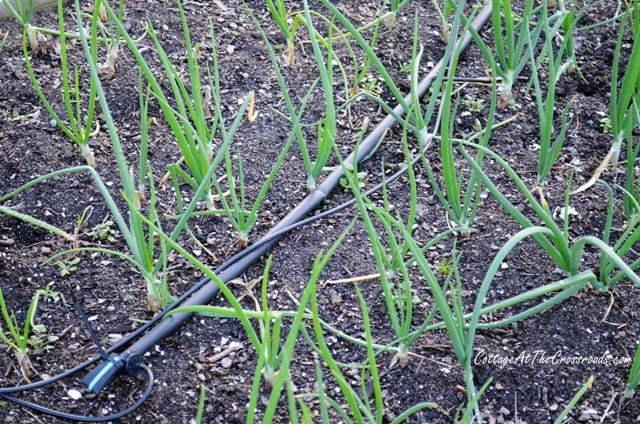 We just happen to have some growing in our raised beds. These are spring onions that we planted about 6 weeks ago.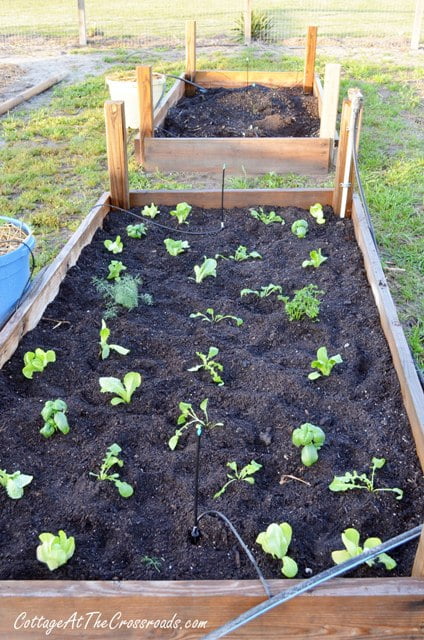 Here's some lettuce and herbs growing in another raised bed. They are so easy to grow that I encourage all of you to grow your own lettuce, even if you grow it in a pot. If you use transplants, you'll be harvesting lettuce within 2 weeks! Our lettuce is not quite ready since I just got it planted this week, so I snuck a few leaves from Jim and Jean's raised bed since they planted theirs earlier. (Shh! Don't tell!)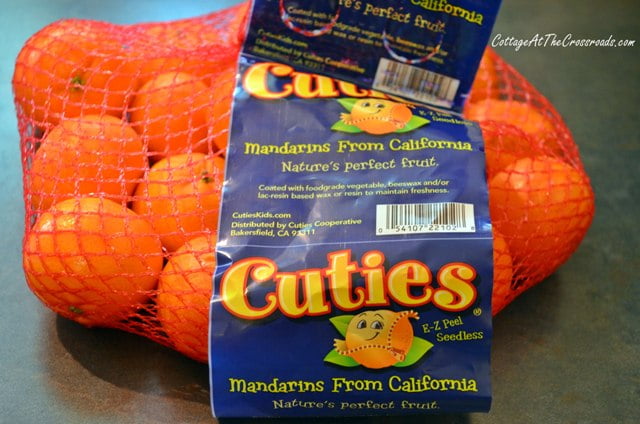 I used fresh mandarin oranges in my salad today because these "Cuties" are so readily available right now. But I've also made this salad with canned mandarin oranges.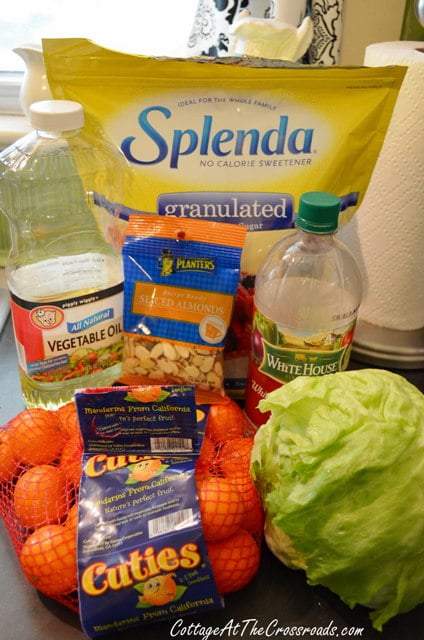 To make the salad you will need: iceberg lettuce and another variety of lettuce such as romaine or red lettuce, 2-3 sliced green onions, peeled and segmented mandarin oranges, 1/4 cup sliced almonds and 1/2 cup bacon bits.
What makes this salad so refreshing is the homemade dressing and to make it you will need: 1/4 cup vegetable oil, 2 tablespoons sugar (I used Splenda), 2 tablespoons white vinegar, 1/2 teaspoon salt, 2 fresh chopped basil leaves, and a few dashes of hot sauce (I used Texas Pete)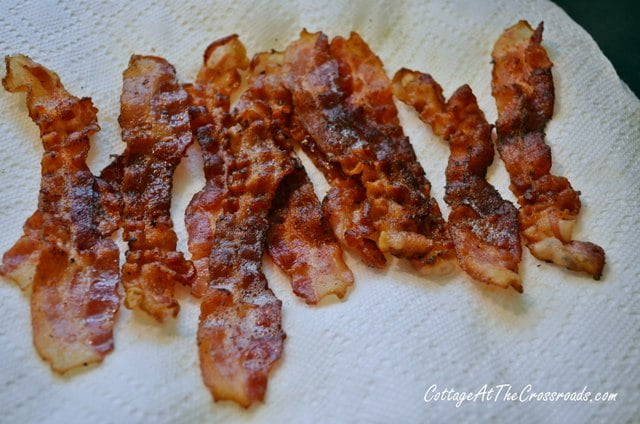 Now, I'll go ahead and fess up. I added more bacon than 1/2 cup! I fried about 10 strips and crumbled it! Perhaps that's why Leo asked for this salad again!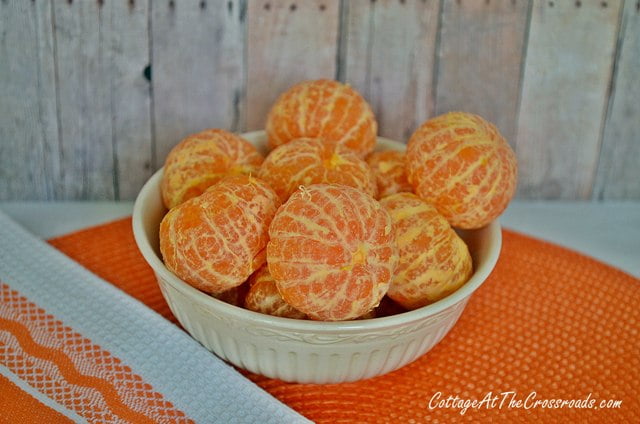 After I fried my bacon, I peeled those "Cuties." They are so good that I had to eat a few while I was making the salad.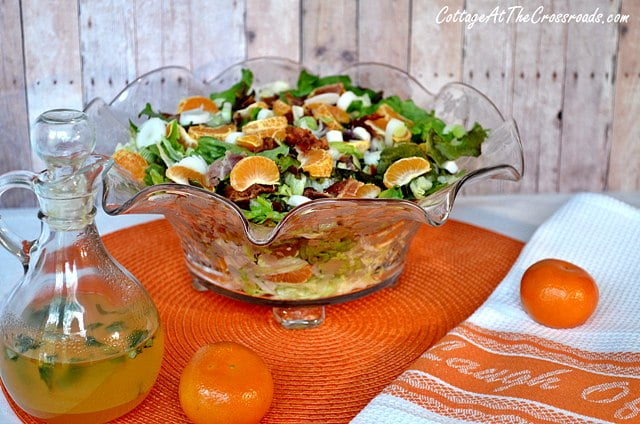 To make the dressing, just combine all the ingredients. Don't leave out the hot sauce or the fresh basil because those 2 ingredients make the dressing SING! You know what I mean! Assemble your salad and wait until just before serving to dress it.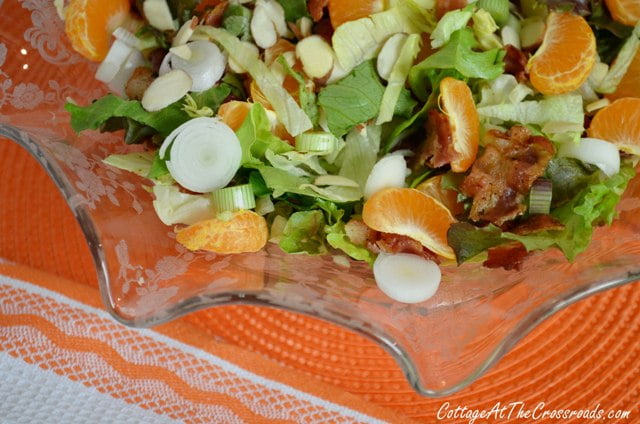 What a flavorful combination of ingredients! Besides, do you know anyone who doesn't like bacon?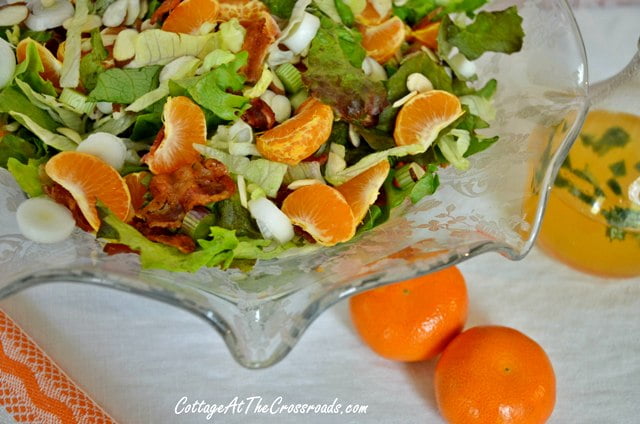 I think I could eat this salad everyday! Trust me on this one……you'll love it too!
If you'd like a printable copy of this recipe, click HERE.
I'm joining:
On the Menu [email protected]StoneGable
Metamorphosis [email protected]Between Naps on the Porch