The humble Brussels sprout has long been relegated to the background, often remembered only during the holiday season and then promptly forgotten. However, with our "30 Frozen Brussels Sprouts Recipes," we aim to transform your perception of this underrated veggie.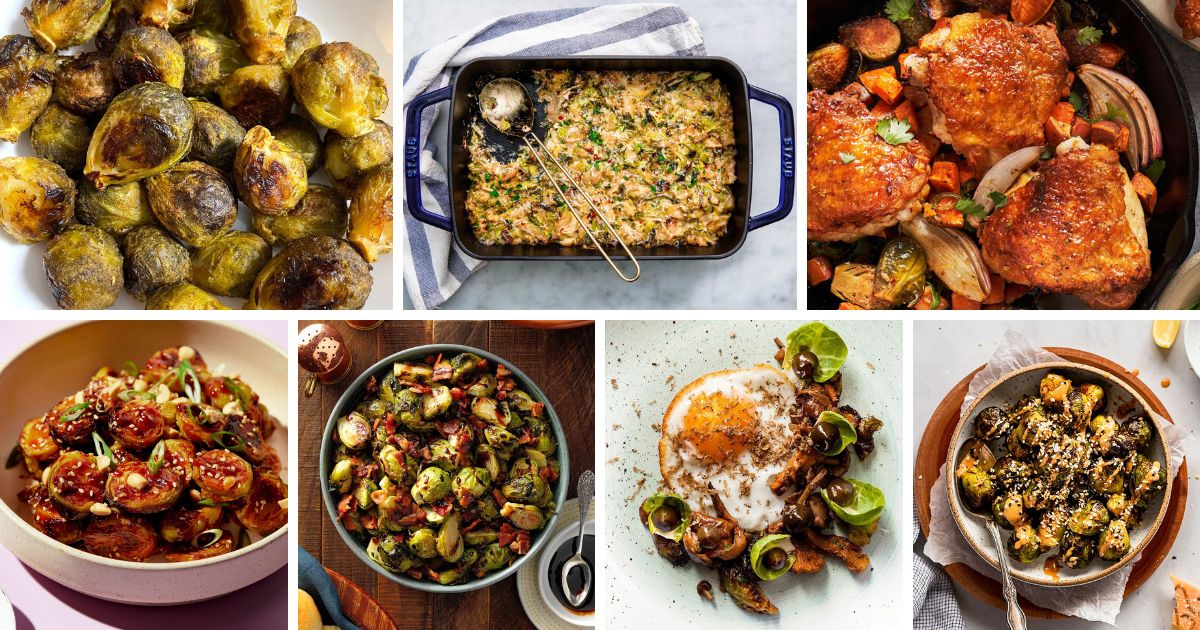 Trust us; Brussels sprouts can become the culinary highlight of your meals, from casual weeknight dinners to grand holiday banquets.
Although controversial on its own, these veggies mingle swimmingly with the smoky aroma of bacon, the tangy punch of balsamic vinegar, the warming tones of garam masala, and much more.
So, get ready to bring some excitement to your table with our 30 innovative and delicious Brussels sprouts recipes, from comforting casseroles to an adventurous Kung Pao rendition and beyond.
Contents
This straightforward recipe is an example of simplicity at its finest, with the earthy Brussels sprouts taking center stage. It's an easy, weeknight side that pairs well with grilled meats or creamy pasta dishes.
Enjoy the light crunch and robust flavor of these air-fried sprouts. They are a wonderful, healthier alternative to deep-fried appetizers when entertaining guests.
This flavorful dish combines the tanginess of balsamic vinegar with the mellow warmth of roasted sprouts. It's a sumptuous side dish perfect for holiday meals or Sunday roasts.
Relish this rapid, hassle-free recipe filled with flavor, a boon for bustling weeknights. Serve these sprouts alongside roasted chicken or pan-seared fish for a balanced meal.
This recipe pairs the sweet and umami flavors of honey and miso with the earthy notes of Brussels sprouts. It's an exciting flavor combination that will enhance any Asian-themed dinner.
This casserole is your answer to comfort food cravings. Revel in the creaminess of the mushroom soup and cheddar cheese enveloping the Brussels sprouts, assuring its appeal at communal meals.
This dish skillfully negotiates a truce between sweet, acidic, and umami flavors, positioning it as a top accompaniment for substantial main dishes such as roasted meats or oven-baked fish.
This one-pan wonder combines the heartiness of chicken thighs and the smokiness of bacon with the nutritious goodness of Brussels sprouts. It's a satisfying meal for those cool, cozy evenings.
Indulge in the bliss of crunchy bacon harmonizing with caramelized Brussels sprouts in this recipe. It's a luxurious accompaniment befitting of special celebrations.
This hearty soup is a union of quinoa, pancetta, and Brussels sprouts culminating in a nourishing meal. It's an excellent selection for a cozy, comforting dinner on a cool evening.
This simple, colorful dish makes the most of your oven's roasting capabilities. Sliced almonds add a delightful crunch to the mix, perfect for a light dinner or as a side dish.
Experience the unexpected delight of brussels sprouts in your pasta. The salty punch of anchovies and capers mixed with a touch of lemon zest gives this dish a uniquely tangy profile.
For those comfort food yearnings, this is your answer. This creamy, cheesy brussels sprouts bake, crowned with a golden breadcrumb crust, is a promise of a deliciously heartwarming dinner on a frosty evening.
This unique soup pairs the earthy flavor of brussels sprouts with the strong, savory notes of Stilton cheese. A swirl of crème fraîche rounds out the bold flavors, making it a perfect opener for a winter dinner party.
Nothing says indulgence like a juicy roasted prime rib. Paired with caramelized brussels sprouts and onions, and glazed with a mixture of maple syrup, cooking sherry, and Dijon mustard, it's an impressive main for a special occasion.
Explore the vibrant flavors of Indian cuisine with this dish. A medley of sliced brussels sprouts, coconut, spices, and cherry tomatoes make this a standout side that's sure to spice up your regular dinner rotation.
This recipe seamlessly fuses the robust essence of wild Alaskan sockeye salmon with the delightful blend of sweetness and saltiness from prosciutto-glazed Brussels sprouts. A splash of lemon juice finalizes this well-rounded meal that's perfect for a snug family dinner.
This creamy brussels sprouts dish, with a tangy Greek yogurt and mayonnaise base, is set to be the talk of any dinner gathering. Topped with a mixture of Fontina and Parmesan, it's a luxurious side that's certain to impress.
Welcome the season's flavors with this hearty casserole. A blend of chicken, sweet potatoes, brussels sprouts, and cranberries, nestled in a bed of wild rice, makes this a snug and comforting dish perfect for a chilly night.
Experience a novel way to savor brussels sprouts through this recipe influenced by Middle Eastern cuisine. A dash of sumac, a smear of tahini-enriched Greek yogurt, and a scattering of toasted seeds and nuts contribute to this dish's unique taste.
These garam masala-seasoned brussels sprouts will transport your palate on an exotic journey. Roasting the sprouts draws out their natural sweetness, which dovetails wonderfully with the warm spices of garam masala.
A flavorful melange of honey, Dijon mustard, and garlic intensifies the taste of this chicken dish. It's the ultimate recipe for a swift, satisfying midweek dinner, striking a balance between savory and tangy notes.
In this unique recipe, shredded Brussels sprouts pair with gram flour and a blend of Indian spices for a flavorful bite. The cooling cucumber and mint raita on the side provides a delightful contrast.
Relish the cherished flavors of a quintessential Chinese dish with these recipes. Ideal as a distinct side dish or a vegetarian main, they are a flavorful medley of umami, sweet, and spicy notes.
This simple, yet deeply flavorful dish pairs caramelized shallots with brussels sprouts and a touch of honey for sweetness. Calvados or brandy gives it an unexpected and sophisticated kick, perfect for a holiday dinner.
This creamy Brussels sprouts bake will transform your ordinary vegetable dish into something extraordinary. With a touch of cayenne pepper and a mix of cheddar and Gruyère, it's a comforting side dish.
Bacon, Brussels Sprouts & Chilli Broth
Featuring a heartwarming blend of smoky bacon, finely diced parsnips, and Brussels sprouts, this broth carries a hint of heat from chili flakes. It's a delightful soup to warm you up on cold, rainy days.
This hearty hash pairs Brussels sprouts with crispy bacon and fragrant onions, spiced up with a touch of crushed red pepper. Topped with a perfectly cooked egg, it's a wholesome brunch or breakfast option.
Luxurious truffle oil elevates this dish of wild mushrooms, fried duck eggs, and Brussels sprouts. With a puree of pickled walnuts on the side, it's an upscale breakfast or brunch that's sure to impress.
This bite-sized snack featuring roasted Brussels sprouts, brie cheese, and candied walnuts offers a blend of savory and sweet sensations. A drizzle of honey coupled with a touch of hot sauce adds an unexpected spin.