Last week I was blog hopping and I ran across an interesting idea for a linky party. Now, for some of my readers who are new to the blogging world, a linky party is where one blogger makes a post and provides a way for other bloggers to link to that post. Then when readers visit that blog, they can click on any of the links and go to those blogs, too.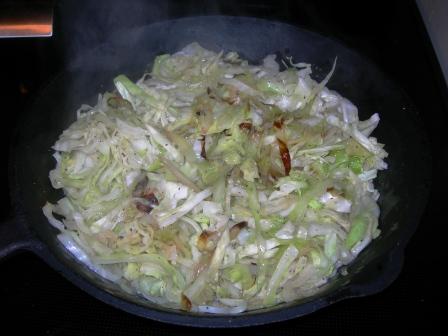 I must say that the linky parties have introduced me to a whole new world of fabulous, creative people. I've only been blogging for a short while, and I've been thinking about joining one of these parties, but I haven't worked up the courage to join one yet. But the other day while visiting Happier Than a Pig in Mud, I saw that Lynn was having a Celebrity Cook-Along Linky Party, and I decided that this was going to be the first Linky party that I will join.
The first featured celebrity is going to be Ina Garten which means a whole lot of bloggers are going to be cooking and sharing Ina's recipes . I have several of Ina's cookbooks, so I found perhaps the easiest recipe of hers to try.
This recipe comes from the cookbook Ina Garten Barefoot Contessa Parties and the recipe is Sauteed Cabbage. Now the first thing that I thought was, "Who serves cabbage at a party?" I consider cabbage more "Let's hurry up and get some food on the table!" kind of food. Well, this recipe is fast and delicious! Ina says that Martha Stewart taught her how to make this dish and who argues with Martha?
Here is what you need to prepare this dish: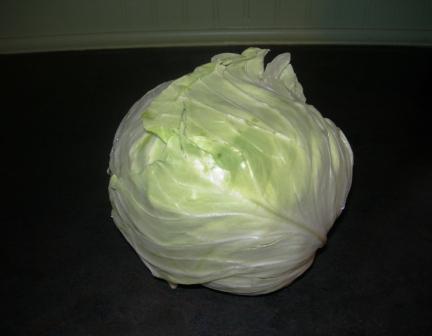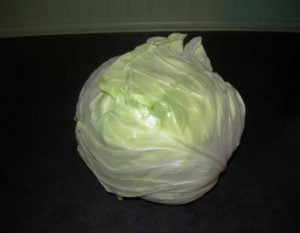 1 small head of cabbage
2 tablespoons unsalted butter
1 ½ teaspoons kosher salt (I used sea salt)
½ teaspoon freshly ground pepper
Fleur de sel to taste (optional)
How to make
Cut the cabbage in half and, with the cut side down slice it as thinly as possible around the core, as though you were making coleslaw. Discard the core.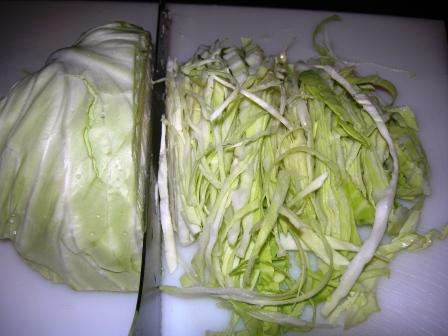 Melt the butter in a large saute pan or heavy-bottomed pot over high heat. (I used half of the head of cabbage since I was cooking for two people, and I used an iron skillet. If you use the whole head of cabbage, you are going to need a larger pot.)
Add the cabbage, kosher salt, and pepper and saute for 10 to 15 minutes, stirring occasionally, until the cabbage is tender and begins to brown.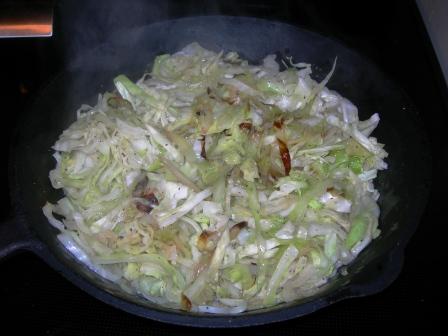 Finish with another sprinkling of kosher salt or fleur de sel. Serve hot. How easy is that?
I served the cabbage with some fried pork chops. Leo was veeeeerrrry happy! And since I only used half of the cabbage last night and the grocery store had a buy one-get one free special on the pork chops, we had the same thing again for dinner tonight.
But I don't think I'll be serving this dish at any party! Click on the word comments below and tell me if you like cabbage or not.
Till next time, Jane