Howdy, howdy, howdy everyone! Can you believe it's just 10 days until Christmas? Today I'm sharing our Gingerbread kitchen with you.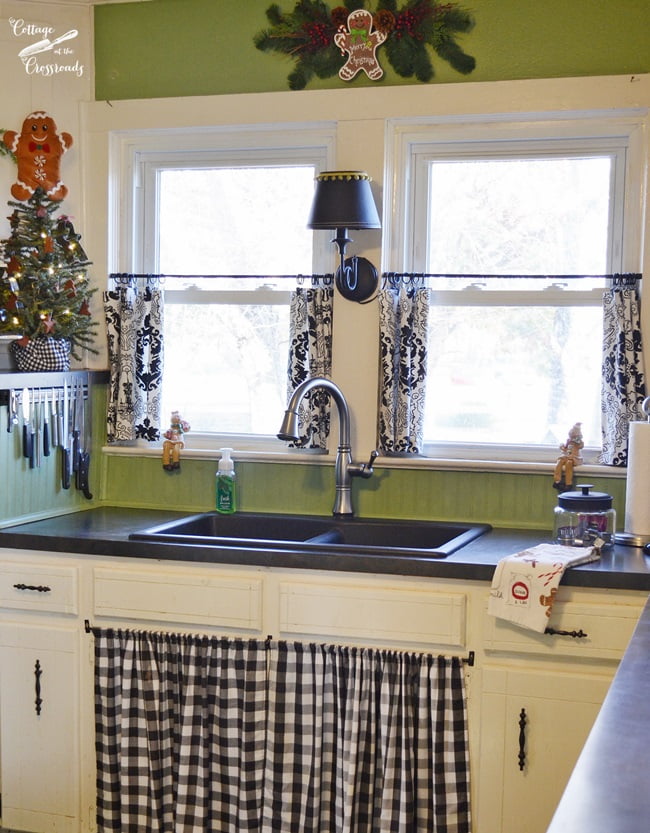 Our kitchen here at the Crossroads is old and small, but it's one of my favorite places to decorate for the holidays.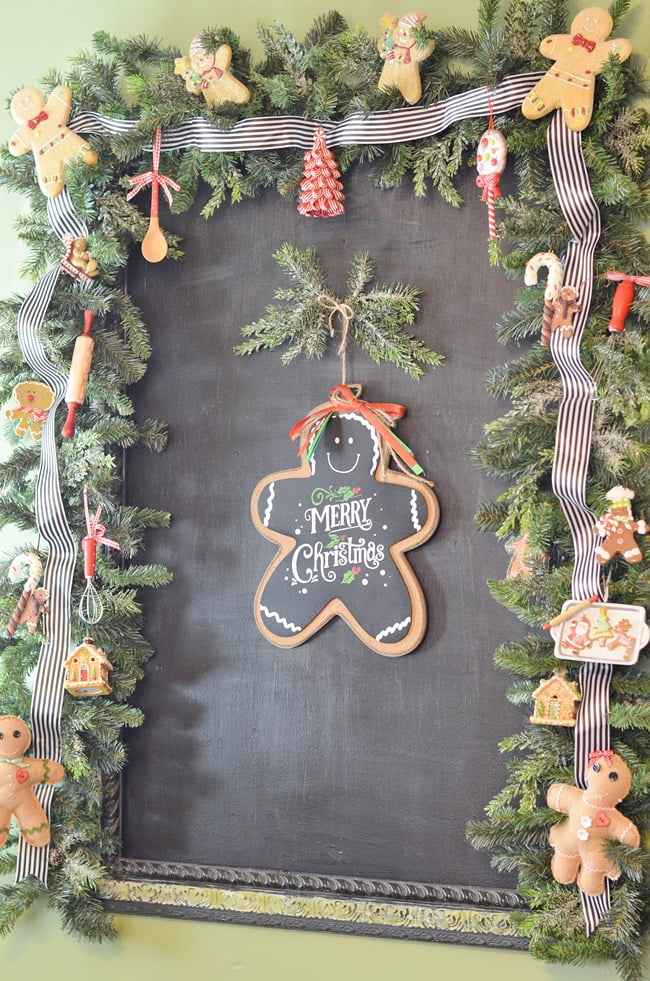 Do you decorate your kitchen for Christmas? Obviously, I do but here's my reason for doing so. To me, the kitchen is the heart of the home, and most of my memories of past Christmases revolve around the food that comes out of the kitchen. The warmth, the aromas, the coziness all emanate from the kitchen. Nothing shows love more than homemade goodness from the kitchen!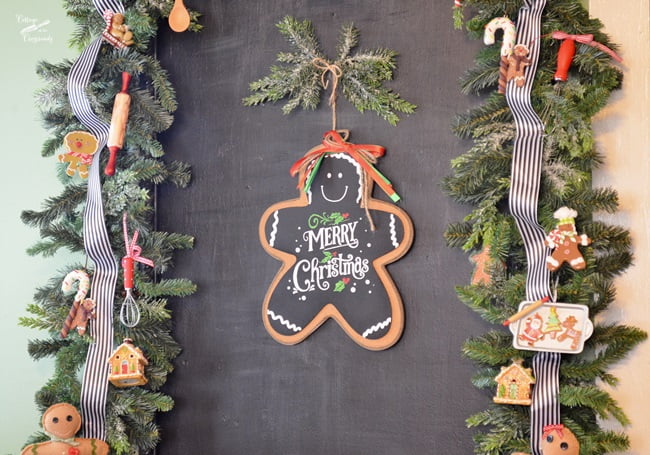 And what can be more whimsical and full of fun than gingerbread people! About 5 years ago, I started collecting gingerbread related items, and nothing you see here is new. Most all of it has been rearranged or displayed differently. Oops! I forgot. The wooden gingerbread boy hanging here on the chalkboard is a new addition this year.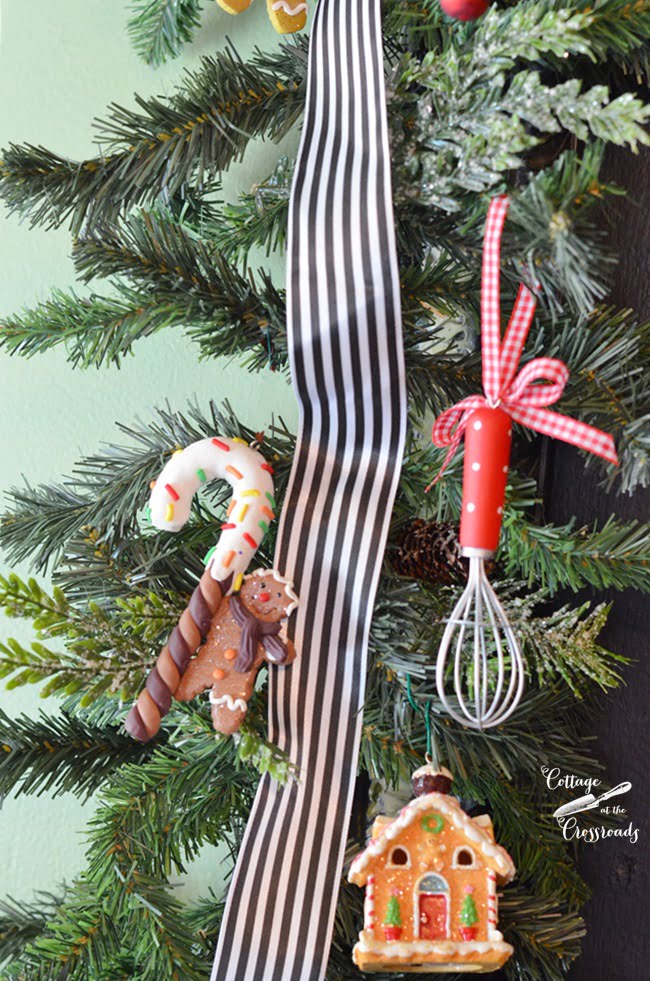 Here's a closeup of some of the ornaments hanging on the garland. I'm just like a kid again when I bring them out of storage each year!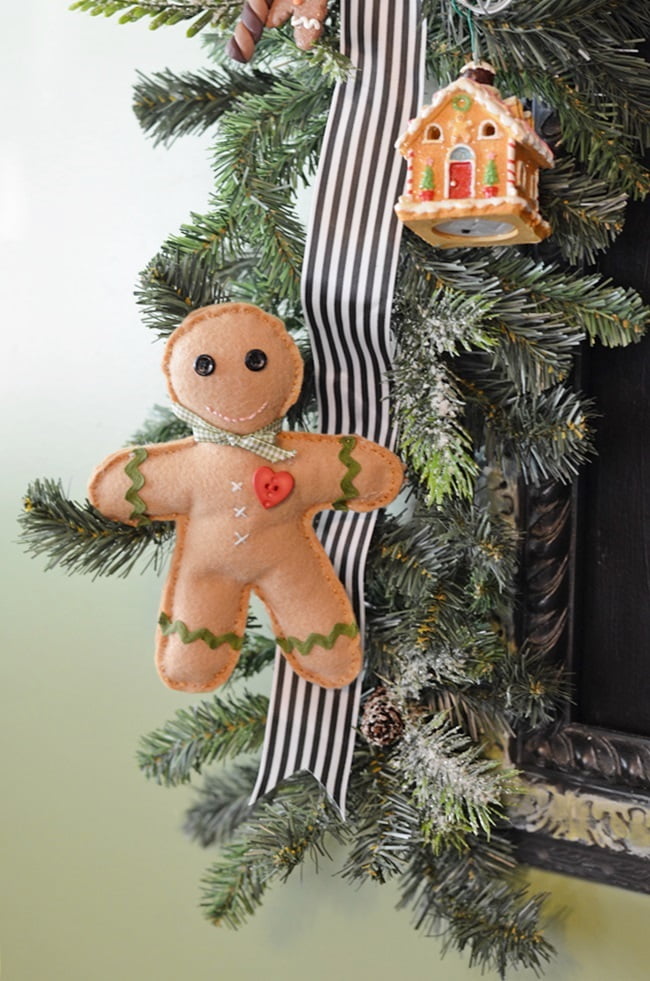 I made this little guy last year, and if you'd like to make some of your own, you can find the directions in this post: Handmade Gingerbread Boys and Girls.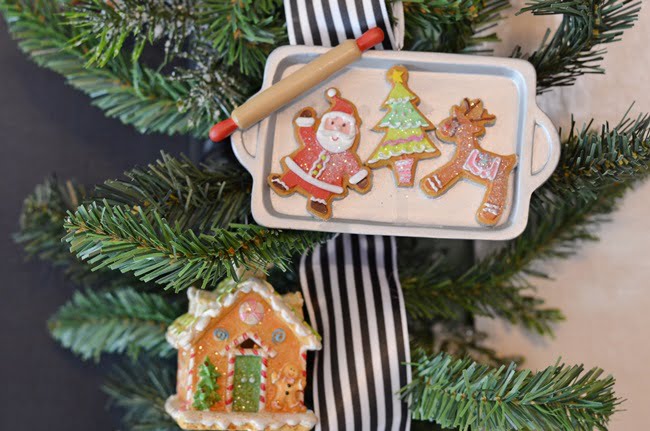 You can't help but smile at such cuteness, can you?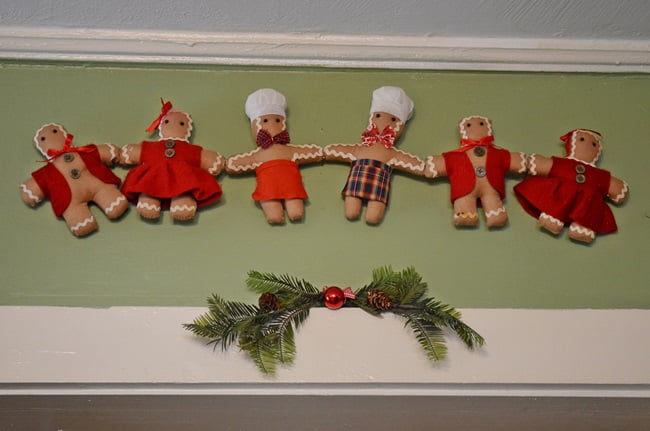 Over the door beside the chalkboard are more gingerbread people along with some gingerbread chefs! You know, I decorate the kitchen with a gingerbread theme because of the grandchildren. I want them to have those warm memories of time spent in this kitchen, just like Leo has. (Leo was raised in this house, in case you didn't know.)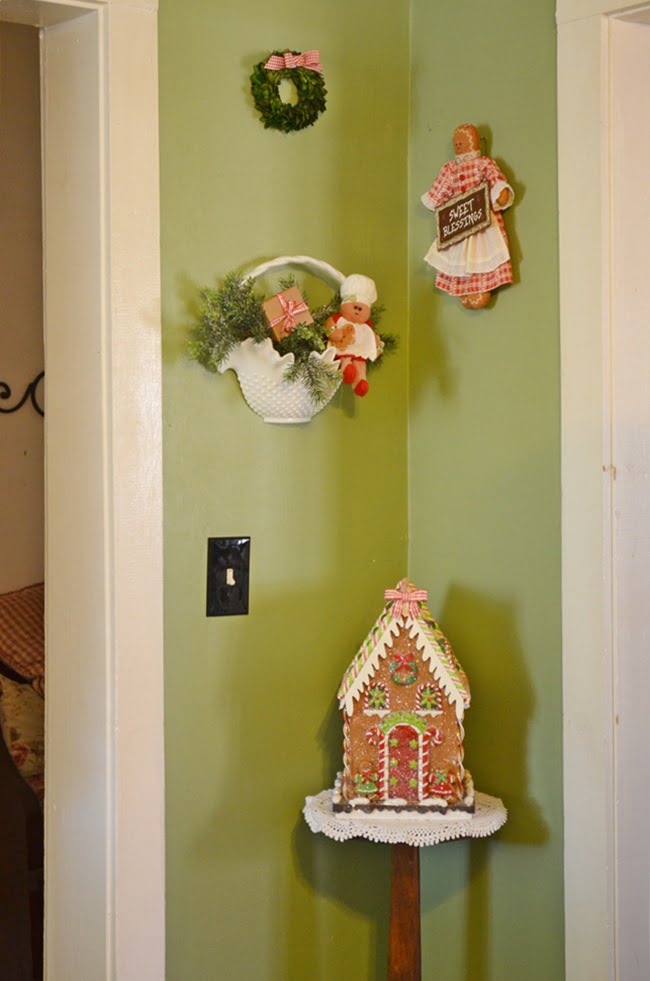 In the corner are more gingerbread decorations.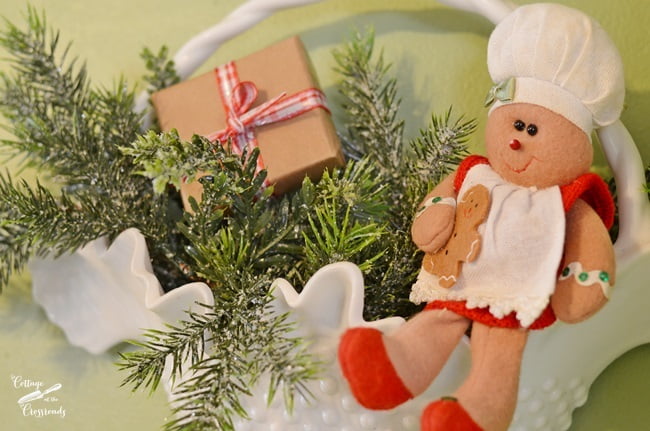 In this little wall pocket is a cutie with her gingerbread dolly!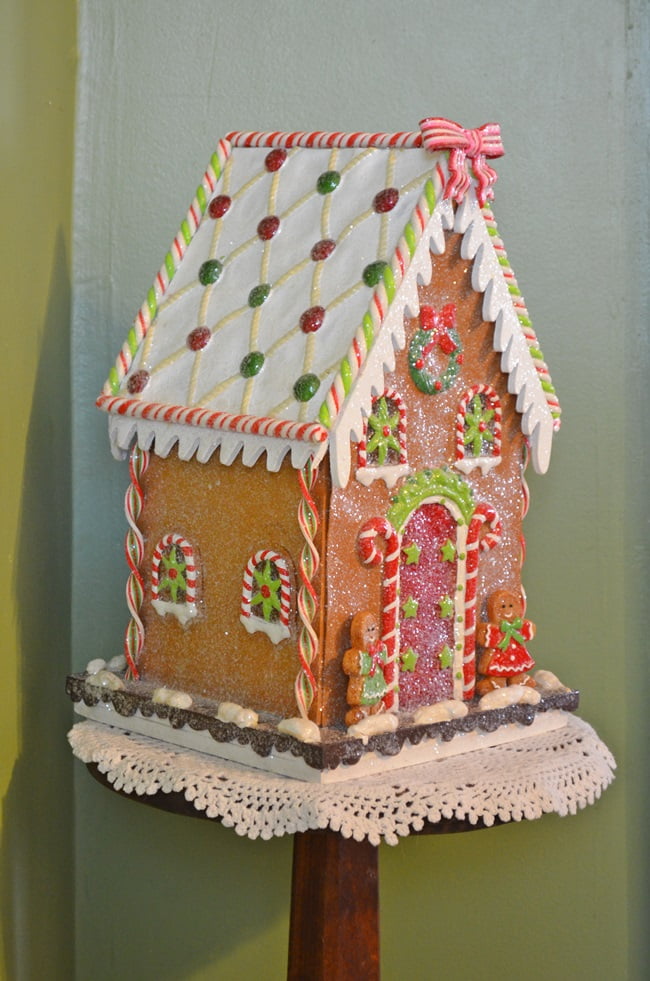 It was this gingerbread house that started all of this. I spotted it in a shop and fell hard. Luckily, it was on sale!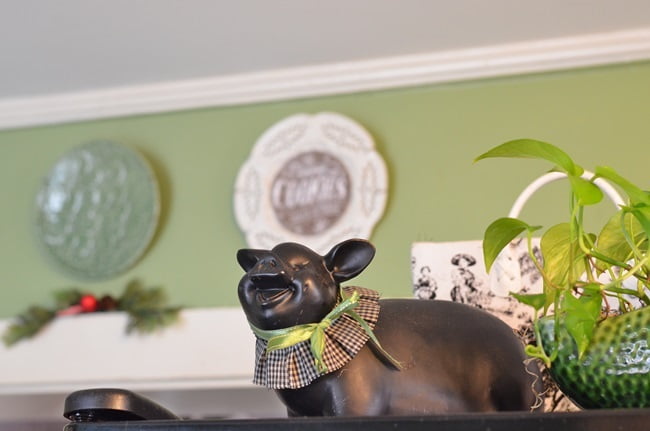 Pork Chop is still residing on top of the refrigerator. Now, I have to admit something to you. See the white plate in the background? I forgot to take off the "cookies" sign (it's just a printed piece of paper) last year, but I did not realize it until just a few months ago! So I just left it up until Christmas rolled around again!
Above the stove is a shelf with more gingerbread goodies.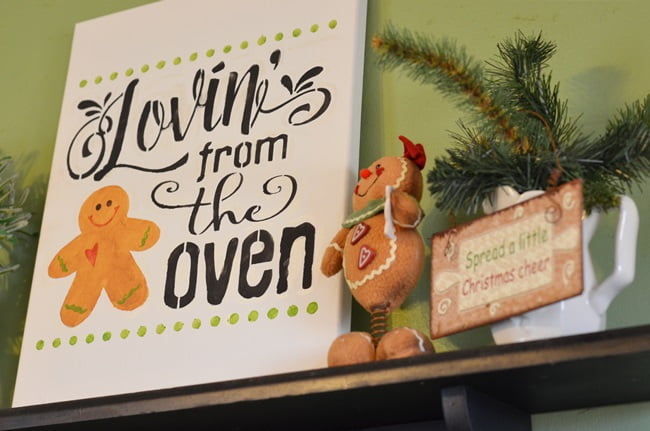 You may recall that I made this stenciled sign last year. You can read more about how I did it in the post New Gingerbread Kitchen Sign.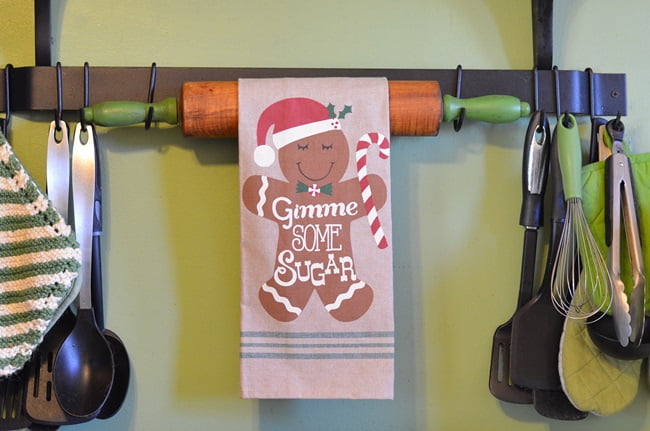 I'll be asking everyone to "gimme some sugar" just like it says on this cute kitchen towel!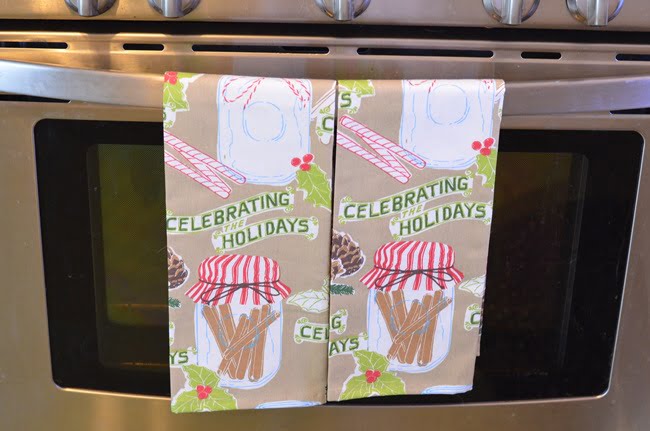 Hanging on the stove handle are some kitchen towels that I picked up last year, but I don't think I ever showed them to you.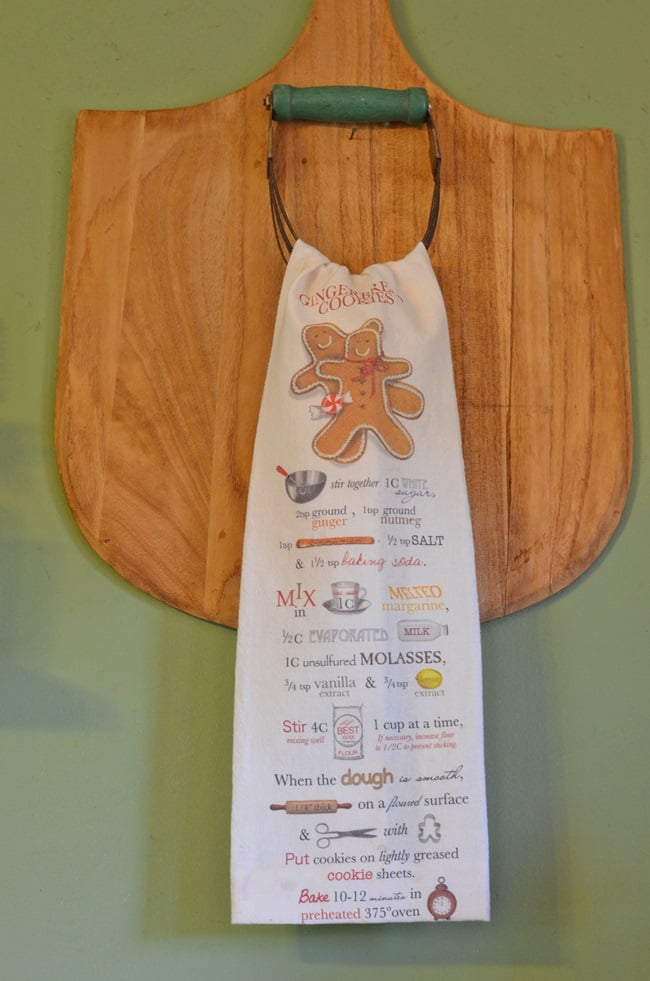 Hanging on a pizza peel is a recipe for gingerbread cookies printed on a tea towel. After the grandgirls arrive, I think we'll make and decorate some cookies following this recipe. Oh, what fun we'll have!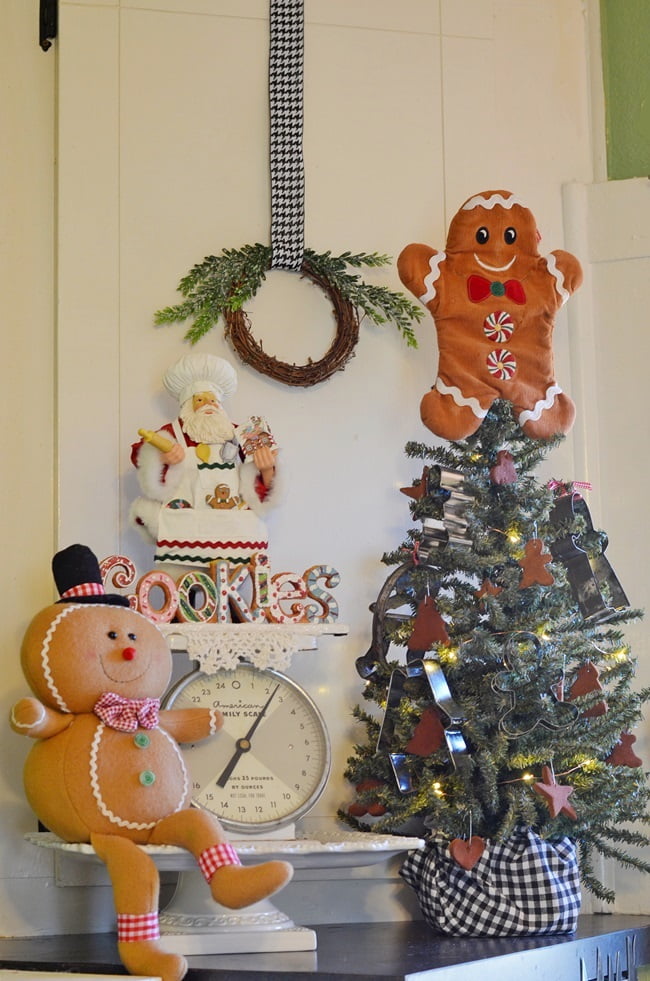 Over in the corner is another display in our gingerbread kitchen. The little tree displays vintage cookie cutters along with some cinnamon applesauce ornaments that I made a few years ago. They still perfume the air with a wonderful scent.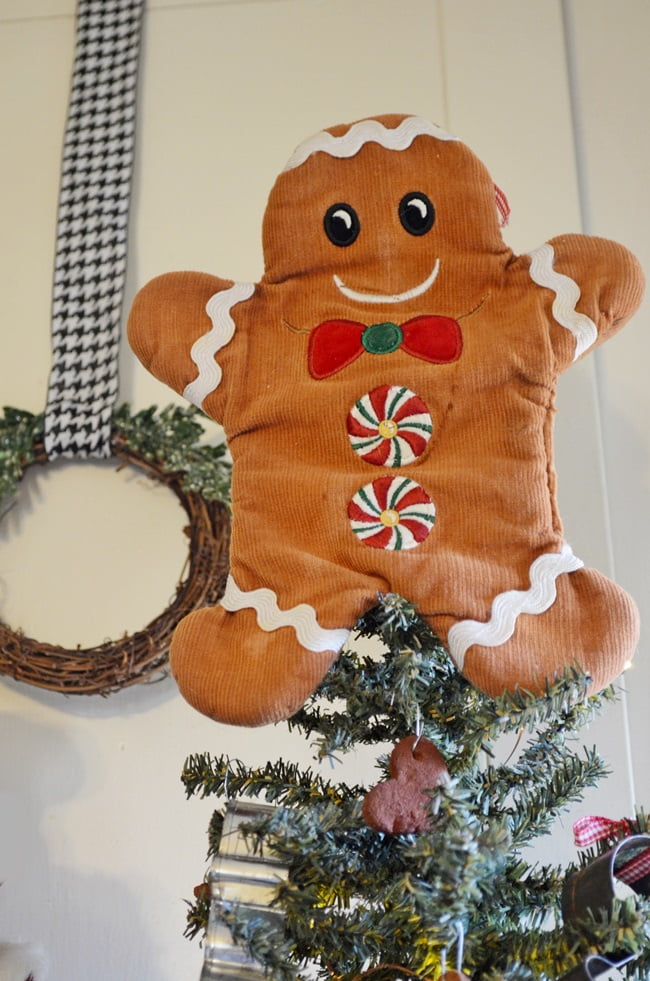 The tree topper is actually an oven mitt that fell behind the stove a few years ago. I guess you could say the gingerbread boy ran away and hid there until I found him again when we had to replace the stove!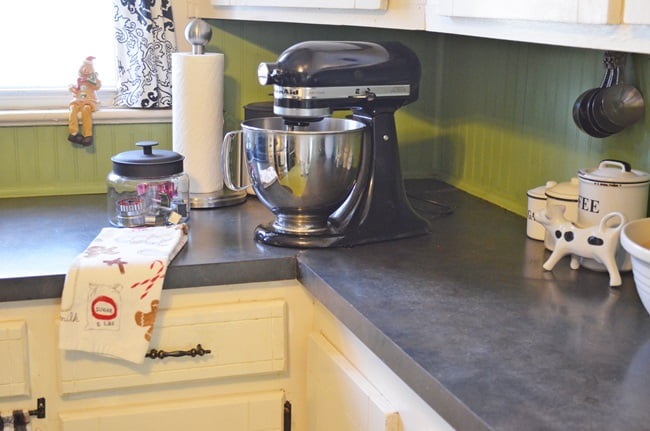 Over in this corner you can see that I've pulled out my mixer and more cookie cutters that I'll be using soon.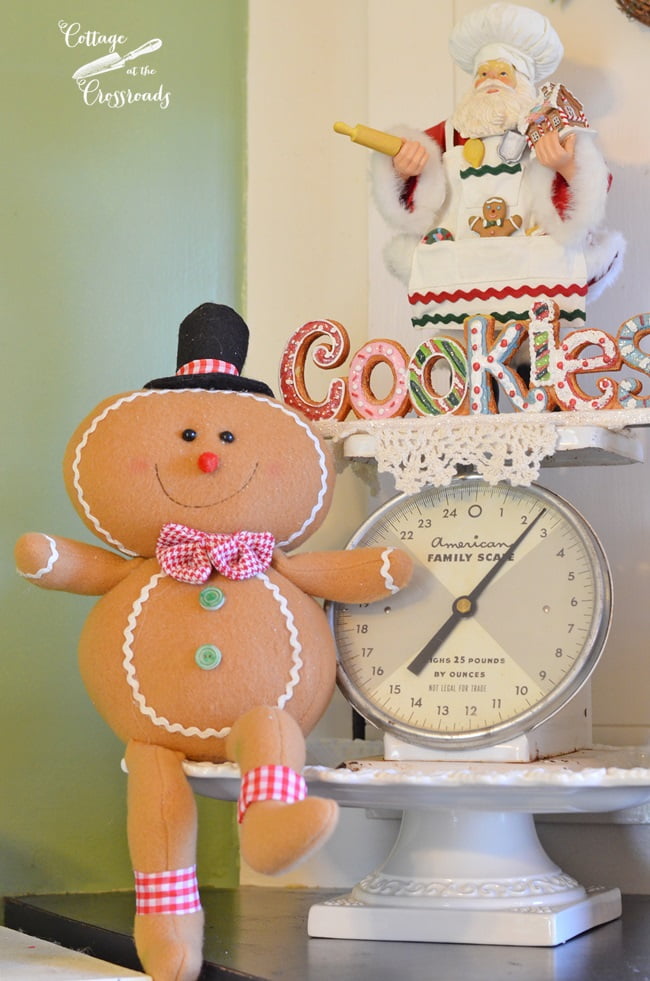 Because it's all about the cookies and the memories we'll be making in our gingerbread kitchen!