About 6 months ago, one of my favorite bloggers, Kim from Savvy Southern Style, asked me to participate in her weekly series "My Favorite Room." I was thrilled to be featured and I'm sharing the post on the blog today just in case you missed it or perhaps you are new here.  So here it is.....my favorite room!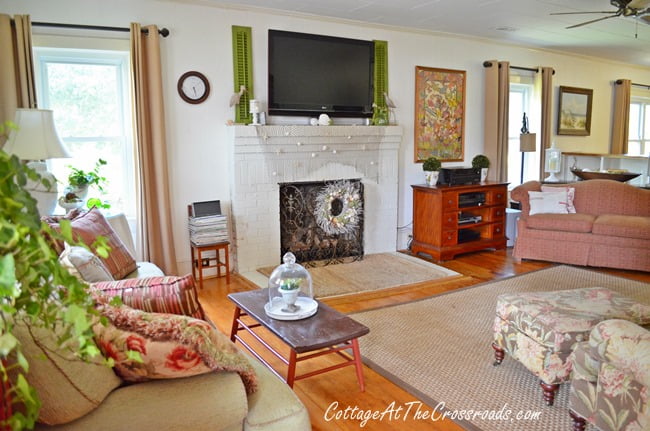 My husband and I live in a small, country cottage in South Carolina that is about 100 years old. It was built by his grandfather, after whom he is named, and he grew up in this house. Five years ago, the house stood empty, and we decided to move into it as we were downsizing and simplifying our lives. My favorite room in this house is the living room which you step right into when you enter our home. It's my favorite room because it's filled with memories, sentimental gifts, and things we've collected over the years. And it was in this room that I first met Leo's big, boisterous family when they had all gathered to celebrate his father's 80th birthday 21 years ago. This room has a story to tell about our family and has been a haven for so many people, including us. So there's a real sense of history in this room and that's why I love it so.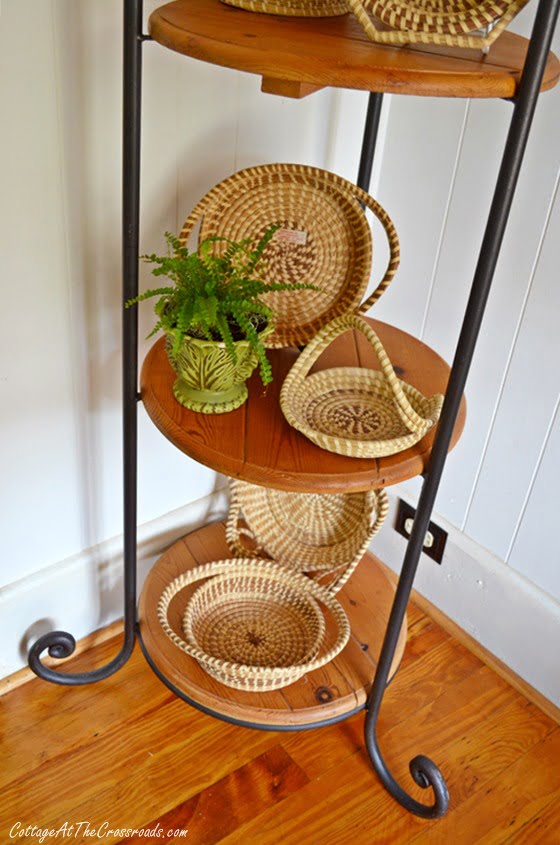 The first thing that you see when you enter this room is this corner piece that holds a collection of sweetgrass baskets. The baskets are indigenous to Mt. Pleasant, South Carolina and are a reminder of the many wonderful years when Leo and I lived there. We found the iron and pine piece at an antique store in Charleston. All of the baskets were handmade and some of them were given to me by parents of students that I taught in Mt. Pleasant. They are real treasures.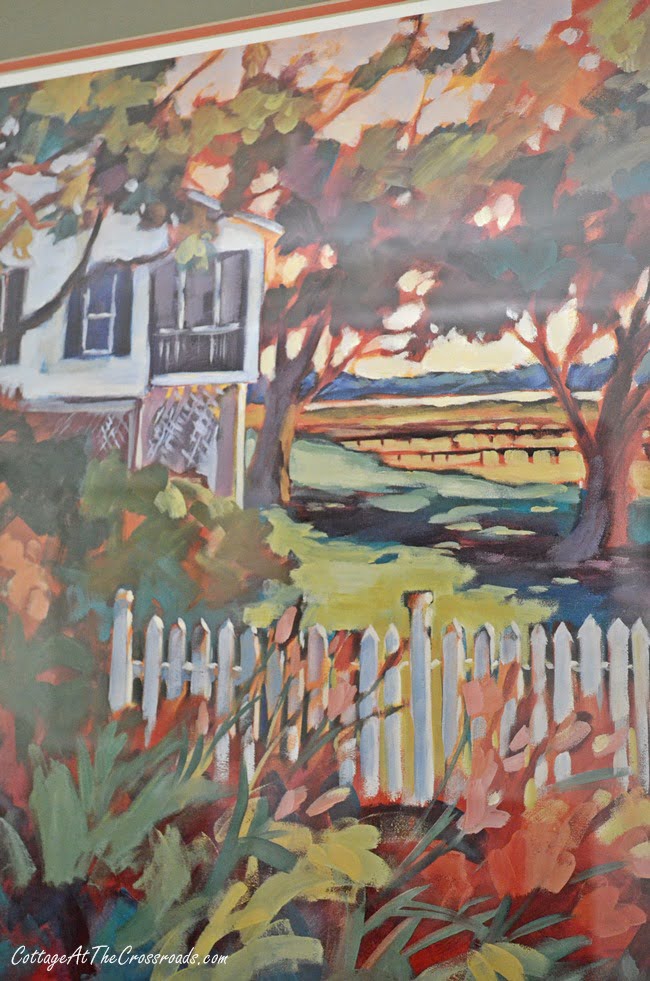 On the wall beside the sweetgrass baskets is a print by one of my favorite Low country artists of a cottage on a marsh. I guess I've always been drawn to cottages.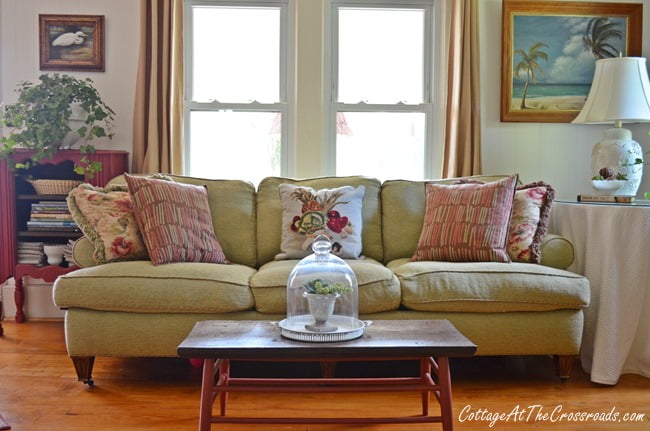 On the left is a red music cabinet that I painted last year and our sofa. When we first moved here, we pulled up the carpet and discovered these wonderful old pine floors. We had them refinished and painted the walls, ceiling, and fireplace white to better serve as a canvas for our colorful furnishings.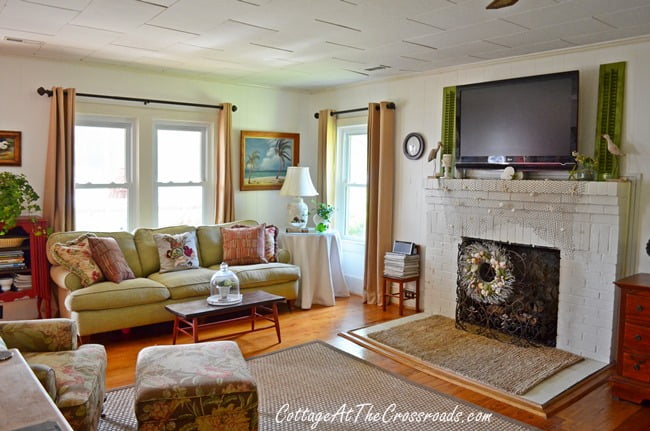 The acoustical tile ceiling has been up in this room as long as Leo remembers and it absorbed 6 coats of paint! He thinks that there may be a beadboard ceiling above it, and we hope to one day pull down the tiles to expose it.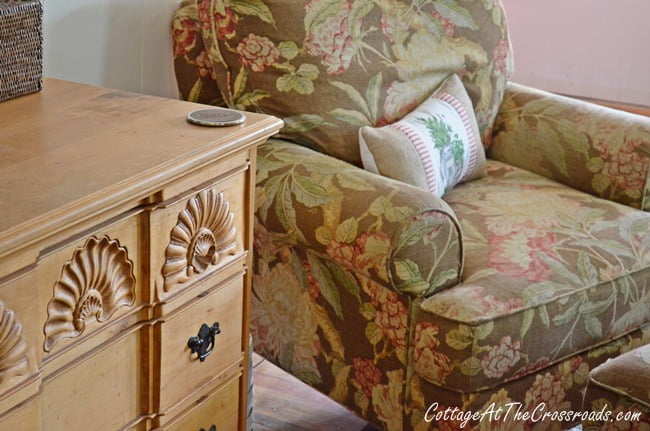 Along one wall, there is a pine chest surrounded by our comfortable chairs and ottomans which is where you'll find us sitting most of the time. Leo remembers sitting in about this same spot when he watched the Beatles' first appearance on the Ed Sullivan Show as well as witnessing Jack Ruby shot and killed by Lee Harvey Oswald on live TV. If you're old enough to remember, that happened just a couple days after President John F. Kennedy was assassinated in Dallas.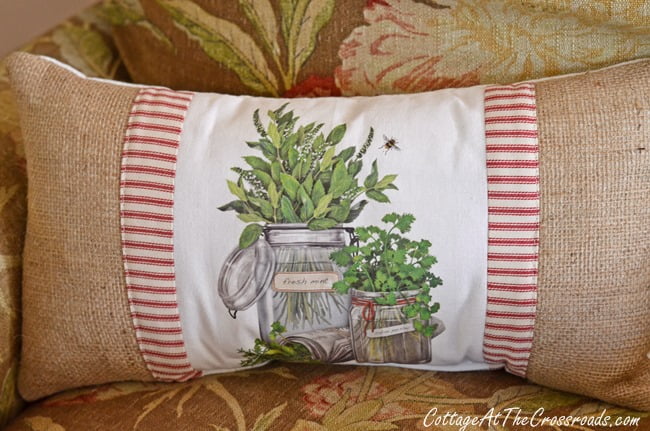 Here's a little closeup of one of my new pillows in my chair. Like Kim, I love pillows and ticking!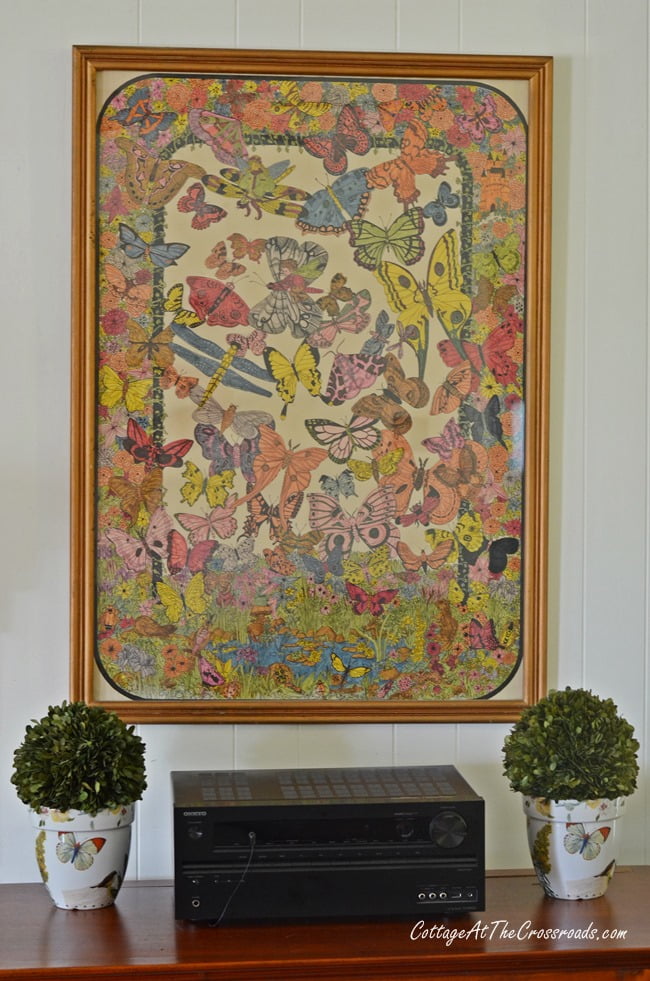 This room contains a lot of art, and this one above the media cabinet is one that Leo's mother colored over 50 years ago. We found it in the storage building and moved it inside as a reminder of her.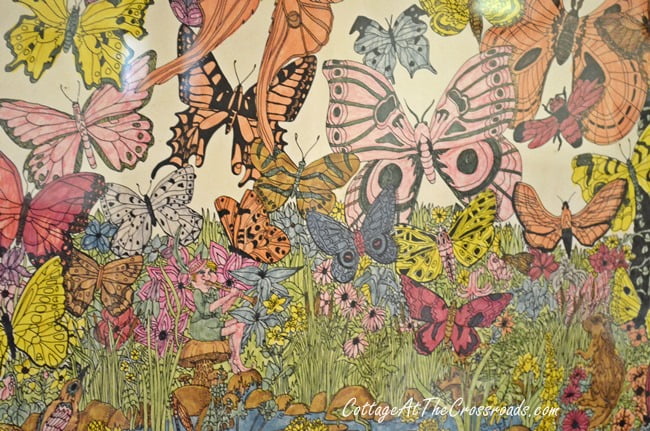 When you see it from a distance, it appears to be a tapestry but it was done with colored pencils and the colors have not faded over time. Leo remembers his mother completing it while she was recuperating from cancer treatments when he was a child. She did it all while sitting at the dining room table.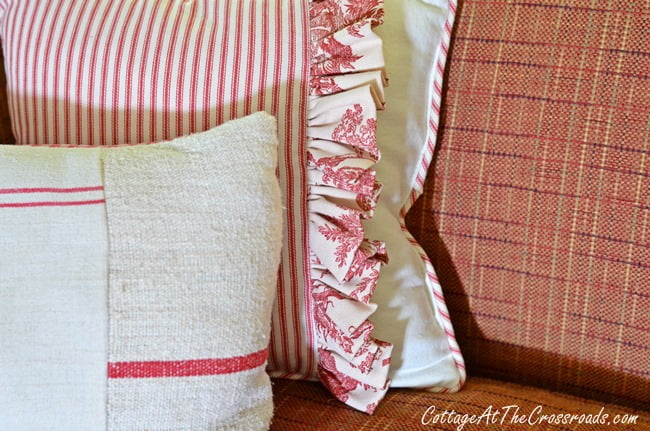 On the loveseat, there are more pillows in some of my favorite fabrics of ticking, toile, and grain sacks.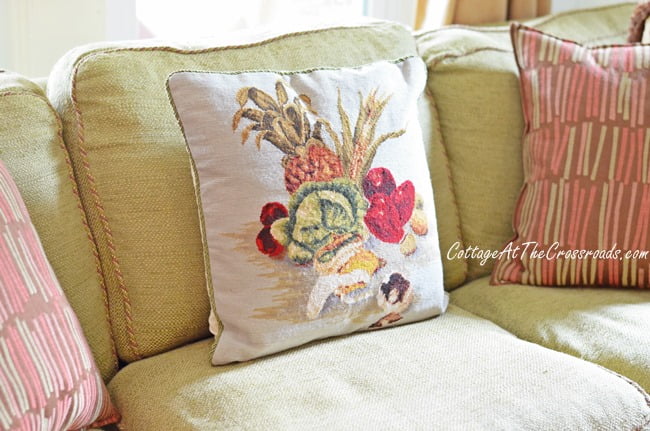 And speaking of pillows, this one on the sofa has vegetables on it and was my birthday gift from Leo last year because I love to garden.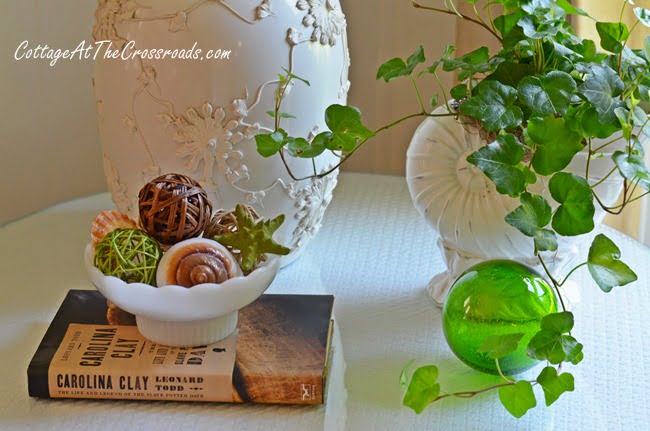 And the lamp on this round table was a gift from Leo years ago. I had seen it in an antique shop and he surprised me with it. I love the intricate detail on it.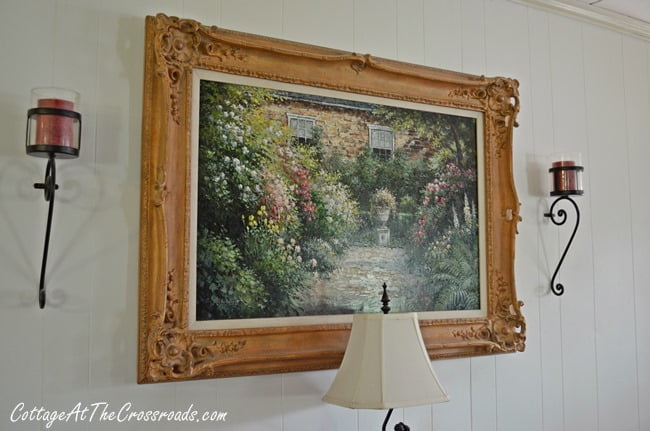 Above the chest is another favorite piece of art that we found in Georgetown, SC. I guess I've always been an admirer of English cottage gardens!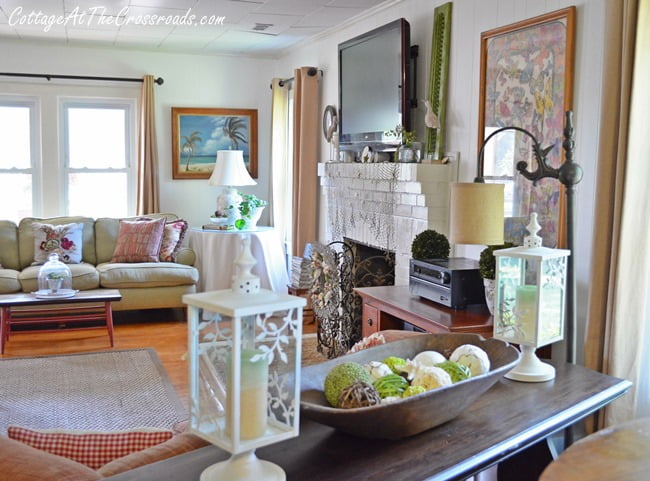 Behind the loveseat is a sofa table holding an antique dough bowl and some lanterns.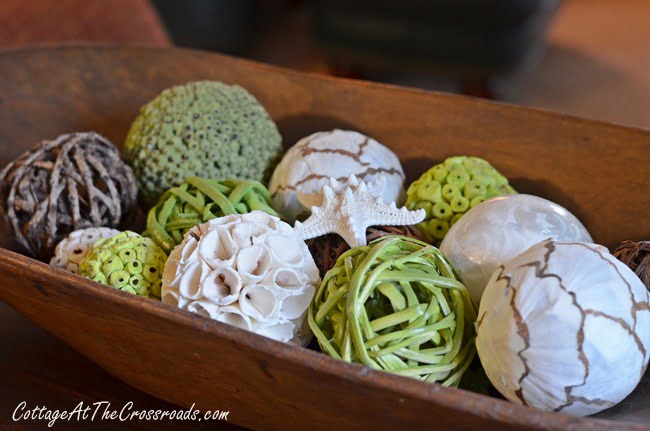 The bowl was given to me by an elderly gentleman many years ago. He said that no one in his family wanted it but that he knew that I would keep it and treasure it. Each season I change out the display, and right now, it has a summer look.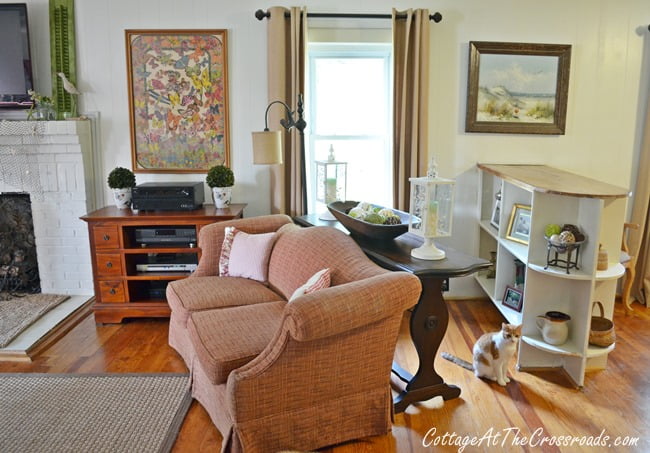 Some wooden dividers separate this part of the room from the dining room. We had some very similarly looking ones in the farm house I grew up in!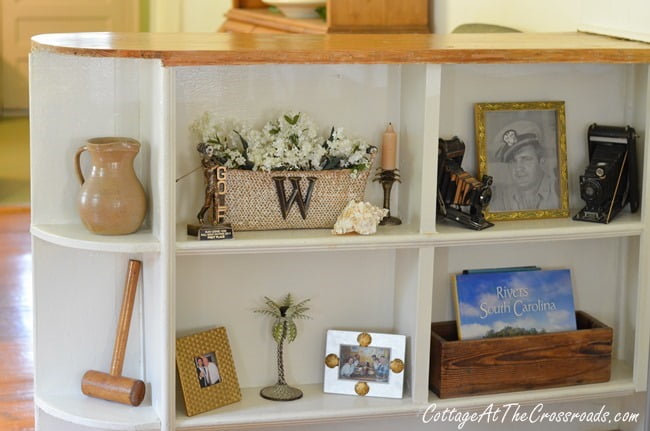 It a perfect place to display a variety of family photos, books, and collectibles.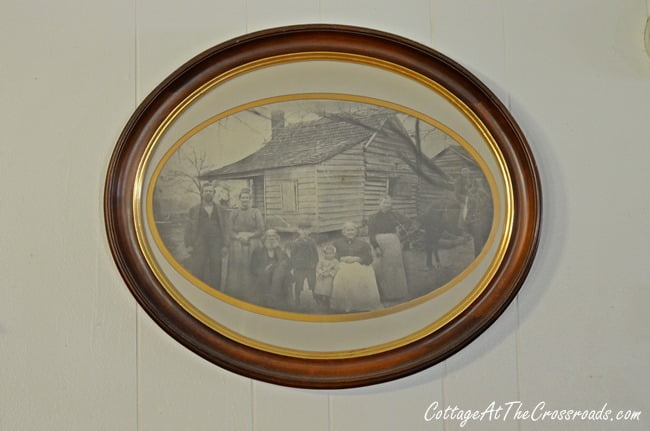 Above one divider is a photo of the old log cabin at Windhams Crossroads that dates back to the Civil War. On the left is Leo's grandfather who built this house along with his great-grandfather and other family members. I feel a real connection to the past by thinking about how many family members have sat in this very room over the years.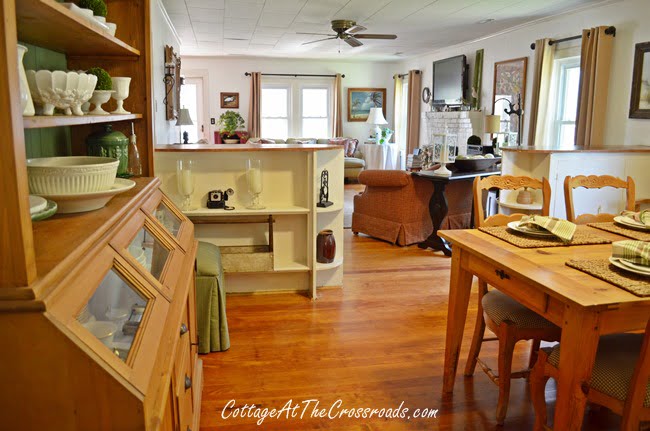 Well, I might as well show you the dining room too because it's really all one room which is so unusual for homes built long ago.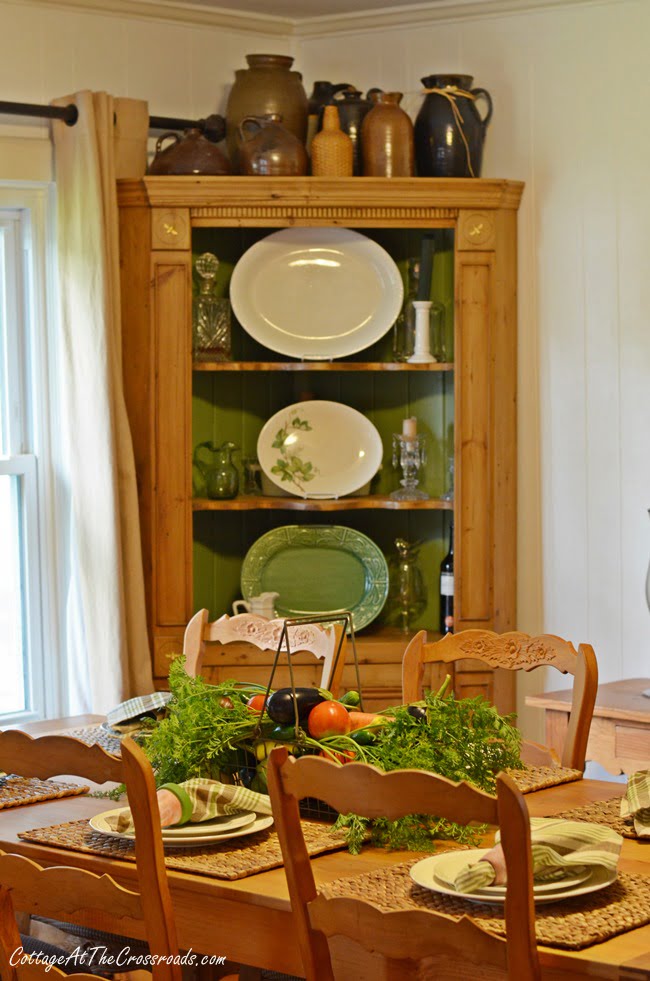 On top of the corner cabinet is a collection of jugs and old pottery. The table is set simply for a supper composed of mostly vegetables. That's what we've been eating all summer.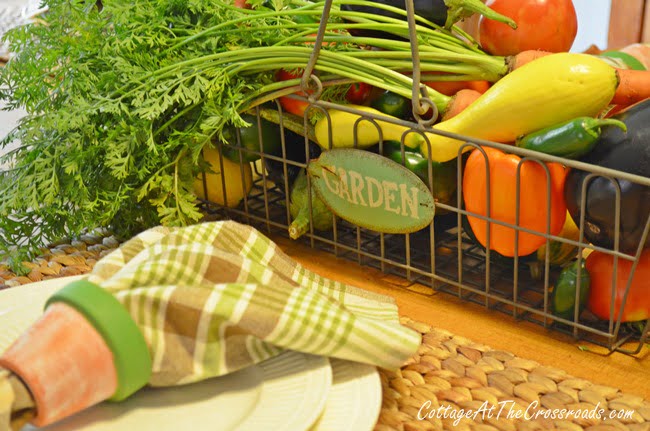 All of the vegetables in the basket were grown in our garden. One of the first things that we did after retiring and moving here was to start a vegetable garden.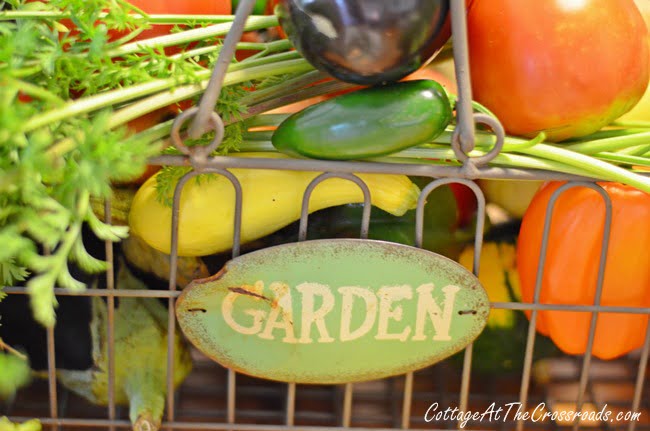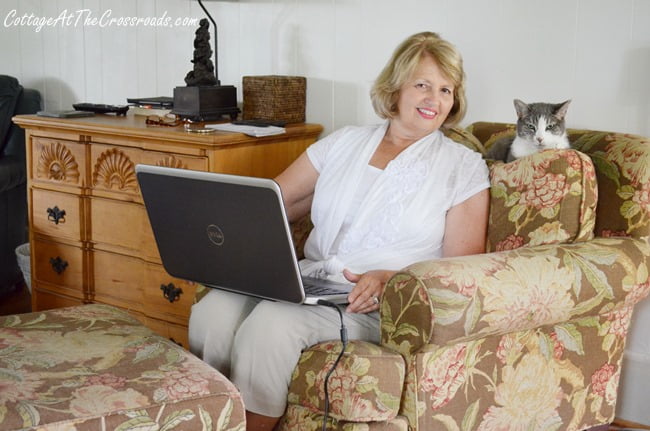 And we've become known as the People with the Vegetable Garden around here and in Blogland! It is in this chair that I sit and communicate with so many of you with Rascal perched on the back.  Can you imagine how many stories could be told if only these walls could talk!