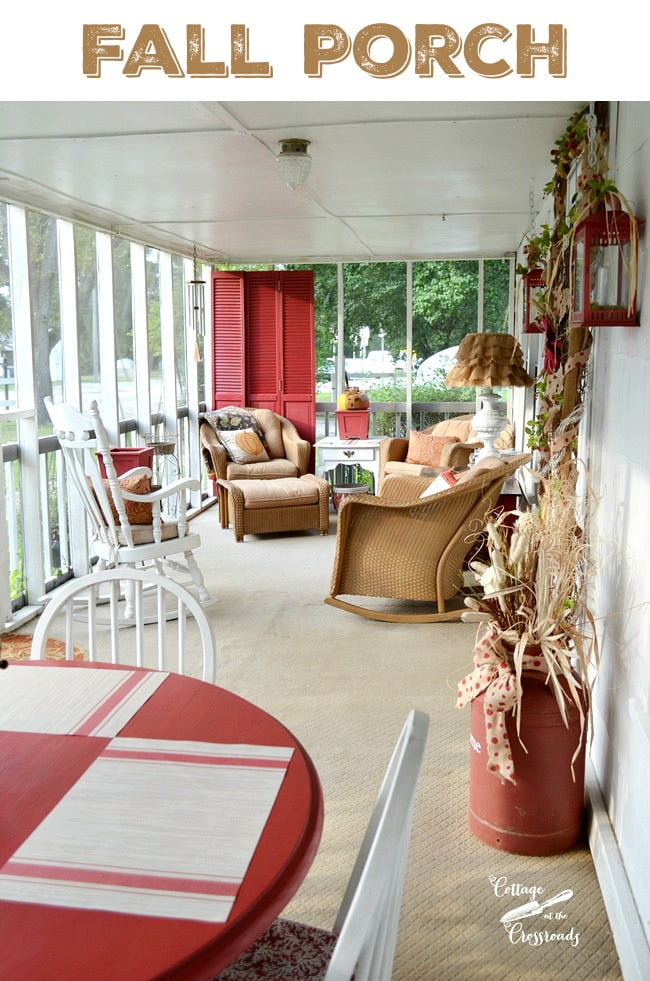 I have a confession to make. I never fully finished decorating the porch for fall. But I thought I'd show you what our fall porch looks like right now before my focus shifts to Christmas decorating.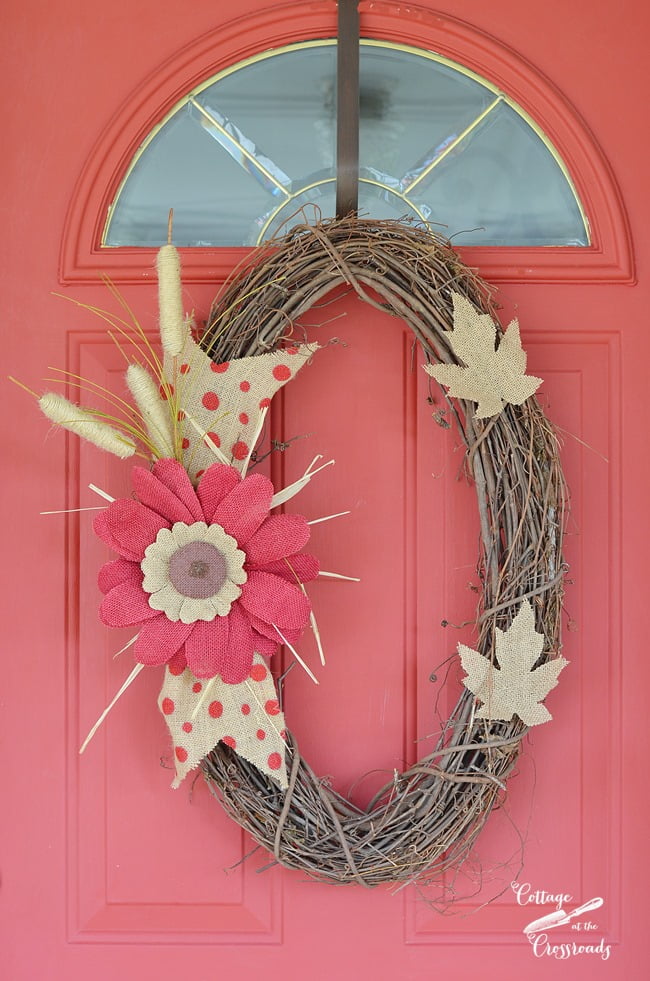 I started decorating the porch back in September by making this simple wreath for the door. The color scheme for fall was driven by the red polka dot burlap ribbon that you see on the wreath. The grapevine wreath is oval shaped rather than round.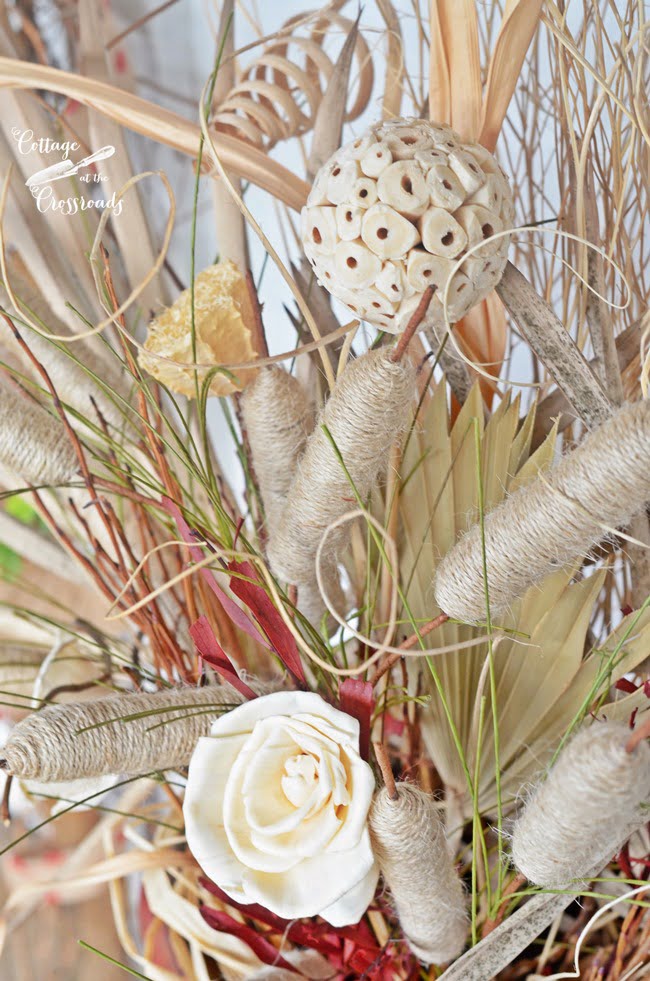 The twine cat tails on the wreath are also in this arrangement that I placed in the old milk can that is beside the front door.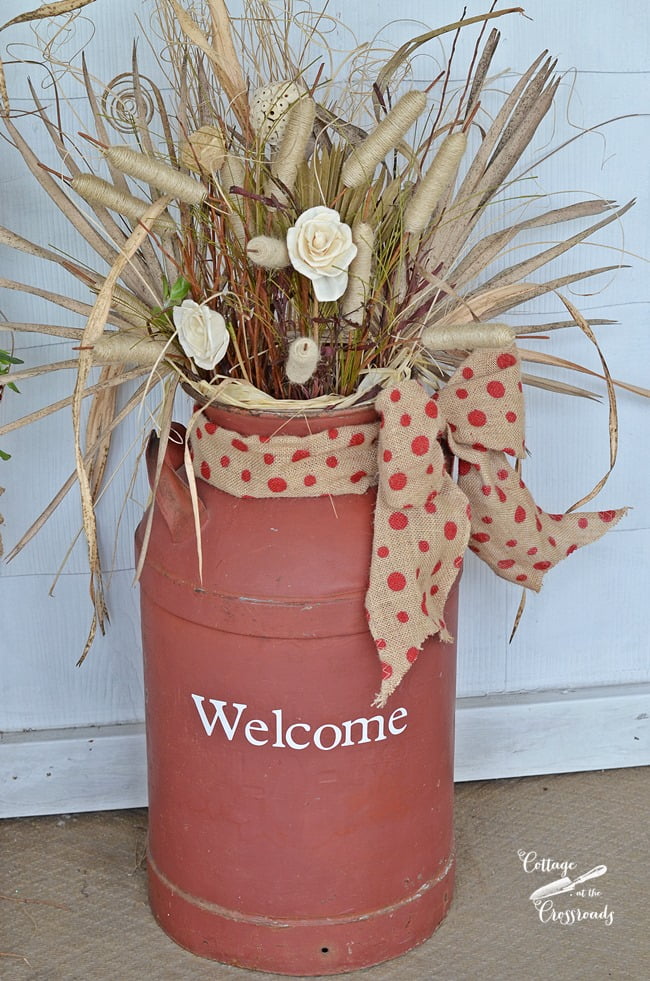 All of the other materials that I used I already had, including the dried palm fronds. I had used them to decorate our summer mantel, but when they dried out and turned brown I thought, "Hmmm... think I'll just use them for fall."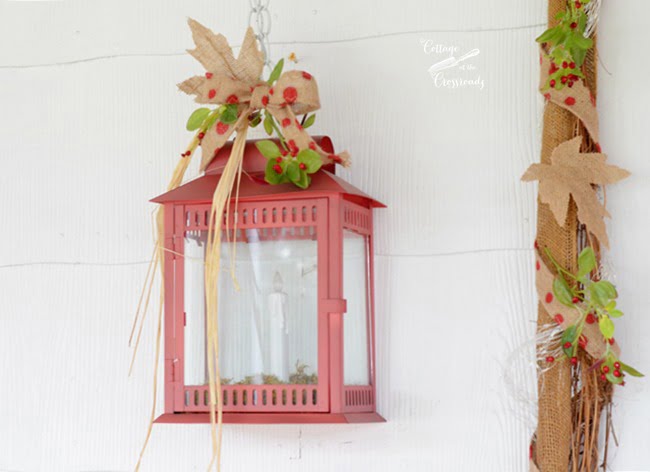 The red lanterns that hang beside the door got a little spoofing up as well as the garland around the door.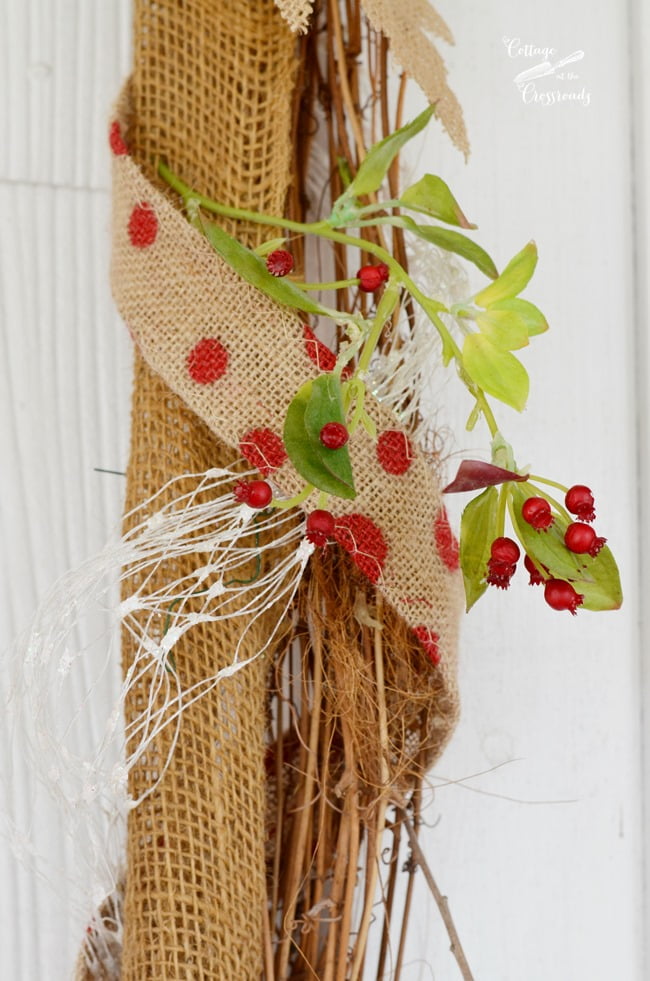 More red polka ribbon! If you've been following our blog for a while, you know that this grapevine garland has been decorated for all the seasons for several years now.  It's made it another year and the polka dot ribbon and the greenery with the red berries may stay up for Christmas!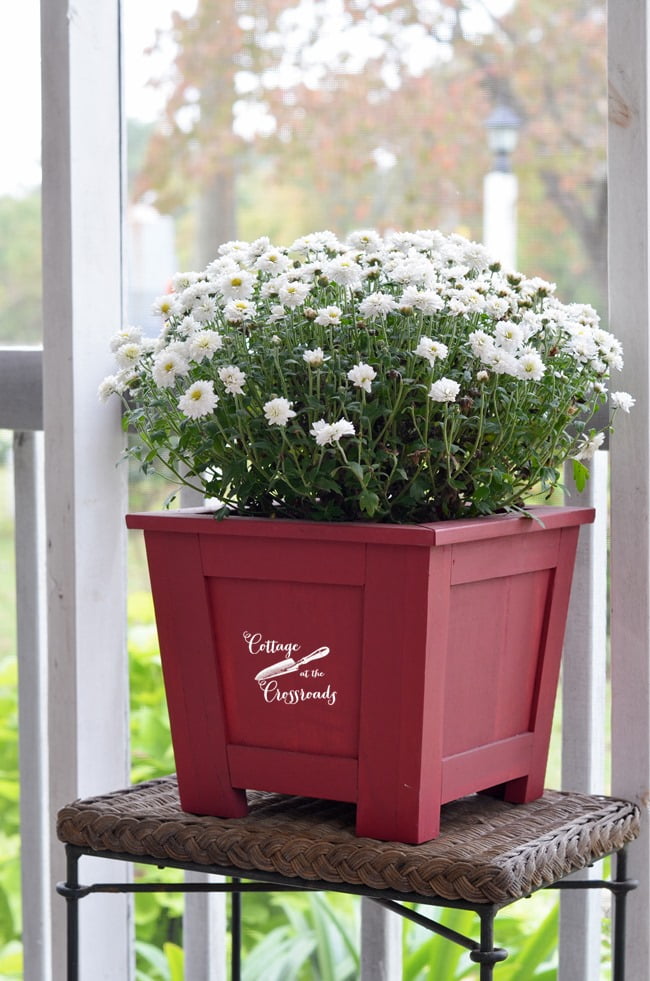 One of the things that I have enjoyed most on our fall porch is this white mum that I plopped down into the red planter. The blooms have lasted the longest that I have ever seen!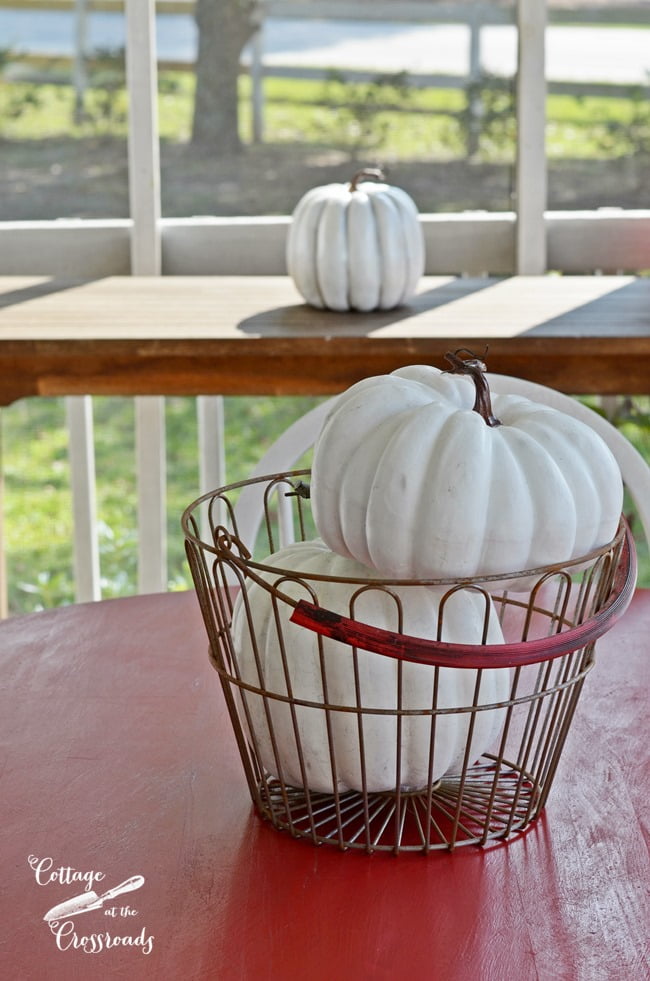 I'll have to admit that I've enjoyed the more subdued fall decor on the porch this year. I usually go all out with my fall decorating, but this year it got interrupted by two things.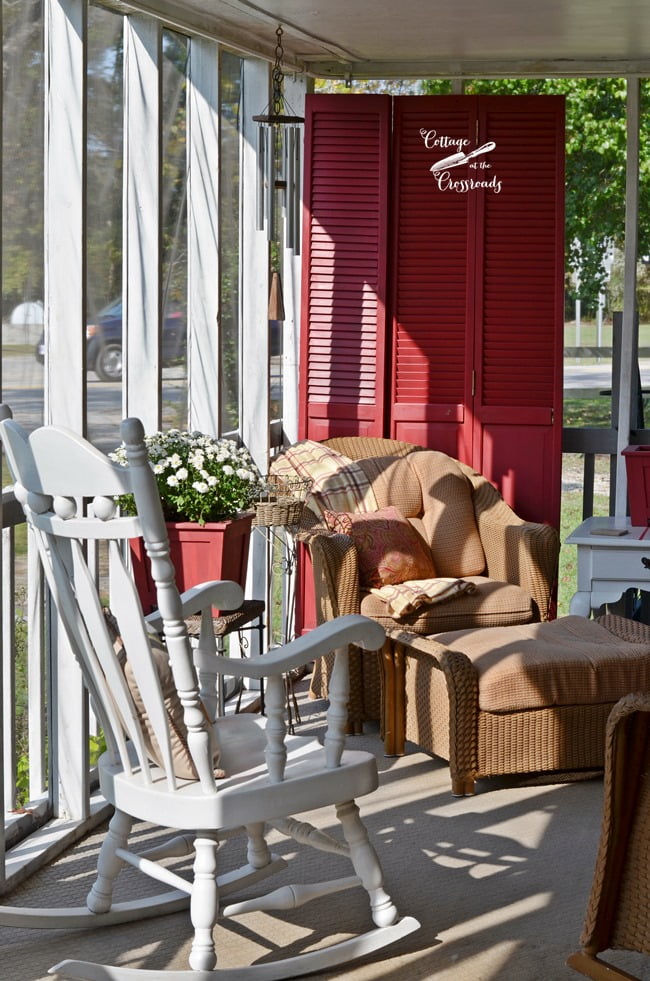 The first thing is that I started painting the repurposed closet doors red, and that project has taken F.O.R.E.V.E.R! Mainly because we have had an extremely wet fall and that I have been painting and waxing them by hand. But I am down to only one panel now so the end is in sight! But the constant rain that we've had over the past two weeks is keeping me from finishing the job.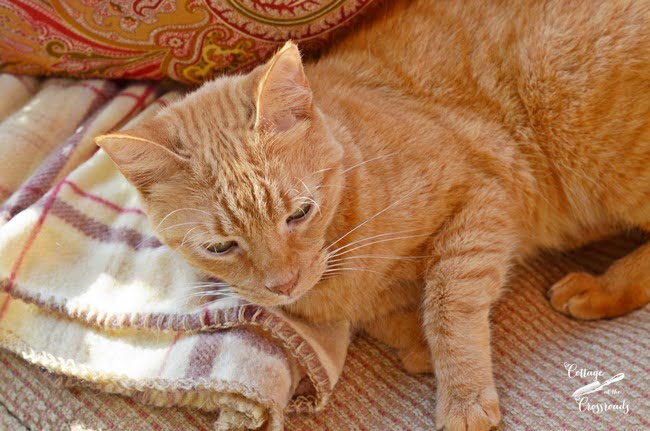 Between the clouds and rain, we have had some nice fall weather allowing us to enjoy the porch as you see little Henry doing. We've always called him little Henry because he has always been a small cat. I think I was disturbing his nap when I snapped this photo of him!
I hope you are enjoying some beautiful fall weather where you live!