Hi everyone! I hope you've been enjoying this beautiful fall weather as much as I have! Since it's almost October, I'm sharing some fun fall decorations that I've added to our kitchen. And it's all part of our "Fall into Autumn" series that Dawn, Ann, Debbie and I have been bringing you the past few weeks.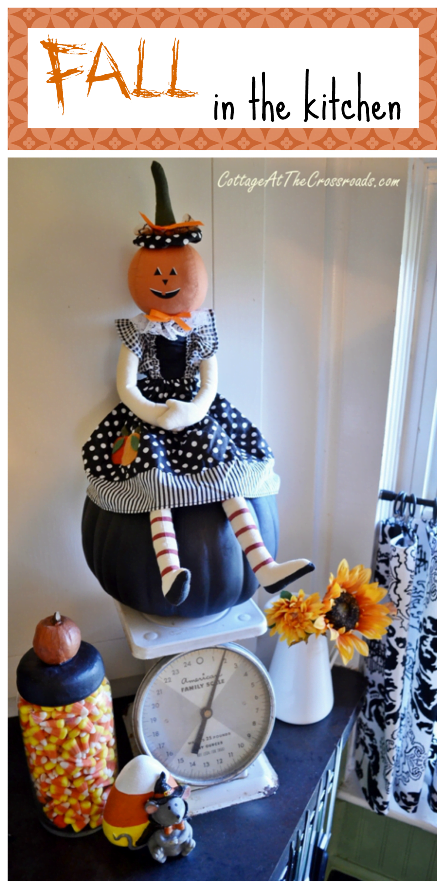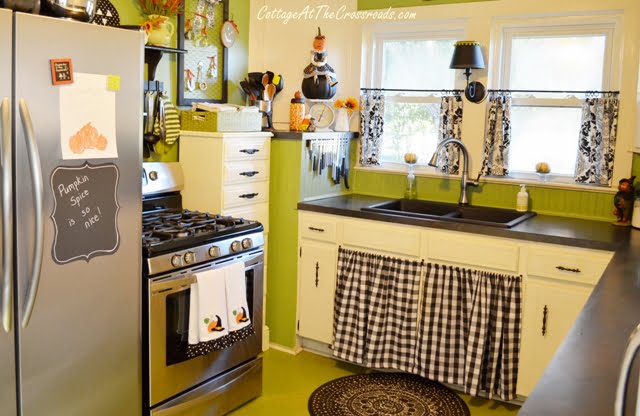 The color scheme in our small, country kitchen is green with black and white accents.If you remember, we added this checked sink skirt this past summer.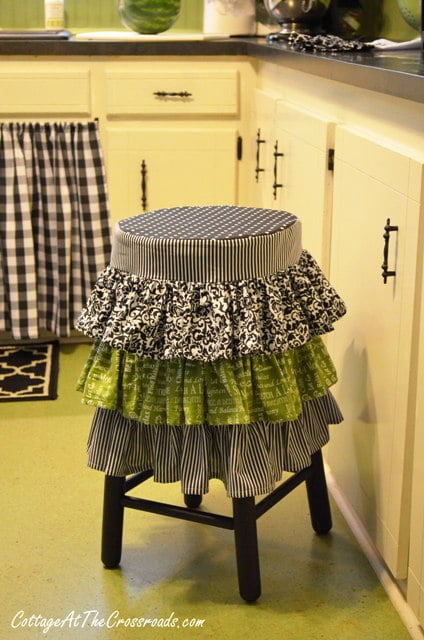 And I added this ruffled stool cover at the same time. So for fall, I just added a little orange to the mix to get us into the Halloween-y mood!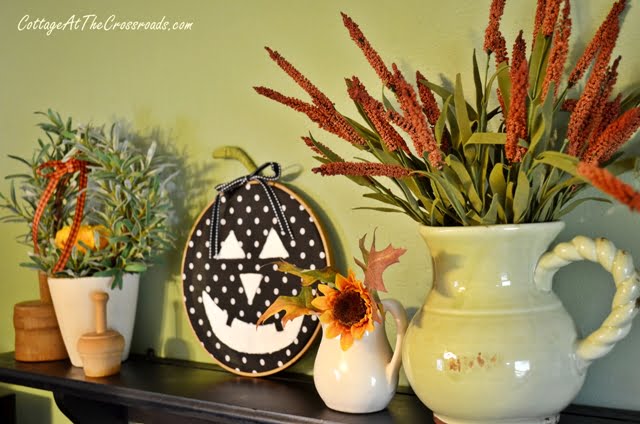 There's a little shelf above the range in our kitchen, and you can see how I added a few orange accents to some of the items that I display on it. With some of the left-over fabric from the ruffled stool cover, I made a little jack-o'-lantern from an old embroidery hoop that I had and it became a totally free decoration!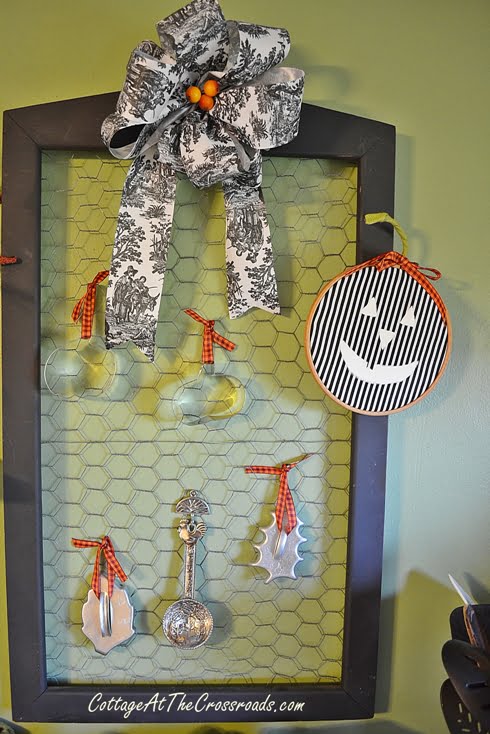 This frame with chicken wire was in another corner of the kitchen, but I moved it over to this area and added some fall shaped cookie cutters and another one of my embroidery hoop jack-o'-lanterns to it.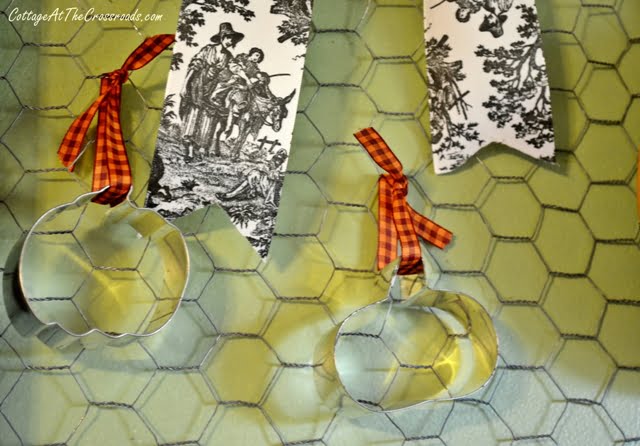 It's a good thing I pulled out these pumpkin shaped cookie cutters because....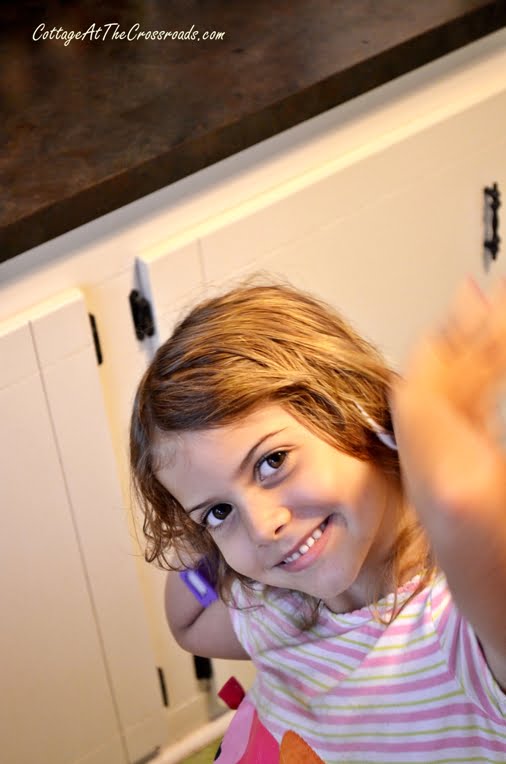 this sweetheart was visiting us this weekend!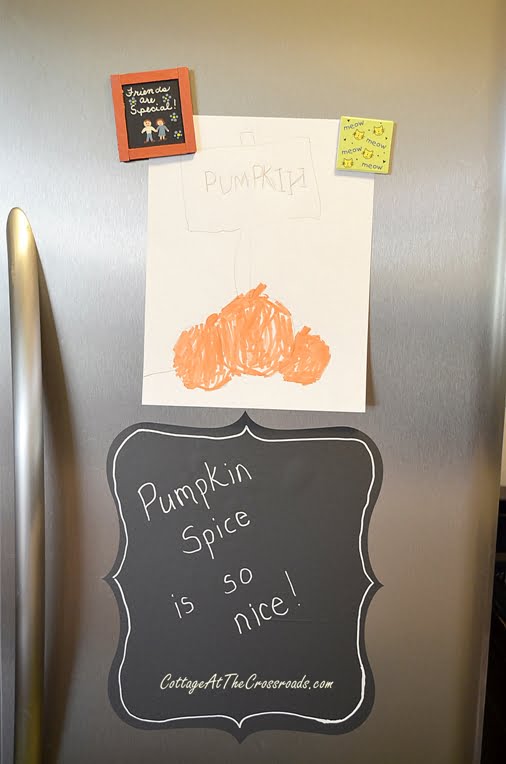 Ruby got into the spirit and added her own decoration to the kitchen!
The vinyl chalkboard was made for me by sweet Amy from Atta Girl Says. Yep! Bloggers are like that. As soon as you tell someone you really like something, they are making it and sending it to you before you know it!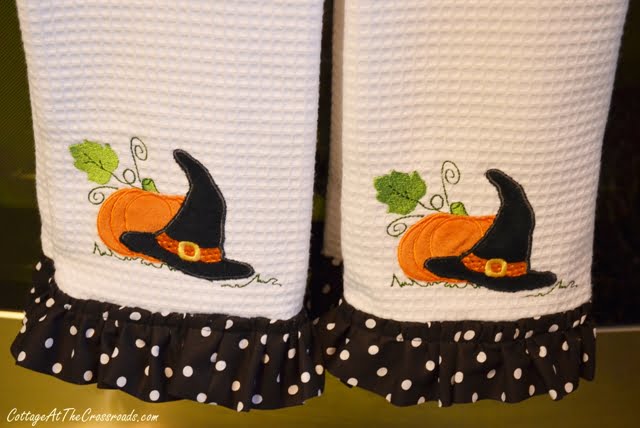 Now here's an inexpensive way to add some color to your kitchen. These are some kitchen towels that I purchased from HomeGoods for about $5, and my friend Brenda added the polka-dot ruffles to them. They just wouldn't have the same impact without those ruffles!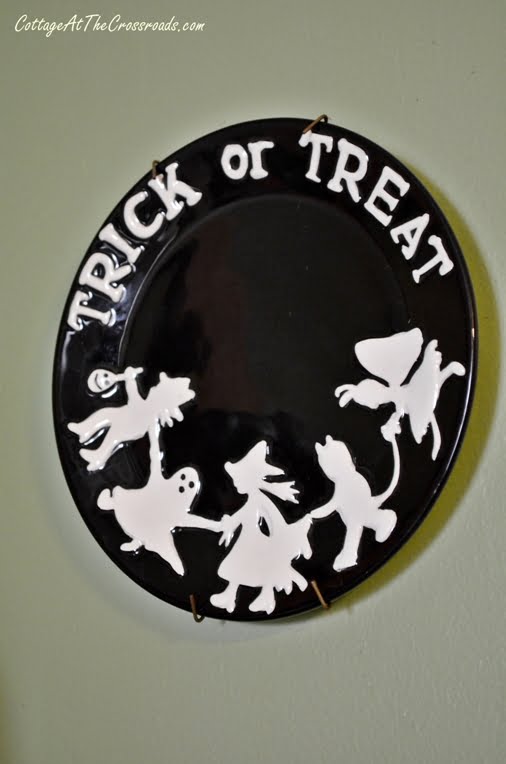 At the same time that I found the kitchen towels, I bought this cute plate that I hung on the wall.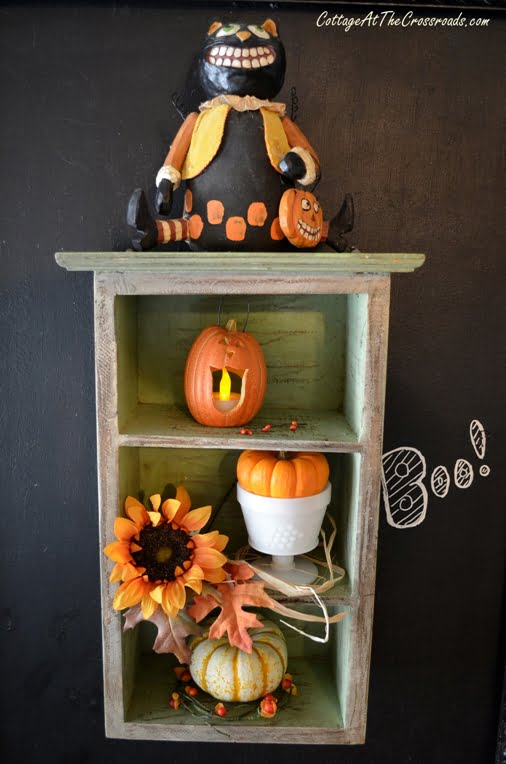 On another wall of the kitchen is this large chalkboard where I like to put some seasonal displays.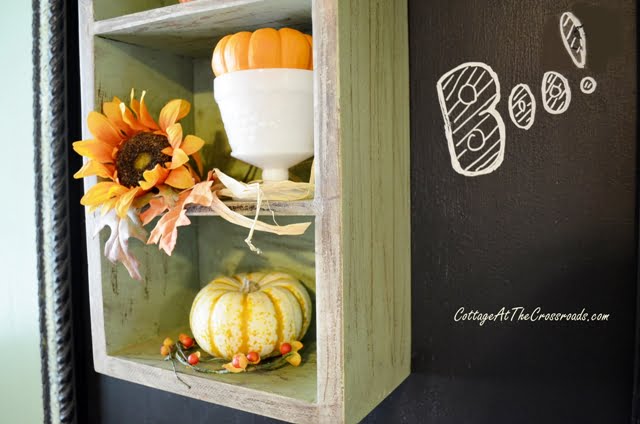 I hung a little shelf on the chalkboard and filled it with some autumn decorations, none of which are new but just displayed differently.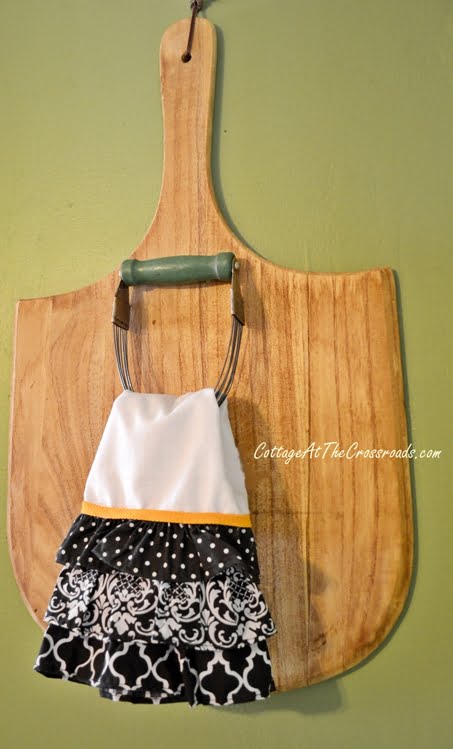 On this pizza peel, I hung another kitchen towel. It was easy to add the orange trim by just hot-gluing it on.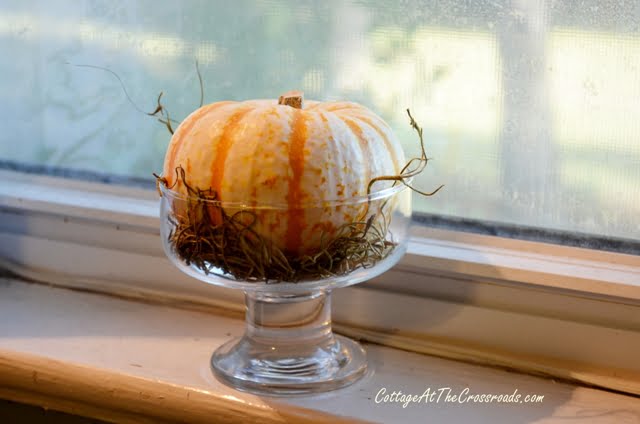 Nothing says fall more than pumpkins, so I put a couple of these tiger stripe cuties in the windows.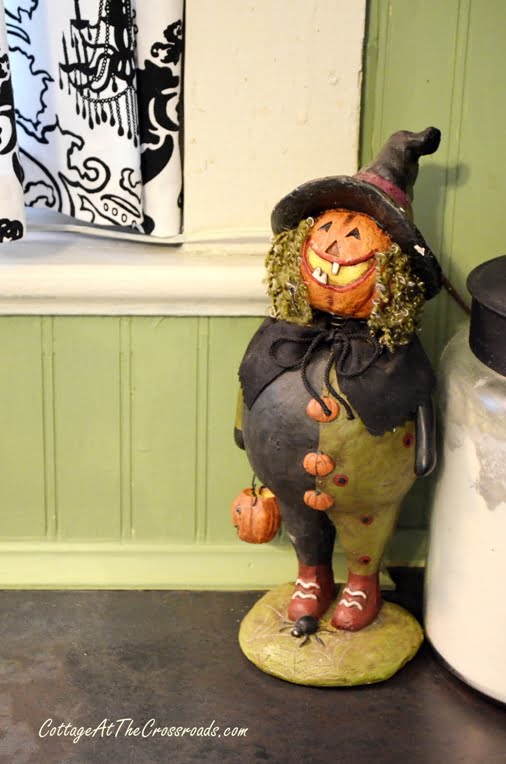 An old favorite is hanging out on the counter and makes me feel like a kid again! Didn't you just love trick-or-treating when you were young?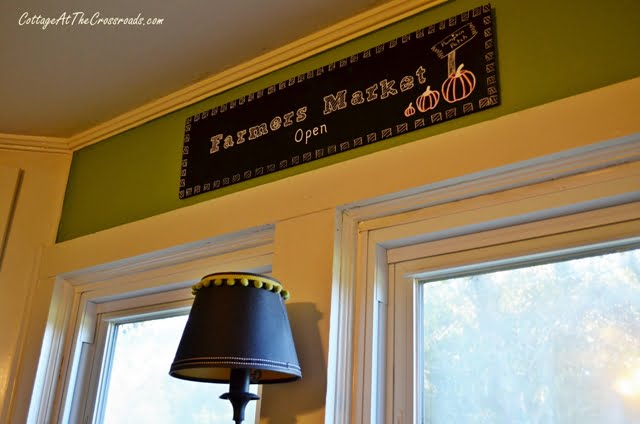 In my efforts to decorate inexpensively, I created this little chalkboard sign to hang over the windows.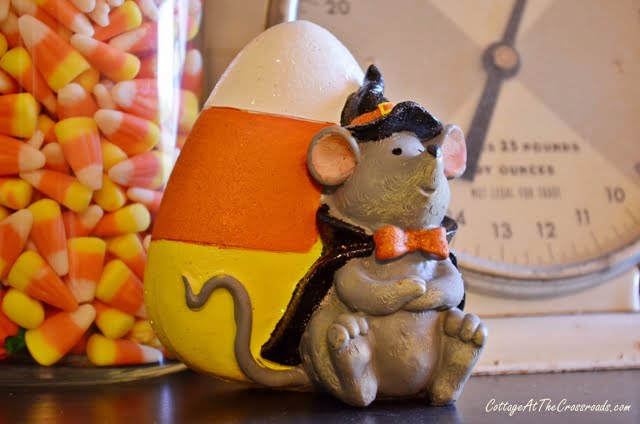 In a little vignette in one corner of the kitchen is a candy corn filled jar with this little mouse.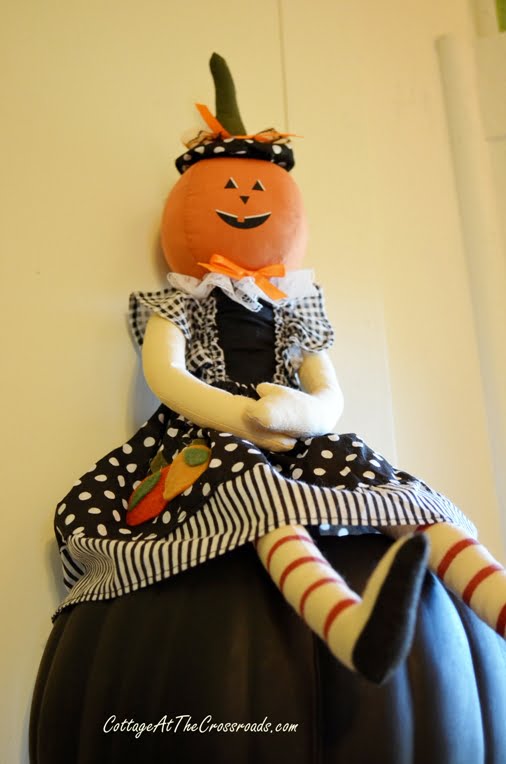 But my absolute favorite new item is this darling kitchen witch who's sitting on top of the world! I could not have matched her to our kitchen if I had made her myself!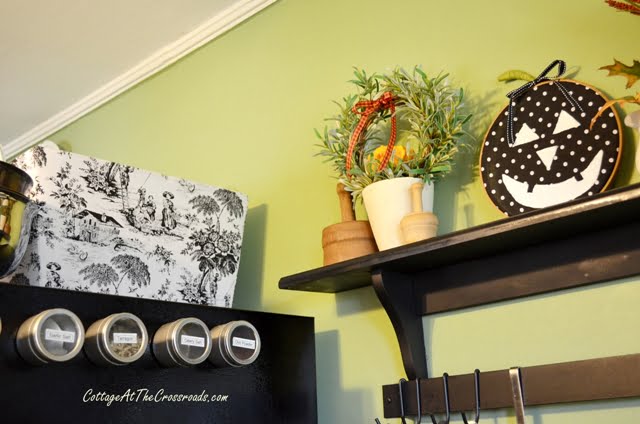 Well, I think I've shown you all around our fall kitchen except for one place.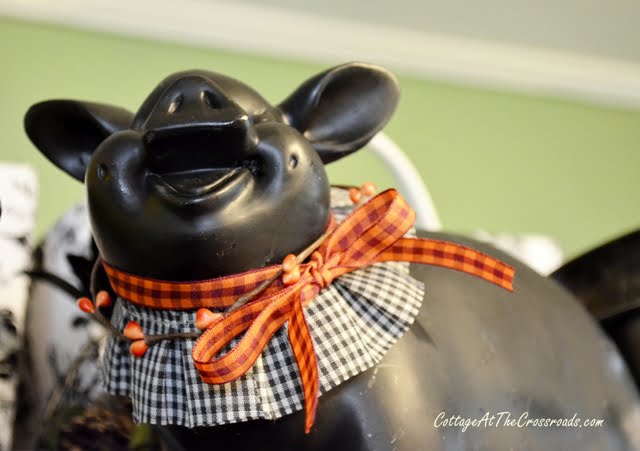 The top of the refrigerator where Pork Chop is sporting her fall finery!