Are you in search of a delicious and healthy snack option? These 21 easy air fryer kale chip recipes are here to satisfy your cravings! With the convenience of an air fryer and the nutritious goodness of kale - rich in calcium, protein, potassium, and fiber - you can effortlessly create crispy and flavorful kale chips.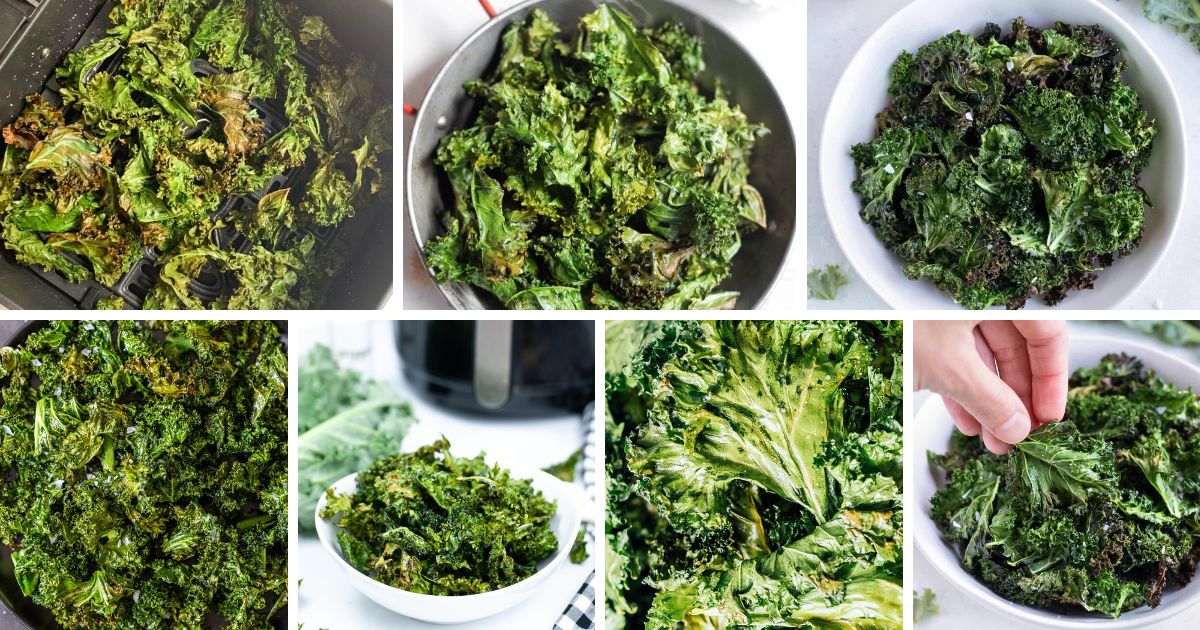 It typically takes just around 10 minutes to make perfectly seasoned kale chips. And from classic salted to ranch, BBQ, or even spicy sriracha, these recipes offer a wide range of flavors. There's a recipe for everyone!
These air fryer kale chips are not only quick and easy to make, but they also cater to various dietary preferences like low-carb, vegan, and gluten-free diets.
So, gather some fresh kale and get ready for these irresistible and healthy air fryer kale chips recipes. And don't worry about leftovers - you can easily store kale chips in your storage for later consumption.
Contents
Create the perfect crispy kale chips with this straightforward recipe. Lightly seasoned with olive oil and salt, these chips are air fried until they reach a delightful crunch.
This air fryer kale chips recipe transforms fresh kale, sea salt, and oil into a crunchy delight. It's an effortless journey to a deliciously healthy and satisfying munch.
This easy-to-follow method teaches you to make flavorful kale chips in the air fryer. The kale is prepped, seasoned with olive oil and salt, then air fried until perfectly crispy.
This recipe, with a prep time under 20 minutes, offers a high in nutrition, low-calorie snack. It's your go-to for a simple treat that remains crispy for days.
This irresistibly crispy snack, perfectly seasoned with Parmesan cheese. If you're in search of a quick, easy, yet mouthwatering treat, this is the ultimate choice.
These air fryer kale chips offer a healthy crunch, lightly seasoned with just a hint of salt. For a twist, there are other seasoning ideas included in this recipe that you can try.
This flawlessly crispy snack recipe can be prepared in less than five minutes. Simply season with salt or your preferred spices, and enjoy the satisfying crunch.
When a quick, low-fat snack beckons, this kale chips recipe is a savior. Easily customizable with a variety of seasonings, these crispy treats stay fresh for a week.
If you're in search of a low-calorie, vegan, gluten-free, and keto-friendly snack, these customizable chips with various seasonings are your perfect match. This recipe is a health enthusiast's dream come true.
If a salty, crunchy treat is what you desire, this recipe is your answer. With garlic flavor and a crispy texture, they're a quick, healthy snack that even kids can help make.
Love garlic and parmesan? This recipe will take your kale chips to the next level with a savory blend of garlic and parmesan.
This is a guilt-free snack that's packed with essential nutrients like Vitamin A and vitamin C. In just five minutes, you can enjoy these golden, crispy delights seasoned with olive oil, salt, and pepper.
This kale chips recipe is infused with ranch seasoning for extra flavor. This is an ideal substitute for potato chips when you're craving something healthy yet satisfying.
With kale massaged in oil and seasonings, then dehydrated to preserve nutrients, this recipe is a deliciously healthy choice. This guilt-free snack will surely satisfy your salty, crispy cravings.
When the craving for crunchy snack hits, these air fryer kale chips are a nutritious and tasty choice. This recipe, brimming with tips and variations, transforms nutrient-rich kale into a guilt-free, delicious treat.
With three enticing flavors to choose from, this dish transforms simple kale into a satisfying, guilt-free treat that's sure to please. This no-oven baked recipe is surely a mouthwatering solution for snack-time cravings.
When you're craving a crunchy, flavorful snack, these air fryer kale chips are the perfect solution. This recipe pairs fresh kale with a hint of spicy or parmesan seasoning for a healthy, tasty treat.
If you're in the mood for a tangy, salty snack, this is just the ticket. This recipe combines Lacinato kale with garlic powder, white vinegar, and a hint of lemon.
Packed with flavors from nutritional yeast, lemon juice, and a blend of spices, this recipe transforms dinosaur kale into a crunchy delight. This is a unique twist to your snack time.
This is an umami-rich snack that swaps the traditional potato chips for nutrient-dense kale. Using a blend of seasonings, and sesame seeds and oil, a gluten-free, low-carb delight will be ready in minutes.
This sweet and salty kale chips recipe results in a crispy, flavorful, and healthy snack. Made with kale, olive oil, salt, and maple syrup, it's a deliciously balanced treat.
📋 Recipe
Frequently Asked Questions