The rise of air fryers has revolutionized contemporary cooking, blending modern techniques with classic ingredients. And eggplants, with their velvety texture and understated flavor, emerge as a delightful beneficiary of this trend.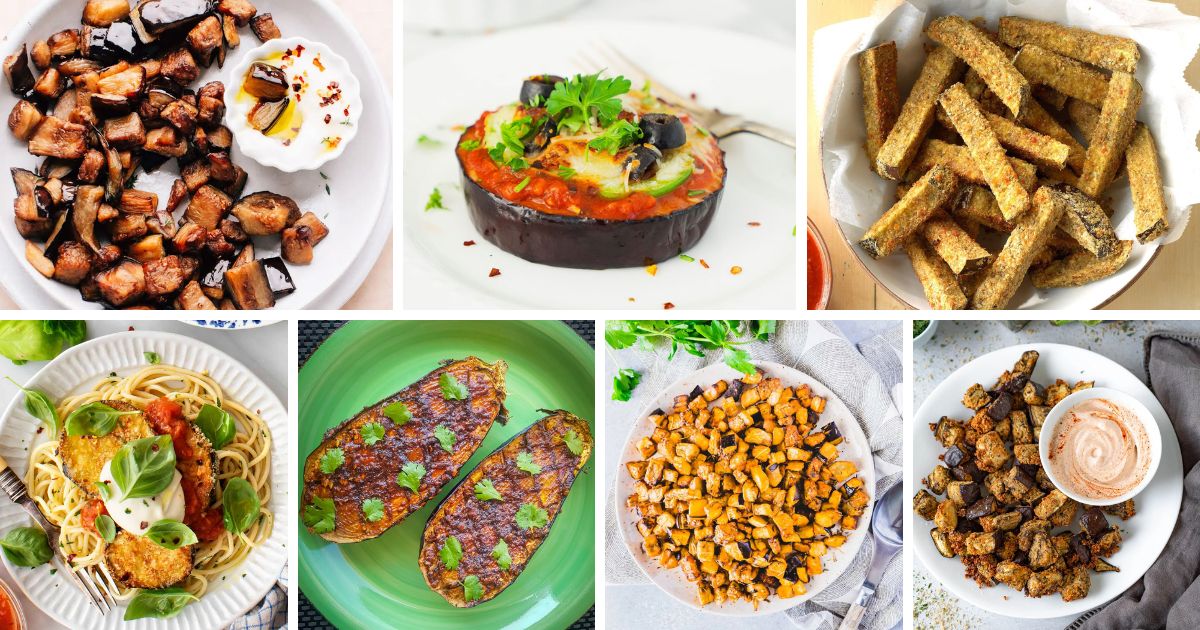 When prepared in batches using innovative air fryer recipes, these adaptable vegetables become the stars of quick and scrumptious dishes, with reduced cooking times adding to the allure.
As you delve into our carefully curated collection of 27 easy air fryer eggplant recipes, you'll discover that each delicious recipe is a celebration of flavor and texture. Many of these creations boast the enriching touch of fresh herbs and the savory goodness of parmesan cheese.
Nutritionally speaking, eggplant dishes are powerhouses of essential nutrients like calcium and potassium. Plus, with the added benefits of fiber, these recipes don't just satiate your palate but also contribute to a wholesome diet.
Contents
This dish showcases eggplant slices coated in a breadcrumb mixture, offering a harmonious union of textures. When served with pasta and tomato sauce, it becomes a soul-warming dinner in mere minutes.
For those craving genuine Italian notes, this recipe serves perfectly. With mozzarella and marinara atop seasoned slices, it's a delightful experience. A sprinkle of fresh basil heightens its authenticity.
These bite-sized eggplant pieces, coated in avocado oil, are the perfect snack or side dish. Add optional flavorings like chili flakes for a touch of spice or thyme for an aromatic hint.
Journey eastwards with this recipe. The combination of Chinkiang vinegar and peanut oil is mesmerizing. For those monitoring intake, it's low in sodium and high in flavor.
These eggplant fries offer a modern twist on a classic. They're a guilt-free snack, containing fewer calories and carbohydrates than regular potato fries.
Tantalize your taste buds with these smoked paprika and rosemary-infused eggplant cubes. Their earthy and aromatic flavors complement any main dish or can be enjoyed on their own.
Dive into the pure essence of eggplant with this breadcrumb-free recipe. A dash of paprika and garlic powder, topped with a squeeze of lemon, results in a refreshingly simple treat.
This delight, adorned with parmesan shavings, embodies luxury. Combined with a marinara dip, it harmonizes into an Italian taste sensation.
Savor these gluten-free cubes, rich in garlic and herbs, making them an excellent vegan option. They also store well in the refrigerator for a quick snack later.
Sweet agave nectar and savory sesame oil transform ordinary eggplant chunks into a delightful treat. Garnished with sesame seeds, it's a perfect blend of sweetness and umami.
Italian seasoning and a parmesan-panko coating elevate these eggplant slices. Whether as an appetizer or side dish, they're sure to be the star of the table.
This eggplant dish, seasoned with a unique veggie blend and enhanced with garlic parmesan butter, is a comforting delicacy. Best savored alongside your favorite grain or protein.
You can indulge in the authentic flavors of Indian cuisine with these spice-coated eggplant slices. Their aromatic profile is a testament to the rich culinary traditions of South Asia.
Seeking a light yet flavorful side dish? This seasoned air-fried eggplant, with a hint of garlic, pairs beautifully with grilled meats or salads.
Ditch the potatoes and opt for these novel eggplant fries. With Italian seasoning and garlic salt, they're an irresistible combination of crunch and flavor.
Upgrade your snacking experience with these crispy eggplant chips. Panko breadcrumbs and Italian seasoning create a mouth-watering texture and taste you won't forget.
The Italian herbs in these eggplant bites harmonize wonderfully with the flavors of the pizza rounds. Both options offer a symphony of tastes that cater to different cravings.
These keto-friendly eggplant bites are a perfect blend of olive oil and oregano. They're a healthy snack that doesn't compromise on taste.
Roll into the world of flavors with these eggplant roll-ups, oozing with mozzarella and infused with basil. Paired with tomato sauce, it's a dish that speaks comfort.
This recipe brings a novel twist to traditional pizza with eggplant bases. Drizzled with olive oil and sprinkled with black pepper, they offer a lighter, yet flavor-packed option to their doughy counterparts.
This take on the classic Ratatouille combines zucchini, squash, and eggplant in a medley of herbs. The result is a vibrant and flavorful dish that celebrates vegetables.
Inside each tender eggplant slice lies a rich blend of ricotta and parmesan. With reduced prep time, this traditionally oven-cooked dish shines bright in the air fryer.
Venture into Indian cuisine with this smoky and fiery Baingan Bharta. With fresh parsley and lemon garnish, it's a side dish that elevates any meal.
Japanese-inspired, this eggplant dish combines the umami-richness of miso with a hint of sweetness. Garnished with cilantro, it's a delightful balance of flavors.
Bite into these crispy morsels, infused with Italian herbs and a dash of cayenne. It's perfect as an appetizer, and don't forget to make a dip to enhance their taste!
This dish offers a quick and convenient way to savor the flavors of perfectly cooked eggplant. Ideal for busy weeknights, these cutlets pair beautifully with a side of marinara sauce or fresh salad.
This dish combines the rich flavors of eggplant and chickpeas with a zesty blend of turmeric, sumac, and fresh lemon juice. Serve it on a warm day for a refreshing and nutritious meal.
📋 Recipe
Frequently Asked Questions