Egg rolls are culinary masterpieces wrapped in delicate egg roll or spring roll wrappers and have long been cherished across global cuisines. Born in Asia's vast culinary landscape, they offer a delightful play of textures: the crisp outsides and the flavorful insides.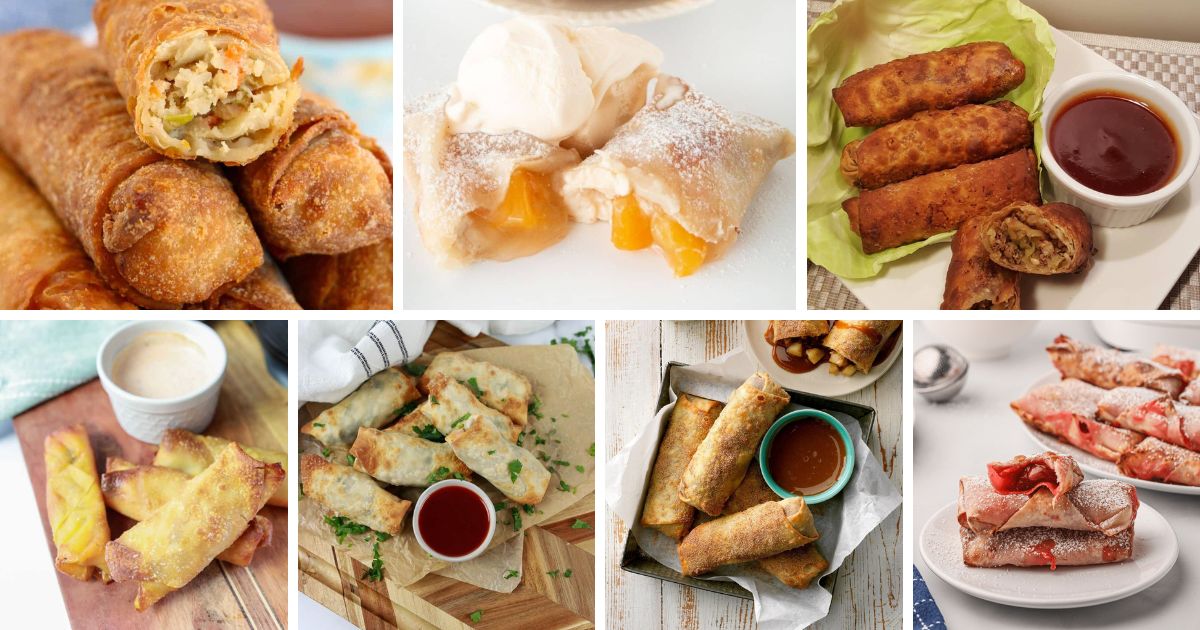 Their adaptability allows for a myriad of fillings, from traditional concoctions stirred in a small bowl to adventurous mixtures highlighting ingredients apple pie filling and cilantro. While they're known for their taste, they're also a source of fiber and carbohydrates, making them a balance of flavor and nutrition.
In today's health-conscious era, the spotlight has shifted from the traditional deep frying, which often adds unwanted saturated fat and calories, to air frying. This method ensures that the homemade egg rolls retain their crunch without compromising on health.
So without further ado, here are 19 air fryer egg rolls recipes, from traditional to innovative!
Contents
This dish showcases a hearty filling of shredded cabbage, grated carrots, and aromatic spices. Tightly wrapped in egg roll wrappers, they become golden brown appetizers after a short time in the air fryer.
These egg rolls are a convenient choice, perfect for those unexpected cravings. Best enjoyed with a sauce like sweet & sour, their crispy sides promise satisfaction.
Love a mix of tang and cheese? This dish boasts a fusion of Colby-jack cheese with pickles, accentuated by a Ranch-Sriracha sauce for that extra zing.
Savor the taste of ground chicken, fresh produce section vegetables, and rich seasonings. Complemented with a hoisin-peanut dip, it offers a multidimensional taste experience.
We recommend enjoying these frozen Pagoda egg rolls with a tantalizing touch of sweet chili sauce. They're crispy, convenient, and full of flavor.
These egg rolls offer the classic taste of apple pie with a twist. Filled with tart apples and cinnamon, they're a dessert dream, especially when drizzled with caramel topping.
This recipe brings the flavors of antipasto wrapped in a golden-brown shell. The mix of provolone, ham, pepperoni, and peppers is a savory treat, best dipped in Italian dressing.
Do you love variety? These New York style egg rolls allow you to indulge in diverse fillings. Pair with a sweet 'N sour sauce or apricot dipping sauce for a complete taste journey.
Ground pork, ginger, and fresh veggies make this dish delectably meaty. The diamond-shaped wrap, sealed with soy and oyster sauce, ensures an authentic Asian bite.
For those who prefer a veggie delight, this dish is a blend of cabbage slaw, bell pepper, and aromatic spices. The soy sauce and red pepper flakes add depth to its flavor.
These egg rolls are filled with tender chicken, fresh cilantro, and crunchy cabbage. The hint of jalapeño and cranberries provide a spicy-sweet contrast that's simply irresistible.
This dish highlights creamy avocado paired with sun-dried tomatoes and red onion. Served with a sweet chili dipping sauce, it's the perfect blend of fresh flavors and textures.
When you're pressed for time, these Tai Pei egg rolls are a quick treat. These rolls are crisped to perfection and best accompanied with a flavorful dipping sauce.
These breakfast rolls combine eggs, sausage, and vegetables for a hearty start. Great for a weekend brunch, they're especially tasty when dipped in fresh salsa.
These egg rolls fold in a velvety cheesecake and strawberry pie filling. A sprinkle of powdered sugar on top completes this dessert masterpiece.
These egg rolls offer the spicy kick of buffalo chicken, complemented by creamy blue cheese. With a side of blue cheese dressing, they're excellent for game nights or gatherings.
Indulge in the sweet taste of peach pie filling paired with creamy cheese. Enhanced with vanilla and sugar, it's a dessert that'll satisfy any sweet tooth.
Do you adore classic flavor combinations? This recipe marries creamy peanut butter with ripe bananas, creating a delightful treat that both kids and adults will love.
This dish captures the essence of a cheeseburger encased in a crispy shell. The mix of beef, cheese, and pickles makes it a crowd-pleaser, especially when dipped in ketchup or mustard.
📋 Recipe
Frequently Asked Questions