If you are looking for an awe-inspiring recipe that never fails to become the centerpiece on a table, then you should look no further than the Blooming Onion! Many people are still amazed whenever they see the look of it and food experts always argue about how this classic appetizer came to life.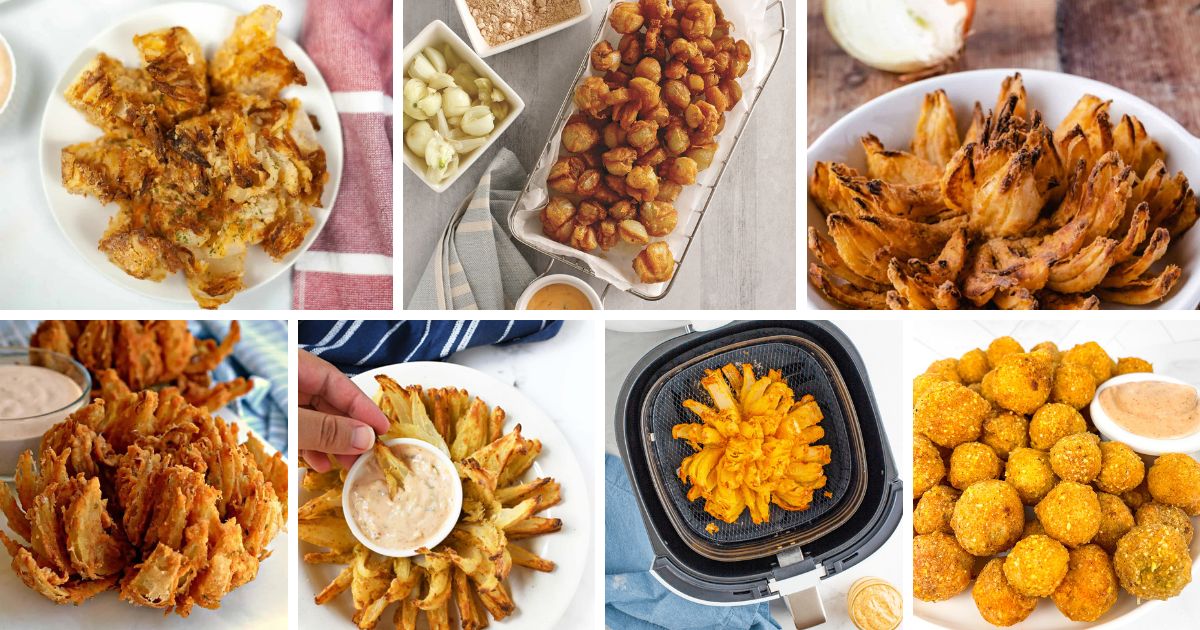 It was first developed by the kitchen crew of Outback Steakhouse, which is led by owner Tim Gannon. The very first version of this menu was served more than three decades ago in 1988 in the company's flagship Tampa eatery. According to Mr. Gannon, the recipe is his team's take on a New Orleans dish, and it turned out to be a recipe to die for!
Since then, a lot of chefs and home cooks have tried their own versions of Blooming Onion, thus the many variations and recipes made available. To make it easier for you to choose the best recipe to make, check out the yummy list of 21 easy air fryer blooming onion recipes below!
Contents
This quick recipe allows you to make a restaurant-quality appetizer with simple ingredients, and get at all protein, fiber, calcium, and vitamin C that onions have to offer. Add some spices to the dipping sauce to give it a little bit of a kick!
According to people who have tried this recipe, its dipping sauce tastes exactly like Outback's. Give this bloomin' onion a try to see if you agree with them!
This blooming onion recipe makes use of our air fryer's ability to add extra crisp and crunch, with an additional layer of garlic powder for a punchy taste. Just make sure you cut the onion into a blossoming shape.
Doing cleanups is one of the most annoying things when cooking. Luckily, this blooming onion only requires you to use one single bowl the whole time.
If carefully cutting onions into a blossoming shape is not your forte, then this recipe is for you! Even those who never cook will be able to make it without breaking a sweat.
This can actually be done with a wide range of sauce and dipping options. However, the recipe maker (and her kids) think that the Thousand Island dressing works wonders!
Do you think a full-sized blooming onion is too big to handle by yourself? This recipe calls for a baby onion, making it a perfect choice for singles out there and a perfect photo op for Instagram or Facebook!
If you want your blooming onion to offer a bit more of a kick and punch, try this one. Fry the onion until the spicy breading turns golden brown and dip the petals in your favorite sauce.
This recipe allows you to cook the onion petals separately. This not only allows you to use a smaller air fryer but also makes it easier for the crowd to grab each petal.
The horseradish element of this recipe's dipping sauce is what makes it different from the other ones. And, of course, the air fryer ensures that there's less cholesterol and fat that deep frying it.
The buttermilk included in this recipe will allow the breadcrumbs to stick to the onion better. You can also change the ingredients to make the recipe gluten-free. Plus, it takes very little prep time!
This one is perfect if you are looking for an eggless version of a blooming onion recipe. You can also use any kind of all-purpose flour in your kitchen.
This recipe frees you from any deep-frying mess and its ingredients allow you to enjoy a crunchy and tasty treat without all the added calories.
Many similar recipes come with high-calorie ingredients. Thank goodness, this one is guilt-free! It tastes wonderful and is super easy to follow.
The ingredients for this recipe can be found in your pantry. And, with the right technique, you can make it crispy on the outside and crunchy on the inside.
This recipe can be completed with just five easy steps. You can simply pop the onion into the air fryer once you coat it with the seasonings.
If you have small white onions lying around in your fridge, then this one is the best recipe for you! While it may look different, it is just as tasty as its classic counterpart.
This one will take you a little under fifteen minutes to make and prepare and probably a lot less to eat! Plus, it's easy to store this little thing in an airtight container for future meals.
This recipe can be a great alternative if you want to avoid dipping your onion in a pan of grease. The coat of batter outside will also keep the onion inside extra flavorful.
This one allows you to use almond flour to make the recipe gluten-free. This one is air fried and comes with an extra crunch you and your family will love.
📋 Recipe
Frequently Asked Questions