Is there anyone who doesn't like a clean shower? Today I'm sharing a very popular DIY Shower Cleaner but I've put it in a very pretty Mason Jar. You can't beat the combo of clean and pretty, can you?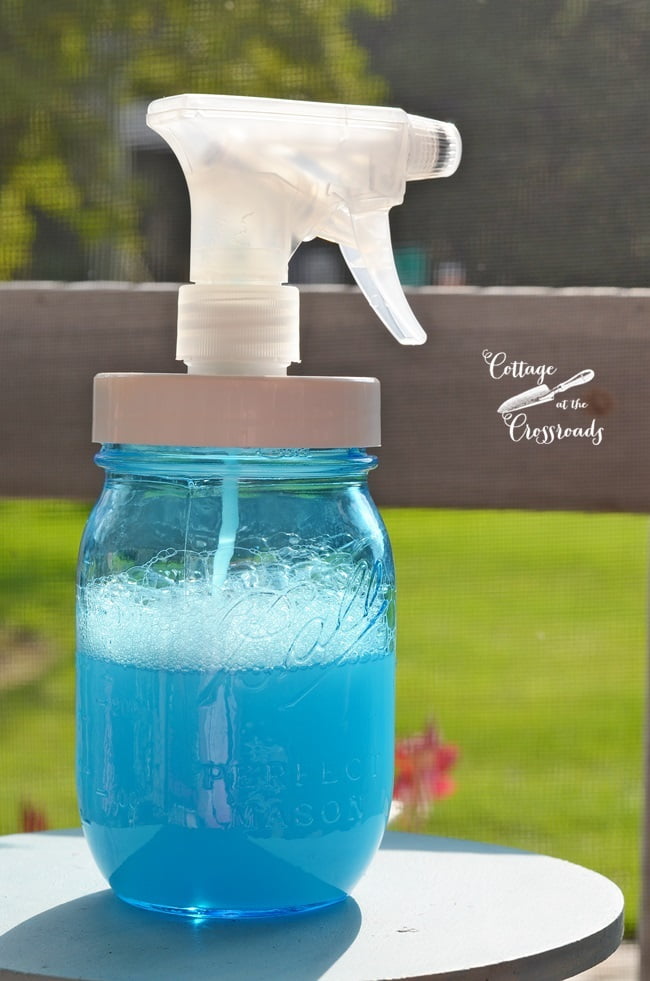 How about clean, pretty, non-toxic, inexpensive, and effective??? Whew! I think I'm hitting all the bases with this one!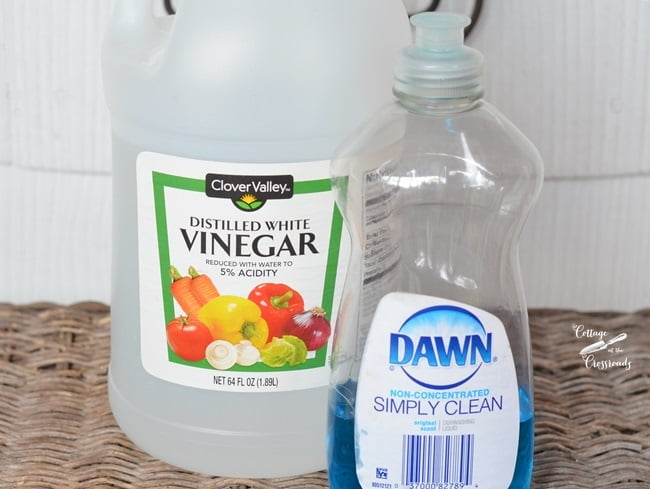 You've probably seen this recipe for a DIY shower cleaner which uses only 2 ingredients-white vinegar and Dawn dish detergent before, right? It's been all over Pinterest but I'll have to say that I've never tried it. I'm usually skeptical about how effective all these homemade cleaning products are.
But I do add white vinegar and baking soda to a load of clothes that are super dirty and super smelly. And I usually grab my Dawn dish detergent to put on oily stains on clothing before I put it in the wash. So I already knew how helpful vinegar and Dawn dish detergent can be.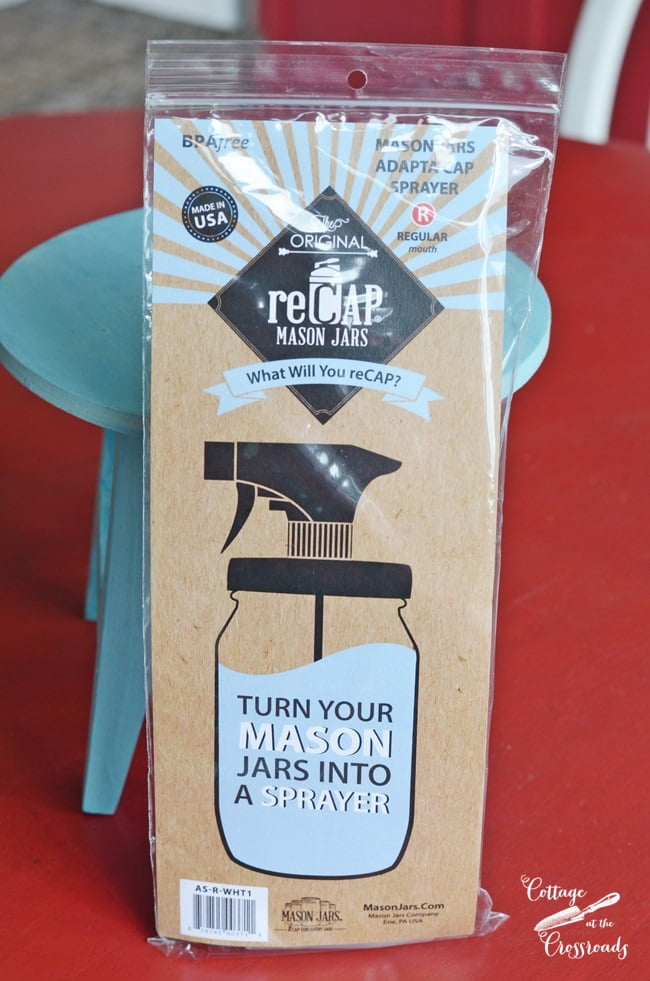 But it was not until I watched one of those Facebook videos that showed the DIY shower cleaner in a Mason jar did I decided to give this a try. I ordered this reCap Mason Jar adapter that turns a Mason jar into a sprayer from Amazon as suggested on the video.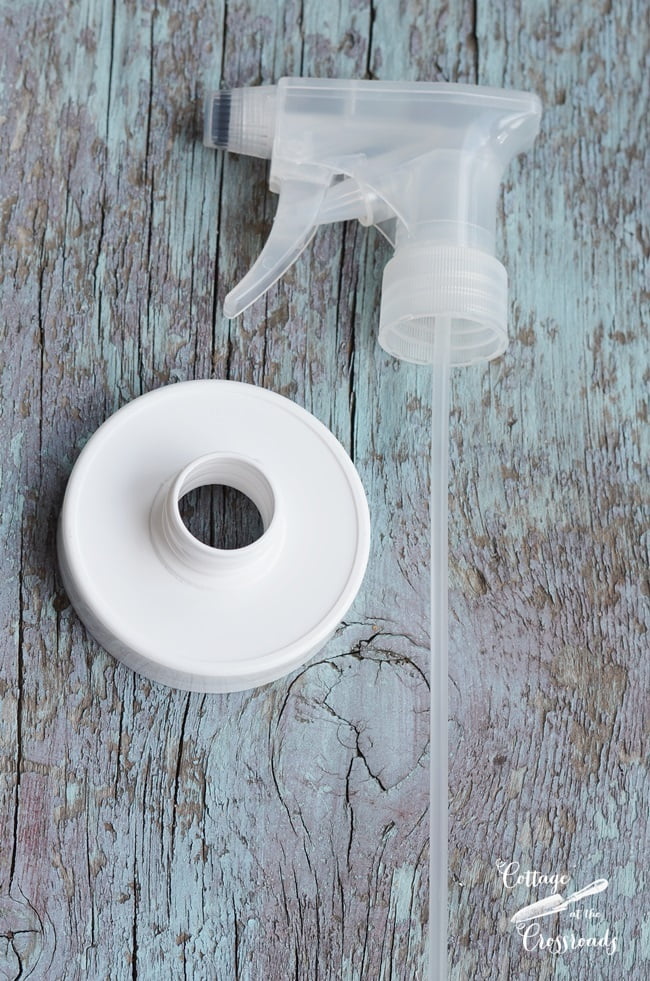 Now I had seen the pump adapters but never a spray adapter so I had to order one. You'll see why in just a few seconds.
The recipe for making the DIY shower cleaner is simple. First measure out ½ cup of white vinegar in a glass container. (I used a pretty blue pint Mason jar.) Put it in the microwave and heat it for one minute. Next add ½ cup of blue Dawn dish detergent to the hot vinegar. Put the lid with the spray adapter on the Mason jar and shake gently to mix it all together.
Why do you need to heat the vinegar? Apparently you need the heat to produce a chemical reaction with the detergent to release enzymes to cut through oil and soap scum.
Why do you need to put all this in a glass jar? Because if you use a plastic spray bottle, you are likely to warp the plastic bottle when you stick it in the microwave.
The next thing to do is to generously spray the solution in your shower and let it sit for at least an hour. Warning!!! This mixture has a powerful smell! Make sure you have good ventilation in your bathroom when you apply it. The vinegary smell does dissipate fairly quickly.
I jumped in the shower and used a scrubby brush on my walls, floor, and one of the glass shower doors. I only did one door because I wanted to compare the results. WOW! This stuff does work, and I will be using it regularly from now on. Note: I used this on a fiberglass shower stall. I'm not sure how safe it is to use vinegar on tile that has not been properly sealed.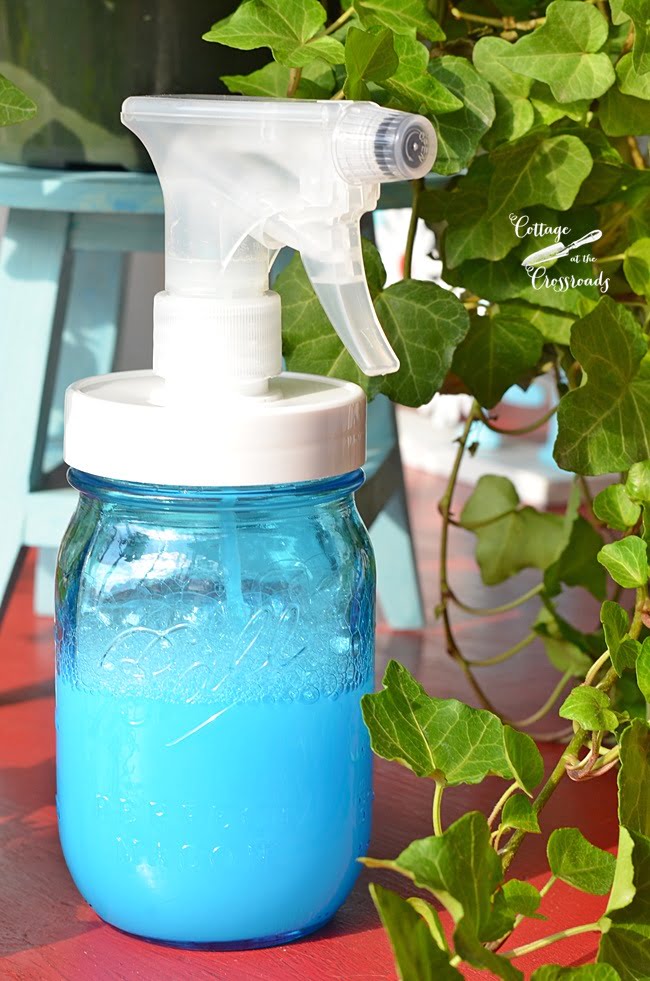 And I can keep it handy in the pretty blue Mason jar in the bathroom!
Note: I did learn that you do NOT have to reheat the mixture each time you use it. Only do that when you are making a new batch.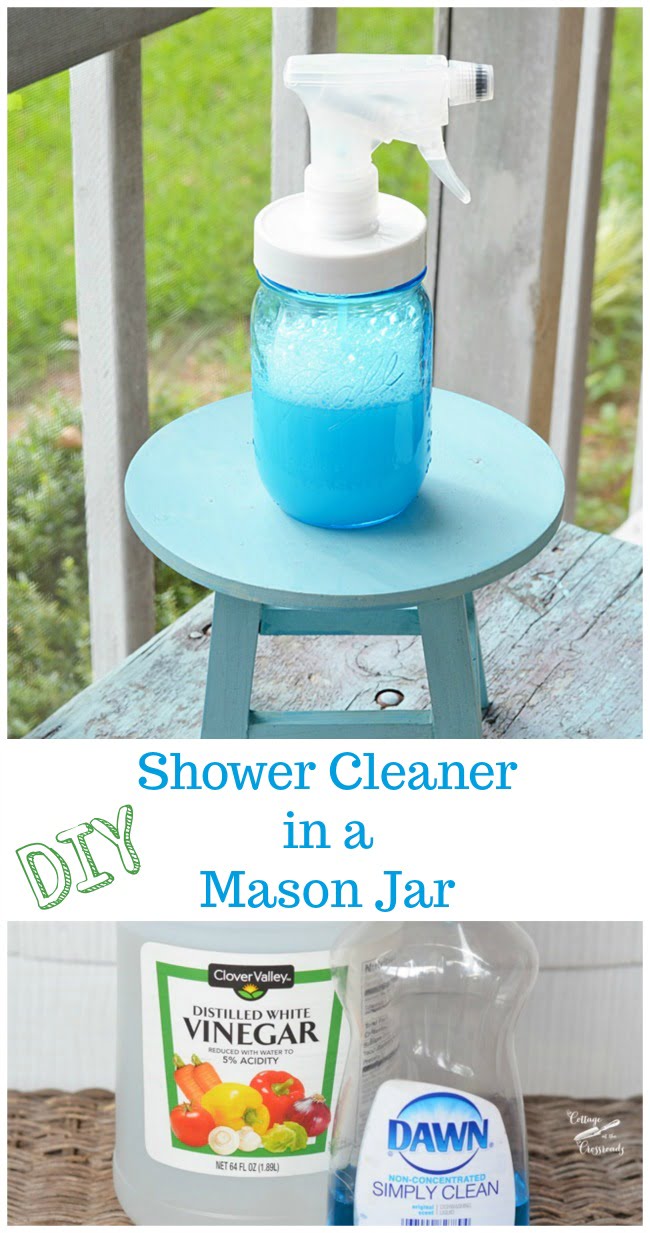 Did you realize that today is the 10th of June? I'm sharing DIY Shower Cleaner as part of our monthly series Ten on the Tenth where 10 bloggers share something that costs $10 or less. I already had the blue Mason jar, the vinegar, and the Dawn dish detergent so I only spent $7.99 on the spray adapter.