We have a large flower bed that is located in front of our vegetable garden, and all winter long I have been planning on creating a cottage garden in this area. You see, this area has not received much attention in the past few years, but it really is the first thing that one sees when approaching our home.
Here is a photo of this area that was taken early last summer and as you can see, the area looked OK but was lacking the WOW factor. Before changing up this area, I thought it would be fun to look back at how it all developed.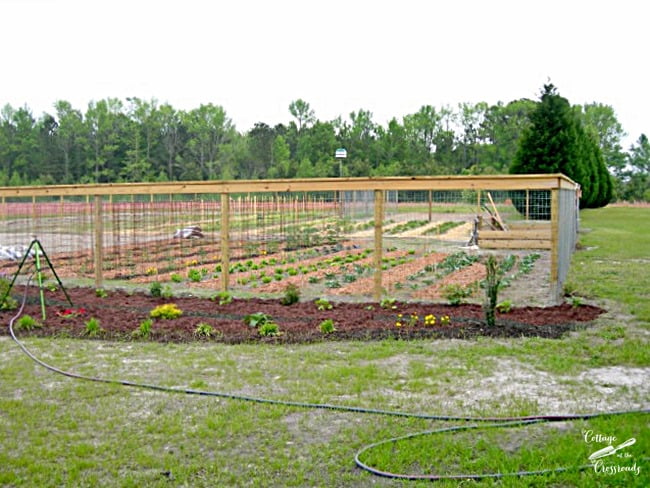 Back in 2010, shortly after Leo and I moved to the Crossroads and after we decided to start a vegetable garden, we had the area enclosed with a tall fence. That's because deer lived in the woods behind our house and we knew that they would probably eat some of our veggies if we didn't install a fence. Even with the fence, the deer ate some of the pole beans that we had growing up the fence that first year but now they don't come around much.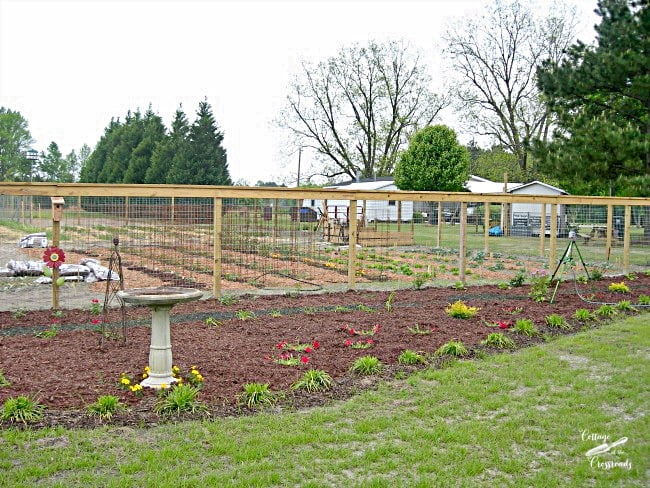 To me, the fence provided a perfect place for climbing roses so we created a flower bed in front of the garden. This area is quite large with a length of 96 feet so I proceeded to alternately plant climbing roses and Knock Out roses along the fence. You can see how small they were in this photo. We also attached a few bluebird houses along the fence to give our feathered friends a home and also gave them a birdbath to enjoy. You can also see some small mophead cypress plants here as well as many liriope plants that went in that first year.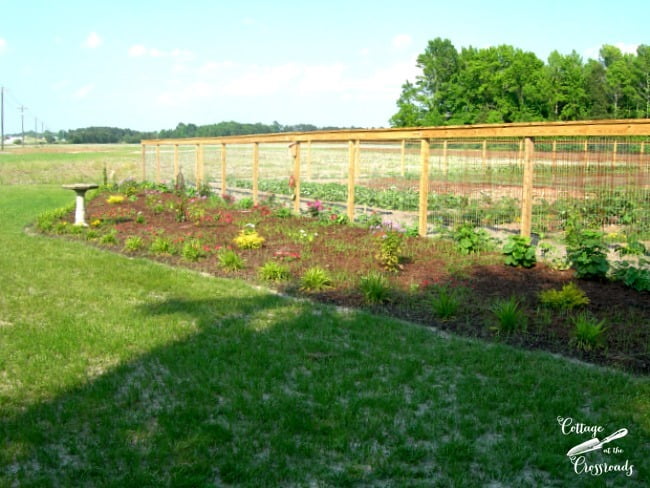 Even though we heavily mulched the bed, you can see the weeds beginning to peek through. That first year we could not stay ahead of the weeds because the flower bed was in an area that was formerly a field. Yet despite the constant weeding, I was proud of the beginnings of my cottage flower garden. I also planted other traditional cottage flowers that year such as foxgloves, cleome, and hollyhocks.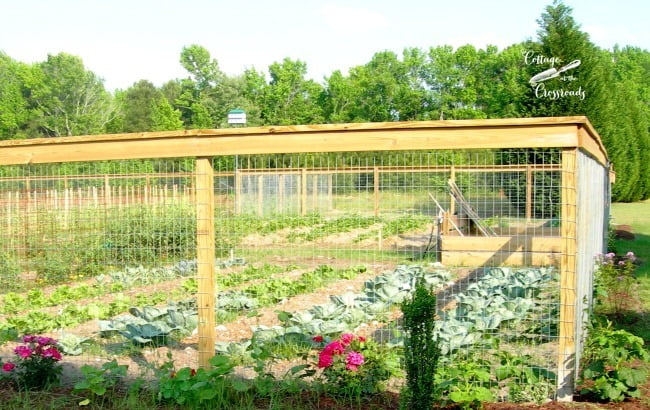 And Leo and I were as proud as could be of the veggies that we had growing that first spring, too!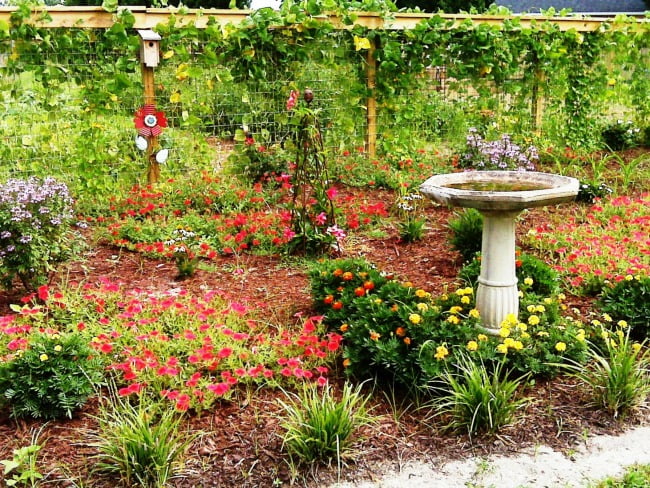 This photo was taken later that summer and you can see how things filled in and the beans that grew on the fence. It was a profusion and riot of color and I loved it. This was all before we started blogging.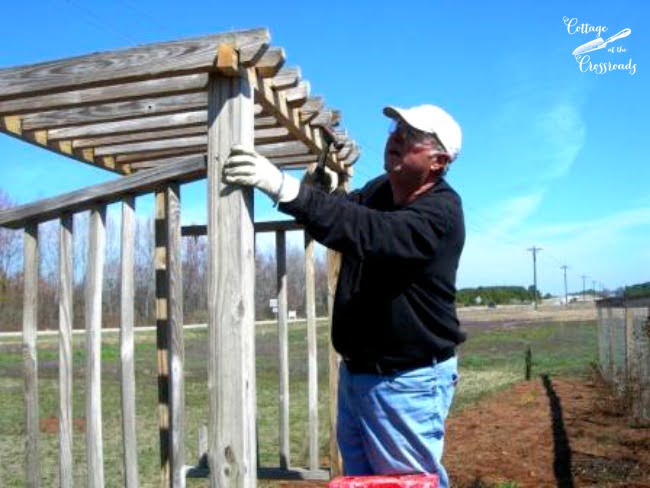 The next spring Leo put up an old arbor that our neighbor didn't want any more. You know, you just can't have a cottage garden without an arbor, can you?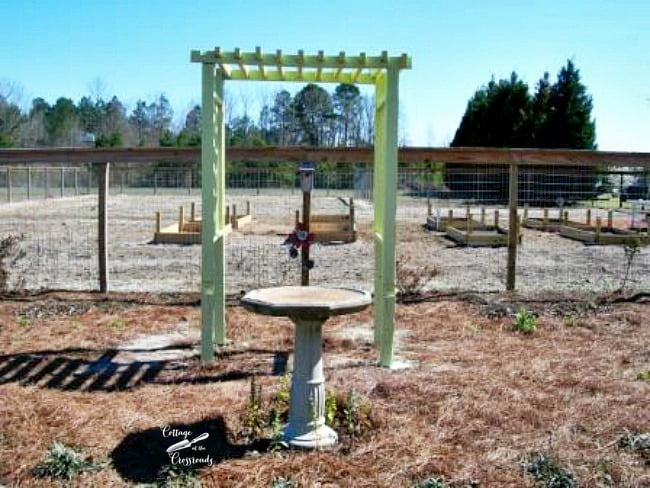 I promptly painted it green and planted some climbing roses beside it. In the background, you can see some newly built raised beds in our vegetable garden.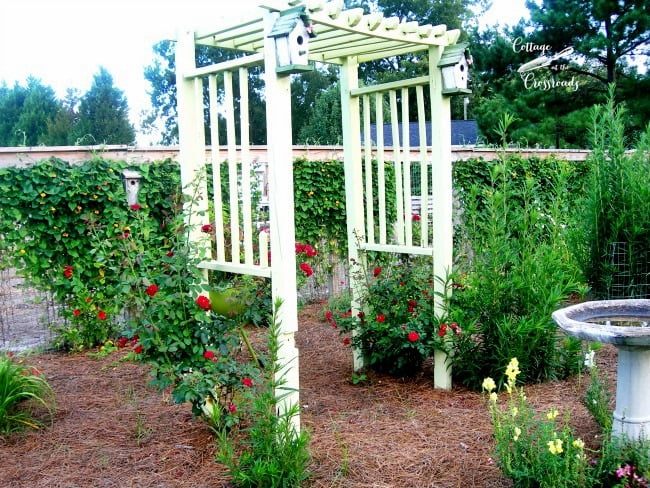 Matching birdhouses were added to the arbor that year.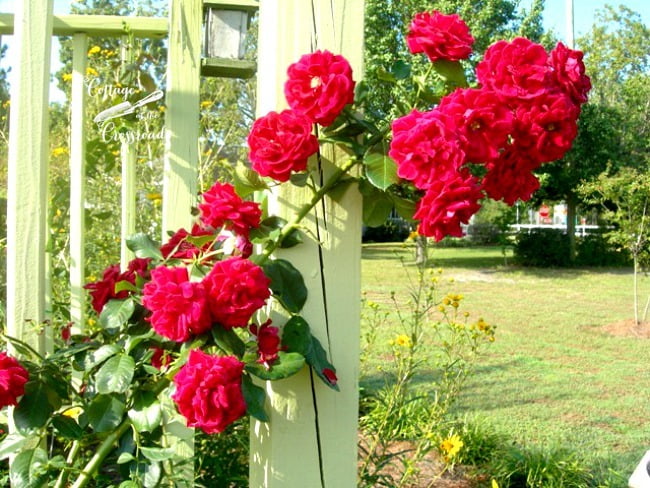 The roses took off and bloomed beautifully all that summer.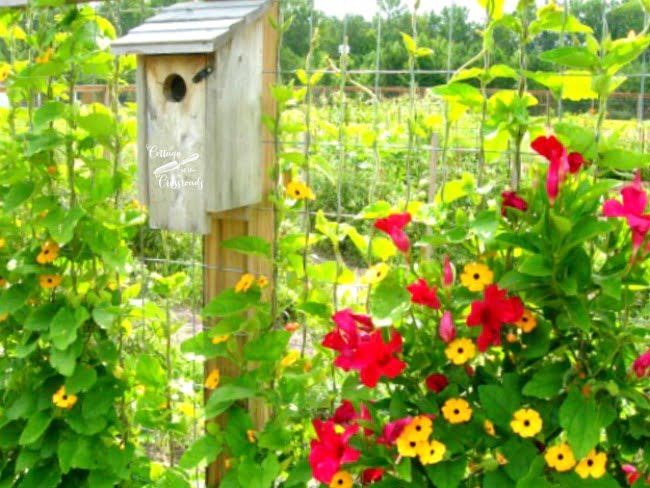 And that was the same year that I planted lots of black-eyed Susan vine seeds along the fence.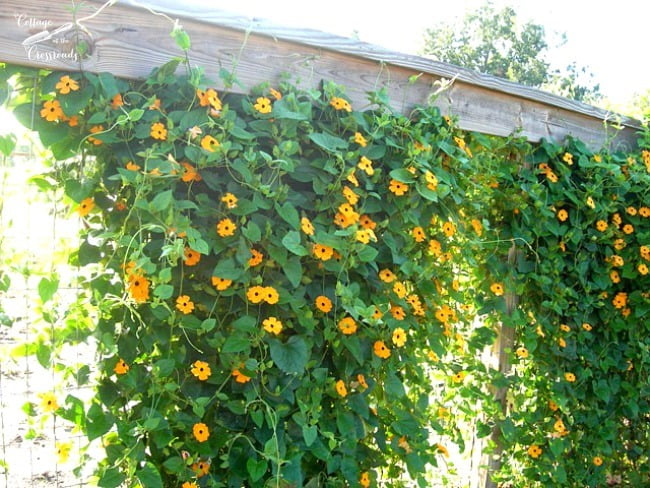 They created a wall of sunshine-y yellow color. They have kept reseeding themselves, and to this day, I still have some of them coming up.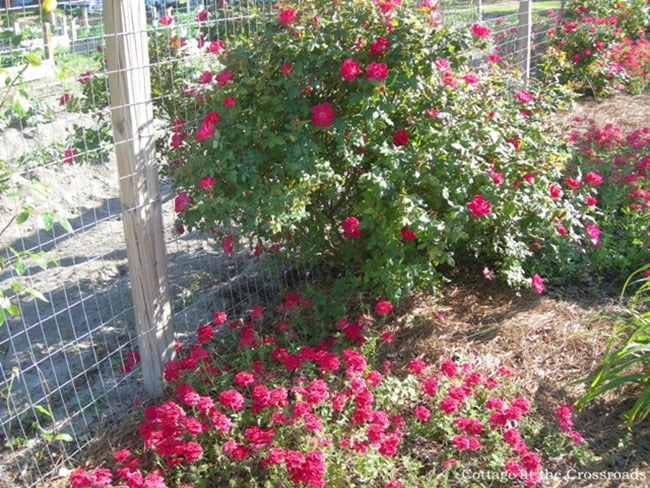 The Knock Out roses and the verbena continued to grow and spread providing lots of color.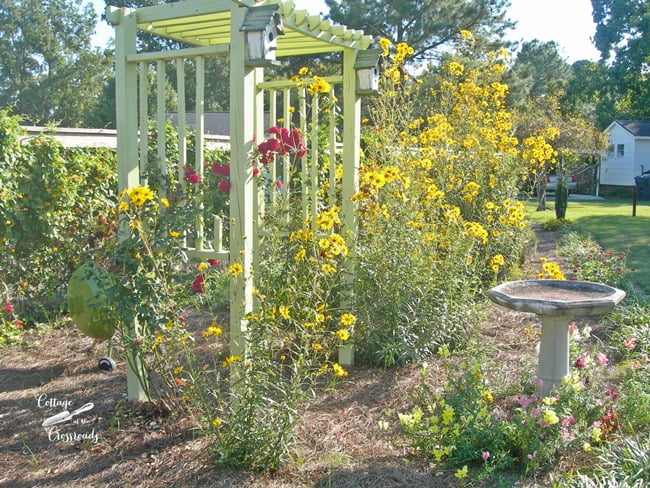 And those "swamp sunflowers" that I had planted the first year grew gigantic the next season. It was only after a reader told me how invasive they could become that we dug them up and planted them near the edge of the woods behind us.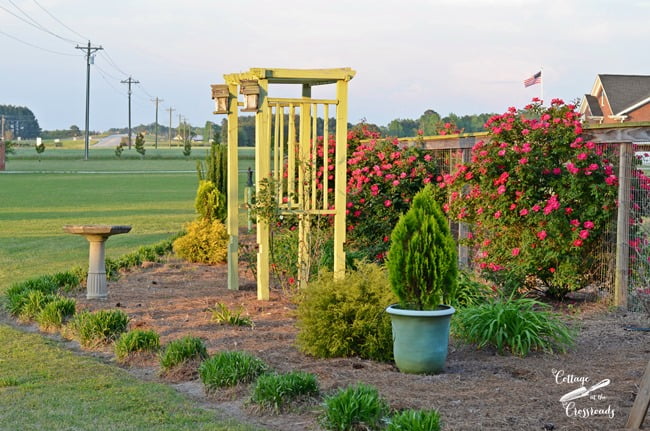 The following year we added some evergreens in pots to the bed. Eventually they outgrew the pots and they were planted in the ground. They and the mophead cypress plants provide color and texture to the bed during the winter months and you should see how large they are now.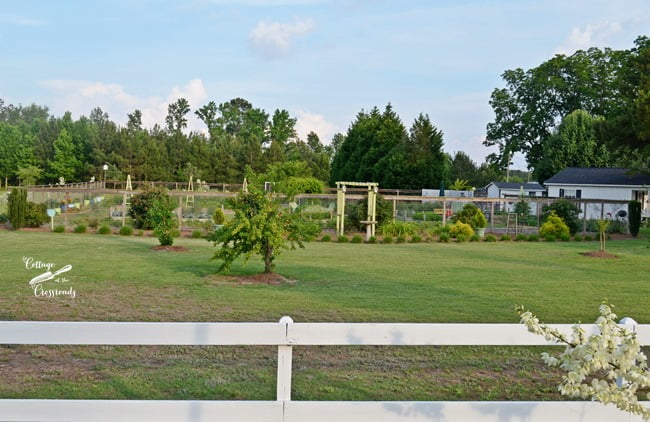 So for the past two years, this flower bed has been a little neglected. The roses on the arbor succumbed to black spot and were removed. One of my goals  earlier this year was to revitalize and improve this area and get it looking like a real cottage garden again. So we're excited to announce a partnership with Smartpond to create a water feature  in our flower garden. Stay tuned and we'll tell you all about it!