Sharing our 2018 Christmas mantel with an ornament garland today as part of the Christmas Ideas Tour.
Hi there, everyone! I'm so excited to share our Christmas mantel with you. Not only will you see our mantel with the ornament garland today, but you'll get more mantel ideas as part of the Christmas Ideas Tour that is going on all this week.
Our host for the tour is the talented Angie from Postcards from the Ridge. I am honored to be part of this home bloggers tour group.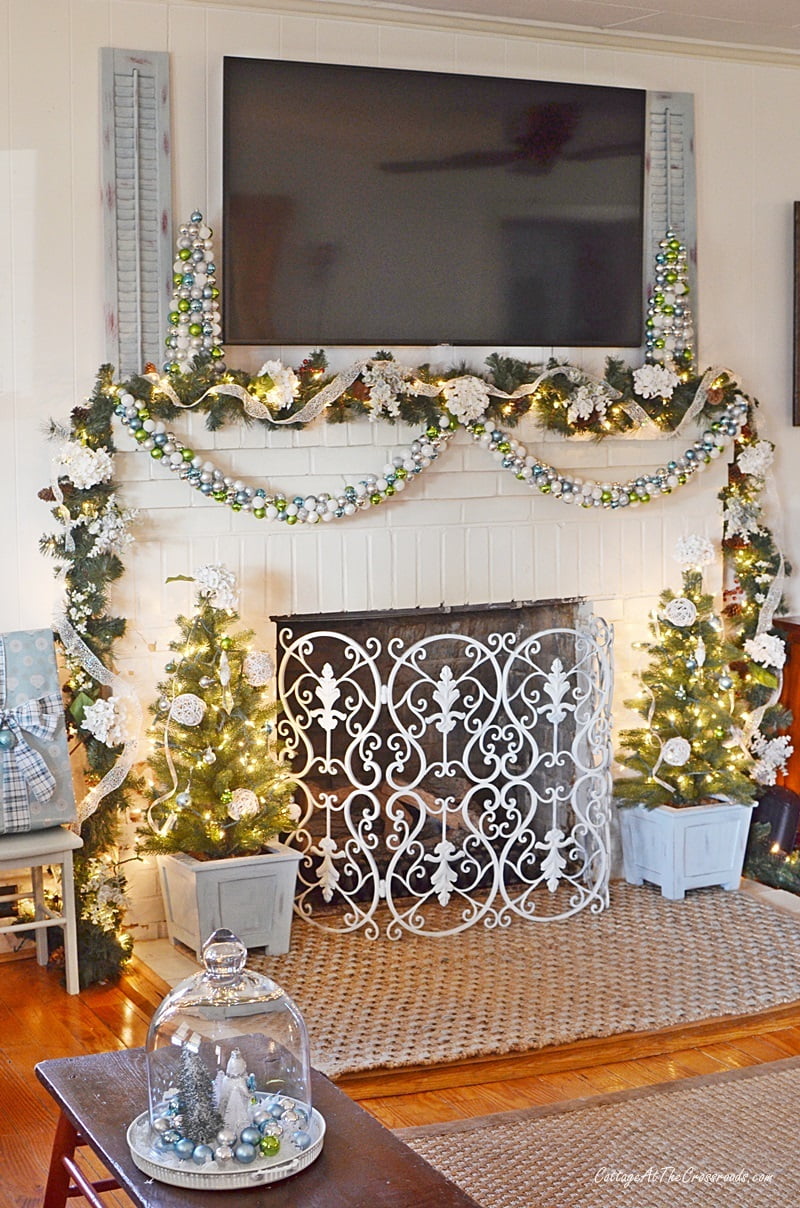 Here it is! Our Christmas mantel with an ornament garland. I have been thinking about making an ornament garland to use on our mantel for a while, and I'll have to say that the garland makes the mantel.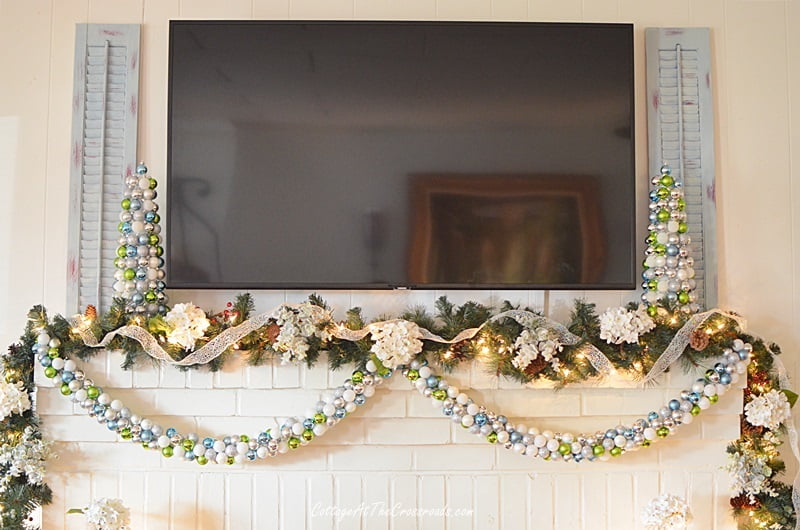 That and the matching topiaries on top!
The garland was not hard at all to make, and I recently posted about how to make one. In case you missed that post, you can find the directions here: DIY Christmas Ornament Garland
The mantel is decorated with shades of soft blue and green along with lots of white.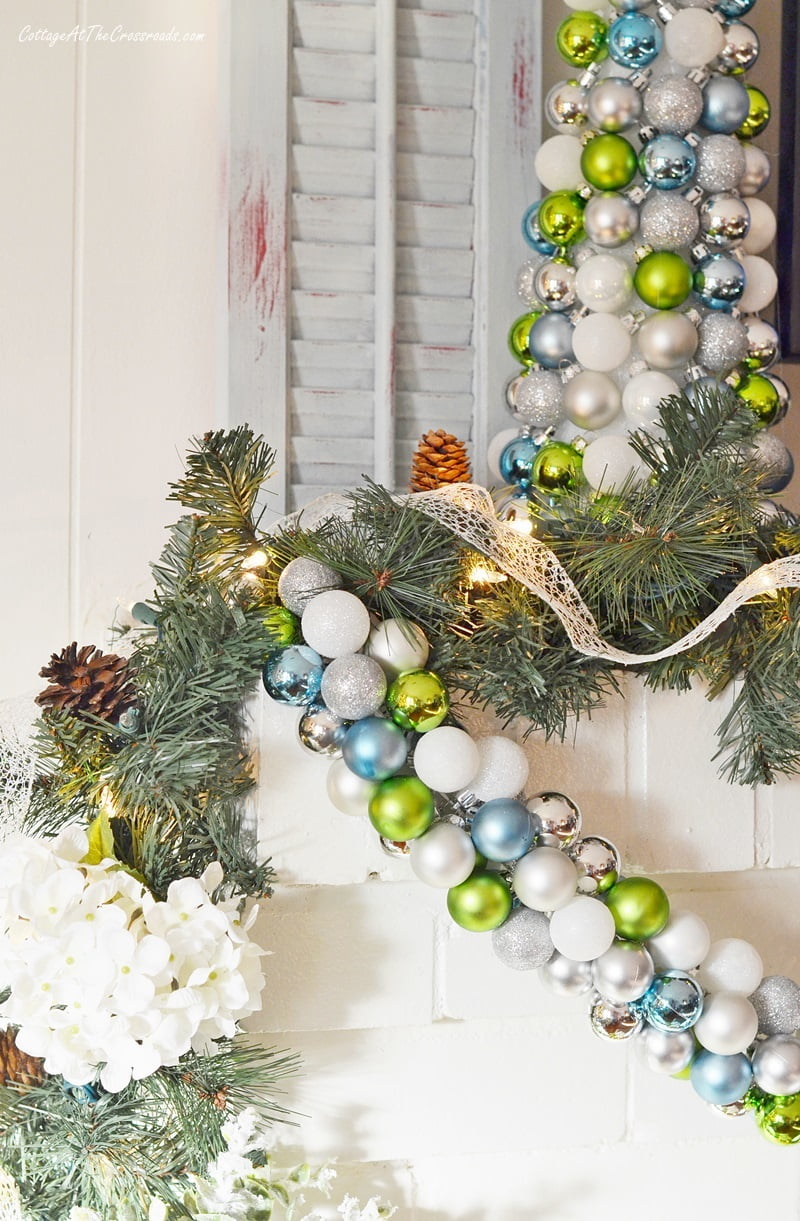 I've been using the blue shutters and the planters around the mantel for a while now. Inexpensive lighted garland surrounds the mantel and became a base for me to add faux white hydrangea blossoms and white ribbon.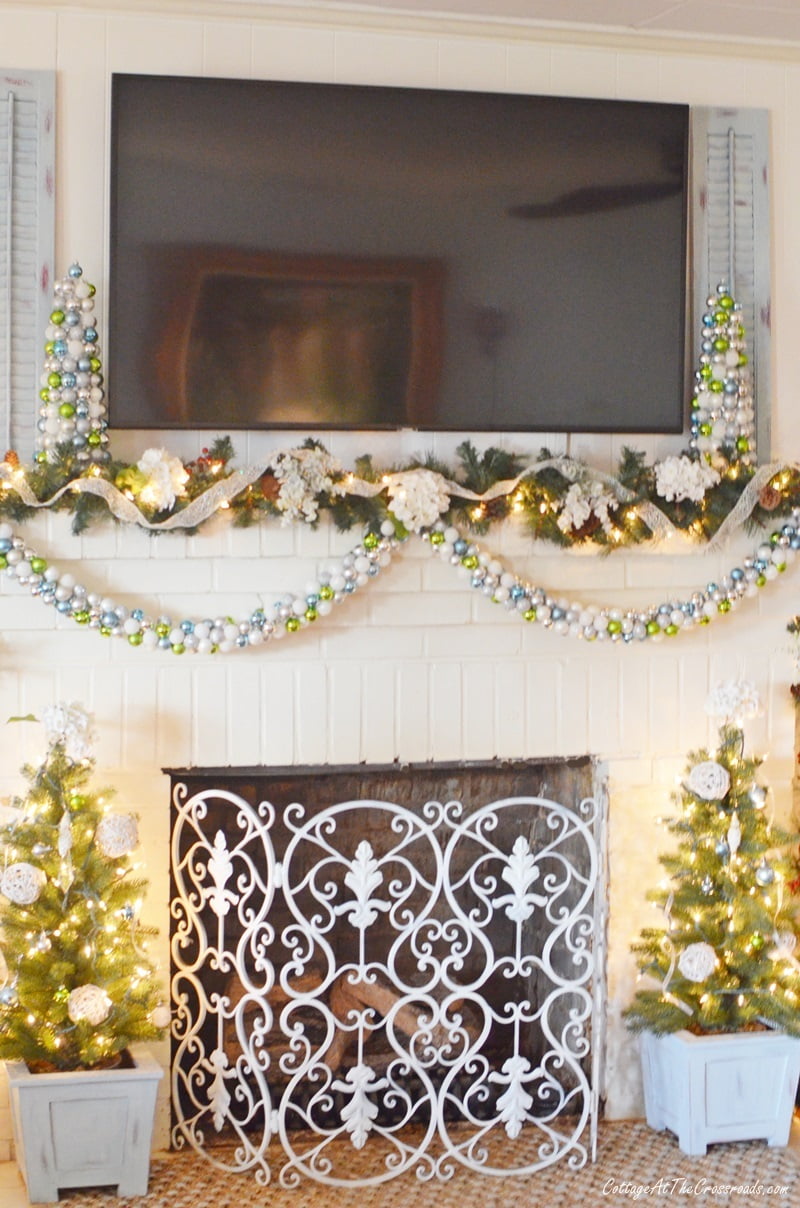 I decided to put some lighted trees in the blue planters, and I just love the glow that they and the lighted garland around the mantel give off at night.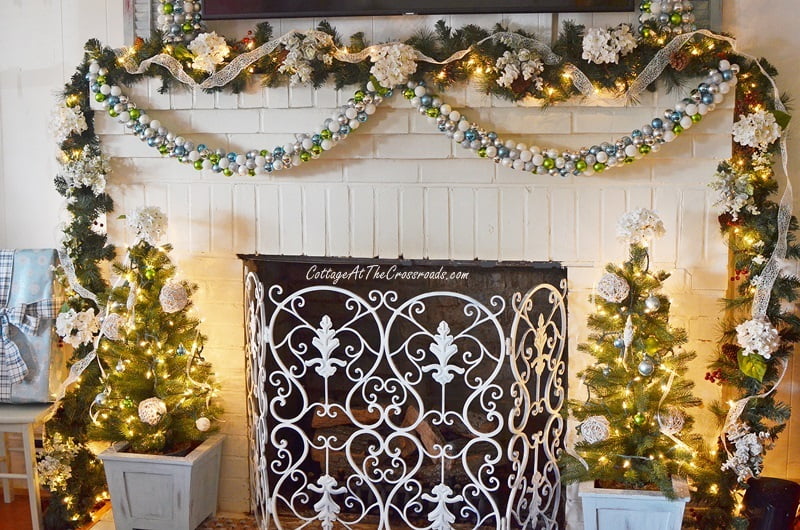 But without a doubt, the ornament garland is the star! I had no idea that it would turn out so well.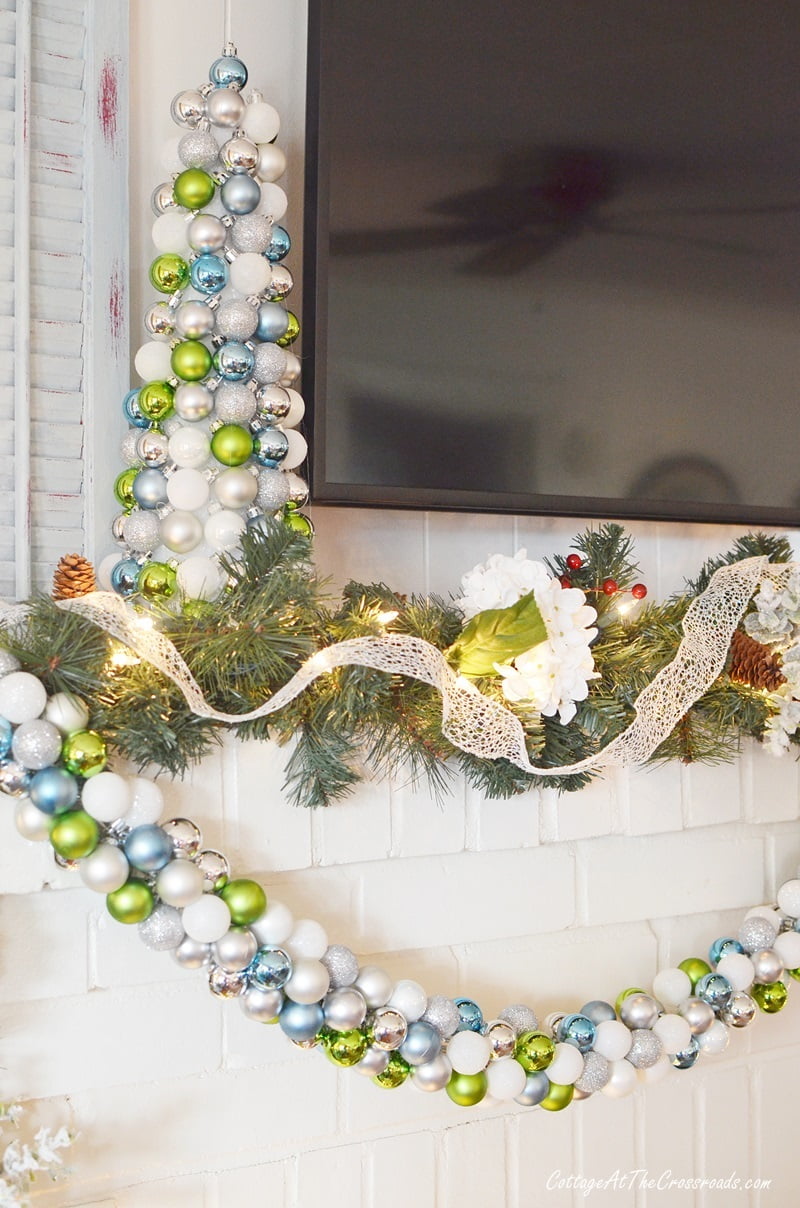 The matching topiaries were easy to make, and I'll put up a post soon on how to make those.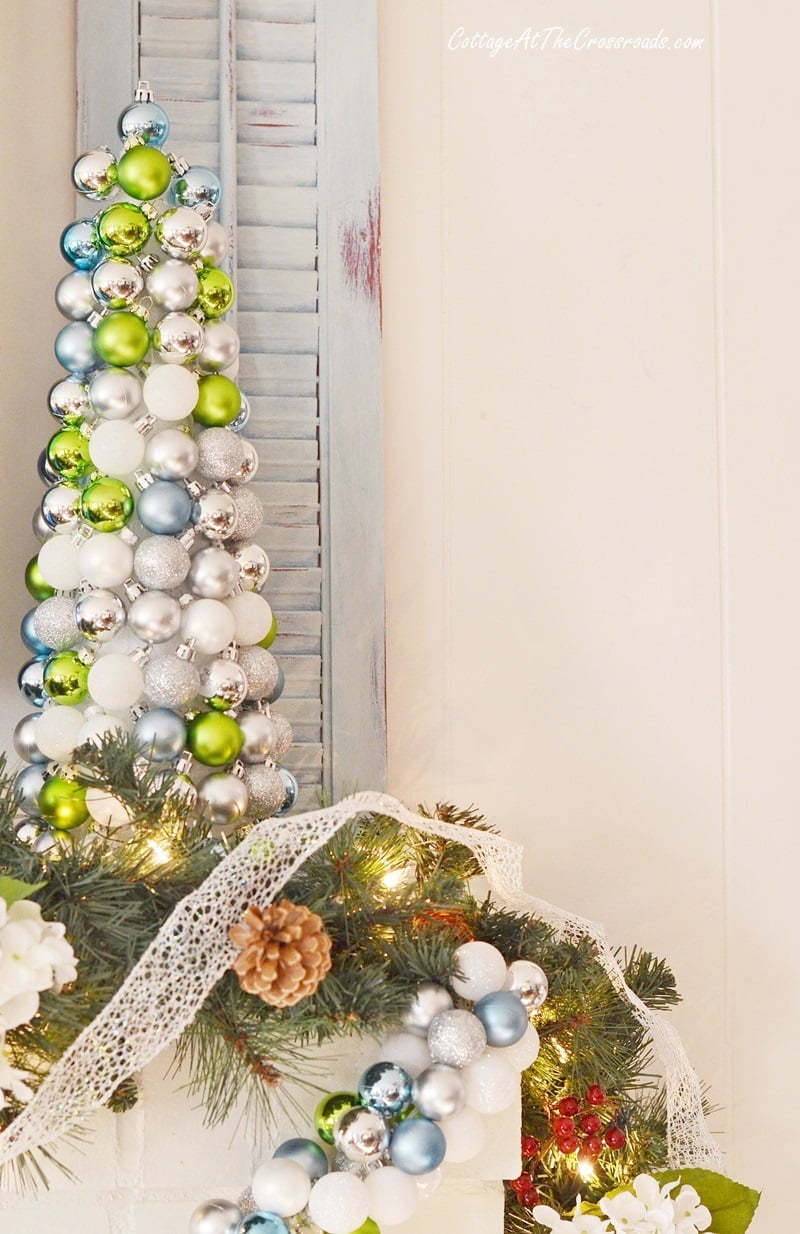 Who knew that those small ornament balls could be used to make such pretty Christmas decor???
If you're new here today, I appreciate your visit. Be sure to sign up for emails and follow along on Pinterest, Facebook, and Instagram.
Now it's time to see all the Christmas ideas from these talented home bloggers. Here's the tour lineup for the week. Be sure to visit everyone for wonderful Christmas ideas for the whole house. The links for each topic are below the images.
Monday – Christmas Mantel Ideas
Tuesday – Christmas Tablescape Ideas
Wednesday – Christmas DIY/Craft Project Ideas
Thursday – Christmas Tree Ideas
Friday – Christmas Recipes