Every variety of mushrooms, from the simple button to the rich portobello, has its unique flavor and texture. These fungal wonders are not only rich in flavor but are also packed with protein and low in calories, making them a health-conscious choice for many.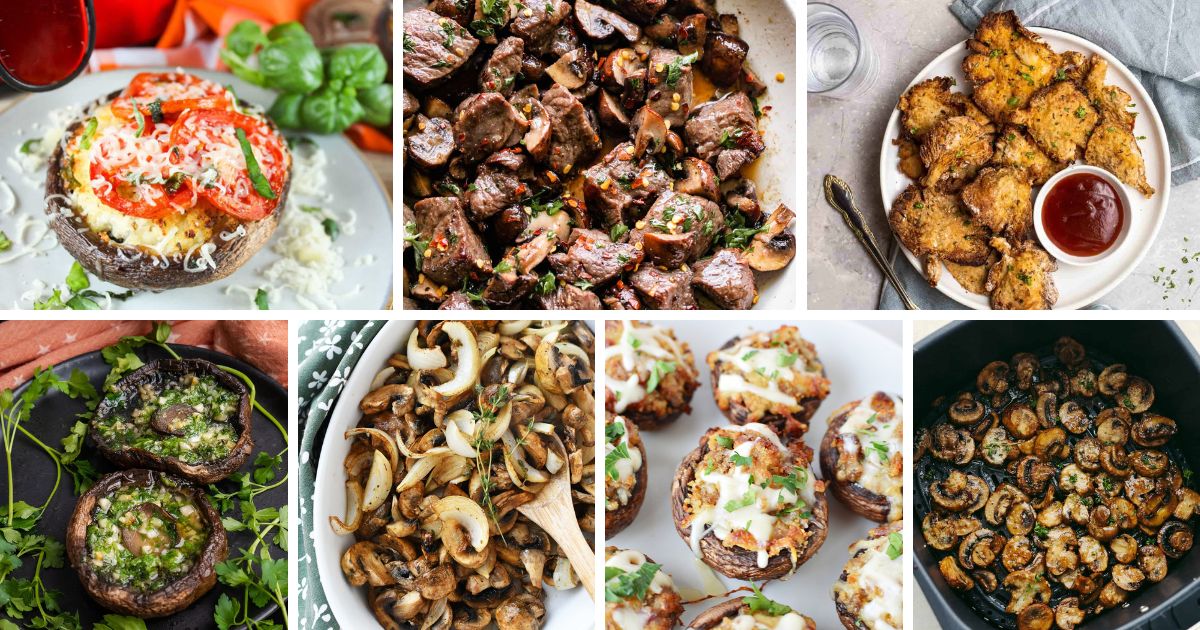 Thanks to the innovation of the air fryer, a game-changing kitchen device, you can now enjoy mushrooms with a crispy finish, without the guilt of saturated fat from traditional frying methods.
This curated collection of the 27 best air fryer mushroom recipes is promising for various tastes and preferences. Each dish showcases the unmatched versatility of mushrooms combined with the efficiency of air frying.
A highlight of these recipes is the focus on fresh herbs, offering a boost in flavor while adding nutritional value like vitamin C, calcium, and potassium. Additionally, for those watching their diet, many of these dishes are low in carbohydrates.
Contents
This treat involves baby Bella mushrooms, tossed with spices and Panko breadcrumbs. They're an ideal savory bite or an accompaniment to protein-rich mains.
A classic mushroom preparation, these are seasoned with garlic and Worcestershire. When garnished with fresh herbs and a hint of lemon, they become an exquisite side dish.
For these, mushrooms are coated in breadcrumbs and delicately seasoned. They're best for those craving a crunchy exterior with a soft inside.
This recipe combines sliced mushrooms with parmesan and fresh thyme. This cheesy delight, rich in calcium, is perfect for all types of warm gatherings.
These air fryer mushrooms are coated with a zesty mix of garlic and lemon. They're perfect for a light summer appetizer or as an accompaniment to grilled meats.
Sauteed onions and garlic add depth to the baby bella mushrooms. A sprinkle of lemon zest at the end makes this dish refreshingly tangy.
With a hint of garlic and thyme, these baby Bella mushrooms are simple yet flavorful. They pair well with grilled steaks or chicken.
These succulent Portobello mushrooms are enhanced with garlic and parsley. A touch of butter makes it a creamy delight to savor.
The chipotle seasoning gives these button mushrooms a mild spicy kick. They're great for those who want a hint of heat in their side dish.
This low-carb delight combines baby Bella mushrooms with garlic and parsley. It's a keto-friendly treat that doesn't compromise on taste.
Whole baby Bella mushrooms meet soy sauce and Parmesan cheese in this dish. It's a hearty side that can steal the spotlight from the main course.
Infused with Italian seasoning and topped with parmesan, these mushrooms offer a burst of Mediterranean flavors.
Cream cheese and bacon-stuffed mushrooms are a decadent treat. The cheddar and parmesan add layers of cheesy goodness.
This dish is both crunchy and savory without the carbs. It's a choice pick for those watching their carbohydrate intake.
Balsamic vinegar and avocado oil elevate the Portobello caps. Topped with mozzarella and parmesan, they're a mouthful of Italian essence.
The sweetness of Vidalia onions pairs wonderfully with balsamic-infused mushrooms. A hint of thyme brings a fresh finish.
You can experience mushrooms like never before; as fries with a Creole twist! They're a fun alternative to regular potato fries.
Combining tender beef with mushrooms, this dish is all about bold flavors. A touch of Cajun spice ensures each bite is memorable.
This recipe makes a unique jerky made of Portobello mushrooms and seasoned with a mix of savory spices. It's keto-friendly and absolutely addictive.
This dish celebrates the meaty texture of oyster mushrooms, complemented by a tangy balsamic marinade. It's perfect for true veggie lovers.
Shiitake mushrooms join broccoli in this healthy combination. Coconut amino adds a touch of sweetness, rounding out the flavors.
Delicately battered oyster mushrooms meet a blend of spices in this dish. Enjoy them as a snack or alongside your favorite dip.
Ground beef steaks are doused in a rich mushroom gravy in this recipe. Given the umami flavor of the gravy, this dish is comfort food at its finest.
Ricotta and mozzarella-stuffed mushrooms are a cheesy pleasure. Adding roma tomatoes on top add freshness and zest.
Seasoned with a mix of herbs and spices, these mushrooms have a crispy exterior. They're a guilt-free snack that's packed with flavor.
Juicy steak cubes paired with baby bella mushrooms make a hearty meal. A sprinkle of parsley adds color and vibrancy.
Fresh mushrooms filled with Italian sausage and breadcrumbs. A handful of Mozzarella and Parmesan turns them into a particularly cheesy delight.
📋 Recipe
Frequently Asked Questions