When it comes to modern culinary innovation, the air fryer has emerged as a game-changer, redefining the way you can prepare your favorite dishes. The air fryer's ability to transform humble chicken legs into irresistibly crispy and succulent delicacies stands out among its numerous triumphs.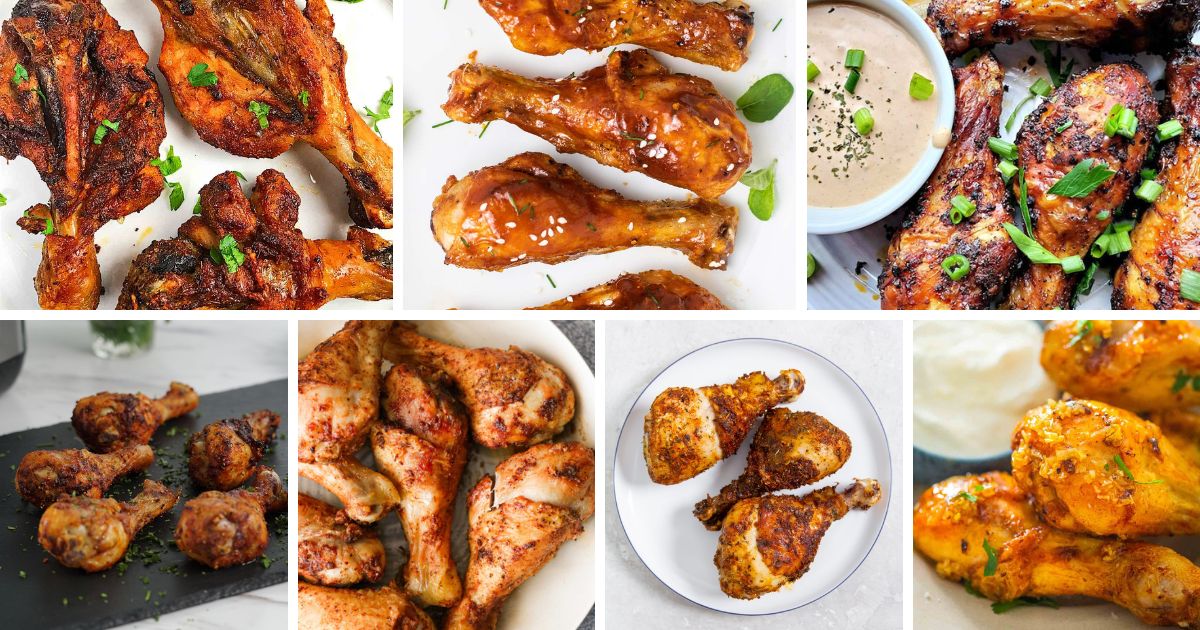 In this compilation of gastronomic delights, we present the "19 Best Air Fryer Chicken Legs Recipes." Whether you're a culinary novice or a seasoned chef, this curated collection offers a diverse range of flavors, techniques, and inspirations that are certain to elevate your chicken leg creations to new heights inside of an air fryer basket.
Join us on a journey through tantalizing marinades, delectable seasonings, and inventive cooking methods as we unveil the potential of protein packed air fryer chicken recipes in all their crispy, golden-brown glory.
Contents
Air Fryer Chicken Legs
This recipe produces some of the most crispy and succulent chicken legs I've ever eaten. I highly recommend using bone-in and skin-on chicken legs. This dark meat is more moist and delicious than chicken breasts.
Chicken drumsticks are often on sale at your grocery store, and you can turn them into a family favorite with this recipe. The air fryer produces a crispy and well-season exterior while keeping the meat juicy and tender.
I love fried chicken drumsticks, but my waistline does not. I love this air fryer chicken drumsticks recipe because the result is crispy and much healthier than the deep-fried alternative.
If you love Asian flavors, you will enjoy this chicken leg air fryer recipe. The combination of savory soy sauce and sweet honey is the perfect combination. You can take this recipe to the next level and prep your chicken in a small bowl with spices like onion powder.
This recipe is an excellent base for experimentation. The method creates moist and tender leg quarters. You can experiment and use practically any seasoning you have in your pantry.
My favorite part of this recipe is that you can turn chicken legs into a delicious main course in less than 30 minutes. Serve these chicken legs with a mixed green salad or carbohydrates like potato salad.
My favorite part of drumsticks is the amount of crispy skin you get in each bite. I love serving these crispy delights with side dishes like sweet potato fries or mac and cheese.
This easy dinner recipe will turn you into a lover of dry rub. The air fryer helps the seasoning penetrate into the chicken while staying healthy. You can also use this recipe for air fryer chicken wings.
This recipe is an explosion of flavor. Each bite is a combination of sweet and savory. The garlic and honey carmelize on the skin on these air fryer chicken thighs or chicken tenders..
This recipe combines my two favorite kitchen tools. Cooking the chicken legs in the instant pot ensures they are tender, and finishing them in the air fryer makes them super crispy.
You don't have to deep fry your chicken to get extra crispy drumsticks. You can accomplish the same thing in the air fryer without all the extra oil by arranging them in a single layer.
Garlic powder and parmesan is a match made in heaven and one of my favorite seasoning combinations for chicken. I promise these chicken legs will be a hit.
By butterflying the drumsticks, you dramatically reduce the cooking time, and you can have dinner ready in around 15 minutes. I like adding honey mustard for some extra flavor.
Korean food is one of my favorite types of ethnic food; they know a thing or two about fried chicken. The sauce is spicy and savory, and you will fall in love at first bite.
Say goodbye to your deep fryer and all those extra calories with this air frier fried chicken recipe. This recipe is so good you can barely tell the difference.
You can turn this labor of love into an easy weeknight meal using your air fryer. You can now enjoy the comfort of southern fried chicken anytime.
If your lemons are in season, you have to try out this recipe. The lemon juice tenderizes the chicken, and the fryer makes the chicken skin crispy. It's a beautiful combination.
The best chicken is juicy on the inside and crispy on the outside. You can get these results every time using the method outlined in this article. Your family will be impressed, and they won't even know they are eating vitamins like potassium, calcium, and fiber.
Sweet and spicy chicken is always a good decision. You can create this incredible chicken leg recipe that goes perfectly with mashed potatoes using bbq sauce and an air fryer.
📋 Recipe
Frequently Ask Questions