Today was a beautiful, sunny day in South Carolina. Leo and his brother Jim worked in the garden putting in an irrigation system. I had just received my March issue of Better Homes and Gardens magazine, and there was an article in it about asparagus. So I decided to take a look at our asparagus bed, and this is what I saw. One asparagus spear had peaked its head above the soil. We were so excited!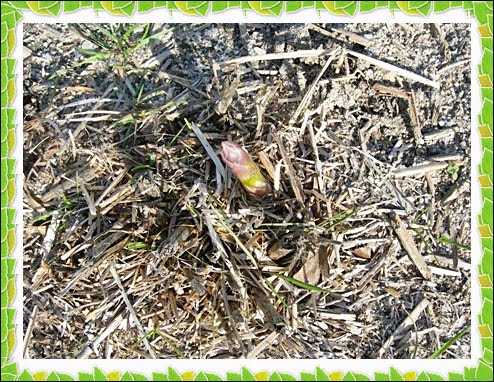 We have never grown asparagus before now. In fact, if you've been reading our blog, you know that we have only been gardening for two years. Since asparagus is one of our favorite vegetables, we wanted to grow some. Last spring we planted 18 crowns.
Most people don't know much about how asparagus grows. In fact, we didn't. After the asparagus started growing last summer, I saw some new spears and I just couldn't resist snapping off a few and eating them right in the garden. But after doing a little research, I found out that I shouldn't have done that. You see, growing asparagus is a lesson in patience. You really have to allow 3 years before you can enjoy the bounty.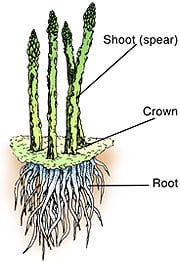 Asparagus is a perennial plant. It pops up out of the ground from its root mass after being dormant all winter. You can harvest a limited amount of spears in the second year after planting. If the spears are not harvested, they develop into large ferns which manufacture and store energy in the crown for next year's crop.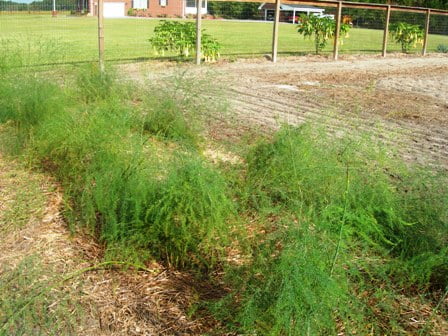 This is what our asparagus looked like last fall after growing all summer. After several frosts, the foliage turned brown and Leo mowed it to the ground.
And today, we saw the first evidence that it's growing again. Hooray! Spring is on its way at the Crossroads!