Hi there, everyone! Welcome to our Cottage Christmas Porch all decorated with a gardening theme this year! The weather here has been so delightful that we have enjoyed sitting out here quite a bit lately.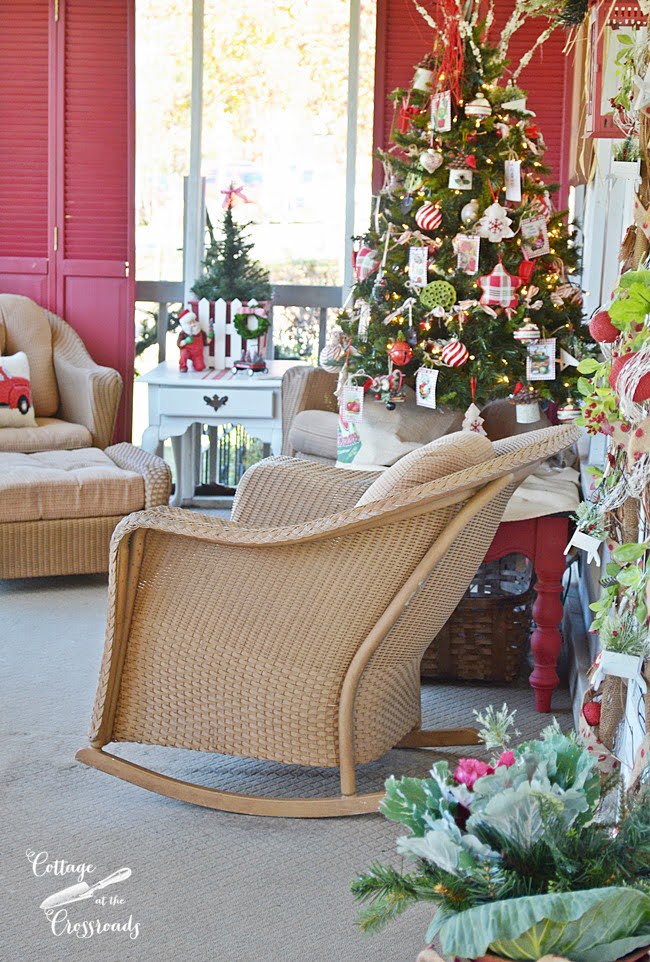 You know, you have to take advantage of this beautiful weather when you can which probably explains why I haven't finished the rest of my decorating! But let me show you the porch!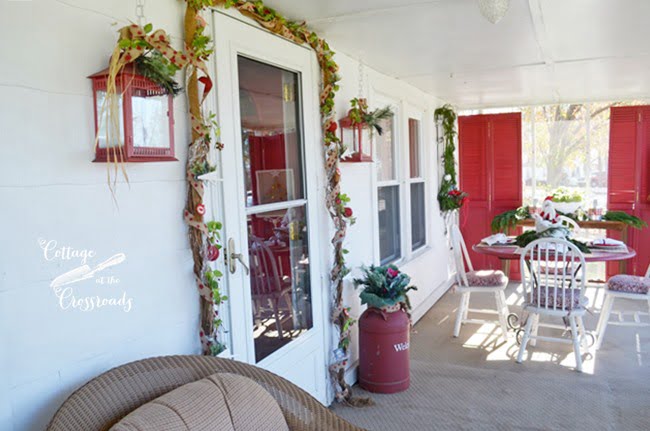 For anyone who is new here, our house is just a small country cottage, but its most wonderful asset is the long screened porch that runs the width of the house. And as you can see, the dominant color that I use on the porch is red. At each end you see some wooden panels that are actually repurposed closet doors. I finally got them all painted this fall.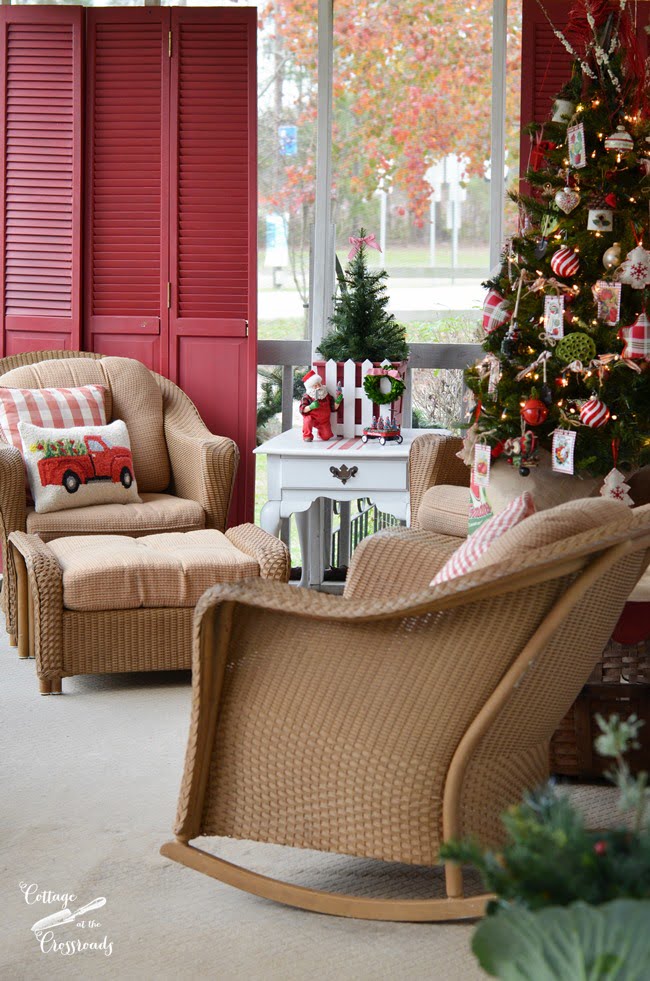 On this end is the sitting area where we spend a lot of time. Luckily, in South Carolina, we can use a screened porch for so many months out of the year, including Christmas time.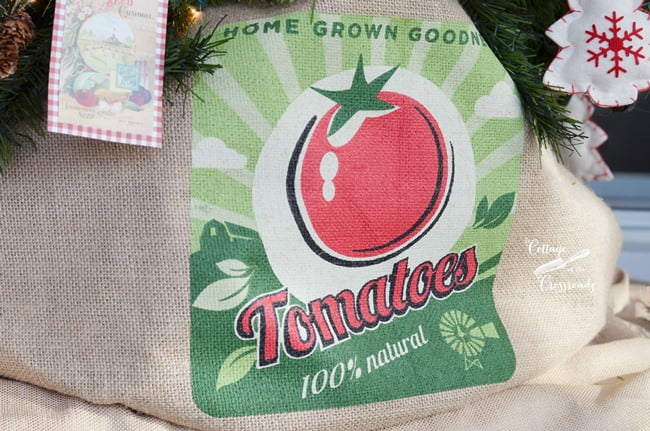 Our Christmas tree on the porch sits on a table, and I used this tomato growing bag as a skirt.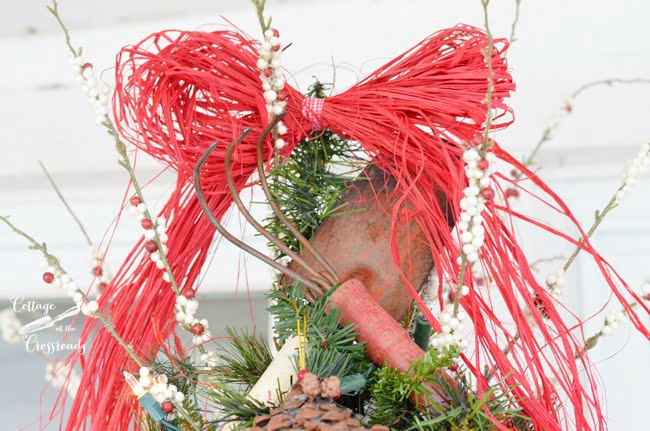 The topper is made up of some vintage tools and a red raffia bow.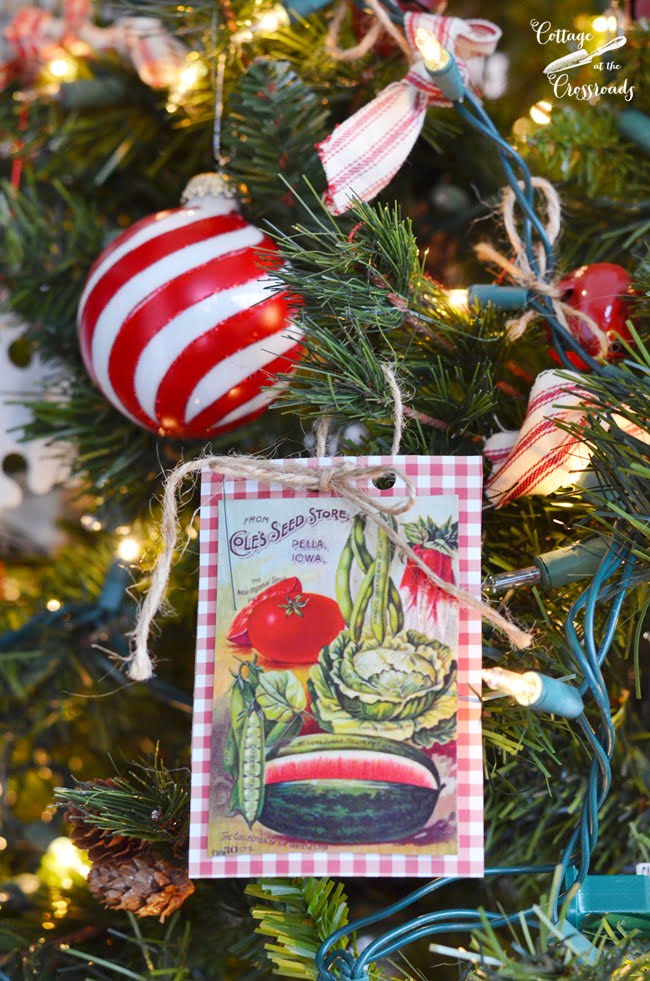 I made these ornaments last year from copies of vintage seed catalog artwork.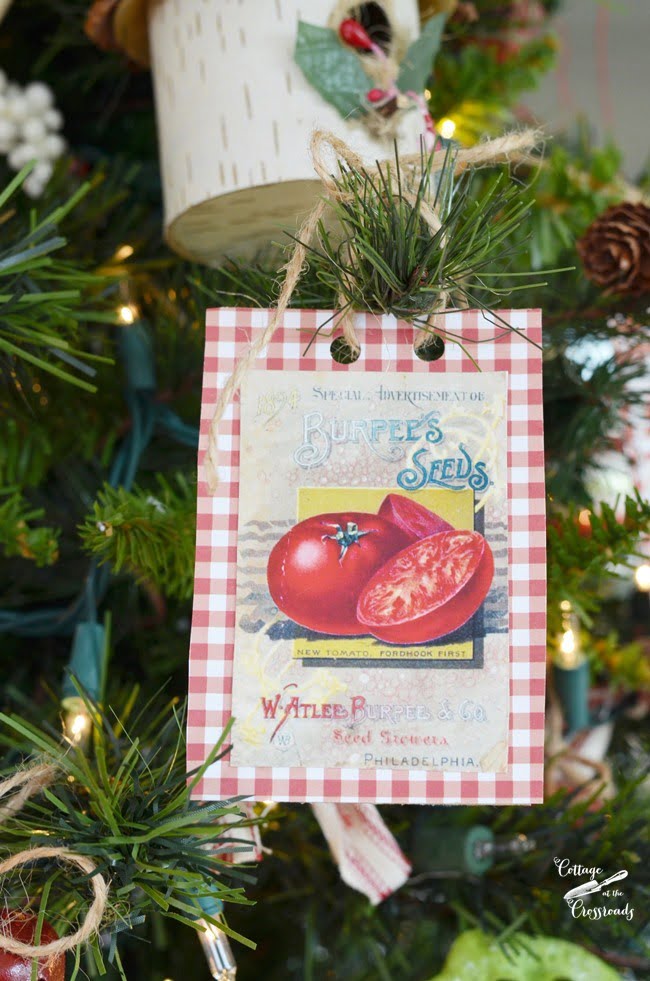 Here's another one. I just glued the copies onto some scrapbook paper. Super easy to do!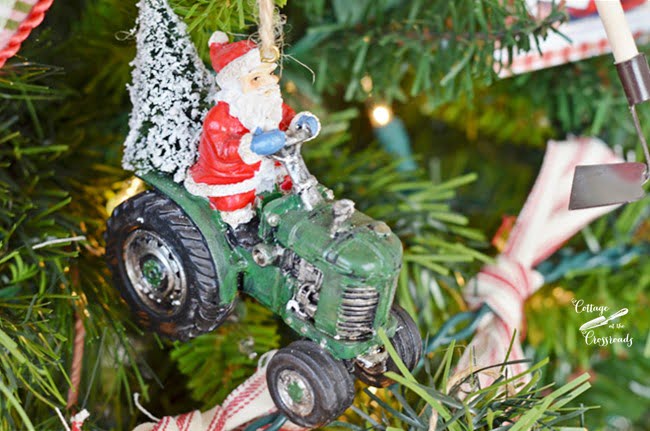 A new ornament this year is this Santa driving a tractor, and in the corner of the photo, you can see a hoe hanging.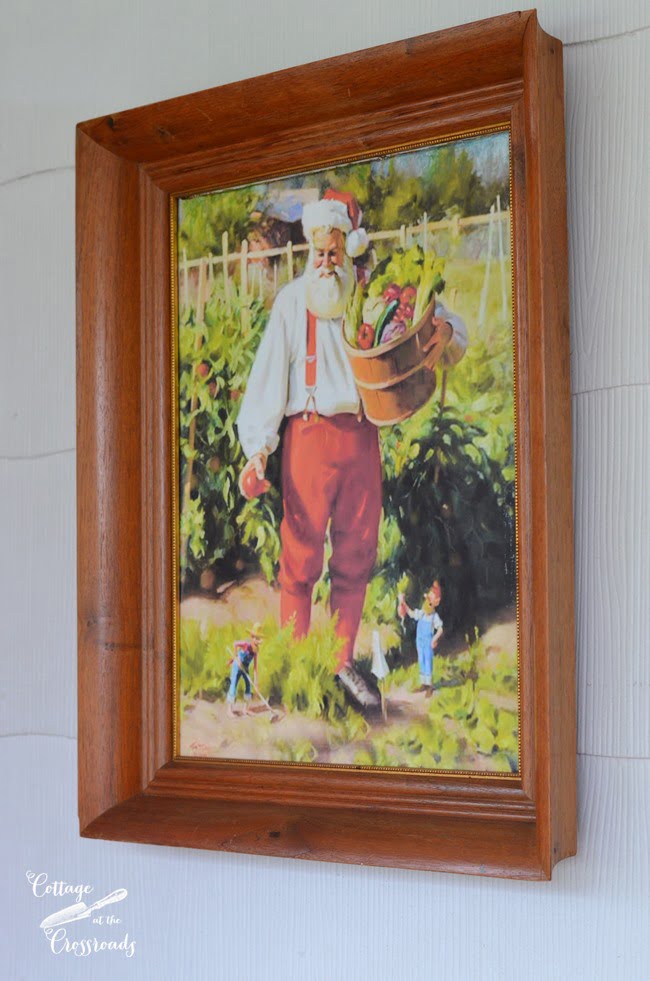 Next to the tree is the gardening Santa that hung inside the house last year. See the basket of veggies that he is holding?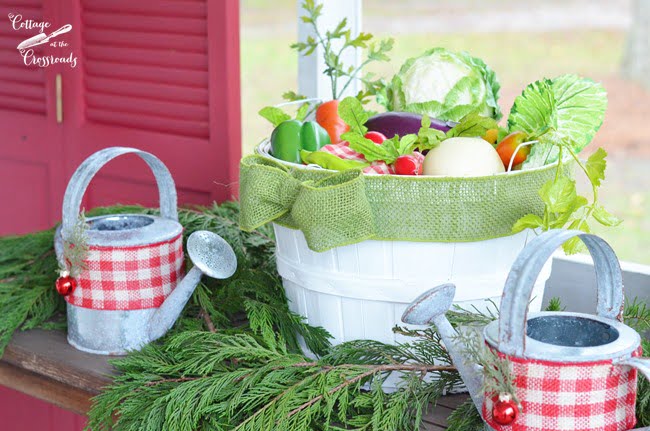 I made up a similar basket of artificial veggies and put it down at the other end of the porch!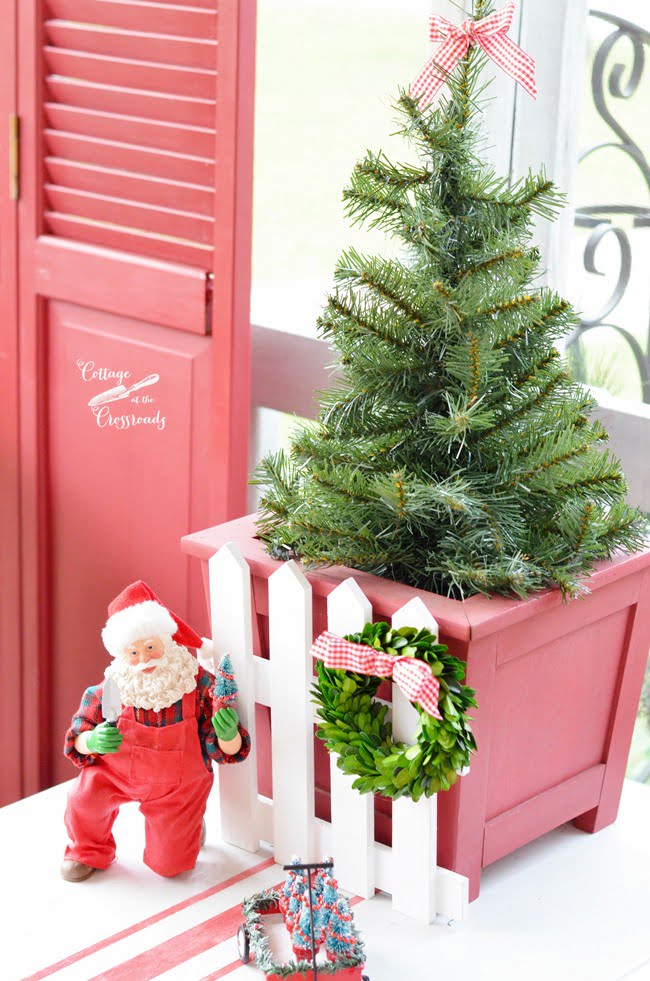 But the cutest thing on the porch is this gardening Santa that I found this year! I had searched and search online for something like this last year but couldn't find anything. But I was shopping in a local store and spotted this one in November. It was the only one they had and he came home with me!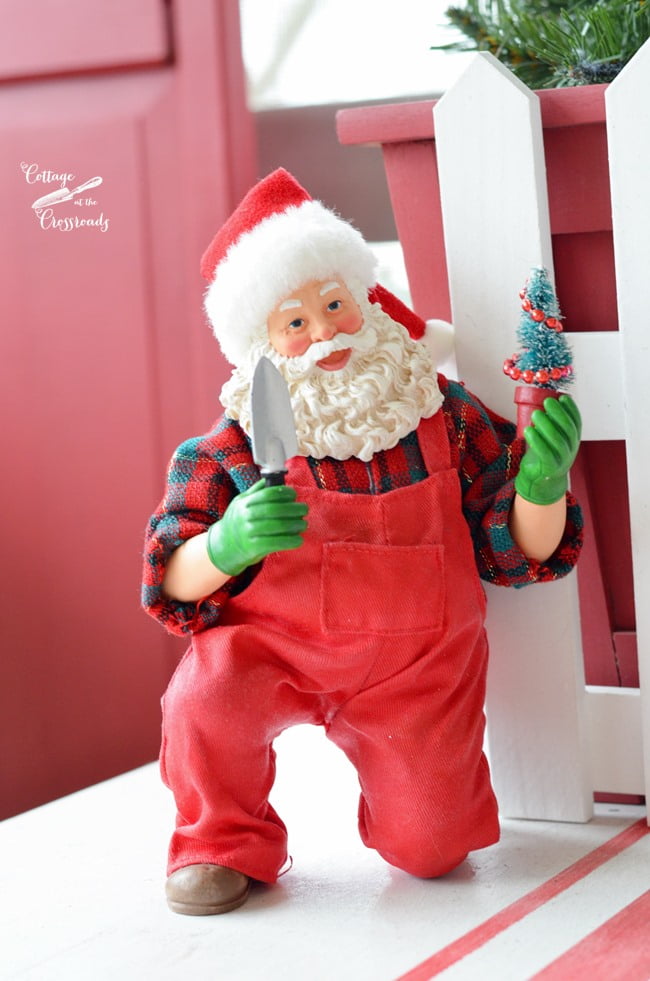 Look at that sweet face!!!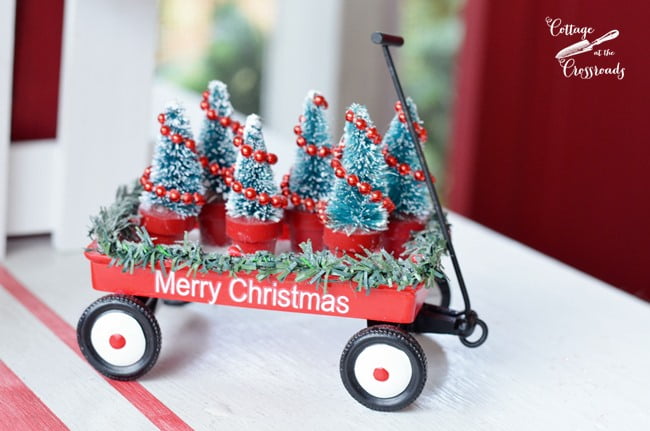 And the red wagon loaded with Christmas trees came with it!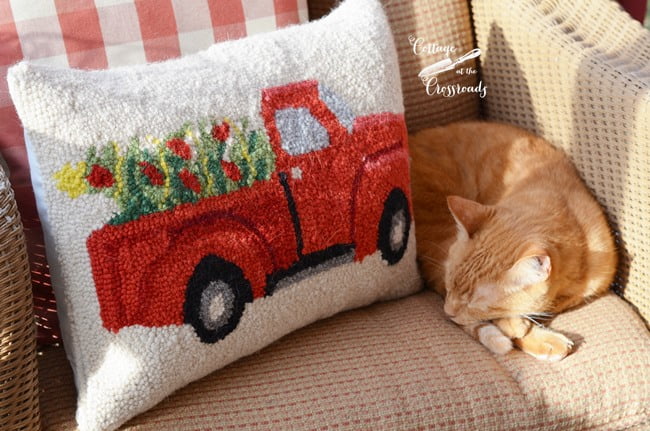 Henry is snuggled up next to the Christmas truck pillow in one of the chairs.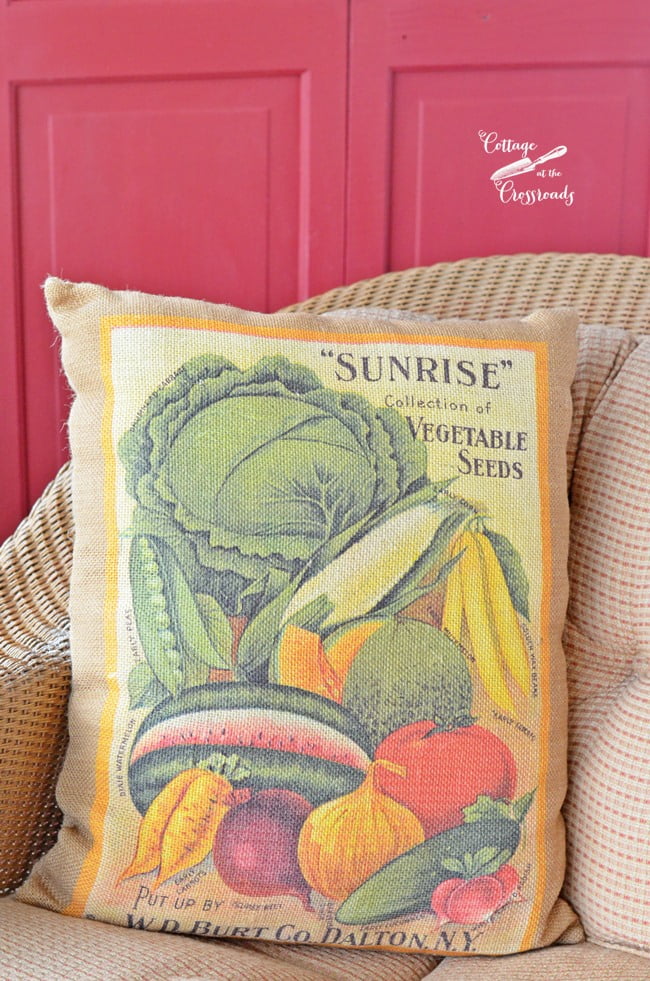 And in another chair is this seed catalog pillow that I won in a giveaway from Jen at Girl in the Garage. Ok, I got to pick out the pillow, but isn't it just perfect for us?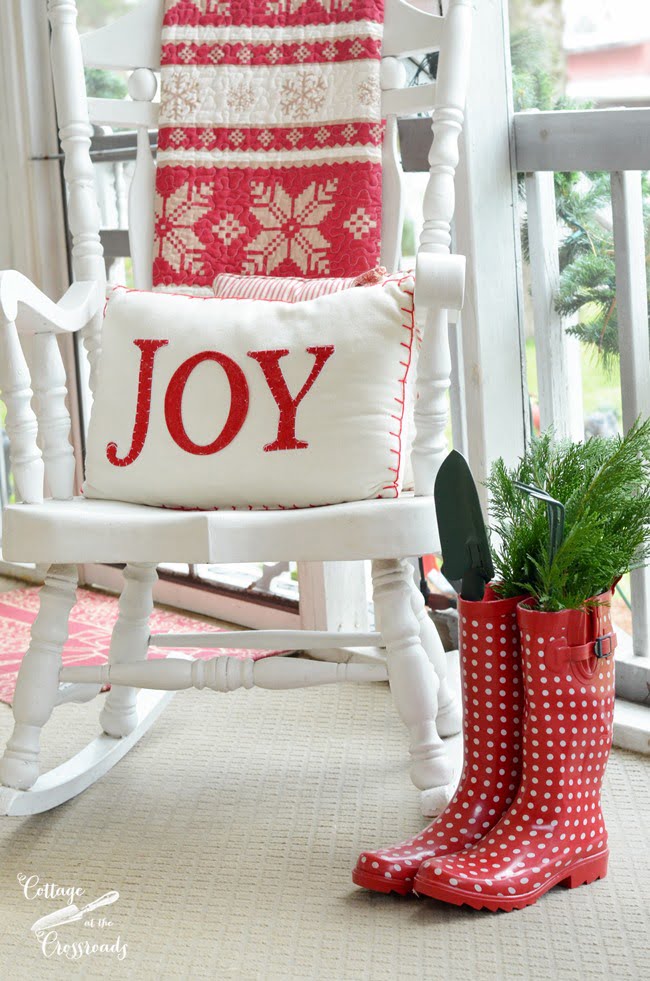 Next to the rocking chair are Santa's boots with some gardening tools stuffed down inside. Who knew that Santa liked to garden so much???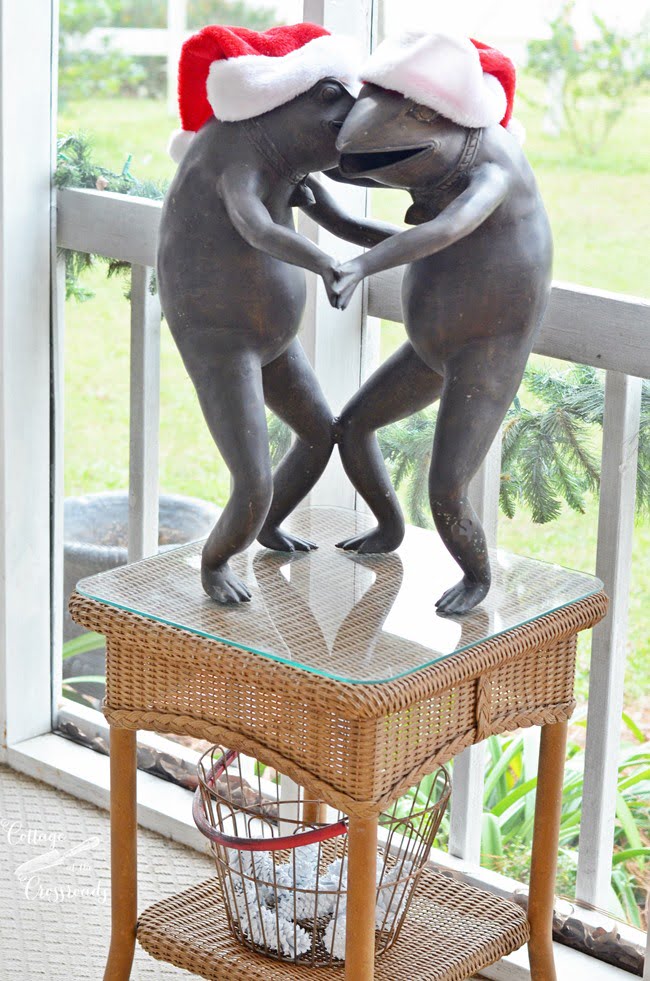 A healthy garden always has frogs, and you can see that our dancing frogs are ready for Christmas.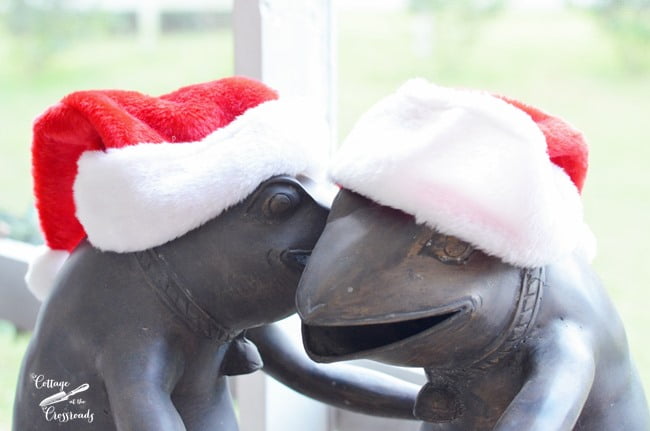 One is whispering in the other's ear, "You'd better watch out!"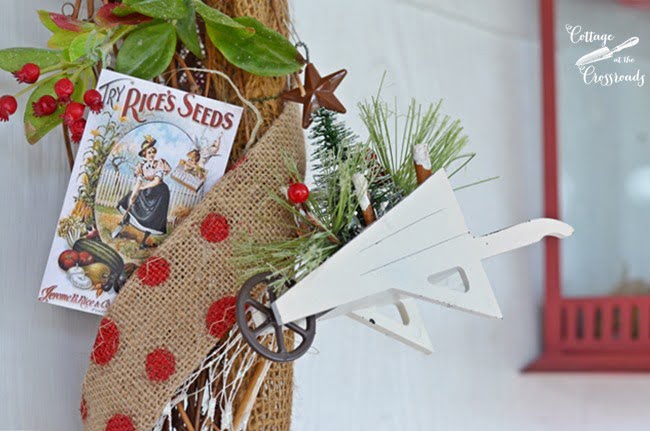 Around the front door is the grapevine garland that's been up for several years. I tucked a few more of the seed catalog artwork into the garland along with some wheelbarrow ornaments.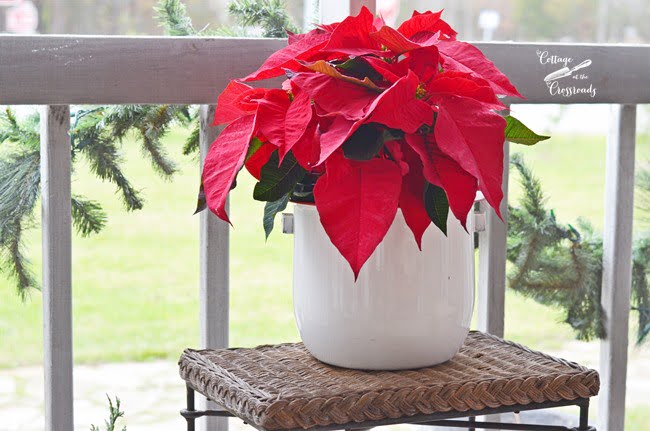 A pretty red poinsettia is sitting down inside an old enamelware chamber pot. Don't know what a chamber pot is? Just google it!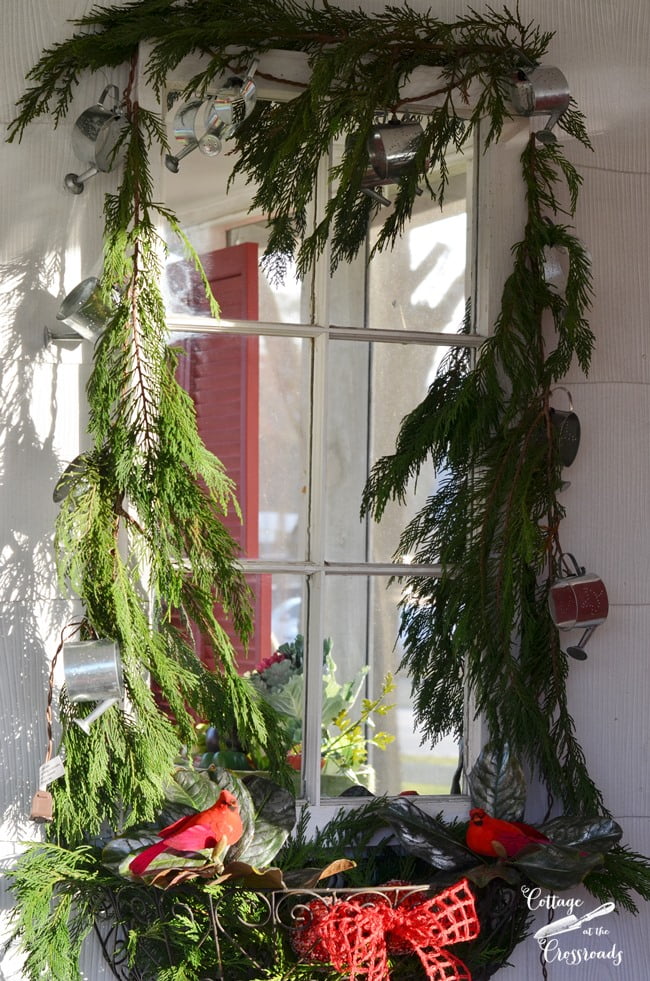 Down on one end of the porch is an old window frame. Fresh garland and lighted watering cans are hanging around it.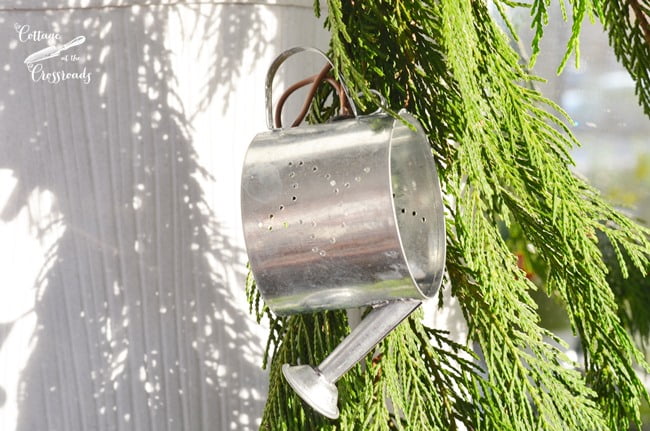 Here's a closeup of the tiny watering cans. I used them on our Christmas mantel last year.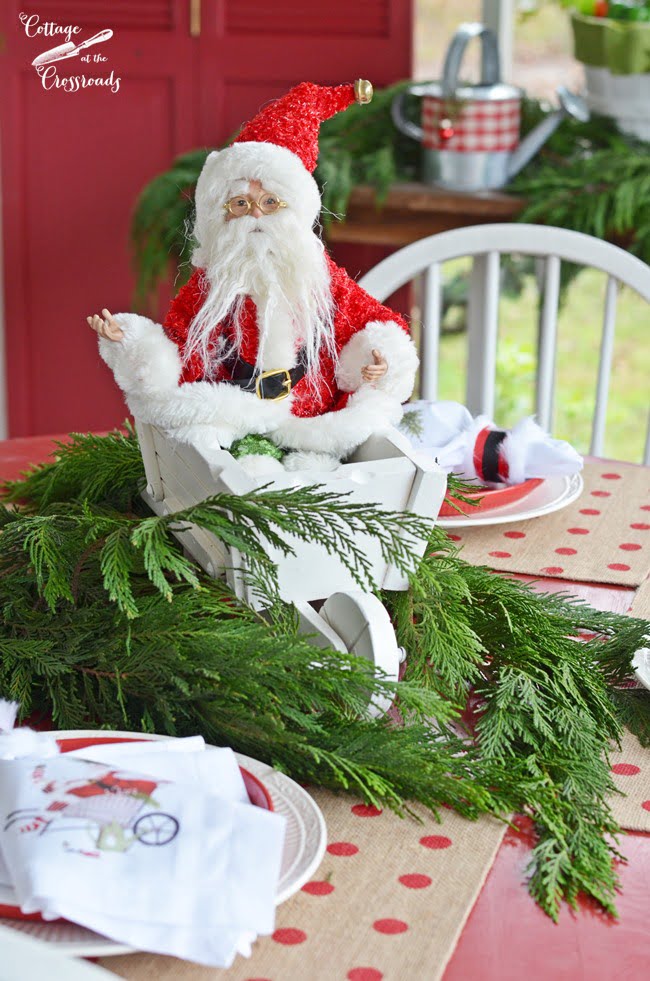 The table is set for Christmas meal on the porch. Santa arrived in a wheelbarrow instead of a sleigh!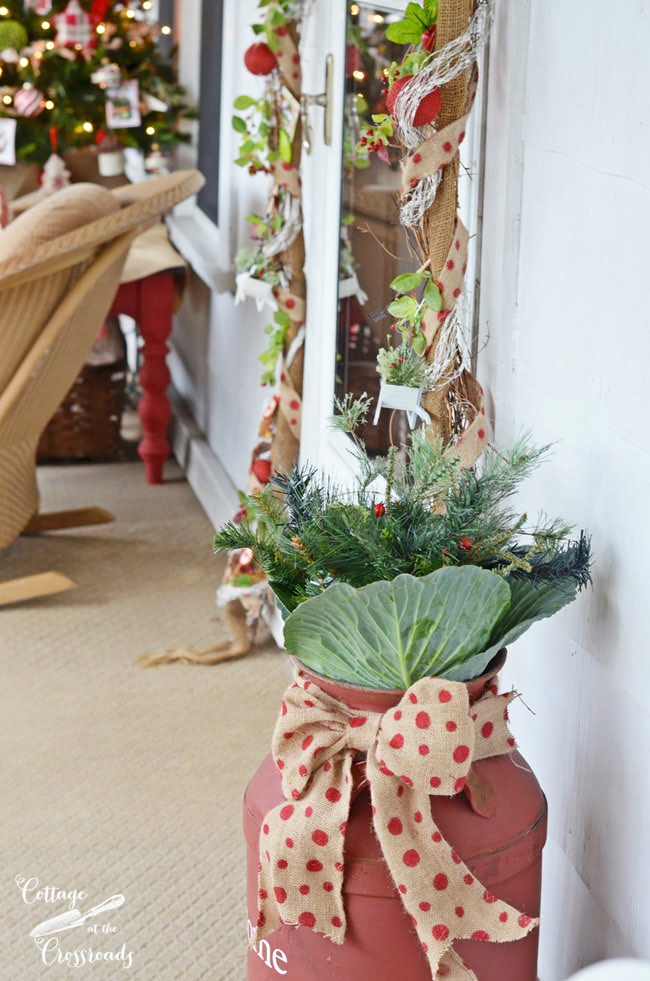 The milk can beside the front door has some artificial greenery tucked down inside along with some real cabbage leaves, from the garden, of course!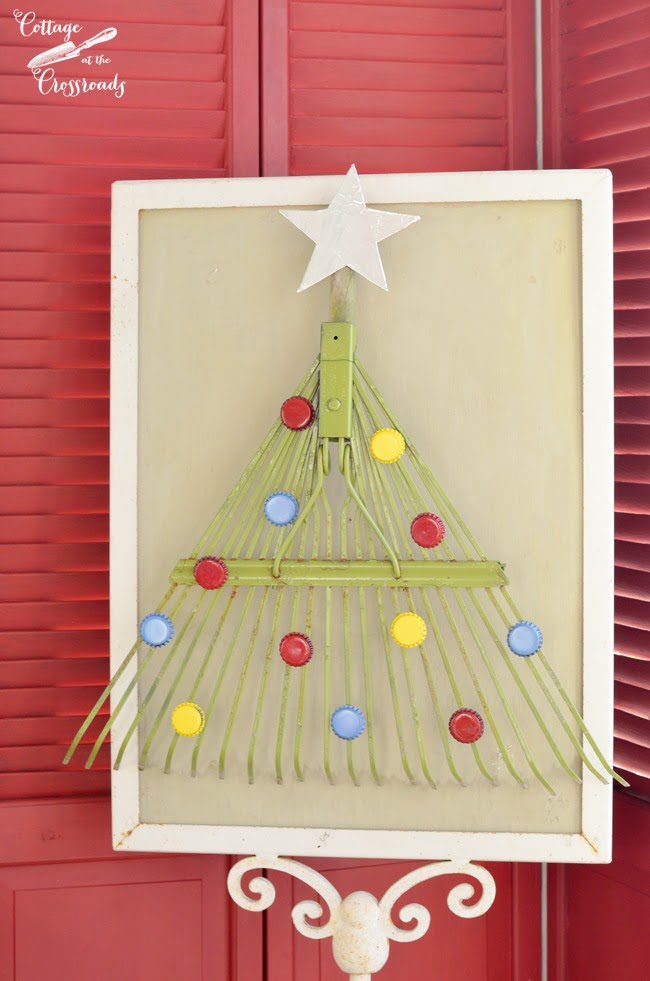 And Leo had to sacrifice his old rake this year so I could make this tree with bottle cap ornaments! Hehe!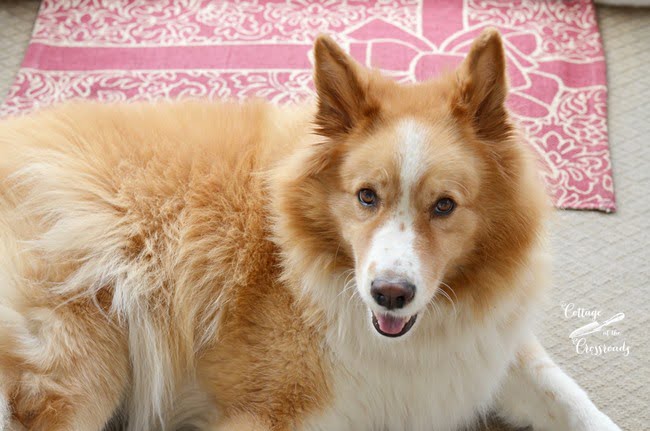 As you can tell, I really had fun with the gardening theme on our cottage Christmas porch! Lucy doesn't mind a bit! All she's hoping for is a super big bone this year from THE GARDENING SANTA!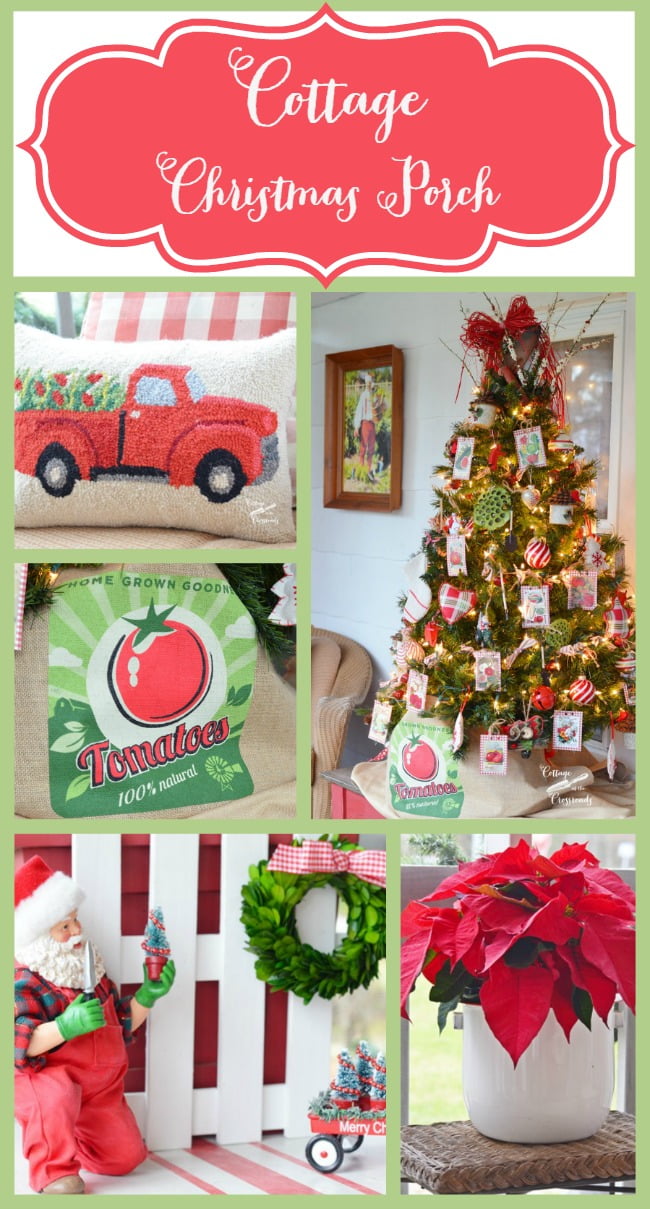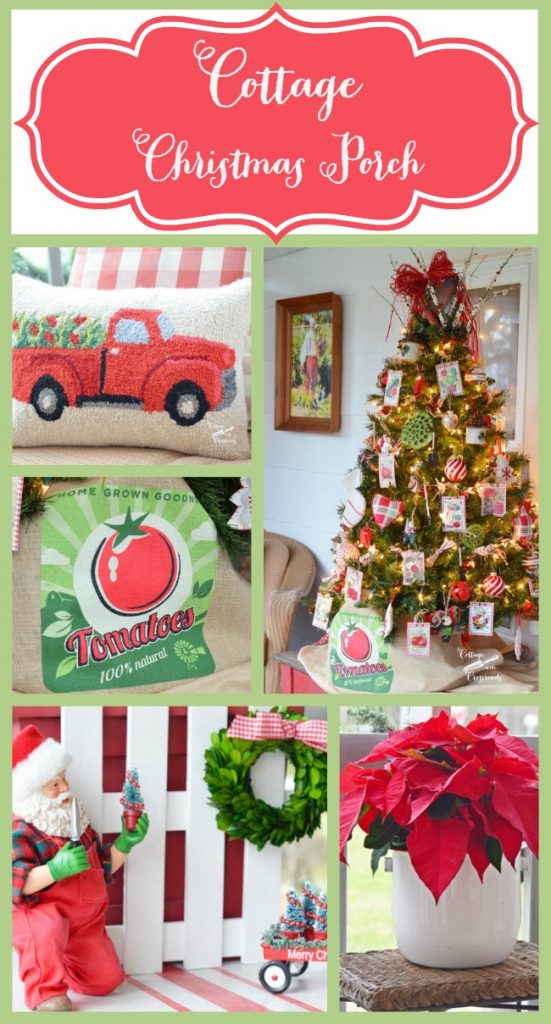 Thanks so much for your visit today, and I hope you're savoring the excitement of the coming Christmas!