When considering cooking innovation, the air fryer stands as a game-changer for creating delectable vegetarian dishes that are both wholesome and delicious.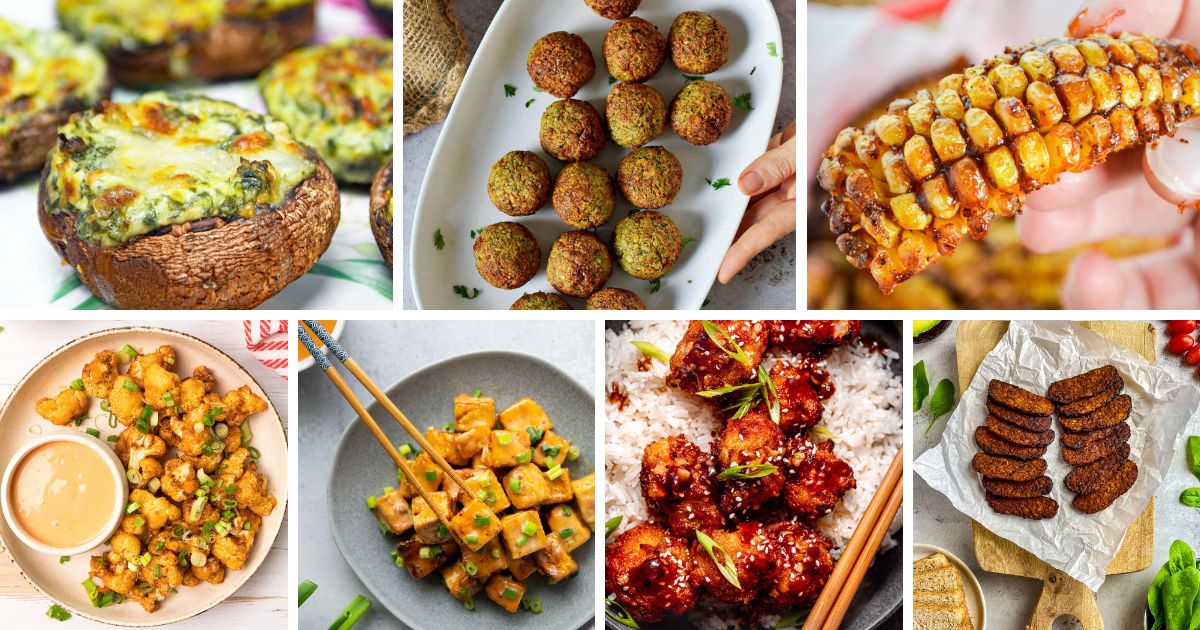 We've all encountered those moments when the craving for a crispy bite clashes with our desire for nutritious meals. That's where the magic of the air fryer comes into play. It's not just about convenience; it's about crafting food that fascinates your taste buds while aligning with your health goals.
In this collection of 33 vegetarian air fryer recipes, we've curated a symphony of flavors that cater to vegetarians seeking culinary adventures. Each recipe celebrates the inherent goodness of plant-based ingredients, from air fryer broccoli recipe to golden samosas.
Gone are the days of sacrificing taste for health or vice versa. Let's embark on a journey where crispy meets nutritious and where every bite tells a story of taste and culinary innovation.
Contents
This dish reimagines traditional falafel with a crisp exterior and a tender, flavorful interior. Serve these chickpea patties on warm pita bread with a drizzle of tahini for a satisfying Mediterranean meal.
The air fryer transforms this soft paneer recipe into golden cubes of perfection. You can serve it as a protein-packed appetizer or add it to salads for a delightful crunch.
These scotch eggs take a crispy twist in the air fryer. Encasing soft-boiled eggs in spiced sausage and breadcrumbs, they're perfect for breakfast or a savory snack with a side of mustard.
Enjoy the comforting flavors of dal vada with a healthier twist! The air fryer creates a crunchy texture outside while keeping the lentil fritters soft inside. Serve as a delightful tea-time snack.
These spring rolls get a light and crispy makeover in the air fryer. They're a delightful appetizer or party snack, filled with vibrant vegetables and served with a dipping sauce.
This recipe reinvents tofu with a crunchy panko crust in the air fryer. Pair it with a sweet and tangy katsu sauce for a Japanese-inspired dish that's quick, flavorful, and satisfying.
In this dish, transform corn on the cob into irresistible corn ribs with the air fryer's touch. These crispy bites are a fun snack or side dish, perfect for enjoying with friends and family.
This easy and quick air-fried paneer recipe is perfect for a delightful appetizer or addition to your favorite dishes. The air fryer brings out the paneer's natural texture and flavors in this dish.
Satisfy your cravings with these fried oyster mushrooms that mimic the taste of chicken. Crispy and savory, this dish is an ideal snack or sandwich filling for a plant-based twist.
If you want a guilt-free aloo tikki, try this easy and healthy air fryer recipe. These potato patties make a wholesome snack or can be served as part of a meal.
These chickpeas emerge from the air fryer with a delightful crunch and a burst of savory flavor. A surprising no-oil approach yields guilt-free snacking perfection!
This recipe introduces cauliflower florets to the magic of air frying. Coated in a sesame glaze, they become irresistible bite-sized "wings." Serve as an appetizer or part of a veggie-filled meal.
Switch up chickpeas with these fritters, combining wholesome ingredients for a flavorful experience. The air fryer ensures a crispy exterior while keeping the interior soft and full of texture.
Have fun with your appetizer game with these stuffed mushrooms, perfectly cooked in the air fryer. A delectable blend of flavors awaits inside each bite-sized delight.
Are you craving pizza? These sweet potato slices, air-fried to perfection, offer a unique twist. Don't forget to top with your favorite pizza fixings for a creative, guilt-free treat.
This air fryer halloumi recipe achieves a golden exterior and melt-in-your-mouth texture. You can serve it as a flavorful appetizer or add it to salads for a delightful crunch.
These tofu bites redefine "crispy" with the air fryer's touch. Tossed in buffalo sauce, they bring a spicy kick to your snacking routine. This dish is perfect for game nights or gatherings.
Enjoy a lighter take on classic onion bhajis in this recipe with the air fryer. These quick and easy treats deliver your favorite traditional flavors with a healthier twist.
Master the art of air-fried pizza with this recipe. Revel in a crispy crust and customizable toppings, all ready in a fraction of the time it takes to bake.
In this recipe, you can elevate tofu to new heights with only a delectable honey garlic glaze. The air fryer crisps the tofu while infusing it with rich flavors. This is perfect as a savory-sweet entrée.
With the air fryer's speed and precision, you can make this Beyond Burger's meaty recipe in just 10 minutes. This is a juicy, plant-based delight that's perfect for busy days.
Go on a flavorful journey with bang bang tofu, air-fried to perfection. This dish combines crispy tofu with a spicy, creamy sauce for a delightful taste experience.
There is magic in this air-fried Korean cauliflower recipe, a vegan delight that packs bold flavors and a satisfying crunch. You can serve it as a crowd-pleasing appetizer or a flavorful side.
Rediscover the classic ratatouille recipe with an air fryer twist. The healthy vegetables take on a delightful texture and melded flavors, offering a taste of comfort in each bite.
You can transform humble chickpeas into crunchy marvels in this protein-packed recipe. These crispy bites offer a guilt-free indulgence perfect for gatherings or solo cravings.
This air-fried cauliflower boasts a tender interior crowned with a delicate crisp. You can serve it as an appetizer and watch it disappear within moments.
This recipe turns tofu into a masterpiece of contrasting textures—crispy on the outside, tender within. Enjoy it as a protein-rich addition to salads, bowls, or wraps.
The ordinary zucchini becomes an extraordinary snack with this recipe. Lightly breaded and air-fried to a satisfying crunch, dip this into your favorite sauce for an irresistible pairing.
A playful twist on a beloved dish, these crispy cauliflower bites dance with bold flavors and textures. Drizzled with a signature sauce, they make for an appetizer that's as striking as delicious.
A satisfying, bite-sized bliss awaits in this tofu nuggets recipe. You can dip them into your preferred sauce for an appetizer that pleases both taste and texture.
These samosas redefine indulgence with a wholesome touch. Whether baked or air-fried, they burst with spiced goodness – perfect for elevating your snack game.
The charming avocado meets a crispy embrace in this recipe. The golden coat results in a creamy dish. Top it with your favorite salsa for an appetizer that harmonizes flavor and crisp.
Nothing beats cauliflower wings glazed with honey garlic goodness. These wings are a delightful choice for game nights or any occasion that craves flavor-packed bites.
Zucchini takes center stage in these fritters that boast a delightful crunch. Air-frying elevates their texture, and a medley of spices enhances their appeal. Serve them with a refreshing yogurt dip!
Tempeh undergoes a savory makeover in this recipe. Air-fried to smoky perfection, it offers a plant-based alternative to bacon. Layer it in sandwiches or top salads for a touch of irresistible umami.
Ravioli gets a whimsical upgrade with a crispy twist in this air fryer recipe. You can serve them as appetizers or even as a unique pasta topping for added crunch.
These pakoras redefine traditional flavors with a modern twist. Air-fried for crispiness, they're a medley of aromatic spices and tantalizing textures. Once served, they'll disappear in no time.
Plant-based meets spicy-sweet indulgence in this dish. This vegan and gluten-free recipe produces a harmony of flavors and textures. You can serve it with cooling dips for a tantalizing appetizer.
Eggplant parmesan receives a healthy makeover with this no-breading recipe. This dish gives a symphony of flavors without the guilt. Savor its layers of comfort and taste with your family.
📋 Recipe
Frequently Asked Questions