Discover the vast and vibrant world of vegan cuisine, now easier and healthier to explore with the aid of your air fryer. Whether you're a seasoned vegan cook or just beginning your journey into plant-based eating, the air fryer proves to be an indispensable tool in crafting delectable, guilt-free dishes.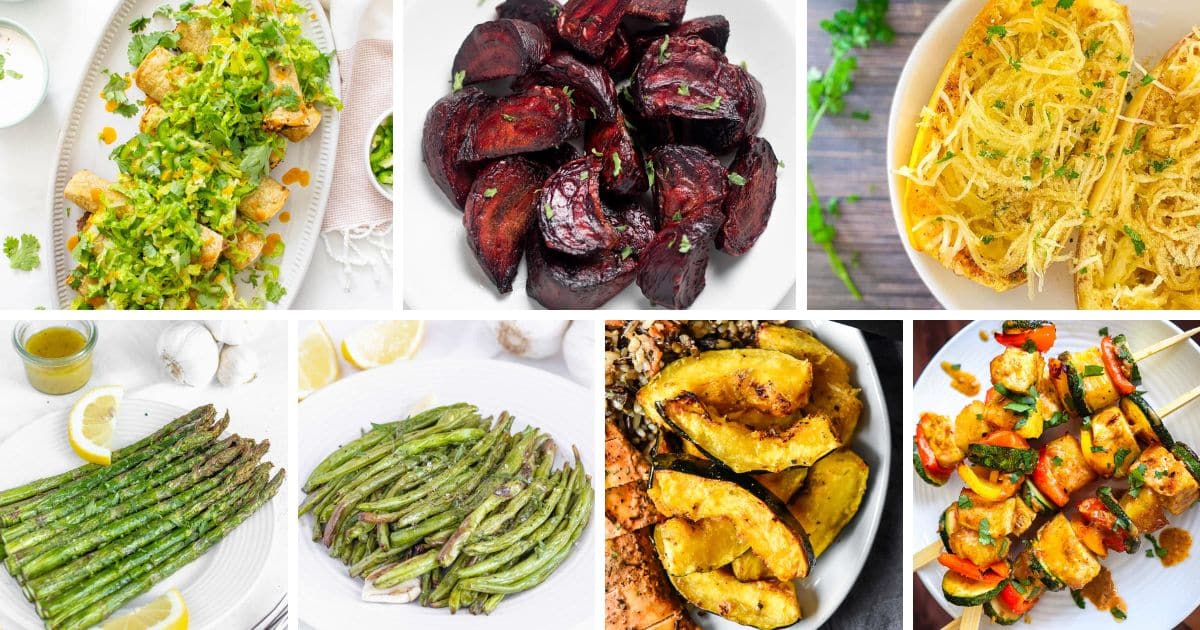 From crispy appetizers to hearty main courses, your culinary adventures are about to receive a delightful upgrade, promising not just flavors that dance on your palate but also meals that nurture your body.
These recipes will take you through a gastronomic journey that marries convenience with flavor, all without compromising on the vegan ethos. Imagine savoring the crunch of freshly fried snacks, the aromatic spices mingled in the main courses, and the sweet notes of delightful dessert, which are all made possible and healthful with the air fryer!
Contents
This recipe melds dried chickpeas with a vibrant blend of herbs and spices, culminating in a tantalizing falafel delicacy. You'll love serving them as a delectable appetizer or tucked inside a warm pita.
Enhance your culinary repertoire with this air fryer tofu, enriched with a tantalizing blend of spices. It acts as a protein-packed addition to any meal, pairing brilliantly with vegetables or salads.
These tender asparagus stalks are a delightful treat, bringing a burst of flavor to your meal lineup. They make a refreshing snack when paired with vegan mayonnaise or a great side for family dinners.
Experience a modern twist on a classic with these green beans, offering the perfect balance of crispiness and tenderness. They are the quintessential side dish to uplift any dining experience.
This dish elevates tofu to a gourmet level with the harmonious fusion of sesame, garlic, and a hint of maple. It's the perfect protein-rich complement to salads and vegetable dishes.
Indulge your breakfast cravings with this coconut-imbued French toast, a sweet and wholesome alternative to conventional desserts. You can serve it up with a dollop of vegan yogurt for a fulfilling start to your day.
These hush puppies bring a taste of the South to your table, offering a crispy and comforting appetizer. Accompany them with a zesty dip for the ultimate comfort food experience.
Indulge in this aromatic dish featuring butternut squash marinated in a delightful blend of garlic and Italian herbs. This low-carb side pairs exceptionally well with your preferred protein or a fresh salad.
This recipe brings a crispy potato filling nestled within tortillas, offering a mouthwatering alternative to your regular tacos. They promise a satisfying crunch, perfect for a quick lunch or dinner.
These kale chips, lightly seasoned with avocado oil and sea salt, serve as a crunchy and healthful snack. You'll find them a guilt-free alternative, great for nibbling alongside your favorite beverage.
These crispy and nutritious apple chips are a wholesome alternative to store-bought snacks. You'll find them to be the perfect companion to a cup of hot tea or a treat for children's snack time.
This dish takes the classic movie popcorn experience to a whole new level. Enjoy customizable air-popped corn that adds a dash of excitement to your movie nights.
These air-fried oats, coupled with bananas, make for a heavenly breakfast treat. The addition of peanut butter and chocolate chips turns this dish into a morning feast that's entirely guilt-free.
If you have a penchant for something sweet yet spicy, these cinnamon rolls are your go-to. They exhibit the perfect balance of sugar and spice, especially when adorned with vegan frosting.
These mini-bagels coated in the popular seasoning are a flavor-packed delight. Enjoy them with a generous dollop of vegan cream cheese or as a creative base for your sandwiches.
This granola brings forth the vibrant flavors of almond and vanilla. It stands as a delightful option for breakfast or a snack, pairing splendidly with vegan yogurt or a glass of plant-based milk.
Revolutionize your breakfast with this carrot bacon that mimics the smoky flavor profile of traditional bacon. It serves as a crispy, unique snack or a flavorful addition to morning dishes.
Start your morning with this nutty and cinnamon-infused French toast. It's a delightful morning treat, coming to life with a gentle drizzle of maple syrup.
These tender baby potatoes infused with rosemary and garlic make a comforting side dish. The zesty twist of fresh lime juice elevates this classic dish, making it a great companion to dinner recipes.
Savor the simplicity and rich flavor of these perfectly roasted beets. A hint of salt and pepper accentuates their natural sweetness, offering a nutritious and vibrant side dish.
These chickpeas boast an addictive crunch, seasoned with an exquisite blend of spices. It's a healthier alternative to popcorn, enhancing your movie night experience.
Golden fingerling potatoes unite with a nutty vegan cheese sauce in this enticing dish. The aromatic blend of turmeric and paprika in the sauce makes these wedges the star of any gathering.
Dive into a flavor journey with these avocado egg rolls paired with sweet chili sauce. The creamy avocados and vibrant tomatoes inside crispy wrappers make a delightful appetizer to kickstart any meal.
This dish showcases crisp ravioli shells filled with a delicious vegan concoction. You can enjoy it as a delightful appetizer or snack, paired with a zesty marinara sauce.
A celebration of homemade vegan cheese, these samboosas transcend traditional pastry delights. They prove to be the star of any gathering, boasting notes of nutritional yeast and apple cider vinegar.
This recipe is a haven of vibrant flavors, combining a medley of fresh vegetables and Thai spices. If you're keen on having a light yet fulfilling meal, these veggie bites work perfectly as a quick lunch or dinner.
Indulge in these comforting muffins that bring rich corn flavors and a hint of sweetness to your palate. They promise a delightful crunch with optional corn kernels, making an excellent companion for soups or chilis.
Experience the joy of vegan alternatives with this savory and smoky tempeh bacon. It's a versatile choice, pairing well with both breakfast dishes and sandwiches.
This recipe transforms tangy dill pickle slices into the star appetizer with a crispy gluten-free coat. They become irresistible when accompanied by a rich, creamy ketchup dip.
These hearty latkes feature a flavorful combination of shredded sweet potatoes and cauliflower. You can serve them with vegan sour cream and chives for a splendid brunch or festive occasion.
Experience the golden brussels sprouts, seasoned to perfection and complemented with smoky sriracha mayo. This dish brings a unique spicy and savory twist to your table, redefining the classic vegetable side.
These hashbrowns, golden and crispy, make for a beloved breakfast staple. With a simple seasoning of salt and pepper, they marry wonderfully with ketchup or your preferred sauce.
Discover a delightful side in this dish featuring cubed eggplant seasoned with paprika and garlic. Its nuances of sea salt amplify the vegetable's intrinsic flavors, proving perfect for any meal.
This tofu scramble, combined with fresh veggies, offers a hearty start to your day. A dynamic mixture of spices and soy sauce guarantees a flavor-packed experience with every bite.
These light and fluffy muffins are a testament to the harmonious blend of raspberries and a hint of vanilla. They emerge as the favorite for breakfast or tea time, offering both sweetness and tartness.
Dive into the world of vegan desserts with these beignets, a marvel of texture with their crisp exterior and soft interior. The incorporation of coconut milk and aquafaba ensures a fluffiness akin to traditional variants.
This crumble combines the sweetness of apples and the tartness of blueberries to create a delicious dessert. It stands out with a crispy brown rice flour topping, ready to become your go-to dessert recipe.
Satisfy your cravings with this moist banana bread that encapsulates the sweet essence of bananas and the crunch of walnuts. It proves to be the perfect partner for a relaxing tea or coffee break.
These soft and chewy cookies harmonize the classic pairing of peanut butter and banana. Infused with chocolate chips, they are destined to become a sought-after snack.
Indulge in these vegan donuts that offer lightness and fluffiness in a quick fifteen minutes. The subtle vanilla tones and sugary coating make them a cure for any sweet craving.
These tofu nuggets promise a crunchy exterior with a tender interior, creating a delightful contrast. They make a great choice for movie nights or as a zesty appetizer, especially when accompanied by a spicy sriracha mayo dip.
These fritters are a celebration of zucchini, paired harmoniously with garlic and onion. They promise to elevate your brunch or offer a unique twist to your side salad.
This dish offers a delightful fusion of tofu marinated in a zestful mixture, enhanced with a rich peanut butter sauce. It serves as an excellent choice for summer barbecues or hearty meals.
In this recipe, tangy pineapple and marinated tofu unite to create a tropical feast. They promise to be the highlight of your outdoor grilling sessions or weekend gatherings.
Delight in these vegan meatballs that bring a rich amalgamation of mushrooms, chickpeas, and walnuts to your plate. They can be enjoyed as a substantial appetizer or paired with spaghetti for a fulfilling meal.
This recipe unveils two inviting methods to enjoy acorn squash: a savory version and another one sweetened with a hint of honey. You can serve it as a versatile side dish during festive dinners or casual lunches.
These crispy rolled tacos are filled with a flavorful blend of creamy avocado and spiced beans. They make a fantastic main course, especially when served with a side of salsa and vegan ranch.
These spicy cabbage fritters are a tantalizing treat for your taste buds, making for a crispy and satisfying snack. They're the perfect comfort food to enjoy on a rainy afternoon or as a starter at dinner parties.
Dive into this spicy adventure with buffalo cauliflower bites that boast a tangy glaze. They make a fantastic appetizer for game nights, promising to be a hit with your guests.
Discover a mouthwatering treat with these potatoes, showcasing a crispy exterior and a soft, melt-in-your-mouth center. These are an excellent choice for dinner parties, especially when paired with vegan aioli or ketchup.
Indulge in the flavorful experience of these crispy mushrooms, brought to life with a blend of garlic and parsley. They can be a wonderful appetizer or a delightful addition to fresh salads.
In this dish, sweet potato fries meet a zesty pineapple sauce, creating a unique and enjoyable culinary experience. It's a wonderful snack option or an exotic addition to your main course.
This recipe offers tofu nuggets that are coated in a rich, delightful paste. They are a superb choice for kid-friendly meals or potlucks, offering a pleasant crunch with every bite.
Experience a burst of flavors with these succulent meatballs, combining the richness of BBQ and lentils. Whether as a standalone appetizer or as an addition to sandwiches, they are sure to impress.
This dish offers plantains seasoned perfectly with spices and coconut oil, promising both flavor and nutrition. These make a wonderful snack for a quiet evening or a health-conscious addition to brunch spreads.
This dish brings forward the tender strands of spaghetti squash seasoned to perfection. Whether used as a base for vegan pasta dishes or enjoyed solo with vegan Parmesan, it promises a delightful experience.
Indulge in the wholesome goodness of baked sweet potatoes enhanced subtly with a hint of salt. They make a great snack or a nutritious side dish to accompany various meals.
This recipe presents a vibrant array of vegetables glazed with a tangy balsamic mix. Whether as a companion to grilled proteins or as a flavorful main course, they're sure to captivate your palate.
This dish features crispy broccoli florets, wonderfully complemented by a Chinese garlic sauce. It serves as a delightful side, pairing excellently with a variety of rice dishes.
This gluten-free tortilla envelopes refried beans, vegan cheese, and a splash of zesty salsa. It's perfect as a handheld meal during quick lunches or relaxed weekend picnics.
This dish celebrates the harmonious blend of sweet and savory with seasoned sweet potato fries straight from the air fryer. Accompanied by Sriracha dipping sauce, they make for an enticing snack or side dish.
Delight in these Portobello mushroom pizzas, where each mushroom cap is filled with pasta sauce, zucchini, and olives. The creamy hummus adds an irresistible touch, promising an enchanting culinary journey.
If you are in the mood for something hearty, these rolls will certainly satisfy. Featuring jackfruit, vegan dressing, and pickles wrapped in vegan wonton, they offer a unique and flavorful bite that stands out.
Satisfy your sweet tooth with these donut holes, lovingly infused with cinnamon and sugar. They are a comforting treat, perfect to enjoy as a breakfast treat or an afternoon dessert with tea.
Experience a spicy adventure with these banana chips, crisped to perfection and seasoned with a blend of turmeric and black pepper. They serve as an ideal snack during movie nights or a sharing platter with friends.
📋 Recipe
Frequently Asked Questions