I've been working on something for the past two months, and I'm ready to show you today. I've turned my mom's apartment into a craft studio.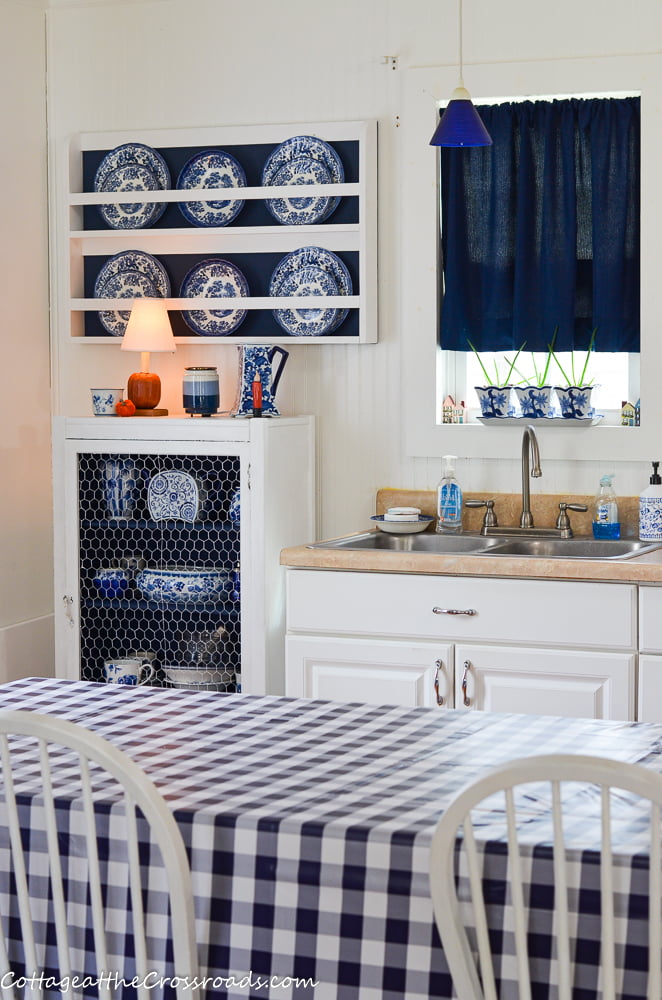 Many of you know that we built my mom an apartment in our backyard and she lived in it for the past ten years. After she passed in May, I had no idea what we were going to do with her apartment.
In fact, I couldn't bear for anything to be changed for a few months. I was just so sad but sitting in her apartment gave me some comfort. Late in July, my family came and helped me clean out her things.
It was about that same time that my friend came over and showed me her Chalk Couture products and I signed up to be a designer. It was then that I thought about turning the building into a craft studio.
But before that could happen some work needed to be done.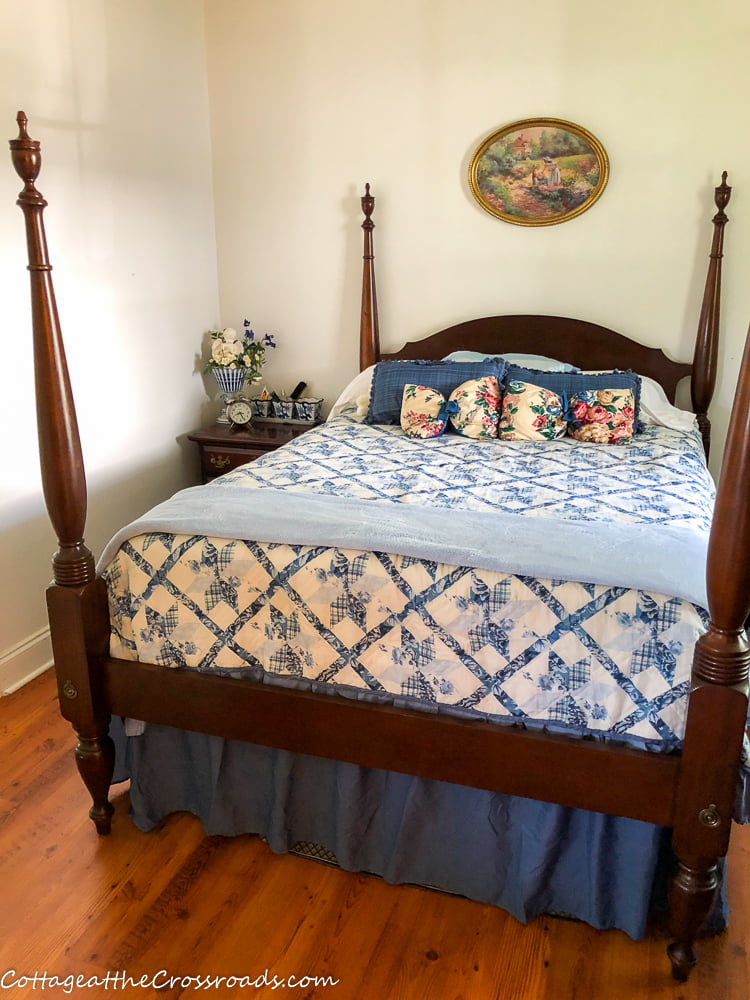 First, we had to take down the bed and put it into storage. The oldest granddaughter wants me to keep it for her to use when she gets an apartment.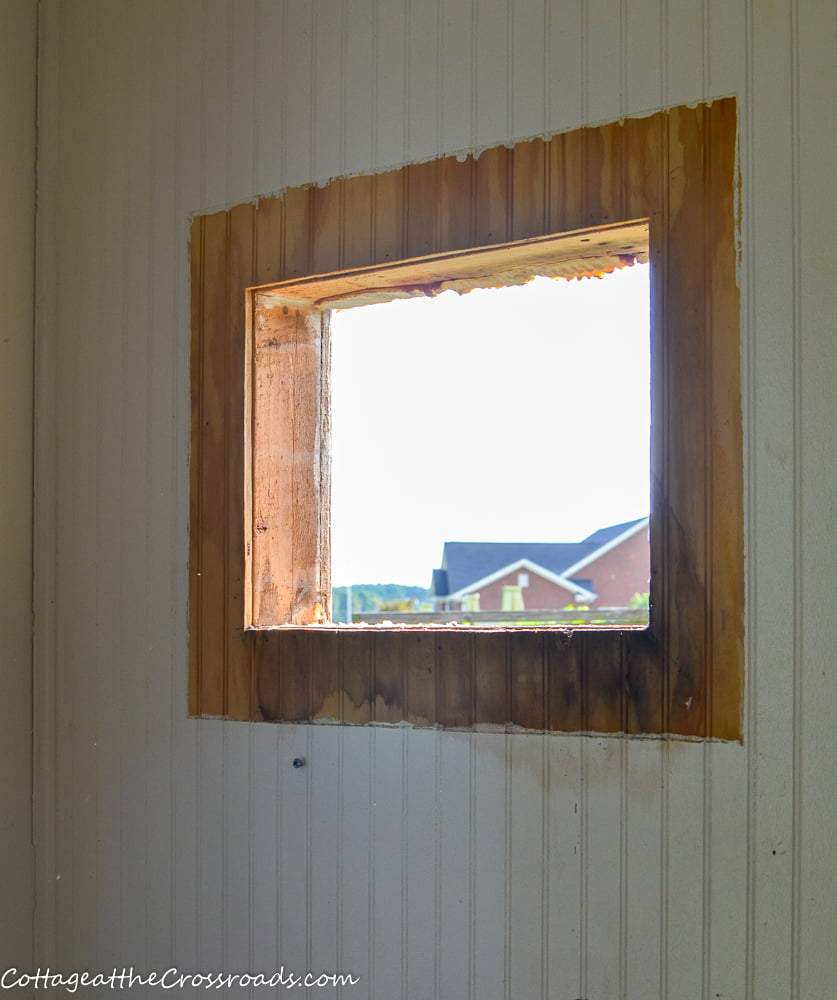 Next, we had to remove an air conditioner that no longer worked because lightning had damaged it. The hole created by its removal had to be sealed and insulated.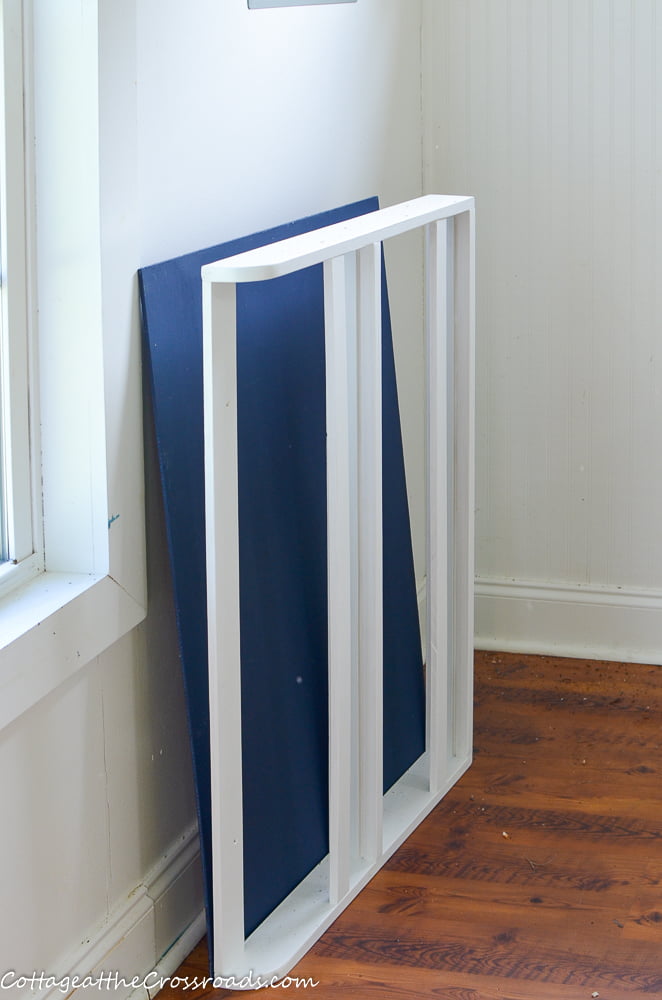 I had given this wooden plate rack to my mother last Christmas because our plans were to mount it to display her blue and white china. Unfortunately, my mom fell in January before we could get this work done. I found the plate rack on Etsy but it didn't have a back. So my contractor cut a back to fit and I painted it navy.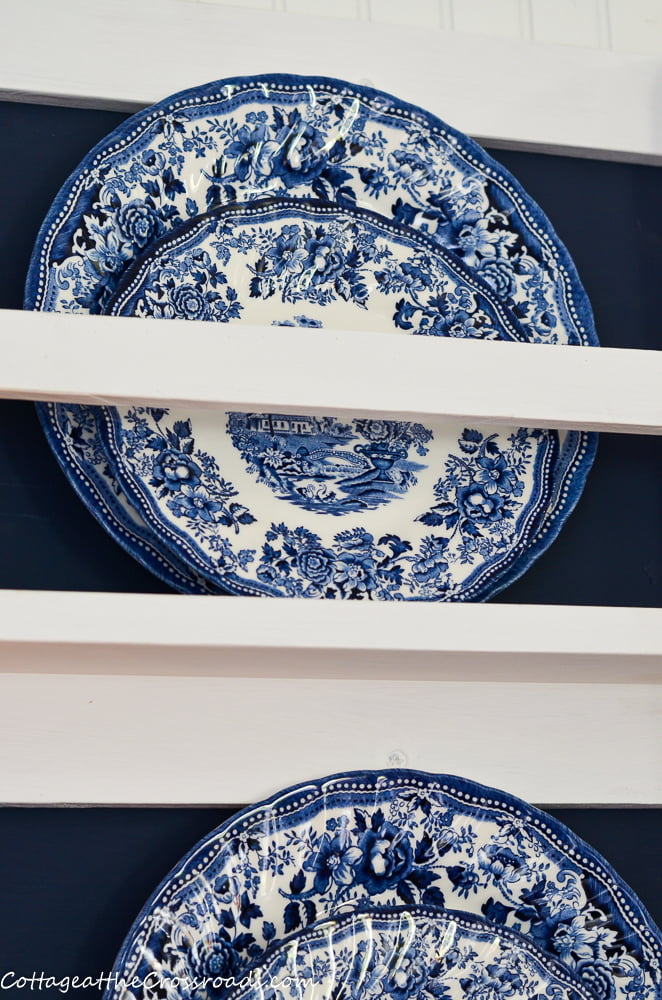 So I went ahead with my mom's plans to mount the plate rack in this corner and it does look pretty.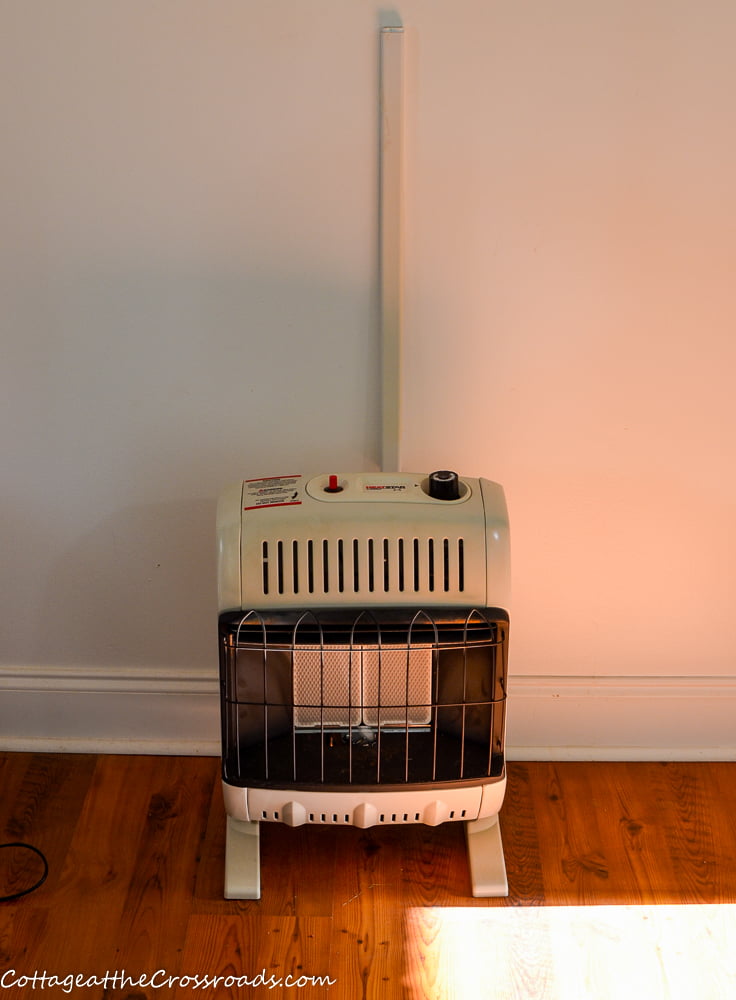 In the sitting area, there was a small gas heater that we had installed a few years ago. We decided to keep it in the studio. It does a great job heating the building but it's not that pretty.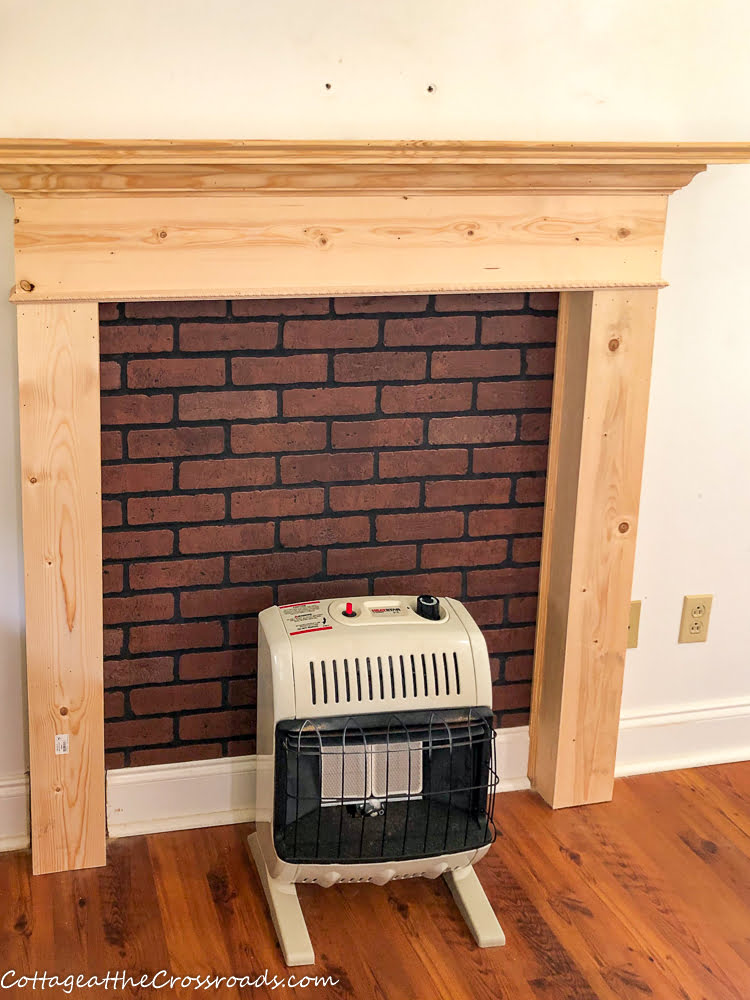 My contractor built a simple faux fireplace around it.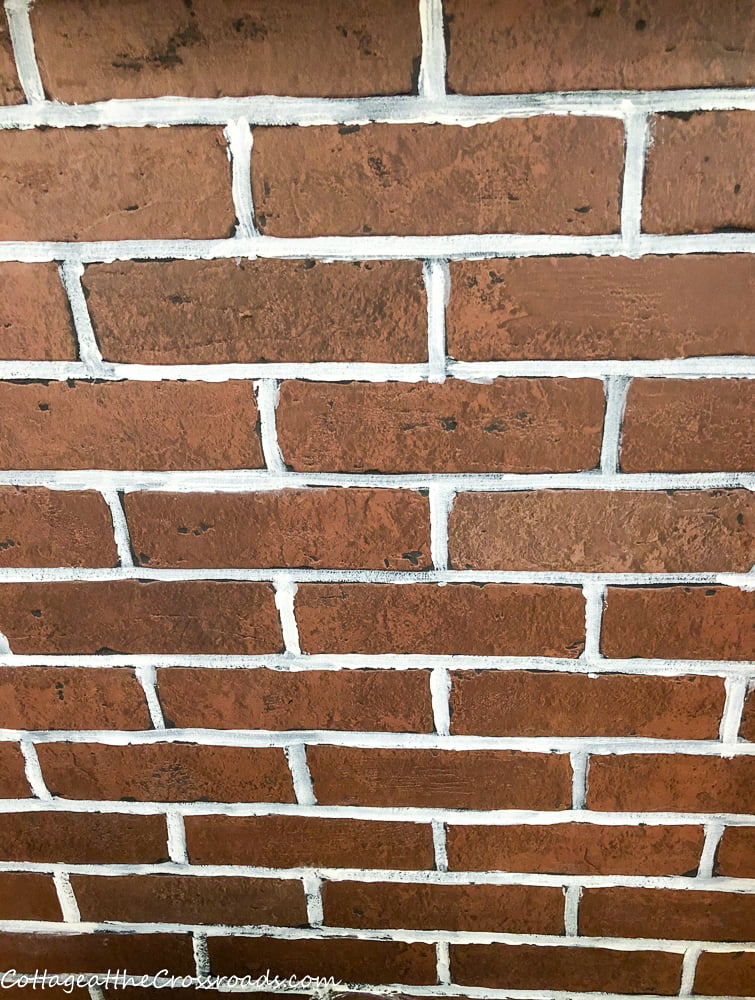 The brick behind the heater is actually a faux brick panel from Lowe's. It's not too pretty so I promptly started painting the grout lines white.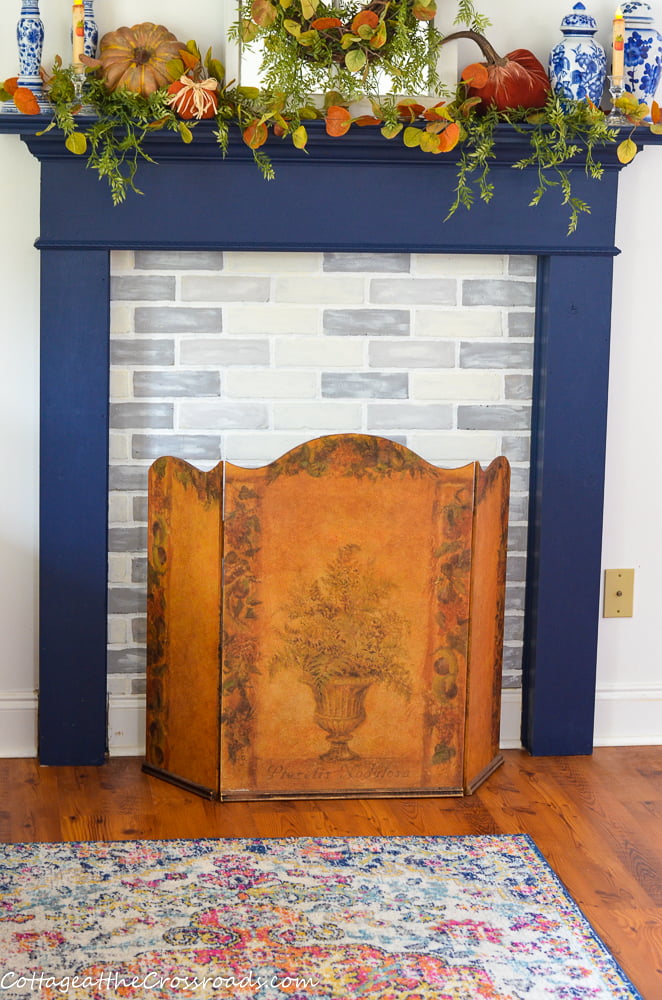 I painted the mantel Navel by Sherwin Williams and used a variety of acrylic paints on the faux brick. To hide the gas heater when it's not being used, I placed a wooden fire screen that I found in a local antique store in front of it. It was only $25 and the colors match the fall decorations that I've used.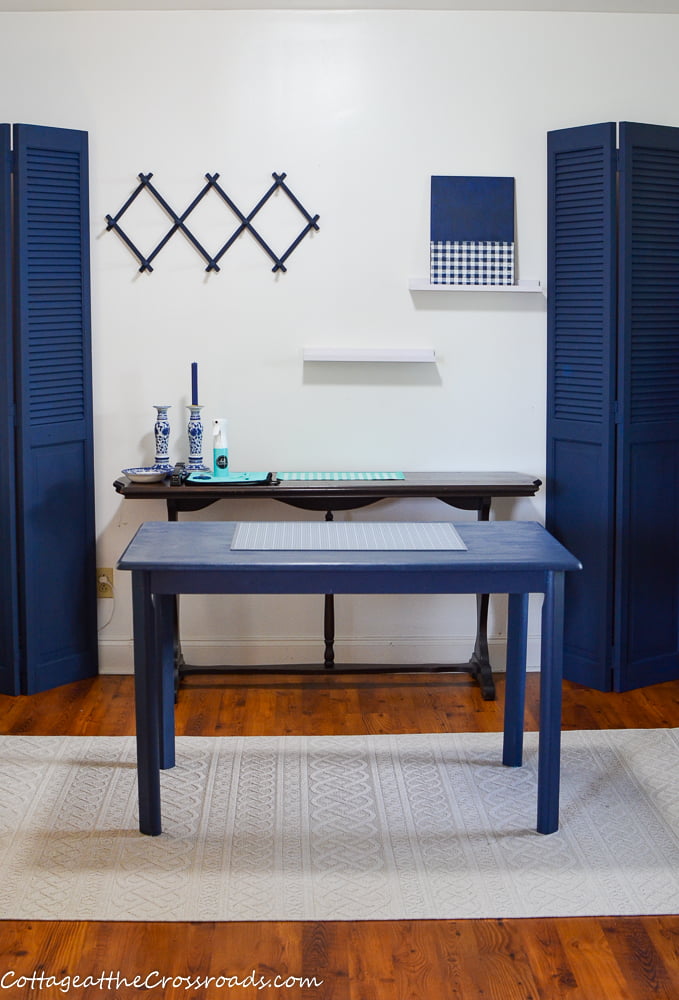 In the area where the bed was, I set up a place to craft and make videos. Nothing new was purchased because I rounded up some previously used furniture items. The table was one that we used to have on our back porch. The shutters were some of the repurposed closet doors that we removed from our front porch. The sofa table used to be in our house and the rug was one that I used on the front porch for a while. You may even recognize the folding coat rack that used to be on the front porch.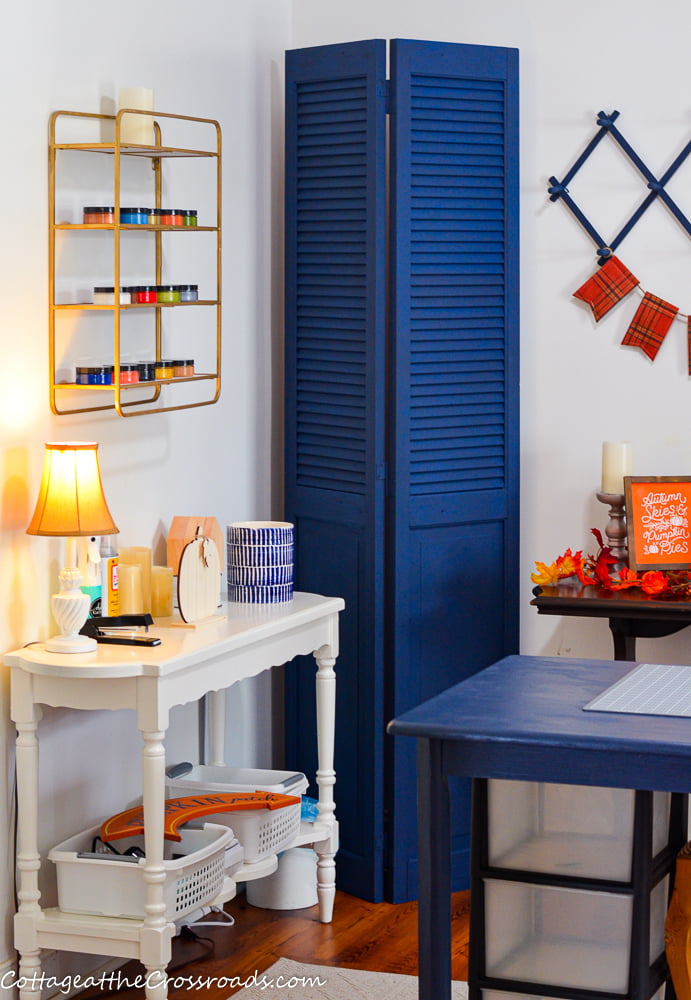 Most everything was refreshed with a new coat of paint and I am still organizing my craft supplies.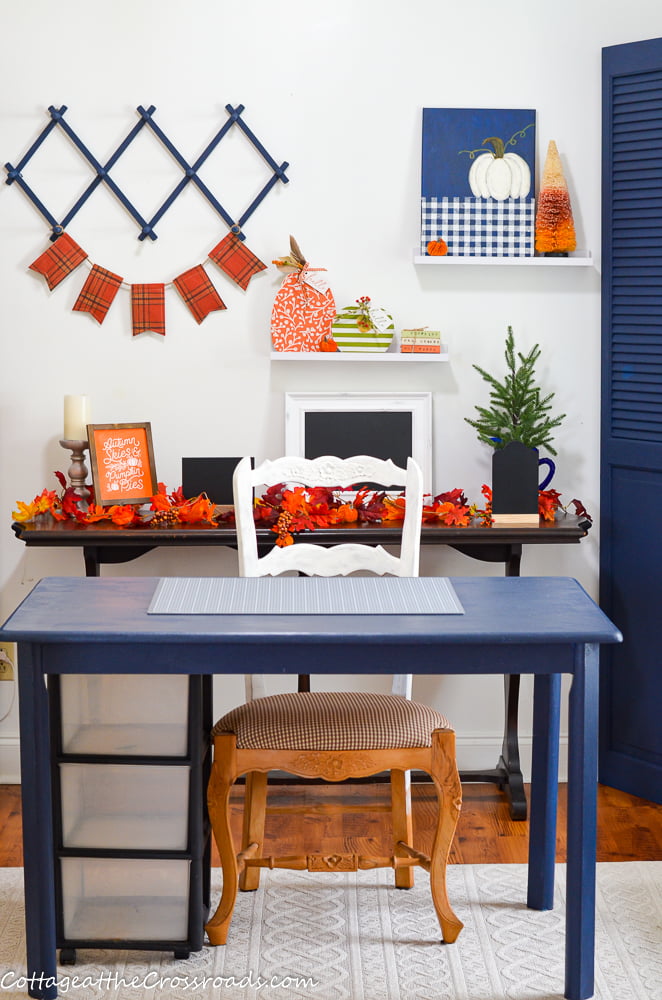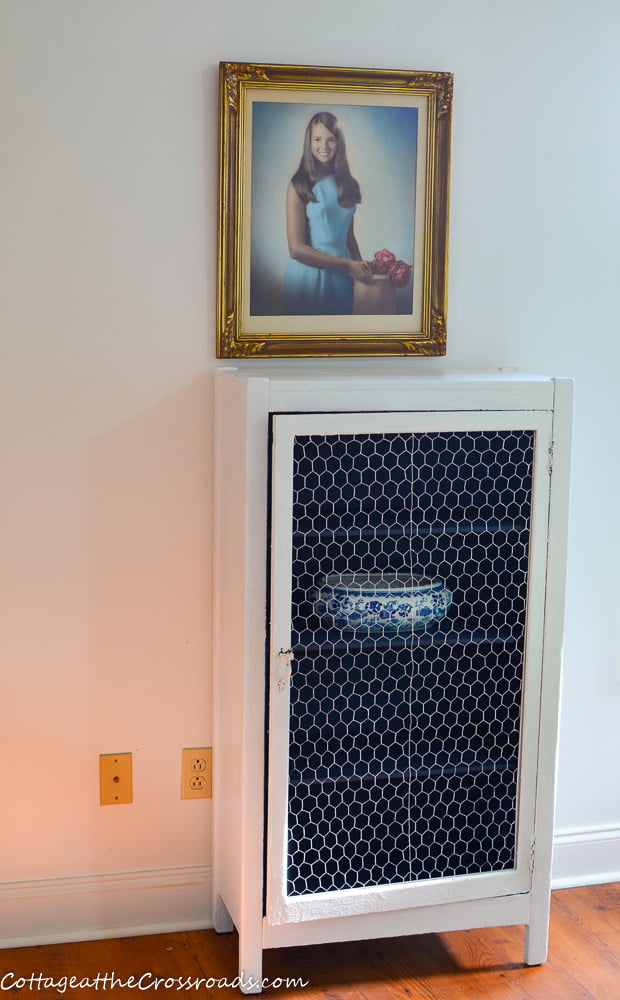 This is what it looks like currently. I am in the middle of painting one of my dining chairs white and you can see that I'm not finished.

You may also recognize this old cupboard with chicken wire. It used to be in our hallway and for a while, it hung out on our front porch. It was painted also.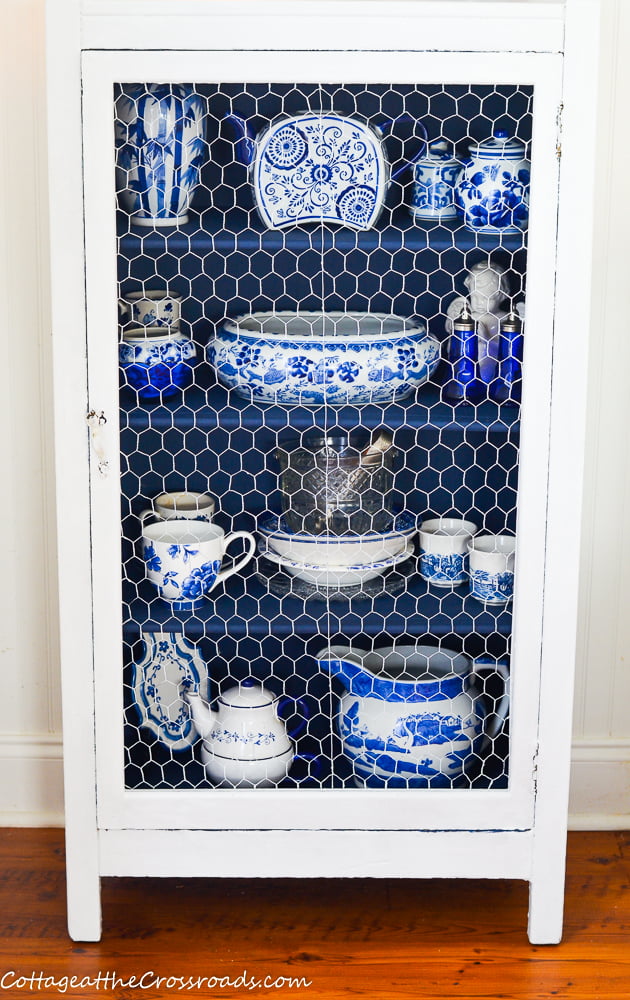 It makes a perfect storage piece for my mom's collection of blue and white chinoiserie.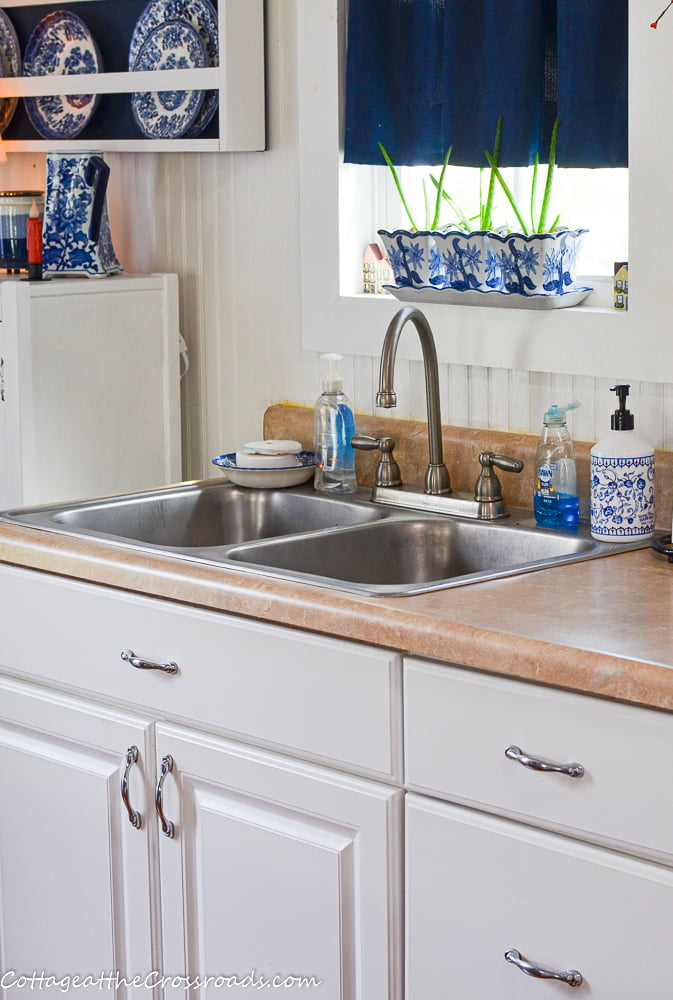 Having a sink in a craft studio is a big plus. It comes in handy when washing the Chalk Couture transfers.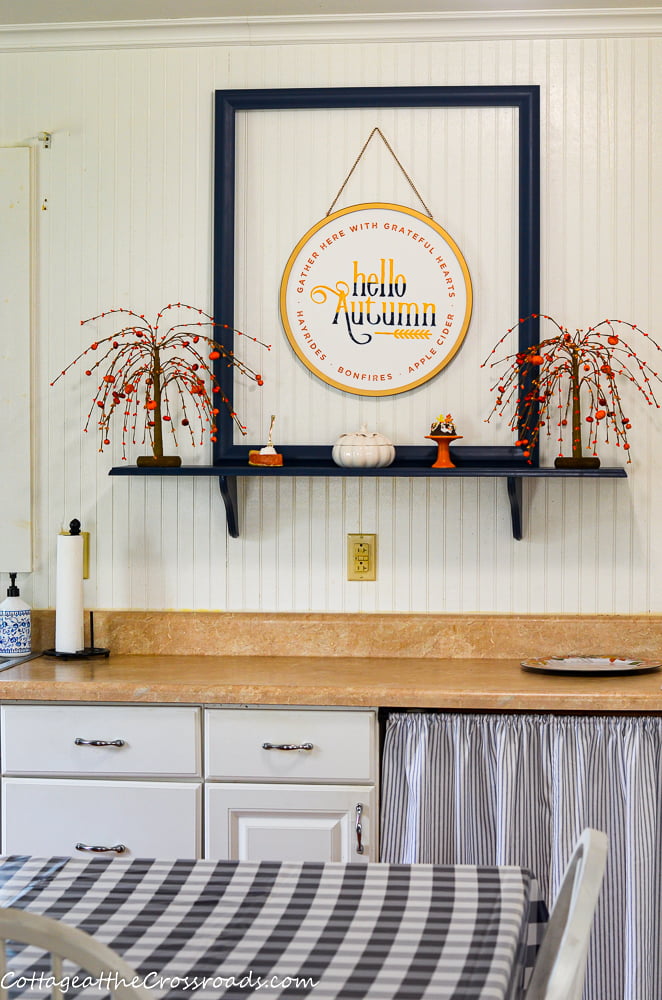 This area of the kitchen is decorated for fall with a Chalk Couture sign that I made.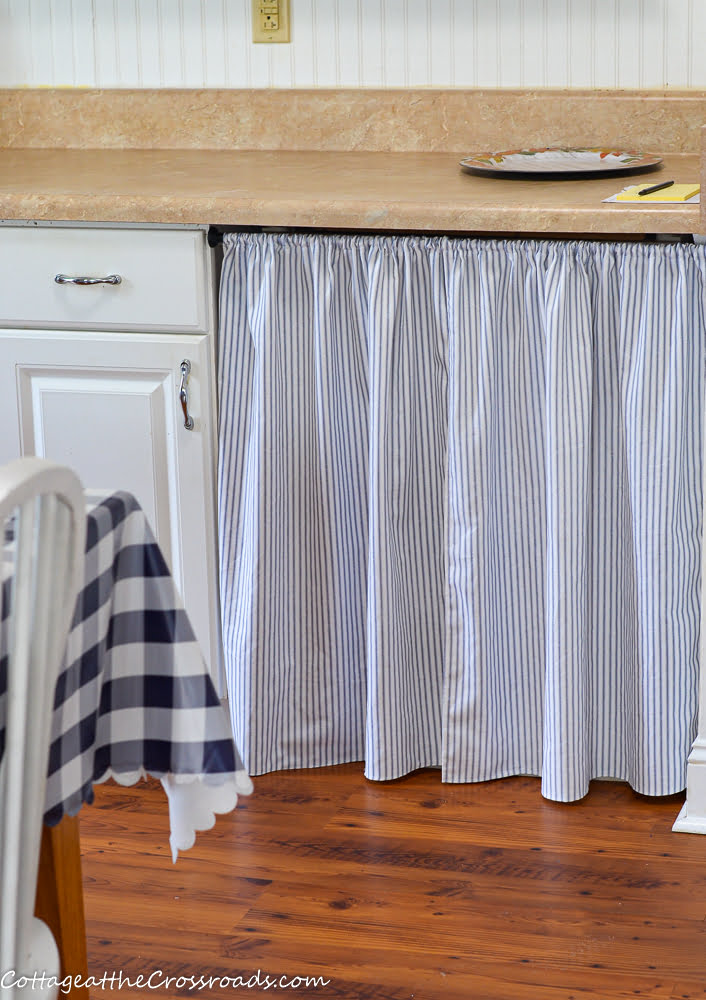 I've been sewing, too. I made this fabric skirt to hide some plastic drawers.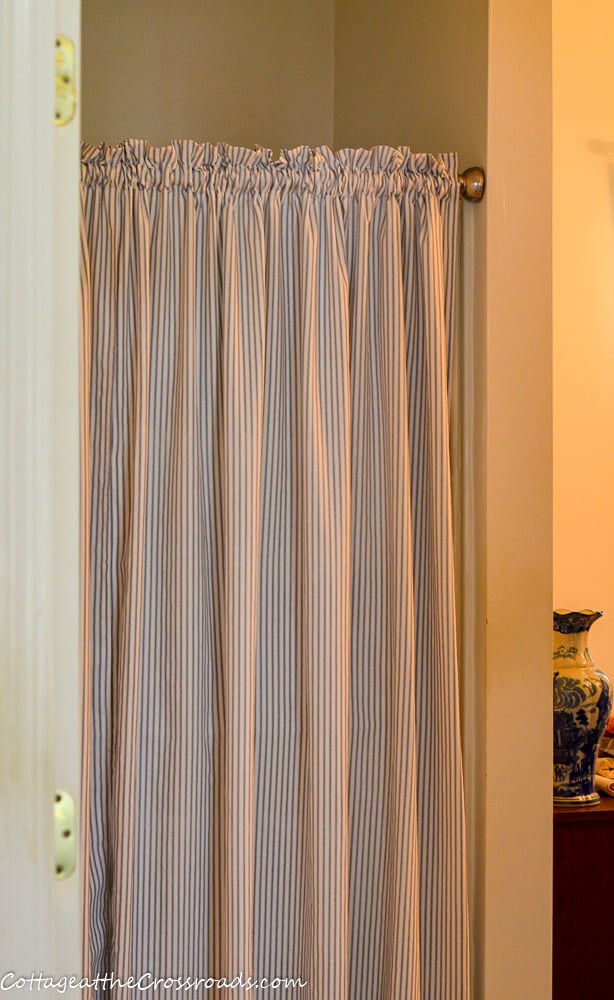 And I made a shower curtain out of the same navy ticking.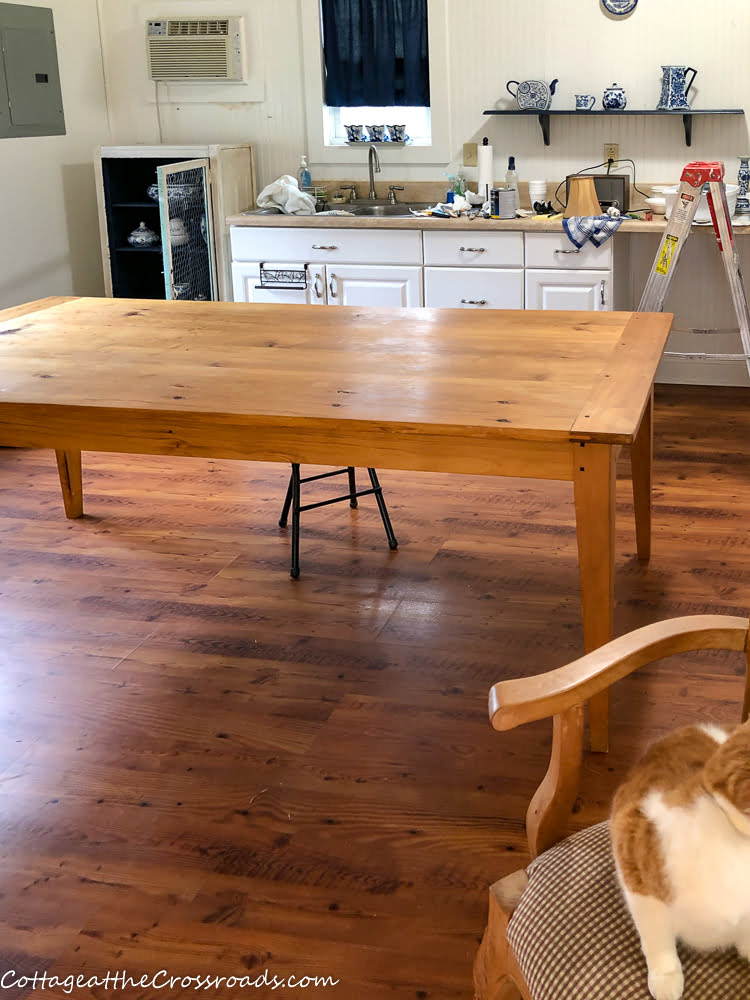 Here's an in-progress photo of when we moved our pine farmhouse table into the apartment. We replaced it with a round table in our dining room.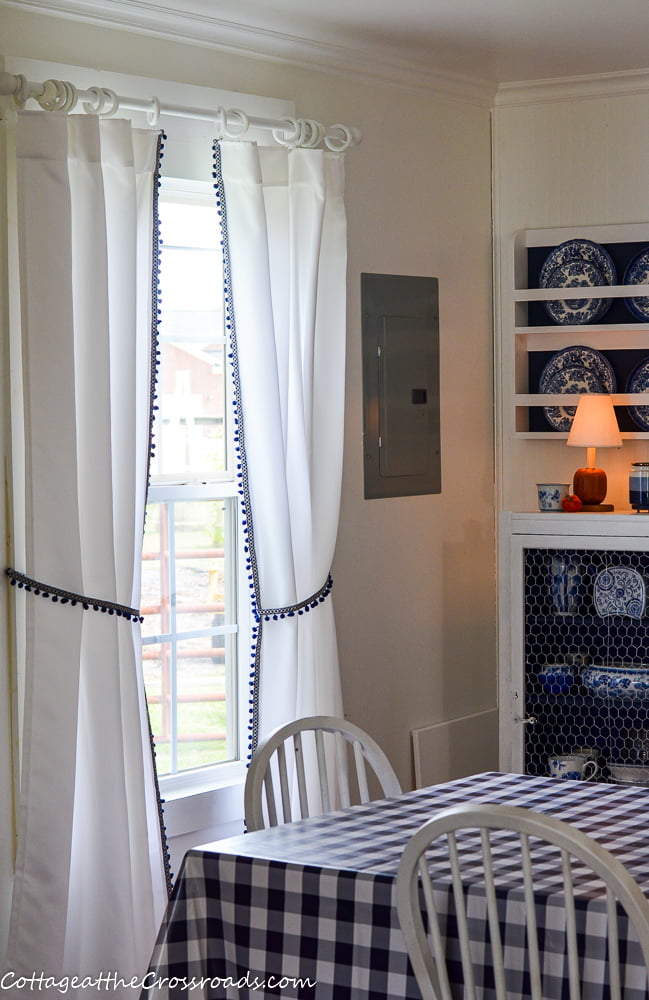 I found a heavy duty navy buffalo checked vinyl tablecloth for the table on Amazon. It comes in different colors and has a cute scalloped edge. I'm very pleased with it.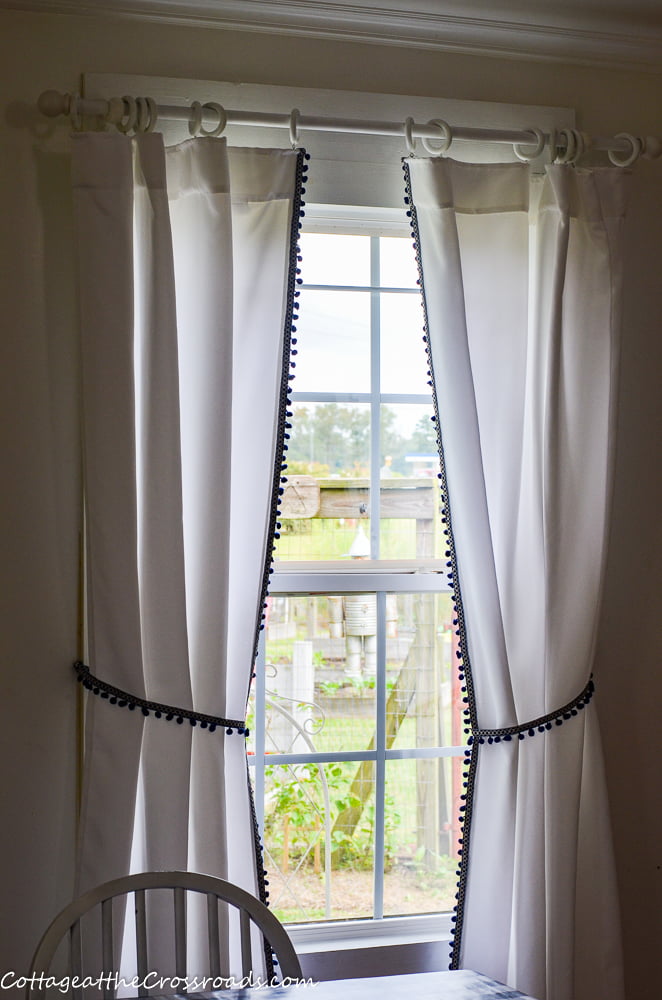 The white curtains are new and from Amazon as well.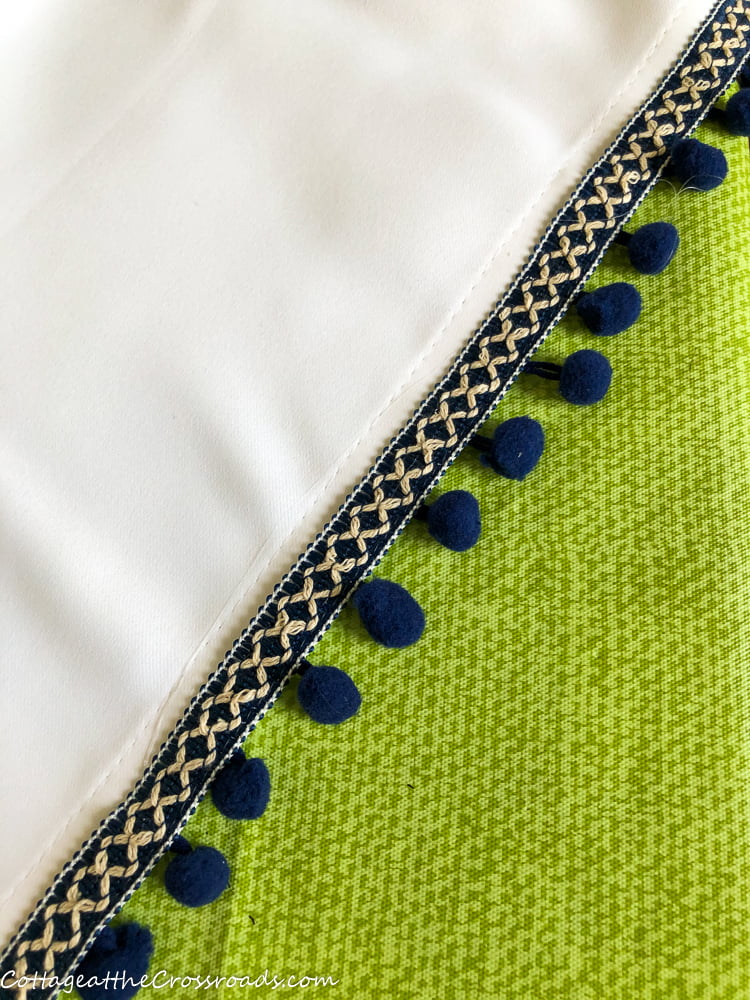 I hot-glued some navy trim that I ordered from Amazon onto the curtains. I'm still working on adding the tie backs to all the curtains.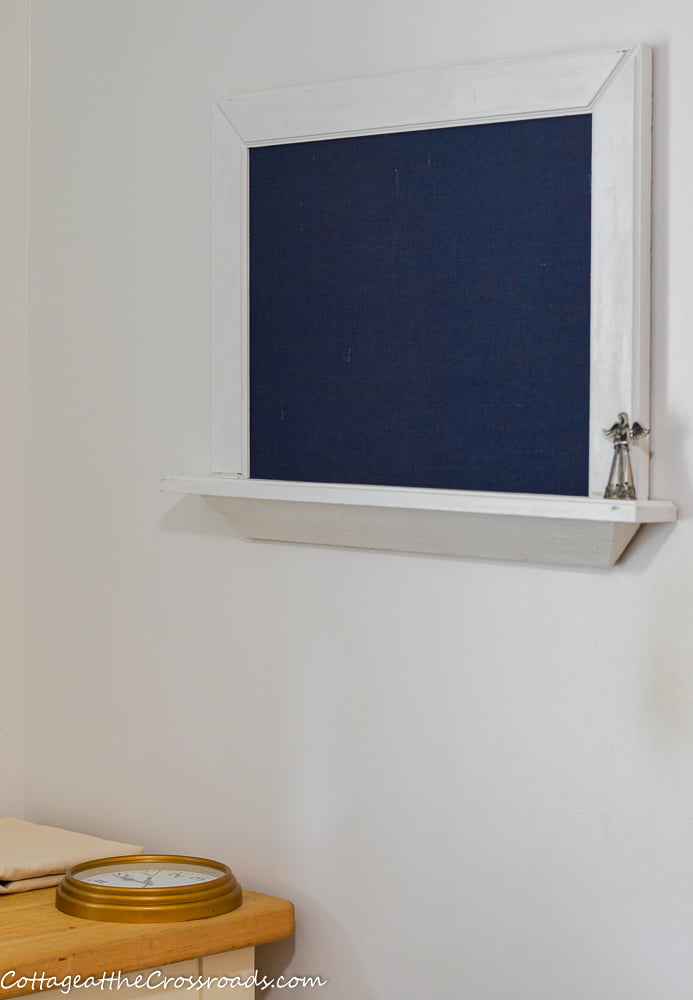 I repainted a bulletin board that was in the apartment and applied navy burlap over the cork. I already had the navy burlap left over from another project.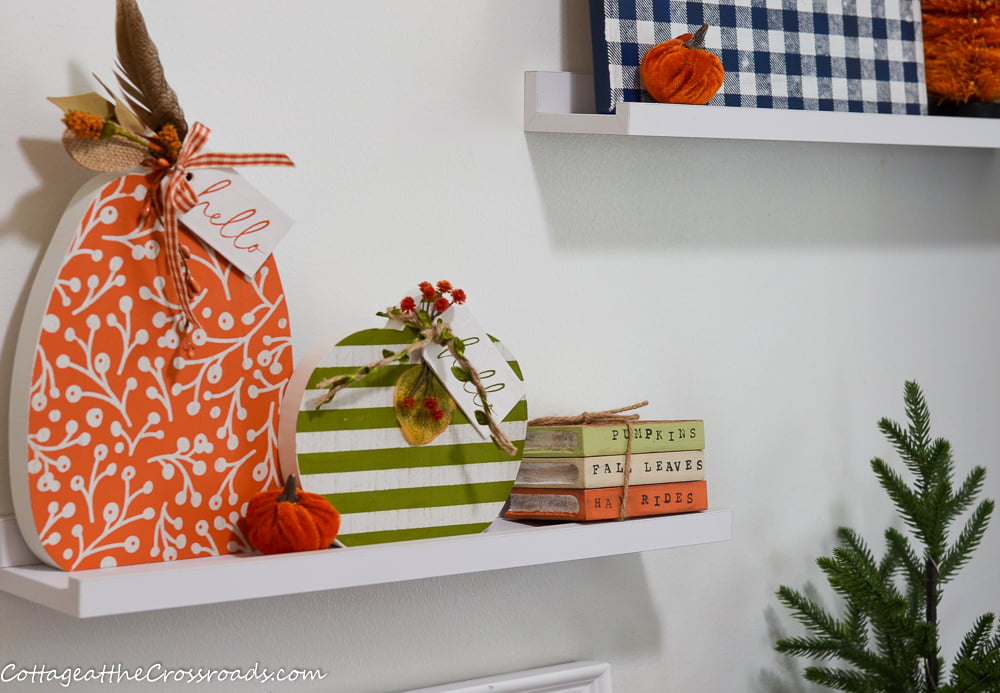 I ordered these white display shelves from Amazon, too. I'm using them to display some of my Chalk Couture projects.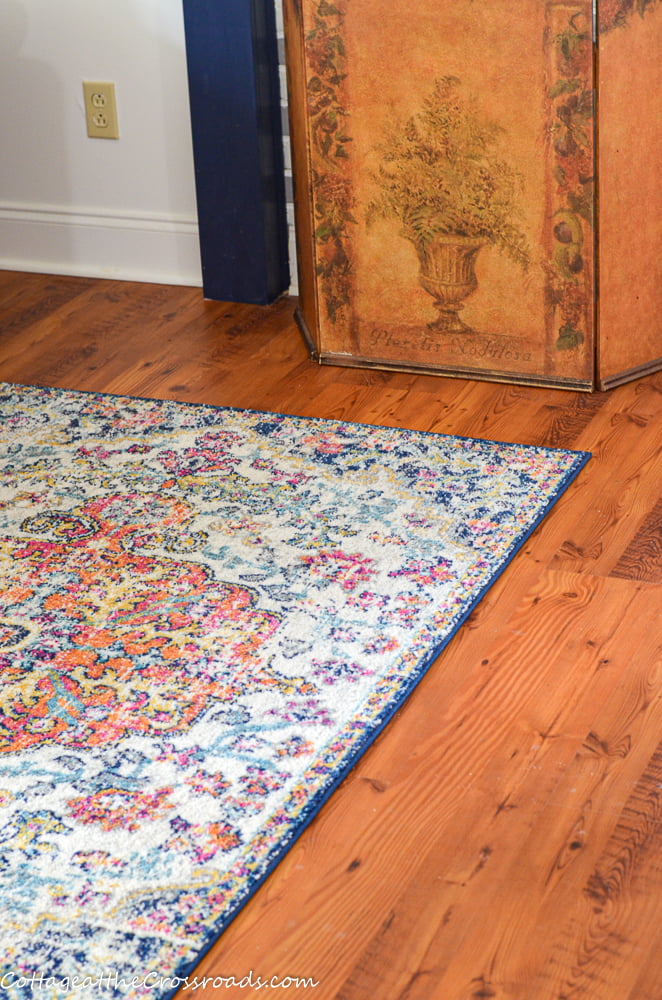 I ordered this rug from another website but I have discovered that Amazon has a better price on it. It has very pretty colors in it and you can find it HERE.
I kept the small loveseat that was in Mom's apartment in here. I do need to get new lampshades when I get a chance to look for some.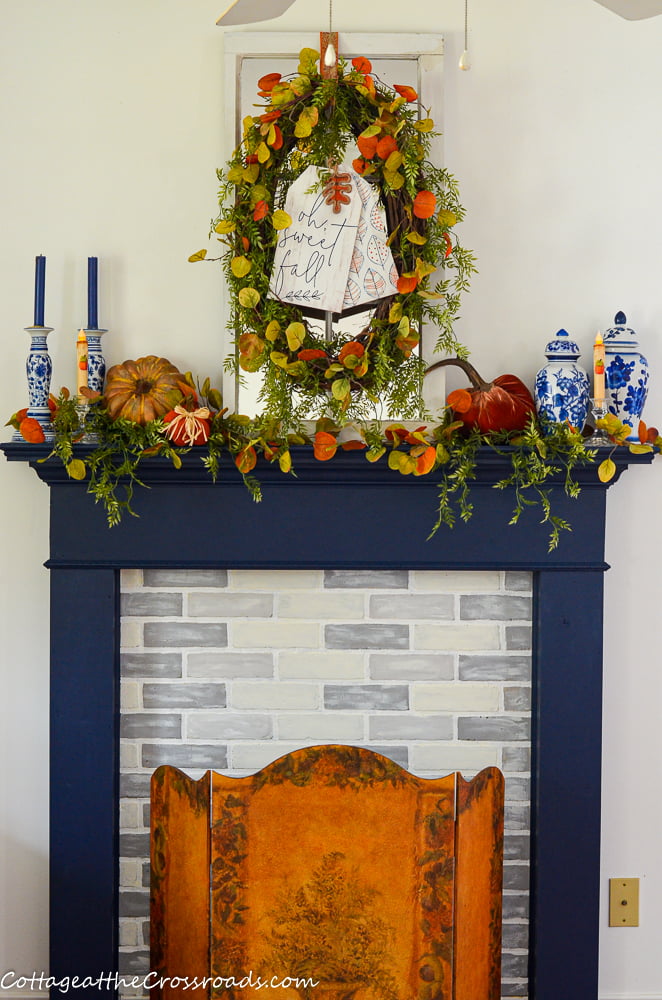 The faux fireplace is all decorated for fall.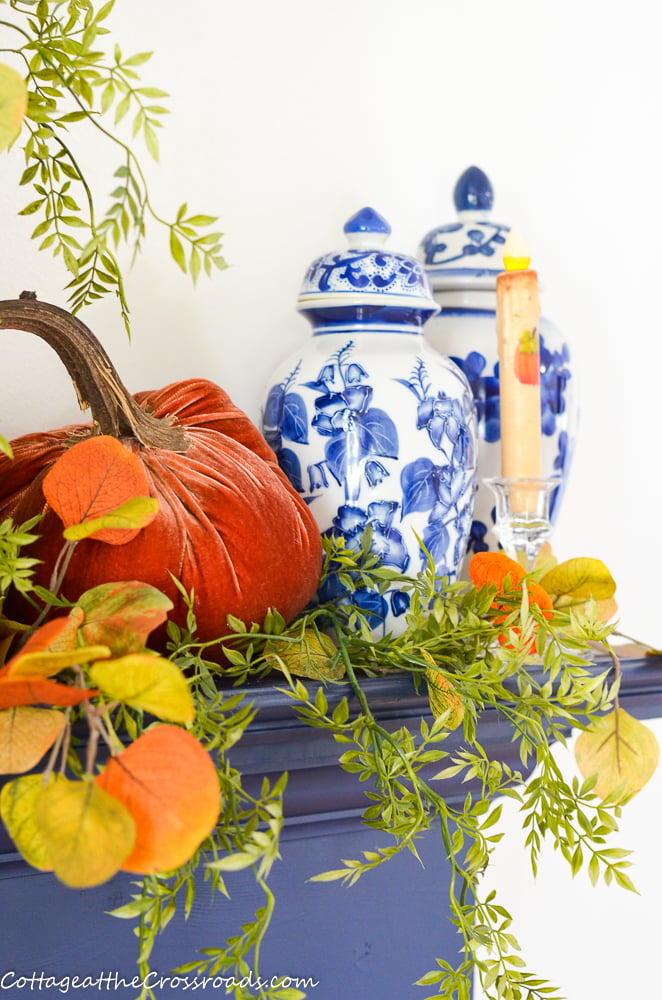 I'm really loving the navy and orange combination.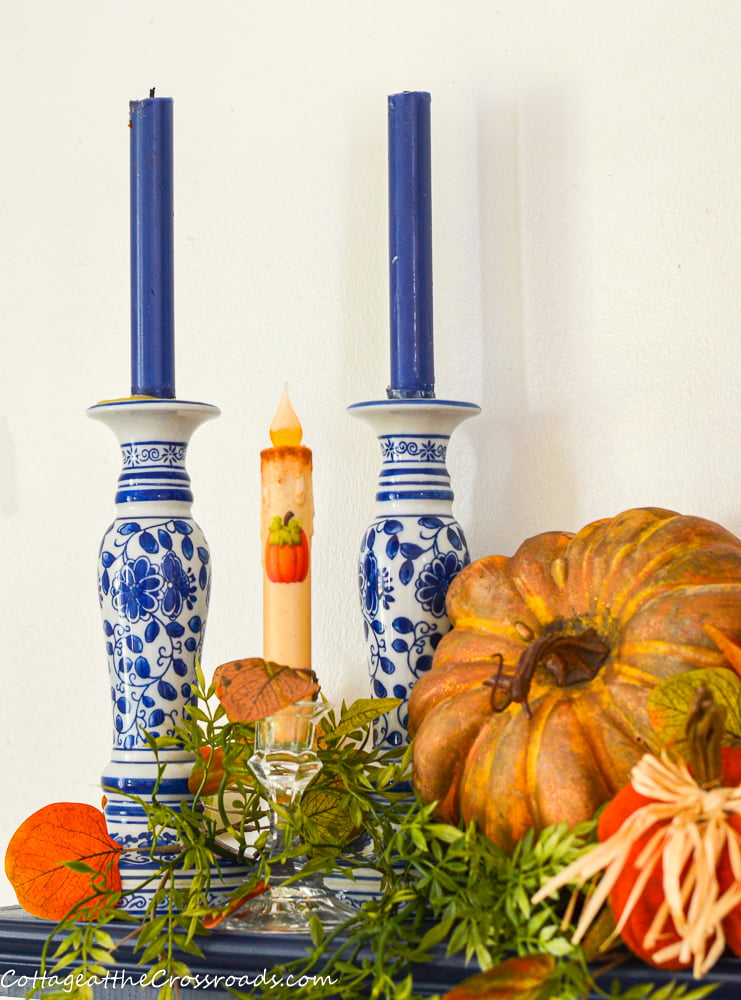 I think my mom would be very proud that I'm using her blue and white candlesticks. The little pumpkin candle is one that I found in a shop in Waynesville, NC.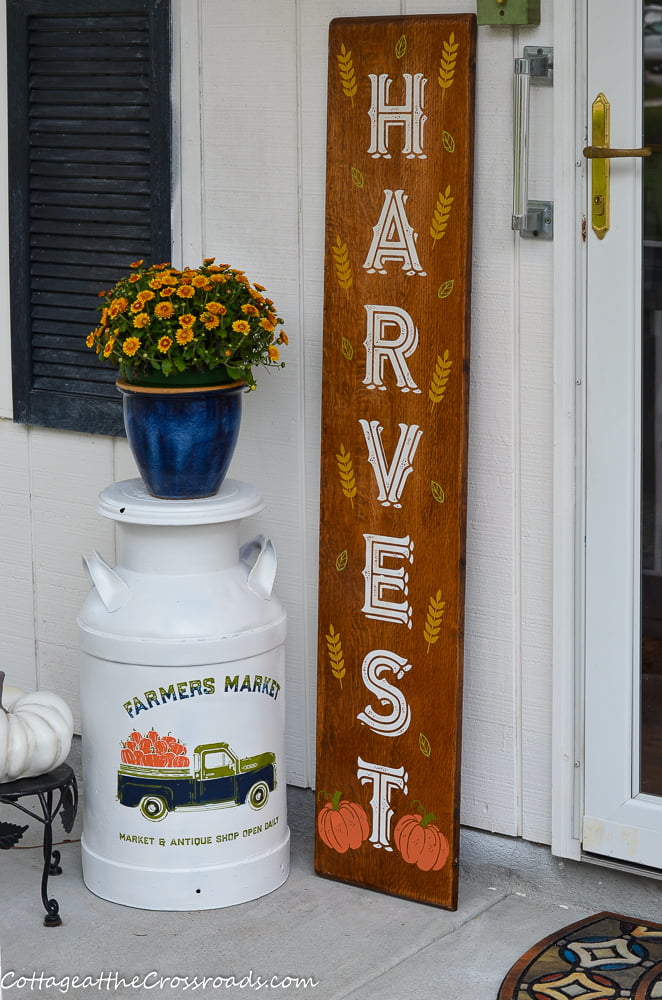 I've been practicing using the Chalk Couture transfers by making things to display on the little porch. The old milk can was red and was used for many years on our front porch.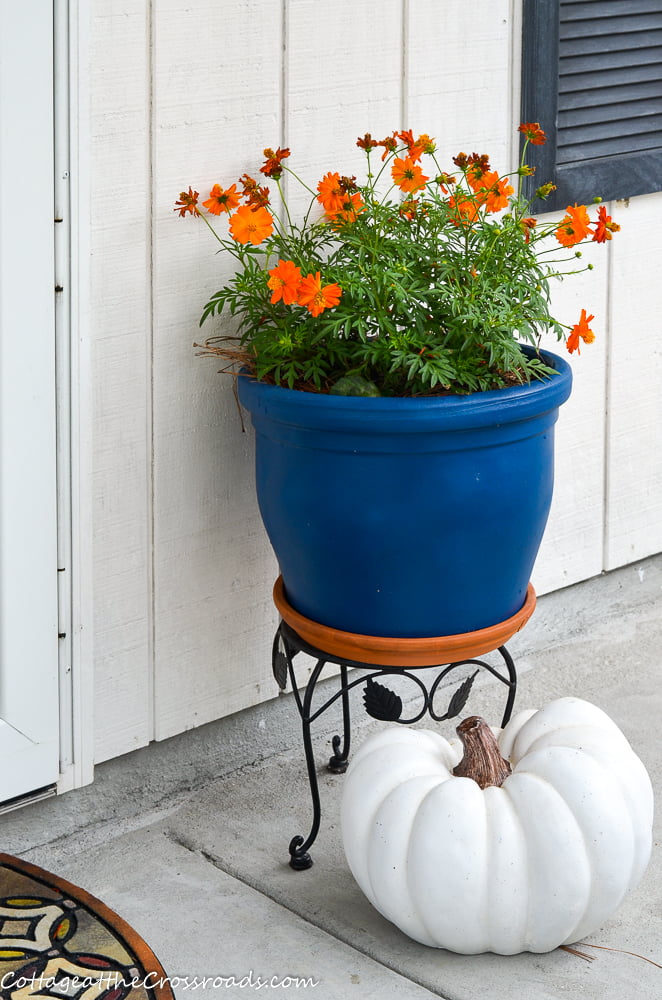 On the other side of the door is a blue pot (recently painted) that I planted with orange cosmos.
I have been so busy the past two months working on the craft studio that I have done no fall decorating in our house! Turning my mom's apartment into a craft studio has been cathartic and a retreat from real world happenings.
I hope you've enjoyed seeing its transformation.
Take care and stay safe!