Three months ago, we started renovating our front screen porch and today I'm sharing the old screen porch demo part of the project.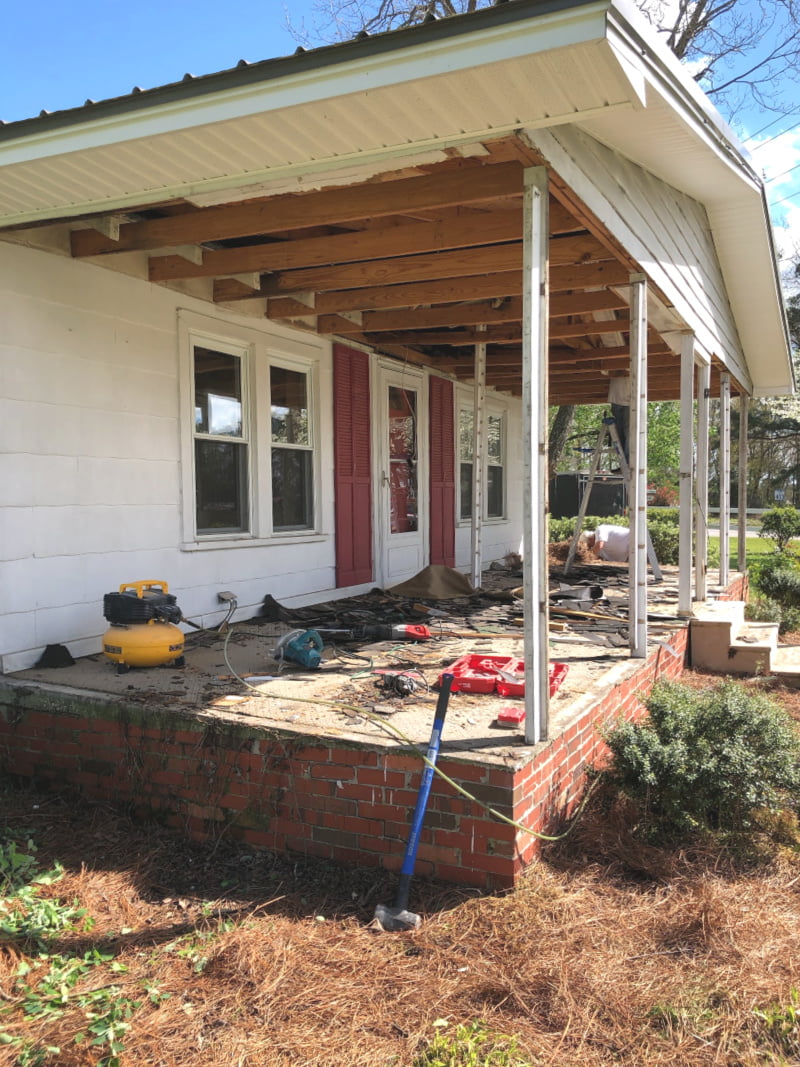 Hello everyone! It's been almost a month since I last posted. I had to take a break after my mother's recent death. I want to thank all of you for your kind and comforting comments that you left on my last post. It has been a difficult time for me and I'm adjusting to so many "new normals" at the same time.
In March, after my mom entered a nursing home and after finding out that I could not visit her due to the virus, Leo came home and said I needed a new project to keep my mind off things.
So he announced that we were starting our front screened porch renovation project. We were planning to do this project later this year but he thought this was a good time to get started.
So that afternoon, our contractor stopped by to discuss the project and to give us some quotes. At first, I hesitated as it was the beginning of the quarantine period. But it was only our contractor and his brother and we were all very careful to keep some distance between us.
Why a screen porch redo???
You may be wondering why we decided to do a screen porch redo. Well, it had been badly and hastily built before we moved to the Crossroads and there were many repairs to be made.
Leo and I had already made the decision to redo the screen porch rather than do a sunroom for two reasons: First, the house faces west so controlling the sun and the heat here in the South would have been an obstacle. Second, the screen porch is on the front of our house and aesthetically, I don't think a sunroom would have looked right on the front of the house.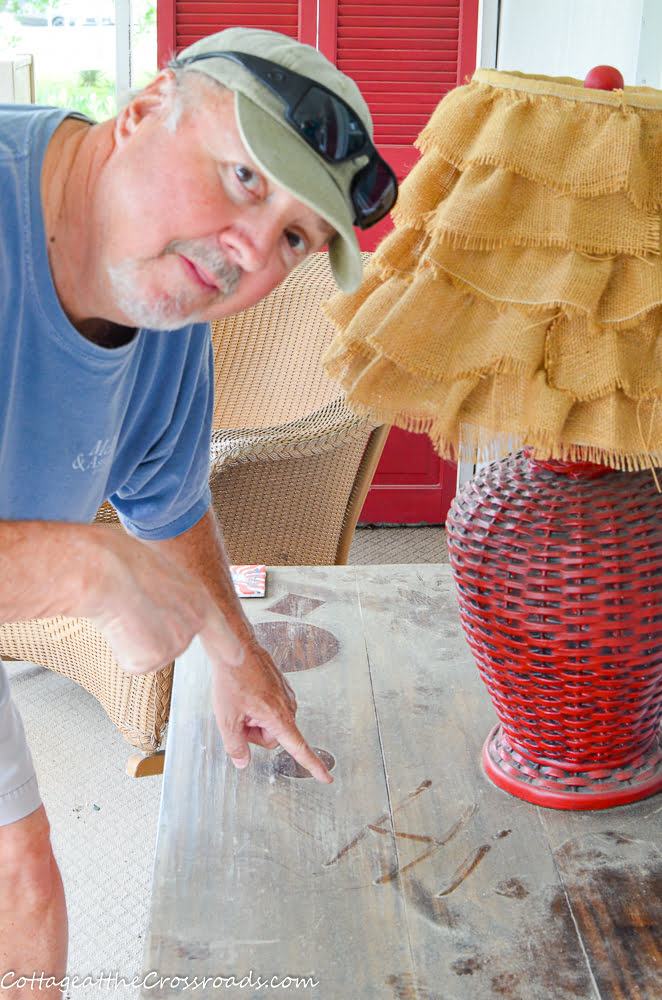 A real positive in beginning this project was I didn't have to clean all the pollen off the porch in early spring! Yeah!
Our old screen porch had gotten in really bad shape.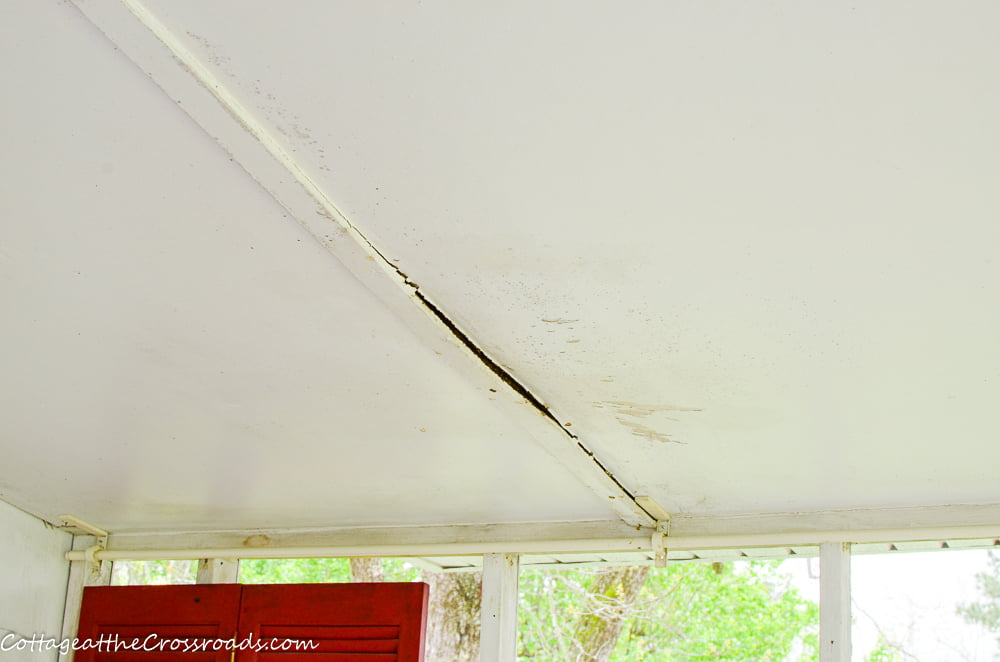 The ceiling was sagging and water damaged.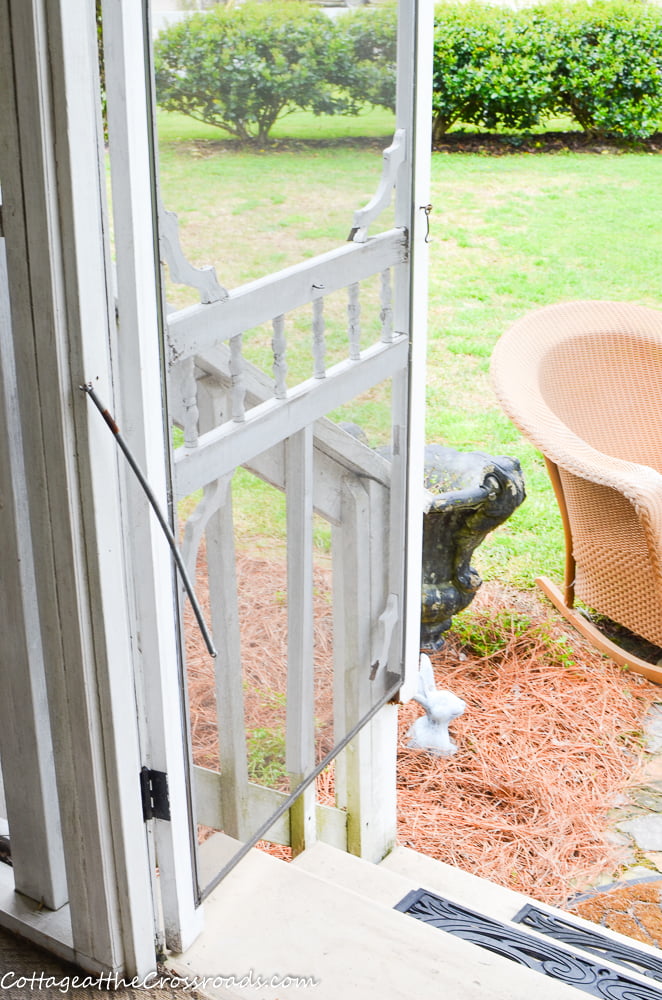 The screen door had rotted and was falling apart.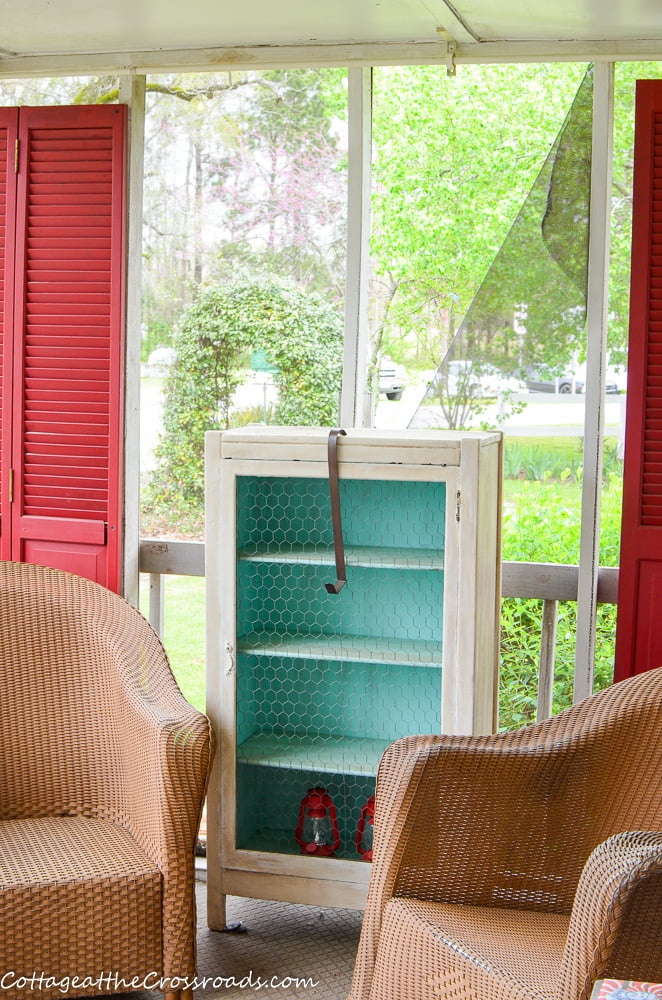 The screening was falling down in several places and had numerous holes where bugs had chewed through it.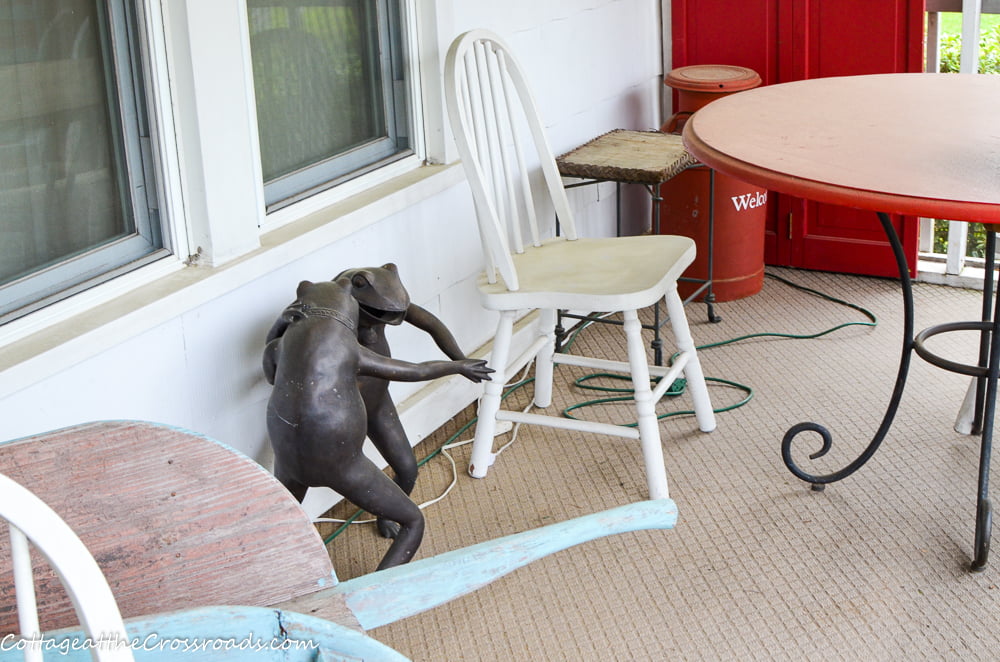 The outdoor carpet was faded and looking worn. The concrete floor underneath it was not level and you could see where the old stoop was.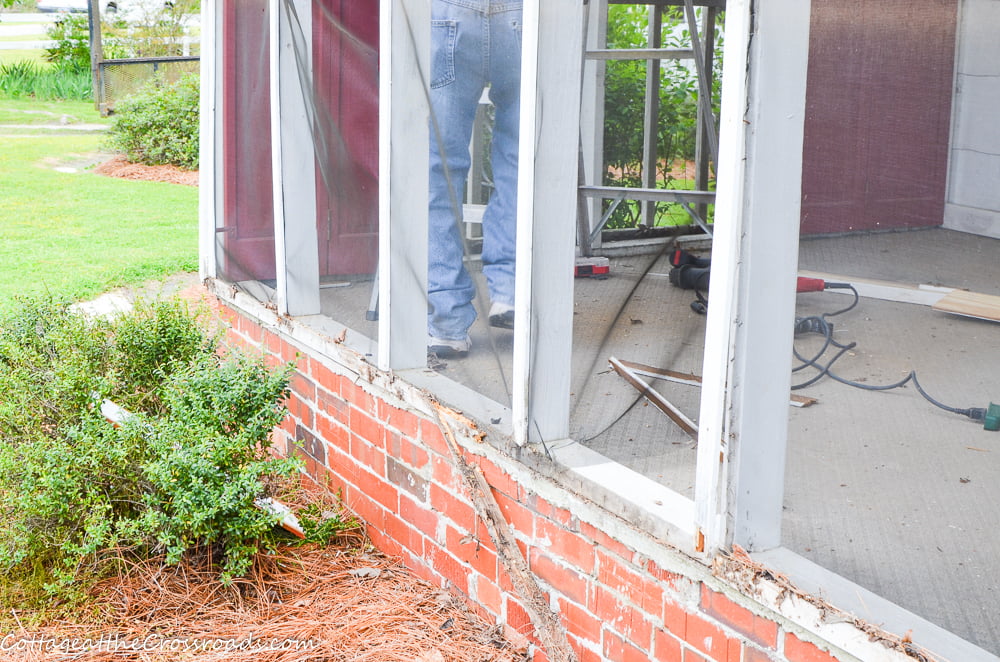 And the pickets had been attached in such a way that leaves got stuck between them and the screening and were rotting.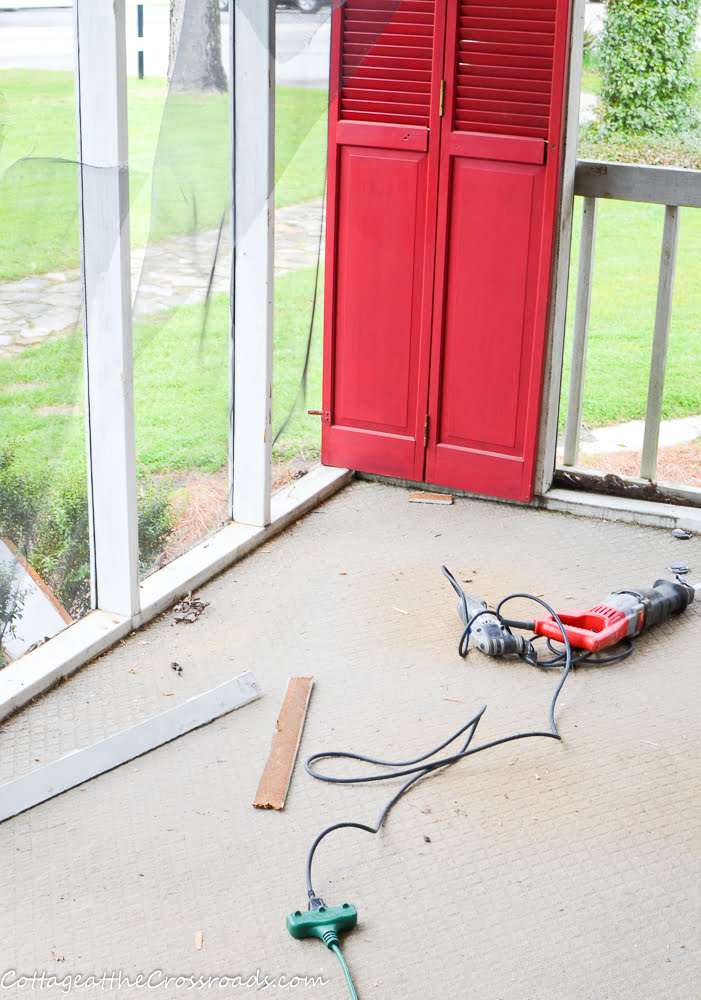 So our contractor and his brother started taking down everything!You can see some of the problems that I mentioned in the photo above.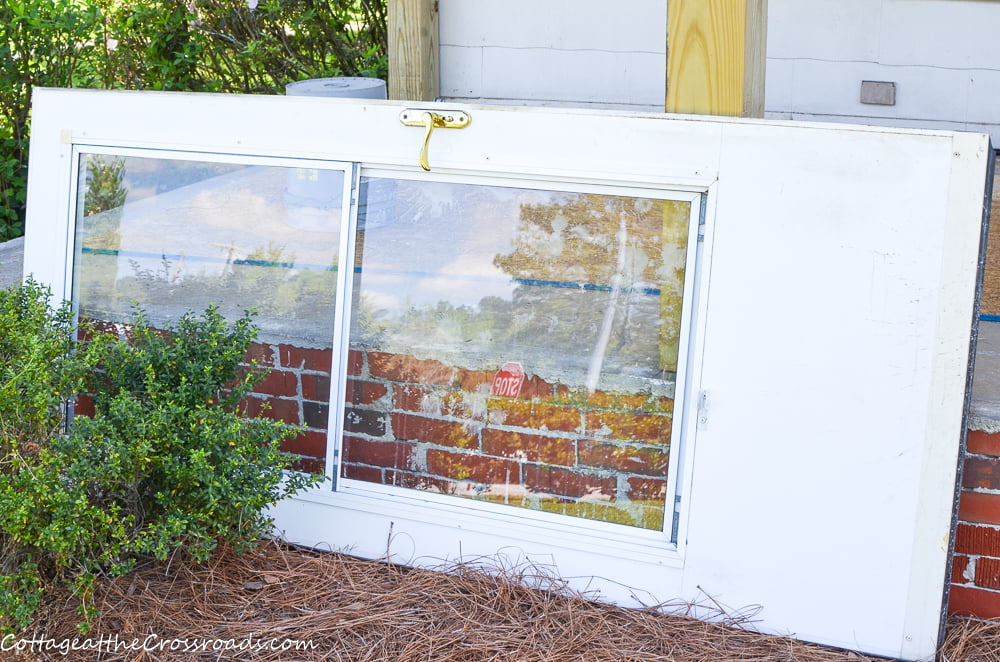 Everything was removed including this old storm door.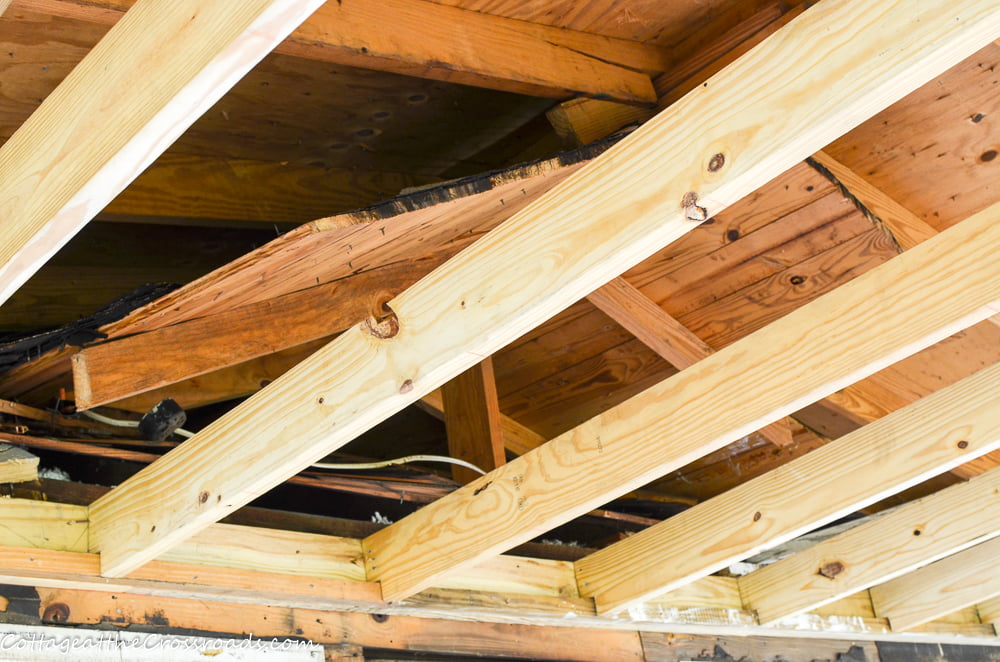 After the ceiling was removed, they discovered that the covering to the old stoop on the house had never been removed when the larger porch was created. My contractor found about 8 layers of old roofing shingles on top of it including the original wooden cedar shakes.
He said that all that weight could have easily come crashing down on us at some point so he cut away and removed as much as he could.
It was my hope that we could have a vaulted ceiling on the porch but this old roof structure was a stumbling block. Plan B was to raise the porch ceiling as much as he possibly could, and he was able to add about 8 inches to the height.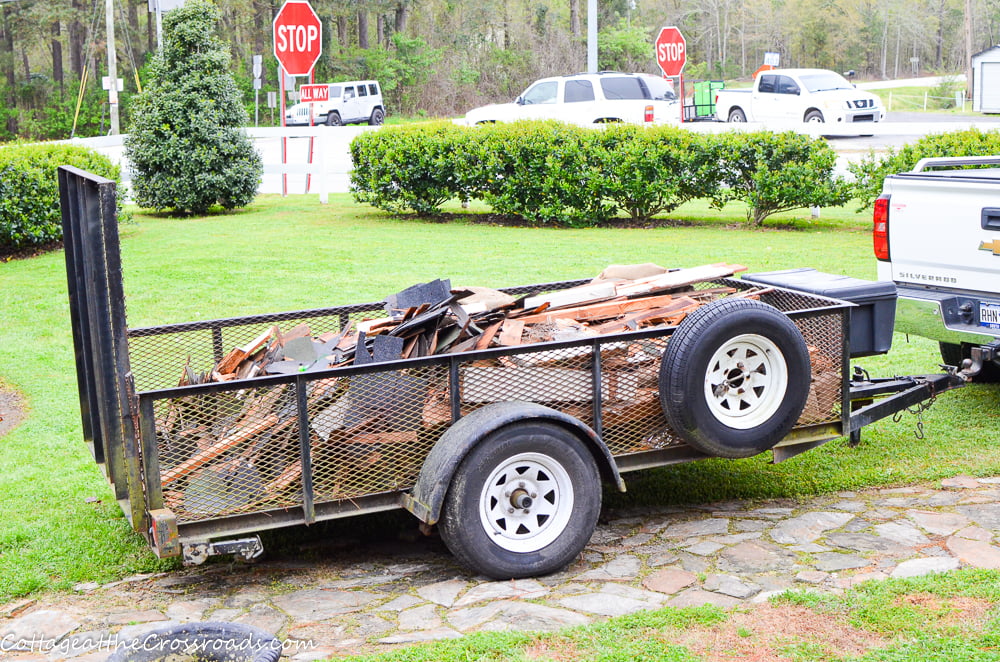 Each day of the screen porch demo the trash was placed on this trailer and hauled away.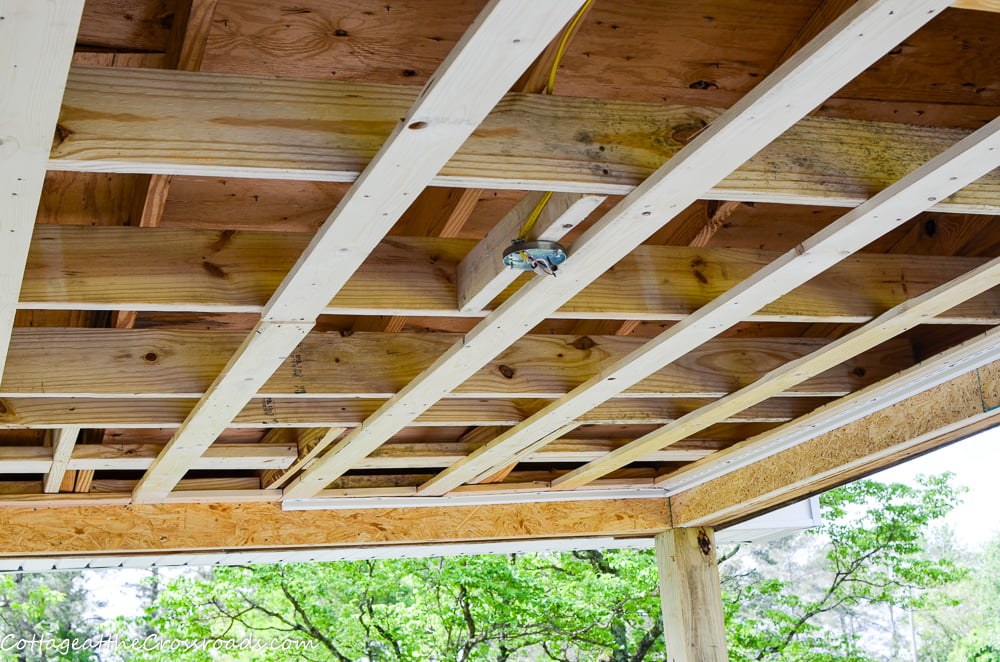 Once all of the debris was cleared away, work began on the new ceiling.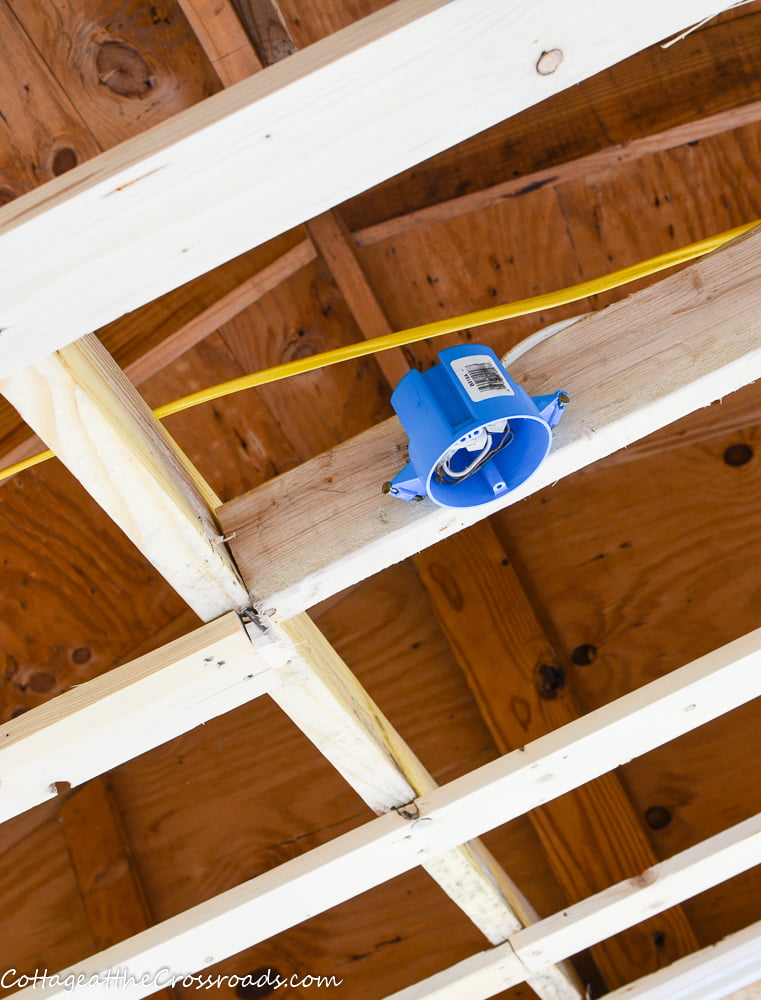 An electrician came out to do some additional wiring so that we could add 2 ceiling fans. They are a necessity during the summer here in the South.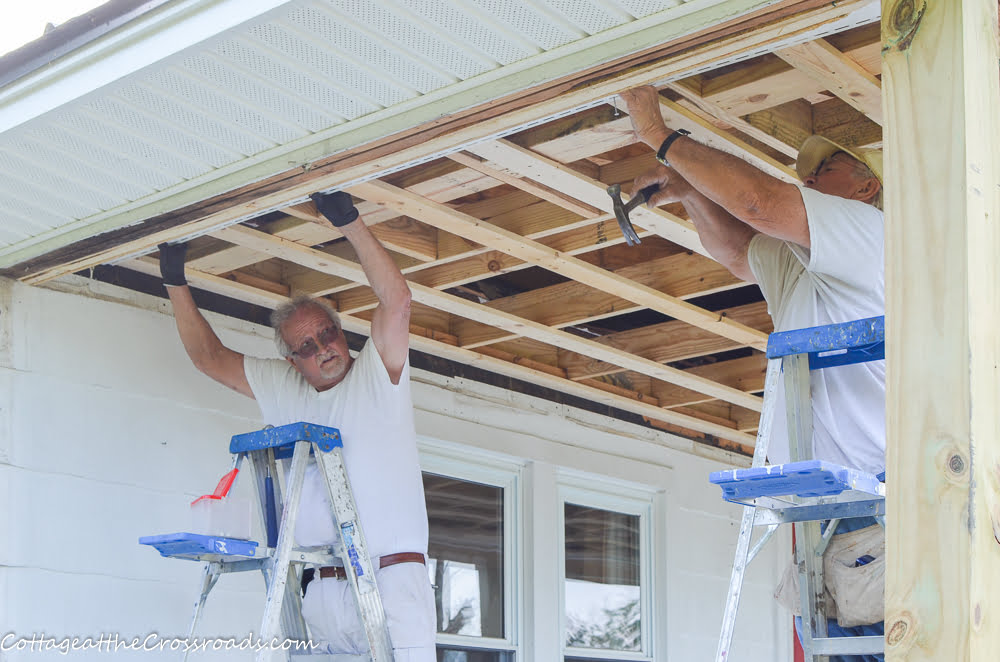 The photo above shows the new vinyl beadboard ceiling about to be installed.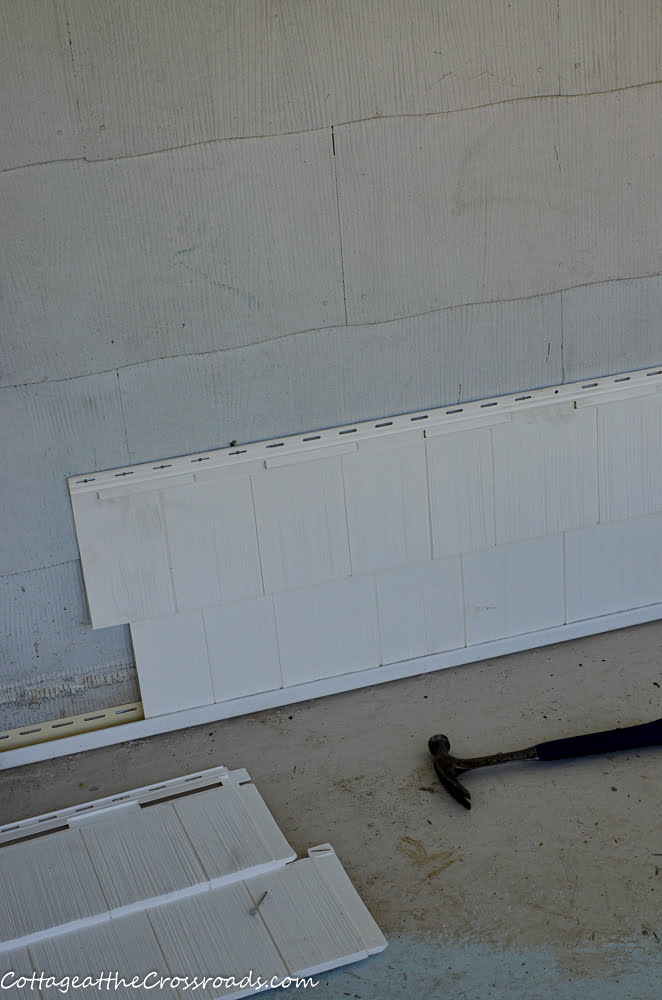 They covered up the old asbestos shingles that are on one wall of the porch with vinyl shake shingles. Most all of our decisions on the materials that we used were driven by one factor:
EASE OF MAINTENANCE!!!
Leo and I are not spring chickens so we didn't want to face more painting in a few years and I wanted to be able to hose off the surfaces during spring cleaning.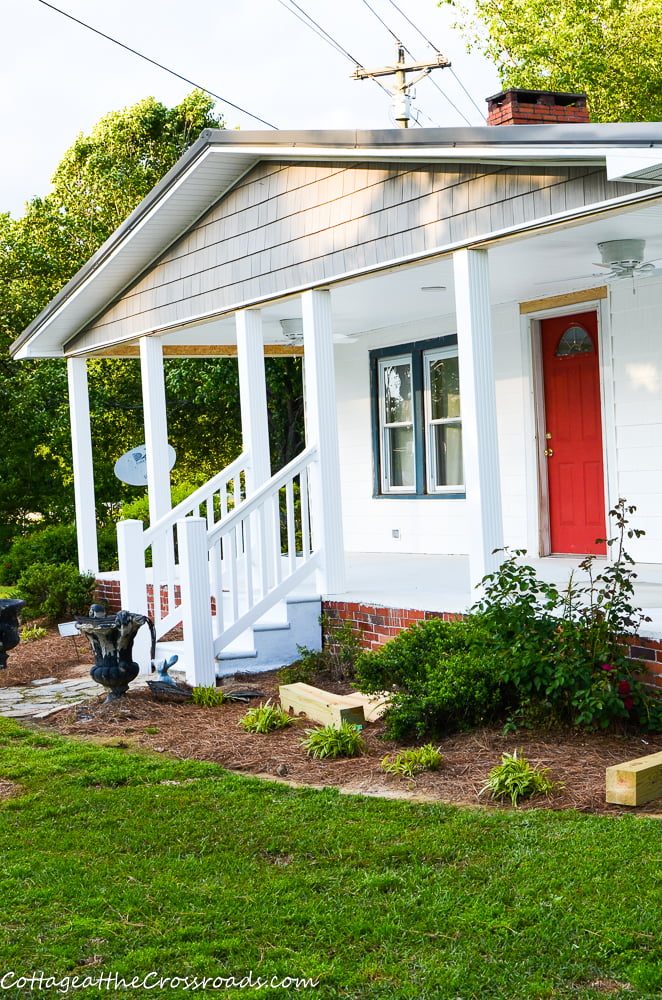 In the above photo, you can see that we went with thicker posts which were clad in vinyl.
Vinyl trim around the windows was removed exposing the trim color from many years ago.
We weren't planning on doing this but the siding up top looked so bad that we had vinyl shingles added to that area as well. The color matches our new metal roof that we had installed last year.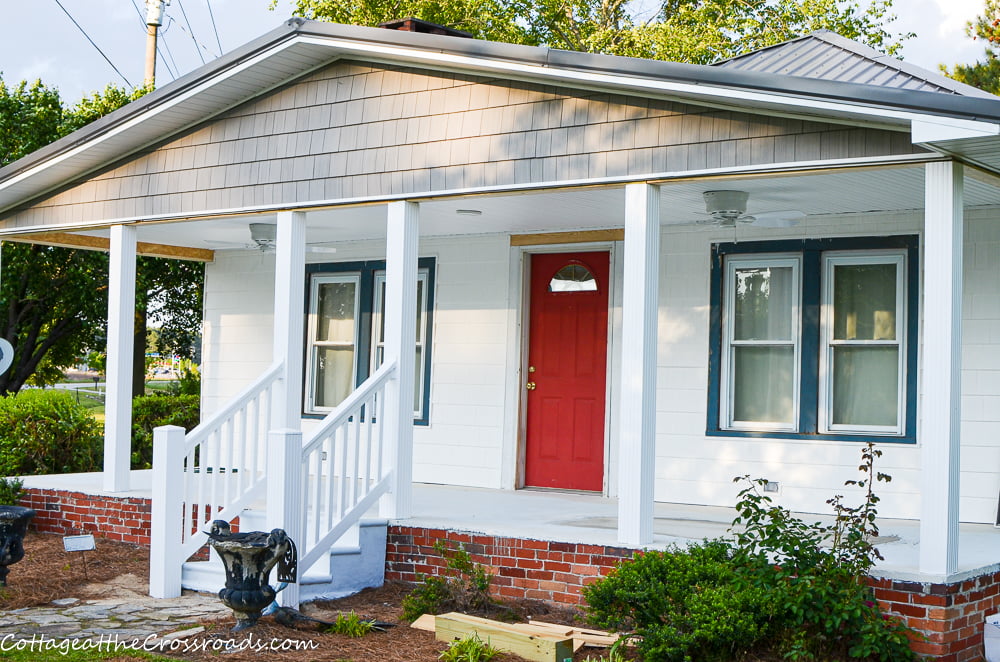 You can also see that we chose to repair and paint the concrete floor which I plan to do a separate post about that.
At this point, we had to wait a few weeks for another crew to come and install the pickets, the screening, the doors, and the finishing touches.
I'll be back soon with more details about the floor and other design choices. In the meantime, stay safe.