The art of crafting the perfect fry has long been a subject of culinary exploration, and in recent years, we've witnessed a significant evolution in this industry. The introduction of the air fryer has not only provided a healthier alternative to traditional frying methods but has also elevated the texture and taste of the fries to unparalleled levels.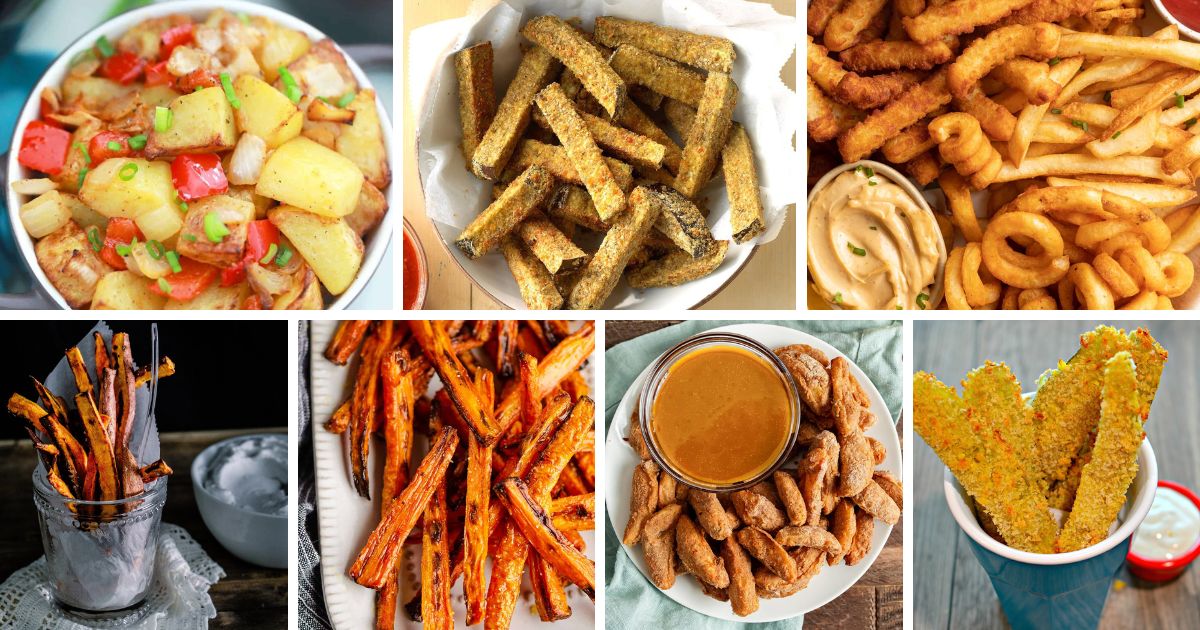 In this compilation, we present to you a curated selection of 30 exquisite air fryer fries recipes, each meticulously crafted to offer a unique gastronomic experience.
Starting with the timeless air fryer sweet potato fries, we journey through a spectrum of flavors, from the subtly spiced dill pickle fries to the delightful sweetness of cinnamon sugar sweet potato fries.
We can attest to the transformative power of the air fryer in redefining the boundaries of what we perceive as a 'fry'. Read on into this collection, armed with your air fryer, and discover the many possibilities that await.
Contents
Crispy, healthier russet potato fries made in the air fryer. Soaked for optimal crispness, they rival restaurant fries. Perfect for gatherings, best paired with diverse dipping sauces.
Air-fried sweet potato fries are healthier than deep-fried. They reduce fat and calories by using less oil. The potatoes' sweetness is enhanced by garlic powder, paprika, salt, and pepper.
These fries achieve a crispy texture in just 10 minutes. It is enhanced with garlic and paprika, they're versatile and pair beautifully with burgers or your favorite toppings.
These rustic fries retain their skin, offering a unique flavor. It is made from russet potatoes and soaked for optimal crispness, they're a perfect side for any meal.
These russet potato fries use minimal oil for a healthier touch. After soaking for enhanced crispness, they're seasoned to perfection and ready to complement any dish.
These fries bring fast-food quality right to your home. Ready in 10-12 minutes, they offer versatility in seasoning and provide a quick, delicious treat for any occasion.
Crispy russet potato wedges seasoned with paprika and parsley. No pre-soaking is needed. Ideal for dinners or game nights. A healthier fry alternative, easily reheated for consistent crispness.
Easy and oil-free, these fries transition from the freezer to the air fryer. Crispy yet soft, they're a healthier fry alternative. Versatile and ideal with marinara or ranch dips.
Crispy steak fries, loaded with garlic and parmesan, are ready in 25 minutes. Enhanced with Pappy seasoning, they're perfect for BBQs or game days. It is best paired with ranch or ketchup.
A healthier twist on Gordon-Biersch fries, infused with garlic and rosemary. Perfect for game days, they pair well with burgers or chilled drinks. Crispy, flavorful, and guilt-free.
Delectable fries with garlic and parmesan, crisped in 25 minutes. Perfect for BBQs, seasoned with Pappy's blend. A must-try treat, best with your preferred dipping sauce.
Savor these crispy home fries, seasoned perfectly and air-fried to golden perfection. The dish is ideal for breakfast; drizzle some oil on them and pair them with eggs and bacon.
Crispy air fryer home fries offer a healthier comfort food twist. Made with yellow potatoes and seasoned with garlic and paprika, they're perfect for breakfast or a side dish. It is a no oil required dish for a guilt-free treat.
Luxurious truffle fries, effortlessly made in the air fryer. Serve with aioli for an elevated snack or side. Perfect for gourmet dinners or indulgent late-night treats.
Dive into these crispy carrot fries, a delightful 3-ingredient snack. A healthier alternative, they're salty, crispy, and slightly sweet. Perfect with ranch or your favorite dipping sauce.
Experience classic fish and chips, air-fried for a healthier twist. Crispy fish filets paired with golden fries make for a delightful meal. Best served with tartar sauce.
Spicy, curly fries with a Cajun twist, these air-fried delights offer a zesty kick. Perfect for spicing up mealtime or enjoying with a cooling dip on game nights.
Crispy, golden fries without the salt overload. This air fryer recipe delivers a healthier alternative, ideal for those monitoring their sodium intake. Pair with a heart-healthy dip for added flavor.
Sweet meets savory with these cinnamon-sugar-coated sweet potato fries. Air-fried to perfection, they're a delightful dessert alternative or a unique side. Best enjoyed with a creamy dip.
Savor the crunch without the guilt. These parmesan and parsley seasoned fries offer a healthier take on a classic. It's ideal with burgers or as a standalone snack, and you can cook it in batches.
Circular, crispy potato rounds that redefine fries. Seasoned with garlic powder and parmesan, these air-fried treats are perfect with burgers or as a flavorful side.
These seasoned shoestring fries are air-fried to perfection, providing a healthier alternative to traditional fries. They're flavored with paprika and pepper. Ideal with burgers, they're a game-day essential with minimal oil.
Swap traditional fries for these pumpkin delights, crisping up perfectly in the air fryer. They're paired with a maple-chipotle dipping sauce, ideal for autumn gatherings or a unique side dish.
These chicken fries, air-fried to perfection, offer a crispy treat. They are ideal for quick snacks, they pair well with various dips. A healthier alternative to deep-frying, they're a must-try for fry enthusiasts.
Delight in crispy Air Fryer Apple Fries, perfect for a sweet treat. Made with Honey Crisp apples and a hint of vanilla, they're a fun, healthier alternative to traditional fries. Ideal with caramel or peanut butter dip.
Savor the natural sweetness of parsnips in these air fryer fries. Enhanced with garlic granules, maple syrup, and pink salt, they're a delightful alternative to potato fries. Perfect for a health-conscious snack or side.
A treat for pickle enthusiasts, these air-fried dill pickle spears come with a spicy kick. Coated in panko for a crispy finish, they're perfect for those craving a tangy, spicy snack. They are ideal for pairing with a cool ranch dip or enjoyed on their own for a unique flavor experience.
Indulge in these loaded fries, where crispy meets creamy. With savory bacon and melted cheddar, they're a hit for gatherings. Enhanced with ranch dressing, they're the ultimate comfort snack.
Delight in these healthy air-fryer eggplant fries, coated with Italian seasoning, Parmesan, and garlic salt. Perfect as a guilt-free snack, they pair wonderfully with warm meatless pasta sauce.
Crispy green bean fries seasoned with garlic and Parmesan, these air-fried treats are a savory delight. Perfect for sports events or parties, they pair wonderfully with sriracha mayo or your favorite dip.
📋 Recipe
Frequently Asked Questions