In the dynamic sphere of culinary arts, the air fryer has established itself as a pioneering device, especially for those desiring a union of taste, texture, and nutritional benefits. And one of the best foods to cook in them is falafel.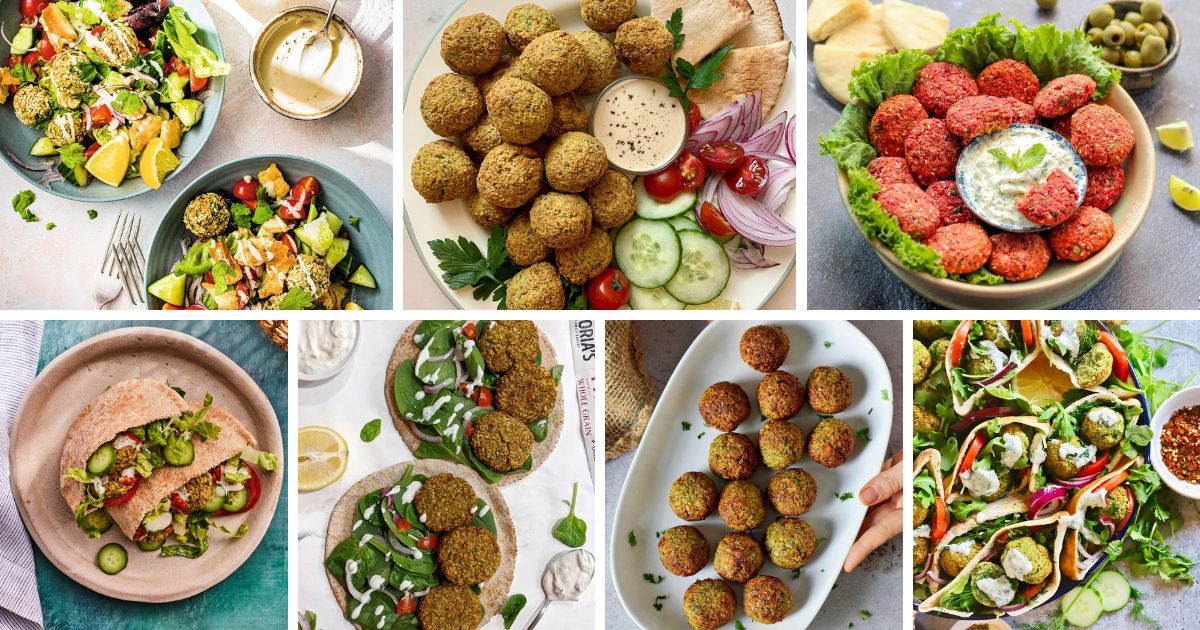 With just a hint of oil, air fryer falafel guarantees an exterior that's delightfully crispy and an interior that remains soft, bringing out the deep flavors of the Middle East. As food lovers increasingly use platforms like Facebook, Pinterest, and Instagram to exhibit their gastronomic wonders, these falafel recipes are destined to capture attention.
Comprehensive step-by-step instructions ensure clarity in these 31 tasty air fryer recipes, and considering the minimal prep time, the total time for these dishes remains surprisingly brief. And chickpeas remain the star in these offerings, often blending harmoniously with ingredients like parsley and a spectrum of spices, highlighting their culinary flexibility.
Whether enveloped in a pita or accompanied by fresh produce, these falafel preparations celebrate nutrition without neglecting taste!
Contents
This dish showcases dried chickpeas, artfully blended in a food processor with aromatic spices. High in protein and fiber, it's a healthful treat waiting to be explored.
Craving a Mediterranean touch? These wraps blend falafel with hummus and fresh veggies. After a brief stint in the fridge, they make for an enticing meal or snack.
This wholesome falafel brims with mint, garlic, and scallions. Drizzle the tangy tahini sauce over, and you're set for a nutritious meal that's surprisingly low in calories.
This dish marries chickpeas with aromatic herbs and spices. Zesty lemon juice brings a refreshing touch, excellent for an appetizer or nestled within pita bread.
Gluten-sensitive folks, rejoice! This crispy falafel incorporates gluten-free flour and aromatic spices, ensuring both taste and health are uncompromised.
This dish, perfect for those tight on time, utilizes canned chickpeas which only need to be drained. Paired with hummus or fresh veggies, it's a savory quick bite.
This spicy falafel, studded with pepper and cumin, pairs beautifully with a sodium-rich feta sauce. If you love a fiery patty, this recipe awaits.
Simplified classic falafel, this recipe gets its kick from optional green chilies. It's a tantalizing choice for those who relish a spicy twist.
Blending chickpeas with green lentils and rocket leaves, this falafel is a nutrient-packed sensation. The additional lemon zest gives an irresistible zesty touch, ideal with a side of rice.
Looking for a complete meal? This falafel salad bowl combines fresh veggies, tahini paste, and spices to give you a burst of flavors and textures in every bite.
Root veggies meet falafel in this unique blend. The addition of beetroot lends a lovely hue and earthy taste, making this dish both vibrant and flavorful.
These bite-sized falafel pieces are packed with herbs and spices. Easy to pop and incredibly delightful, they're perfect for gatherings or a quick snack.
Promising a harmonious blend of flavors with a mix of herbs, this falafel is a joy. Sesame seeds provide a light crunch, while a hint of salt balances the profile.
This comprehensive bowl offers an assortment of tastes, from spicy falafel to tangy beet hummus. Each ingredient complements the next, promising a flavor-packed meal.
For the days when you need a falafel fix without the effort, this recipe simplifies the process. Just drain the chickpeas, pop the mix in the oven, and you're set.
If you're hankering for a substantial treat, this falafel sandwich, complemented by rich tzatziki sauce, fits the bill. Enjoy it wrapped in lettuce for a refreshing touch.
Perfect for those who are always on the go, these falafel bites are both delicious and convenient. The Tzatziki dressing adds a creamy, tangy dimension, elevating the whole dish.
This low-carb delight combines aromatic herbs with almond flour and cauliflower. It's a delightful treat for those following the keto diet or simply seeking healthier options.
This dish combines chickpeas, fresh herbs, and spices to create a hearty burger. Perfect for those seeking a meat-free alternative, it pairs brilliantly with vegan tzatziki and fresh vegetable toppings.
Do you like a crispy and flavorful treat? This air-fried falafel sandwich is a fusion of spices, creamy tzatziki, and the zest of hummus. Layered between whole grain bread, it's a perfect lunchtime choice.
This dish brings the flavors of Lebanese falafel, enriched with spices like coriander and deep-fried to crispy perfection. Paired with a tangy sesame and lemon sauce, it's worth savoring every calorie.
This dish is a nod to classic Egyptian flavors, spotlighting fava beans enriched with a spectrum of herbs. Best part? You can achieve that signature crunch using an air fryer.
This versatile falafel recipe is packed with herbs and chickpeas. Whether in the oven or air fryer, the result is a deliciously crispy falafel perfect for any occasion.
For those craving a savory bite, this falafel boasts a perfect blend of chickpeas, parsley, and cilantro. When air-fried, they achieve that sought-after crispiness without the excess oil.
Combining richly flavored falafel with creamy feta tzatziki, these gyros are a taste sensation. And with any air fryer, you're set for a quick and delicious Mediterranean escape.
Harnessing the convenience of canned chickpeas, this dish offers a delightful mix of herbs and spices. It's a quick yet delicious option for those mid-week falafel cravings.
This falafel recipe emphasizes both crispiness and tenderness, combining onions, garlic, and a hint of lemon. With a quick air fry, you're set for a flavorful treat.
For those in a rush, this recipe guides you in achieving the best from your frozen falafel balls using an air fryer. This recipe is the epitome of minimal effort and maximum taste.
This recipe elevates the simple frozen falafel by pairing it with a store-bought salad kit and assorted veggies. It's a quick, nutritious meal ideal for busy days.
This dish marries the earthiness of carrot and chickpeas with the nuttiness of tahini. Paired with a zesty tahini sauce, it offers a contemporary twist on traditional Middle Eastern flavors.
This recipe blends the hearty texture of chickpeas with an assortment of vibrant vegetables. Paired with a refreshing cilantro yogurt sauce, it's a nourishing treat for any health-conscious palate.
📋 Recipe
Frequently Asked Questions