I've had a few people to ask what's growing in our spring garden, so I thought I'd give you an update.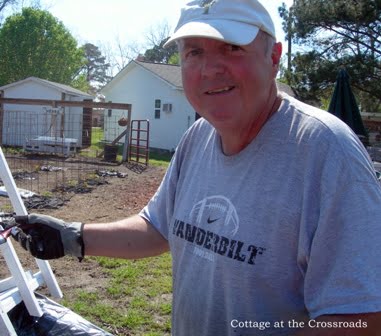 My personal favorite, tomatoes, have been planted. We planted them a little early this year because we've been having such warm weather lately. But if we have a late freeze, we can cover them.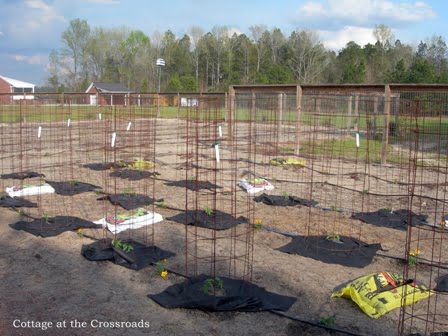 Before planting, I installed an individual drip line for each hill, added 2 shovelfuls of our homemade compost, and Jane added 2 scoops of Black Cow. My brother Jim and his grandson went fishing the other day and brought back some brim. So like the Native Americans used to do, I buried a fish under some of the hills. If it was good enough for the Native Americans, it's good enough for me.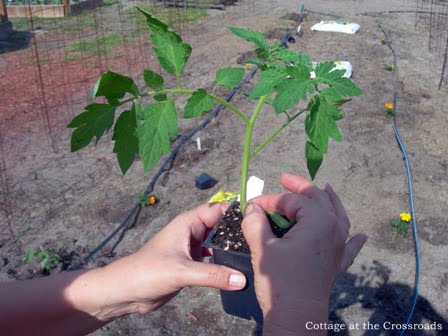 Before planting, it's important to pinch off the bottom leaves and stems of the plants. It increases the development of the main stem and increases fruit production. And as the plant is growing, it's important to sucker the plants. To sucker means to pinch off the extra stems that grow in the joints off the main stems. The first year we had a garden, we didn't know that we were supposed to do that, and it did affect our production.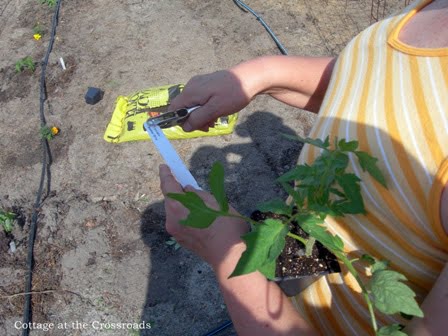 This year we are planting a greater variety of tomatoes. So far we have planted Early Girl, Better Boy, Big Boy, and Celebrity. As soon as the heirloom varieties are available, we'll plant those. To keep track of each variety, Jane punched holes in the identification tags to hang on the cages.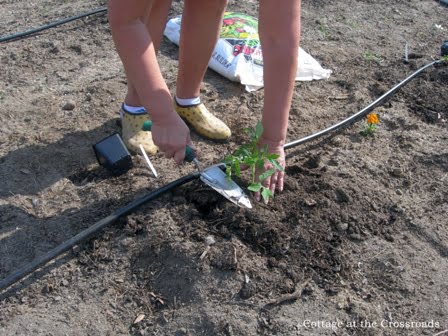 Here's Jane planting one of the tomato plants.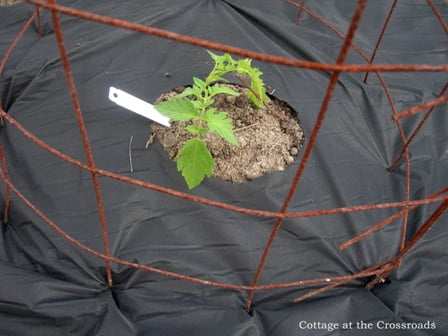 This year I decided to put a weed barrier under each cage, and I'll add some wheat straw to further prevent weeds and hold in the moisture.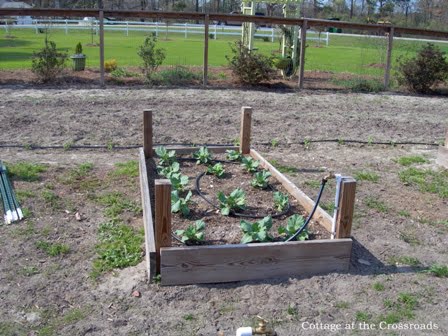 Cabbages are growing in the raised beds.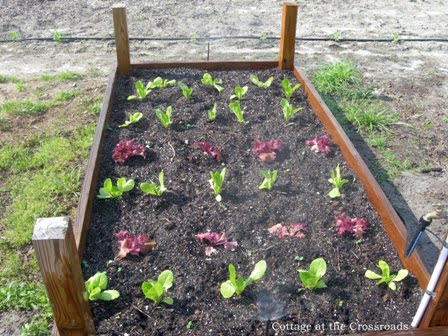 Different varieties of lettuce are off to a good start. We'll be eating salads before we know it.
We had so much success with the raised beds last year that I built two more this past weekend.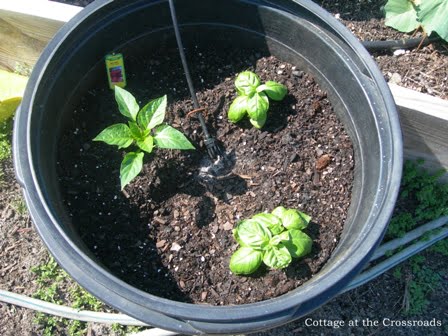 We have peppers and basil growing in some large, black containers that some trees came out of last year.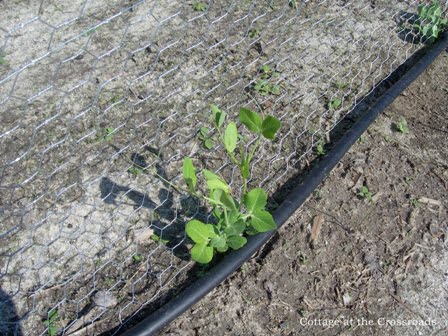 The English and sugar snap peas are growing so rapidly that I had to put up the chicken wire for support today.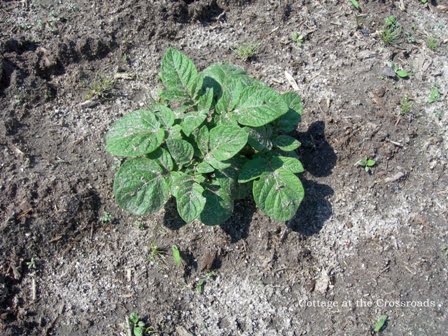 The corn and potatoes are up. Have you ever eaten a new potato freshly dug from the earth?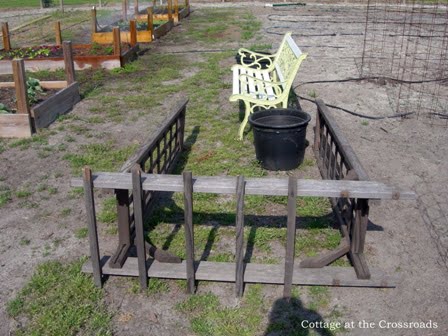 Across the street at Jay's Trading Post, they were going to throw away this damaged arbor. So I hauled it across the street to our garden. I'm in the process of repairing, painting, and putting it up. We may grow some climbing beans on it. It's all part of our plan to make the garden more aesthetically pleasing this year. We do enjoy sitting on the bench in the late afternoon, watching the weeds grow.
At this time of year, I'm a busy person in the garden. But the harvest will make it all worthwhile.