Discover the versatility of sourdough starters with 31 delicious recipes beyond bread. From savory pizza crusts to sweet muffins and pancakes, there's something to suit every taste.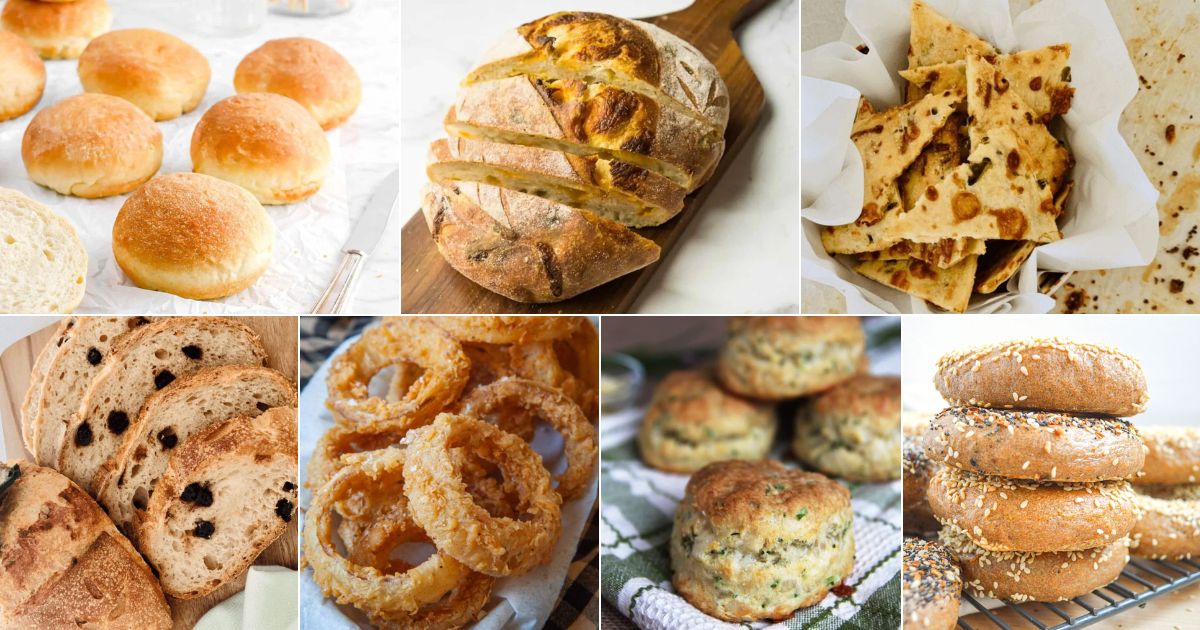 Whether you're a seasoned sourdough enthusiast or a beginner, our recipes will inspire your culinary creativity. Get ready to explore the endless possibilities of sourdough starters in your kitchen!
Contents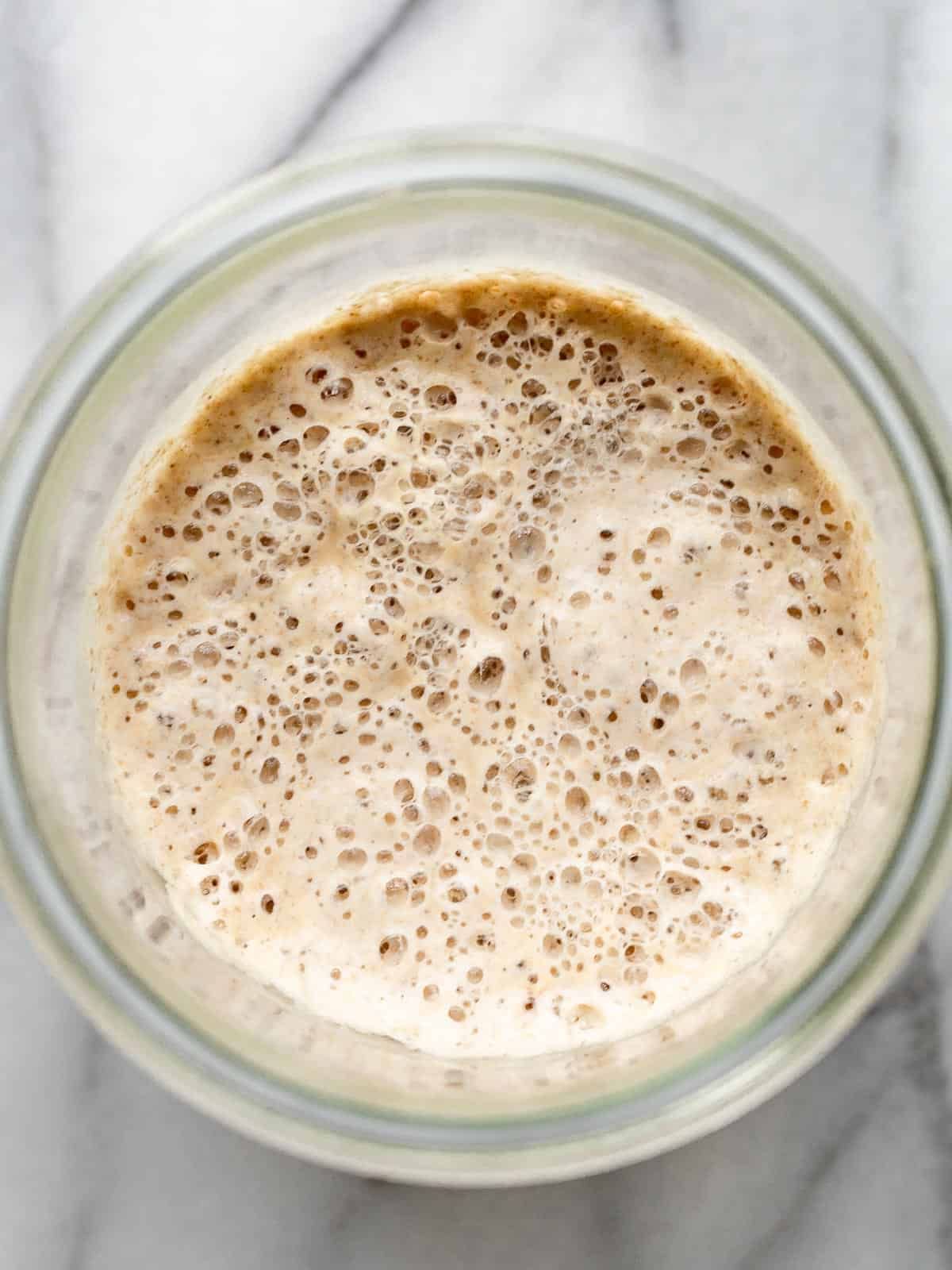 Sometimes when recipes claim to be "easy," they're far from it.
But this Easy Sourdough Starter recipe is truly simple. All you need is all-purpose flour, whole wheat flour, and an appropriate container for the amount you want to make. That's it!
Getting this recipe down will help you create any other recipe on this list.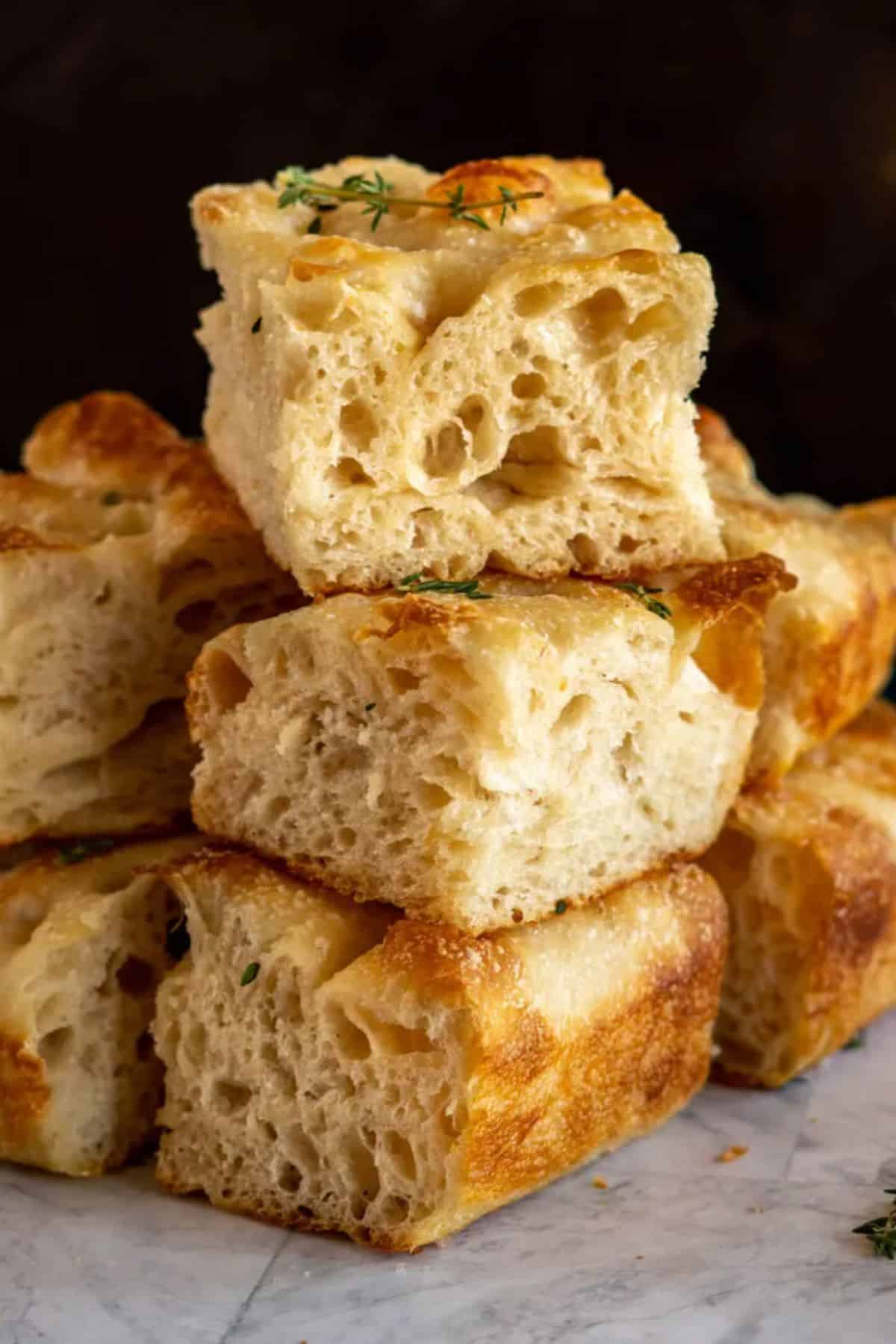 Sourdough focaccia is a rustic and airy Italian flatbread with a crispy crust. It is a versatile and delicious option for snacking or serving alongside soups, stews, salads, and even breakfast sandwiches.
Its unique flavor and texture, achieved with the help of sourdough starter, make it a must-try recipe for both seasoned bakers and sourdough beginners.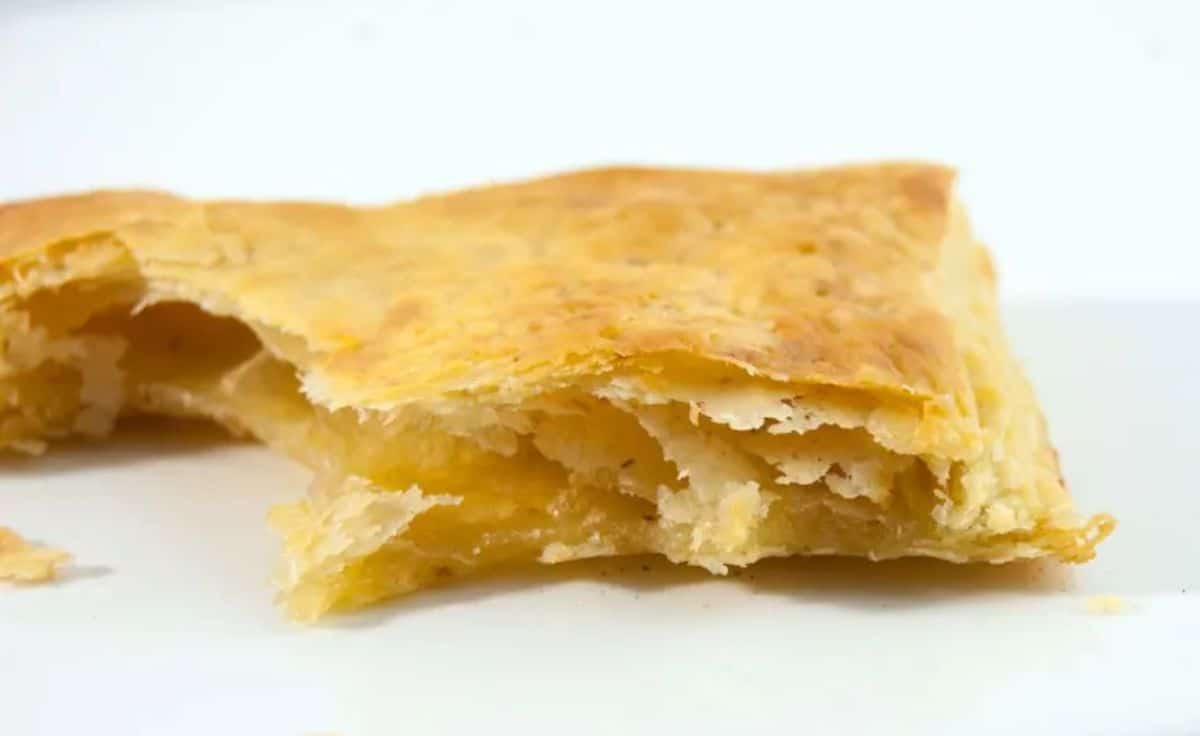 Sourdough puff pastry is a delightful and flaky pastry made with layers of buttery dough and sourdough starter, resulting in a rich and tangy flavor.
This recipe involves a process of rolling and folding the dough to create countless layers, which then rise to create a light and airy texture when baked.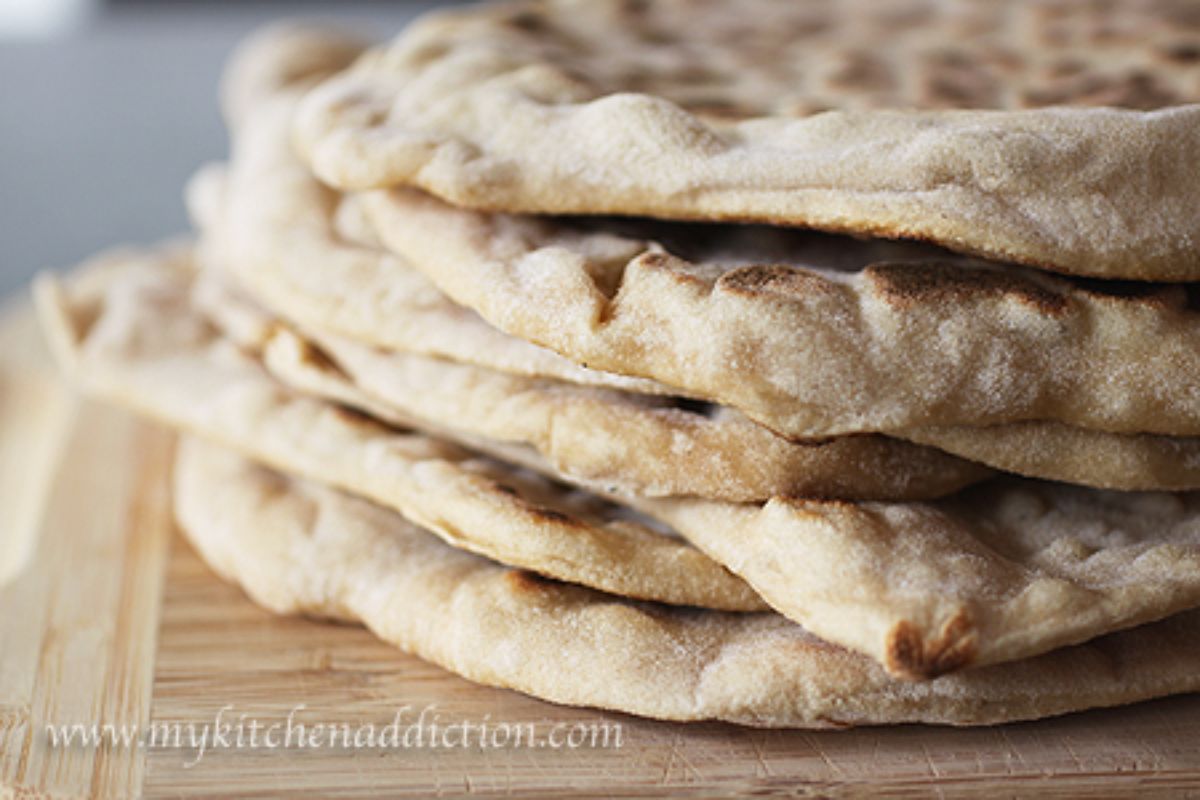 Sourdough naan is a mouthwatering, pillowy Indian flatbread, and the recipe involves fermented dough using a sourdough starter.
The starter imparts a delightful tang and helps create the signature bubbles on the surface of the naan when cooked in a hot skillet or tandoor.
Sourdough naan is a versatile bread that you can serve as a side dish to curry, wrap with kebab meat, or eat on its own.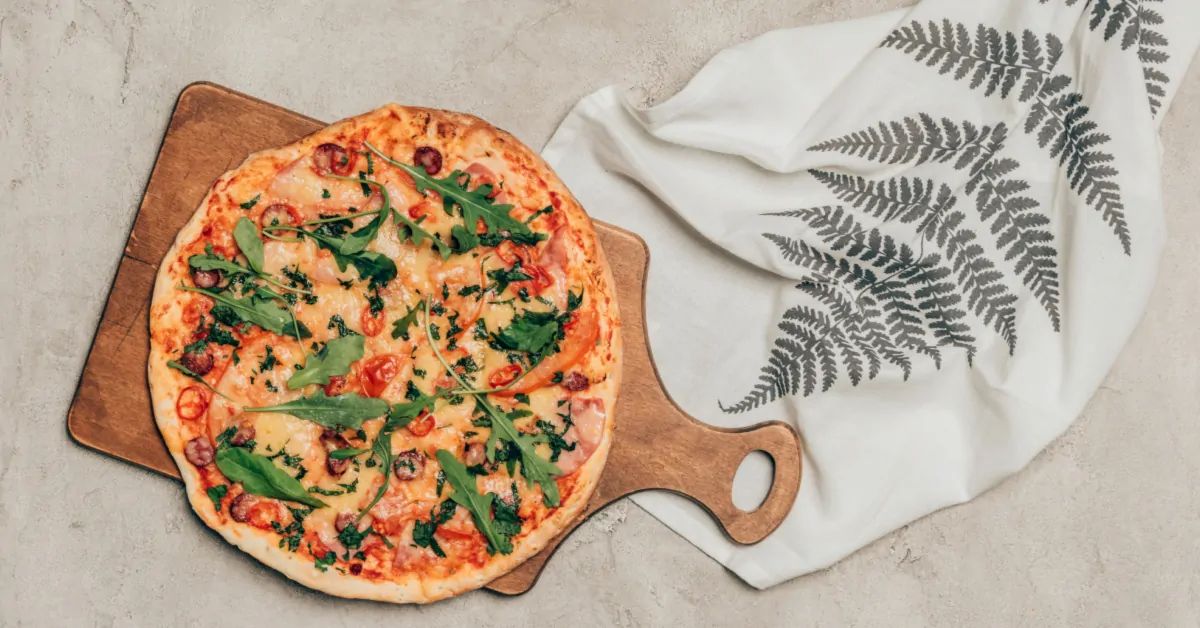 This sourdough pizza crust is a game-changer for pizza enthusiasts who appreciate a unique depth of flavor and a chewy, airy texture.
The wild yeasts and lactic acid bacteria in the sourdough starter create a long and slow fermentation, resulting in a crust packed with complex flavors and a light, airy structure.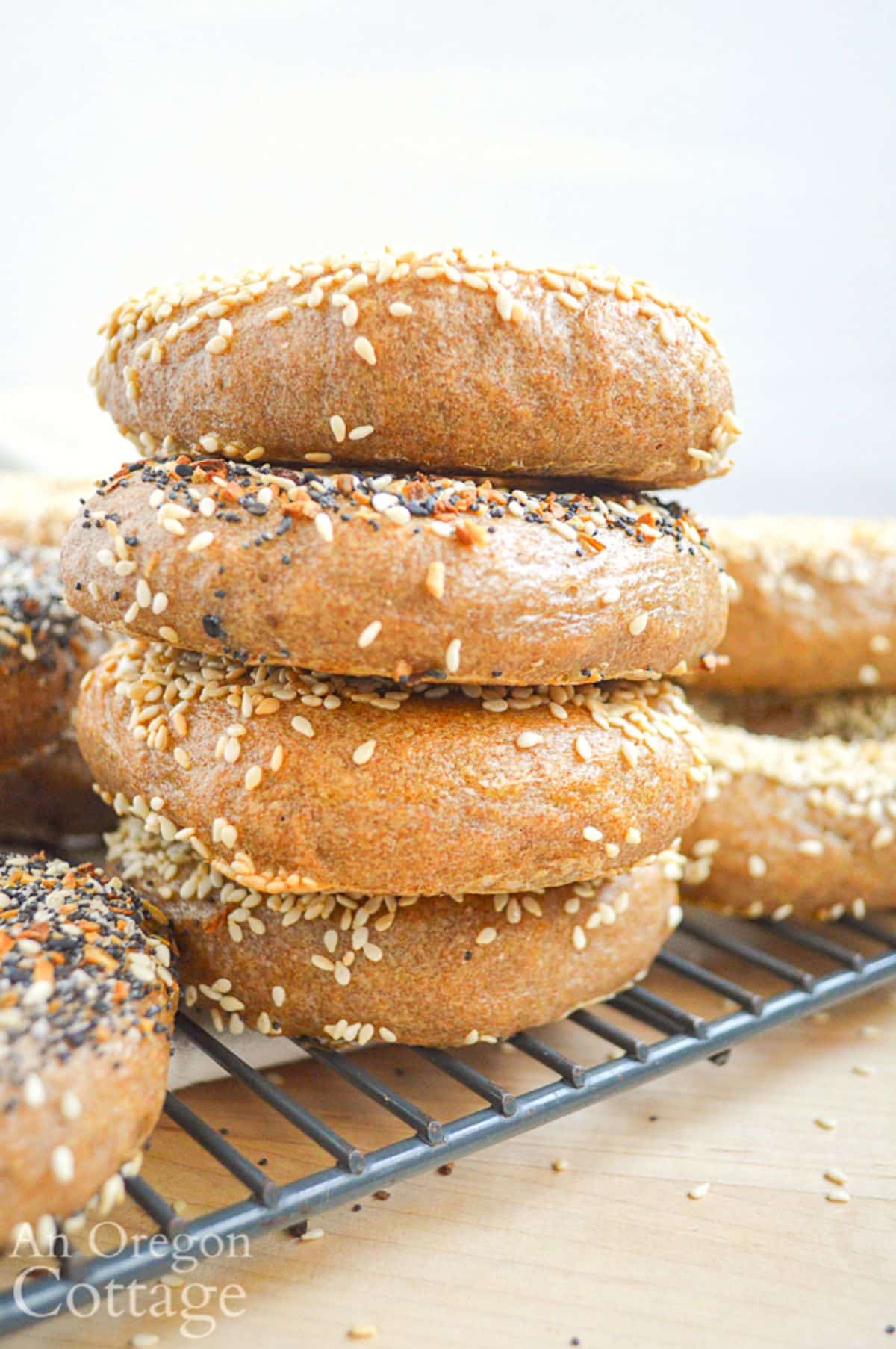 Sourdough bagels boast a distinct tangy flavor and a chewy, dense texture.
These bagels offer a satisfying option for breakfast or brunch, and you can customize them with your favorite toppings, spreads, and fillings to suit your taste preferences.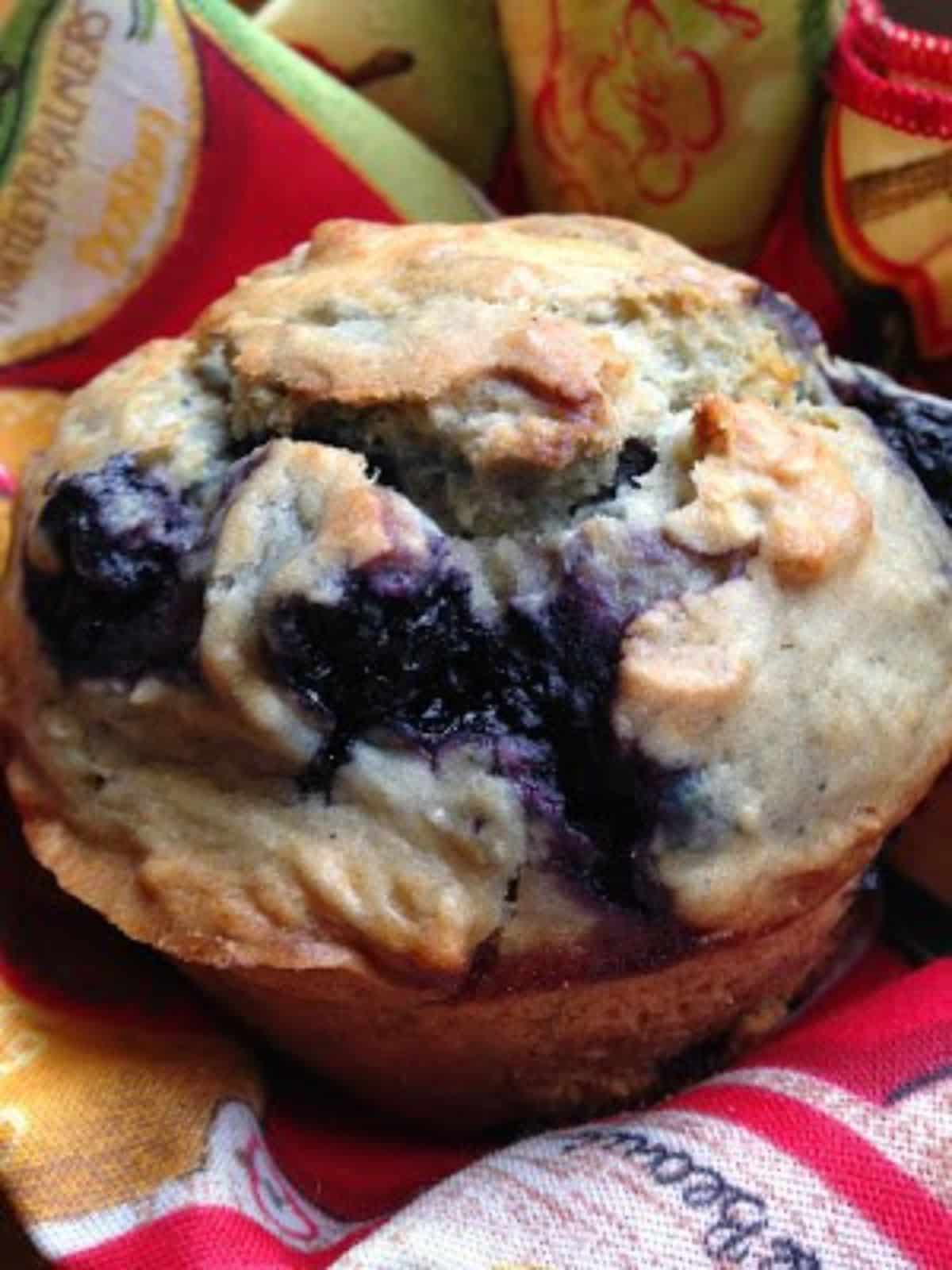 If you like juicy blueberries, you have to try this Sourdough Blueberry Muffins recipe.
The sourdough starter adds a subtle tanginess to the batter while creating a moist and tender crumb.
These muffins are perfect for breakfast or as a sweet treat any time of the day and are a great way to use up excess sourdough starter.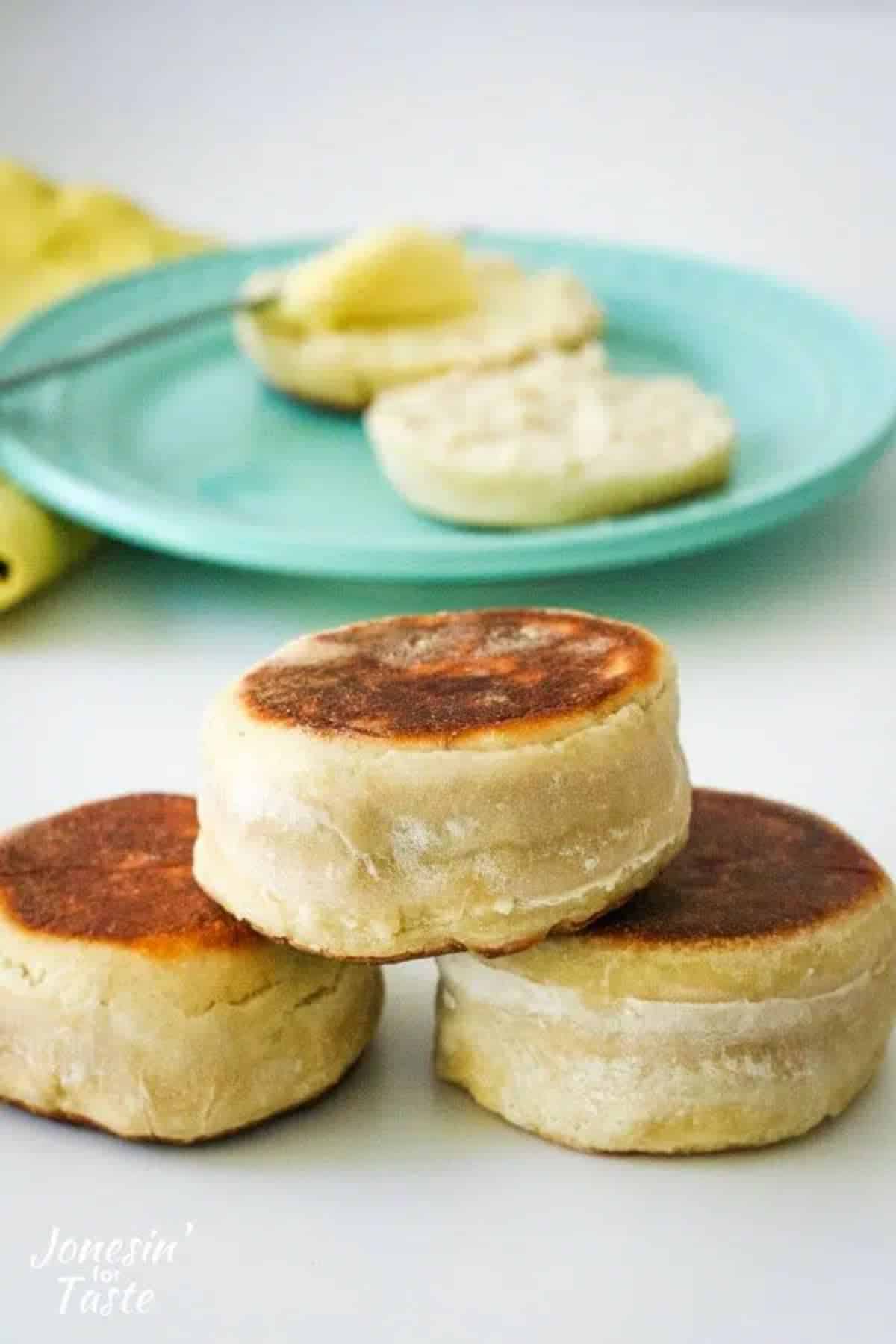 Sourdough English muffins are ideal for toasting, slathering with butter or your favorite spread, and enjoying as a satisfying breakfast or brunch option.
Their unique flavor, texture, and versatility also make them a beloved choice for breakfast sandwiches (think sausage, egg, and cheese), as a side with soups and stews, or even as a base for mini pizzas.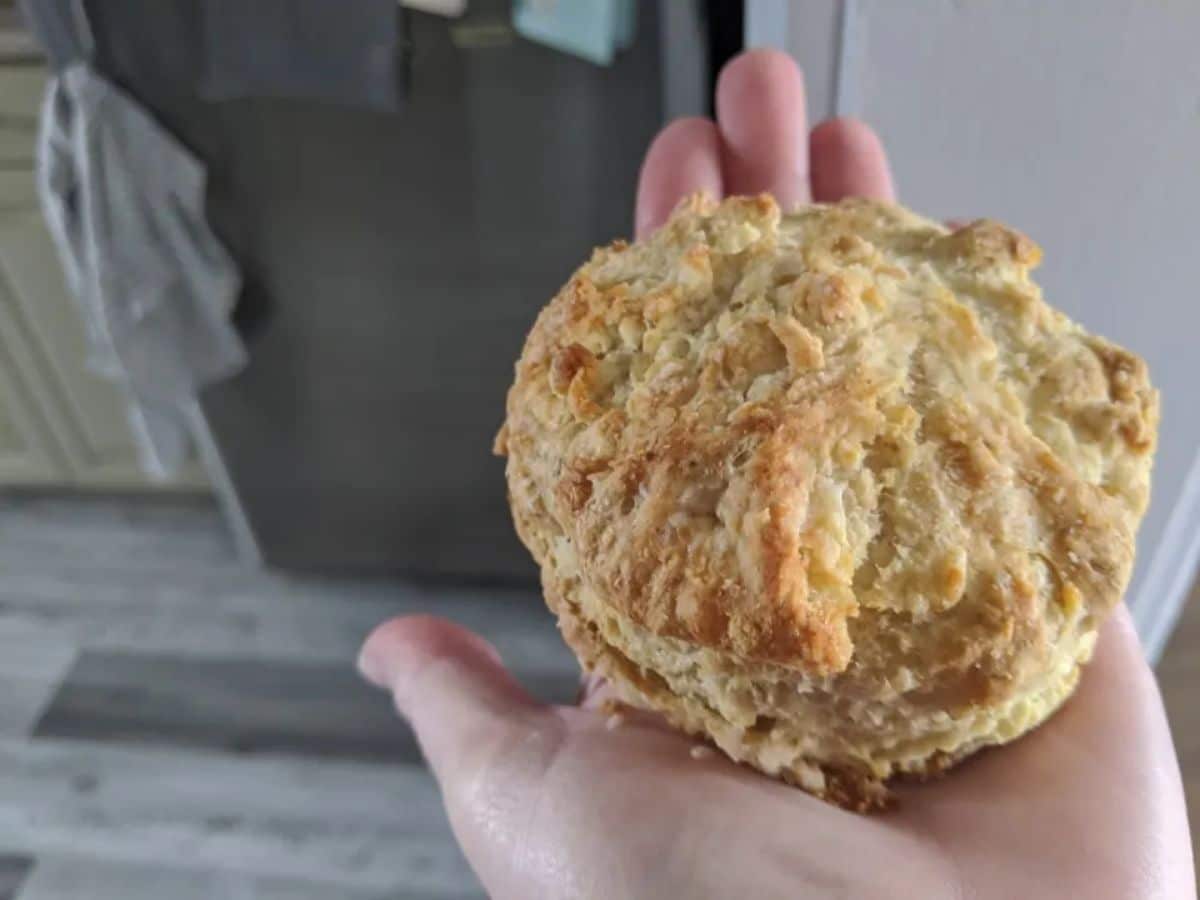 Grandma's sourdough biscuits are a cherished family recipe that results in tender, flaky, and tangy biscuits with a nostalgic flavor.
The sourdough starter imparts a subtle tanginess to the biscuits. At the same time, the combination of flour, butter, and buttermilk creates a light and fluffy consistency with layers that can be easily pulled apart.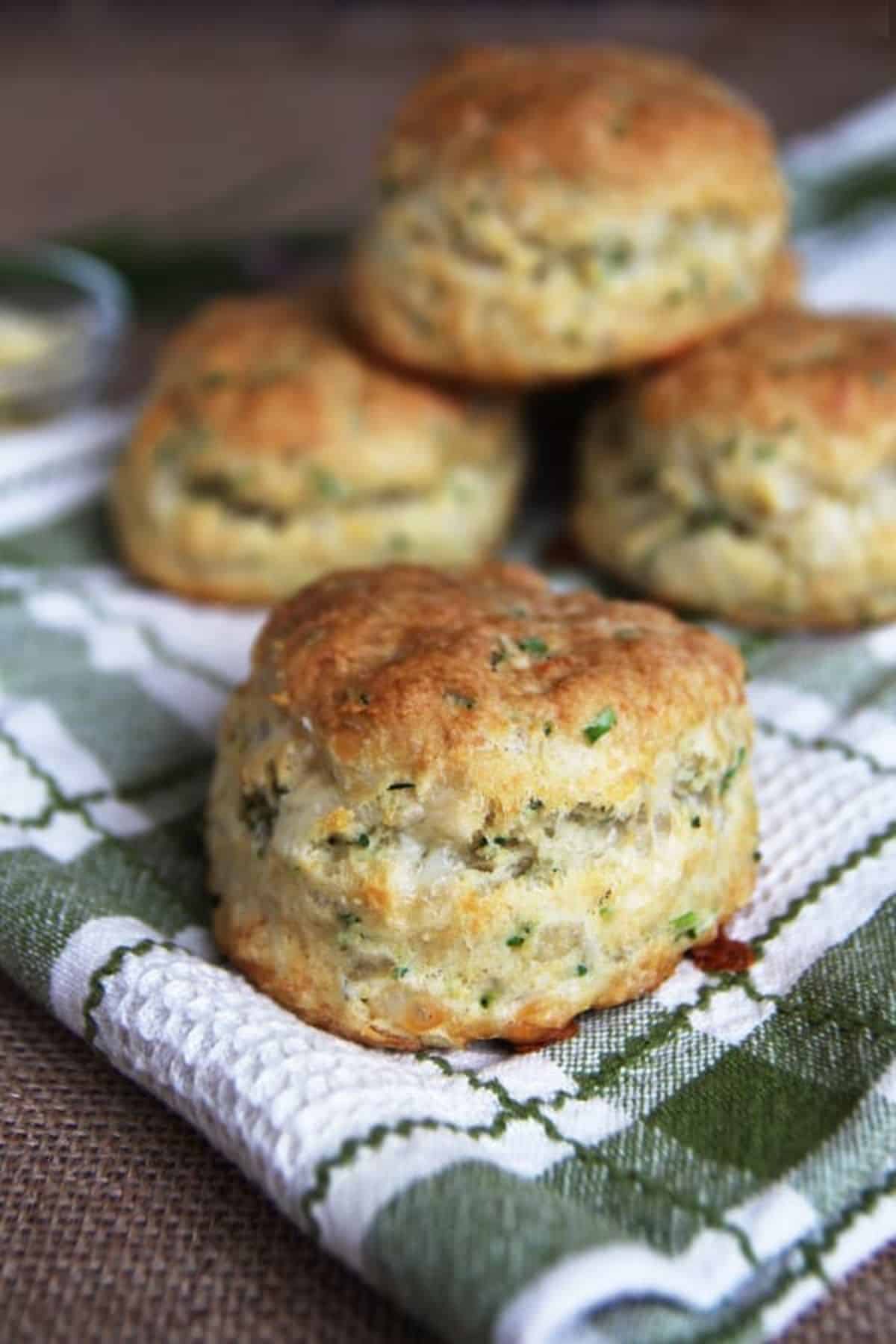 These cheese and chive sourdough biscuits offer a delicious twist on classic biscuits.
The combination of sharp sourdough, gooey cheese, and fragrant, savory notes of chives creates a mouthwatering flavor profile, perfect for a savory breakfast option or as a delicious accompaniment to soups, stews, or salads.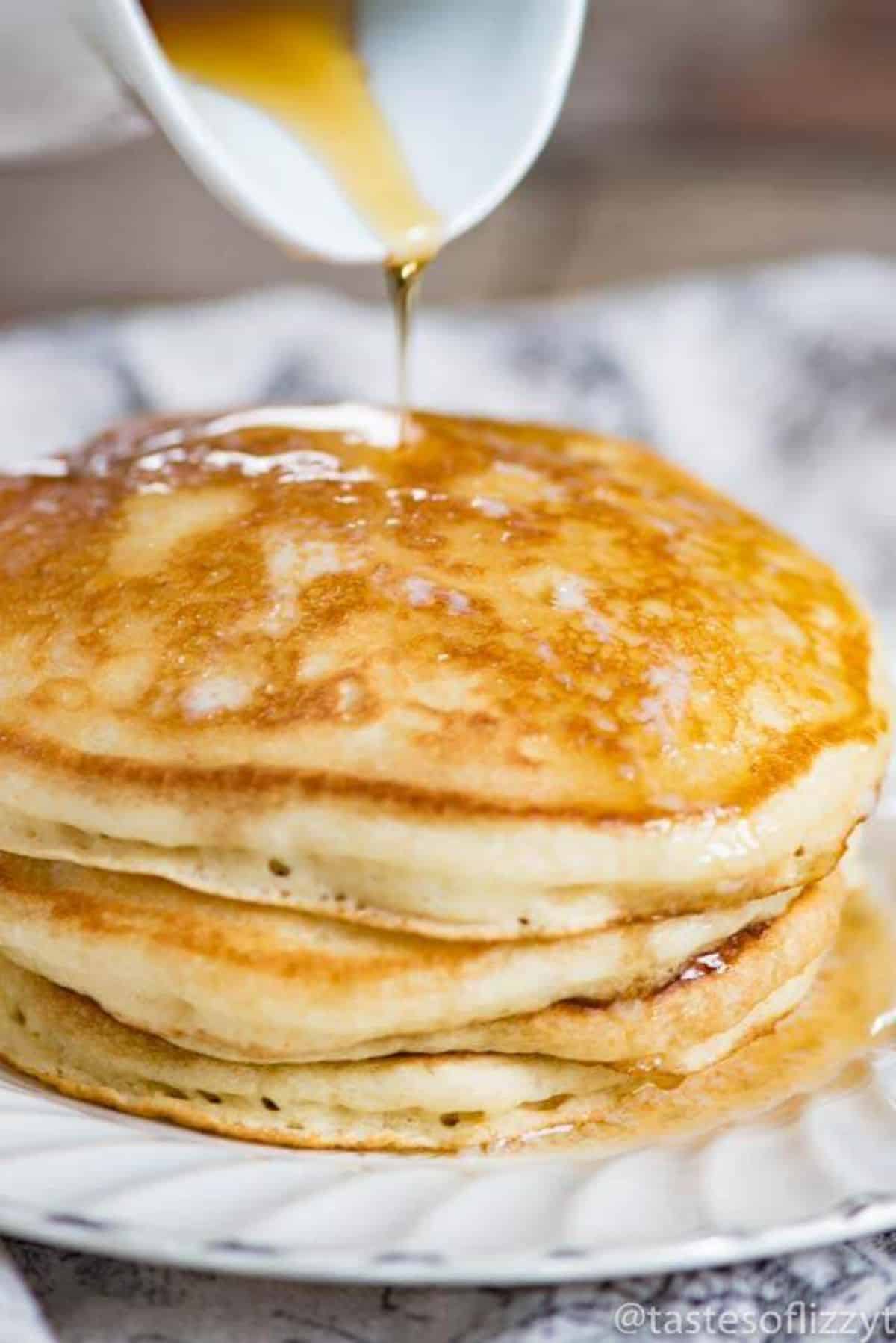 The sourdough starter provides a natural leavening agent in these sourdough pancakes, resulting in fluffy and light pancakes with a slightly tangy kick.
These pancakes are perfect for a delicious and hearty breakfast or brunch, and you can customize them with ingredients like maple syrup, bananas, blueberries, bacon, and more.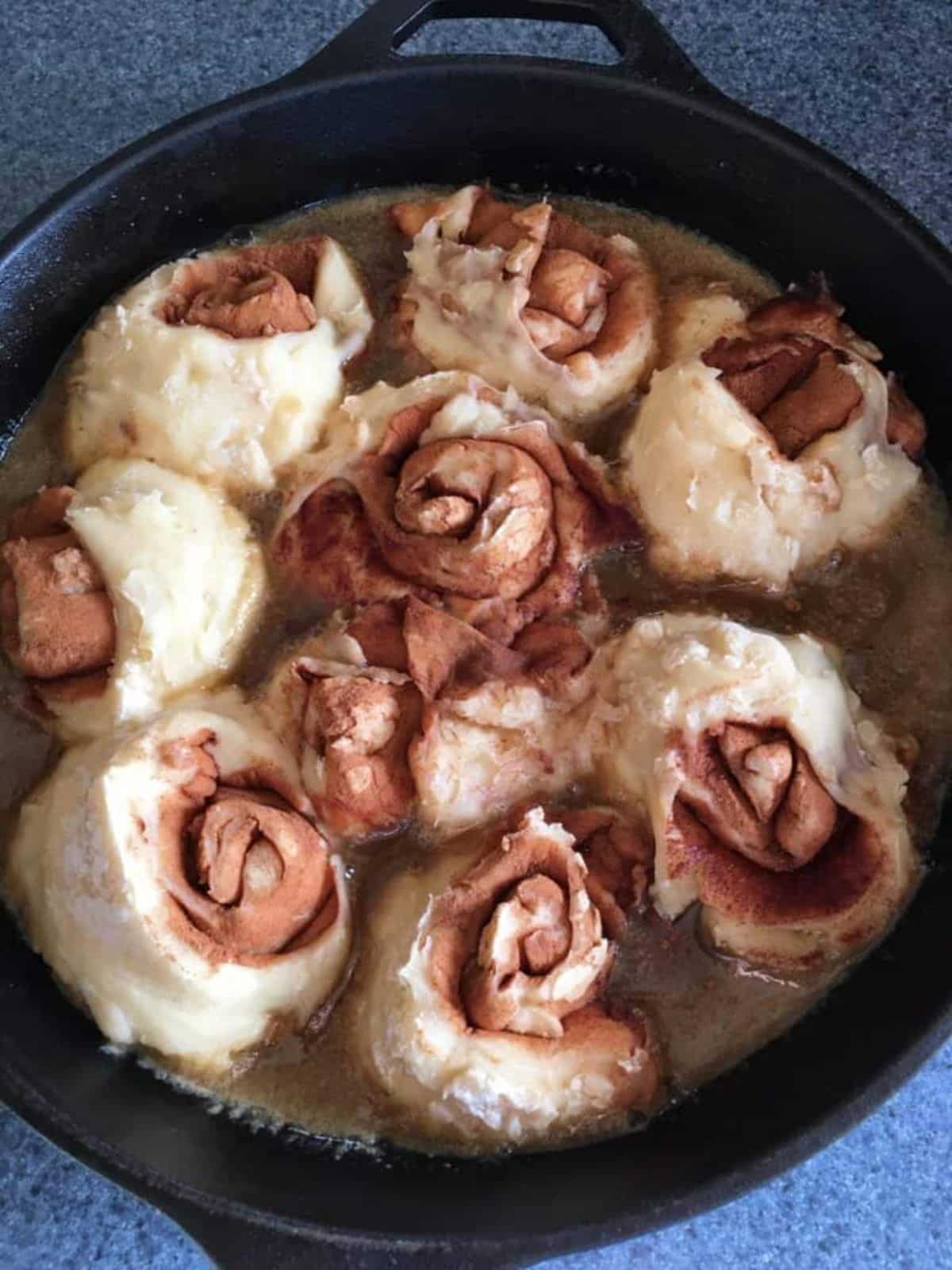 Sourdough caramel rolls are a decadent treat featuring rich, gooey caramel.
The rolls are soft, fluffy, and oozing with caramel sauce, creating a delightful, sweet contrast with the tangy flavor of sourdough.
These rolls are a show-stopping treat that will impress your family and friends at the next gathering.
Sourdough pie has a flaky, tender texture and a unique, sour flavor that pairs well with a wide range of pie fillings, from sweet to savory.
Sourdough pie crust is particularly well-suited for fruit pies, custard pies, quiches, and other pies, where a flaky crust with a tangy twist complements the filling perfectly.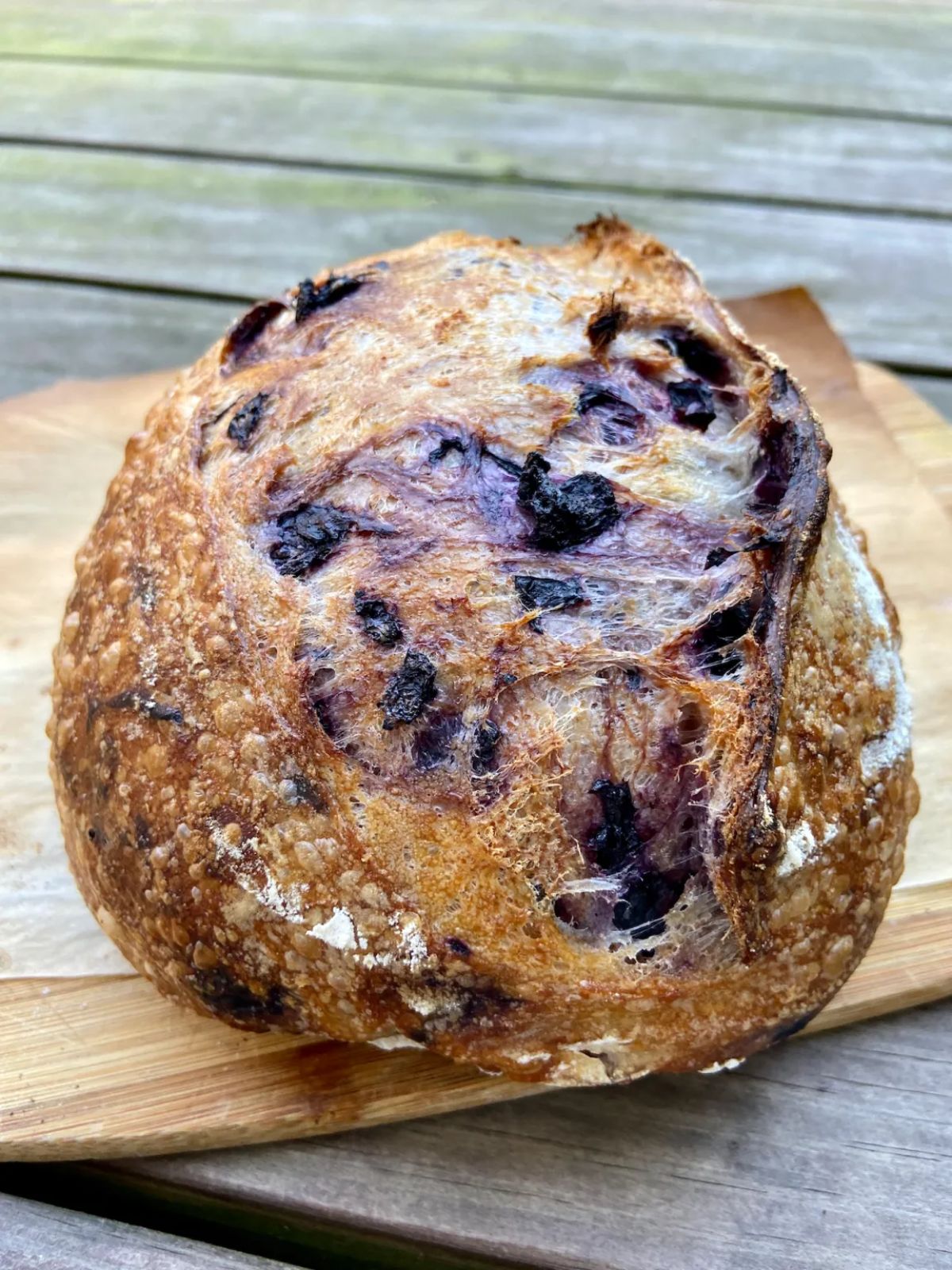 Blueberry sourdough bread incorporates juicy blueberries into the dough for a burst of sweetness and flavor.
This bread is perfect for toasting or as a base for sweet or savory toppings, such as butter, jam, and cream cheese. You can make a unique sandwich with savory fillings like goat cheese or prosciutto.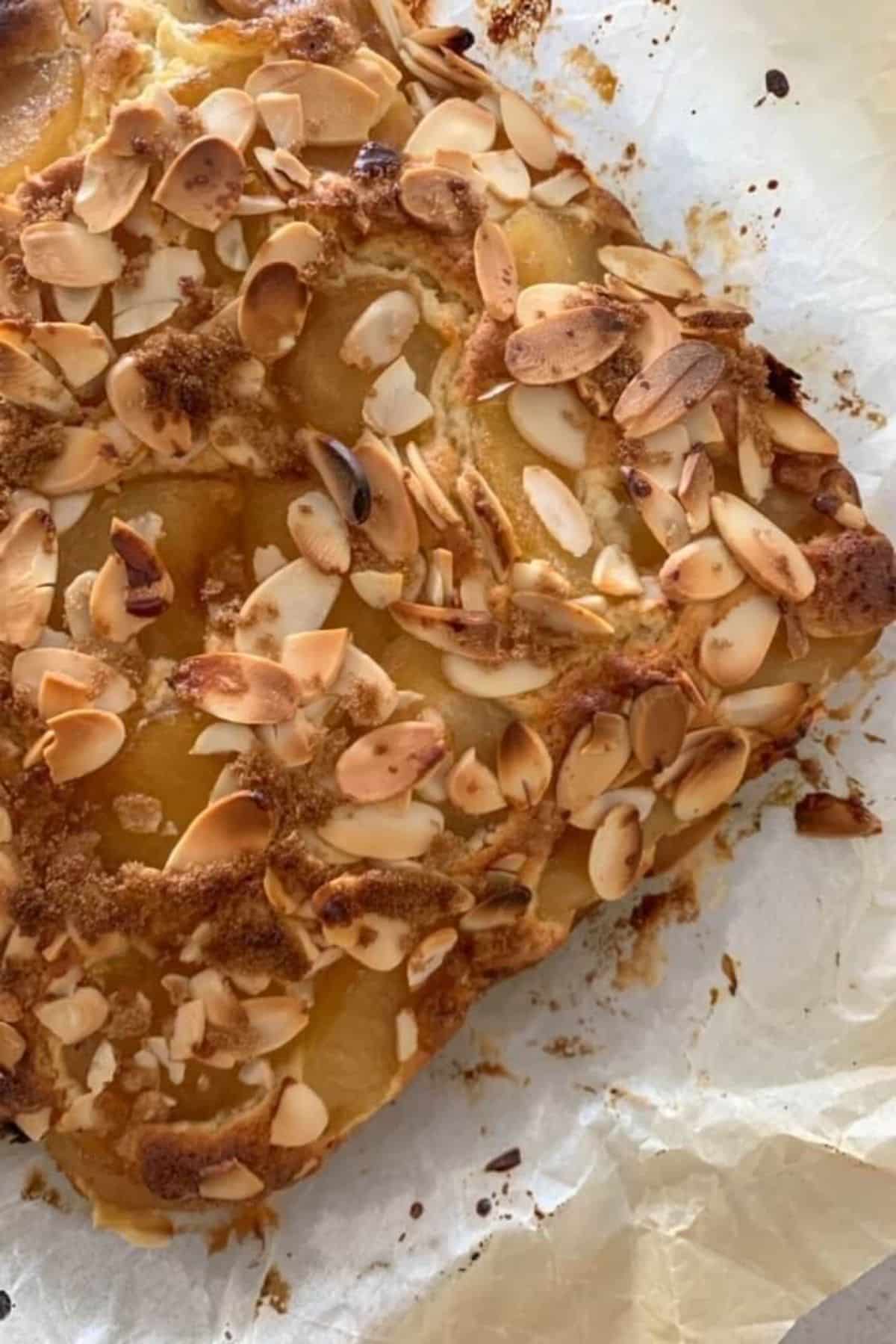 Sourdough apple cake is a genuinely gratifying dessert that combines sourdough's distinct tanginess with the apple's natural sweetness, resulting in a moist, flavorful, and dynamic cake.
It's an ideal treat for brunch, afternoon tea, or dessert. Plus, you can enjoy it on its own or with a dollop of whipped cream or a scoop of vanilla ice cream for extra indulgence.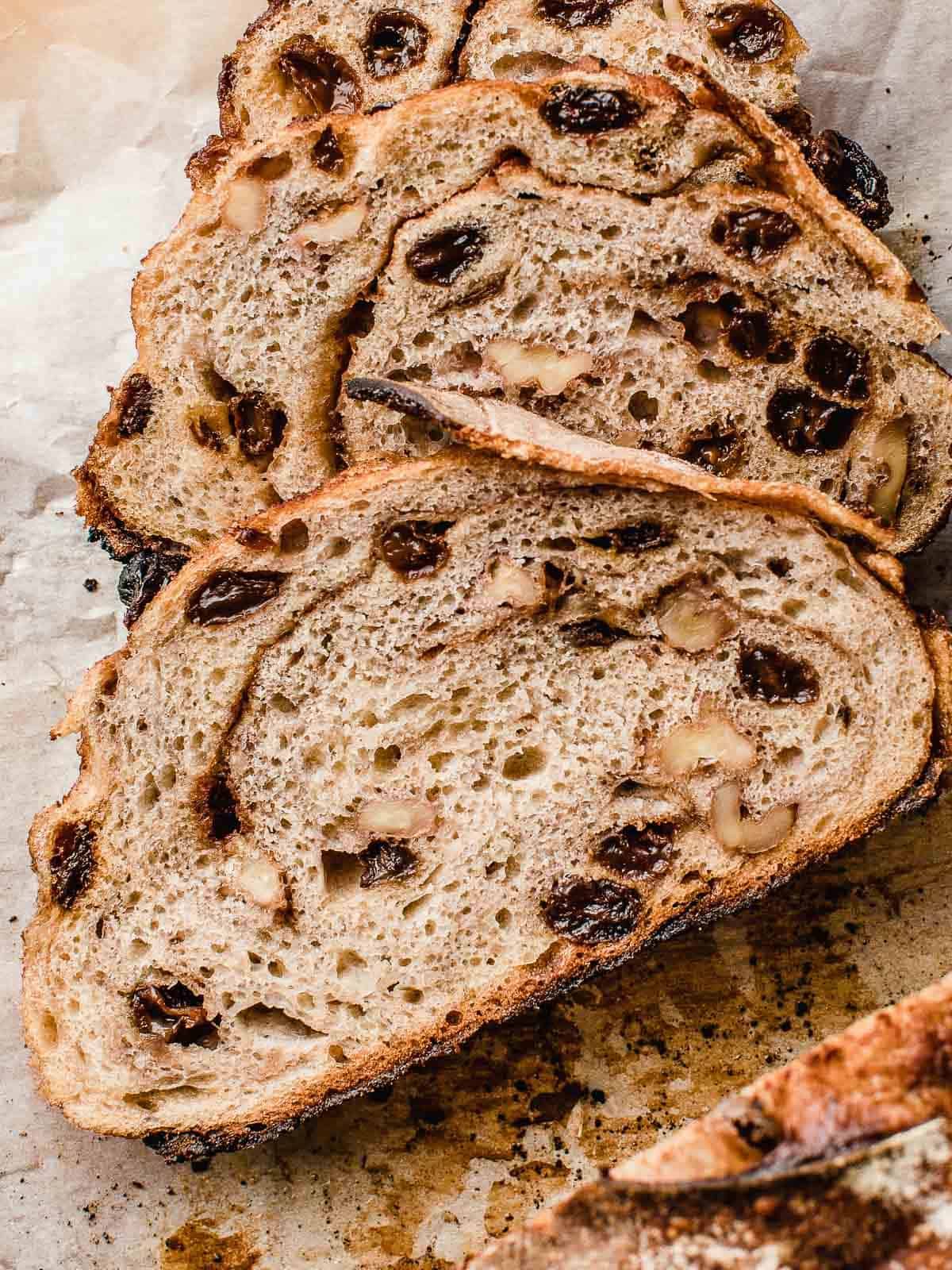 Cinnamon raisin sourdough bread is one of the most aromatic loaves of bread you'll ever make due to the warm cinnamon spice and the plump raisins' sweetness.
People tend to enjoy this bread first thing in the morning, toasted with a spread of butter or cream cheese. It also makes a delectable French Toast - you're welcome in advance!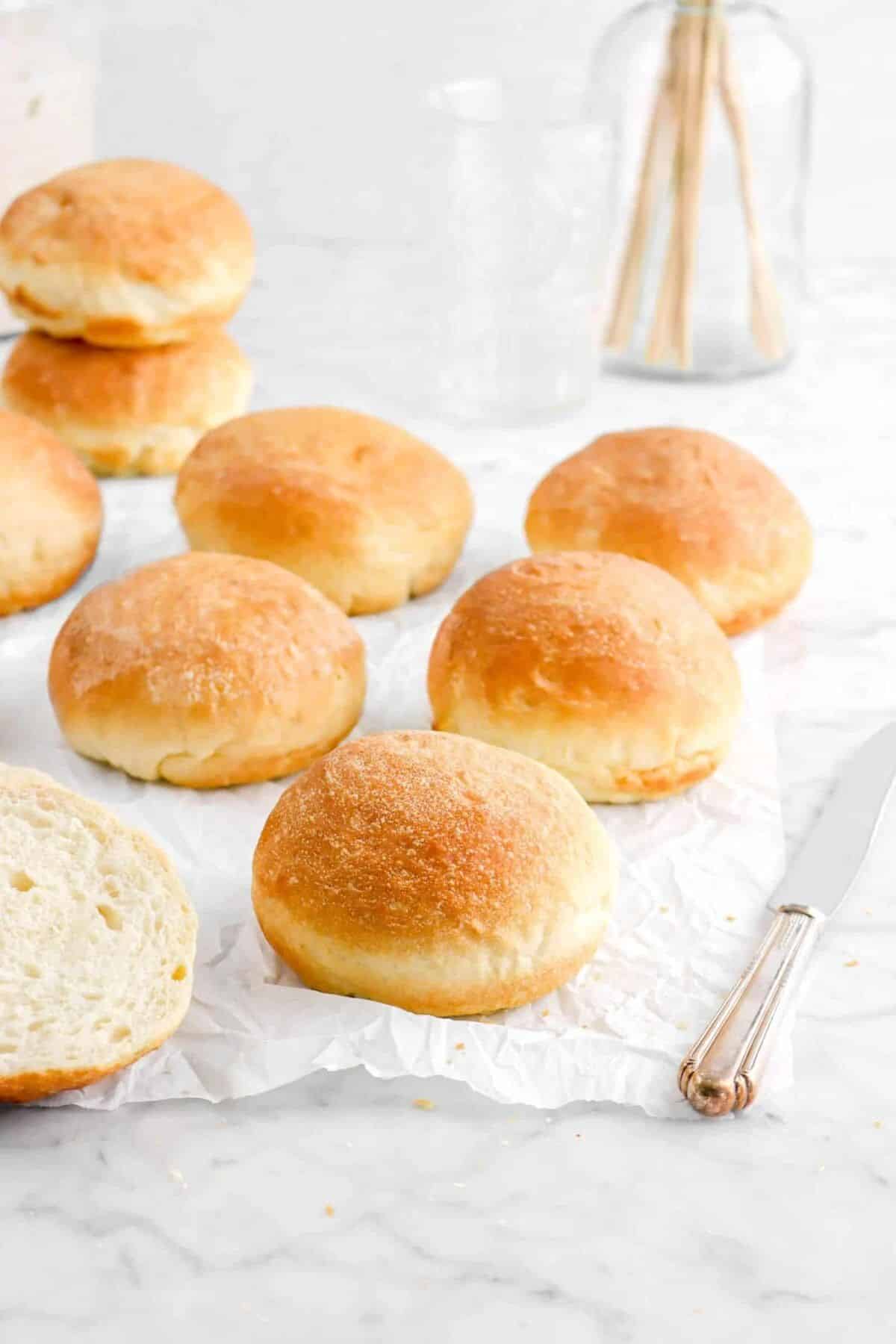 Sourdough hamburger buns can elevate your next burger with their soft, tender, and slightly chewy texture that perfectly complements the juicy burger patty.
They're great for sliders, pulled pork sandwiches, or any other sandwich creation where a soft yet sturdy bun is desired, and they impress guests at barbecues and cookouts.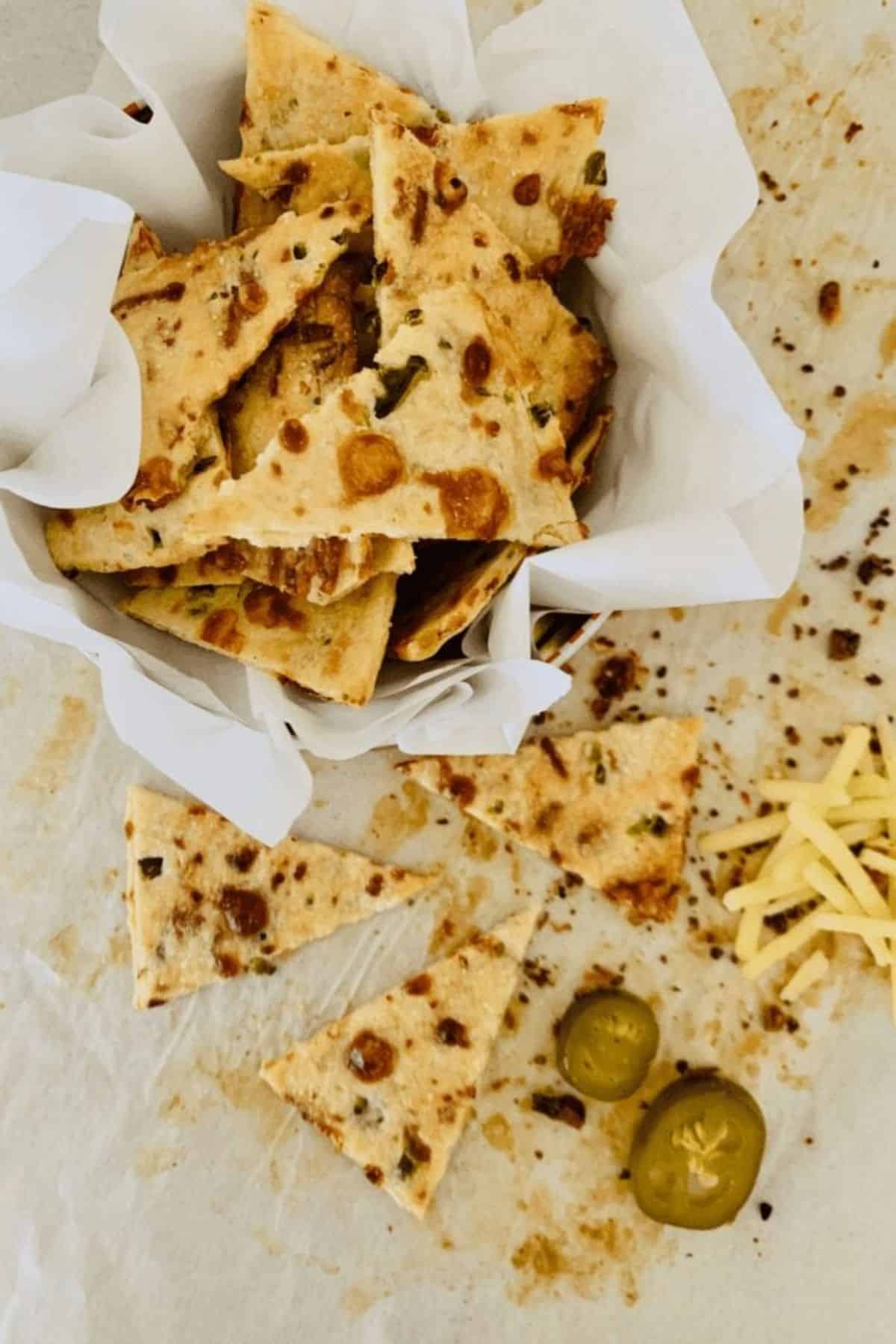 Sourdough crackers with jalapeño cheddar are a mouthwatering snack that delivers a burst of flavor with every bite, primarily due to the spicy kick of jalapeños and the rich, savory taste of cheddar cheese.
You can pair them with various cheeses, dips, and spreads, and they can make your next charcuterie board stand out.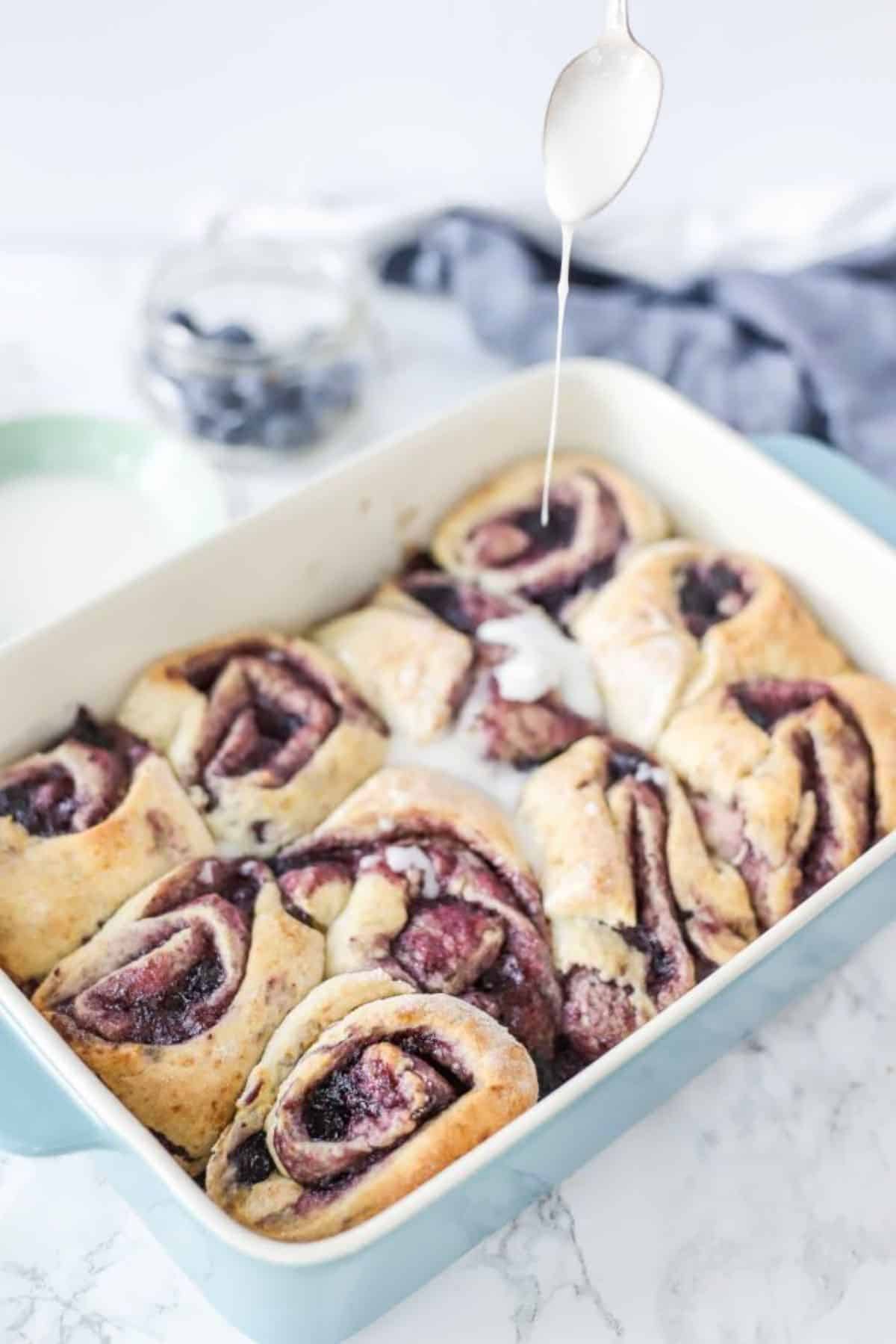 Blueberry sourdough sweet rolls are a heavenly indulgence with a soft, fluffy, moist texture and delightful bursts of juicy blueberries.
They are perfect for a melt-in-your-mouth sweet breakfast or a special post-dinner dessert.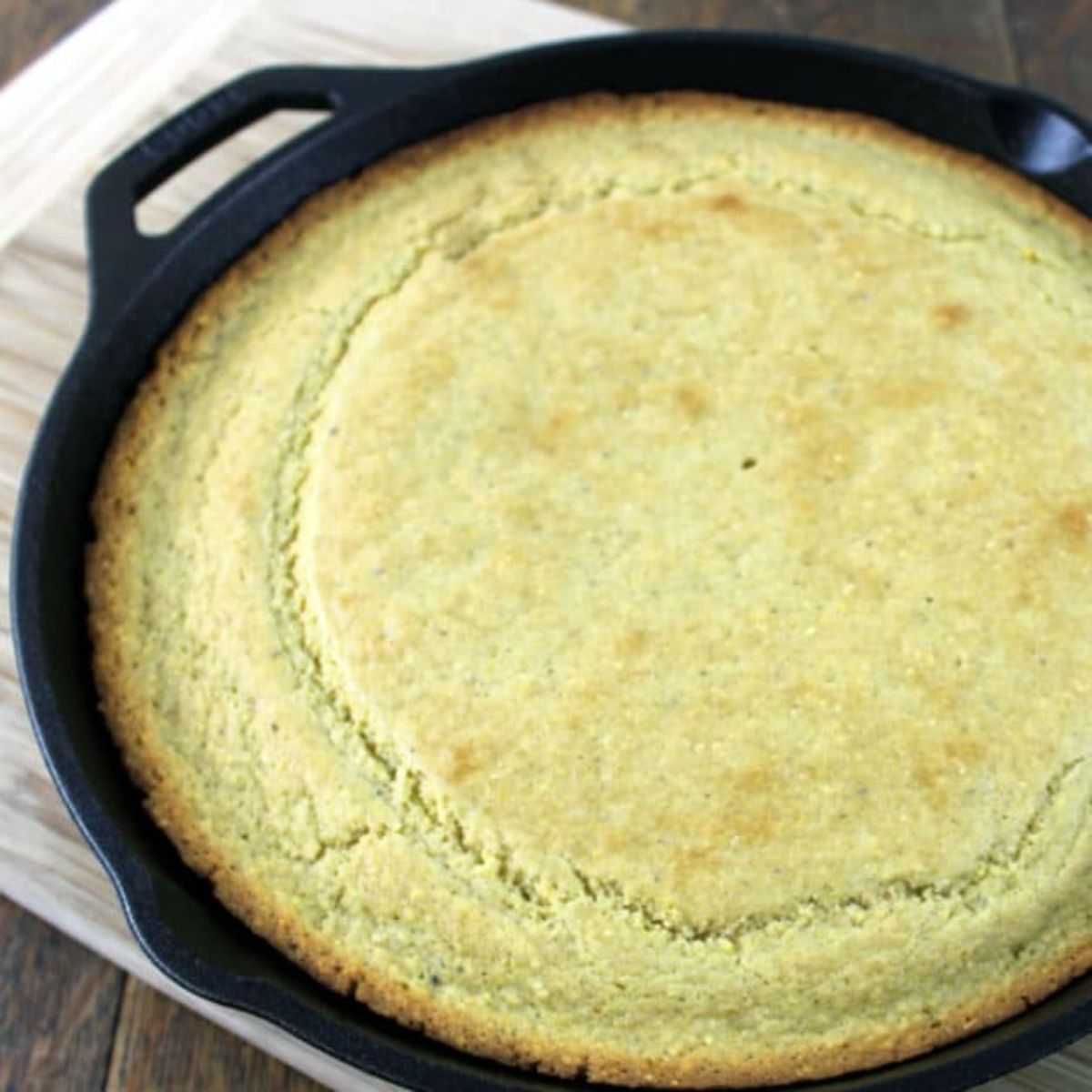 Sourdough cornbread is perfect for enjoying alongside a variety of savory dishes.
For example, it pairs wonderfully with chili, meaty stews, veggie soups, and saucy barbecue, adding a complementary tangy note that balances out the richness of the main dish.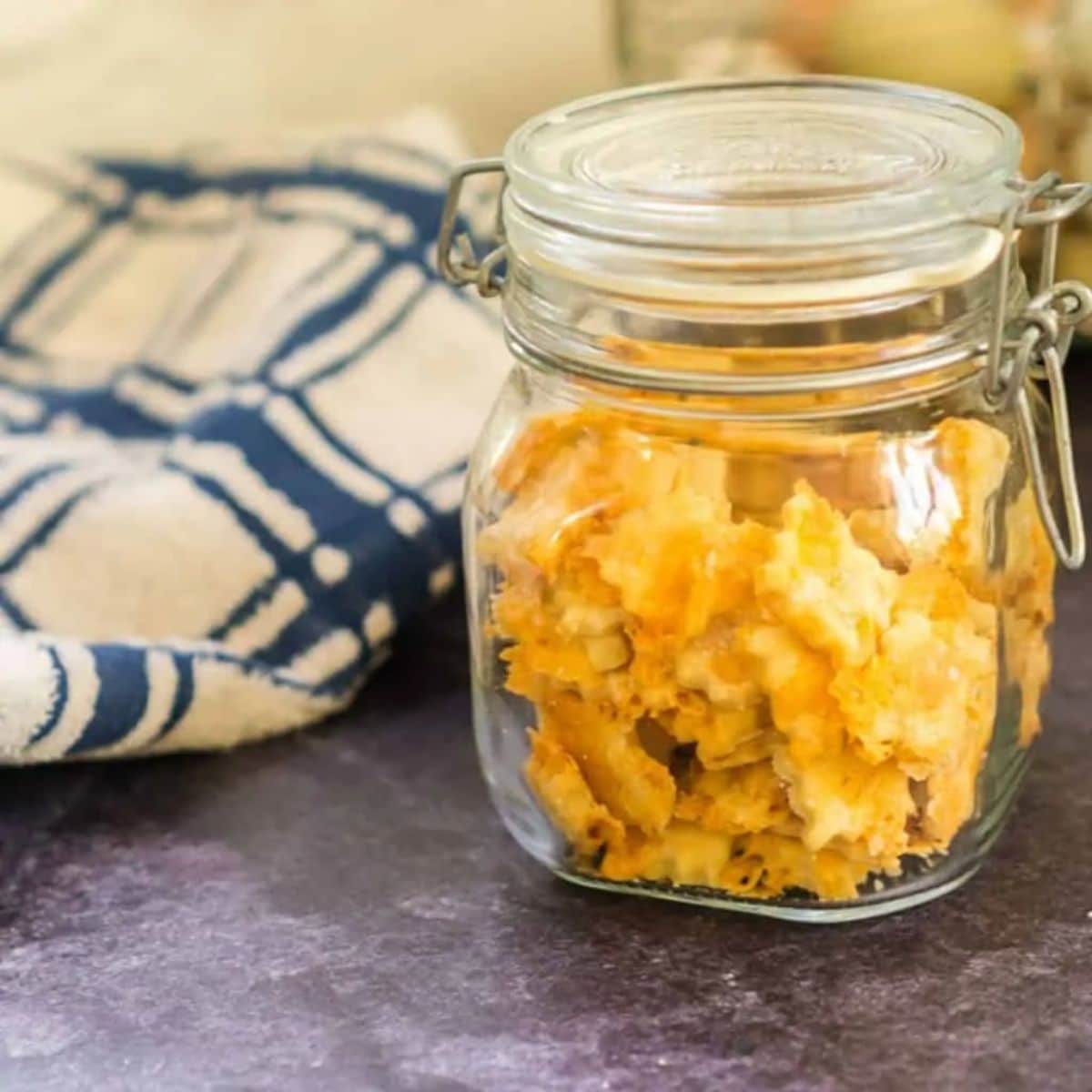 Sourdough cheddar crackers made with discard are a delicious and versatile snack that is relatively easy to make.
The tangy notes from the sourdough starter complement the sharpness of cheddar cheese, resulting in a savory and addictive taste.
Plus, the resulting crackers have a crispy, firm texture with a satisfying snap when bitten into, making them a crowd-pleasing appetizer.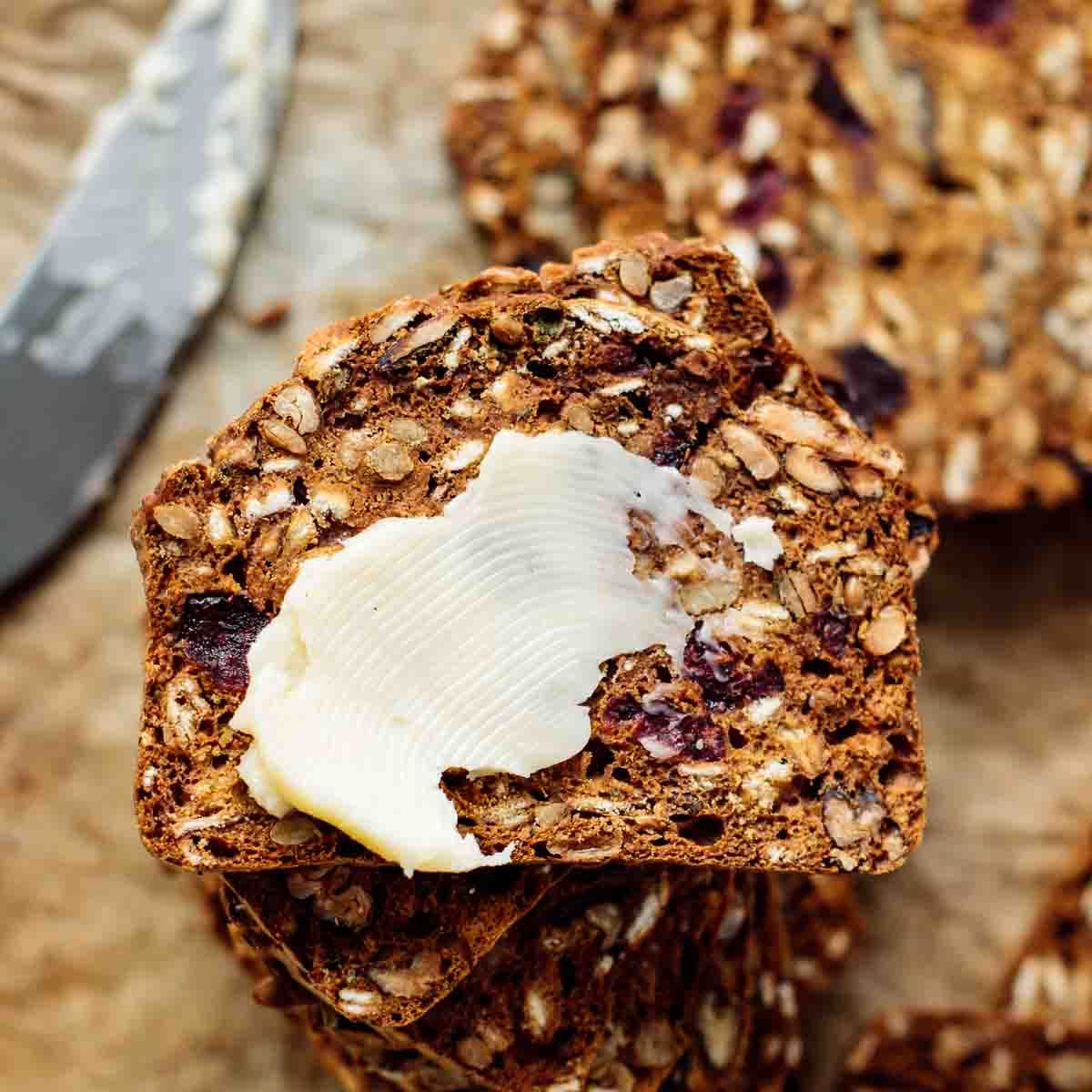 These sourdough crackers combine various textured ingredients such as pecans, cranberries, and sunflower seeds for a dynamic result.
Due to the detailed ingredient list, sourdough crackers have a crispy, crunchy texture that makes them addictive and satisfying.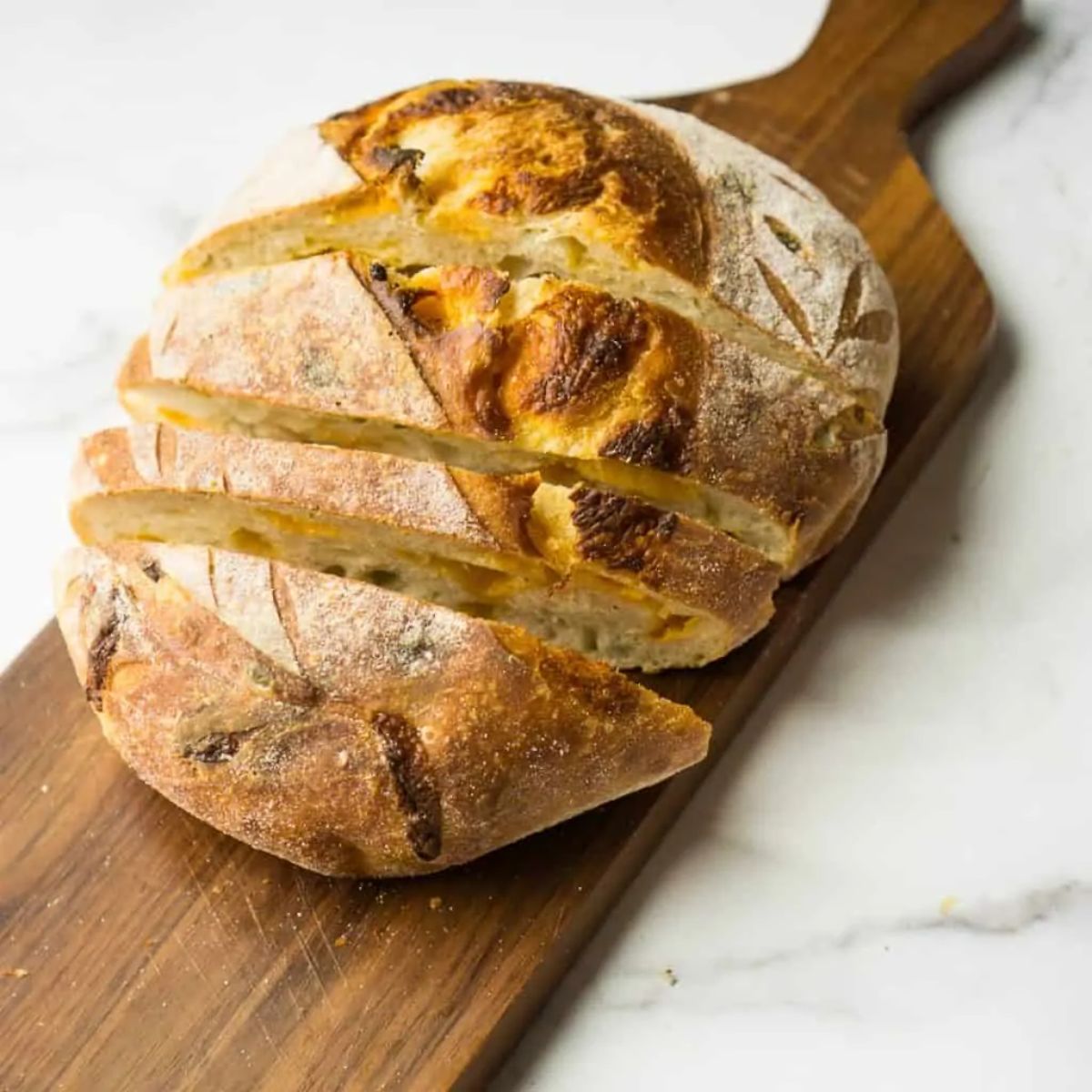 Just as tasty as sourdough crackers with jalapeno cheddar (mentioned earlier), jalapeno cheddar sourdough bread is an excellent option for those who prefer cheese in the form of a loaf rather than crackers.
The warm spice of jalapenos and the savory bite from cheddar cheese combine to make a bold flavor that pairs well with various main dishes like mac and cheese.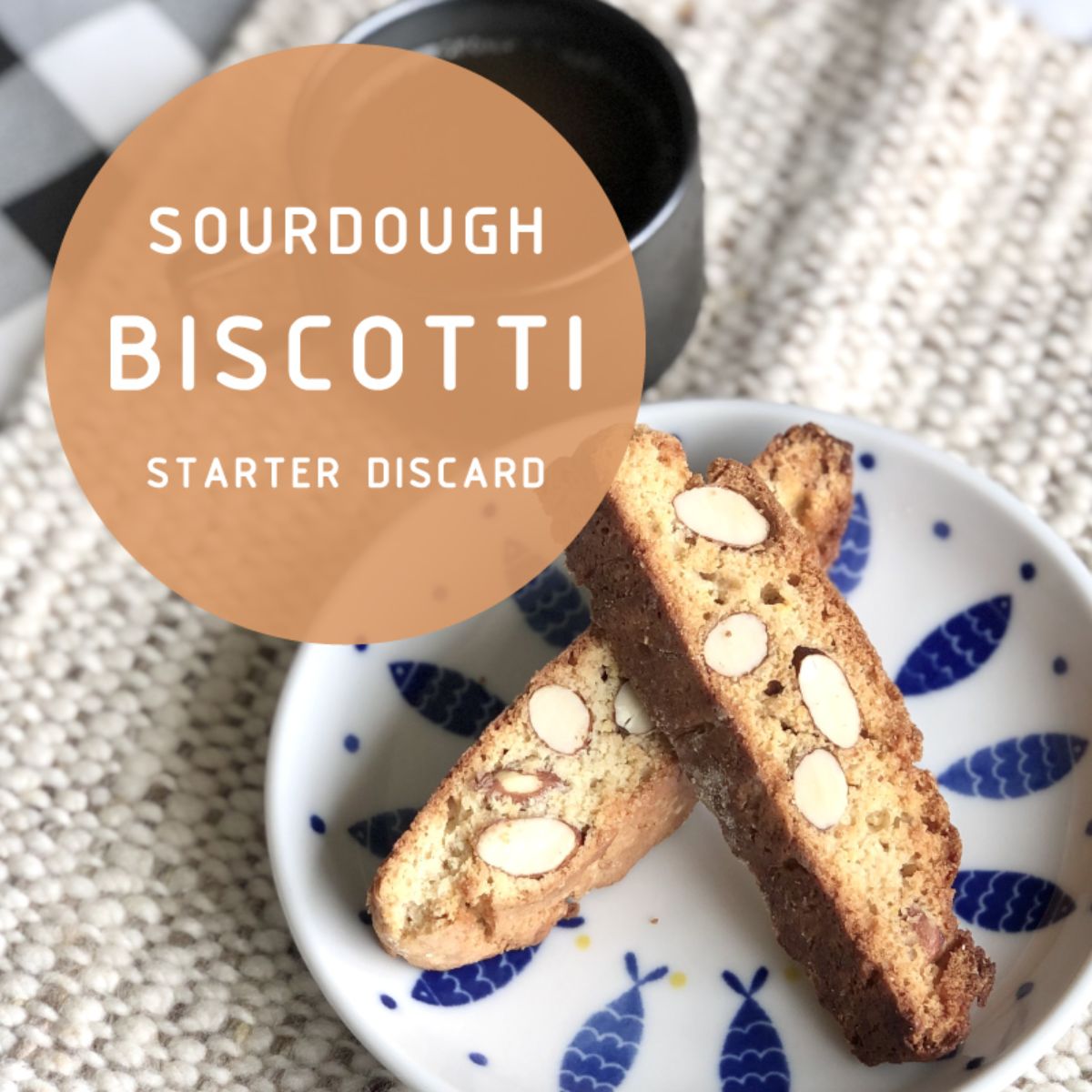 Crunchy sourdough starter discards biscotti is a remake of the classic Italian biscotti made using sourdough discard for an extra tangy flavor.
This biscotti is crispy and crunchy and perfect for dipping in coffee, tea, or dessert wine.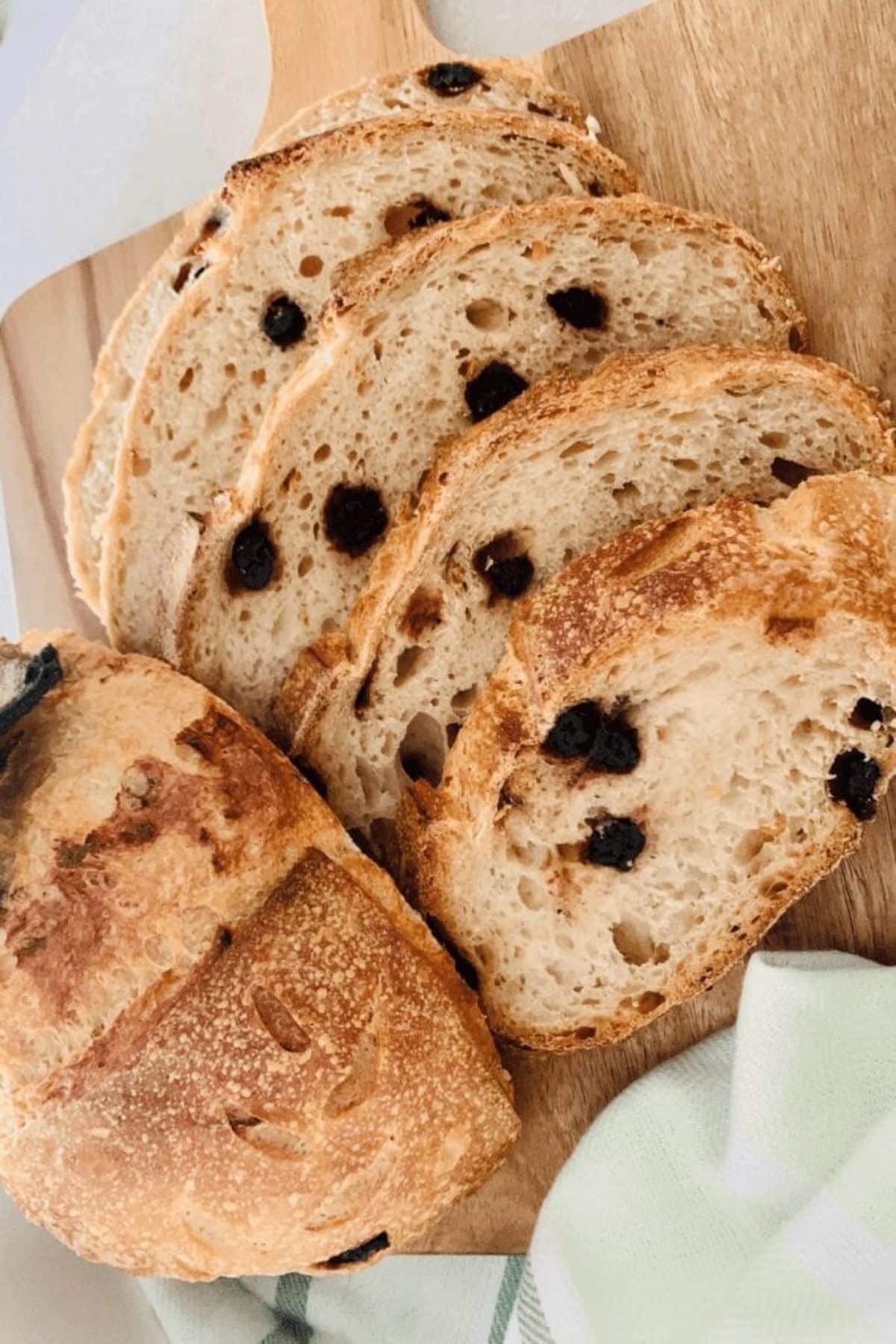 This delicious bread is perfect for indulging in a unique, satisfying breakfast or brunch.
Combining sweet maple syrup, tangy blueberries, and zesty lemon zest creates a burst of flavors perfect for starting your day on a delicious note.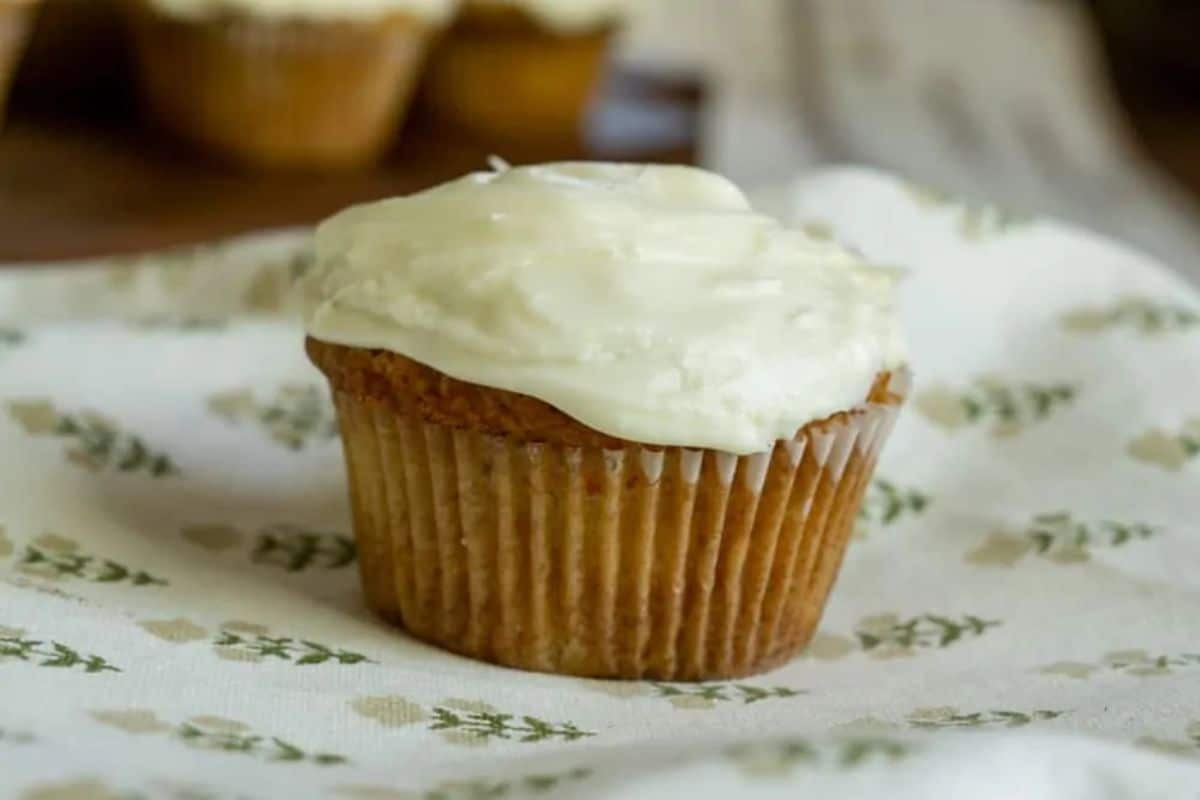 This Sourdough Carrot Cupcakes with Cream Cheese Frosting recipe is a delightful treat with complementary flavors and textures, including sweet, tangy, moist, and creamy.
These cupcakes are fantastic for special occasions like birthdays, weddings, and other gatherings or as a sweet treat for a cozy afternoon snack.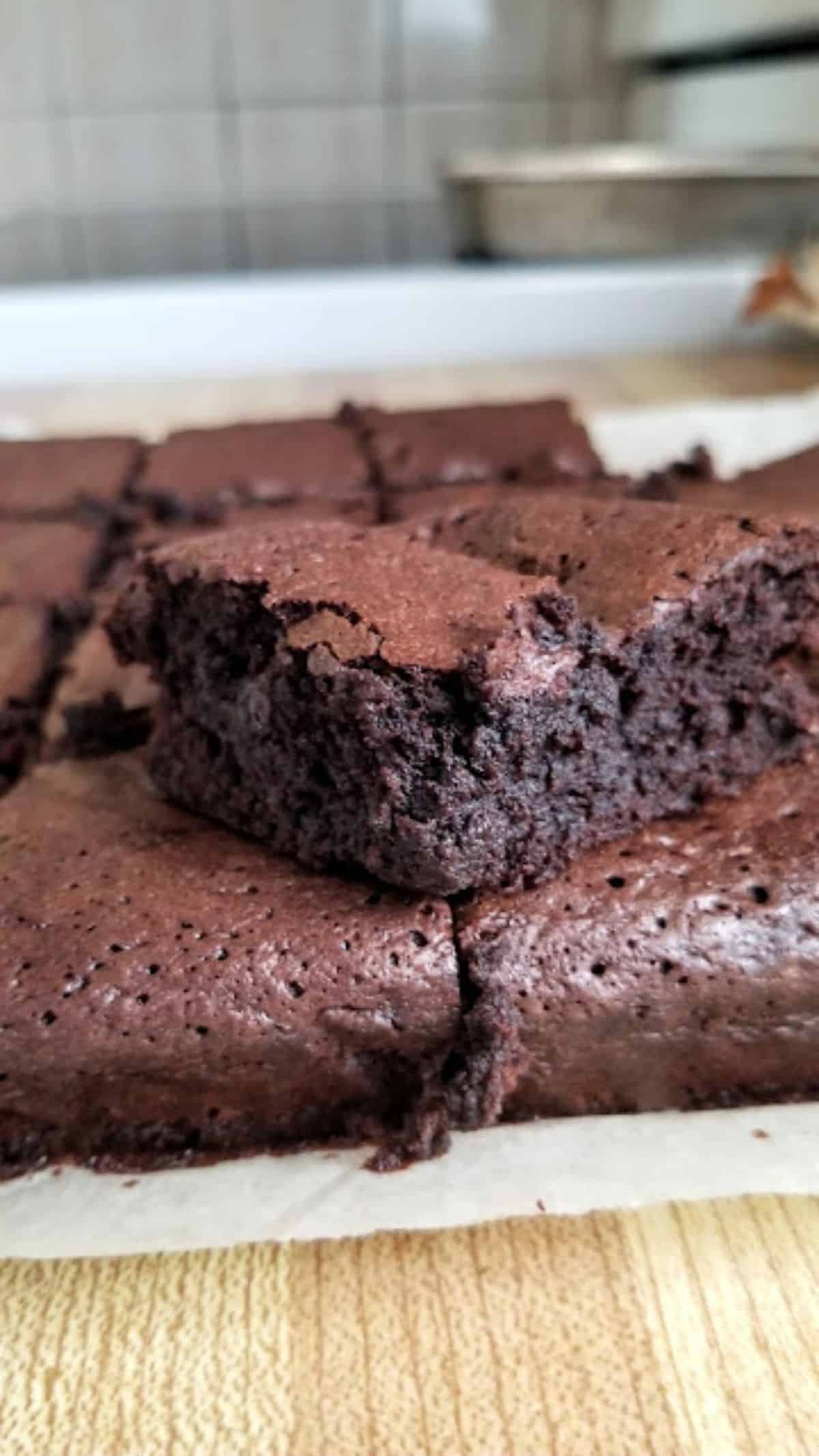 This Sourdough Discard Brownies recipe proves a creative and delicious way to use up leftover sourdough starter. The brownies have a rich and fudgy texture that's to die for.
Perfect for indulging in a sweet treat while reducing food waste, these sourdough discard brownies are a delightful twist on a beloved dessert.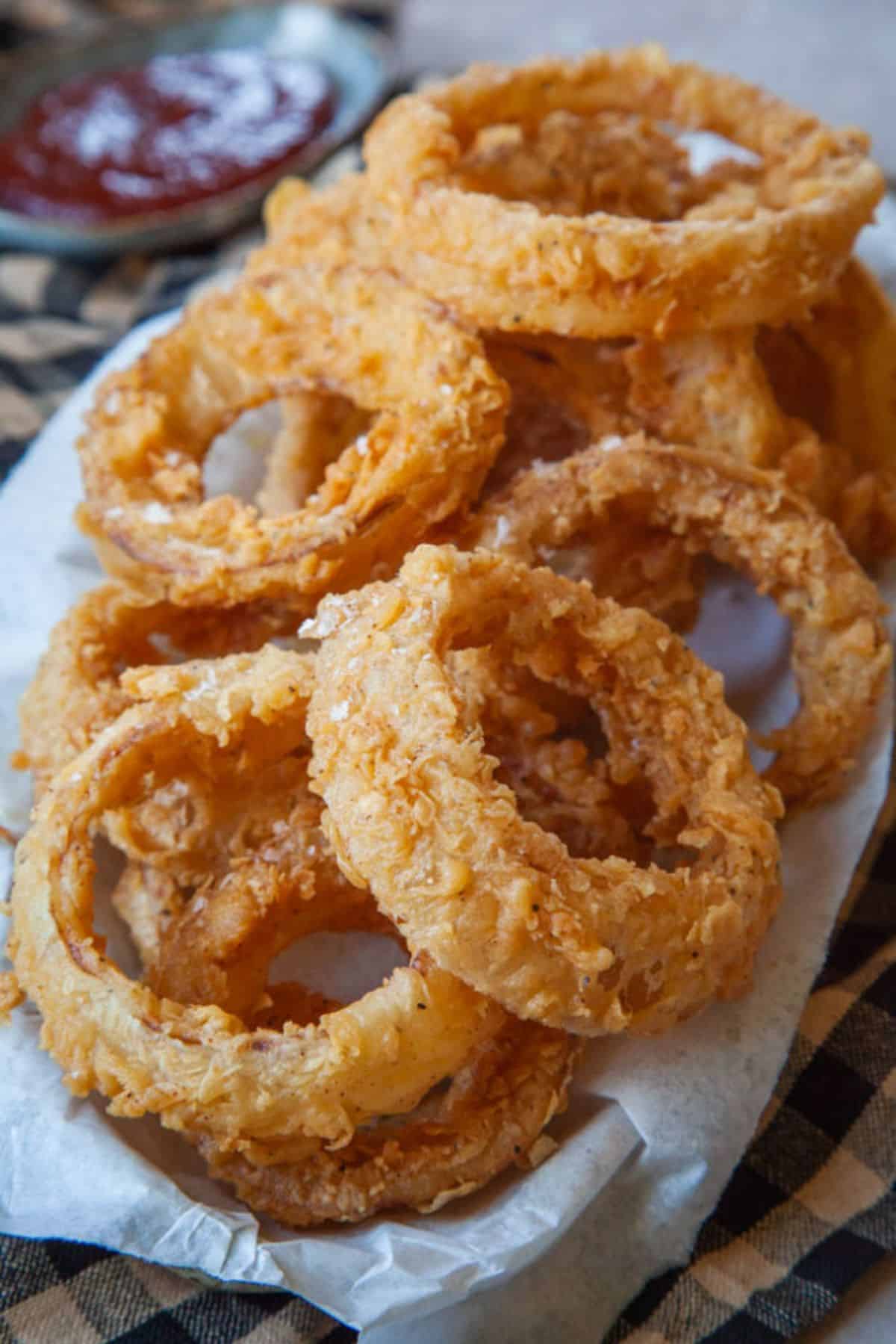 Sourdough Onion Rings are a deliciously tangy and crispy take on a classic favorite.
The sourdough's tanginess pairs swimmingly with the onion's subtle sweetness and umami flavor. These rings are ideal for snacking, entertaining, or indulging in a tasty appetizer.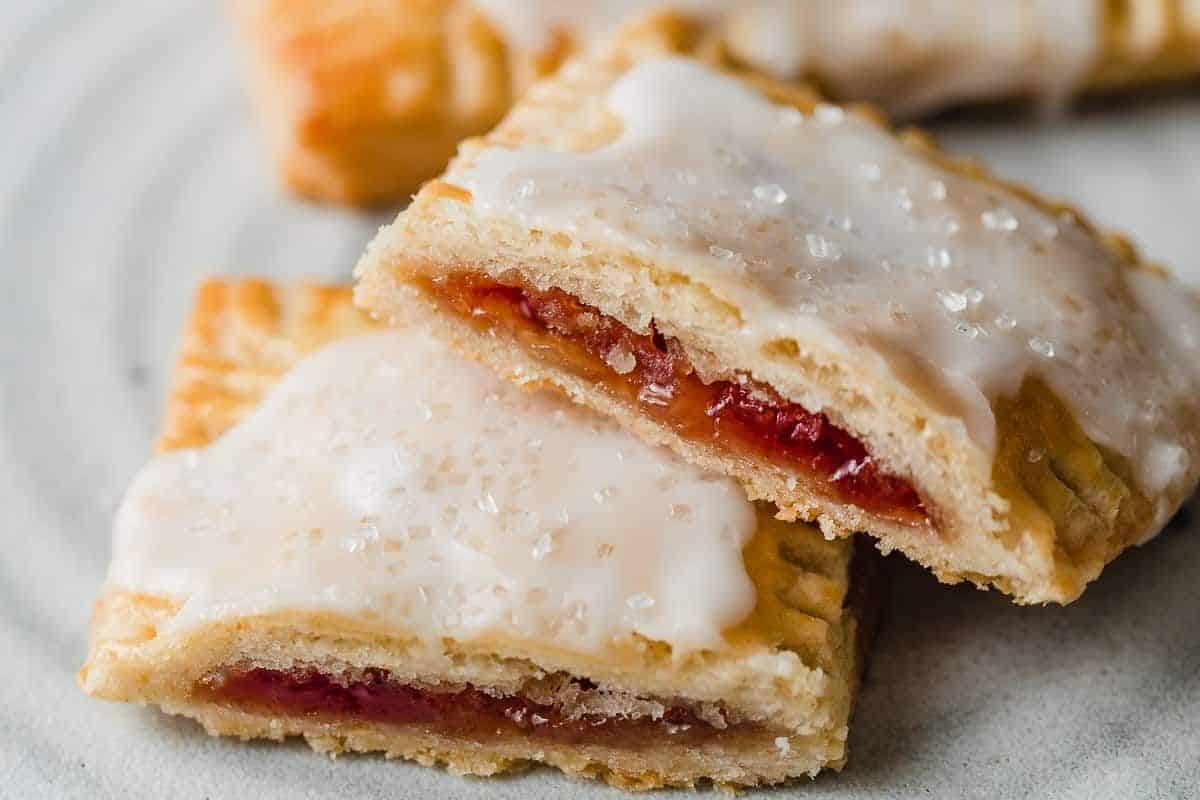 Sourdough Pop-Tarts are an inventive way to enjoy a sweet and savory breakfast treat.
The tanginess of the sourdough starter pairs well with various sweet, fruity fillings like raspberry and strawberry jam.
These pop-tarts are a fun way to elevate your standard breakfast in a way the whole family will surely appreciate!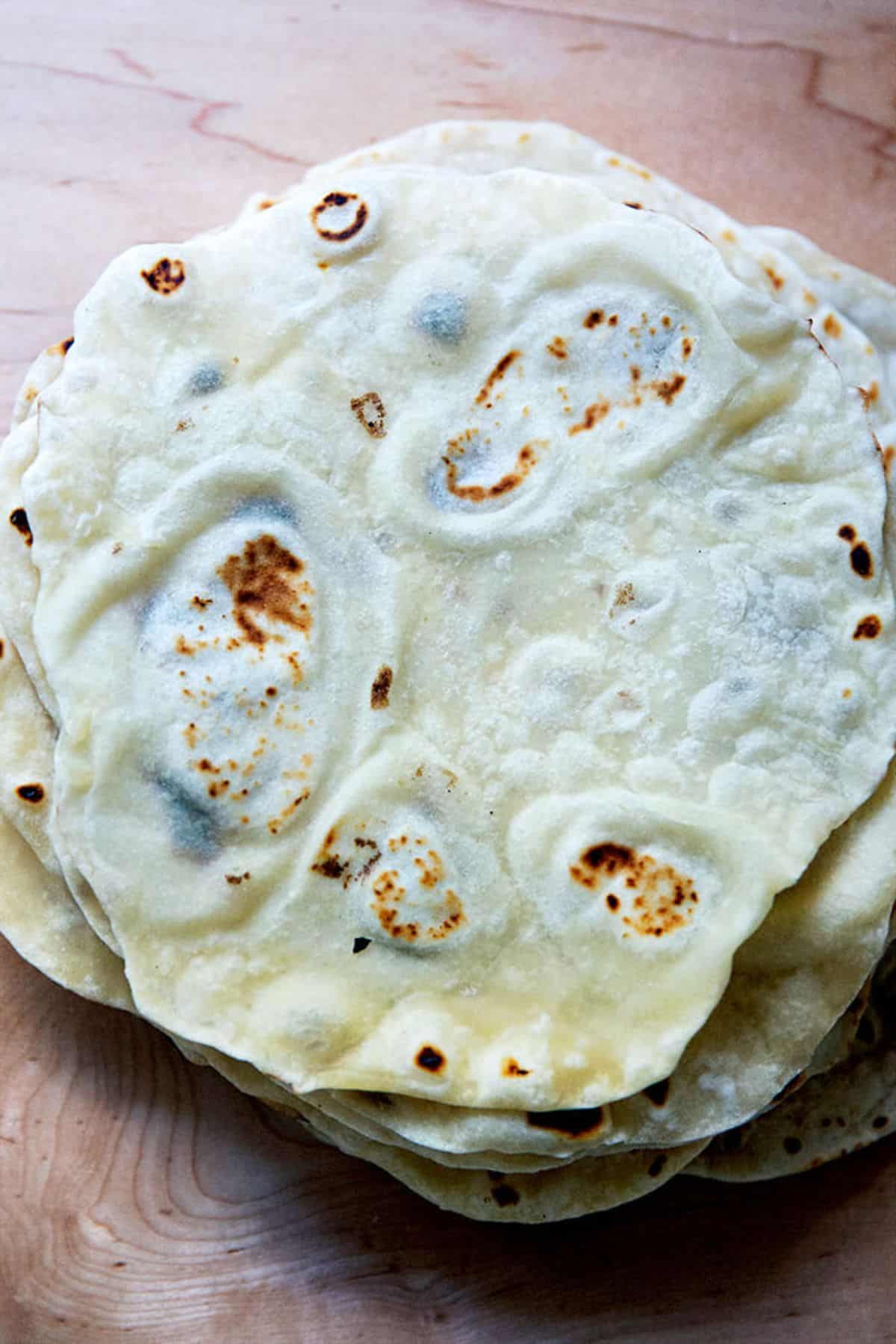 Sourdough flour tortillas are a flexible, slightly sour flatbread, and just like standard flour tortillas, they're perfect for making tacos, quesadillas, or wraps.
The slightly tangy taste pairs well with an extensive list of fillings such as grilled meats, sautéed vegetables, beans, cheese, and salsa, making them a versatile option for creating delicious Mexican-inspired meals at home.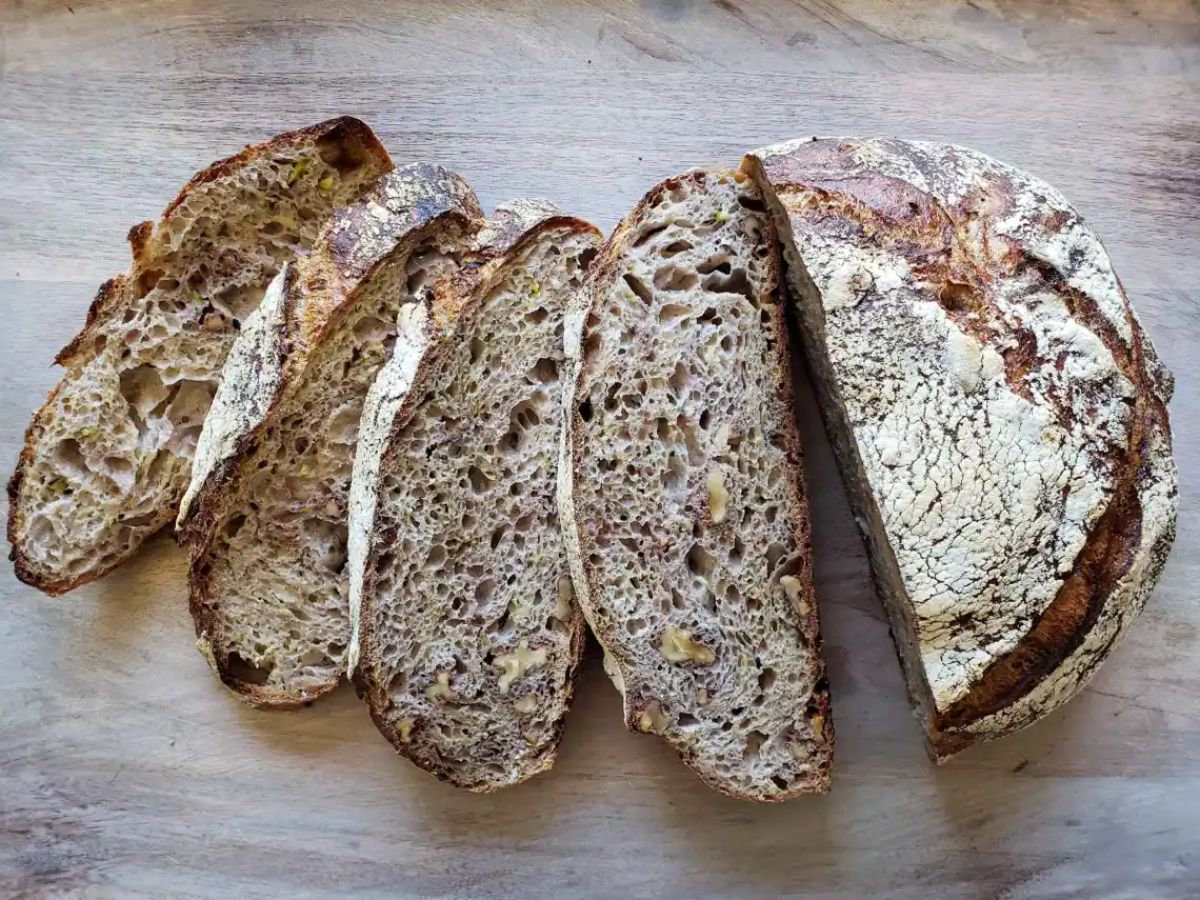 This Rustic Zucchini & Walnut Sourdough Bread recipe makes a hearty, flavorful loaf featuring the earthy taste of zucchini and the crunchy texture of walnuts, perfect for adding a twist to your sourdough bread repertoire.
This bread is excellent for toasting, enjoying with a cup of coffee or tea in the morning, or slathering it with butter or cream cheese for a savory snack, making it a wonderful treat for any bread lover.