So you just purchased your and can't wait to put it to work? Don't worry; this article will show you exactly how to do that! The 45 recipes below are some of the most straightforward air fryer recipes you can find on the web, and we have picked them especially so they suit all kinds of cook levels.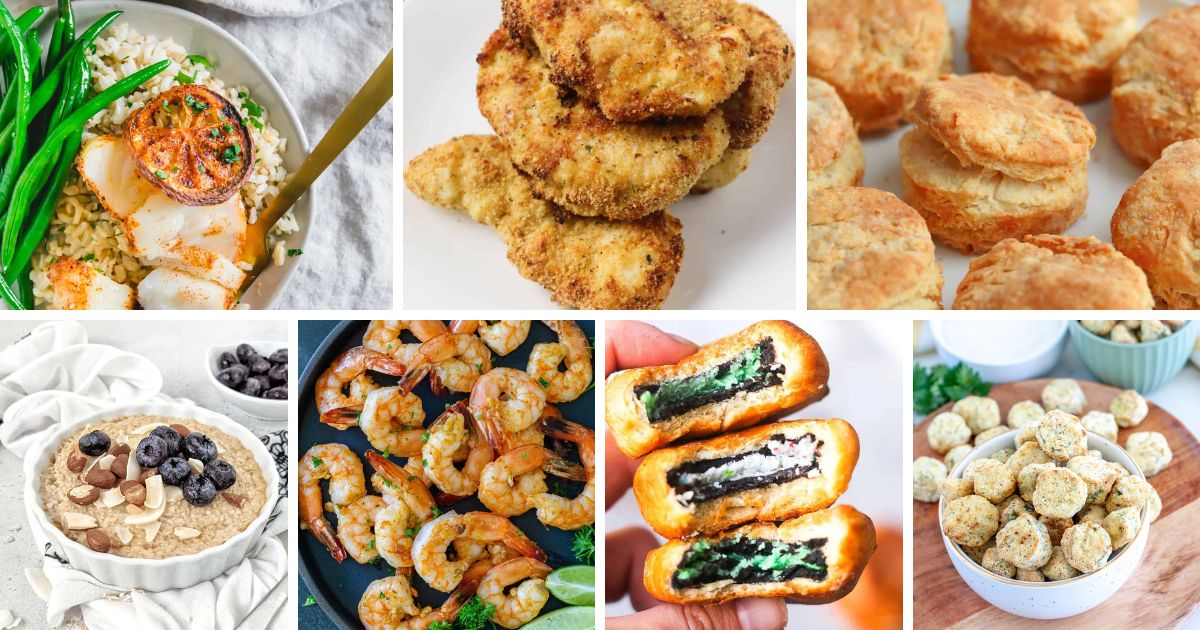 Only a few things can beat the satisfaction you get from cooking with an air fryer. It is easy and quick, and you can get a result that is not only crunchy and delicious but also healthy and low-calorie. In today's health-concerned world, who would refuse to have a fried yet healthy meal option?
Whether you are a fan of buffalo chicken wings or a veteran vegan cook, we've included everything in the list below! So, let's find out what these easy air-fried recipes are all about.
Contents
Mastering how to make quality toast is one of the most fundamental things you should do with your air fryer. Do this, and you're good to go!
These eggs do not require an ice water bath; you can peel them in seconds! Use them for your morning salad, egg bites, egg rolls, or anything else you want.
This recipe will show you how to make the traditionally greasy fry bread perfectly. Complete the dish by adding your favorite maple syrup.
Back in the day, roasting asparagus required a lot of oil and patience. Thank goodness, with an air fryer, we can make the dish with minimal mess and effort.
Do you only have a few minutes to impress your dinner guest? This recipe takes only five minutes of air-frying your spiced and marinated chicken.
We know that donuts are not the healthiest food to have, especially if you are on a diet. Thankfully, the air-fried version will make it much more tolerable.
With no more than 10 minutes of air frying time, this shrimp recipe is perfect for a hassle-free dinner idea. Just don't forget to flip the shrimp halfway during cooking.
This air-fried okra recipe will provide you with an extra layer of crust that no other cooking method can deliver. It is just a great way to put food on the table fast!
When you have leftover dill pickle slices from your last dinner party lying around the fridge, this is the perfect recipe to make! Feel free to use any all-purpose flour you have.
Whether you want to use bacon, ground beef, chicken, ham, or turkey for the patties, these air-fried burgers will easily become a favorite for your youngsters.
Drizzled with olive oil and sprinkled with seasonings, these roasted asparagus are loaded with flavors and work great as both main dish and appetizer.
This air-fried chicken recipe is naturally low-carb and gluten-free. Also, you can feel free to choose between using fresh or frozen vegetables.
Ranch potatoes are perfect for a lot of occasions! While the recipe calls for russet potatoes, you can use any kind you like, including sweet potatoes.
While they are not the most common option for an air-fried recipe, bagels, surprisingly, work great with the device. Read this one to learn how to process them!
These air-fried green beans may turn out to be the afternoon snack you never knew you needed. Adjust the cooking time to reach the crunch level you want.
Using store-bought biscuit dough, this is the recipe the whole family will love. Simply top it with sauce, cheese, and sausage, and enjoy it with your loved ones.
The warm and comforting meatloaf is the kind of dinner no one will ever say no to. Try this recipe, and you can put one on the table in under 30 minutes.
Though it might surprise you, it is actually possible (and easy) to make white bread with an air fryer. The taste and texture will be better than anything you buy from the store.
Nobody likes waiting too long for their dessert, and this recipe is your solution for a quick and simple air-fried sweet treat. No need to wait for the dough to rise!
These are the best tater tots you'll ever have, and you better believe it! Their soft and fluffy texture will make you want to come back for more.
This sweet potato recipe is so simple it is hard to mess anything up. Just make sure that you put an adequate layer of seasoning and put in the device for a while.
Looking for a way to bring your homemade fries game to another level? This air-fried sweet potato recipe will show you exactly how to do so.
With no flour and eggs, this is the safest recipe you can make for your guests. The absence of breading leaves you with light yet savory chicken slices.
Zucchini fries are traditionally soggy and very oily. This recipe does not call for any grease at all, so you can have a healthy and tasty snack option for any day.
A blueberry cobbler is the kind of dessert that will satisfy people of all ages. You can use almond milk and coconut oil to make it more nourishing.
You can use rich and buttery russet potatoes for this recipe, which will provide you with french fries that are better than the ones you have at your neighborhood restaurant.
If you have leftover spices on your pantry rack, you should try making this dish. Cover the cauliflower with the spice flavoring mic and cook it for 15 minutes.
Just like any other air-fried cauliflower recipe, this one is easy and quick to make. However, it has a bit of a kick, thanks to the drizzle of buffalo sauce.
With a total prep and cooking time of 30 minutes, this recipe is perfect for any day of the week. You can use both butter and vegetable oil.
Who says we can only make cookies with an air fryer? This recipe just proves that our air fryer is capable of doing the same thing.
We know we should not eat a dozen jelly-filled donuts in one go. But, if you accidentally do so, having the air-fried ones may take away most of the guilt.
This recipe is one of the best ways for beginners to get started with non-processed meals. You can enjoy it over rice or with dipping sauce.
If you run out of time to make a nutritious breakfast, keep and try this recipe! Within a few minutes, a wholesome and health-giving meal is ready for you.
Affordable and tasty, this air-fried tilapia recipe is the kind of meal you want to prepare over and over again for the whole family. Just make sure you pat down the fish before.
Seasoned with chili powder, dried parsley, and salt and pepper, this diced potato recipe is all you need for a quick dinner. Use a little oil to enhance the browning.
This recipe is as vegan as air-fried recipes go. All you need to do is spread the sprouts evenly and shake them halfway through to avoid burning.
This recipe puts a hearty and healthier twist on the traditional Chinese dish. The play of textures and flavors makes it easily loved by many!
You should not blame anyone if this recipe makes you want to say goodbye to any deep-fried stuff you've ever tasted. Just make sure you cover the chicken thoroughly.
From Stevia sweetener to unflavored collagen, this recipe includes all the ingredients that are beneficial for your body. Don't forget to use gluten-free oats.
Cooking Bratwurst with an air fryer is a great way to impress your guests. And things will get much better when you learn about making beer cheese sandwich sauce.
Air Fryer Chicken Breast Parmesan has long been a favorite dinner option for many of us. Lucky for you, this recipe will show you the steps to take the dish to another level.
This recipe serves as a great side dish for any meal. Even better, you do not need more than 10 minutes until the broccoli is fully cooked.
The mixture of juicy salmon meat and bursting lemon flavor is the best thing about this recipe. You'll be surprised how easy it is actually to make!
With three simple and basic ingredients (salt, BBQ sauce, and, obviously, chicken), this recipe is your savior if you don't have any idea about what to cook.
All your family members will find it hard to refuse the temptation of the sweet and spicy in this dish. You can make it for any dinner or get-together event.
Looking for a quick homemade brownie recipe? This delectable and bite-sized fudgy goodness only takes less than 20 minutes to make!
Looking for elegant side-dish ideas? Level up your meals with this swift and yummy Air Fryer Biscuit recipe! Guaranteed that this will be your next meal staple.
Missing your childhood homey biscuits? This quick and easy buttermilk biscuit recipe will bring back the childhood feels you're craving!
Tired of store-bought snacks? Try this homemade pizza roll recipe: baked, not fried, and the best part is… It's done in under ten minutes!
Sometimes, what you need is a sip of coffee and flavorful pumpkin spice muffins. These delectable treats are a must-try this fall! Also, this recipe only takes under 20 minutes!
Do you have leftover candies lying around? Satisfy your sweet tooth with this quick 25-minute recipe and turn these sweets into gooey skillet cookies!
Looking for yummy gluten-free recipes? These healthy turkey meatballs only take 15 minutes to make, and they're perfect for a weeknight dinner.
If you're craving deep-frying and oven-baking alternatives? This chicken wing recipe has got you covered. Get that yummy, crunchy, and tender meat in every bite.
You can now achieve perfectly crispy tofu without cornstarch through this quick and easy recipe. This vegan air-fried tofu is the easier and healthier alternative to deep-fried tofu.
What's a BBQ Party without a Corn on the Cob side dish? Follow this recipe to achieve that sweet and salty blend for a perfect Corn on the Cob. It also comes with a guide on how to make an irresistible garlic butter glaze!
Savor crunchy air-fried potato goodness in around 30 minutes! Follow this recipe for an awesome appetizer that is perfect for any course.
Try this recipe for an effortless restaurant-quality pizza at home! Impress your visitors with this quick and delightful homemade pizza.
Save those overripe bananas in your fridge with this quick air fryer banana bread recipe. In just around 30 minutes, you'll achieve that scrumptious slice of moist and fluffy banana cake.
Fish is the best option for a healthy diet, and air-fried crumbed fish is always a great idea! In this recipe, enjoy a quicker and healthier alternative for cooking crumbed fish.
Carefully follow this recipe to enjoy a yummy cod fish dinner using only lemon and basic spices in under 20 minutes. It's simple and super easy to follow.
Want to have pork chop but tired of the lengthy cooking process? Try this quick air fryer pork chops recipe and enjoy a classic restaurant-level pork chop entrée.
Make your meals fancier with this air fryer skillet cornbread recipe. This classic Southern dish is perfect both as a side dish and as a meal in itself.
In just 20 minutes, this recipe can yield 4 servings of delightfully crispy chicken fingers! Plus, it's healthier and has a significantly lesser fat content than deep-fried chicken fingers.
Craving for a tender and juicy pork diner? Follow this simple and easy boneless pork roast recipe. It's delicious and budget-friendly!
Who wouldn't want a bite of a classic stretchy and yummy grilled cheese? In this recipe, you'll learn to create a crisp yet melty grilled cheese in just 10 minutes!
In just around 15 minutes of prep time, you can get the homey totcho goodness you're craving for. This recipe will also guide you in creating the perfect salsa or cheese side for your totchos.
With just four simple ingredients and five minutes of prep time, you can indulge with these yummy cinnamon-sugar doughnuts! This recipe is easy to follow; this is, without a doubt, going to be your next go-to snack.
Impress your friends with the perfectly cooked pork belly: crispy skin on the outside and succulent meat on the inside. This recipe will give you the perfect pork belly treat in around 35 minutes!
This easy recipe offers a healthier and quicker cooking alternative to the traditional deep-fried onion rings. It still follows the traditional coating and breading steps, but the onion rings are air-fried to achieve crispiness.
Achieve perfectly crisp hot dogs to match toasted buns through this easy recipe. Serve with either ketchup, salsa, or your favorite condiment.
Breakfast feels incomplete without a bite of sweet and salty bacon. Savor that crispy bacon goodness in less than 10 minutes with this quick guide.
Who can say no to Oreo? Level up snack time with this two-ingredient fried Oreo recipe. It's sure to captivate anyone's sweet tooth.
This recipe is a game-changer to your usual enchilada. It's quick, effortless, and very easy to follow. And the best part is that air-frying enchiladas are a guaranteed way to deliver a non-soggy perfection.
It's about time you try to cook your corn fritters to a crispy perfection. This recipe will guide you in achieving the best loaded corn fritters.
Craving for crispy, golden bites of banana fritters? This recipe is a fool-proof way to achieve the sweet, tantalizing treat.
Grilling is out, Air-frying is in. Try this BBQ Air Fryer Beef Ribs recipe and achieve that tender, fall-off-the-bone ribs with that classic smoky BBQ goodness.
Go for a healthier snack and try out this eggplant fries recipe. The ingredients are simple, and the prep time is just 15 minutes!
📋 Recipe
Frequently Asked Questions