Air fryers have truly reshaped our culinary experiences, becoming an essential tool for those mindful of calories and carbohydrates.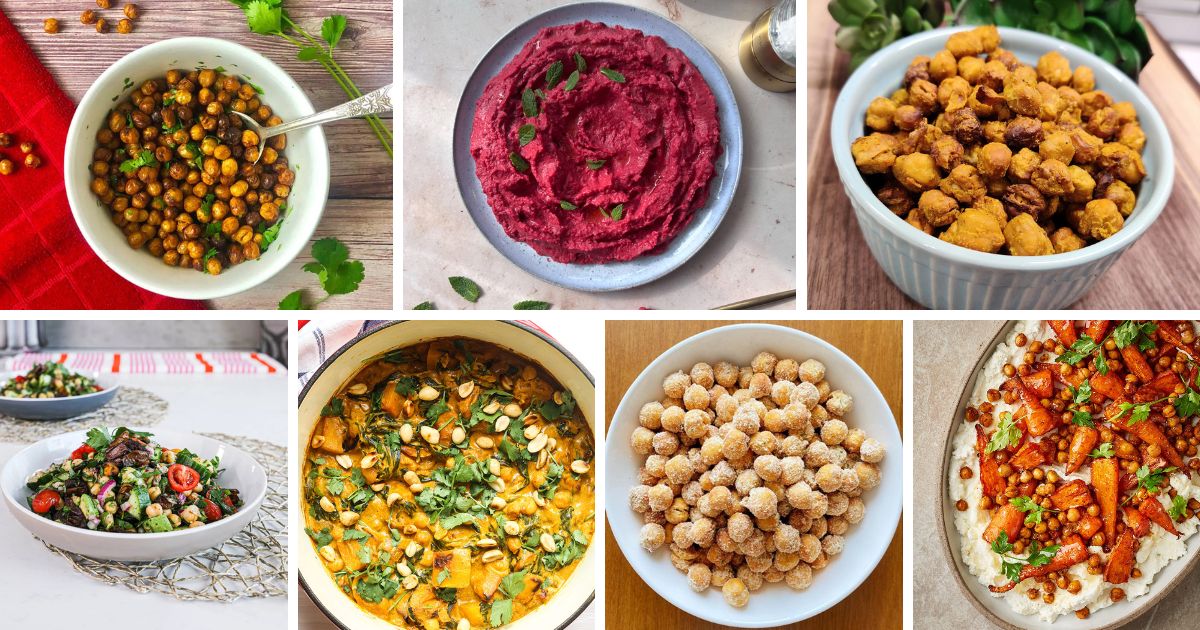 With the advent of this kitchen marvel, the prep time associated with traditional oven roasting has significantly reduced, allowing us to savor the crisp essence of chickpeas much faster.
This means we can indulge in that desired roasting crisp without the surplus calories. Our collection of air fryer chickpeas recipes is a testament to this, offering health-friendly yet tantalizingly crisp dishes.
Canned chickpeas, a staple in many kitchens, are not just convenient but also brimming with vital nutrients like calcium, protein, and fiber.
When seasoned with aromatic flavors, such as dill, these humble beans evolve into crispy wonders in a fraction of the total time once needed. If a savory, nutrient-rich, and time-saving snack is what you're after, our recipe compilation will undoubtedly delight your palate.
Contents
This dish combines chickpeas with a flavorful blend of spices to achieve a crispy texture. The touch of cayenne provides a little kick, perfect for a mid-afternoon snack.
If you're in the mood for a snack with a zesty twist, these chickpeas are seasoned with chili powder and lime zest. The finishing touch of kosher salt balances out the flavors beautifully.
These chickpeas are roasted with a tangy chili-lime seasoning and a hint of garlic. They're perfect to munch on during movie nights or as a spicy salad topping.
Looking for a snack with a bit of a kick? These spicy chickpeas incorporate turmeric and garam masala, giving them a unique flavor. Pair them with a cooling dip or yogurt for balance.
If you're aiming for a healthier snack, this oil-free chickpea recipe is your answer. Seasoned with a mix of spices, they're both fragrant and flavorful. You can pair these chickpeas with a cold beverage for a refreshing treat.
These chickpeas are a perfect blend of savory flavors with ranch seasoning. They make a great accompaniment to salads or can be enjoyed just on their own for a flavorful crunch.
These gluten-free and vegan chickpeas boast a crispy texture with the warmth of paprika. They're a crowd-pleaser, suitable for various dietary needs and perfect for gatherings.
This dish offers a delightful medley of roasted carrots and chickpeas, spiced with ras el hanout. The creaminess of the ricotta and a drizzle of honey create a perfectly balanced flavor profile.
Dive into these chickpea fritters seasoned with cumin and ginger. The sweet-spicy sauce adds a tantalizing touch, making them ideal for appetizers or paired with fresh salads.
These chickpeas are seasoned with a blend of chili, lime, and a hint of cayenne. Enjoy them on a sunny day with a refreshing drink, as they bring both zest and crunch.
This recipe showcases chickpeas roasted to perfection with garlic and paprika. Serve them alongside grilled vegetables or toss them in your salad for an extra crunch.
Satisfy your sweet tooth with these chickpeas, sprinkled with cinnamon and sugar. They're an excellent dessert alternative and pair wonderfully with a cup of hot tea.
For those who love the best of both worlds, these chickpeas offer a delightful balance of sweet cinnamon and savory sea salt. They're ideal for snacking during a relaxing evening.
Dive into the aromatic blend of garlic and rosemary with these chickpeas. Perfect as a side dish, they also make a great addition to your Mediterranean-inspired meals.
These chickpeas, glazed with honey and a hint of cinnamon, are the perfect sweet treat. Serve them during dessert time or as a mid-morning snack.
Craving some heat? These chickpeas, infused with buffalo sauce, are your spicy go-to. They're best enjoyed during game nights or as a fiery salad topping.
Spice up your snack game with these chickpeas, seasoned with hot sauce and fresh cilantro. They're perfect for those who appreciate a bold flavor and herbaceous touch.
Enjoy a tangy and spicy experience with these chickpeas, seasoned with chili, cumin, and lime zest. They're a delightful treat for those who love a hint of zest in their snacks.
For a gourmet twist, these chickpeas are flavored with Caesar dressing mix and olive oil. They're an elegant addition to your appetizers or salads.
Travel to India without leaving your kitchen with these chickpeas, seasoned with a blend of Bombay spices. They're the perfect snack for those looking for a burst of exotic flavors.
Revel in the classic combination of salt and vinegar with these crunchy chickpeas. Ideal for picnics or as a side to sandwiches, they bring both tang and texture.
Indulge in these vegetable pakoras made with a medley of veggies and spiced besan batter. They're the perfect accompaniment to your evening tea or as a starter before dinner.
This recipe beautifully combines chickpeas with roasted garlic to produce a creamy, rich dip. Infused with lemon and smoky paprika, it's an appetizer that's perfect for any gathering.
Beetroot's earthy sweetness marries flawlessly with the creamy texture of chickpeas. Accentuated by tahini and lemon juice, this vibrant dip is elevated further when garnished with fresh mint.
This Buddha bowl celebrates a wholesome mix of roasted vegetables and crispy air-fried chickpeas. Topped with a luscious tahini dressing, it pairs perfectly with a sprinkle of feta and a side of bulgur wheat.
Cauliflower, squash, and chickpeas come together in this dish to create a flavorful medley. Seasoned with garam masala and fresh parsley, it's a side that complements any main course.
This quick snack offers chickpeas with an enticingly crispy texture. With just a hint of olive oil and salt, they make for a healthy treat, ideal for movie nights or midday munchies.
Every bite of these chickpeas offers a crunch, seasoned with an enticing blend of spices. With undertones of garlic and a potential kick from cayenne, they're a snack to remember.
Experience the flavors of authentic curry with roasted chickpeas as the star. Balanced with garam masala and curry powder, it's a taste adventure that's even better when paired with warm naan bread.
This curry spotlights butternut squash's natural sweetness against a backdrop of aromatic spices. With the added richness of chickpeas and spinach, it's a hearty meal that pairs wonderfully with crushed peanuts.
These chickpeas combine the warmth of curry with the sweetness of maple. The hint of sunflower butter or tahini brings a creamy undertone, making them an ideal snack or salad topping.
This Asian-inspired treat combines the nuttiness of sesame with the robust flavor of chickpeas. With a balance of sweet and savory notes, they're perfect for munching on during relaxed evenings.
Fresh cubes of eggplant are brought to life with turmeric and avocado oil in this dish. Paired with chickpeas, cucumber, and cherry tomatoes, this salad is refreshing with a burst of flavors in every bite.
📋 Recipe
Frequently Asked Questions: