Let's talk about the cherished salmon. Renowned for its heart-boosting omega-3 fatty acids and adaptability to diverse flavor profiles, salmon finds an ideal ally in the air fryer.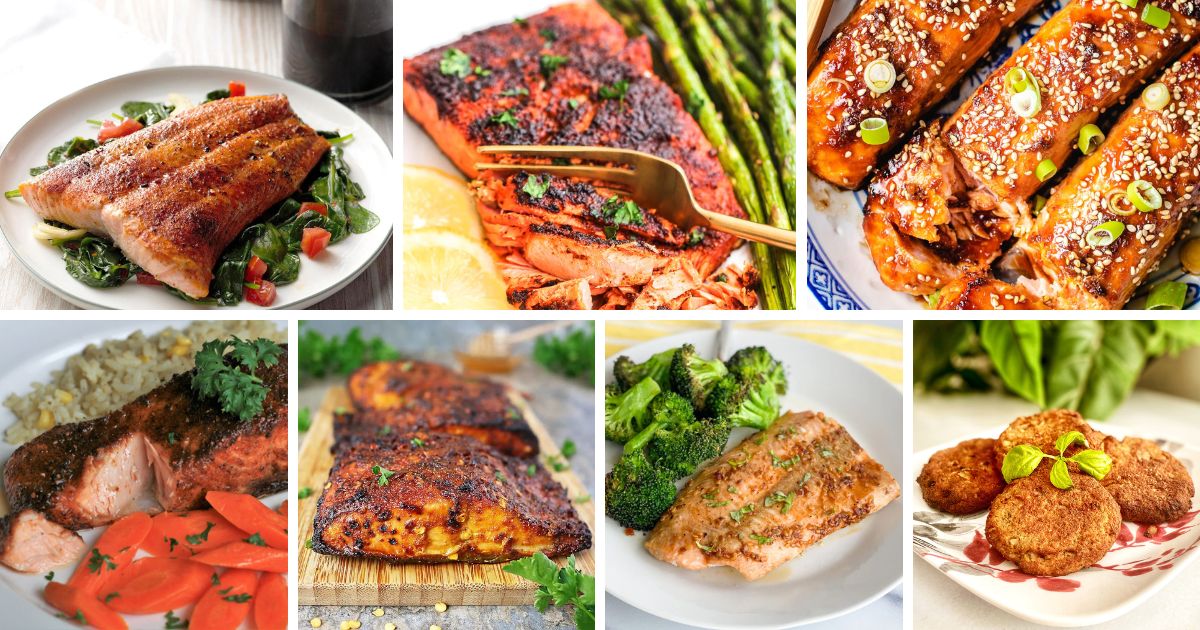 The era of grappling with excessively greasy or overcooked fish is in the past. Our compilation of the 20 best salmon air fryer recipes offers a taste of culinary excellence, blending the succulence of salmon with modern appliance innovation.
The air fryer emerges as a culinary necessity aside from the oven to mold salmon into a masterpiece of crisp skin and tender flesh. From tantalizing citrus-infused filets to herb-crusted marvels that redefine salmon's gourmet stature, each recipe in this compilation showcases the finesse of air frying.
Whether you're a devoted seafood aficionado, a health-conscious connoisseur, or an intrepid culinary explorer seeking novel dishes, these recipes elevate salmon with simplicity and sophistication, all guided by the trusty air fryer.
Contents
Are you looking for a restaurant-quality recipe? Try this meal seasoned with garlic powder, paprika, and olive oil to enjoy succulent, perfectly browned filets effortlessly prepared for a perfect weeknight meal.
If you want to enjoy food with low calories, this recipe is a keto masterpiece enhanced by lemon juice ready in under 12 minutes. Serve it with baked goat cheese balls for a delicious meal.
Salmon filets take center stage, harmonizing with the flavors of coriander, turmeric, chili powder, chili flakes, and a drizzle of honey. Don't forget the salt and pepper for that essential burst of taste.
Effortlessly achieve succulent perfection with this rendition of the air fryer salmon recipe. This five-ingredient recipe allows you to savor juicy, tender results. Serve it with brown rice or potatoes for an energizing dinner.
This quick recipe combines the sweet richness of brown sugar and the tender succulence of salmon in under 20 minutes. With just 5 ingredients, you can easily create a sweet and crispy snack.
Are you looking for a quick yet scrumptious 10-minute delight? Try the simplicity of honey-glazed air fryer salmon and experience the sweet glaze over tender salmon filets for family weekend dinners.
This wholesome meal with air fryer salmon & asparagus is a blend of protein, healthy fats, and veggies ready in just 15 minutes - an excellent choice for low-carb, paleo, and keto-friendly meals.
Perfected with fresh cucumber-avocado salsa, enjoy this recipe's ideal texture and balanced heat. Serve with cilantro brown rice or black bean & corn salad for a flavorful and healthful family meal.
Are you in the mood for an explosion of flavors? This recipe is a healthy and delectable dish that combines tender salmon and vibrant spinach, enhanced by a balsamic glaze drizzle.
The convenience and healthiness of air fryer salmon & veggies will satisfy you. Experience perfectly tender salmon brushed with teriyaki sauce and crisp broccoli to add fiber to your diet.
If you need variations in your diet, this recipe helps you enjoy a spice-rubbed salmon cooked to perfection in the air fryer. Pair it with your favorite veggies for a delectable low-carb meal.
Crafted with high-quality canned salmon, onions, garlic, red pepper, celery, and fresh herbs, these burgers are packed with both taste and texture. Serve with homemade caper aioli in a small bowl.
Ready for a mouthwatering dish? This salmon recipe boasts a caramelized keto teriyaki crust, perfectly juicy and tender inside, ideal for keto diets usually paired with shirataki fried rice and Asian greens.
These air-fried salmon cakes are similar to classic croquettes, with crispy exteriors and tender insides. Packed with protein and calcium from edible bones, these patties offer the carbohydrates you need to feel energized.
In the mood for a guilt-free snack? This recipe is a healthier take on the classic pan-fried version. Shaped into patties, they're air-fried until golden and crispy, and go well with pasta dishes.
This honey mustard salmon is a delightful dinner option. The sweet and tangy honey mustard glaze enhances the salmon's flavor, satisfying your stomach at the dinner table.
Do you want a delightful blend of tender salmon with a crunchy crust made from garlic, butter, and Parmesan cheese? This combination of flavors creates a mouthwatering experience for special events.
Cajun air fryer salmon boasts a mouthwatering blend of flavors, including a subtle touch of sweetness. This dish is a harmony of moist and succulent textures, all achieved in under 10 minutes.
This four-ingredient masterpiece encapsulates simplicity, flavor, and healthiness in just 15 minutes. Immerse yourself in tender, juicy, and flaky salmon pieces, enriched with omega-3 fatty acids, protein, vitamin D, and potassium.
This obsession-worthy recipe is a symphony of flavors. Imagine having a juicy, perfectly cooked salmon coated in a delightful blend of mayonnaise, basil, and Parmesan that would tantalize your taste buds.
📋 Recipe
Frequently Asked Questions