With the weather warming up, everyone's mind is turning to growing things. And there is nothing more satisfying than growing your own food.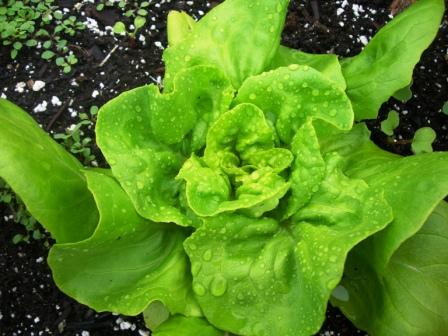 Recently my friend Alison Keller sent me a message on Facebook asking for my advice on starting a small garden in her backyard. By the way, Alison and I used to co-host a morning radio show in Charleston, SC. Lots of laughs and a lot of fun while it lasted.
I suggest that anyone who is starting a garden for the first year to start small. Raised beds is a good way to go for many reasons. It's easy to control the weeds and will grow a lot more veggies in a much smaller space.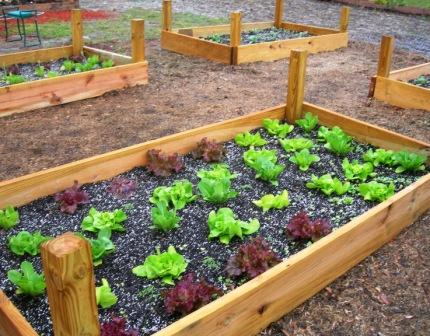 Here are our raised beds that I built about a month ago. Of course, you can buy raised bed kits, but I recommend that you build your own. Here's what you'll need to build two 4' x 8' beds:
4 12 foot long 2 x 12  boards
4 8 foot long 4 x 4  posts
nails or screws
4 40 pound bags of Quikrete concrete mix (optional)
circular saw
hammer or drill
post hole diggers
tape measure
level
a desire to do-it-yourself and save money
I used treated lumber after researching what kind of boards to use.  It has been determined that its ok to use treated lumber in building raised beds, but you can use cedar or redwood.
Begin by cutting the 2 x 12 boards into two sections-8 ft. and 4 ft. This will give you the boards for both sides and the two ends of each rectangular bed.
Cut the 8 ft. long 4 x 4s in half.
Now choose the area of the yard where you want the beds to be placed. Remember that most vegetable plants need at least 8 hours of sun each day. In other words, don't put them under a shade tree just to keep yourself comfortable. Measure a 4' by 8' plot. Dig up any grass or weeds that are in the area.
Next using post hole diggers, dig four holes two feet deep for the corner posts. I decided to put in these corner posts after seeing these online while I was doing my research in January.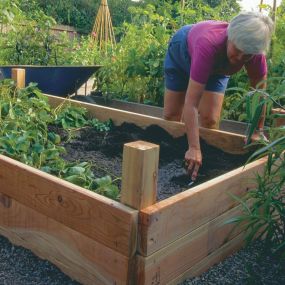 As soon as I saw these corner posts, I thought about how I could use them to mount a drip watering system for the beds, or I could attach tarps to cover the plants from frost (which I had to do night before last), or I could attach some sort of material to shade lettuce from the intense sun, therefore extending my growing season. Hmm? Maybe a seat to relax while gathering my fresh vegetables? Sorry-I digressed.
Some say that you don't need to set the corner posts in concrete, but I preferred to do so for the extra support. Set the 4' posts two feet deep in the soil and leave 2' above the ground. Fill the holes with water and then pour half a bag of Quikrete into each hole and cover with dirt. Be sure the posts are leveled and squared. You're done for the day since the concrete needs to set for at least 24 hours. Go have a beer and dream of enjoying your fresh vegetables.
The next day you can begin to construct your beds. Nail or screw the boards to the corner posts, making sure the boards are leveled. You may need to trench out a small amount of dirt to make the boards level. Now you have a 4' x 8' bed that's 12 inches deep.
Next, lay heavy cardboard on the ground as a means of weed prevention. Do not use plastic in the bottom of your bed because water will not be able to drain.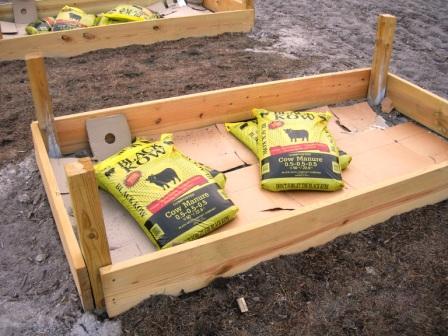 You'll need to fill the bed with a mixture of compost, top soil, and potting soil. We mixed in some Black Cow compost, too. Now that's some good s***! We put in a little lime based on the advice we were given. You will need at least 8 to 10 inches of soil. This can get quite expensive, but it's worth it since the soil is what makes the perfect vegetables.
Now you're ready to plant. Decide what you want in each bed and plant away! We used some transplants as well as seeds. Do a little research about plant combinations as well as spacing. Just google raised beds-images-and you'll find plenty of pictures and diagrams like this one.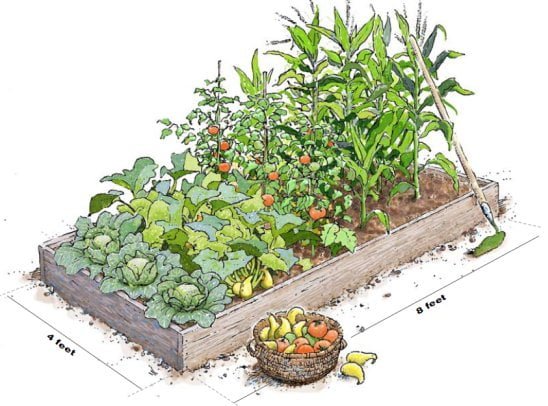 Just experiment and have fun. That's what I'm doing. Jane and I have a large garden but you can grow a lot of vegetables in two 4' x 8' raised beds. Plenty for you and your family and even a few friends. If you're thinking about doing this, then you need to get on it since planting season is nearly here. We are already enjoying the lettuce from our raised beds.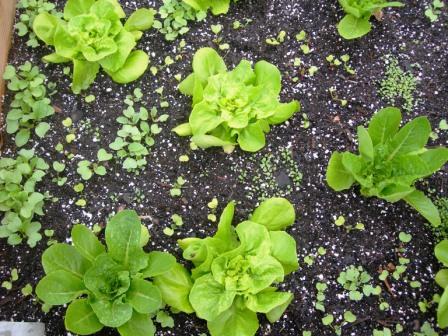 Romaine and butterhead lettuce, radishes, and arugula are in this bed.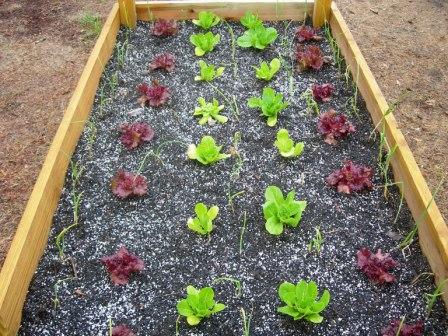 Romaine and Red Fire lettuces with spring onions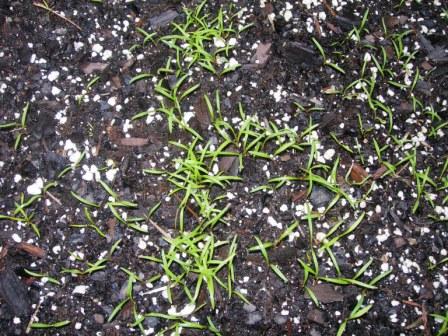 carrots grown from seed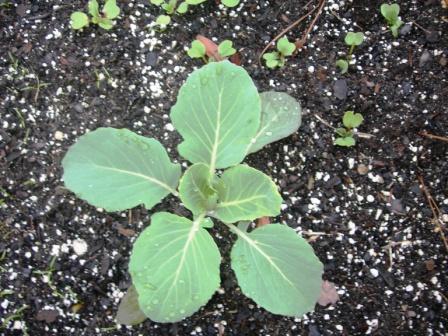 cabbage and radishes
I hope this helps, Alison, and anyone else who is reading this. I'm by no means an expert, but we've enjoyed success so far.

Leave any questions you have in a comment below.