The allure of the air fryer has taken both Facebook and Instagram by storm, and for good reason! With its ability to produce crispy, delectable dishes using very little oil, it's no wonder food enthusiasts everywhere are sharing their best creations online.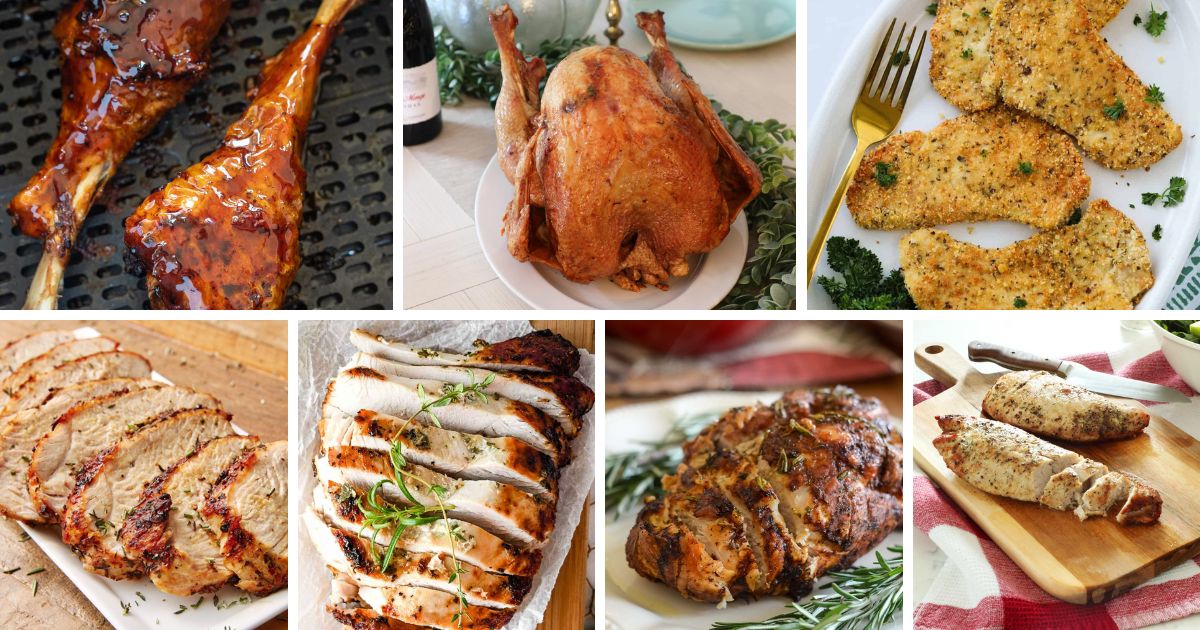 Among the myriad of easy air fryer recipes circulating on social media, turkey dishes stand out for their healthier profile, especially when compared to traditional fried chicken.
Air frying not only reduces the total time spent in the kitchen but also offers a healthier alternative by slashing cholesterol levels in our meals.
So, whether you're a turkey lover or just on the hunt for some guilt-free indulgence, this list is your go-to guide for sumptuous feasts without the extended cooking hours or excessive oils.
Contents
This dish combines the rich flavors of thyme, sage, and rosemary, giving your whole turkey a delicious and aromatic twist. Ideal for those special family dinners, it pairs perfectly with mashed potatoes and gravy.
Do you like wings with a touch of Italian flair? These turkey wings are seasoned with garlic and Italian seasoning. They're the perfect snack for game night or a tasty protein-packed lunch.
These turkey gizzards marinated in hot sauce pack a flavorful punch. With a hint of garlic powder and paprika, they're a delicious twist on a classic ingredient, ideal for a unique side dish.
These croquettes are a fantastic way to use up your Thanksgiving leftovers. With a crispy exterior and a savory inside, they're a hit! Dip them in the tangy cranberry dip for an extra layer of flavor.
Do you crave a tender slice of turkey? This tenderloin, seasoned with garlic powder, onion powder, and olive oil, air fries to perfection. It's an excellent protein-packed meal for any day.
For those watching their calories and carbs, this keto-friendly turkey breast is the answer. With a combination of butter, garlic, and thyme, it offers a burst of flavor without the added carbs.
This recipe boasts a blend of dried herbs that permeate the turkey thighs. Perfect for those who prefer darker meat, serve it up with roasted vegetables for a hearty meal.
Imagine turkey legs glazed with honey, soy sauce, and ketchup. This dish, with a hint of smoked paprika, becomes an irresistible treat when air fried, ideal for a hearty meal.
Simple yet flavorful, this turkey breast recipe offers a fresh herb twist. It's a versatile dish that pairs well with both light salads or heartier side dishes like roasted potatoes.
If you're seeking a flavorful turkey dish, this tenderloin seasoned with paprika, garlic powder, and thyme is your answer. You can serve it alongside some roasted veggies for a balanced meal.
This dish combines ground turkey with a medley of seasonings, delivering a flavorful burger. These burgers are perfect for a weeknight dinner, especially when topped with optional cheese!
A turkey crown seasoned with mixed herbs and a touch of citrus from the clementine. This recipe, with its fresh herb sprigs, is a refreshing centerpiece for any gathering.
These turkey breasts, either bone-in or boneless, are enhanced with mayonnaise and classic seasonings. Serve it with stuffing and savor the rich taste.
A turkey breast treated with a blend of garlic, thyme, and rosemary. Carving into this dish releases the fragrant aroma and is perfect for a special occasion.
This whole turkey recipe, complete with a rich gravy, brings the essence of Thanksgiving to your table. Don't forget the drippings; they add a depth to the gravy.
This dish showcases turkey cutlets coated in Italian breadcrumbs and parmesan. Ideal for those who want a delicious meal without many calories.
Trader Joe's turkey burgers shine in this recipe. Paired with fresh veggies and condiments, it's a quick solution to a hunger pang.
Experience the East with these ground turkey meatballs infused with sesame oil and ginger. The dipping sauce glaze takes the flavor profile up a notch.
This Butterball turkey roast features garlic and rosemary. With the savory juices it releases, it's like having a thanksgiving turkey anytime you wish.
This recipe celebrates turkey breast with roasted garlic and fresh herbs. Serve it with mashed potatoes, and don't forget to pour the juices over!
These turkey patties are seasoned to perfection with garlic and dried herbs. A fantastic low-sodium choice, they make for scrumptious sandwiches the next day.
This turkey breast, marinated in a medley of fresh herbs and unsalted butter, promises a burst of flavor in every bite. The optional gravy, enriched with brandy, completes the culinary experience.
This turkey breast boasts skin that's crispy yet juicy inside, thanks to butter and seasonings. A lean source of protein, it's a healthy choice without compromising on flavor.
📋 Recipe
Frequently Asked Questions