Shrimp is revered in global cuisine, and it stands out not only for its protein-rich content but also for its adaptability to myriad flavors. With its low carbohydrates, minimal saturated fats, and a rich supply of calcium, potassium, and vitamin C, this seafood delight is undeniably a dietary treasure.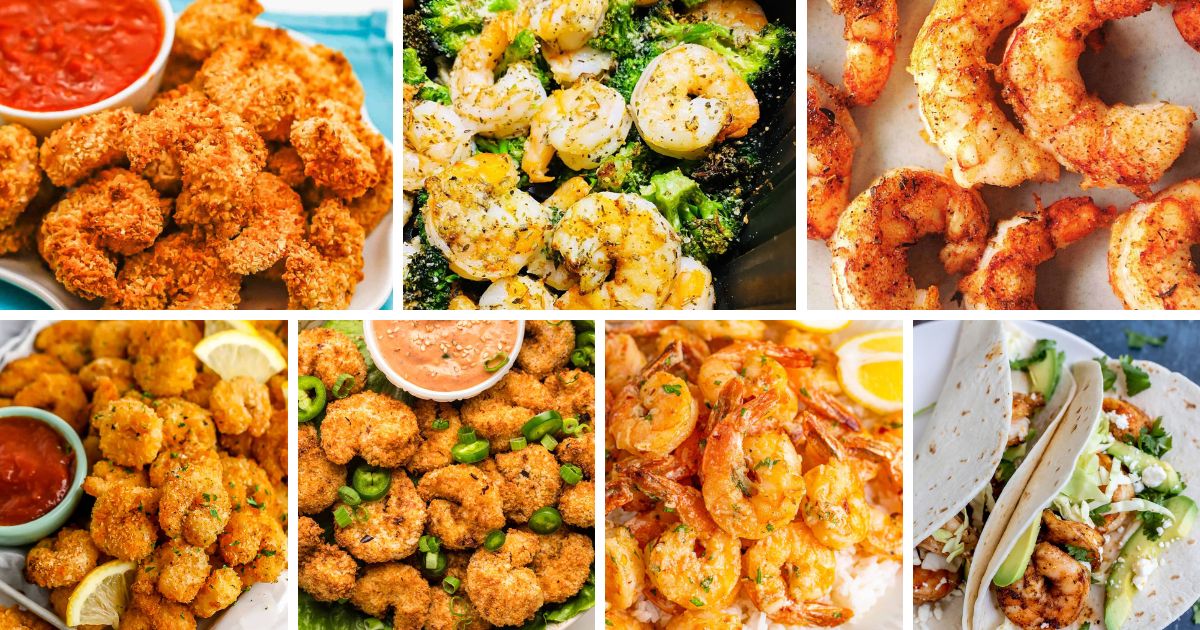 Yet, the challenge has often been cooking it to perfection without an overload of oil or compromising its authentic taste. Here's where the air fryer makes its grand entrance.
This kitchen marvel ensures shrimp, whether fresh or thawed from fridge leftovers, achieves a crispy, oil-free finish. For those on keto or low carb paths, it's a game-changer.
With a vast array of air fryer recipes available, it's an invitation to reimagine shrimp dishes. Delve into this collection of 27 quick air fryer shrimp recipes and upgrade your culinary prowess.
Contents
This dish melds garlic powder, sweet paprika, and dried parsley around juicy jumbo shrimp. Toss them with lemon wedges for an appetizing starter.
Tender shrimp harmonize with a rich garlic butter touch in this recipe. With low carbohydrates, it's ideal when paired with a chilled white wine.
For those who adore the tropical touch, this recipe combines sweetened coconut with panko crumbs for a crispy finish. The accompanying sriracha-mayo dip adds a hint of spicy allure.
This dish brings together crispy air-fried shrimp nestled in a soft taco shell. If you're craving a coastal Mexican treat, this taco hits the spot perfectly.
Do you enjoy a kick of spice? This shrimp dish uses smoked paprika and ancho chili powder for heat. The jalapeño cream chili sauce adds depth and zing.
This dish highlights shrimp enriched with garlic and parmesan. They're ideal to serve with side dishes, offering a balance of calcium and potassium.
This dish offers a taste of Argentina, featuring chili lime-seasoned shrimp. Best enjoyed with a side salad or as a flavorful appetizer for gatherings.
This dish captures the balance of sweet honey and tangy lime. Paired with cilantro and lime wedges, it's a refreshing option for a summertime soirée.
These shrimp boast a delightful coconut crust paired with a spicy honey sriracha dip. If you're in the mood for tropical vibes and a hint of heat, look no further.
This recipe wraps succulent shrimp in smoky bacon, complemented by a spicy chipotle touch. This shrimp dish is ideal for those days when you're craving a rich and indulgent bite.
This hearty meal combines shrimp and broccoli seasoned with Italian spices and garlic. Topped with parmesan cheese, it's a wholesome dish suitable for any dinner table.
These simple yet flavorful shrimp skewers are an absolute treat. Whether it's a BBQ party or a casual dinner, they're always a hit.
Do you appreciate the classics? This dish enhances shrimp with the simplicity of salt, pepper, and aromatic garnishes. They're a great starter for Asian-inspired meals.
Zesty lemon juice meets the boldness of black pepper in this dish. These shrimp make for a refreshing summer meal, especially when paired with a light salad.
If you're craving a blend of sweet and spicy, this dish is your answer. Shrimp seasoned with Tajín pairs wonderfully with a Thai sweet chili-mayo dip.
This dish packs a punch with its spicy bang bang sauce over crispy shrimp. Perfect for spice lovers or when you fancy an Asian-inspired appetizer.
Crunch into these panko-coated shrimps seasoned with Old Bay. The breading makes them wonderful as a savory snack or an appetizer, and their crispy exterior is simply addictive.
This recipe transforms frozen shrimp into a quick, crispy delight in the air fryer. They're a life-saver for busy nights when you need a no-fuss seafood fix.
Sweet honey, aromatic sesame, and crispy shrimp combine beautifully in this recipe. Serve it over rice for a meal that strikes a balance between sweet and savory.
These shrimps are marinated in a zesty lemon and pepper blend. They're an ideal appetizer or a light main course, especially when served with a salad.
Enjoy these bite-sized shrimp coated in seasoned bread crumbs. Whether it's movie night or a party, they're a crunchy delight for any occasion.
Satisfy your cravings with this classic Japanese delicacy. Lightly battered shrimps become crispy and golden in the air fryer, making them delicious and inviting when dipped in soy or teriyaki sauce.
This dish combines shrimp with the rich flavors of basil and pine nut-infused pesto. This simple yet special recipe is ideal for Italian-themed nights or as a vibrant addition to your seafood pasta.
This dish combines juicy shrimp with an assortment of vibrant vegetables. When you're craving a nourishing seafood meal, this blend offers both taste and nutrition.
Bring the vibrancy of Mexico to your plate with these shrimp fajitas mixed with bell peppers. Serve them with avocado slices and pico de gallo for a complete fiesta.
These shrimp, with their blackened seasoning, offer a smoky and spicy profile. They're fantastic for BBQ lovers or as an addition to your seafood platter.
This dish combines shrimp with the delicate aroma of garlic, enhanced by a spritz of fresh lemon. You can enjoy this dish as a zesty appetizer or pair it with a fresh greens salad for a light meal.
📋 Recipe
Frequently Asked Questions