For the past few months, your social media feed has been filled with pictures of air-fried dishes, and it might've made you start wondering whether you should get that amazing kitchen for your home.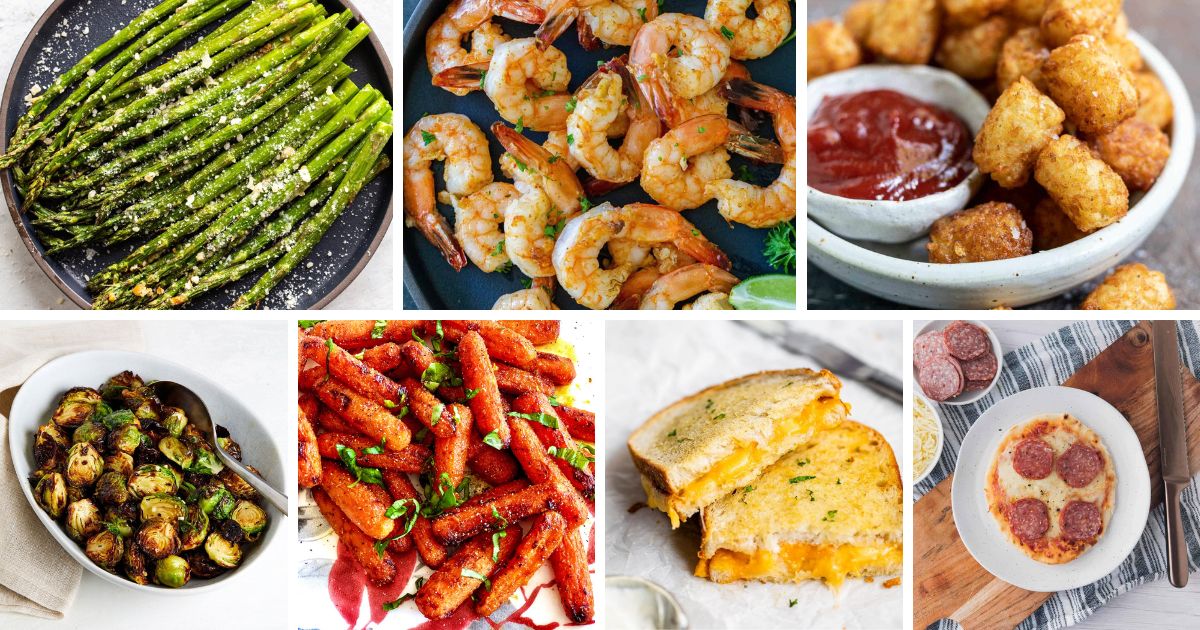 Without a doubt, the air fryer craze is going well and truly in its prime today, and you should not keep yourself from learning what it's all about!
Yes, it is natural for you to question if the device is really worth the hype. Well, in case you are not familiar with it, this device works like your good ole' residential oven, but it has built-in fans that make the air circulate better, leaving you with a crisp and well-cooked dish similar to one made with a deep fryer.
The final product of this little device is actually what makes it very popular lately. It uses hot air to cook your food, which means you can get the same level of tenderness and crunchiness of a deep-fried dish but without all the unhealthy fat and oil.
The 59 air-fryer recipes below will show you how to make the most out of the said kitchen appliance.
Contents
With simple and basic ingredients like paprika, garlic powder, and avocado oil, this recipe gives you the easiest and quickest way to get juicy air-fried shrimp in under 15 minutes!
Potato wedge recipes don't get better than this! Grab some starchy potatoes like russets or Yukon Golds, and you will end up with the most crunchy wedges you'll ever have.
If you are curious about how to make soft and fluffy tater tots with an air fryer, this recipe will show you how. You can adjust the seasoning to your liking.
Packed with fresh vegetables and covered with gooey and cheesy sauce, this recipe for totchos will give you the perfect companion to lounge under the summer sun.
Quick and tasty, this air-fried cod recipe is perfect for any occasion. Overall, it can be a great start for making fish recipes with your air fryer.
These turkey meatballs are juicy, tender, and super versatile! They are just as tasty as their baked counterparts, but they need a fraction of the time to cook.
Jelly-filled donuts are classic dessert staples, but they often come with many calories. If you want a healthier alternative, try out this recipe!
It is sometimes hard to find a wallet-friendly way to feed everyone at a party, but this recipe gives you just that. You can use store-bought BBQ sauce ketchup to cut prep time.
With this air-fried recipe, you'll learn that preparing asparagus does not always require much time and loads of olive oil. Serve it on its own or with your favorite carbs!
This small naan dish only takes a few minutes to prepare. The result is a crispy and delightful snack that is sure to become everyone's go-to item.
This asparagus dish easily outperforms many restaurant versions. Even better, the air fryer will do most of the work, saving you much time in the kitchen.
Whether you are cooking dinner with your family or want a healthy side dish, this green bean air fry recipe will provide you with just the thing you need.
Perfect for anyone looking for a quick weeknight dinner idea, this Brussels sprout recipe uses little oil and less than 20 minutes to prepare.
This crowd-pleaser will suit a wide range of casual occasions. You can make it for your backyard party, morning picnic, or other get-togethers.
Whenever you feel like making a comforting and customizable recipe, go for this one! You can throw in any ingredients you like, and it should be ready in around 10 minutes.
With a crisp exterior and pillowy texture inside, these donuts are impossible to say no to! Cover them with a cinnamon sugar combo for added flavor and crunchiness.
This recipe makes a great companion for your air fryer steak and roast chicken. The dough can be a bit sticky, but you can shape it however you want.
This recipe will give you another reason to use your air fryer even more. You can cook the biscuits in batches to avoid overcrowding.
Only a few things get better than Bratwurst with beer cheese sauce, but this air fryer recipe will take the main dish to a whole new level.
Covered in a light and tasty crust, these golden fish fillets are moist and velvety on the inside. Serve it with homemade tartar sauce for an absolute treat!
You can use them as a side dish for dinner or an appetizer for your neighborhood party. Nonetheless, it would be hard for your guest to deny these chicken drumsticks.
It might be as basic as it can get, but it is so versatile you can put any topping you want on it. It's a great way to start using an air fryer!
This vegan air-fried tofu recipe requires no cornstarch at all, and it tastes like it has been dipped in a pan full of hot and sizzling oil.
With less fat than its deep-fried cousin, the end result of this donut recipe tastes just like the ones from your neighborhood Donut place!
Once you try these chicken tenders, you won't go back to the deep-fried version. It uses fresh chicken slices, and there is no questionable ingredient on the list.
With its crunchy skin and velvety meat, these pork belly bites will instantly blow your mind away! Glaze them with your favorite BBQ sauce to round up the dish.
If you feel like you haven't made chicken parmesan in a while, consider this air fry recipe your opportunity to get started on a healthier habit.
These diced potatoes provide a lot of room for your creativity. You can use any salt, peppers, and seasoning and add some oil to enhance their color.
These cookies are among the few desserts that allow you to stay on your diet. It is, without a doubt, worth making and makes you want to return for more.
This salmon dish is juicy and flaky, an excellent way to include more fish into your diet. Also, it is ready in under 30 minutes and only needs several pans.
You can make this banana bread recipe whenever you feel like having a slice but don't want to have a big loaf hanging around your kitchen.
This one is for all pumpkin fans out there! They are light and fluffy and taste amazing when you put a slab of butter on them.
These chicken tenders are crispy, juicy, and simply delicious! Even better, they are low in carbs, and the whole family will absolutely love them.
If you are looking for a way to put a twist on this classic Southern dish, this recipe is for you. The end result is a golden, soft-textured loaf that pleases everyone.
The healthy sweet potato fries are so crispy and flavorful. You can snack on them on their own or serve them with your classic hamburger.
Crispy on the outside and tender in the middle, these air-fried onion rings make a fun appetizer and guilt-free snack! Also, they're way less of a hassle to make at home.
This roast chicken is a great base for many seasonings and side dishes. Moreover, you don't have to worry about breading either.
Looking for a way to make french fries at home? This recipe requires no grease at all, and you can easily season it to perfection.
Suitable for people on low-carb and keto, this zucchini dish is a crave-worthy recipe that every air fryer owner should try once in their lifetime.
Are you craving for fried pickles? This recipe proves that it is not hard to make that dish with your air fryer, and thankfully, the result is something you can be proud of.
These roasted carrots take much less time than their baked counterparts. And you can make them more sweet or spicy according to your liking.
Filled with diced pepperoni and creamy mozzarella cheese, this pizza roll recipe will make the list of your favorite game-time snacks.
It has the perfect blend of seasonings and spicy sauce, and it will make everyone fall in love with its heavenly flavor instantly!
This brownie recipe requires no baking, and it comes together so quickly. You can top it with powdered sugar and nuts for a tasty, homemade treat.
Soft and cheezy, this omelet recipe is as adaptable as the best air fryer recipes can get. Whatever protein and seasoning you have in hand, you can add them in it.
This air fryer cookie is the healthy dessert you have long dreamed of. And, thanks to the help of your air dryer, it takes no more than 10 minutes to make.
With the right amount of char and crispiness on its exterior, this recipe will bring out all the flavors hidden within the cauliflower.
Saucy and spicy, these cauliflower bites are perfect for a lot of occasions. Sure enough, this is the kind of snack that you won't easily get enough of.
These creamy wontons will make you want to ditch your deep fryer. The combination of crispy wrappers and tangy filling makes the ultimate night snack.
Whether you use fresh or frozen corn, this air fryer recipe serves as a great companion for any meal. You can top it with BBQ or Cajun seasoning.
Thanks to its simplicity, this recipe might capture your heart immediately. The crispy edges and savory garlic flavor make it hard to pass up on this dish.
With just a few simple steps, you will be able to make your homemade air fryer pizza. Set it to the right temperature, and you will get that iconic crispy edge.
This easy air fryer recipe is packed with all the flavors you need, featuring lemon juice, Italian herb seasoning, and olive oil. Just make sure you marinate the chicken long enough.
This recipe is sugar-free, and you can make it with instant oats. You can throw in collagen powder in the mixture to gain some health benefits.
Warm and comforting, this one is the ideal dish for a breezy autumn night. You can just substitute the ramekins with any air-fryer-friendly bowl you have.
Who says it is impossible to make great pastries with an air fryer? This recipe is perfect for both dessert and a last-minute breakfast.
This recipe requires nothing more than just a few basic ingredients from you. You will be amazed with the end result the first time you bite into it.
Chicken fingers have long been a favorite for a lot of people. This recipe has provided us with a much healthier way to enjoy these finger-shaped goodies.
📋 Recipe
Frequently Asked Questions