Have you started any of your Christmas shopping yet? I have purchased a few gifts and took the time this week to get them wrapped. So I thought I'd share some of my pretty and easy gift wrap ideas with you.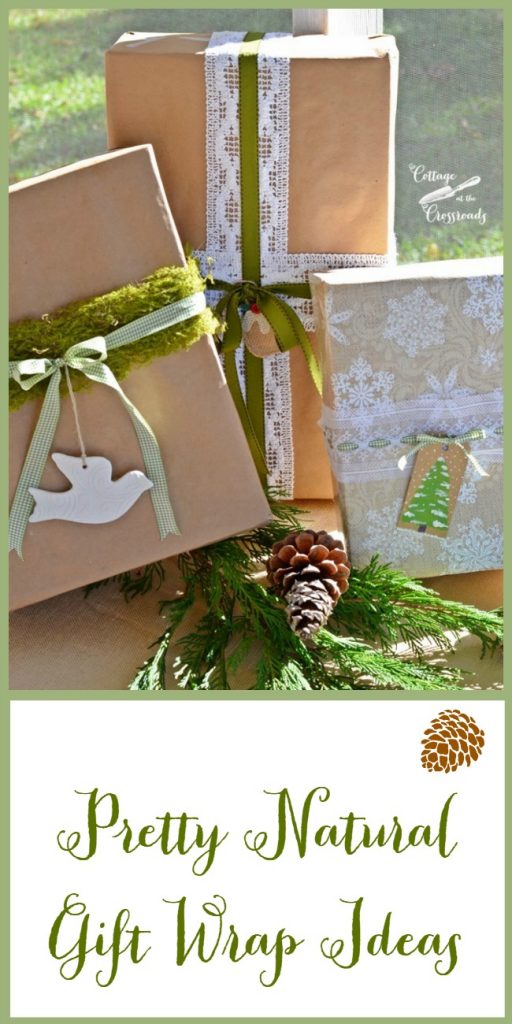 Tip #1: Decide on a theme or color scheme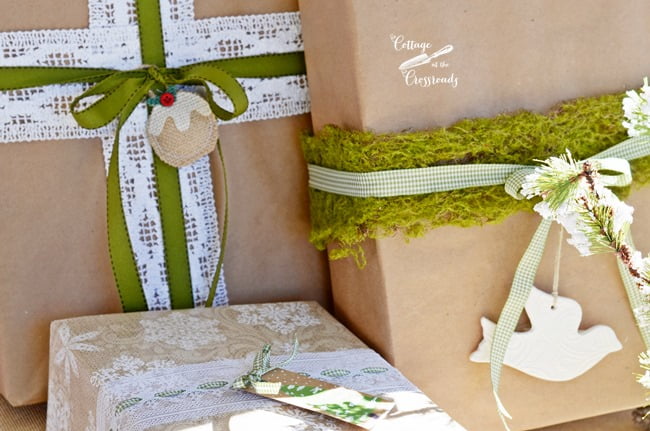 This year I'm using a green and natural color scheme in my Christmas decorating. I'm calling it my Green Peaceful Pine Cone Theme. Ok, I know that's not a good theme title right now, but you can get an idea of the direction I'm heading. I think it looks so much prettier when the wrapping paper is coordinated under the tree, so I'm using brown kraft paper along with another natural colored paper, but I have yet to find a green wrapping paper design that I like. Buying and coordinating your wrapping paper in advance helps to make the pretty packages part of the decorations. 
If you're looking for a great way to use those leftover wrapping paper tubes check out these fun toilet paper roll crafts for kids.
Tip #2: Pull your wrap tight and crease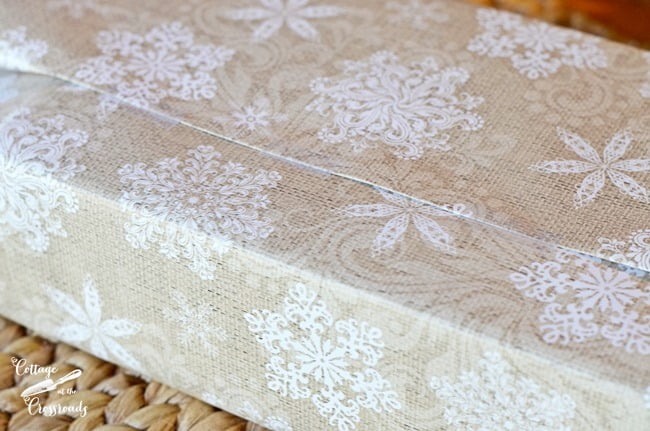 Years ago, my first real job was in Belk's Department Store. I was placed in the china and housewares department where I was taught to wrap wedding gifts. I'll never forget the manager, Mr. Howard, teaching me to pull the wrapping paper tight and to crease the edges. Taking a little bit of time to do that makes the package so much neater.
Tip #3: Place the tape along the folded edge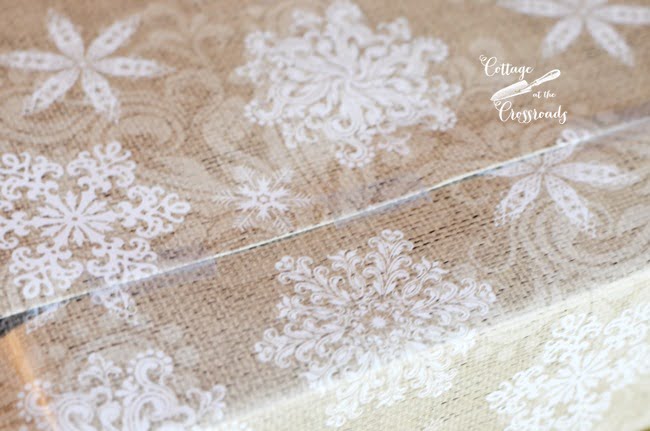 I'll never forget Mr. Howard watching me wrap my first gift and how he corrected my tape placement! I think I was just putting it anywhere, but he showed me that it should be placed along the folded edge. To this day, if I get a little careless, I can still hear his voice admonishing me, but I'm awfully glad he gave me some good training.
Tip #4: Embellish your packages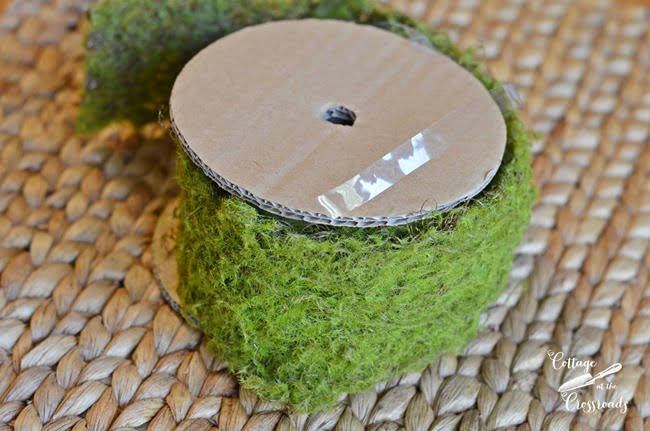 I love wrapping gifts and making them special by using some unexpected materials and embellishments. On one of my packages, I used this ribbon that looks like moss. I've had it for over two years since I found it in a clearance bin. It fits in great with my natural theme that I'm using this year.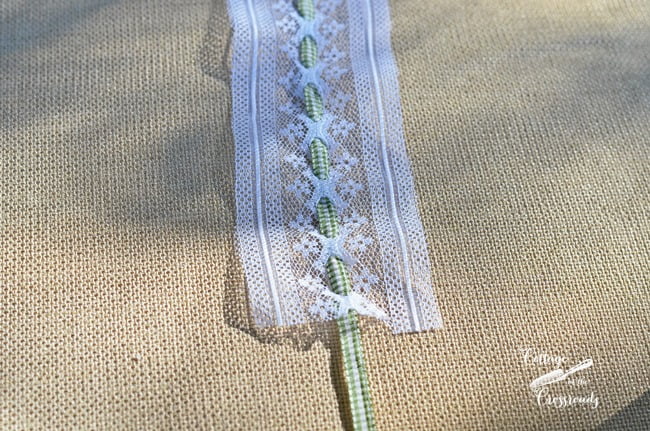 And while I was digging around in my stash of ribbons and trims, I found this delicate piece that seemed to go with one of my wrapping papers. I threaded it with some gingham ribbon that I had on hand.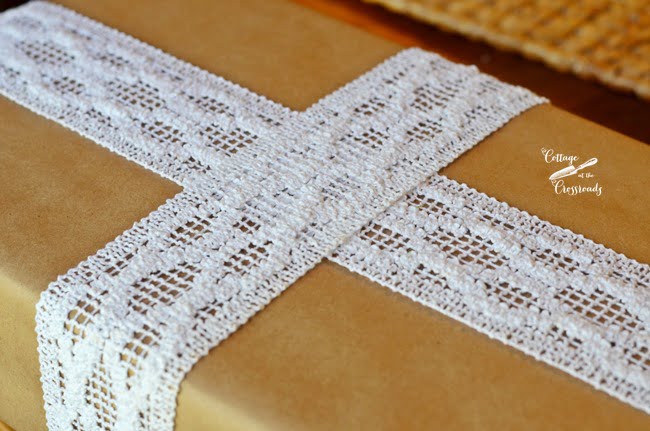 And I found this lovely trim that I put on one of my packages. So don't be afraid to show a little of your personality or what you love when wrapping gifts. Or even better, match your package with things that you know your recipient loves.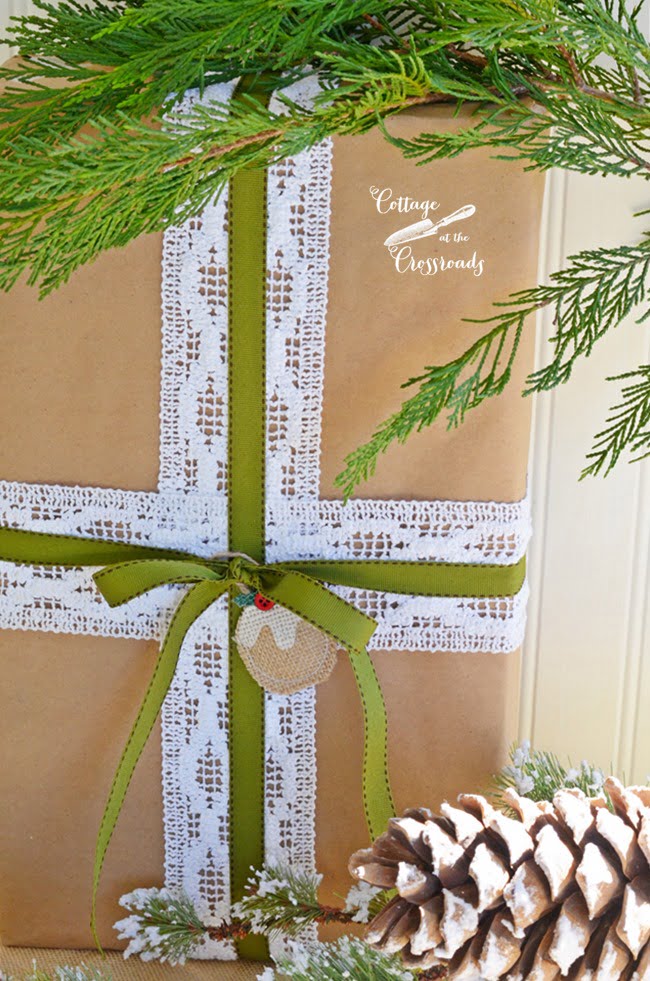 Keeping a stash of ribbons, tags, and baubles makes it easier to personalize your package. The little burlap tag, found at Hobby Lobby, makes a pretty adornment for this package.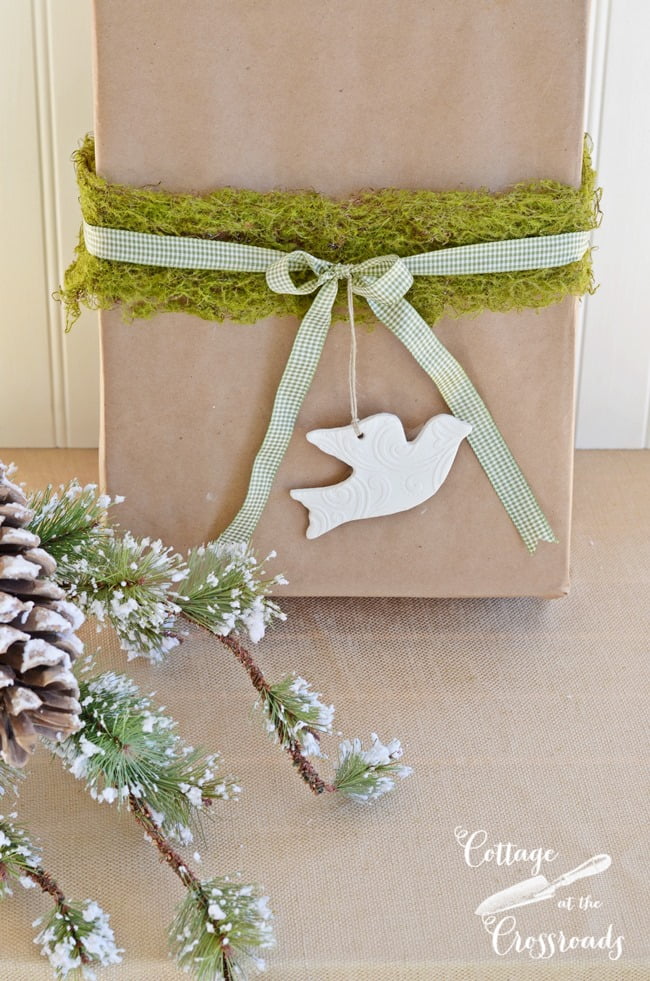 I just adore this peaceful clay dove tag on this package. I ordered a set of these when my friend Ann made them available several months ago.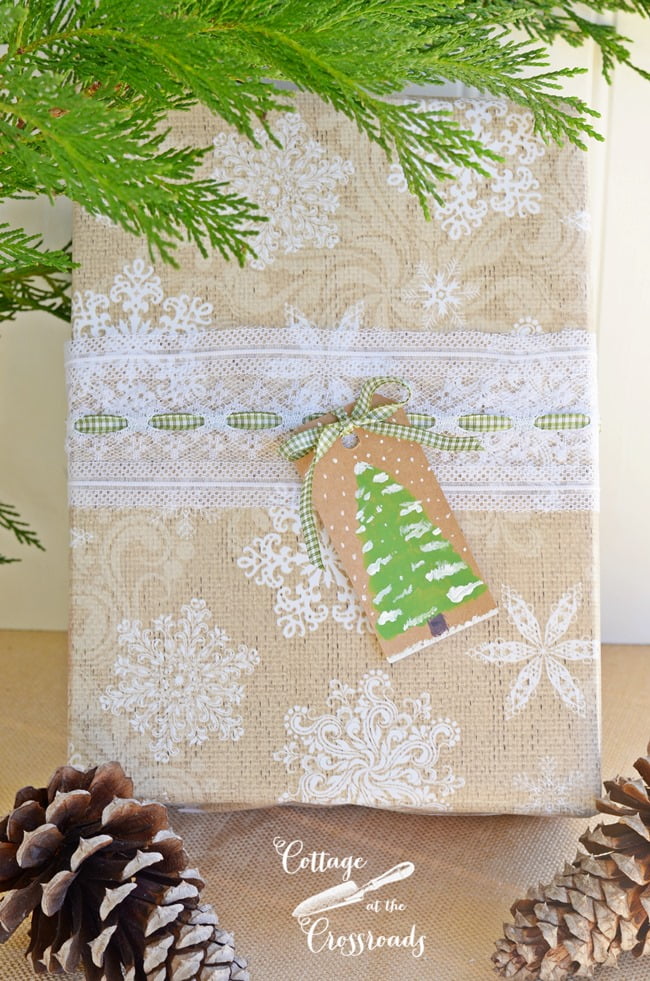 A great way to get your children involved in the gift wrapping is to have them paint some gift tags. It took me about 5 minutes to paint this little tree, and I just used one that I found online as a model.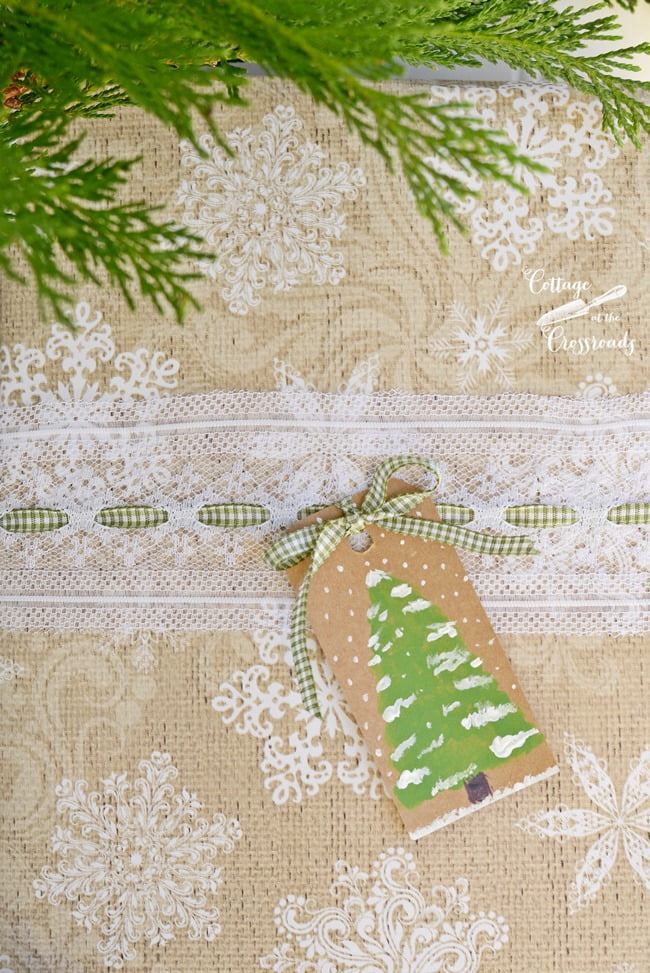 Just be sure to buy the heavier plain tags so that they don't curl when painted!
Tip #5: Wrap your gifts as soon as you buy or make them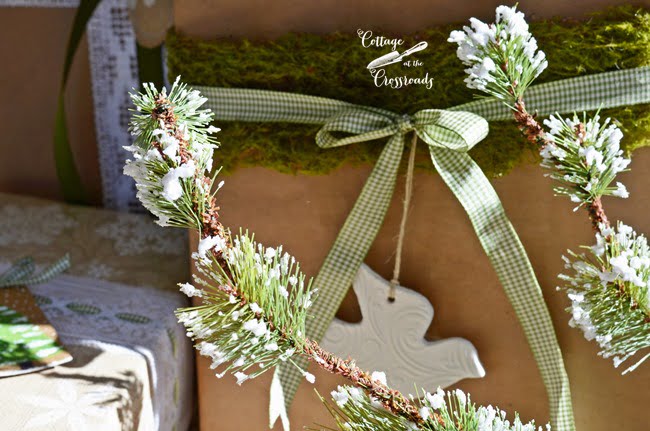 If you wrap a few gifts at a time, the job is much more pleasurable! Make it easier on yourself by putting all your wrapping paper and supplies in a handy location so that you can wrap as you go along. I keep all of my supplies including scissors and tape in a big, long box under the guest bed.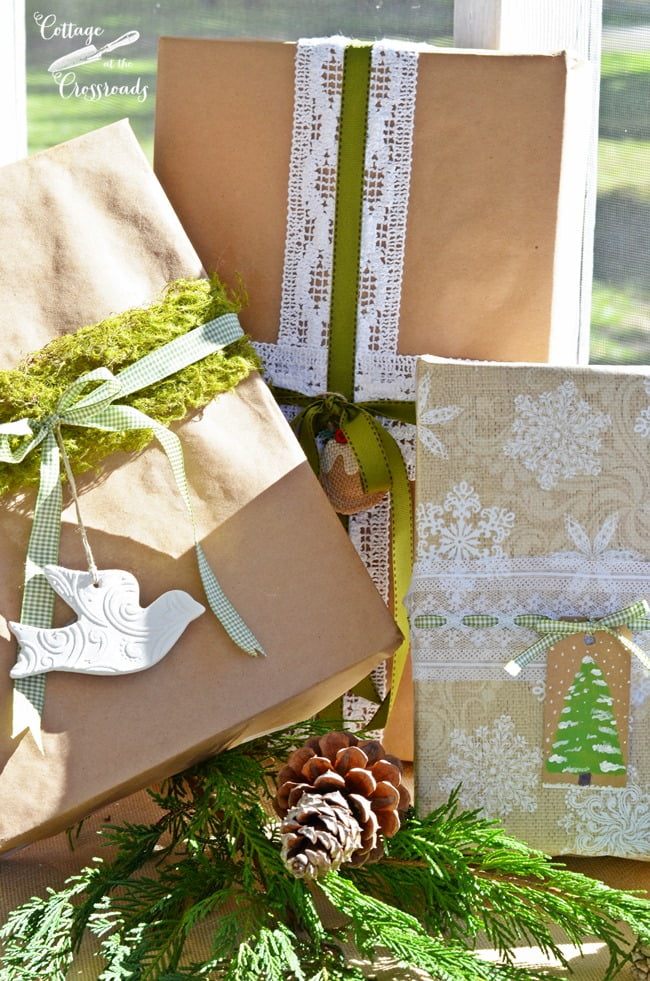 I hope that you have found these tips helpful. A gift wrapped with love and care is sure to be appreciated.