Passion fruit is popular in many tropical and subtropical regions around the world. But many countries are enjoying this unique fruit in a variety of ways. Passion fruit is a delicious fruit that can add a tangy and sweet flavor to various recipes.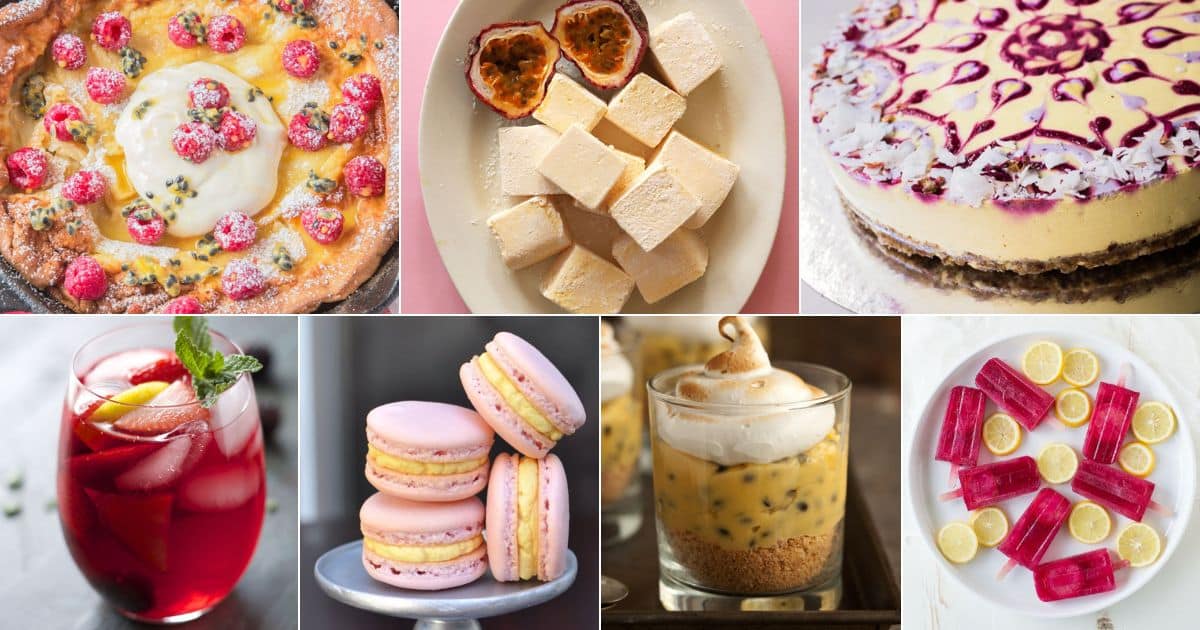 We have gathered a list of ways to use this recipe for a sweet treat any day of the week!
Contents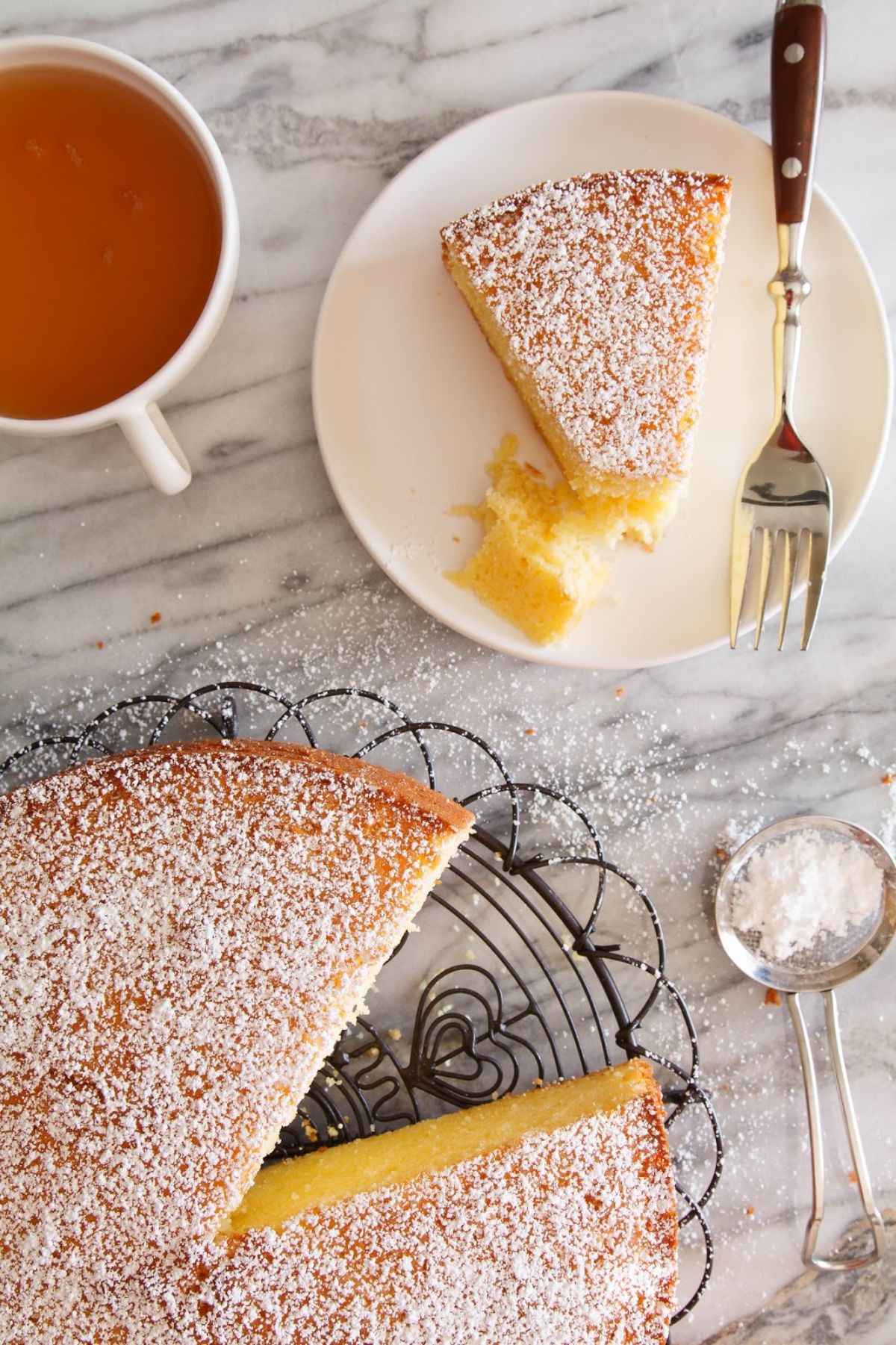 Make passion fruit into a hearty and filling dessert in no time! We love making this passion fruit yogurt cake as a cool twist on the typical lemon curd cake with powdered sugar on top.
For this cake, you will need the typical baking ingredients for a cake, along with passion fruit puree and plain yogurt.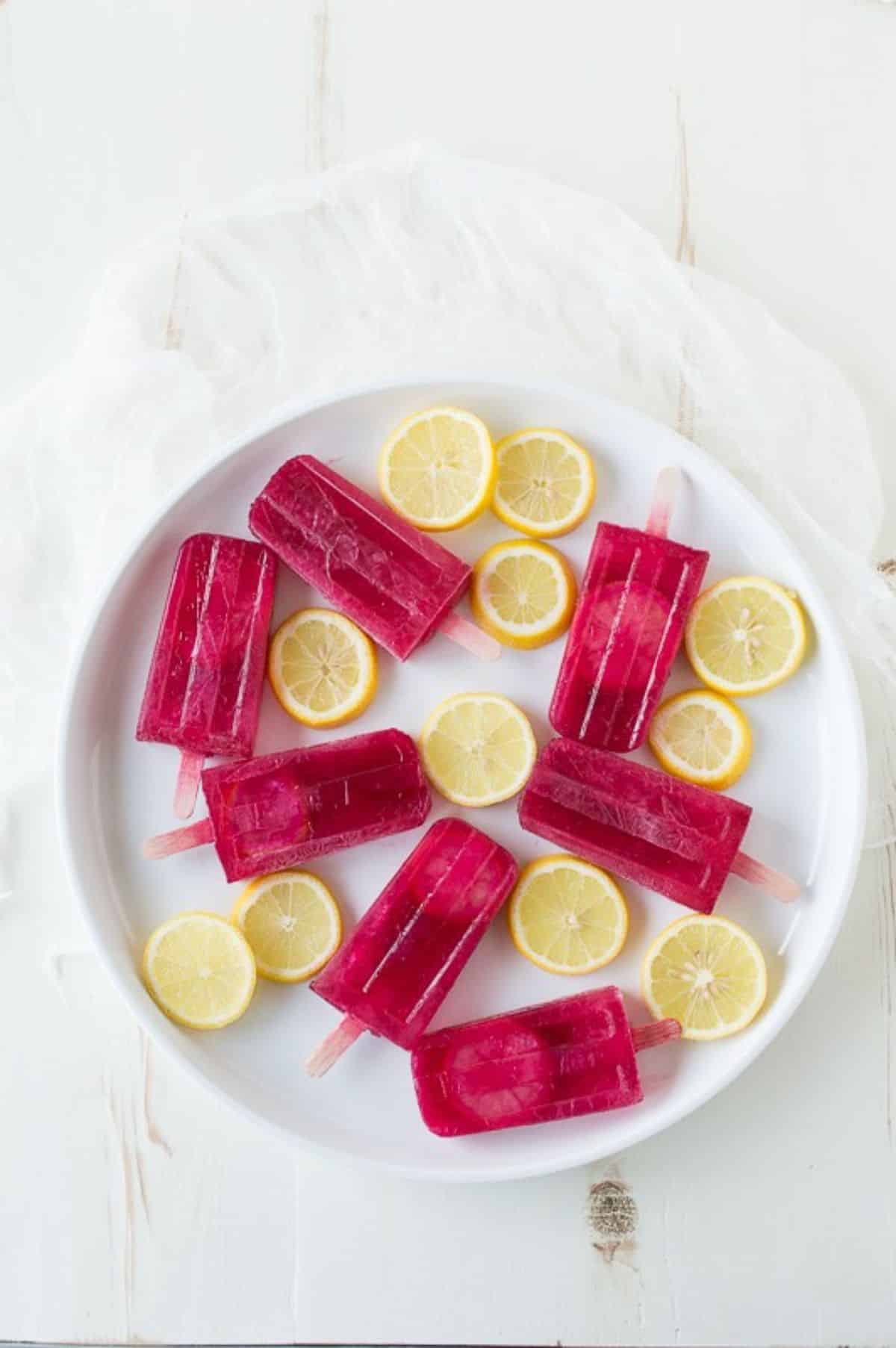 Passion fruit and lemon go so well together! We love the bitter taste of the lemon and the passion fruit's sweetness in all types of drinks and desserts. This recipe takes just 15 minutes to prep and 1 hour to freeze the popsicles to serve the next day!
Use passion fruit tea or combine passion fruit chunks with the tea for an extra bite. What an ideal summer treat for a hot day.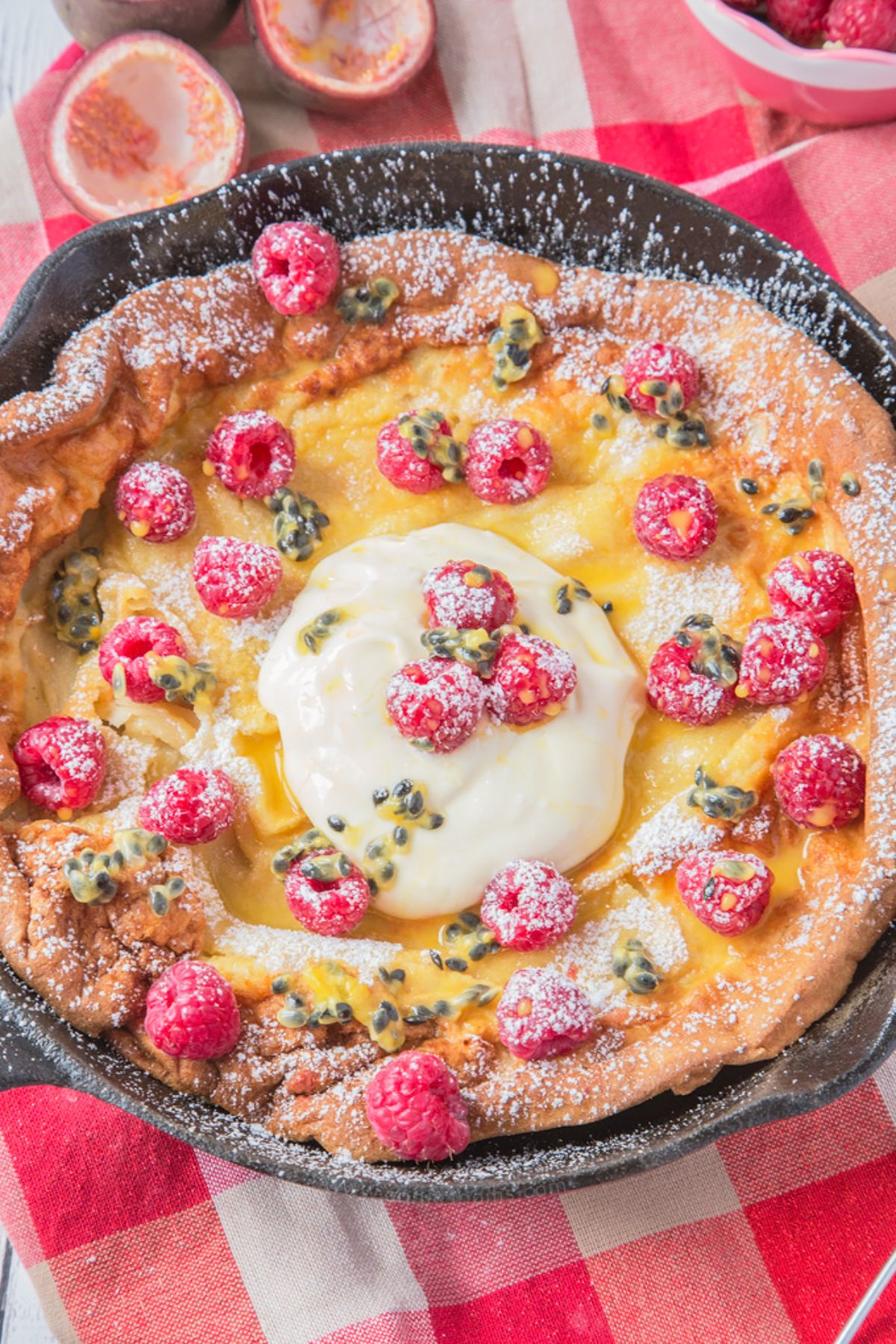 This interesting pancake combines the best parts of a crepe and cake in one! Use raspberry, fresh passion fruit, and the typical baking ingredients to make this giant pancake in a pan! Use fresh raspberries and agave nectar for the sweet drizzle on top.
This recipe takes 15 minutes of cook time and only 5 minutes of prep time for an easy and fast brunch dish that everyone will love.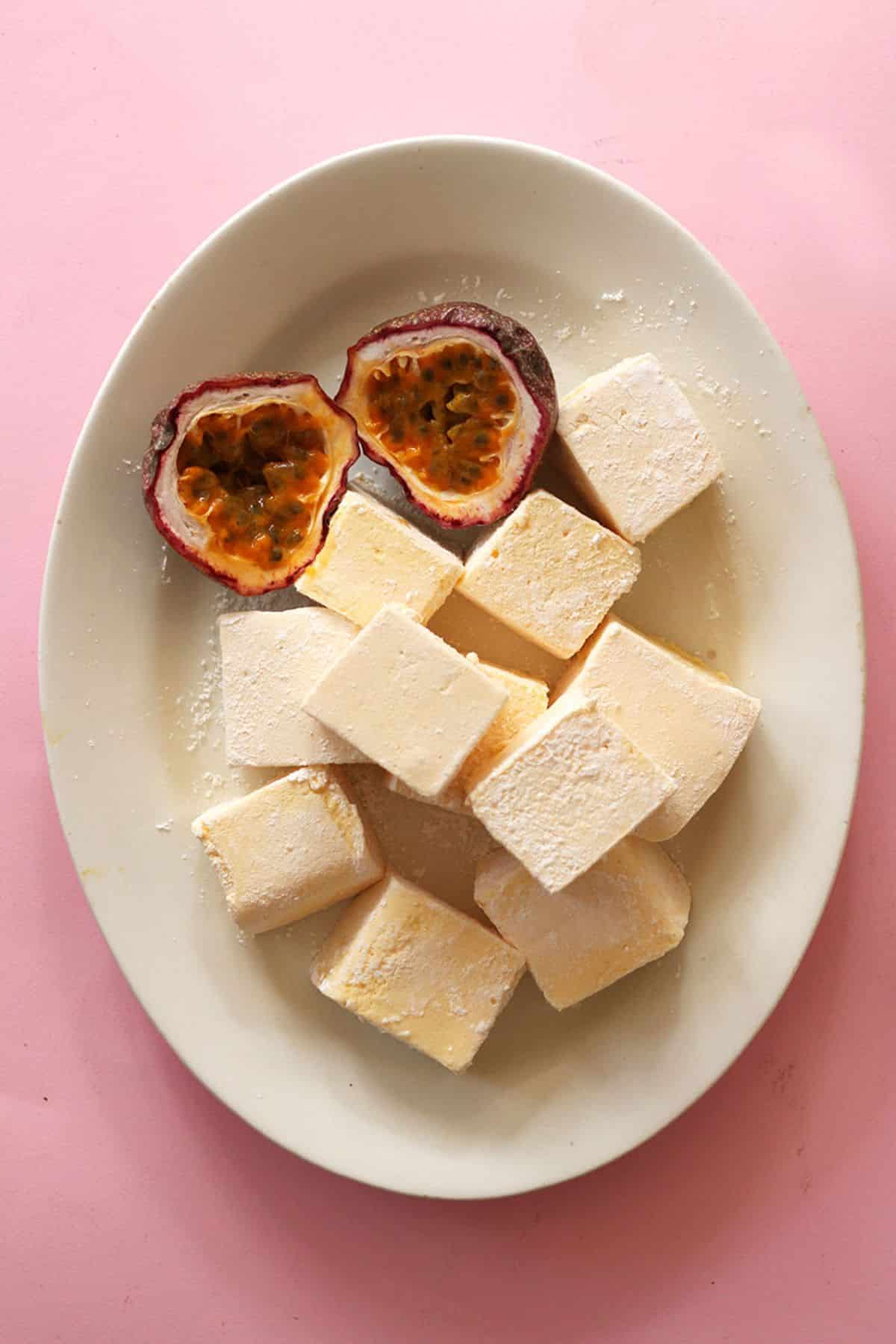 This enjoyable, kid-friendly treat is an excellent snack for children's parties! To make these chewy dessert bites, use passion fruit juice, egg whites, cornstarch, sugar, gelatine, and icing sugar.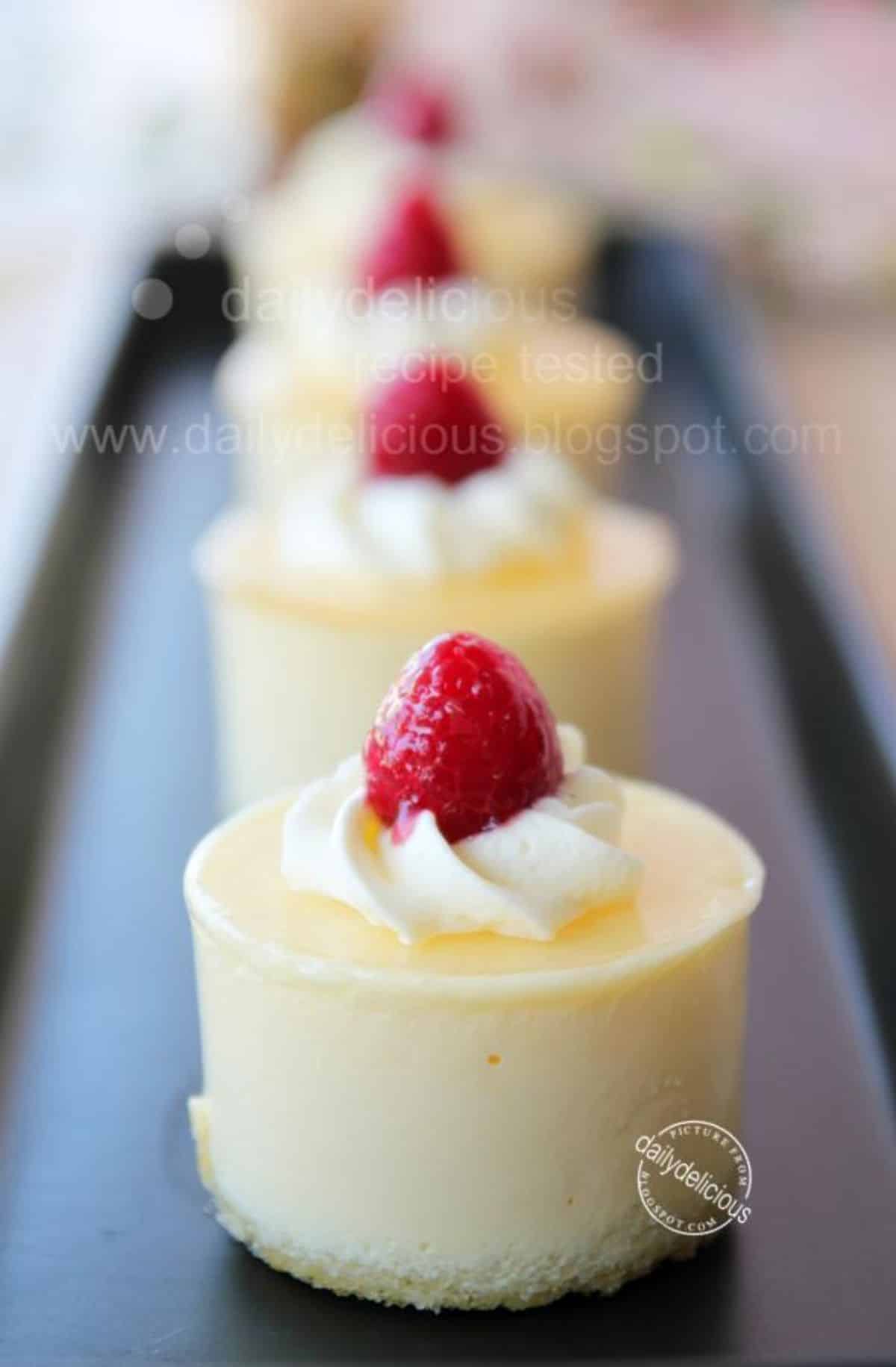 Forget unhealthy desserts — we have a fruit-filled mousse that is light, airy, and semi-healthy! We love this delicious mousse for hot summer days when you want something sweet that isn't heavy, like a cake or brownie.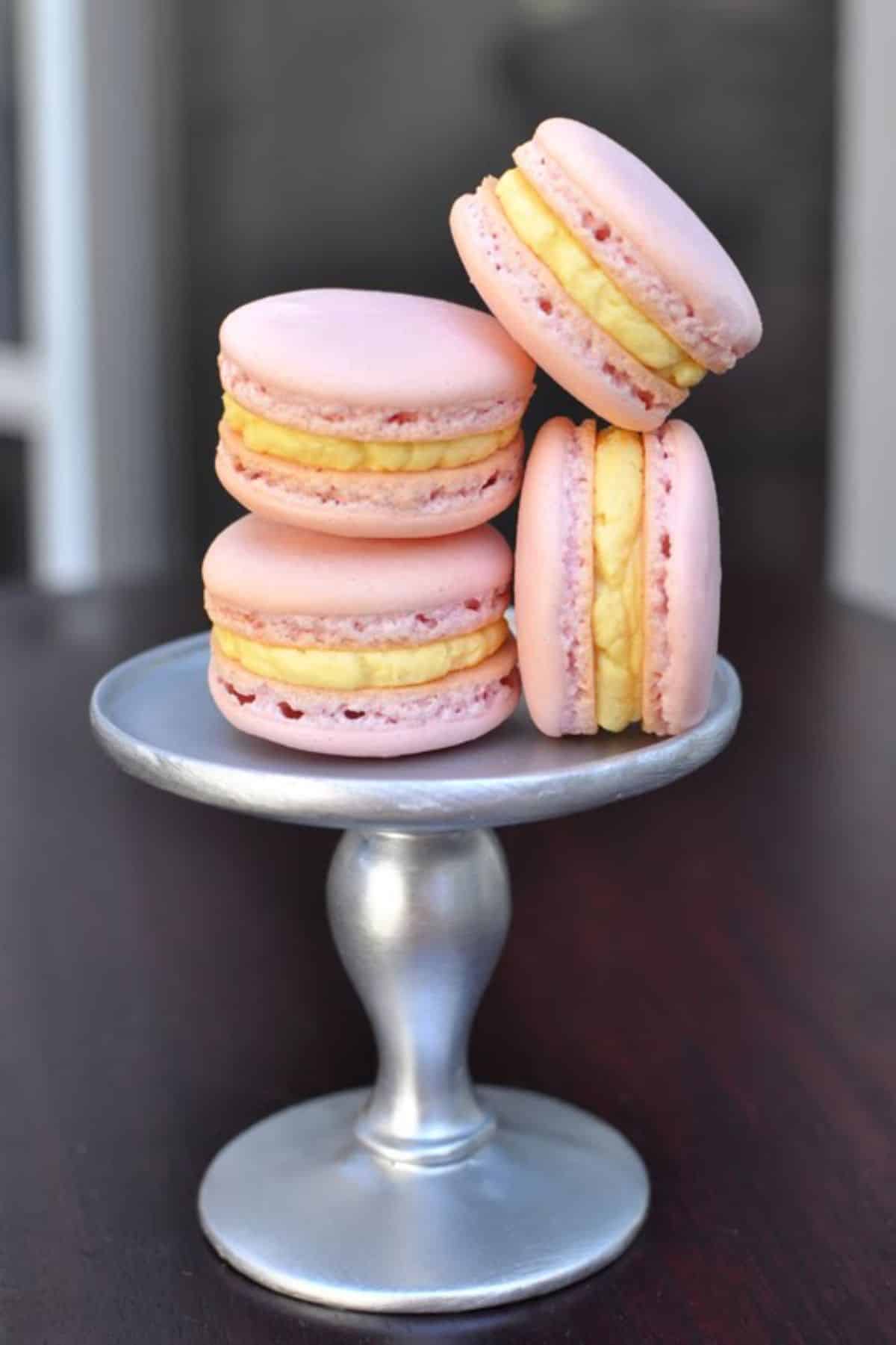 Macarons are the quintessential French treat at a boulangerie with a nice latte in the afternoon. But you can make your own using passion fruit! This recipe fills them with buttercream, a great pairing!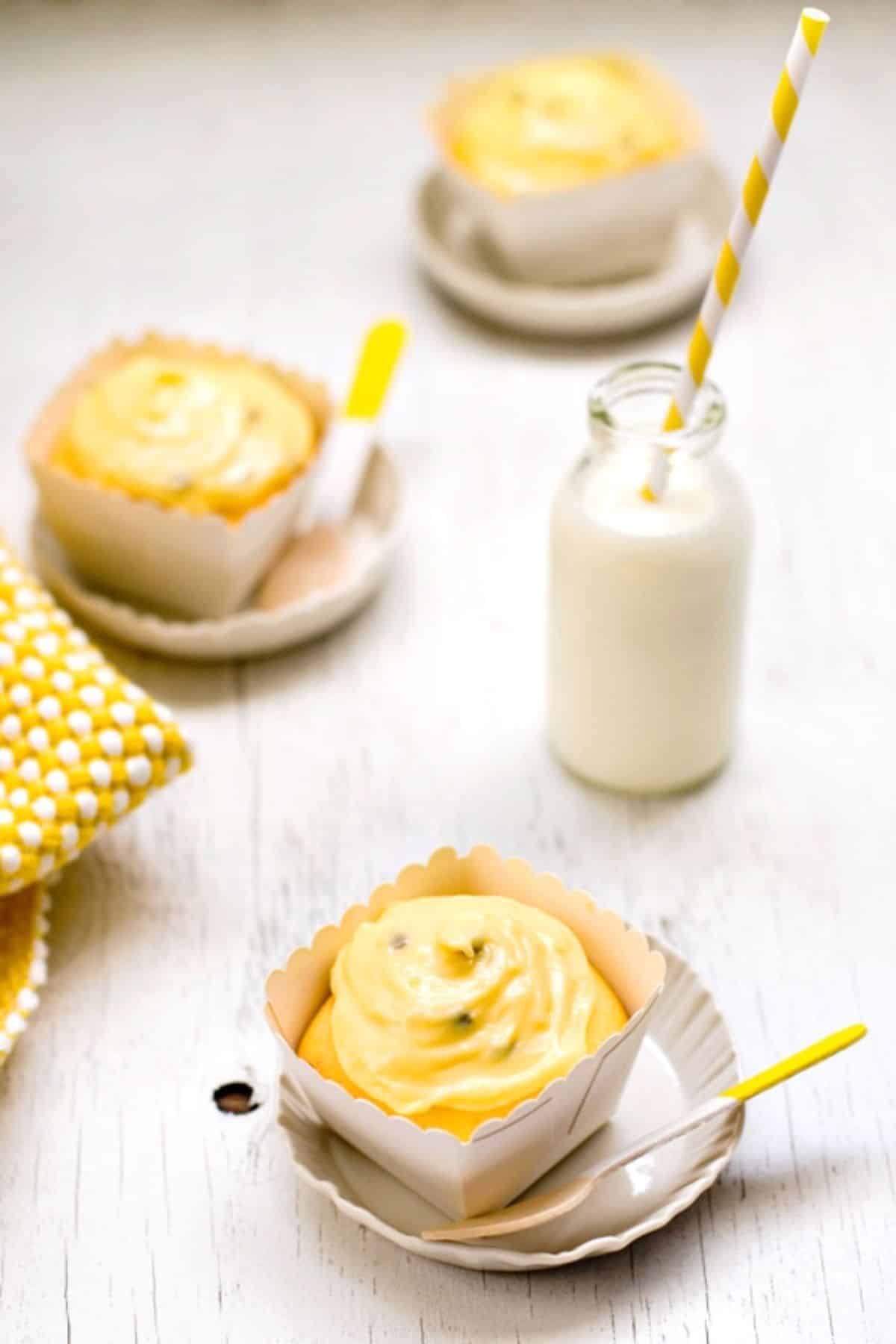 Who said cupcakes have to be the same-old boring vanilla or chocolate? Not us! Follow this recipe to make passion fruit cupcakes with a passion fruit cream cheese icing topping for a sweet fruit-inspired dessert.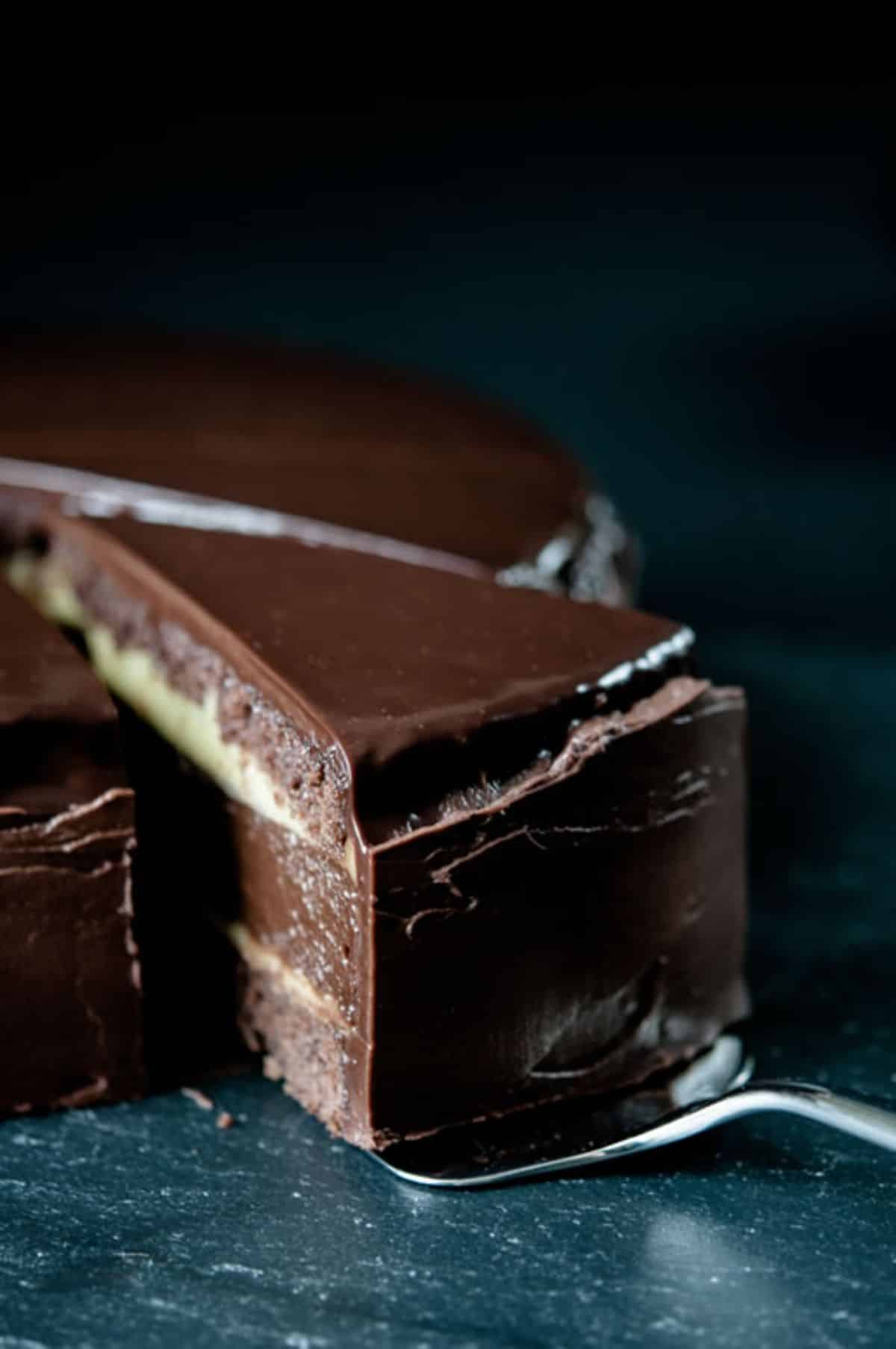 Combine passion fruit and chocolate for this sweet, yummy dessert for holidays and special occasions. It is rich and decadent, filled with passion fruit curd. Layered with other flavors, this one is a unique cake!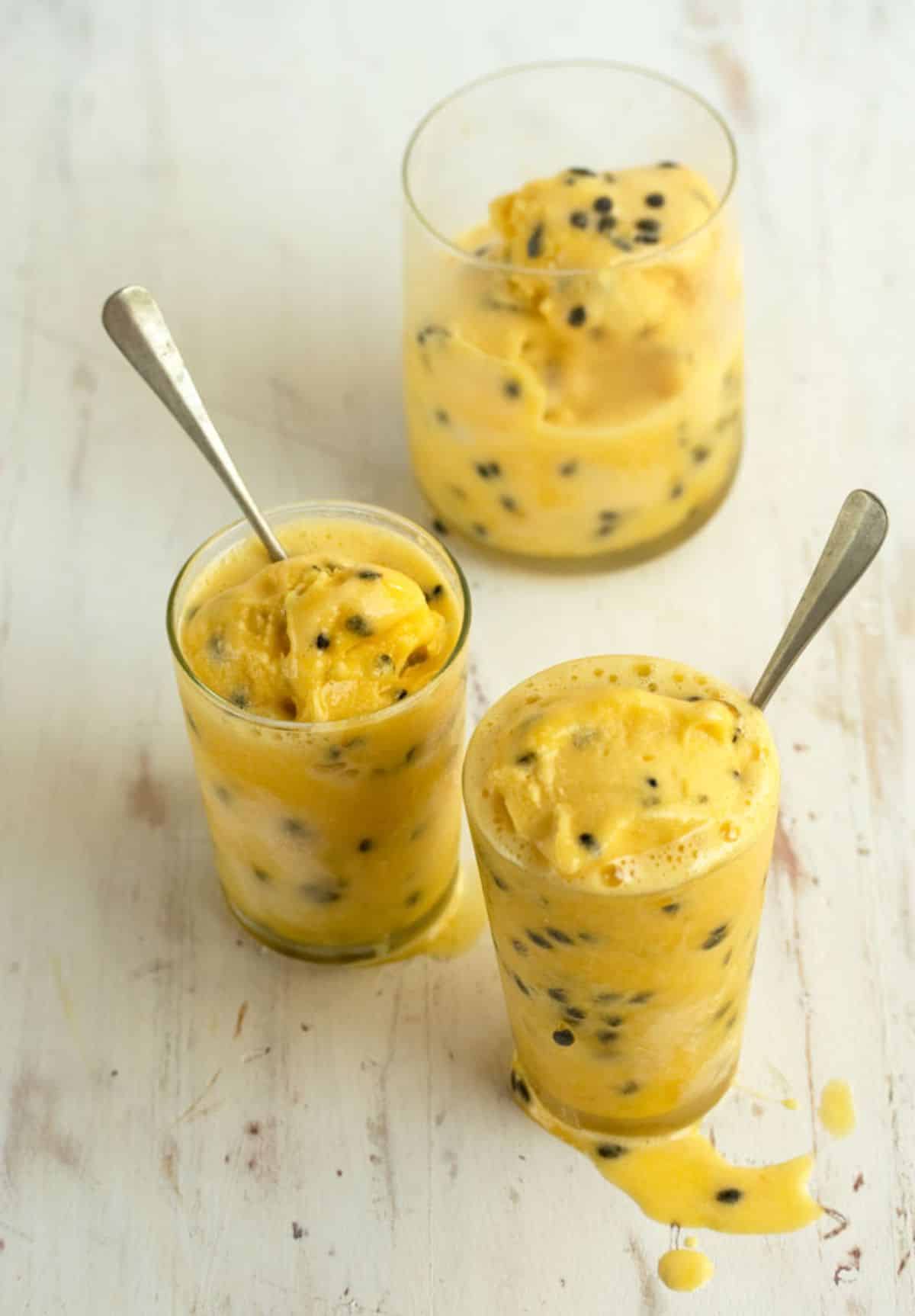 Eat this light and healthy passion fruit sorbet for a better alternative to ice cream with heavy cream. We like this light dessert for hot days when you want something sweet that won't fill you up.
All you need for this recipe is sugar, orange juice, egg whites, and passion fruit pulp.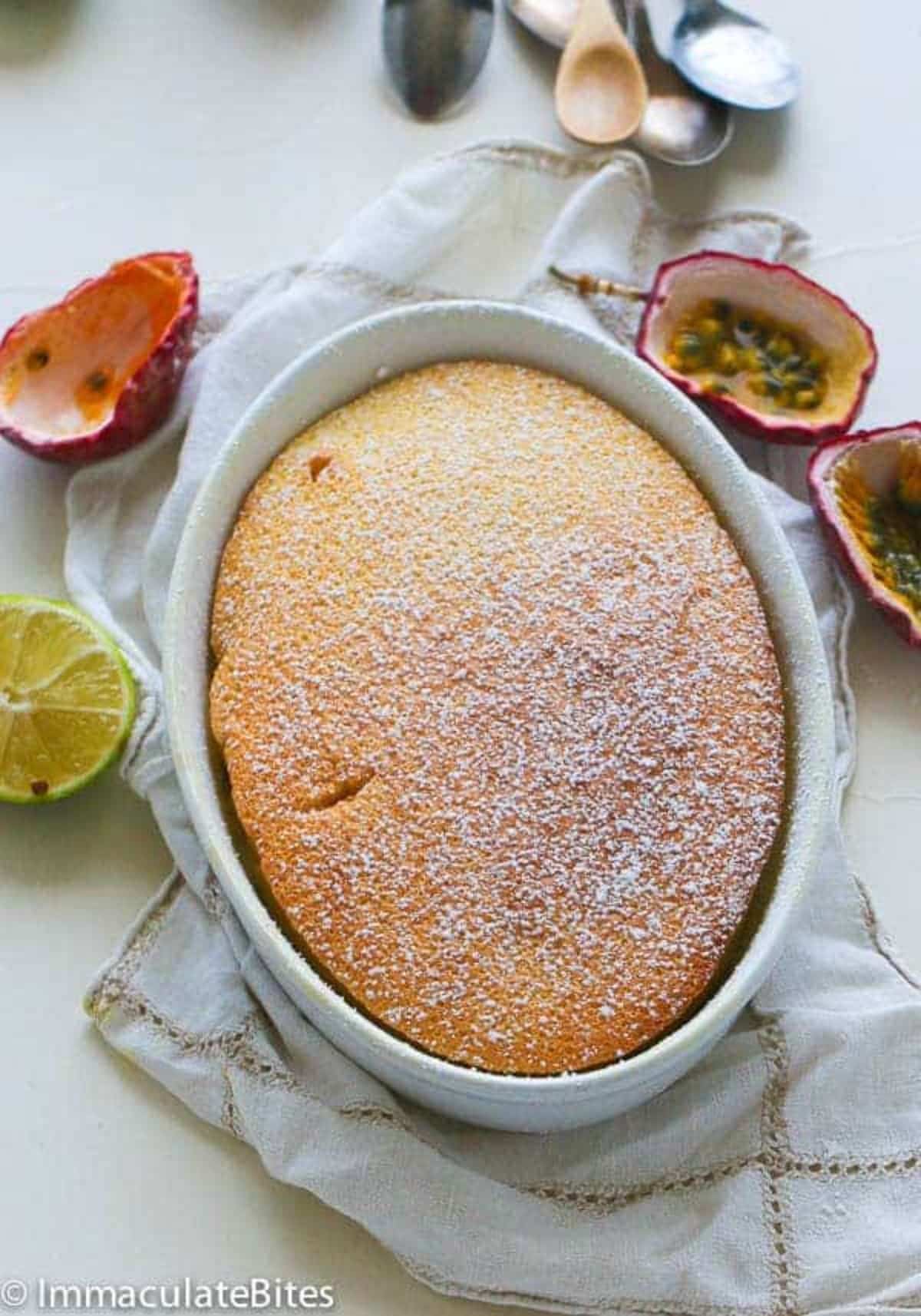 Passion fruit pudding cake combines the best of two desserts into one delectable option — a light and sweet souffle with a creamy sauce on the bottom. We think this is the best! What more could you want with this multi-layered dessert?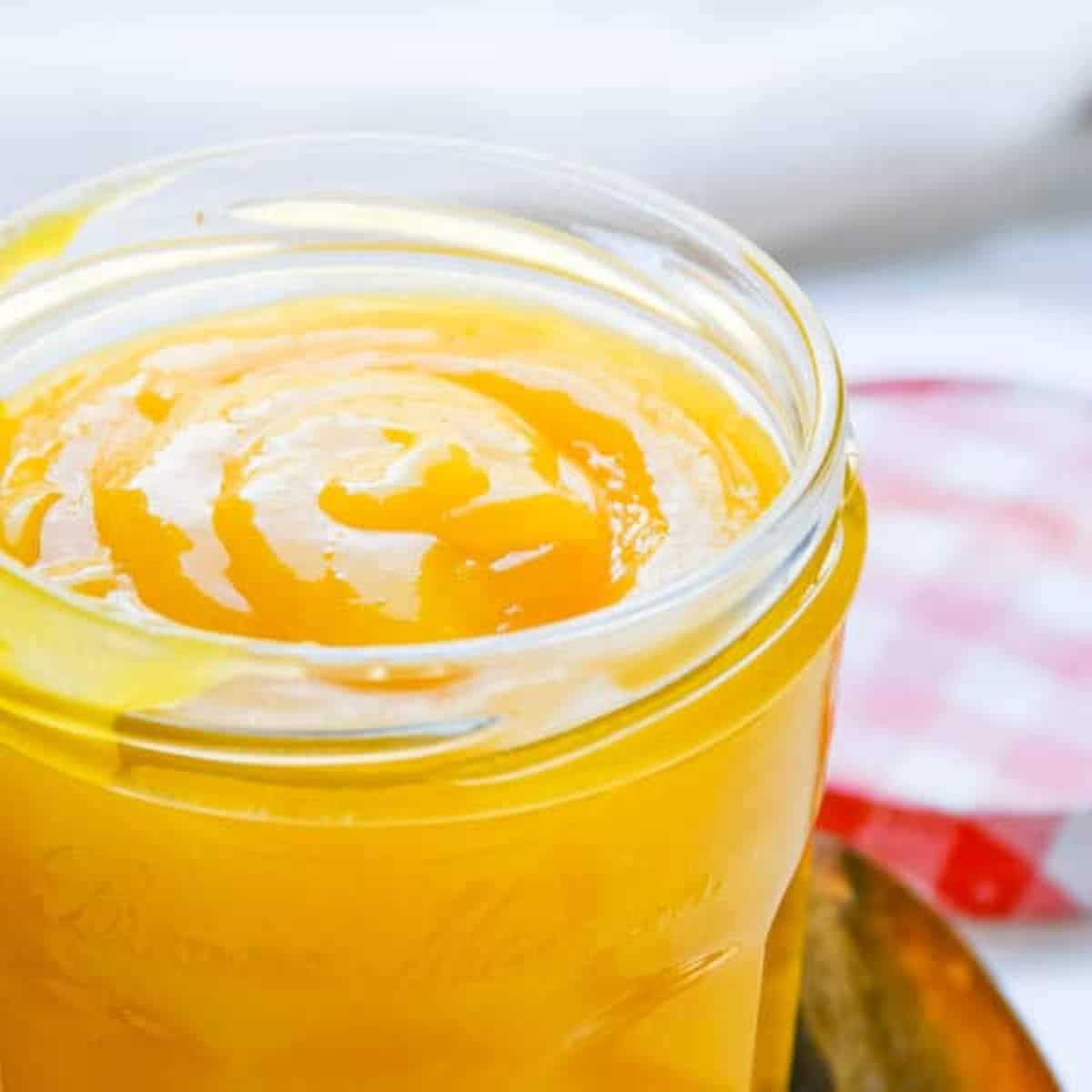 This sweet-tart passion fruit curd is great for dipping crackers, spreading on bread, or eating plain out of the jar! All you need for this recipe is egg yolks, passion fruit, sugar, salt, and butter — then you are good to go!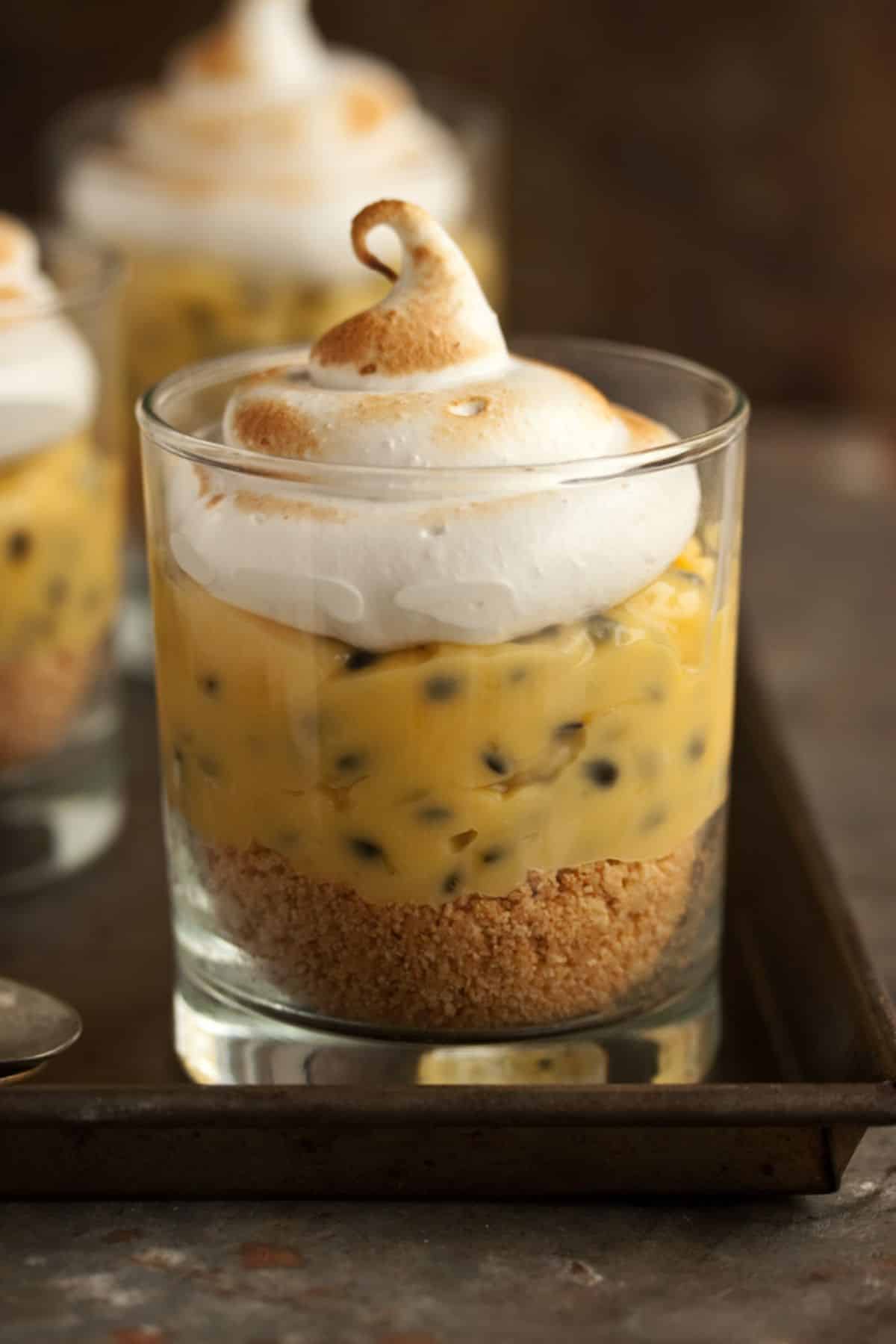 Instead of the same-old lemon meringue pie, we love using passion fruit for a unique alternative! This recipe re-invents the pie by using passion fruit/granadilla curd and serving them in individual cups.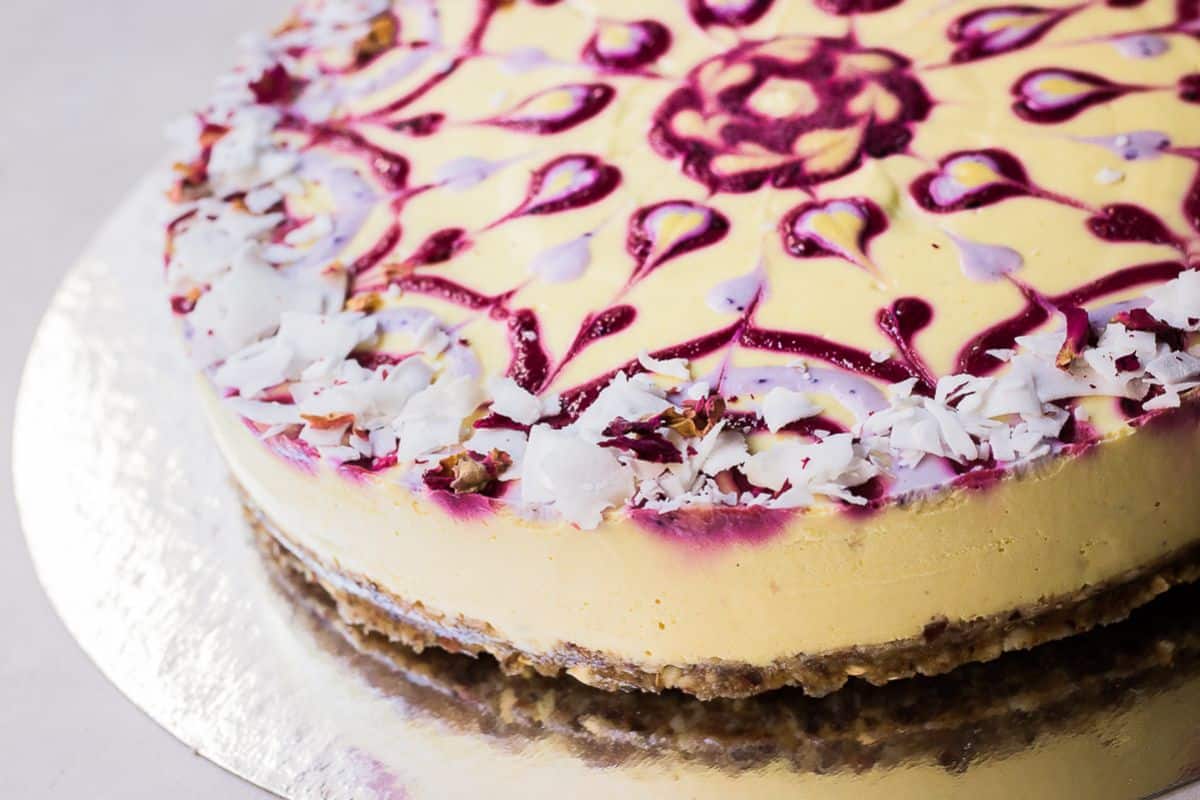 You can make this unique raw cake with the same sweet flavor and softer consistency you like; that is better than a baked cake! We like making this raw passion fruit swirl cake when you want something different from your typical, super-dry, heavy cake.
Use passion fruit, coconut oil, lemon juice, agave, soaked cashews, mango, and turmeric powder to make the passion fruit filling that sweetens the cake. Then, you can also need ingredients to make the uncolored cheesecake batter and the lemon crust.
This vegan, raw recipe takes 1.5 hours to complete and 4 hours for freeze time.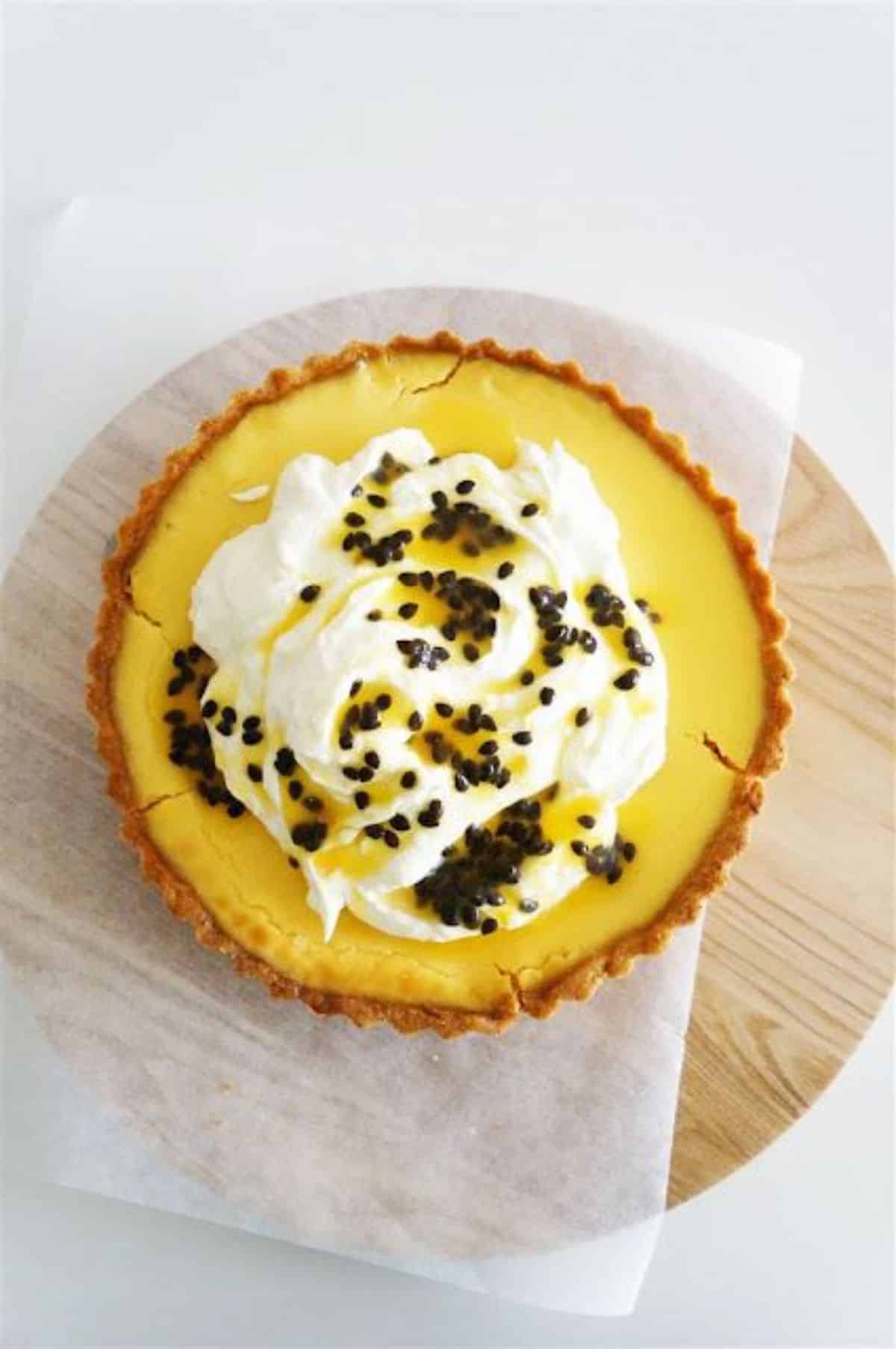 Passion fruit and orange go so well together. So it is no wonder that this orange mascarpone cream perfectly balances the passion fruit sweetness in the tart.
You will need passion fruit pulp, cream, caster sugar, and eggs to fill the hearty passion fruit. Then, make the orange mascarpone cream and the pastry to assemble your beautiful tart! This recipe takes 35-45 minutes to bake in the oven.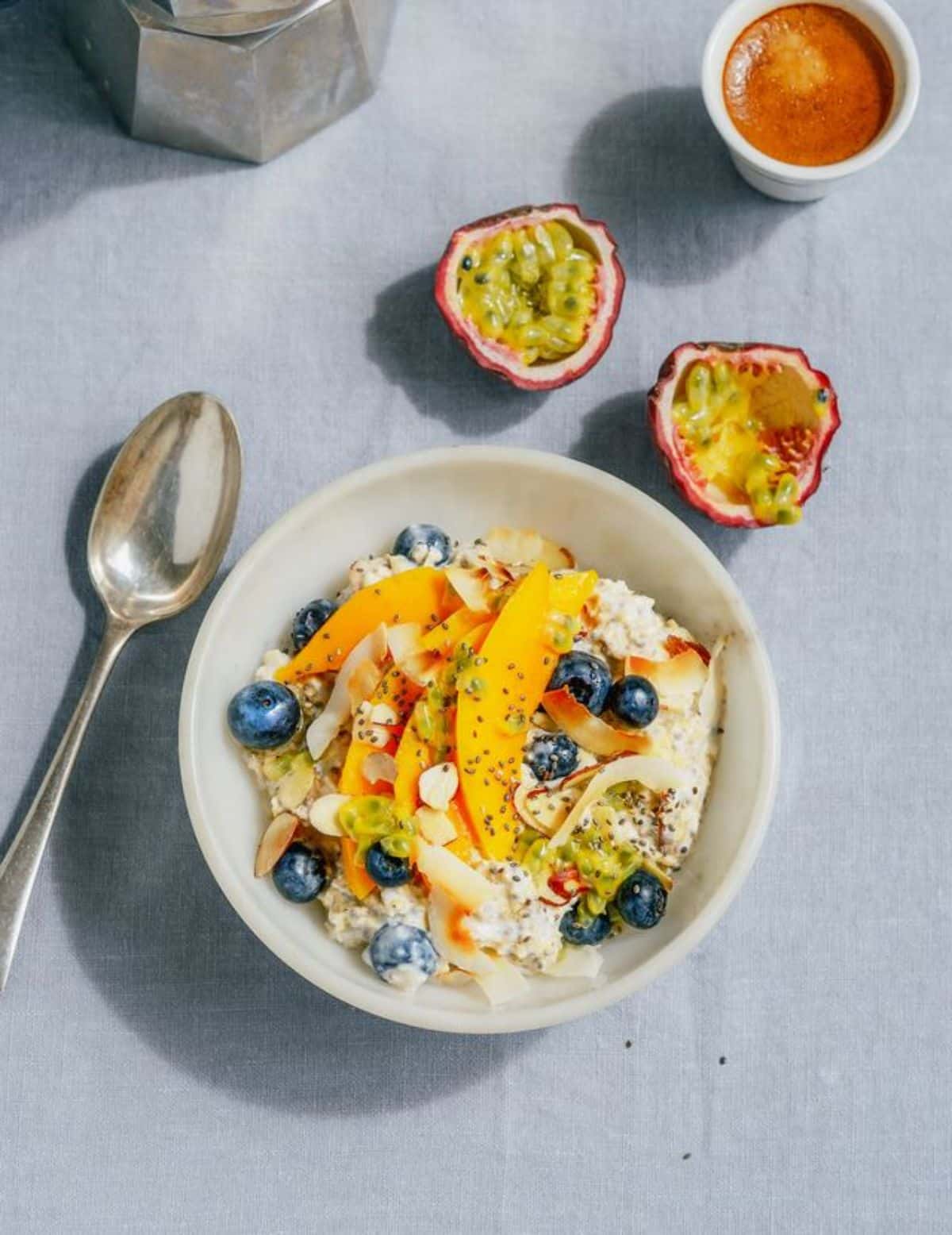 Muesli is a healthy and filling way to start your day! Forget having a boring old bowl of cereal or unhealthy pancakes of French Toast — we think muesli is the perfect balance between sweetness and crunch.
Use coconut, mango, and passion fruit to sweeten this muesli recipe naturally.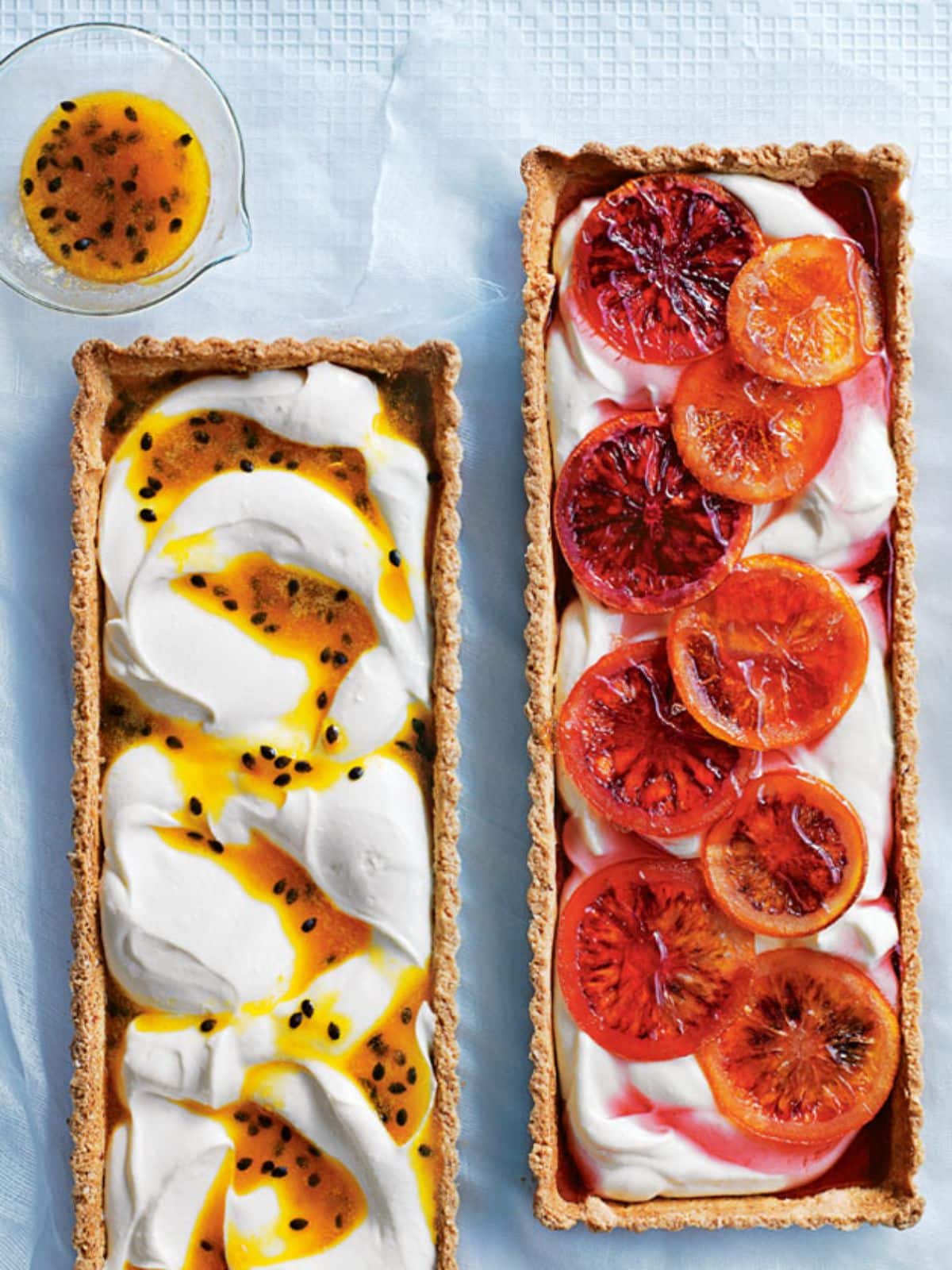 Tarts are the ideal dessert to bring to parties. You can make individual tarts so everyone gets their dessert, or use a sheet pan to make one long tart.
We love this passion fruit ricotta tart for a blend of sweetness and airy cheesy texture. Use passion fruit pulp from 6 passion fruits to make the topping.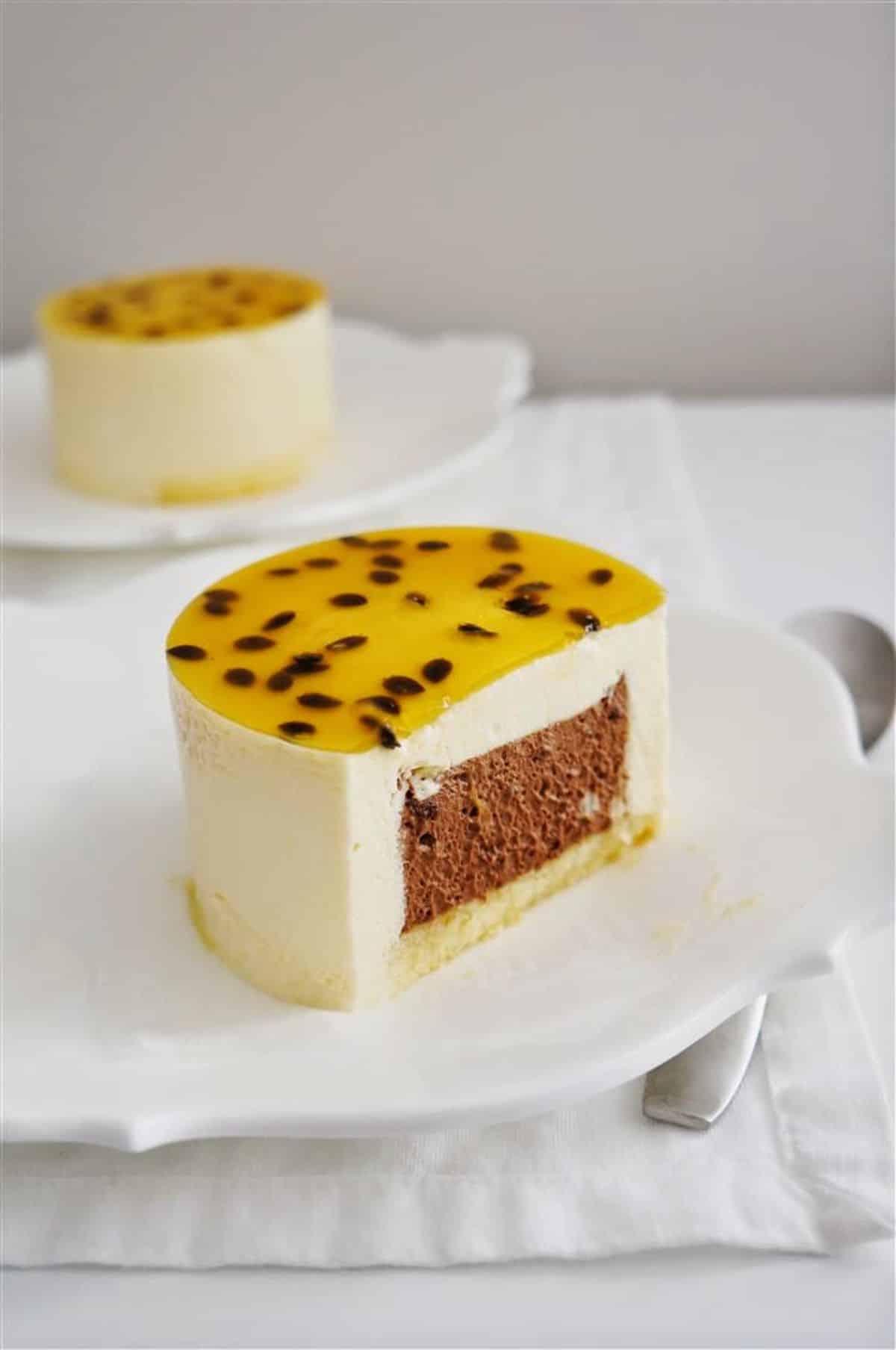 This French-inspired dessert combines passion fruit and chocolate into an aesthetic and 'fancy' dessert that will seriously wow your guests!
We love making the chocolate mousse with 70% or more dark chocolate for a vibrant taste. Then, combine this with the Bavarian Creme filled with passion fruit juice, eggs, sugar, and whipping cream for the perfect mixture.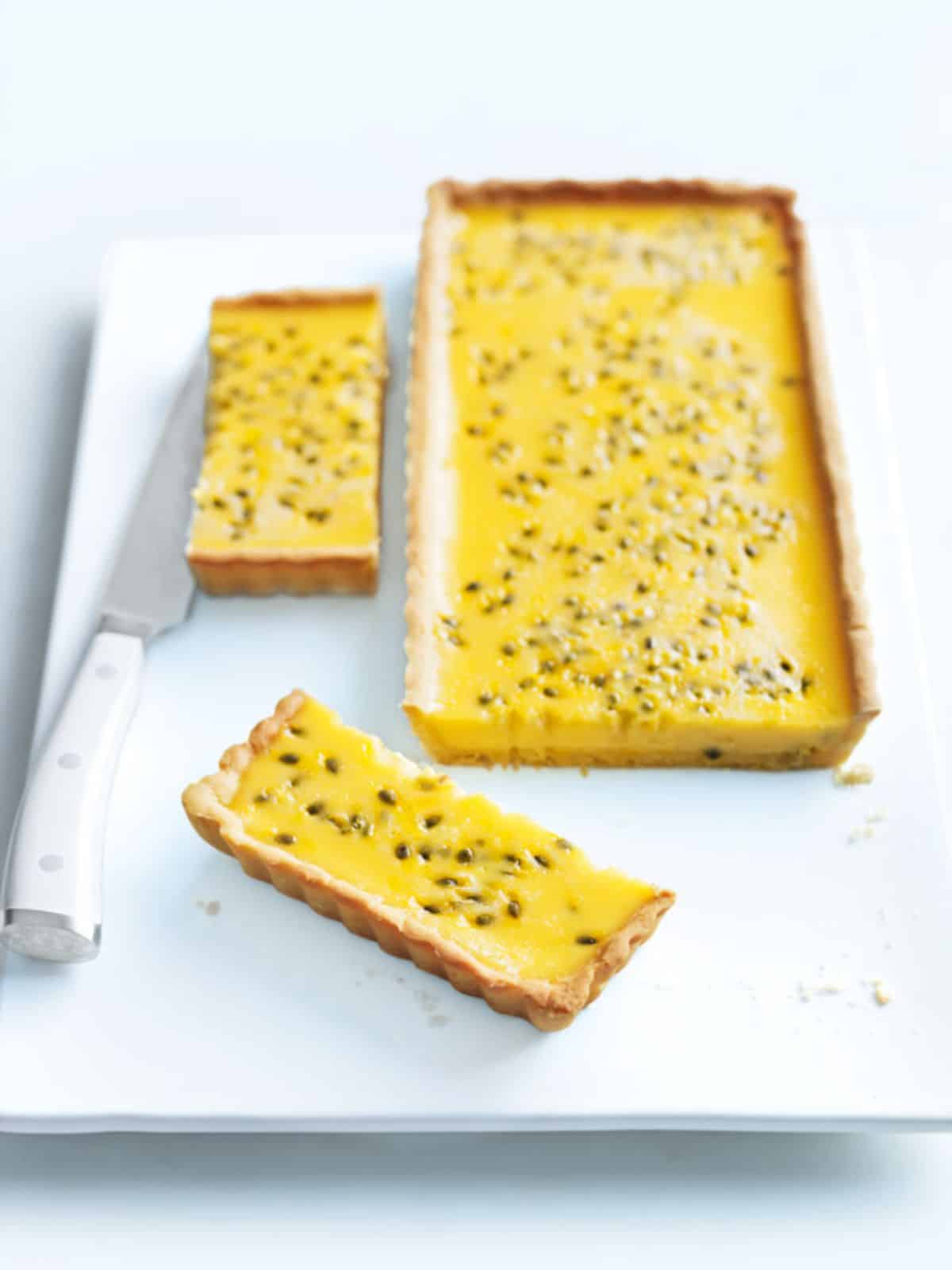 A tart is fast, simple, and easy to make — meaning it is the ideal dessert to bring to a party you didn't plan for. Use the typical baking ingredients to make the sweet shortcrust pastry and gather passion fruit pulp from four passion fruits to make the filling.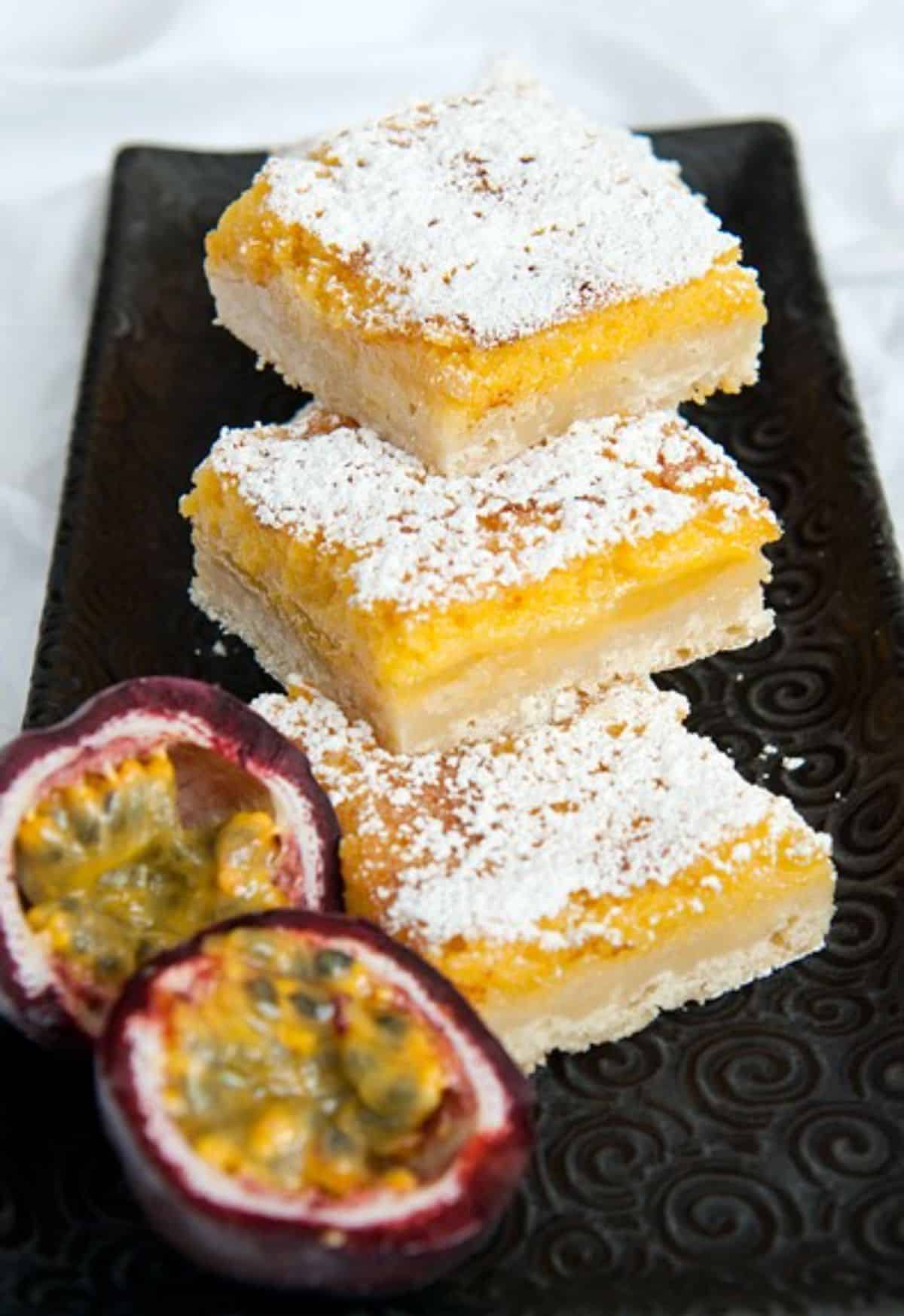 Passion Fruit bars are portable and easy for kids' lunches or parties. For the sweet filling, you will need the usual baking ingredients, along with ⅔ cup of passion fruit puree and sugar.
First, preheat the oven to 350 degrees and bake the crust for 15 minutes. Next, set the oven to 325 degrees and bake the rest of the mixture for 30 minutes until the edges are golden brown!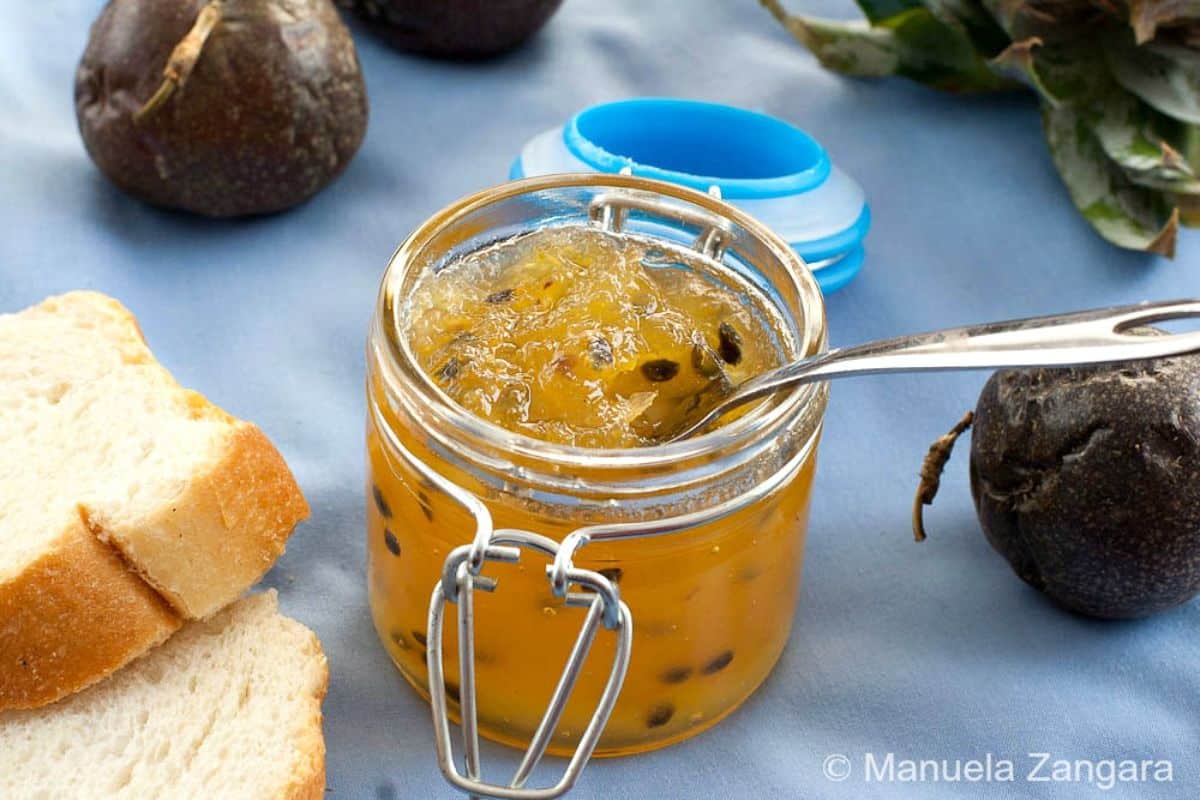 Nothing is better to spread on your toast in the morning than a sweet and delectable pineapple and passion fruit jam! This tropical spread is much more interesting than the typical grape or strawberry jam.
All you need for this quick and easy recipe is pineapple, water, sugar, and passion fruit. The prep time is 15 minutes, and it takes 45 minutes to cook and simmer in a pan.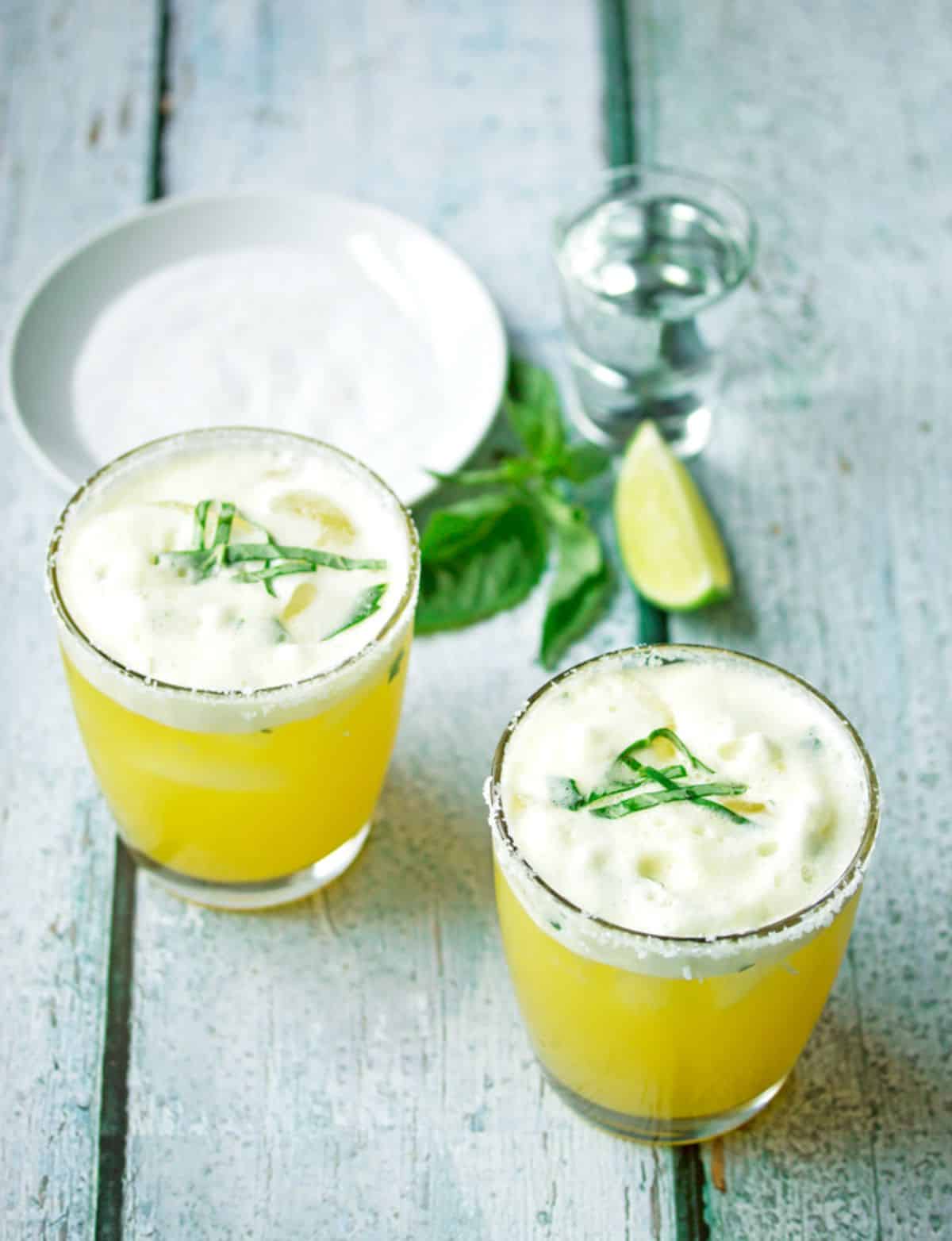 Margaritas can be much more than typical lemon or lime ingredients – you can add passion fruit for a modern twist on the stereotypical Mexican cocktail! Use passion fruit to switch up this traditional drink, adding lime and basil on the rim instead of salt.
Gather tequila, lime juice, passion fruit, basil, egg whites, and lime for garnish when making this drink. You need 5 minutes of prep time to make and serve this drink to your guests during a fun-filled party!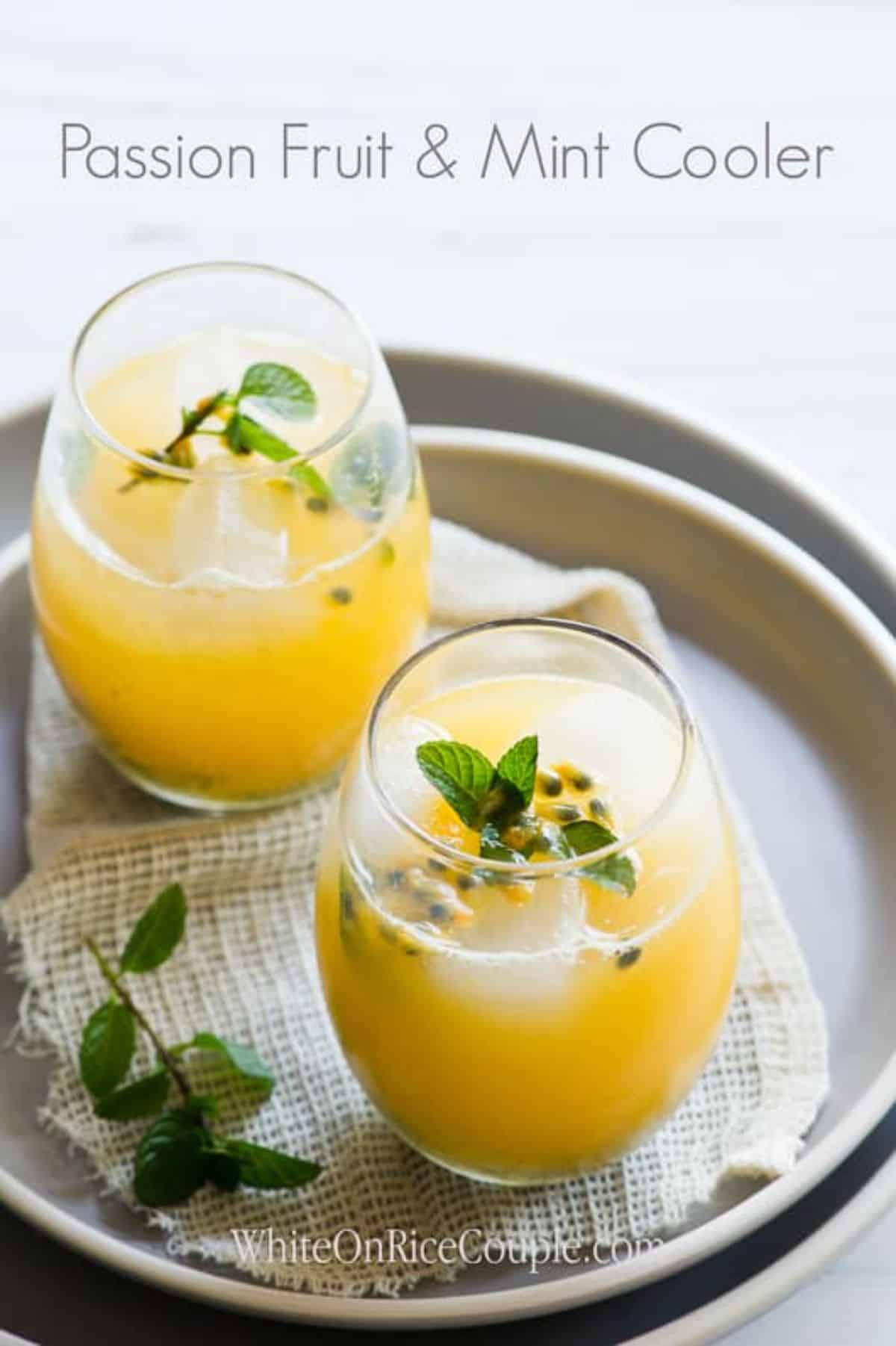 Combine passion fruit and mint leaves to make this fresh and healthy drink that can make you feel good about yourself without having soda or alcoholic beverages on a hot summer day!
You only need mint, sugar, lime juice, passion fruit juice, and water to make this super-fast and easy drink recipe for your enjoyment.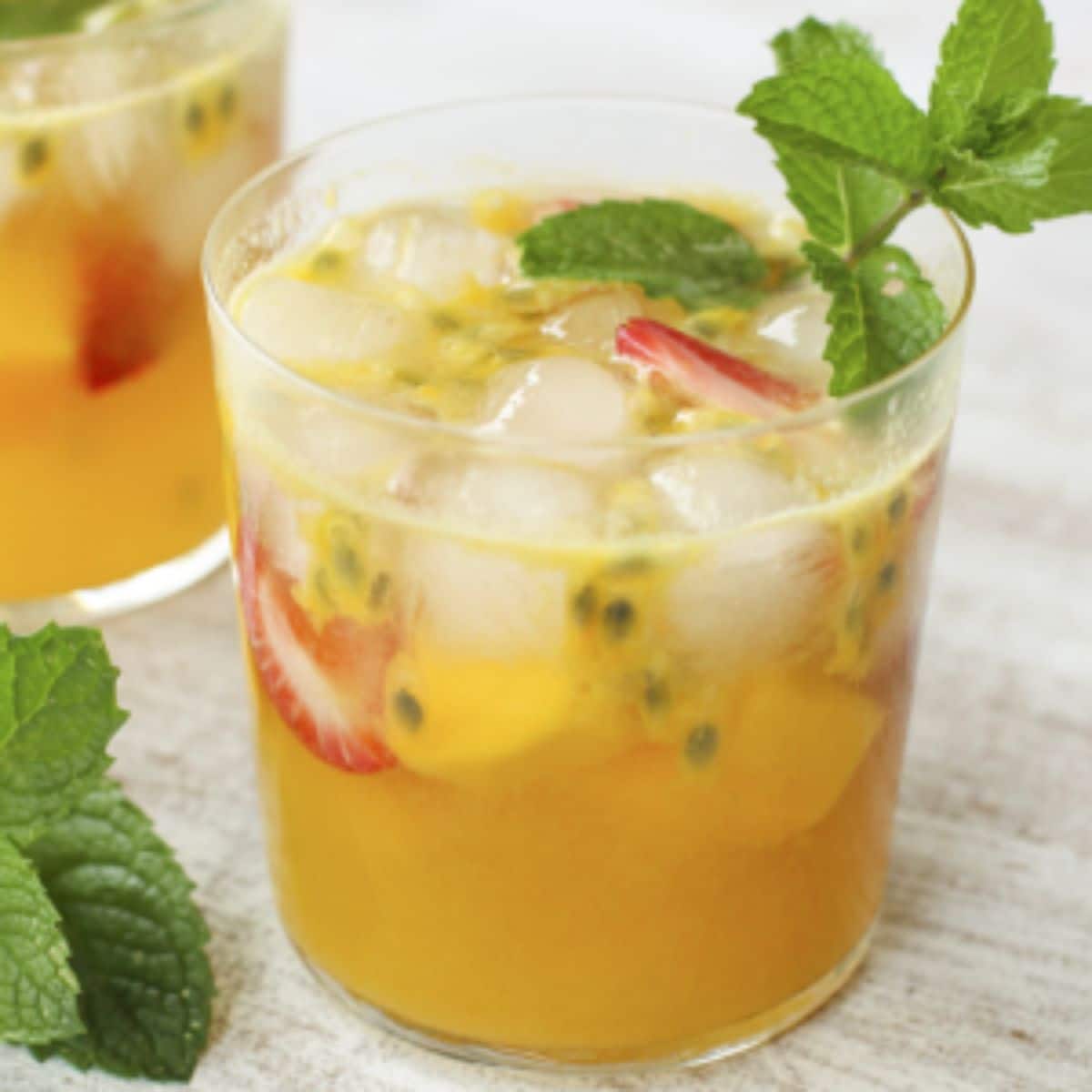 Tropical sangria with passion fruit is a perfect drink recipe to add some alcohol to a drink without it being overpowering! Instead, the sweet passion fruit makes you feel like you are drinking a refreshing and healthy lemonade.
We recommend using passion fruit, Sauvignon Blanc, pineapple juice, rum, and mint to keep this recipe light and suitable for afternoon parties.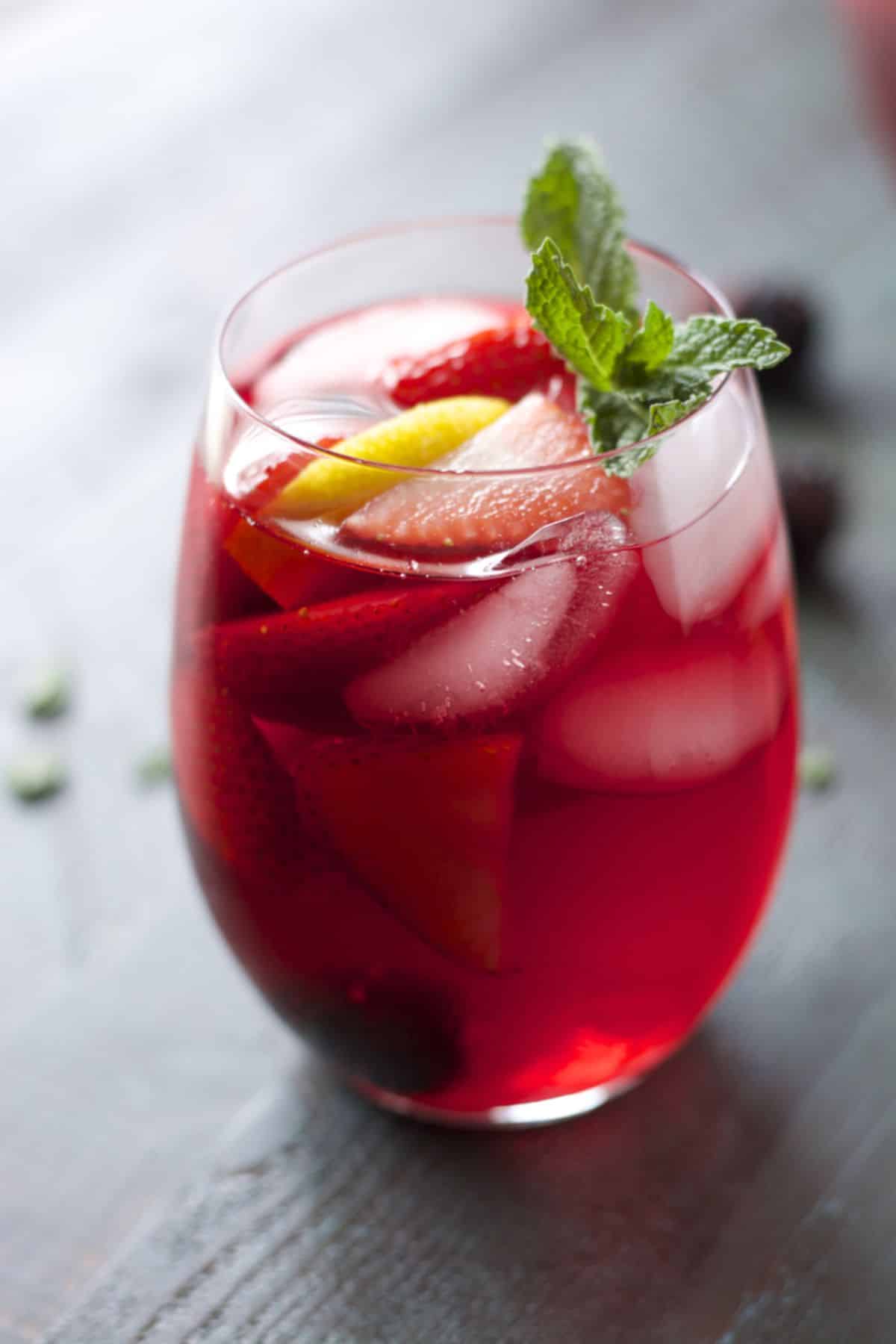 Instead of warm tea, try cold tea! Nothing is better than this refreshing drink on a hot summer day, filled with passion fruit, strawberries, mint, lemon, and blackberries to help cool you off.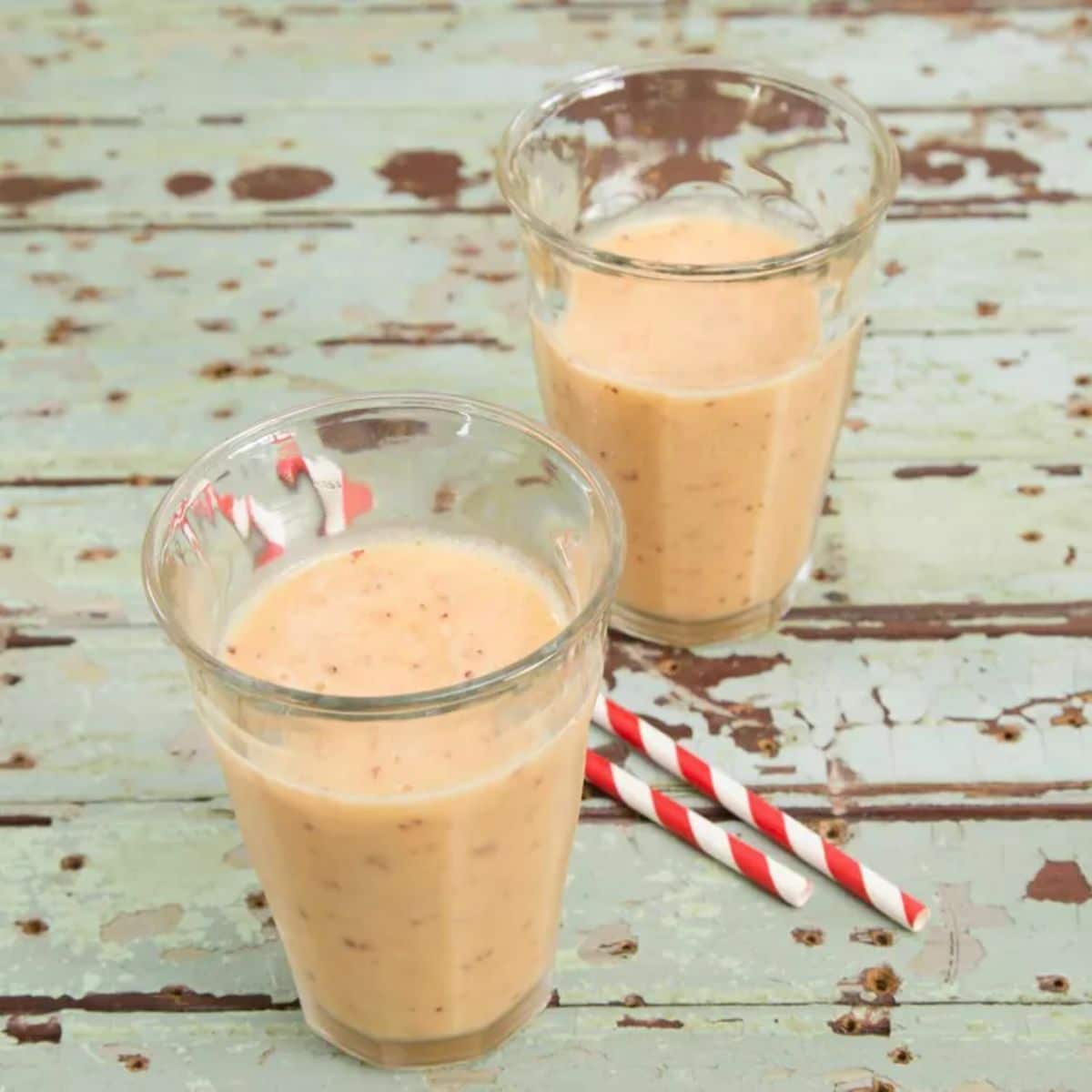 If you are trying to eat healthily and get in all your nutrients, this mango, passion-fruit smoothie is the way to go.
Gather mango, nonfat vanilla yogurt, passion fruit juice (or real passion fruit), and water to make this super-fast drink. You only need 5 minutes of prep and 5 minutes to make this healthy, sweet smoothie.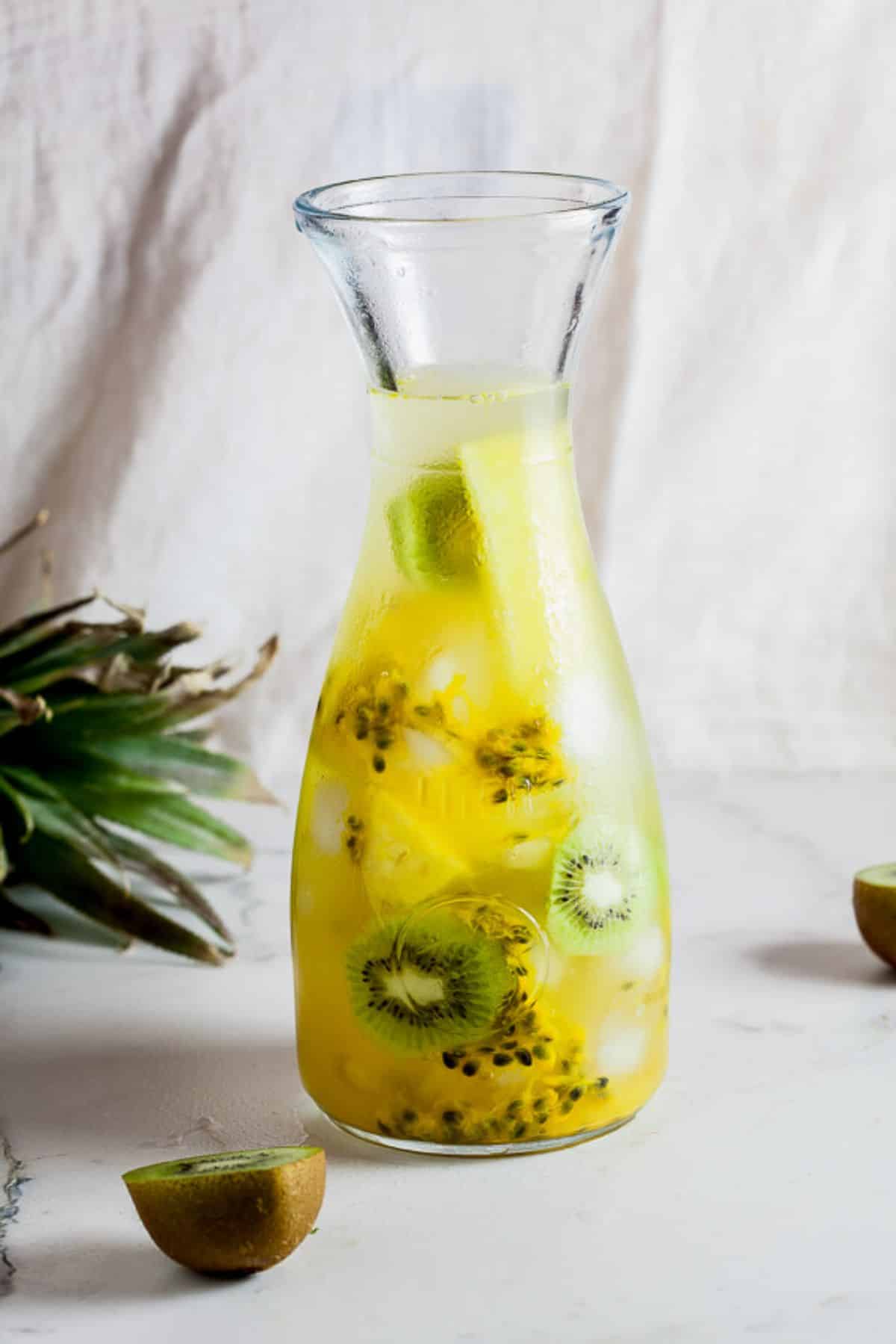 Add flavor to your boring-old water to get a hint of something sweet for the warmer months! Use passion fruit, kiwi, and pineapple to make a sweet fruit-flavored water that takes just 5 minutes to prep.
We love using passion fruit to get in our 2 liters of water daily to feel healthy and good about ourselves.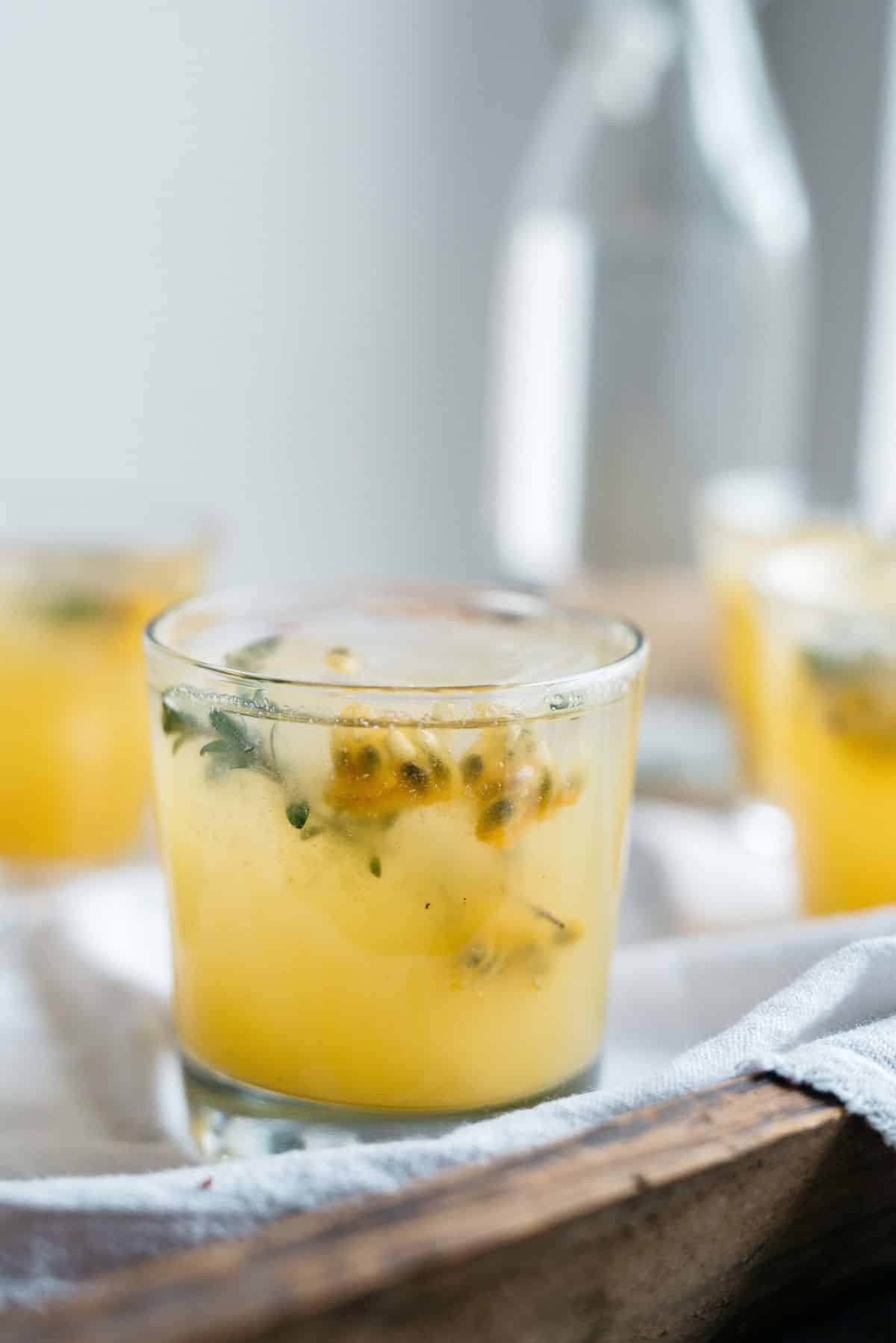 Not sure what a fresca is? Well, you will in a few minutes! Make this easy passion fruit, lemon, and ginger in no time for a refreshing treat.
Gather passion fruit juice, probiotic juice, sparkling water, thyme, and passion fruit to combine the sweet passion fruit juice with the sparkling gut-friendly drink. You can even add mango or dragon fruit for more tropical vibes!
Not only is this healthy, but you will get the sweetness fix you are looking for.