Using the air fryer is very simple; if you have ever cooked something using a residential oven, it is essentially the same. Once you have learned the gist of it, you will be well on your way to cooking many things with the little but mighty kitchen appliance.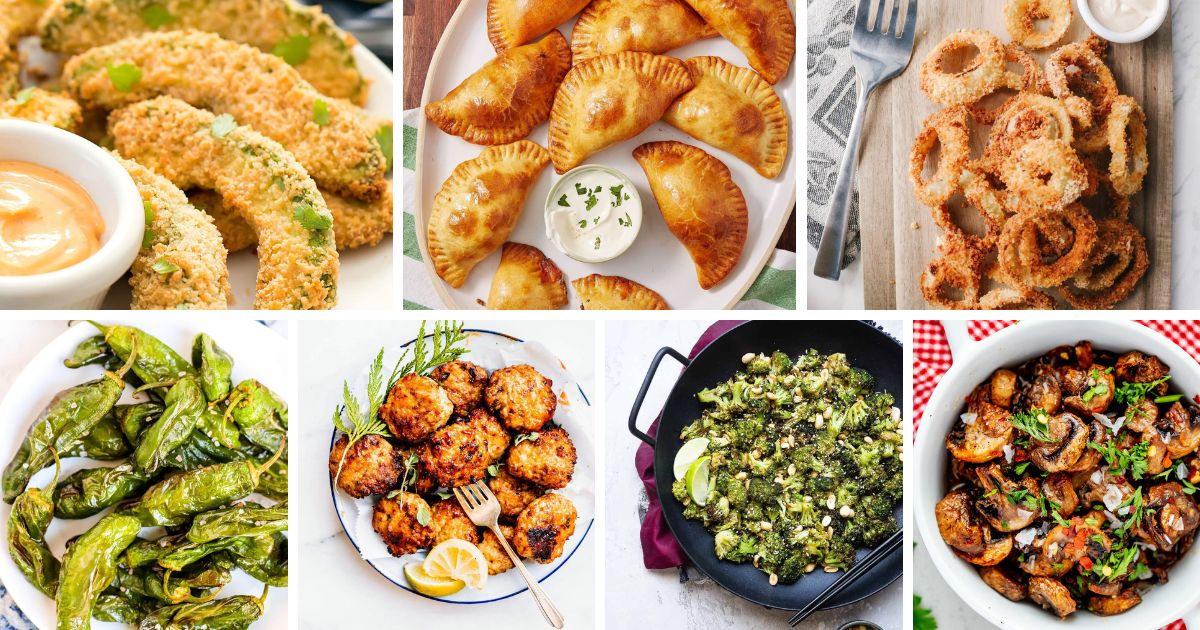 The only drawback about cooking with the air fryer is that you might have to do things in batches if you are prepping for a big party. As you may have known already, air fryers can usually only handle two to four quarts, which translates to approximately four adult portions.
But besides the minimal cooking capacity, there is not much to complain about the kitchen appliance. It takes away a lot of the mess and can make your food immediately lower in calories with less effort!
Ultimately, this device provides a wide range of diet-friendly meal options, just like the healthy air fryer recipes below!
Contents
This recipe only calls for three medium-sized bell peppers. If the ones you have are not evenly shaped, you can trim the bottom so they sit flat.
The fresh herbs and tangy fetta cheese give excellent flavors to these burgers. You can use a little bit of olive oil to keep the patties moist.
These chicken thighs have the crispy crust you get from deep frying but with a lot less fat. Use buttermilk to marinate the chicken and enjoy with dipping sauce.
You can make this recipe as long as you have an air fryer and a bunch of corn. The corn will come out perfectly and evenly cooked each time.
Who does not love the iconic Chinese American dish? This recipe, however, is far healthier than the traditional version, and you can choose the ingredients to your liking as well.
The zucchini harvest season is here, and this recipe is a great idea to use the abundance of farm-fresh courgette you have in your fridge.
It is perfect for anyone looking for a low-carb and gluten-free chicken recipe. Also, it is quick to make, so it is great for those busy nights.
Using simple and basic ingredients, this one is as easy as salmon recipes get. To achieve different flavor profiles, you can experiment with various honey varieties.
Do you have unused curry paste lying around in your kitchen for too long? Try making this recipe, and don't hesitate to tweak the ingredients.
With Pecorino-Romano, mozzarella, and mint, these stuffed mushrooms are packed with flavors. Best of all, it does not leave a lot of mess in your kitchen! These mushrooms are delicious alongside shrimp.
This vegan and cornstarch-free recipe is what you need for a healthy nighttime snack. It tastes like it has been dipped in the traditional fryer while being low in fat.
Whenever you want to make a nutritious and hassle-free breakfast, go for this recipe! These egg bites are very customizable, and you can put your favorite cheese and herbs on them. We recommend paprika!
Marinated in yogurt, ginger, and aromatic spices, these chicken thighs are low-carb and keto-friendly. The spices will give natural coloring to the dish.
Are you curious about how to make empanadas like your favorite neighborhood cafe? This recipe will tell you how to do so using store-bought crispy pastries.
This recipe will tell you how to not overcook your salmon and take too much moisture out of it. The whole thing takes about 7 minutes from start to finish.
Lightly coated in breadcrumbs, the crunchy fish fingers play a unique texture in this recipe. Also, it has no more than 351 calories per serving.
Accompanied by fresh and colorful veggies, this marinated flank steak dish is both healthy and flavorful. It is great for whenever you want an effortless way to impress the guests.
Versatility is the main strength of this recipe! You can put any topping you like on it, and it tastes like it has been baked in the oven.
Do you have too many unused lentils in your kitchen? Follow this recipe to make chewy and flavorful meatballs coated with your treasured BBQ sauce.
You can make these garlic fries with your standard oven, but they work great with your air fryer. There is a hint of Rosemary that makes the dish even more flavorful, and they go swimmingly with chicken tenders.
Do you want something creative to make this weekend? This recipe puts a creamy and cheesy twist on the famous and iconic Chinese dish.
Made with fresh herbs and packed with a lot of protein, this breakfast sausage recipe is ready in less than 20 minutes. It is also safe for people with allergies!
You might have ordered them from your local pubs and bars, but making them from scratch is not a bad idea at all. These taquitos are perfect for a movie night with friends.
There is nothing to worry about the recipe's authenticity, even if you have never been to Madagascar! The ingredients are simple, and you don't need a dozen spices.
Sweet potatoes are naturally sweet, and they deliver that special kind of creaminess when you put them in the air fryer. To top off the whole thing, you can use butter and parsley or go tropical and sprinkle on some coconut flakes!
Coated in breadcrumbs and cheese, these air fryer chicken breasts are the ultimate finger food for any occasion. They should be golden and crispy in under 15 minutes.
The maker of this recipe designed it to be a spicy and delicious alternative to the legendary Buffalo chicken wings. The accompanying cashew cream sauce is equally addictive!
If you ever think it is hard to make vegetarian-friendly tacos, this recipe will prove you wrong. Topped with fresh salsa and creamy sauce, they are ready in under 30 minutes.
While this might not be the most good-looking recipe you'll ever make, it shows you that messy foods are often the tastiest. It is packed with loads of cheese and veggies.
This recipe is both healthy and flavorful, and it combines all the excellent flavors of Asian cuisine. Many people like to roast broccoli, but this recipe is, without a doubt, a great way to bring life to your broccoli.
Looking for a great recipe to include in your meal prep routine? The air fryer will cook the breast to perfection, so you don't have to worry about rubbery and dry chicken meat.
These empanadas include a blend of cheddar cheese and Monterey Jack, as well as spices and jalapeños. You can also experiment with other ingredients if you want.
Asian seasoning is the main highlight of this salmon dish, but you can play around with other flavorings if you want. You can also keep the skin for extra texture.
This low-fat dish only requires a small amount of oil, and it is perfect for weeknights. You can top it with your favorite sauce for more flavors.
Are you struggling to get your children to eat veggies? These enchiladas can be an exciting and flavorful way to introduce vegetables to your kids' diet.
They might be the best Brussels sprouts you'll ever have! You'll see how much better they are than the traditionally baked ones, and you might refuse to make them any other way now.
Who has never had onion rings in their life? Without a doubt, many of us have had them, but these air-fried ones might take the dish to a whole new level.
This mouthwatering Zucchini recipe is low in calories and will make you return for more. It is definitely a healthier option than the deep-fried version.
Baking the carrots with an air fryer will bring the natural sweetness out of them. Also, the carrots will be caramelized and tender-crisp.
Shishito peppers are traditionally served in Izakaya restaurants. If you are truly curious about how it tastes, follow this recipe to make it at home.
Covered in a thin layer of grated cheese, these flavorful Zucchini crisps make a great side dish. Slice the zucchini into ⅛-inch thick rounds to achieve more crunchiness.
The keto-friendly coating of this dish gets nice and crispy, making way for a creamy avocado filling inside. You can use your food processor to make the coating.
The combination of perfectly toasted mushrooms and lemon butter sauce will make you want to come back to this recipe. And it takes less than 30 minutes to make.
This recipe calls for marinated turkey medallion, but you can use frozen turkey slices if you want. It is definitely a lifesaver for those busy nights.
Made with Chili-Lime Fajita seasoning, this chicken dish is perfect for many occasions. The included vegetables make the dish suitable for a healthy and tasty meal.
These delicious apple chips are delightful to make and enjoy. The warm-spice flavors that come with it may make them your new seasonal treat!
📋 Recipe
Frequently Asked Questions