So you just hosted a super fun barbecue for your friends and family. The only downside is you have several leftover hot dogs, and you have no idea what to do with them.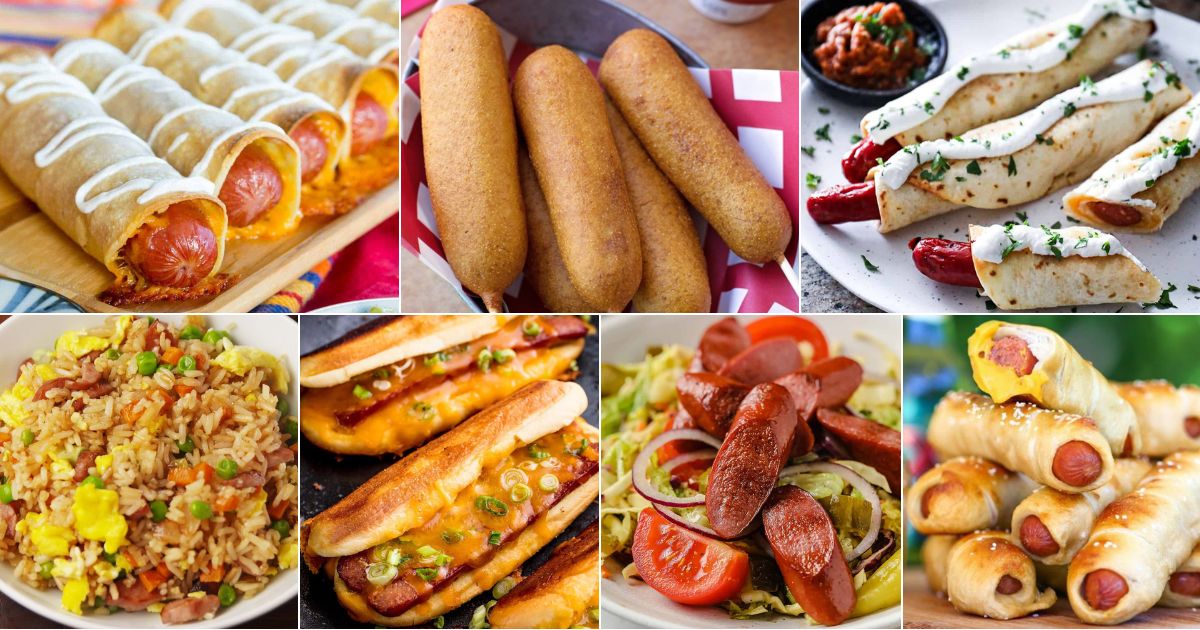 No worries! We're here to help, compiling our 21 best leftover hot dog recipes. Keep reading if you need inspiration on what to make during the week to use the remaining sausages in your fridge.
Contents
1. Chicago Dog Salad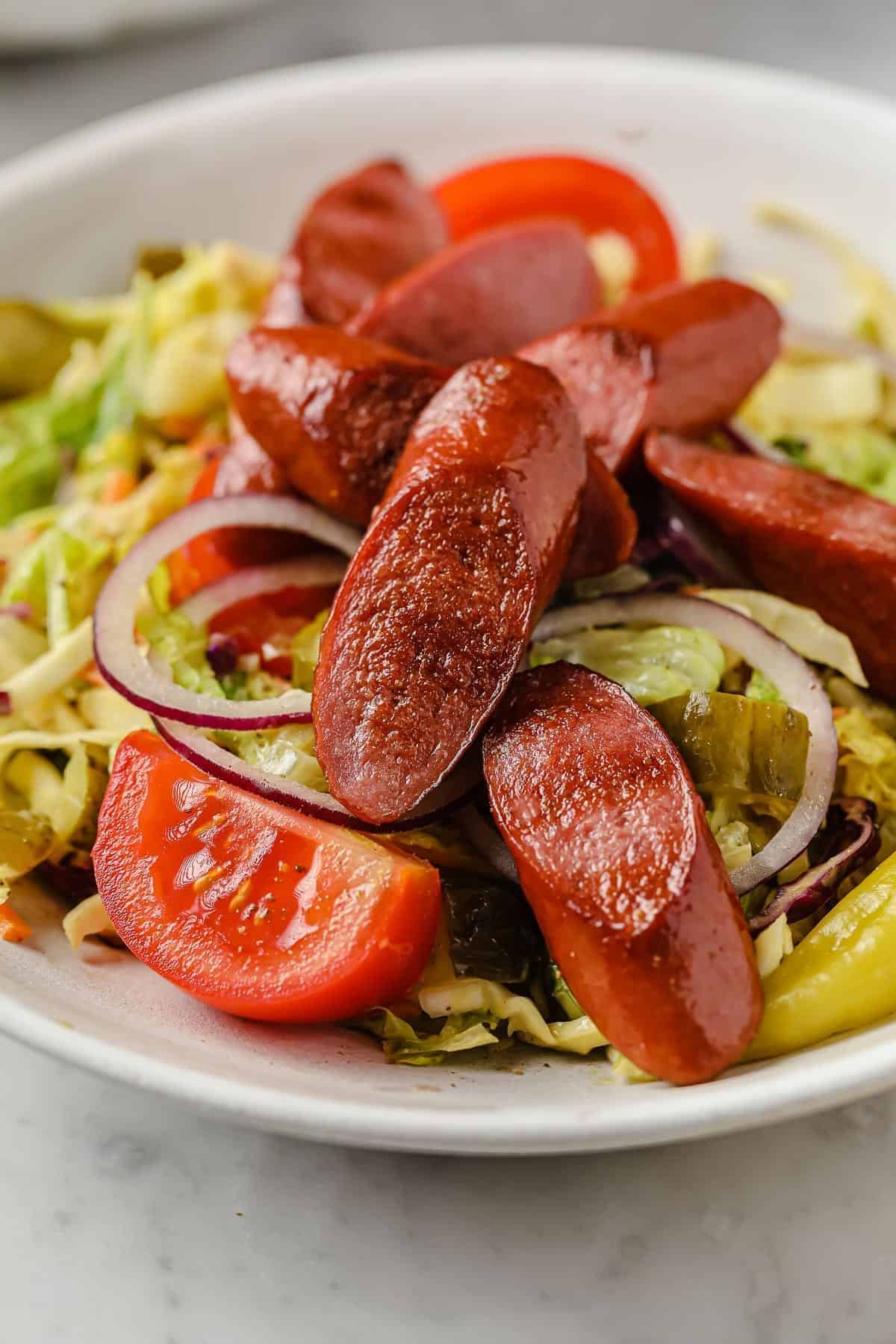 Prepare this salad if you want a lighter and healthier flair while using hot dogs. The bright veggies like onion, tomato, and lettuce add a splash of color and freshness against the salty meat.
The dressing uses pickles, mayonnaise, and mustard for additional flavor and acidity. Despite not having a ton of carbs, this salad fills you up and can serve as a good entree on a warm summer night.
2. Cheesy Hot Dog Tater Tot Casserole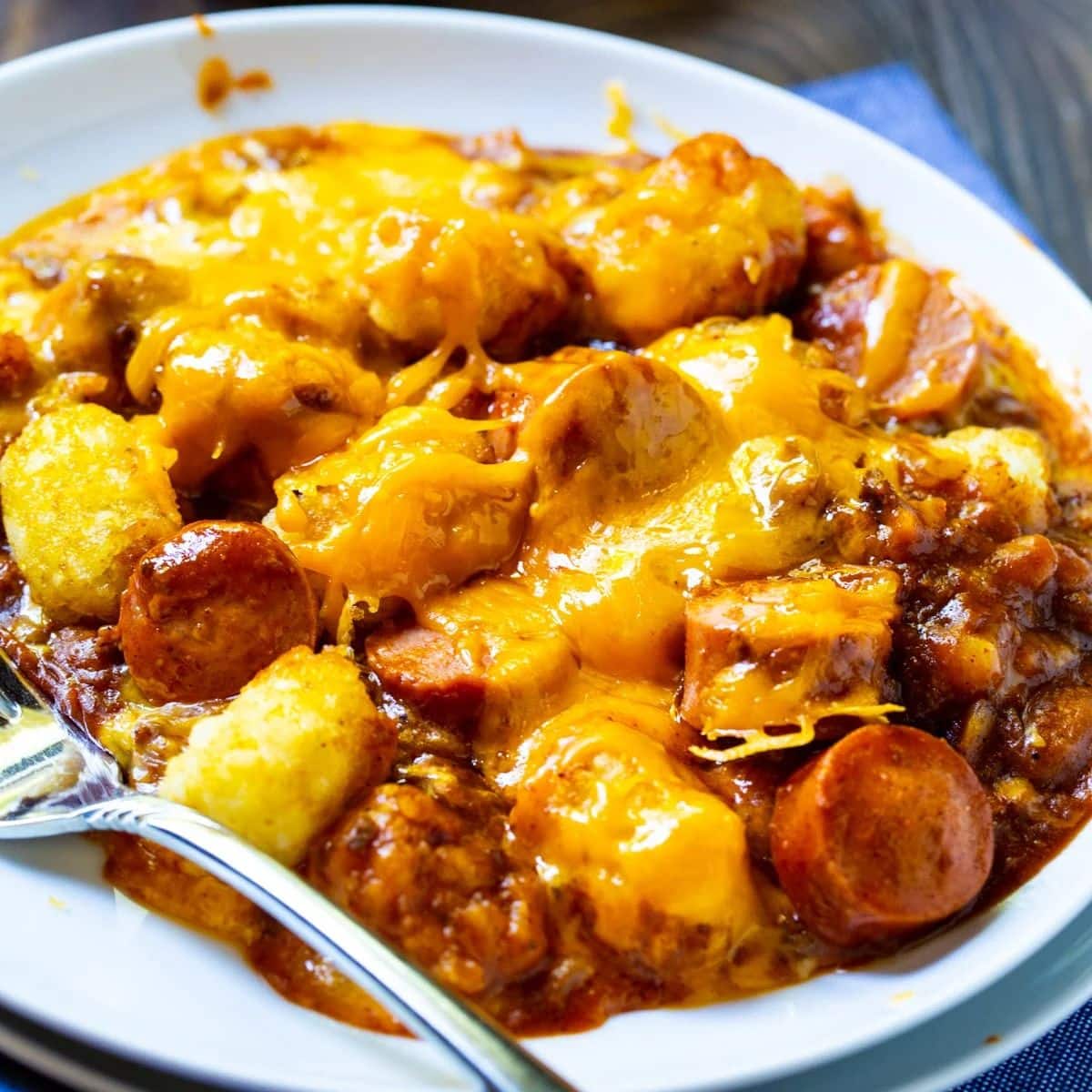 Crockpot recipes are ideal during the week when you have a ton going on and need to whip up a quick casserole to satisfy the entire family.
Packed with protein from the hot dogs and spice from the seasonings, you'll want to keep this recipe handy whenever you have leftover hot dogs and need to make a yummy, filling meal in a pinch.
3. Hot Dog Quesadillas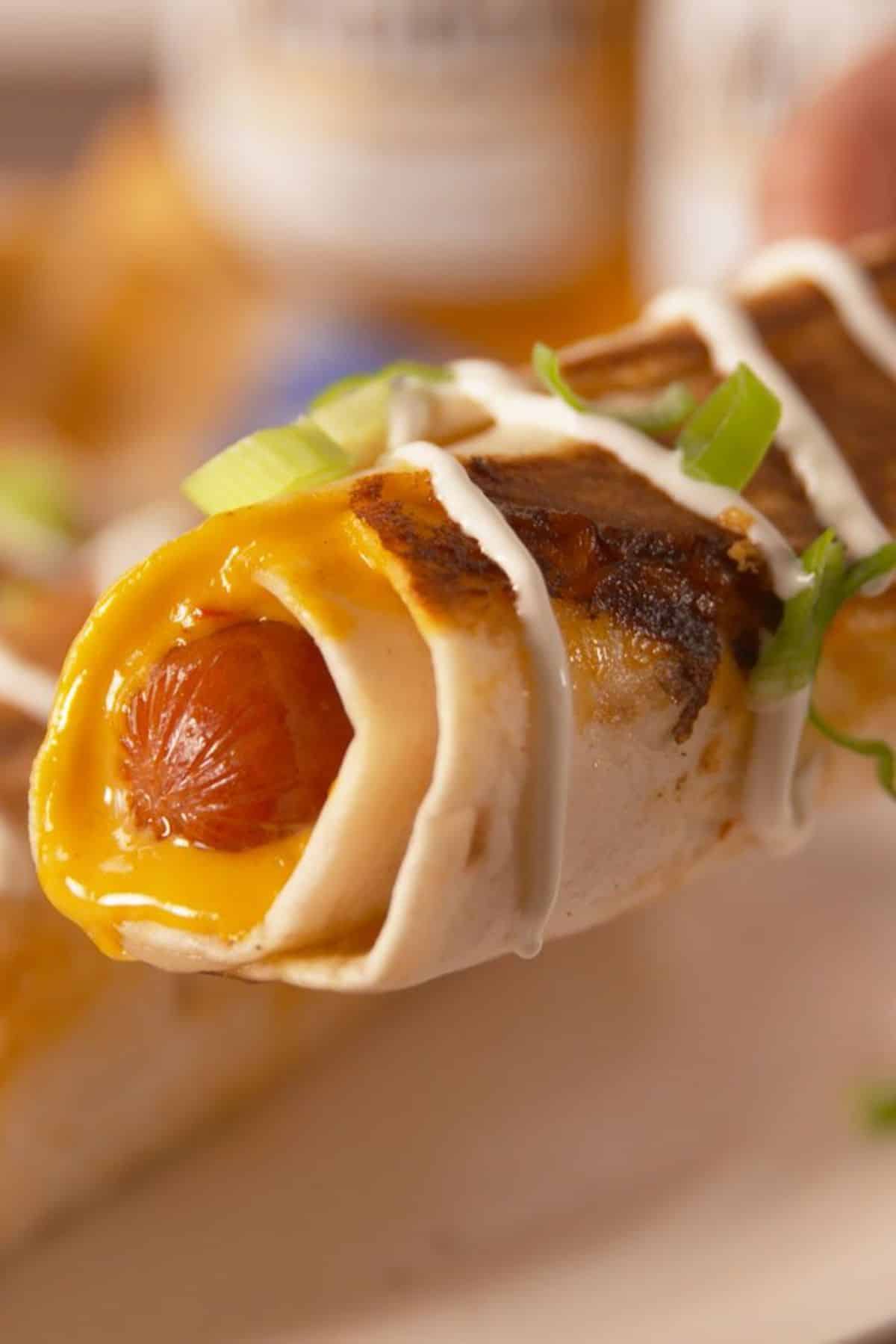 Hot dogs plus quesadillas might be a perfect pair. You only need a few ingredients, like tortillas, cheese, and hot dogs, to make this dish.
Additional flavor comes from the green onions, jalapeno, and chili powder, mixing Mexican and American cuisine for a creative dinner idea your kids will want again. Get them to help out with this fun recipe by grating the cheese or drizzling the sour cream on top.
4. Mini Corn Dog Muffins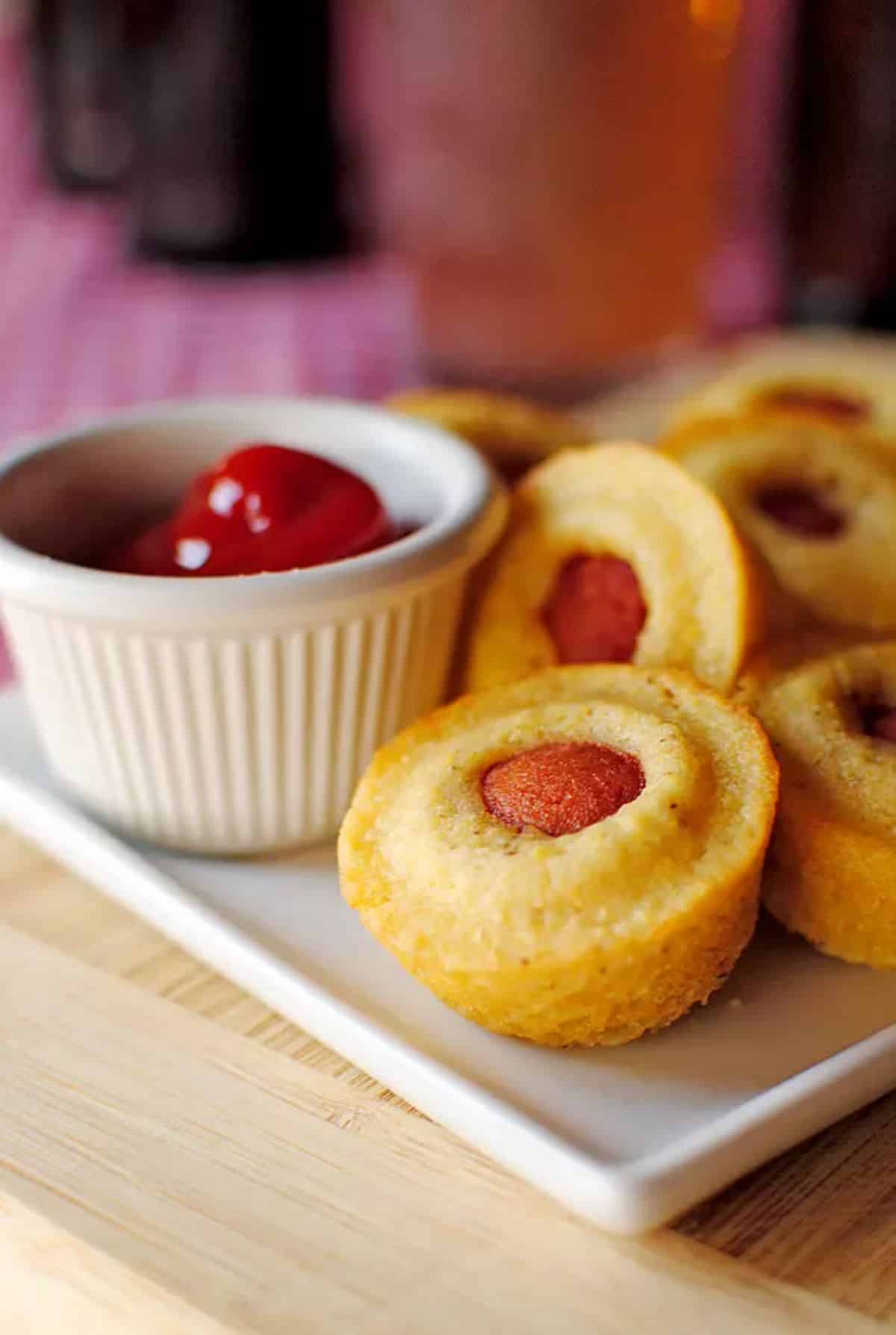 Combining leftover hot dogs with cornmeal and other baking essentials creates a portable, no-stick corn dog that is a great appetizer. Another plus is that people with dietary restrictions can enjoy this snack with gluten-free flour.
Pass these around the dinner table, and they'll be gone in a flash. You won't have to worry about leftover leftovers.
5. Pretzel Dogs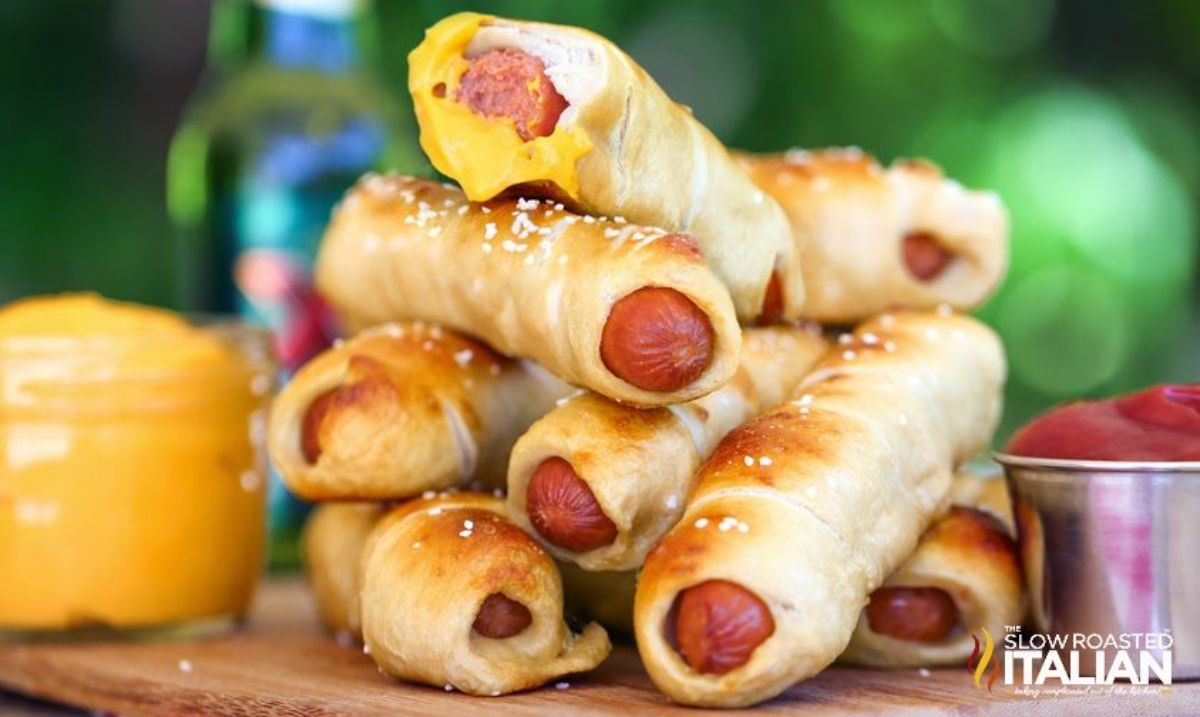 You'll love these pretzel dogs if you like pigs in a blanket. They're an awesome way to use day-old sausages.
The mixture uses yeast, salt, and beer for a boldness that complements the hot dogs. This dish can pass as a side dish or main entree. Make sure you have plenty of ketchup or other condiments handy for dipping.
6. Chili Dog Bubble Bake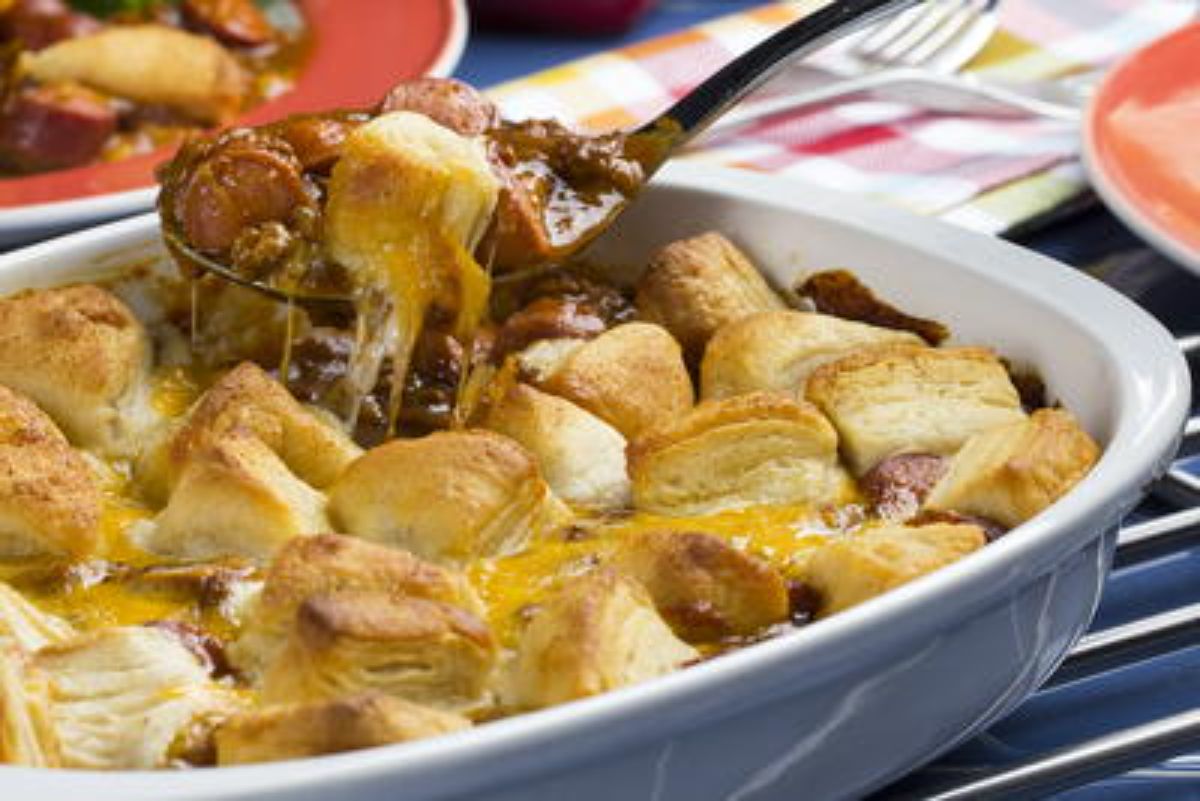 You only need a couple of ingredients for this simple, one-pan casserole. The hot dogs work well with typical complimentary flavors from the onion, chili, and buttery biscuits.
You can get chili in a can or make it from scratch for a more personalized meal. Cheddar cheese adds more creamy, melty richness. Your family will ask for seconds.
7. Corn Dogs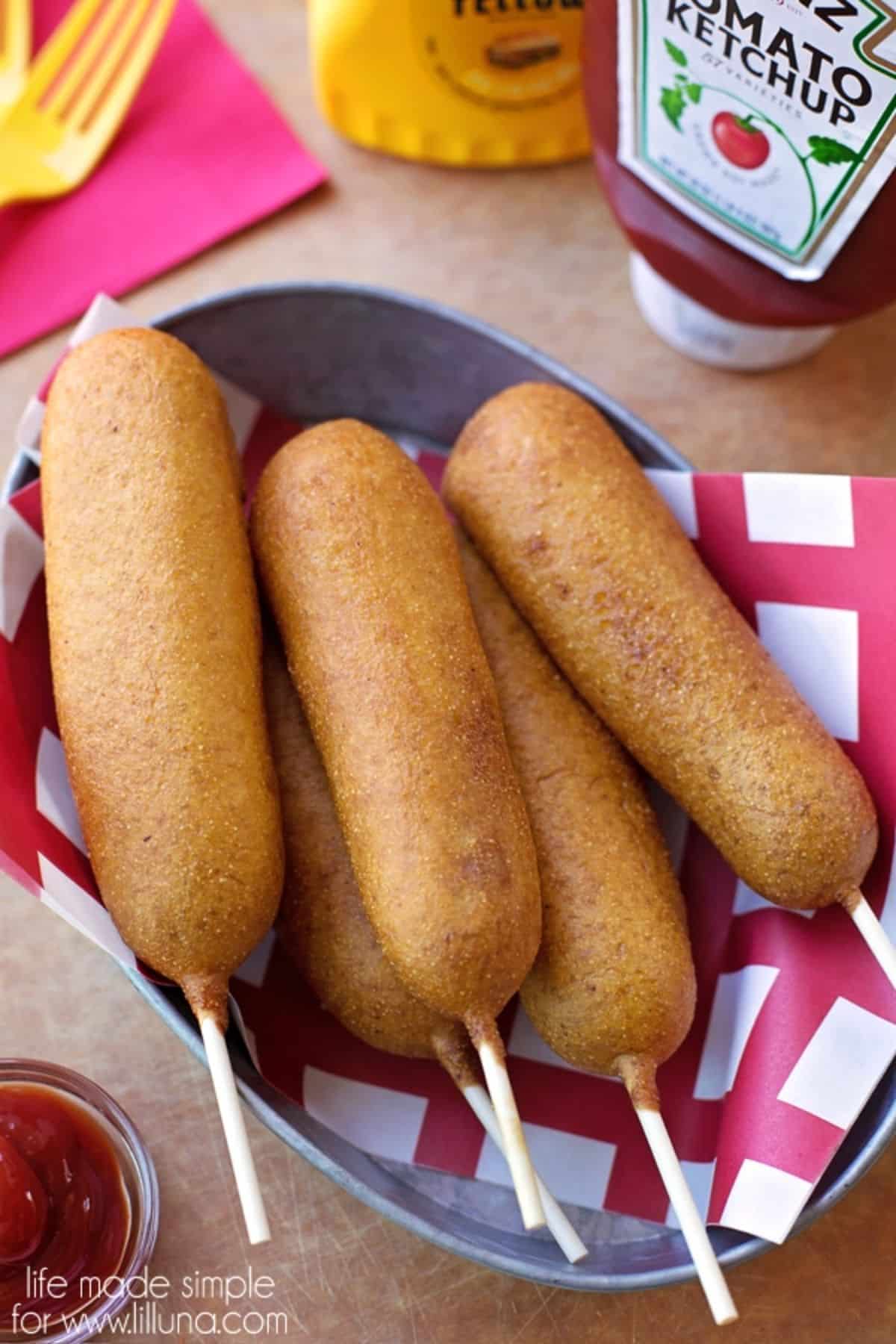 Who doesn't love an old-fashioned, state-fair corn dog? Skip the frozen section at the grocery store and make these corn dogs at home with this straightforward recipe.
The golden brown, crispy, and fluffy exterior goes well with the inner hot dog, and no one will guess that you used leftovers after they're deep-fried and smothered in mustard.
8. Grilled Cheese Dogs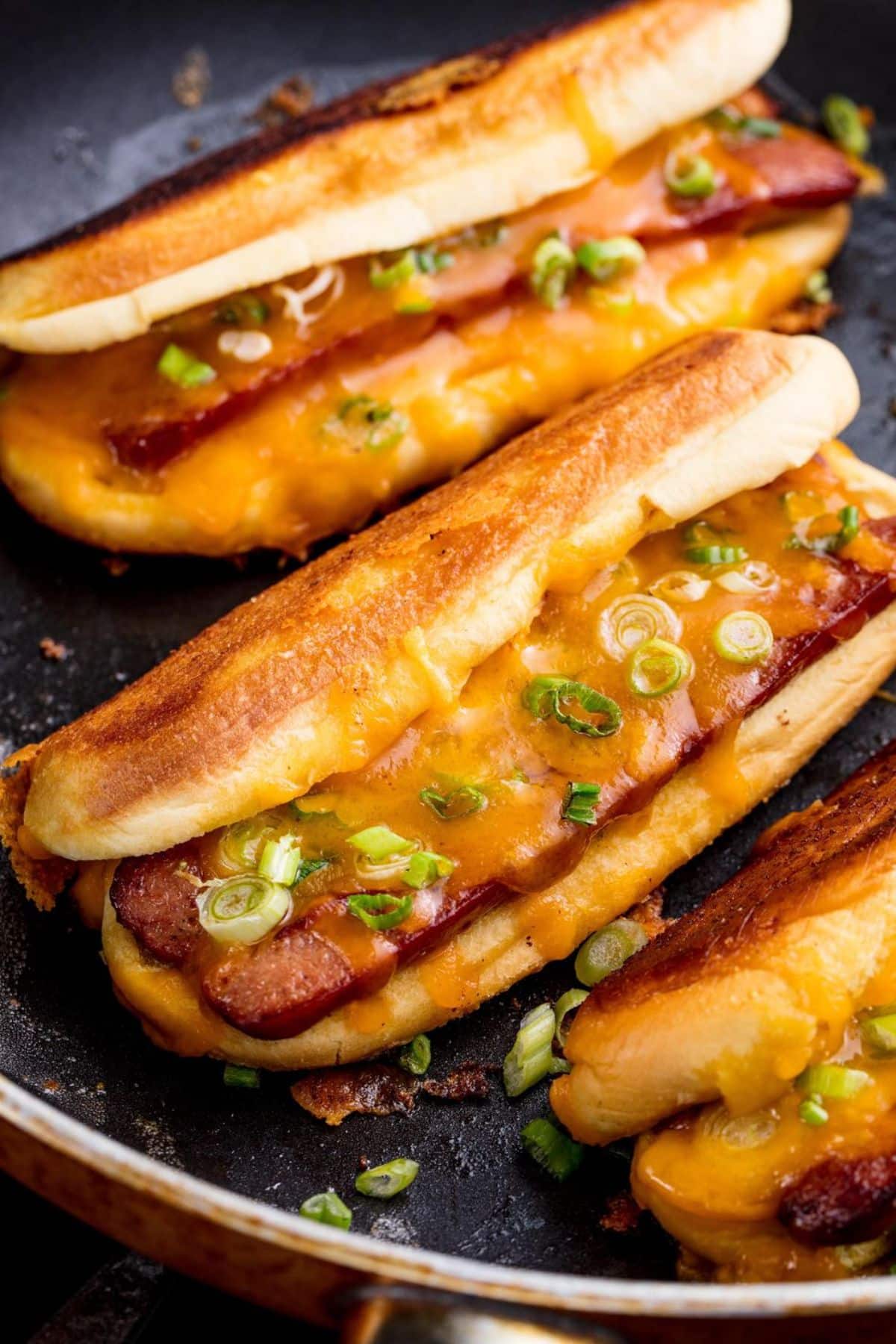 You had a late night at work and want a no-brainer, tasty meal that will fill up your kids for the evening. Look no further. They'll go ravenous over these sandwiches that combine typical teen favorites.
These grilled cheese dogs only need hot dogs, buns, a few seasonings, butter, and cheese. The dish doesn't require a lot of clean-up either, which is another bonus for a busy parent.
9. Hot Dog Pizza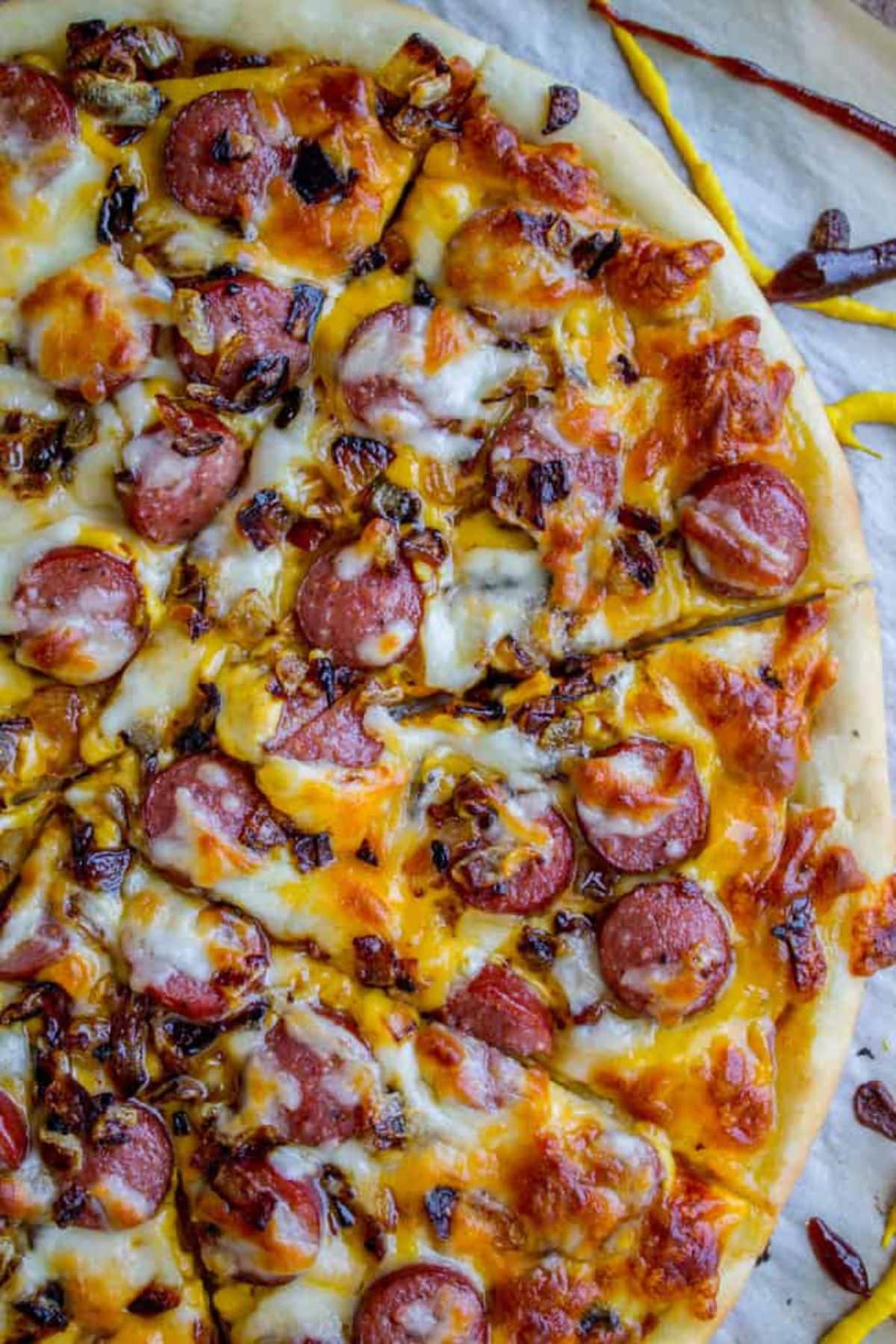 Pizza plus hot dogs? That combo sounds like a party. This recipe brings essential barbecue tastes along for the Italian ride. Caramelized onions add a dash of sweetness that works well with the hot dogs and marinara sauce.
You can serve the slices with a scoop of sauerkraut, which adds a few other surprising health benefits, but this pizza is delicious without the pickled cabbage.
10. Hot Dog Mac n' Cheese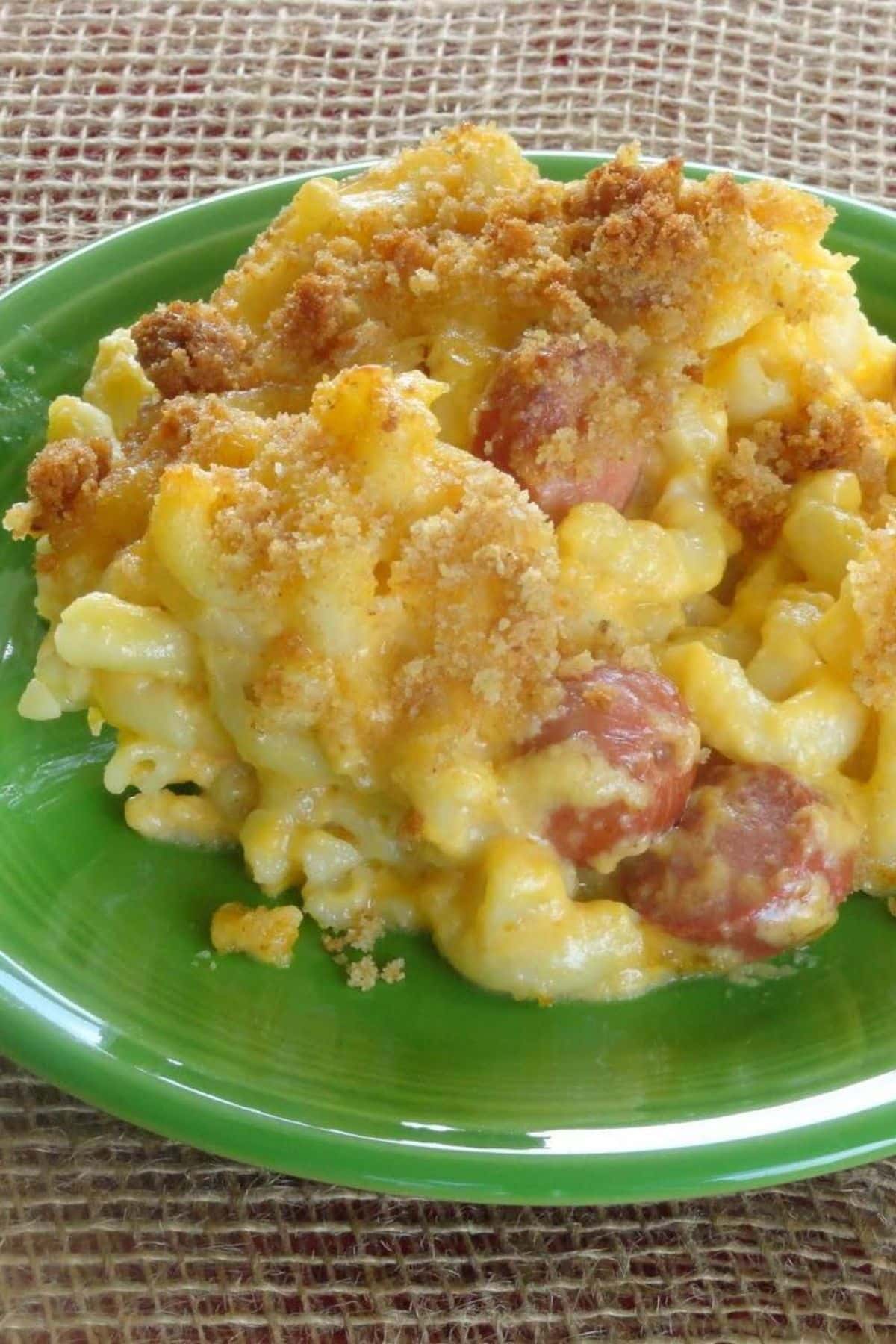 Mac n' cheese is the nostalgic meal we all ate as kids on weekdays when our parents didn't want to cook something super strenuous.
The best part is this recipe makes the pasta from scratch, so you don't have to worry about the funky ingredients in the boxed mix. The breadcrumbs form a crunchy crust on top for more texture and taste, making this leftover hot dog recipe stand out.
11. Tortilla Dogs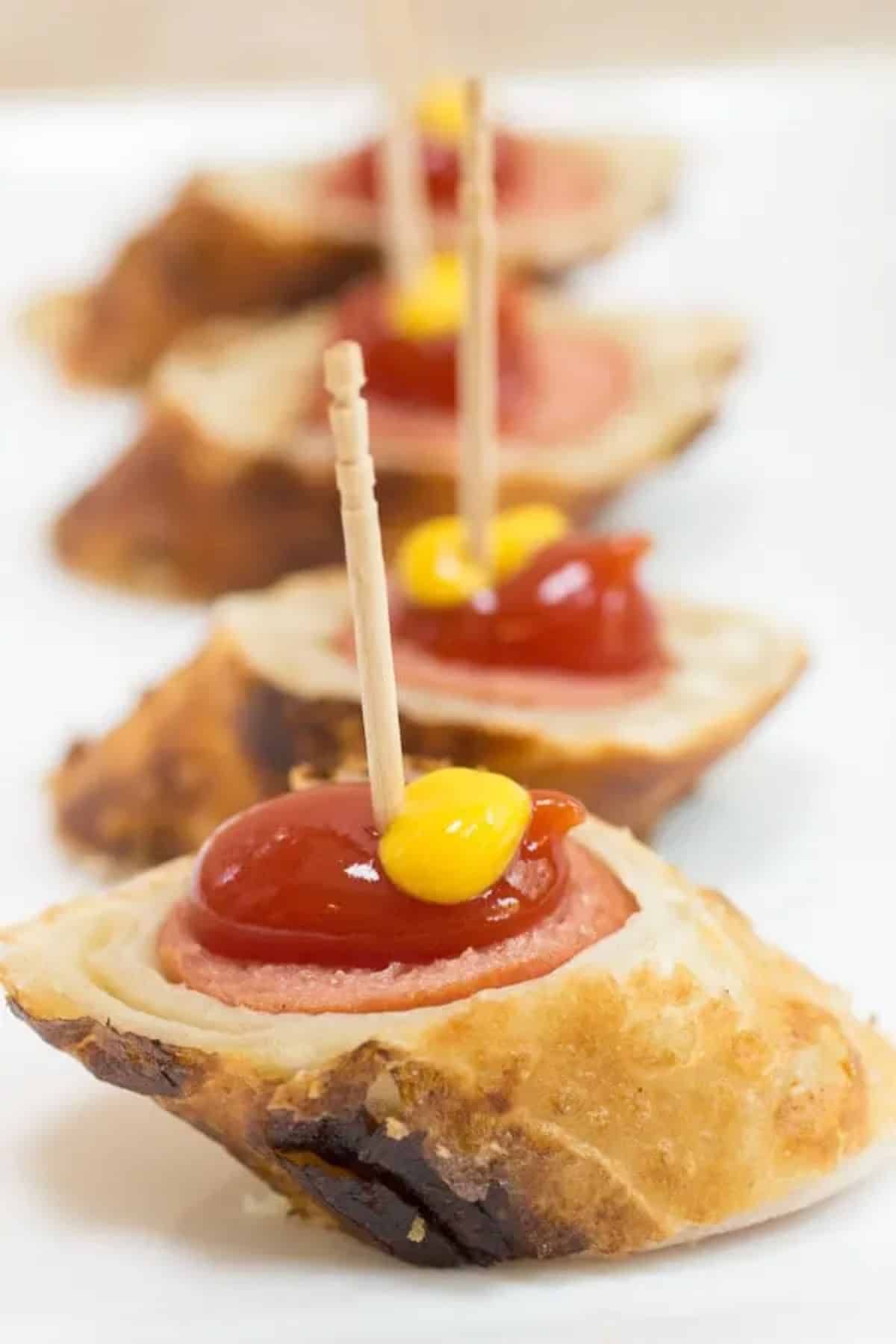 Serve these tortilla-wrapped hot dogs before the main dish to curb your appetite. They're easy and yummy. With only three ingredients, you can prepare them in about twenty minutes and give your kids something to munch on without making a mess while you finish dinner.
Remember this recipe when game day rolls around again, and you can make it with fresh hot dogs, too.
12. Hot Dog Fried Rice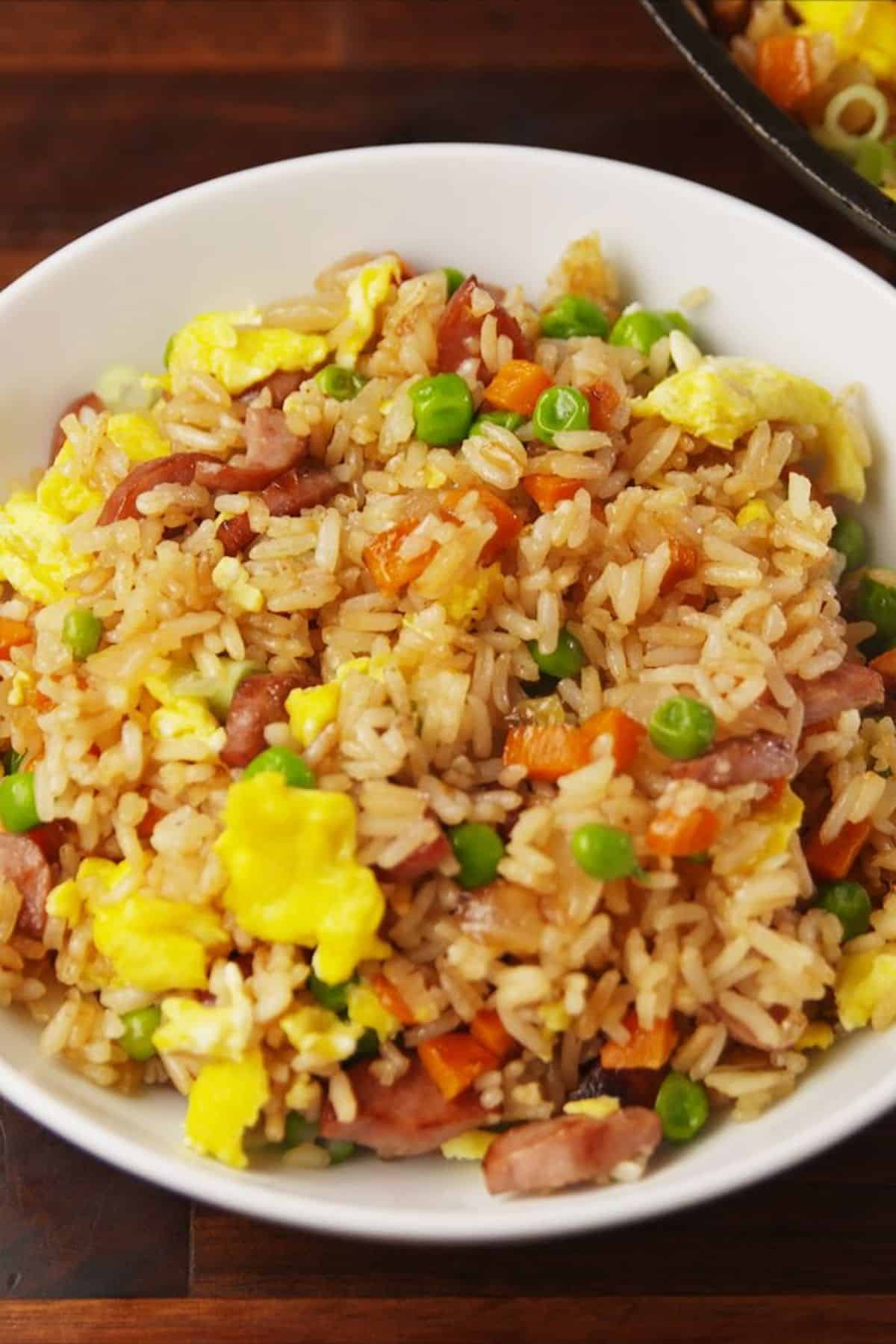 Fried rice is a scrumptious way to incorporate more veggies into your diet.
This recipe includes carrots, garlic, onion, and peas alongside the hot dogs and rice covered in soy sauce and sesame oil for more Asian flavors. The dish is golden and addictive, making you want to fill up your bowl again, especially if you skipped lunch.
13. Hot Dog and Potato Hash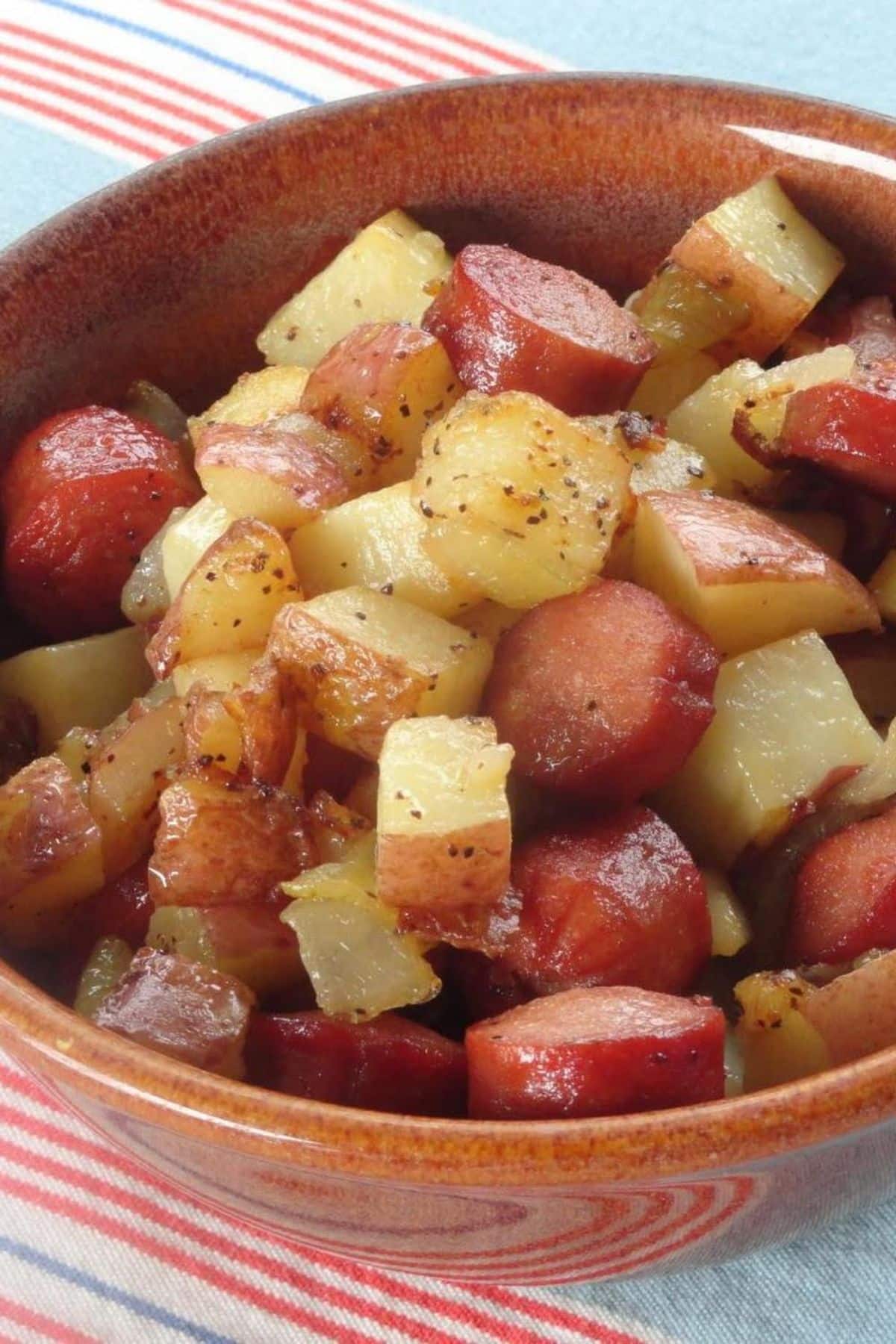 Easy and quick, your kids will love this hash with a squeeze of ketchup or Ranch dressing on the side. The hash is no-hassle and only needs a handful of ingredients you probably have in your kitchen already.
Cook this dish for a hearty dinner during the week. Pair with steamed veggies or a salad to cover all the food groups.
14. Hot Dog Soup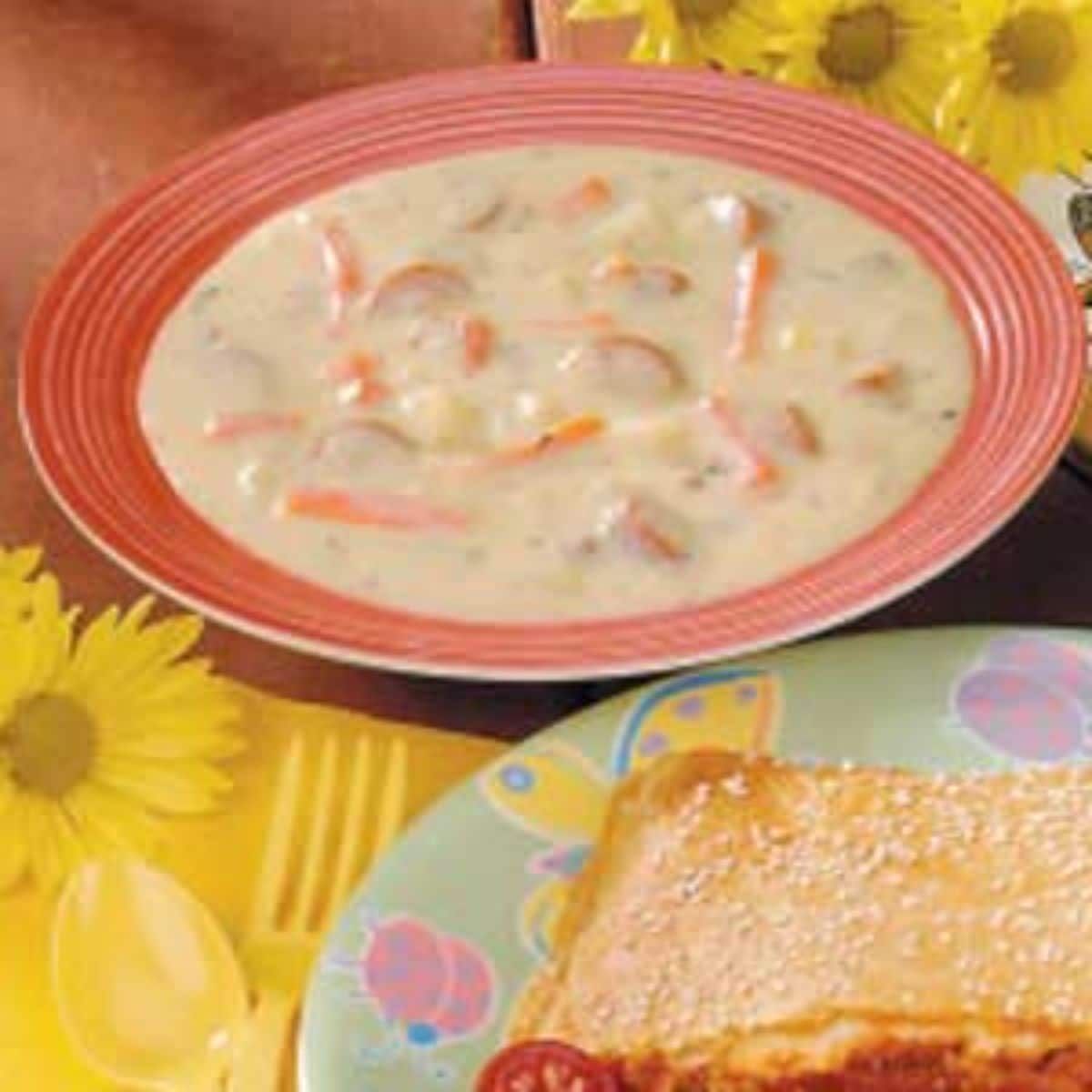 This hot dog soup is ideal for cold nights with creamy broth and filling ingredients, including meat, potatoes, and veggies. Serve on its own or with a grilled cheese sandwich to dip.
You'll love the smoothness of the potatoes and the hint of saltiness from the hot dogs.
15. Hot Dog Stir Fry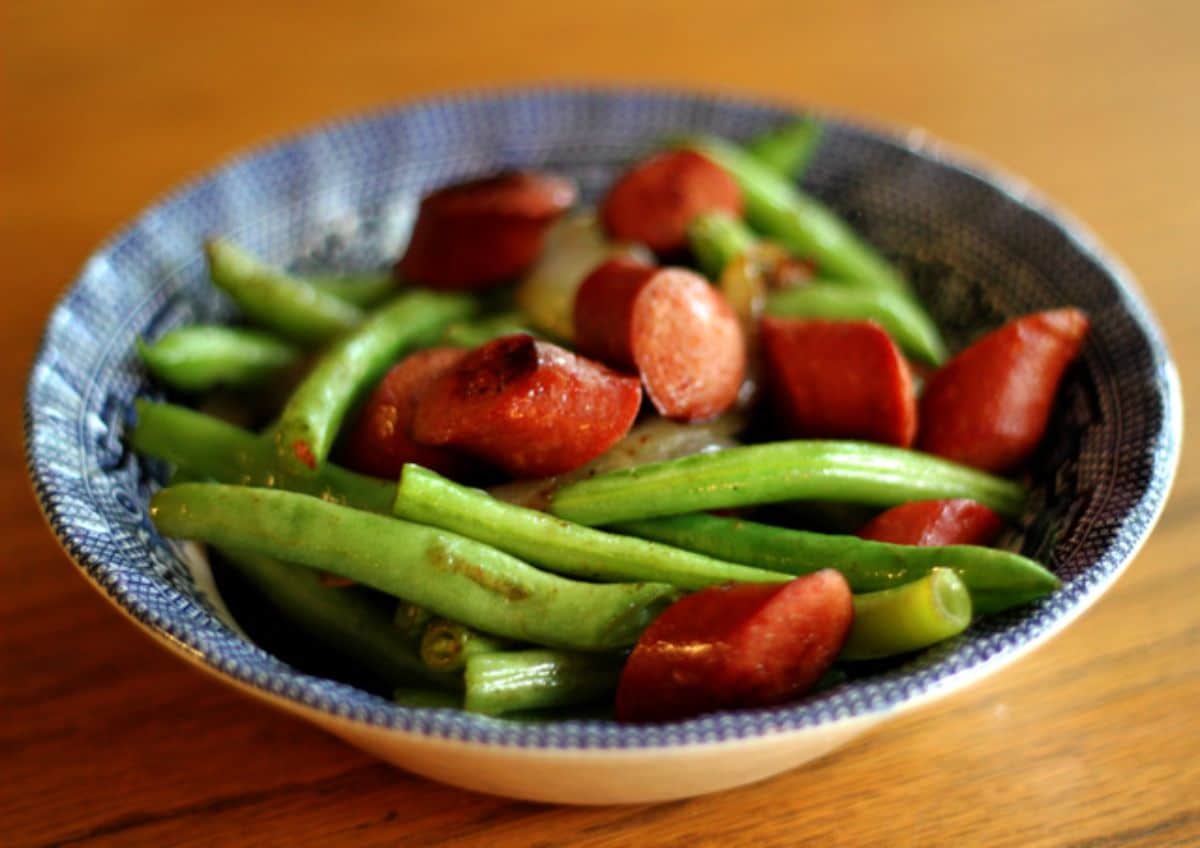 A stir fry is excellent for those just learning to cook with minimal prep and ingredients. The leftover hot dogs will be brown and crispy from the sauteing and mesh perfectly with the vegetables and other flavors reminiscent of Asian cuisine.
You can scoop a spoonful or two over white rice for a more satisfying dish or avoid the carbs.
16. John Wayne Beans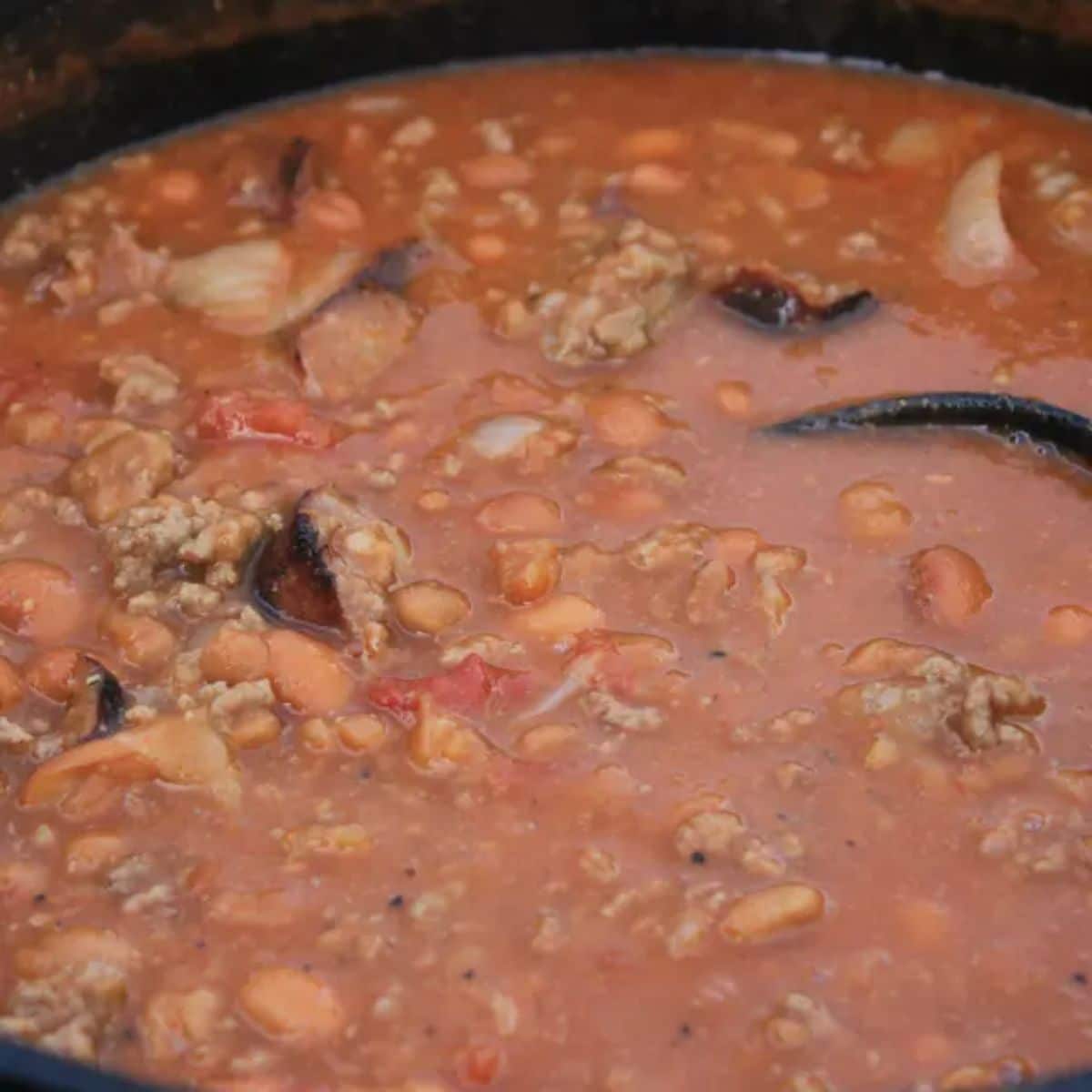 Say you have some leftover burgers, too, or ground beef. Crumble up the red meat and cook it alongside the hot dogs to combine into this pork n' beans recipe.
The combo makes a meaty and stick-to-your-ribs dish that doesn't need a lot of time to cook, and you can serve your hungry family in under forty minutes. Do you know what would be great? If you serve this dish with those cornbread muffins we mentioned earlier!
17. Cheesy Mexican Hot Dog Taquitos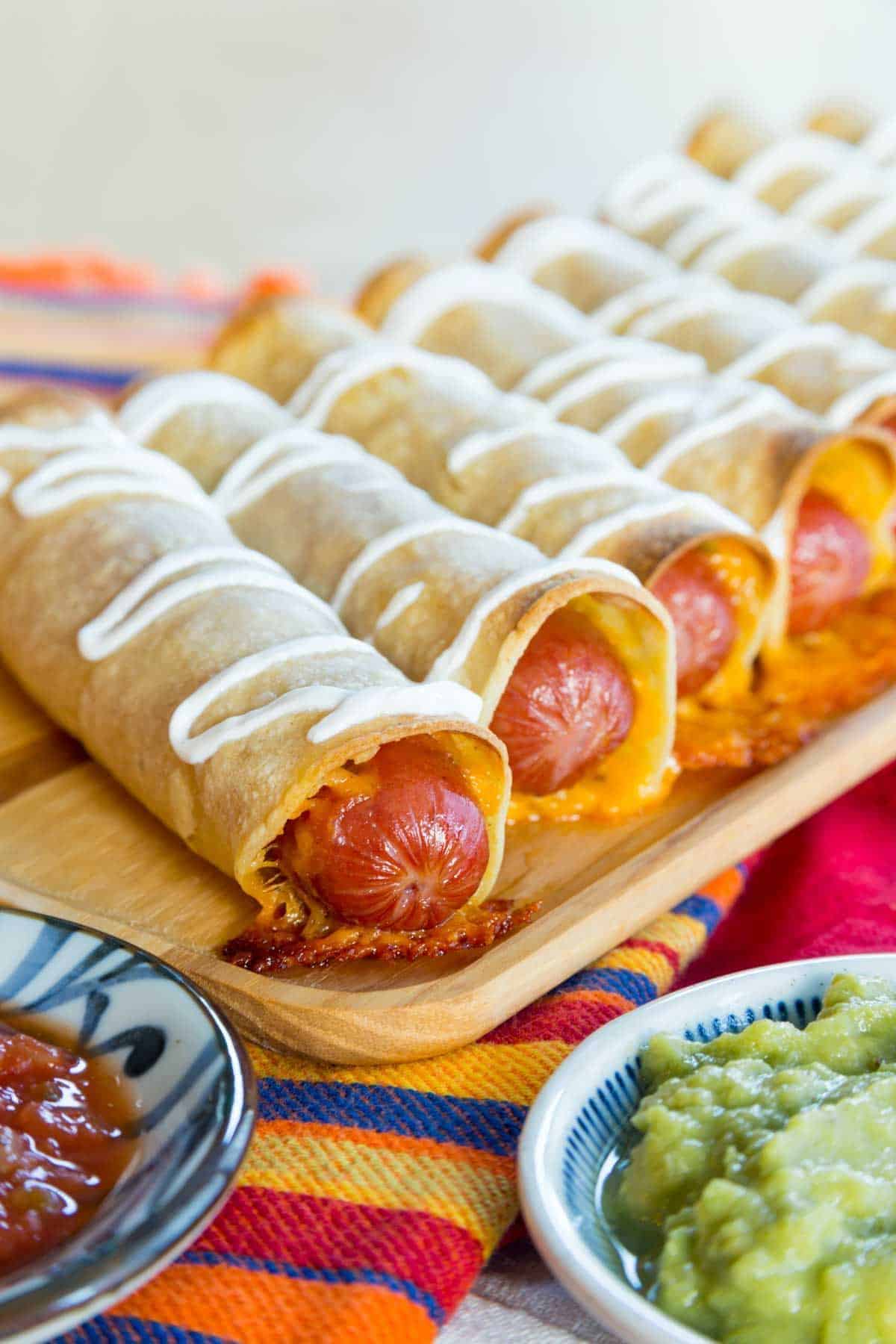 Cheesy Mexican Hot Dog Taquitos are a delectable fusion of flavors, featuring hot dogs wrapped in corn tortillas, crisped to perfection.
The taquitos are generously filled with gooey melted cheese, enhancing the savory notes of the hot dog. Served with zesty salsa or guacamole, they offer a delightful blend of Tex-Mex and comfort food.
18. Chili Cheese Dog Ring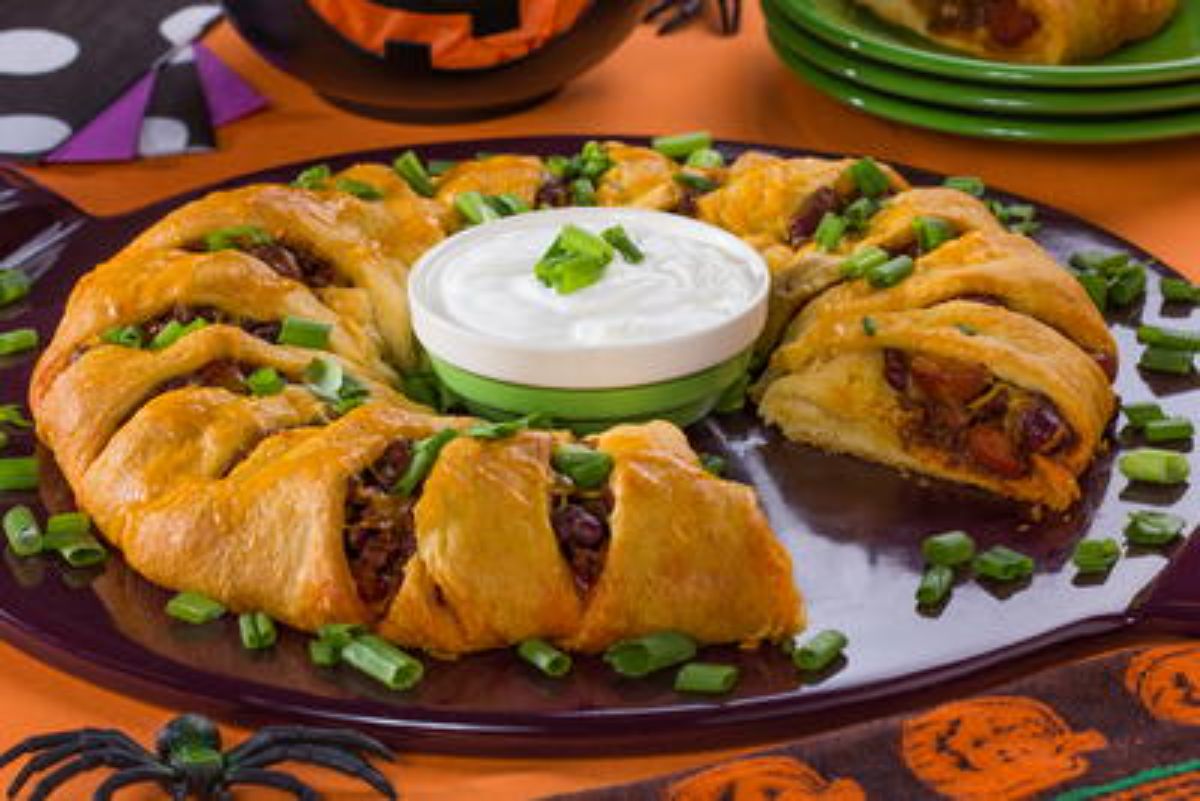 Ground beef and hot dogs come together once more in this recipe for a sharp and irresistible dish.
The ring takes under an hour to prepare, and you'll want to have a slice or two after tasting the wonderful combination of crescent rolls with satisfying meat and spices.
19. Hot Dog Pasta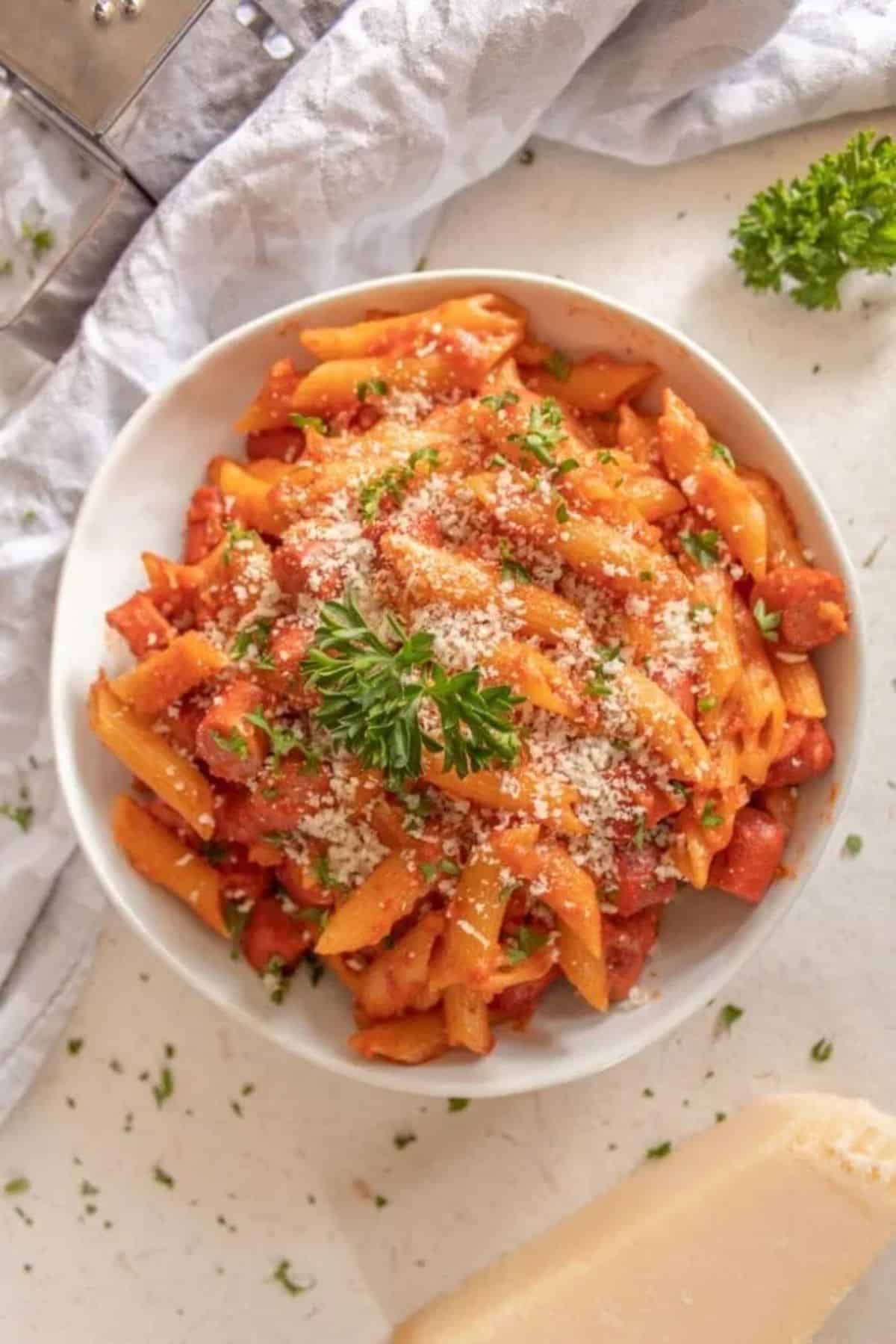 Another one-pot recipe, this pasta will be a savior for you over the week. Set aside a half-hour, and satisfy your spouse and children with a meal similar to spaghetti with the addition of leftover hot dogs.
Sprinkle some Parmesan cheese on top before serving, or opt out of the dairy ingredients if you avoid animal products.
20. Hot Dog Taquitos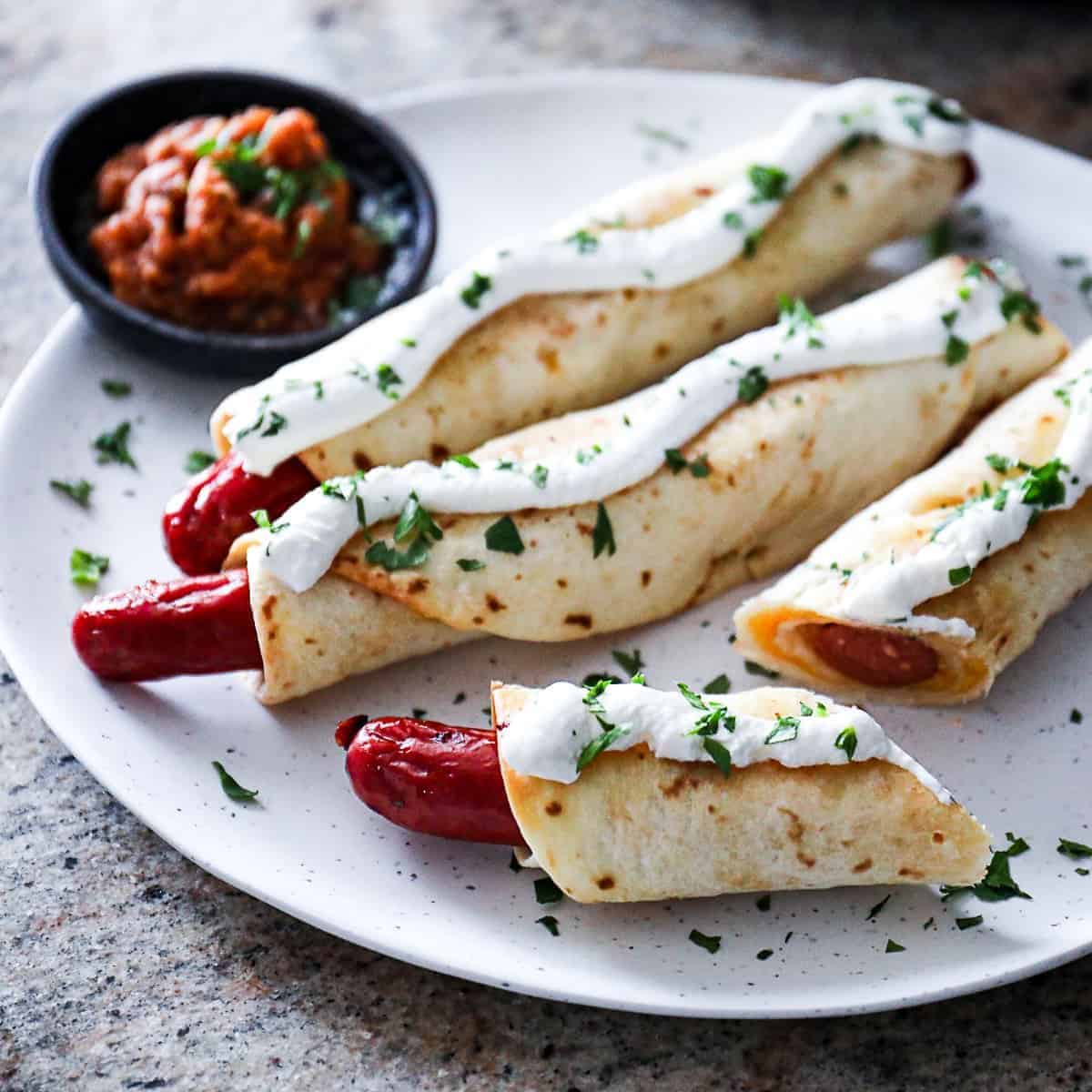 You can either air-fry or bake these versatile and delectable hot dog taquitos, wrapped in tortillas and served with herbs and sour cream. You can pair the main course with other side dishes inspired by Mexican cuisine, like rice or beans, for a full meal.
Similar to the previous Mexican-inspired hot dog dishes, these taquitos are full of potential, and you can customize them with toppings and other ingredients to match your preferences.
21. Jalapeno Popper Hot Dogs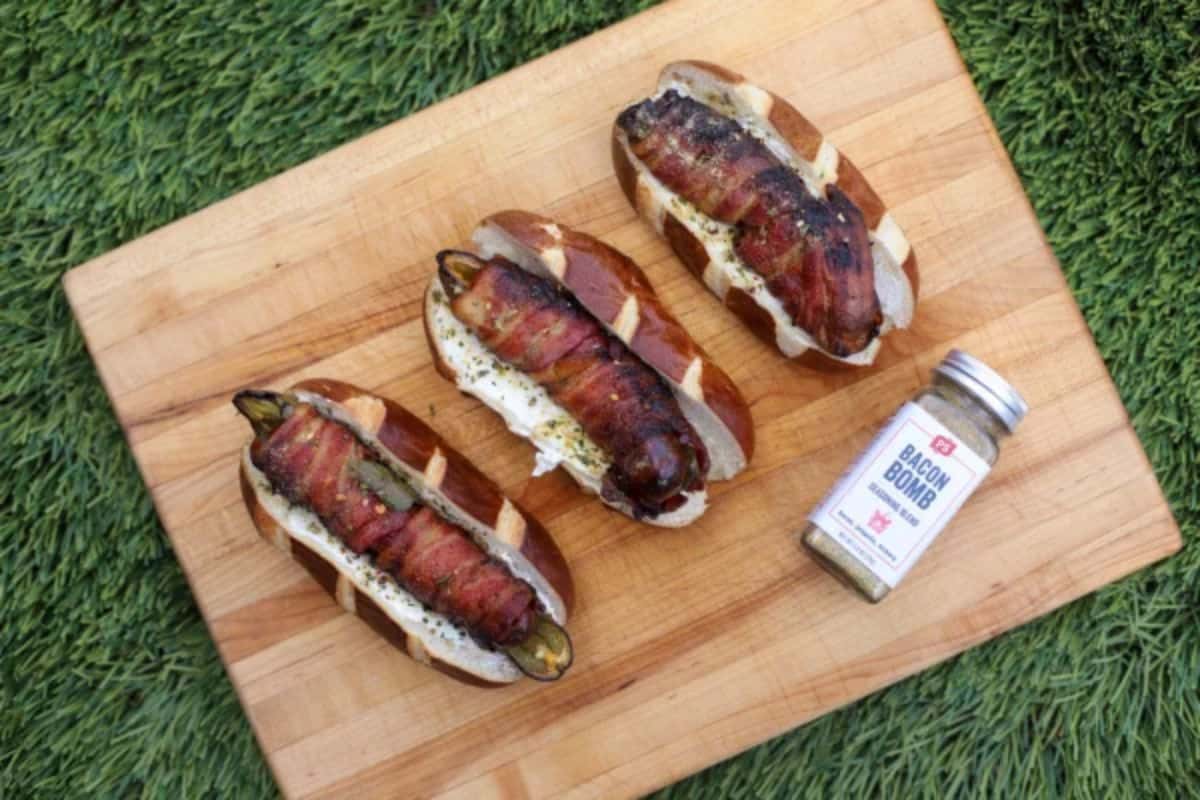 Last but not least, we have jalapeno popper hot dogs for those spicy aficionados out there reading this article. Wrapped in bacon and stuffed into a jalapeno, then topped with a squeeze of cream cheese, you've never sampled anything like this before.
Those who aren't a huge fan of heat could replace the jalapeno with milder peppers, or bacon-wrapped dogs are just as tasty.
Conclusion
We hope you found this article on leftover hot dog recipes insightful! Try out one or two (or all of them down the road), and let us know if you had any success or if you found your new favorite weeknight meal. Happy cooking!