Craving a perfectly cooked steak? Look no further with these air fryer recipes!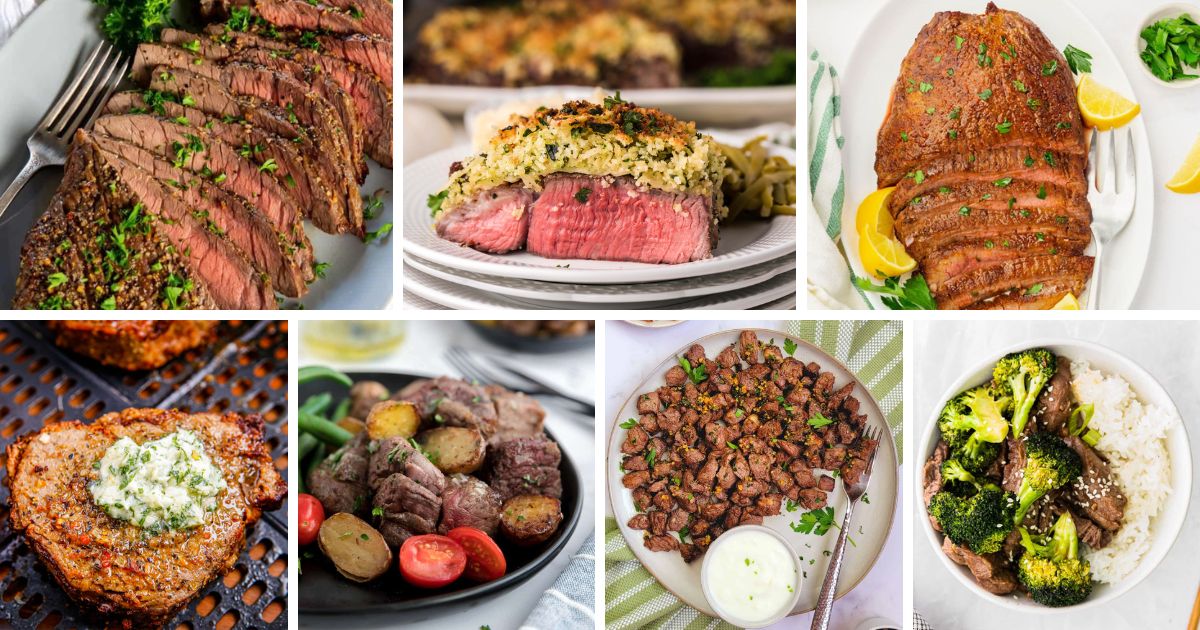 Whether you're a meat lover seeking tenderness, a busy parent aiming for a quick dinner, or a health-conscious individual in search of a juicy, decadent option, air fryer steak recipes have you covered.
From classic cuts like ribeye and sirloin to creative Asian-inspired dishes, the air fryer transforms steak into an amazing meal.
Achieving the most tender result involves marinating with oil and seasonings, letting the steak rest before cooking. Concerned about dryness? Opt for marbled cuts, preheat the air fryer, and consider marinades or oil to preserve moisture.
Ultimately, the air fryer offers a delectable seared exterior, succulent interior, and faster cooking, all with less oil for a healthier alternative. So, whether you're a novice cook or a seasoned chef, these 33 juicy air fryer steak recipes are your ticket to an unforgettable meal that's both convenient and scrumptious.
Contents
Get that restaurant-quality steak indoors with this perfect, heartwarming air fryer steak recipe. You can pair it with garlic butter green beans and a loaded potato for pure satisfaction!
This fantastic sirloin is seared to perfection, complemented by homemade butter enriched with parsley, chives, and garlic. It makes for a swift weeknight delicacy in just 30 minutes.
Air fryer sirloin steaks, expertly seasoned and swiftly cooked, deliver a mouthwatering, fuss-free meal. Achieve steakhouse-quality juiciness and flavor with a crust that seals in succulence.
In the mood for some quick bites? Try this recipe with or without mushrooms for a succulent dinner. Choose your favorite steak cut, like ribeye or sirloin, and serve it with veggies for a complete meal.
This air fryer steak will entice your taste buds to keep you wanting more. With only salt, pepper, and butter, create an awesome meal whether you like New York strip, rib eye, or tri-tip.
Learn how to create a mouthwatering air fryer Philly cheesesteak and enjoy the convenience of fast cooking, pure beef ingredients, and a protein boost, all while relishing a bit of 80s nostalgia.
Whether busy or seeking a mess-free alternative, the air fryer is your steak solution. Try this recipe for a juicy tenderness with a garlic herb butter twist you can serve with potatoes.
Air Fryer Steak Kabobs
Effortlessly create healthy kabobs that taste like hours of work. With this recipe, you can savor tender steak bites paired with roasted veggies, hassle-free.
This recipe brings seasoned simplicity and exquisite tenderness together. Quick and classy, it's ready in 20 mins but is still ideal for special occasions like a romantic date night.
The air fryer technique is perfect for those moments when you forgot to take the steak out of the freezer in advance. Skip the hassle of thawing and enjoy tender, juicy ribeye in just about 30 minutes.
This recipe delivers a perfectly cooked medium rare steak in less than 25 minutes from the fridge to your dinner table. Serve this ambrosial dish with chimichurri sauce for a burst of flavor.
Tired on a weeknight? Try these succulent cubes of top sirloin steak dancing harmoniously alongside perfectly cooked cubed potatoes that will tantalize your taste buds.
Whether you're craving steak and chips or seeking an easy dinner solution, this recipe is a delightful option. Enjoy these keto-friendly sirloin transformed into delicious bites, accompanied by seasoned and cubed potatoes.
Looking for a mouthwatering and tender flank steak? You've come to the right place. Enhanced by warm spices and brown sugar, you can serve it as the main protein for your dinner.
This delightful recipe offers tender Korean steak bites that's paleo and Whole30 compliant. With a marinade sweetened using fruit to recreate the authentic bulgogi flavor, this dish is extremely irresistible.
This recipe creates tender and juicy steak, topped with a crispy layer of Parmesan crust, delivering a burst of flavor that's sure to impress your family.
Air fryer rump steak delivers juicy, delicious results. Enjoy this succulent dish for a steak and chips night, or try it as part of our air fryer steak series.
This recipe transforms budget-friendly beef into a succulent feast. Infused with oil, Worcestershire, and herbs, it's a hassle-free crowd-pleaser to serve for dinner.
Flavor-packed, juicy, and charred, these buttery morsels are a game-changer. With this recipe, you can cater to any occasion with these simple delights, thanks to the air fryer's magic.
Delicately seasoned for a rich flavor, this recipe ensures tender, finger-licking bites. Achieve a perfectly browned exterior while preserving succulence inside and serve with a side of fluffy air fryer smashed potatoes.
In the mood for smoky-sweet flavor of steak seasoning combined with tender texture? Try this recipe that's ideal for make-ahead entertaining or quick, scrumptious weeknight dinners.
Transform budget-friendly cube steak into a tender and scrumptious dish using a savory marinade. Marinate in olive oil, Worcestershire sauce, balsamic vinegar, Dijon mustard, garlic, salt, and pepper for an exquisite taste.
Get ready for a flavor-packed fiesta with air fryer steak fajitas! Top with sour cream, a squeeze of lime, and let the fiesta begin!
Are you ready for a simple and enticing way to make juicy and tender beef skewers in the air fryer? Try these kabobs for a versatile and kid-friendly dish perfect for any occasion.
Air fryer porterhouse steak delight: Grill? Nah, we're going beyond that! Get ready to dance your taste buds with a sizzlin' steak extravaganza right from your air fryer.
Calling all steak tips lovers! Get ready for a flavor explosion with air fryer steak tips. They're juicy, tender, and dancing in garlic butter goodness. Your taste buds won't stop cheering!
Get ready to rock your taste buds with this recipe. Sweet, spicy, and low-carb, these bites are the perfect fusion of flavor. Kids and adults alike won't be able to resist.
Imagine tender beef patties with a luscious mushroom onion gravy, all beautifully air-fried for that perfect crust. This recipe is like a hug for your taste buds on dinner.
Say goodbye to takeout and hello to a burst of flavor and freshness. Tender beef, crispy broccoli, and an irresistible marinade come together in less than 40 minutes.
Air fryer london broil – tender, juicy, and bursting with flavor, all in just 25 minutes! No marinade needed, simply season and let the magic happen.
The perfect balance of sweet and spicy, this dish features thin strips of beef coated in a mouthwatering cornflour crunch. Topped with a mouthwatering honey chilli sauce, it's a flavor explosion to try.
Crispy on the outside, juicy on the inside, these steak fingers are a quick and satisfying treat. Serve them up with a side of creamy country gravy for the ultimate comfort food experience.
Planning a fancy dinner date at home? Try this air fryer filet mignon recipe packed with rich flavor. Serve with garlic butter on top to make you and your lover say "yum"!
📋 Recipe
Frequently Asked Questions