Sauerkraut, often referred to as "sour cabbage," stands out as a culinary jewel from German traditions. The rich history and cultural significance of this dish are as deep as its unique tangy taste.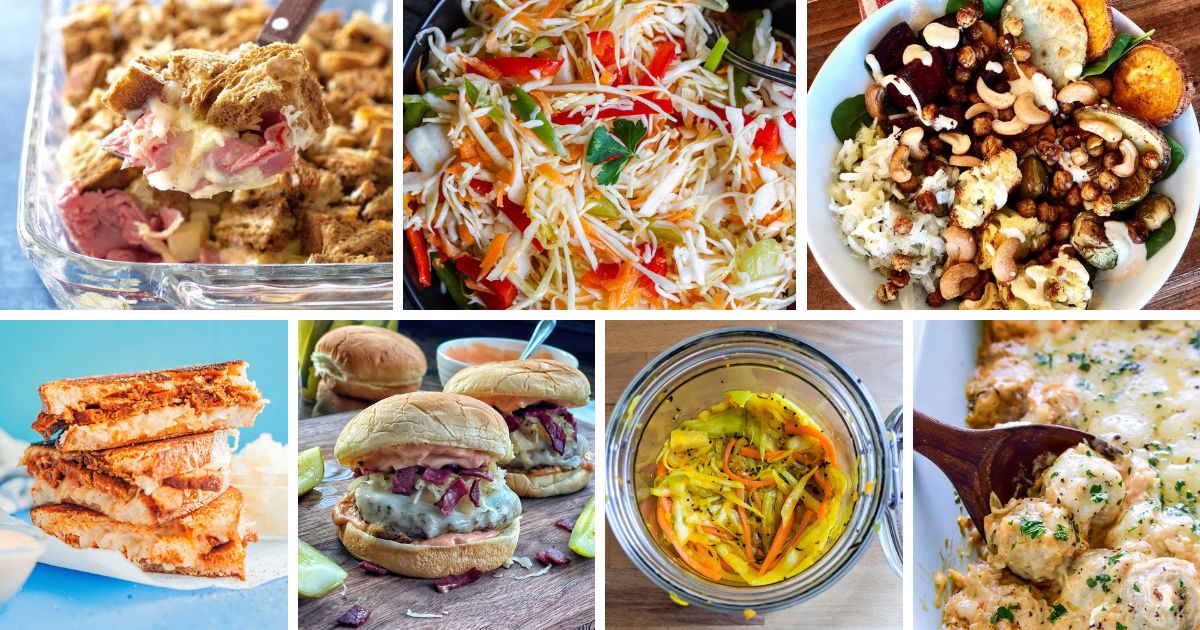 Born from the meticulous fermentation process, this simple yet delectable dish boasts an array of nutrients. Laden with probiotics, vitamin C, fiber, potassium, and calcium, sauerkraut is not only a flavorful addition to many dishes but also a powerhouse of nutrition.
This fermented favorite is more than just about its arresting taste; its health benefits are notably commendable. The prominence of probiotics in sauerkraut makes it a champion for gut health.
When sauerkraut is integrated into meals, it not only adds depth in flavors but also brings an age-old culinary heritage to the forefront. Its unparalleled ability to enhance various dishes, from hearty mains to light side accompaniments, is a testament to the adaptability and allure of this fermented cabbage creation.
Here are 70 sauerkraut recipes and a featured one that explains exactly how to cook it!
Contents
This dish marries sauerkraut's tang with the hearty nature of pasta. The tomato paste and paprika lend a sweet depth, making it perfect for a comforting weeknight dinner.
This dish offers a tantalizing blend of fermented cabbage with Bavarian spices. A perfect side for hearty German meals, its tangy flavor complements roasted meats and potatoes.
This hearty combination showcases smoked sausage and potatoes enveloped in flavorful sauerkraut juices. Enjoy it during chilly evenings for a fulfilling meal.
This recipe takes traditional kraut to the next level. Apples and onions stir together with spices in a pan, resulting in a flavorful side dish that's rich in both vitamins and taste.
Embrace the authentic flavors of fermented cabbage. Enhanced by caraway seeds, this probiotic-rich sauerkraut pairs beautifully with a variety of meats and vegetables.
Infused with juniper berries and mustard seeds, this kraut provides an authentic German twist. It's an ideal side dish, rich in fiber and essential nutrients, to complement hearty dishes.
Experience the delightful interplay between tart sauerkraut and sweet apples in this recipe. This combination makes a refreshing side dish or a light lunch.
Incorporating both savory bacon drippings and sweet brown sugar, this casserole is the epitome of flavor balance. It's perfect for family dinners when comfort food is in order.
Juicy kielbasa merges with savory sauerkraut in this simple dish. Pair it with a cold beer for a traditional Polish experience.
This dish brings together tender chicken with fermented cabbage for a wholesome meal. It's great for those evenings when you crave something comforting.
You can indulge in the rich flavors of bacon, beer, and sauerkraut with this recipe. It's ideal for game nights or when you're hosting a hearty feast.
Warm up with this traditional Polish soup that combines sauerkraut's tanginess with heartwarming broth. Serve it with rye bread to enhance the experience.
Tender pork chops meet zesty sauerkraut in this German classic. It's a flavorful entree perfect for Sunday dinners or special occasions.
Using fresh cabbage and baseball-sized onions, this unique sauerkraut recipe incorporates the kick of jalapeño. The fermentation process infuses it with probiotics, making it a delicious gut-friendly side.
This dish pairs the robust taste of pork spare ribs with the tartness of sauerkraut. This combo is perfect for those seeking a rustic, home-cooked meal reminiscent of countryside kitchens.
Packed with nutrient-dense ingredients, this bowl is the epitome of health meets taste. It's ideal for those days when your body craves a wholesome, nourishing meal.
If you're in the mood for a slow-cooked meal, this dish combines smoked kielbasa with tangy sauerkraut. A hint of sweetness from tomatoes balances the dish, making it a household favorite.
Experience a taste of Germany with this sauerkraut recipe, where sour cabbage is elevated by apple and bacon. With a dash of maple syrup and optional juniper berries, it's a celebration of flavors.
This easy recipe requires just cabbage and salt, allowing nature's fermentation to work its magic. Rich in calcium and probiotics, it's a great introduction to making sauerkraut at home.
Simple yet bursting with flavor, this sauerkraut offers the health benefits of lactic acid bacteria. A great source of vitamin C, it's a timeless side dish that enhances any meal.
This vegetarian twist on a Reuben offers a delightful balance of seitan corned beef and sauerkraut. Dive into this hearty sandwich whenever you want classic flavors without the meat.
Crisp bacon elevates the fermented goodness of sauerkraut in this recipe. A delightful side dish, it shines alongside grilled meats or as part of a brunch spread.
Combining the crunch of fresh cabbage with the piquancy of dill and garlic, this sauerkraut offers a twist on tradition. Ideal for picnics, it's a side dish that impresses.
Experience the savory depths of this dish as pork roast marries with sauerkraut for a delightful culinary experience. We recommend enjoying this pork roast during family gatherings or festive occasions.
This refreshing salad celebrates Germany's culinary heritage. With crisp textures and tangy flavors, it's an ideal accompaniment to grilled meats.
The subtle sweetness of apples complements the tang of sauerkraut in this side dish. A unique blend, it's great alongside roast meats or hearty mains.
Tender pork pieces and tangy sauerkraut come together in this easy recipe. With a sprinkle of paprika and optional red pepper, it's a warming dish for cool evenings.
Rich and hearty, this Polish stew combines sausages, sauerkraut, and mushrooms. Polish beer or red wine gives it depth, making it perfect for gatherings or family meals.
For those seeking a quicker sauerkraut with a longer shelf-life, this recipe is ideal. Red bell peppers and peppercorns give it a unique spin, enhancing its natural tang.
If you're craving a classic, this sandwich offers corned beef, sauerkraut, and creamy homemade dressing. Served on rye bread, it's a lunchtime treat that always satisfies.
This one-pot meal fuses sausages, sauerkraut, and rice. With a dash of oregano and ripe tomato, it's a dish that brings comfort and flavor in equal measure.
Experience a burst of flavors with knockwurst, sauerkraut, and a tantalizing 1000 islands sauce. Nestled in a pretzel bun, it's a treat that celebrates the best of German cuisine.
This cake is surprisingly delightful, as sauerkraut adds moistness without overpowering the rich chocolate. This cake will surely become a conversation starter at any gathering.
This dish combines tender pork with tangy sauerkraut, benefiting from the lactic acid bacteria from the fermentation process. With bay leaves and paprika, it's perfect for chilly evenings.
Do you crave a fusion of tangy and creamy? This sandwich boasts homemade quick sauerkraut that's rich in probiotics, layered with corned beef and Swiss cheese. It's the ultimate comfort food.
For those who love sour cabbage flavors, these pancakes are a treat. Packed with vitamins C and calcium, they're a delightful pairing with the optional garlic-infused sour cream.
This recipe offers a comforting blend of bacon, apple, and sauerkraut. The caraway seeds enhance the soup, which also offers the nutritional benefits of potassium and vitamins C.
Infused with the sweet notes of apple and the savory touch of bacon, this sauerkraut dish offers a symphony of flavors. It's a refreshing take on a traditional side, great for elevating any meal.
A vibrant twist on traditional sauerkraut, this recipe leverages the natural sodium in sea salt to promote fermentation. Enjoy the added crunch of carrots and the unique shade of purple cabbage.
Crispy on the outside and soft within, these balls offer a harmonious blend of potatoes and sauerkraut. With the right amount of seasoning, they become irresistible, bite-sized delights.
These juicy meatballs, complemented by sauerkraut's tanginess, are a delightful fusion. Perfect for potlucks or family gatherings, they're sure to impress.
Dive into a dish that celebrates European flavors, combining kielbasa, fluffy dumplings, and sauerkraut. It's a hearty meal that beckons the family to the table.
Experience the merging of tangy sauerkraut and aromatic turmeric in this vibrant recipe. It's not only delicious but packed with health benefits, making it a go-to for wellness enthusiasts.
Baked to perfection, these pork chops paired with sauerkraut ensure a satisfying bite every time. It's ideal for a family dinner or special occasions like holiday feasts.
This skillet dish showcases the dynamic duo of kielbasa and sauerkraut. We recommend trying this recipe on those busy nights when you need a quick yet flavorful dinner.
These gluten-free balls offer the tang of sauerkraut in a crispy, baked exterior. It's a hit at parties or as a unique snack option.
Juicy pork roast meets tangy sauerkraut and fluffy dumplings in this traditional dish. The drop dumpling recipe ensures soft, cloud-like bites that enhance the meal's comfort factor.
Dive into this timeless combination of tender spare ribs and tangy sauerkraut. These sauerkraut ribs are excellent for those days when you're seeking comfort food with a depth of flavor.
Experience the essence of a Reuben sandwich transformed into savory meatballs. They're a hit at gatherings, especially when paired with rye bread.
Vibrant cabbage rolls filled with a medley of veggies and rice bring out the best in vegan cuisine. Enhanced with dill seeds and bay leaves, they're a testament to plant-based goodness.
This dish combines crispy potatoes and tangy sauerkraut for a delightful fusion. Perfect for brunch or as a side, they pair wonderfully with sour cream or applesauce.
This cake boasts the unexpected pairing of chocolate and sauerkraut, offering moistness and depth. The sour cream frosting completes this delightful dessert.
All the flavors of a classic Reuben sandwich come alive in this comforting casserole. It's a perfect dish for cold evenings or family dinners.
Who knew sauerkraut could elevate a pizza? Paired with sausage or kielbasa and a burst of spices, it's a fantastic twist on the traditional pie.
Tender potatoes and tangy sauerkraut are drizzled with a rich bacon dressing in this dish. It's a comforting side that pairs perfectly with grilled meats.
A nostalgic blend of classic hot dogs and tangy sauerkraut elevates this dish. Serve it at summer BBQs or chilly nights, and watch it become a fast favorite.
This recipe takes the crispy delight of strudel and infuses it with smoky bacon and sauerkraut. Ideal for brunches, it's a savory treat that surprises and satisfies.
Tender corned beef and tangy sauerkraut meld beautifully in this slow-cooked dish. It's great for hearty dinners or when craving comforting flavors on colder evenings.
These tacos offer a vibrant blend of juicy chicken and tangy red cabbage sauerkraut. The spicy kick from chipotle sauce elevates the flavor experience.
This creamy dip is a deconstructed Reuben sandwich in a bowl. It's rich, cheesy, and best served warm with rye chips or crackers.
Experience a unique bread infused with the flavors of sauerkraut. It's a Polish delicacy that pairs wonderfully with soups or charcuterie.
This traditional Slovak soup marries the earthiness of mushrooms with the tang of sauerkraut juice. It's a comforting dish meant for festive occasions.
This rich and hearty goulash brings together tender beef and sauerkraut in a symphony of flavors. Dive into this German classic on chilly evenings for ultimate comfort.
A delightful fusion of sauerkraut, potato, and onion makes this frittata stand out. It's a delightful breakfast option or a light dinner paired with a fresh salad.
This quiche boasts a sumptuous blend of corned beef and sauerkraut nestled in a flaky crust. Ideal for brunches, it's a delightful twist on traditional quiche recipes.
This dish features bratwurst with sauerkraut and apple. The caraway seeds and paprika impart warmth, making this dish a cozy option for winter evenings.
These sliders are a delightful fusion of savory brats, melted Provolone, and tangy sauerkraut, topped with a rich butter-beer sauce. They're the perfect bite for game nights or casual gatherings.
Merging the flavors of a classic Reuben sandwich and a juicy burger, this cheeseburger boasts layers of corned beef, swiss cheese, and sauerkraut. The mayo-ketchup-relish dressing ties it all together deliciously.
These hand pies are a playful take on the traditional Reuben, wrapped in puff pastry with corned beef, Swiss cheese, and sauerkraut. Paired with Thousand Island Dressing, they're a delightful snack or appetizer.
This inventive dish transforms pierogies into nachos, topped with savory kielbasa, sauerkraut, and a creamy beer cheese sauce. It's a fusion of flavors that creates a true comfort food experience.
📋 Recipe
Frequently Asked Questions