It's obvious that many people choose frozen foods and snacks as their go-to for the air fryer. Even so, those are not the only things you should put in this amazing device. You can actually make a lot more with it, including a wide range of protein-packed recipes.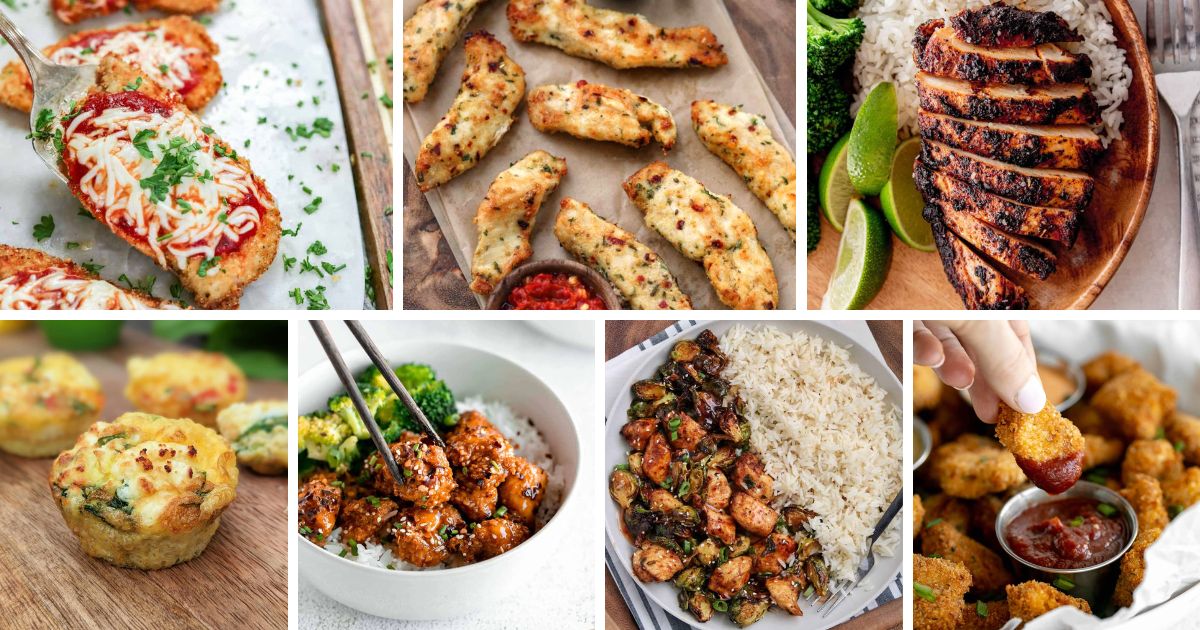 Yes, air fryers work really great with proteins. They not only eliminate the harmful effects of frying, but they also let you work with certain meats directly from the freezer. This means you should not blame anyone for forgetting to thaw those chicken thighs the night before.
In brief, an air fryer will give you the same crispiness and goodness as deep-frying your foods but without the extra oil and fat. And, if you want to know how to use it properly, the recipes below will show you how!
Contents
These egg bites include all the things you need for a quality breakfast: protein, carbs, and veggies. Also, they only take less than 20 minutes to make!
Looking for a recipe that does not include any dairy, gluten, or refined sugar? This one does just that, and it's also loaded with fresh lemon flavors.
If you only have half an hour to make something for your guests, then this is the recipe to make. It does not involve marination time and should be ready in under 20 minutes.
This healthier version of chicken nuggets is flavorful and great for meal prep. You can also dip it in any kind of sauce you like.
Whenever you have fresh garlic and high-quality butter in your kitchen, you should make this flavorful and satisfyingly delicious recipe!
Carefully follow the instructions in this recipe, and you will get soft and spongy high-protein snacks similar to what you find in overpriced coffee shops.
Are you looking for something with bold spices to make in your fryer? This chicken recipe can be a great option, and you can serve it with your favorite salad, carb, and side dish.
This one is seriously easy to make, and you can have this carb-free recipe ready on your table in less than half an hour.
Brussels sprouts may not be anyone's favorite. But this vegan air fryer recipe will give them the much-needed flavor and crispiness and make them more exciting to eat.
Loaded with peppers, chickpeas, and Greek yogurt sauce, this recipe brings life to an otherwise boring frozen falafel, making it perfect for a light dinner.
Looking for a more creative way to include lentils in your diet? This meatball recipe will provide you with the flavors and textures you never knew you needed.
The breading on this one may make a little of a mess in your kitchen, but once dipped in a spicy sauce, you'll crave it again and again.
When you are looking for a simple yet impressive air-fryer salmon recipe, this one is your best bet! Just make sure to drain and squeeze as best as you can if you use processed horseradish.
Air-Fryer Tuna Patties
With a tender texture in the middle and a crunchy outer layer, it is hard for one to be disappointed by these air-fryer tuna patties.
This dairy-free and low-calorie recipe takes about 20 minutes to make, and you can easily make it in a larger batch if you have a big air fryer.
It has become a hit in many homes, and it is for a good reason! It substitutes the bread crumbs with ground pork rinds and grated cheese to make it keto-friendly.
When you have medium-sized zucchini lying around your fridge, take them out and make this healthy air-fryer recipe. You can fill it with any meat and cheese of your liking.
This quick and easy recipe makes a great high-protein entrée for a family dinner. You can also use chicken thighs and chicken wings for it.
Don't be fooled by its captivating look just yet. This one is actually a super simple recipe that even the most beginner cook can make.
Gluten-free pizza crust has been on the rise for the past several years. This recipe will show you exactly how to make one to satisfy your pizza craving.
📋 Recipe
Frequently Asked Questions