In the ever-evolving landscape of food innovation and the growing appeal of protein-heavy meat alternatives, the humble tofu is an increasingly popular choice, and the air fryer has emerged as its ultimate ally.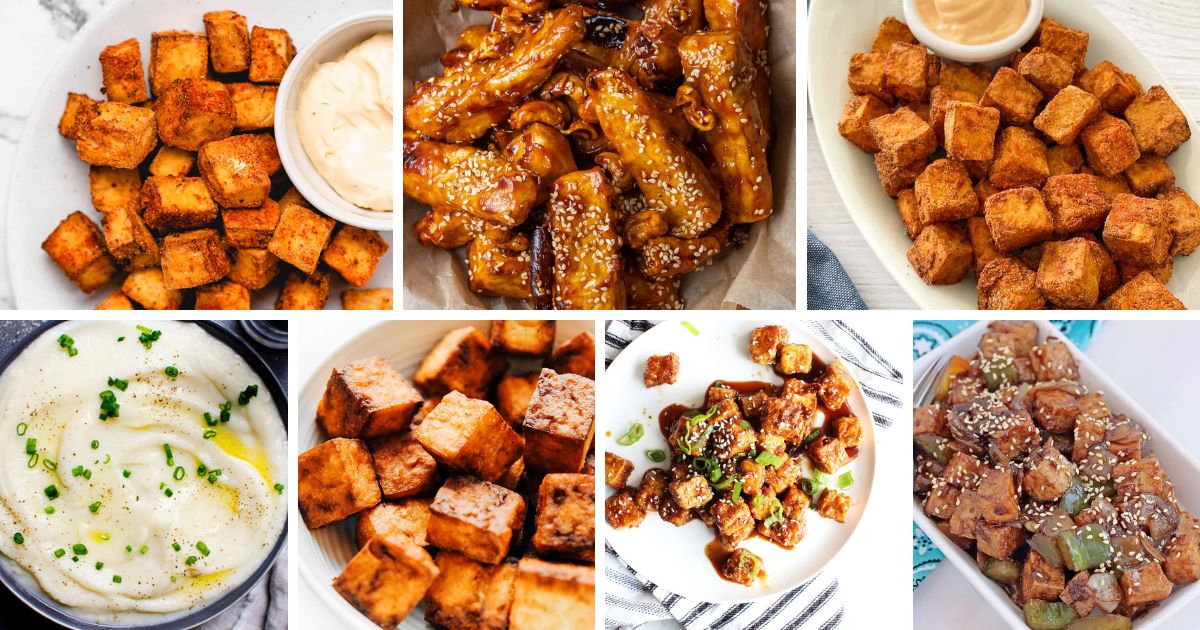 With air fryers, gone are the days when tofu was relegated to mere stir-fries! Today, it takes center stage in various delectable creations catering to health-conscious and food-adventurous palates.
Picture sinking your teeth into perfectly crisp tofu bites, each delicately seasoned and irresistibly golden yet guilt-free, thanks to the magic of air frying.
From zesty tofu tacos that redefine plant-based indulgence to mouthwatering tofu nuggets that pack a satisfying crunch, this compilation of 19 healthy air fryer recipes showcases the artistry of culinary prowess combined with the convenience of modern appliances. You can make magic happen in that air fryer basket and get results better than using an oven or deep-frying.
Whether you're a dedicated vegan, a curious foodie, or anyone in between, these recipes promise to satisfy your taste buds!
Contents
Check out this recipe if you want extra-firm tofu that's crispier than ever and only takes 10 minutes to make. It incorporates garlic powder, onion powder, paprika, sea salt, black pepper, and sesame oil for full flavor!
This crispy air fryer tofu recipe takes a bit longer but still only requires 30 minutes of your time. Plus, it's healthier, calling for rice vinegar and tamari instead of oil.
The unique air fryer tofu makes for extremely crispy tofu while leaving out the cornstarch. The crunchy exterior and tender interior makes for a true vegan dream.
If you're looking for an air fryer recipe that's not only vegan and vegetarian but also dairy-free, gluten-free, and nut-free, you can ensure this with this 23-minute recipe. It includes a multi-spice rub for ultimate flavor.
If you want something extra special, try this air fryer tofu recipe with a unique honey garlic sauce. The honey garlic sauce calls for flavorful ingredients like chicken broth, garlic, and ginger.
Easy enough to prepare in just 15 minutes before cooking, this air fryer sticky orange tofu is also to die for! Toss with a sauce of maple syrup, red chili flakes, and other ingredients for a dynamic result.
This tofu recipe combines freshly grated ginger and soy sauce for an Asian-inspired treat. It also incorporates unique ingredients like coconut sugar, avocado oil, and white sesame seeds, making it ideal for special occasions.
If you want an ultra-healthy yet flavor-packed lunch, try making this delectable Buddha Bowl, featuring air fryer tofu and other healthy ingredients veggies like broccoli, bell peppers, and carrots.
Tapioca flour, nutritional yeast, panko breadcrumbs, and common spices team up for this delicious lunchtime treat: crispy tofu nuggets! Kids love these nuggets, and they're much healthier than fried chicken nuggets.
We like all sorts of tacos here, from steak to chicken to fish. But we must say, these air fryer tofu tacos raised the bar! It's amazing what happens when you mix chili powder, sun butter, cumin, and maple syrup.
If you're in the mood for something healthy but with a kick, these spicy air-fried tofu cubes should do the trick! Be sure to follow the recipe to a tee, but you can add chili sauce based on your taste preferences and heat tolerance.
This easy, step-by-step recipe is a great one for novice cooks looking for a quick and healthy bite. Incorporating vegan yogurt, garam masala powder, paprika, and kasoori methi, it's truly a delicious Indian meal.
Any scramble is perfect for a lazy weekend breakfast or brunch, but you can make it even lazier with a convenient air fryer! This air fryer tofu scramble ensures ease and nutrition, making it a go-to meal. Its low in carbohydrates and high in protein.
This Korean-inspired air fryer tofu recipe incorporates the delicious, spicy, and irresistible gochujang dipping sauce! You'll certainly be licking your fingers when you finish this dish.
If you want a break from Eastern flavors or just looking for a tofu recipe with a twist, check out this Italian-style air fryer tofu recipe which calls for oregano, basil, garlic, and onion.
Some people see salt and pepper as very basic ingredients, but this recipe reminds us of their true power when it comes to cooking delicious meals. However, additional spices, garlic, and chiles don't hurt either!
If you're in the mood to munch on spicy wings but looking for something healthier than oil-fried chicken wings, try this air fryer tofu alternative! You'll get all the flavor of buffalo sauce with much fewer calories. You can also use the sauce as a marinade.
Something truly magical happens when you combine chili garlic sauce with olive oil, soy sauce, and vinegar. And if you don't believe us, simply try this recipe and find out for yourself!
People always think that a sandwich needs to have meat in it, but that's simply not true! If you want a healthy alternative, try this flavor-packed tofu sandwich featuring air fryer tofu, apple cider vinegar, and your favorite toppings.
📋 Recipe
Frequently Asked Questions
Here are some frequently asked questions about healthy air fryer tofu recipes.