If you are firing up the grill, and if you like asparagus, then you must try this grilled asparagus wrapped with prosciutto recipe.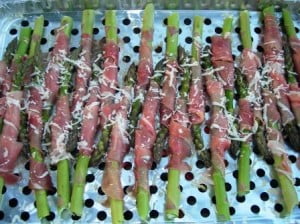 I'm not sure how I came up with this recipe. I probably saw it in a cookbook, but I can't be sure. But this one is a winner. You can serve it as a side dish, or it would make a fantastic appetizer. And it's just as good as a left-over the next day.
Here's how to make this dish:
I use a disposable pan that I buy from the Dollar Tree (the one where everything is $1.) Even though this pan only costs $1, I wash it and reuse it several times. This one has been used about 4 times already!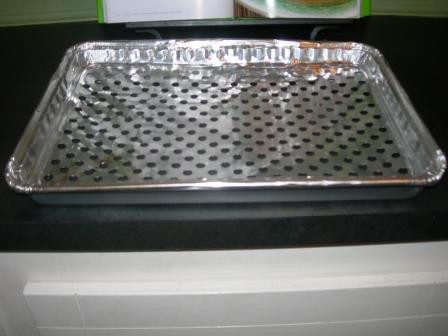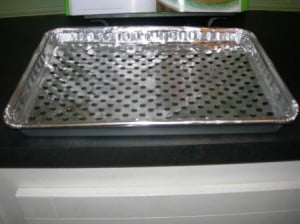 This pan fits down into a jellyroll pan perfectly. You need the jellyroll pan because the disposable pan is not very sturdy.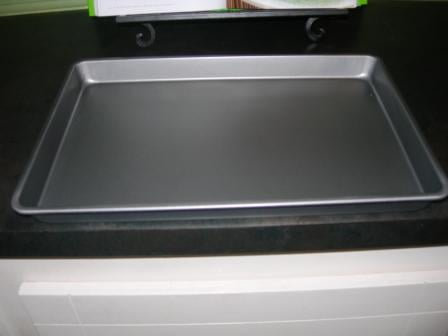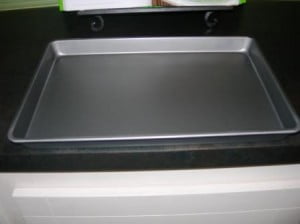 Spray the disposable pan with PAM.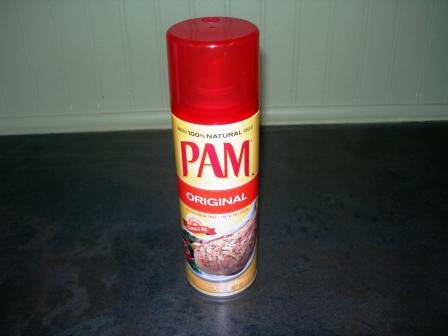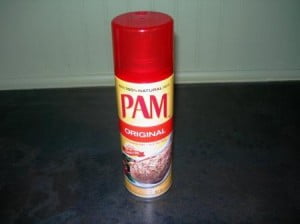 For this recipe, you need thick stalks of asparagus. Wash the asparagus and snap off the ends at the place where it just naturally breaks.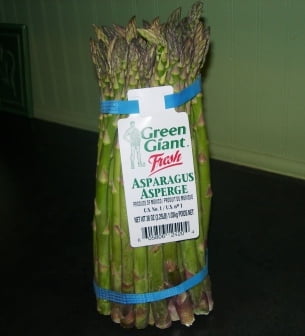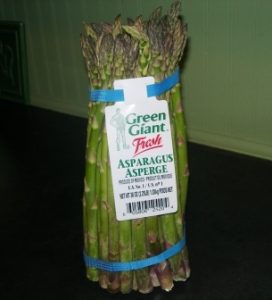 Since I didn't use this entire bundle, I put the rest of it in water to go in the refrigerator.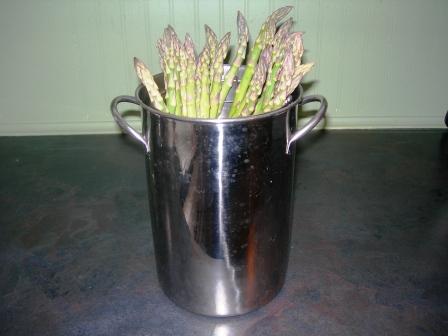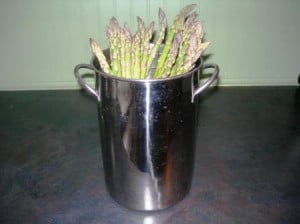 I buy this prosciutto from Sam's Club. You'll only need one package if you are just using half of the asparagus.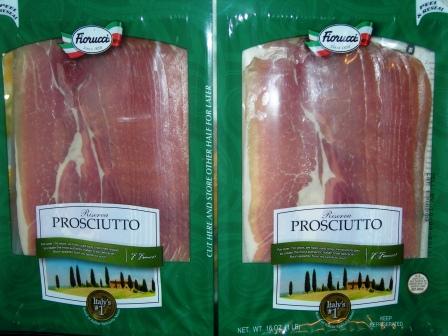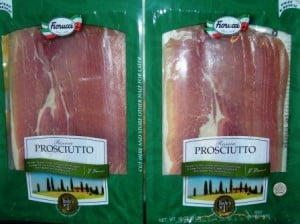 Tear each slice of prosciutto in half and wrap it around a stalk of asparagus. When you have finished wrapping the asparagus, grate a little fresh Parmesan cheese on top.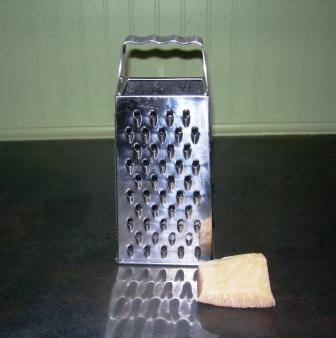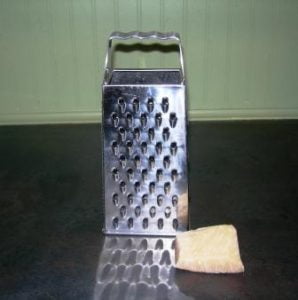 Your asparagus will now look like this.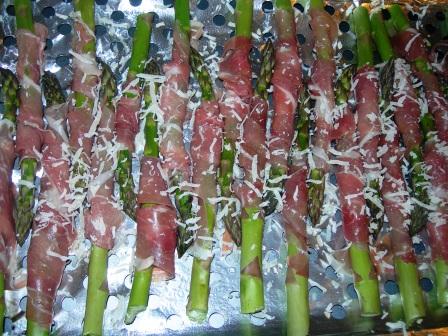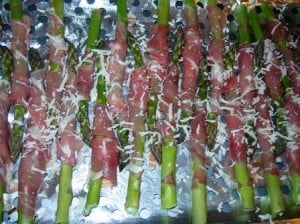 Place it on a hot grill (don't forget to take it out of the jellyroll pan!) Cover and cook it for about 5 minutes. You don't even need to turn it.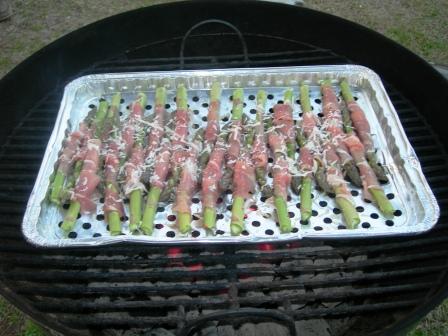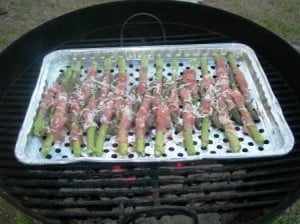 When the prosciutto starts to brown slightly and get a little crinkly, then it's time to remove it from the grill.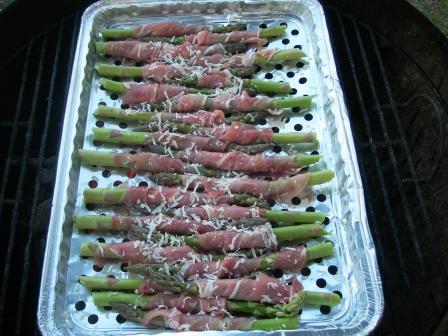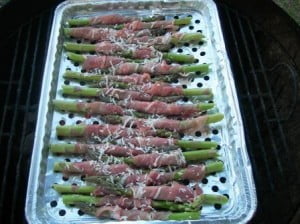 I served the grilled asparagus with a steak and a small salad.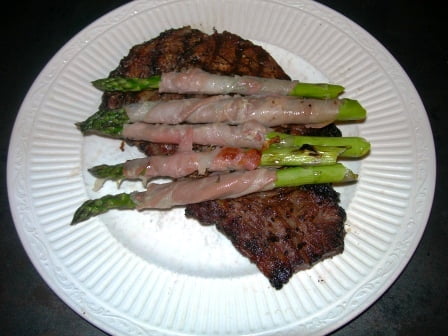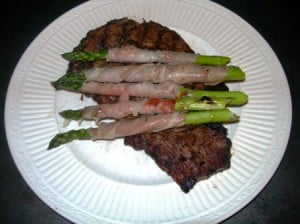 Are you hungry yet? Click on comments and tell me your favorite thing to cook on the grill.
Grilled Asparagus Wrapped with Prosciutto
a delicious way to cook and serve asparagus
1 pound fresh asparagus
1 package prosciutto
1 small wedge Parmesan cheese (shredded)
Spray a disposable grill pan that has holes in it with cooking spray.
Place disposable grill pan down inside a jellyroll pan or on a cookie sheet (for stability while transporting to grill.)
Wash and snap off the ends of the asparagus at the place where they naturally break.
Tear each slice of prosciutto in half and wrap around each asparagus spear.
Place wrapped spears on the disposable pan and sprinkle with shredded Parmesan cheese.
Grill on high for about 5 minutes or until the prosciutto turns brown and crinkly.
This recipe could easily be cooked in a 425 degree oven for about 10 minutes instead of on a grill.
Till next time, Jane