Hello friends! I am slowly getting the house decorated for Christmas, and one of the rooms that I love to add some Christmas joy is in our kitchen with these Gingerbread kitchen wreath.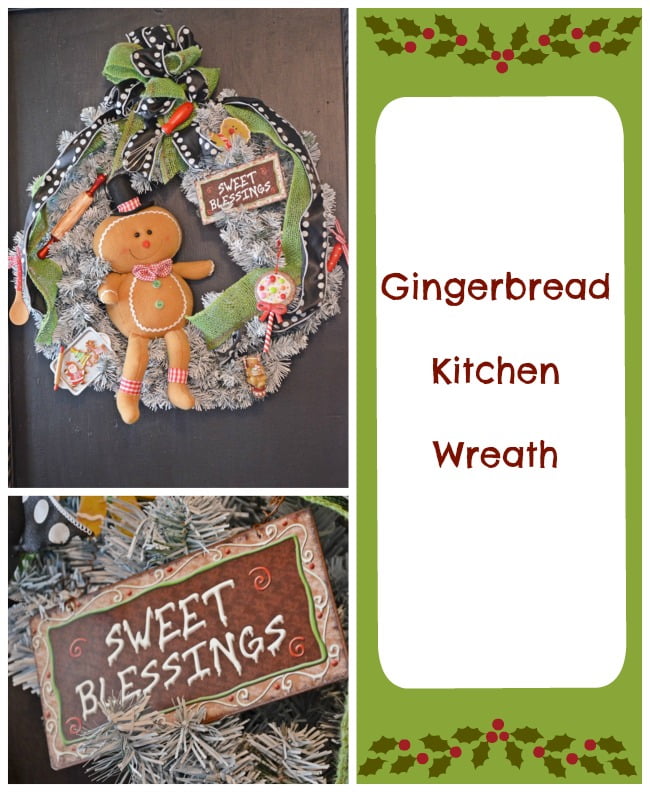 I haven't completed it yet because I couldn't find one box that had some of my gingerbread decorations in it. But yesterday I found the missing box in the bottom of an outdoor decorations bin. What was it doing there? Did I really do that last year?
Well, now the kitchen decorating can continue, but in the meantime, I thought I'd show you my gingerbread kitchen wreath. I started decorating the kitchen with a gingerbread theme last year after I bought some cute decorations at a friend's garage sale. I have been yearning for a gingerbread tree for our kitchen, but there simply isn't any space for one.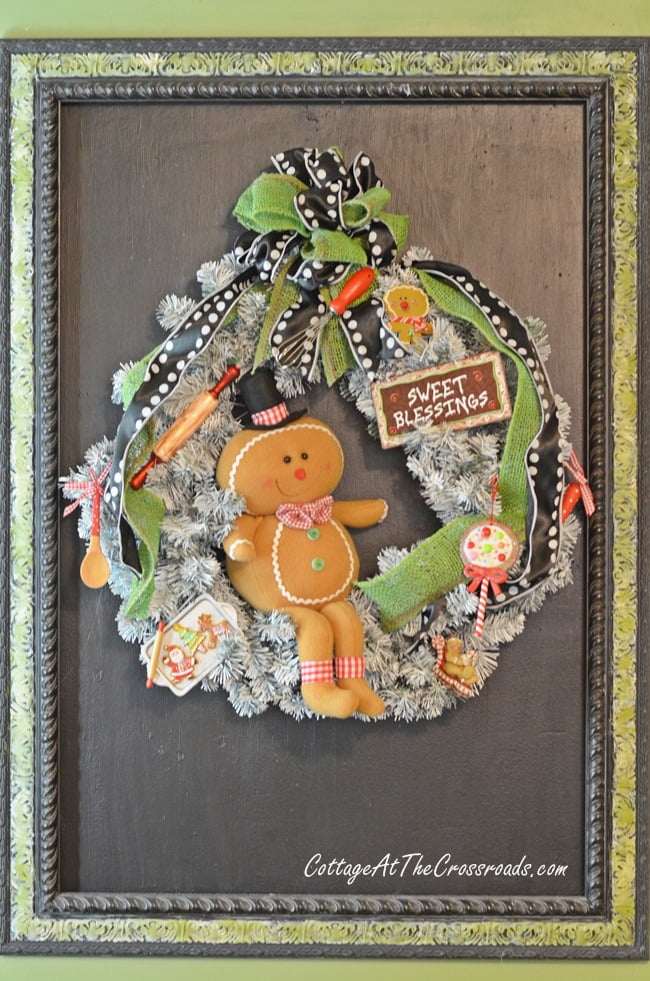 So, instead of a tree, I created a wreath for the chalkboard in our kitchen.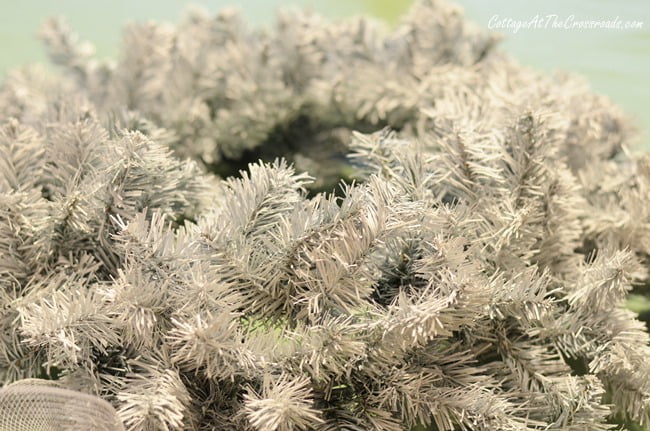 For the base, I used an old, faded artificial wreath that I spray painted white. I'll have to admit that it took quite a bit of paint to cover all the green, but luckily, I had several cans of leftover paint that I used to paint the wreath. (I actually painted 2 of them, and you'll see how I used the other one later!)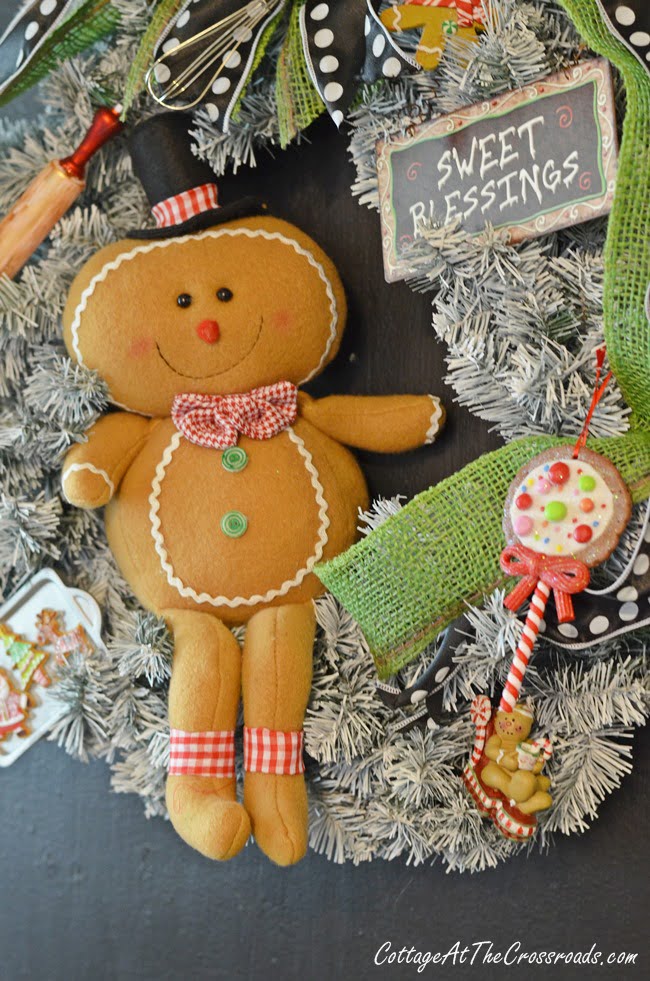 Now the really fun part of making the wreath was finding the ornaments and the gingerbread boy! I sure hope he doesn't hop down from the wreath and run away!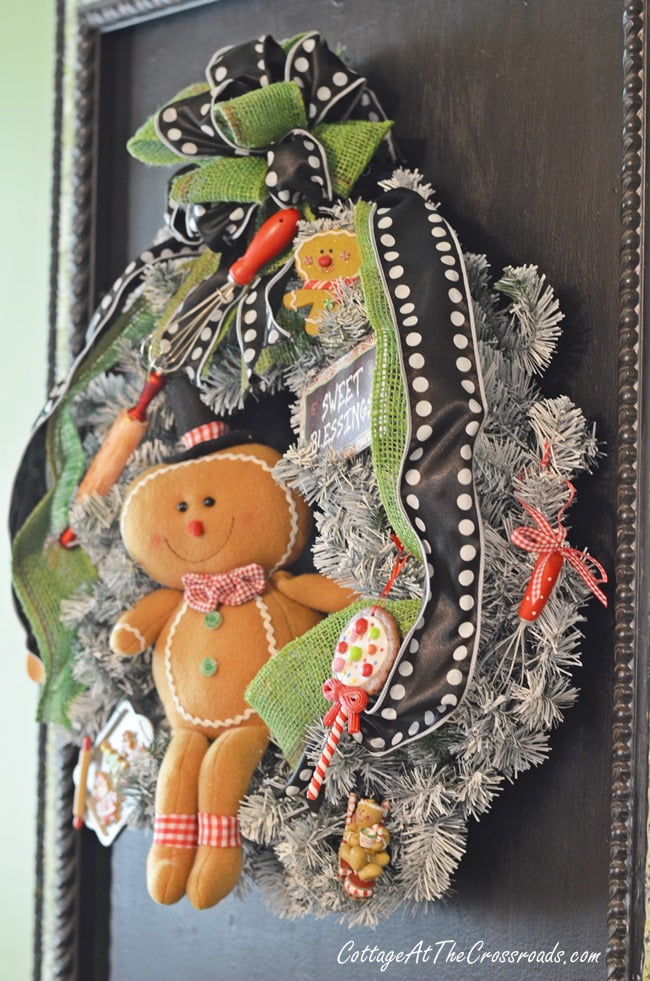 Since the colors of the kitchen are green and black, I made a bow using those colors.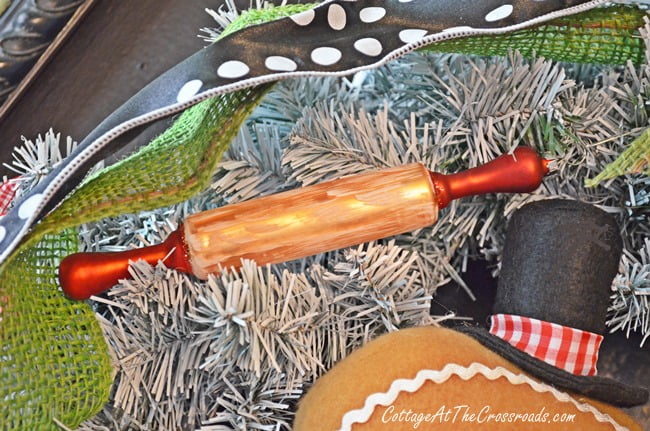 And you can't have a gingerbread wreath without a rolling pin, can you? I really felt like I had scored when I found this ornament at Hobby Lobby!
And this baking pan ornament with cookies on it is my favorite!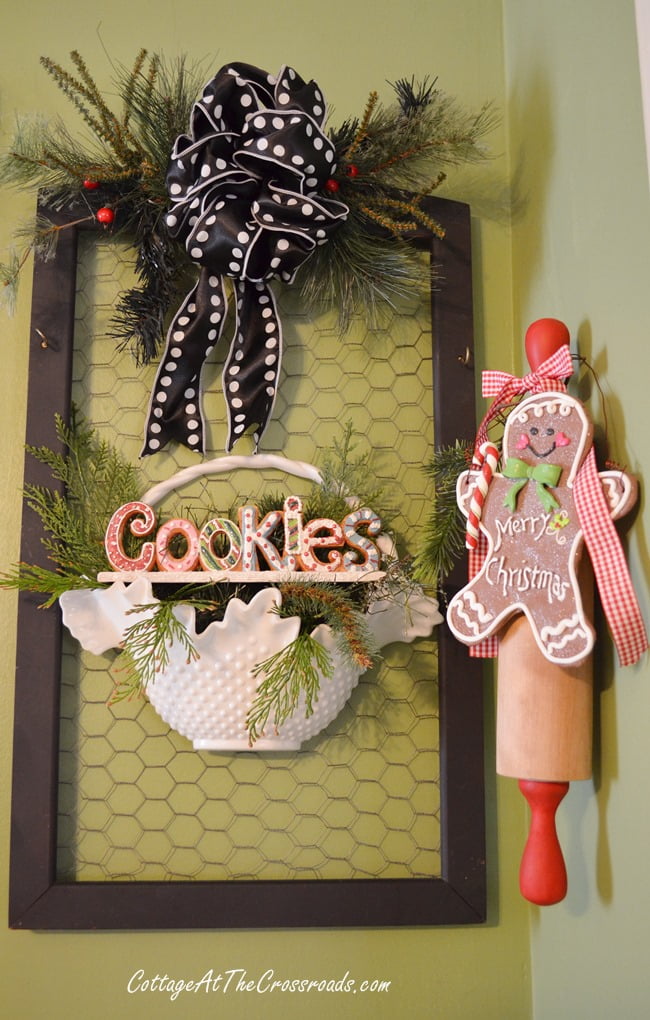 I've already added more gingerbread touches in the corner across from the wreath.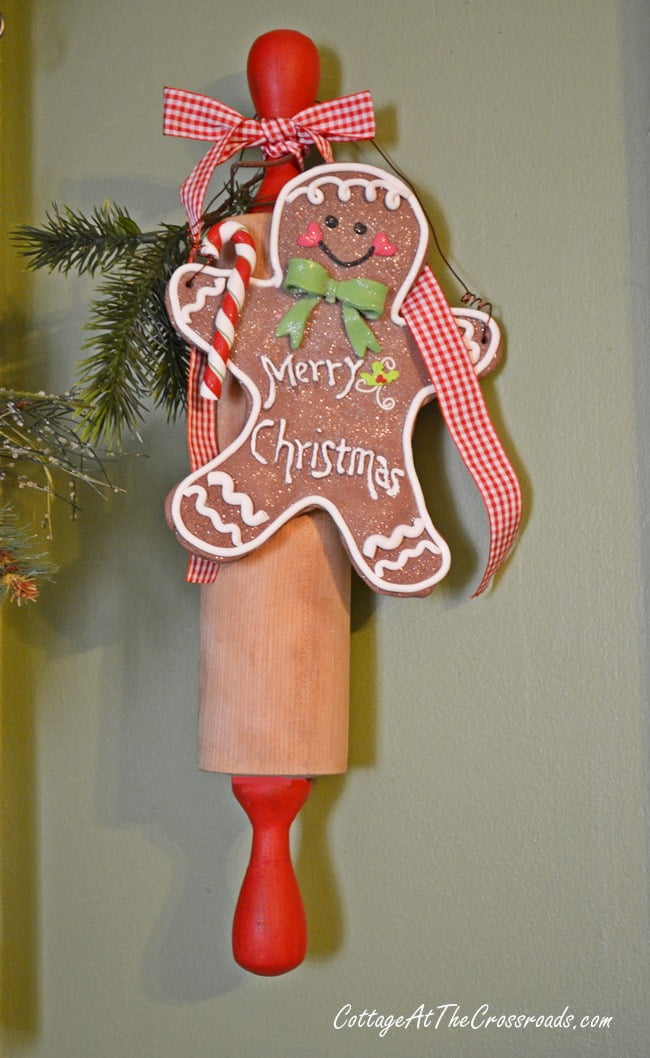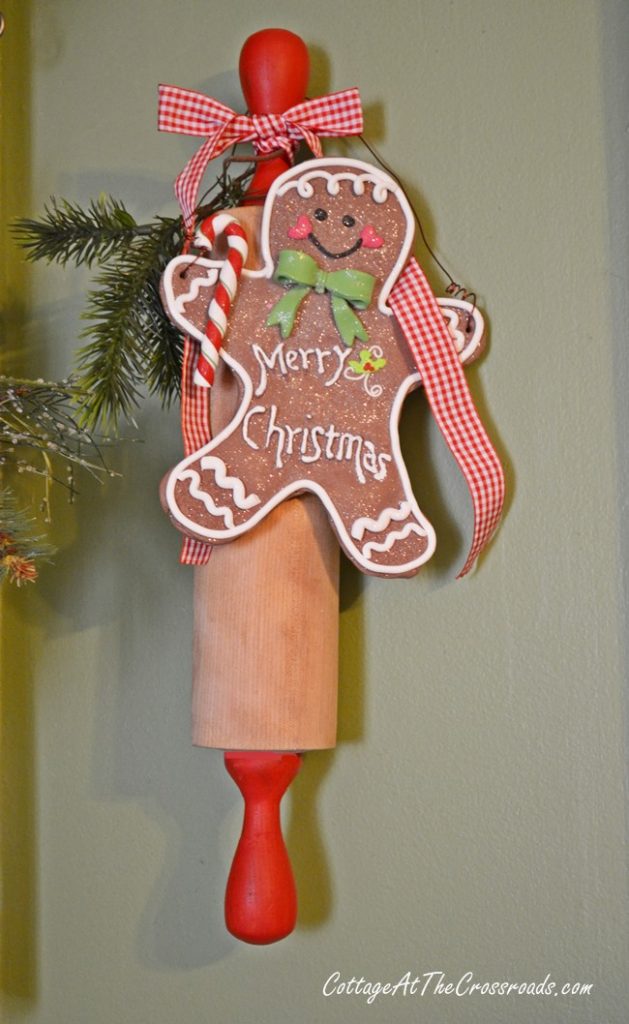 A cookie decorated rolling pin!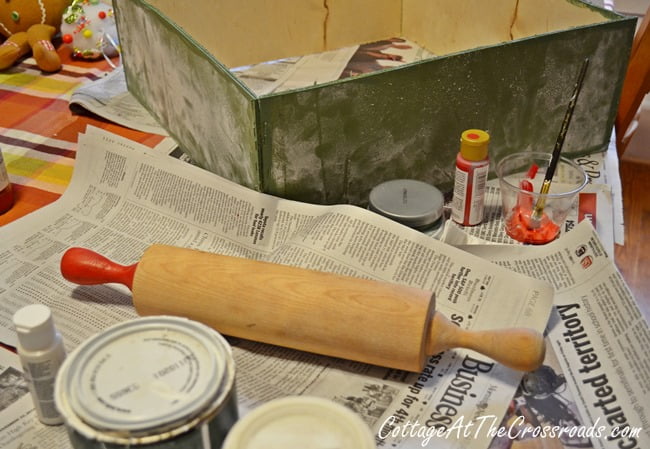 I found the old rolling pin at the auction, cleaned it up, and painted the handles red!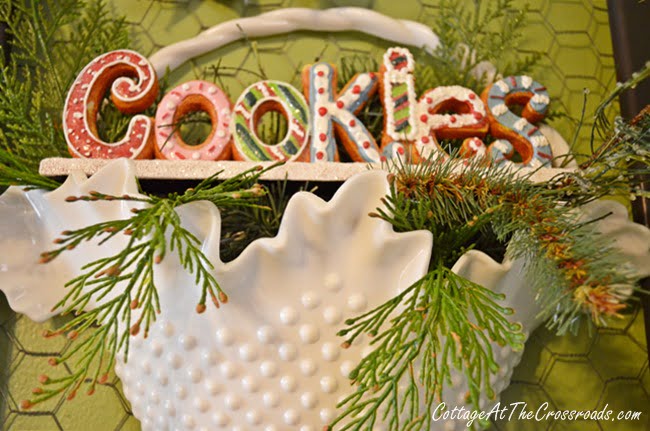 The white wall pocket is another auction find. It looks like milk glass but it's actually plastic.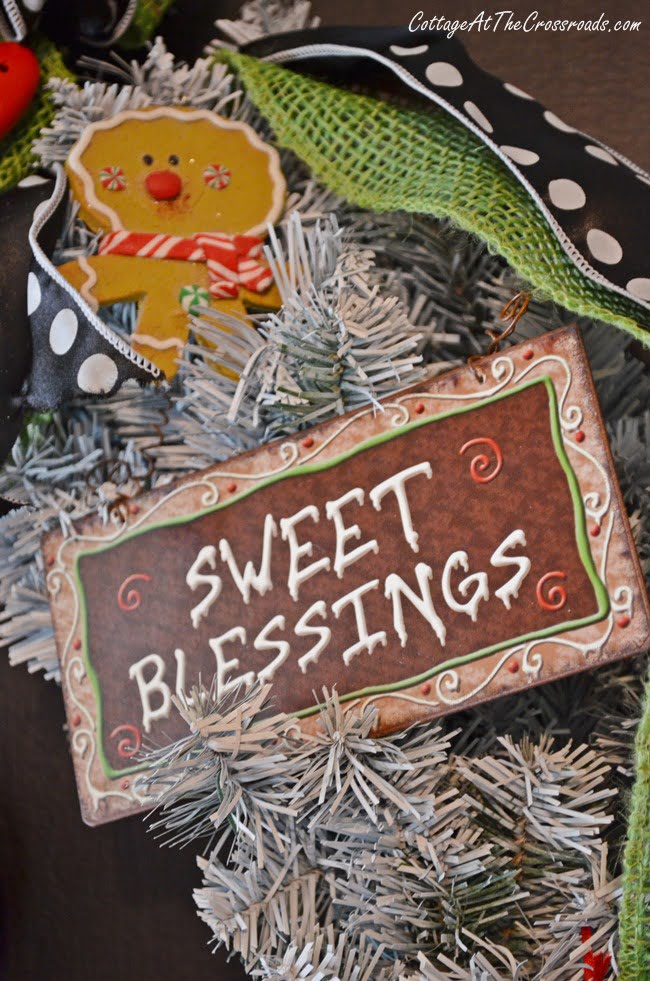 I'll be back soon with more Christmas decorations, but in the meantime, I'm wishing you sweet blessings during this holiday season!