Mushrooms, celebrated for their robust, distinct, and earthy flavor and substantial texture, are a cherished ingredient in various global cuisines. Their flexibility is as impressive as their taste, enabling them to shine in a broad spectrum of dishes, from simple sautés to sophisticated gnocchi dishes and comforting stews to zesty tacos.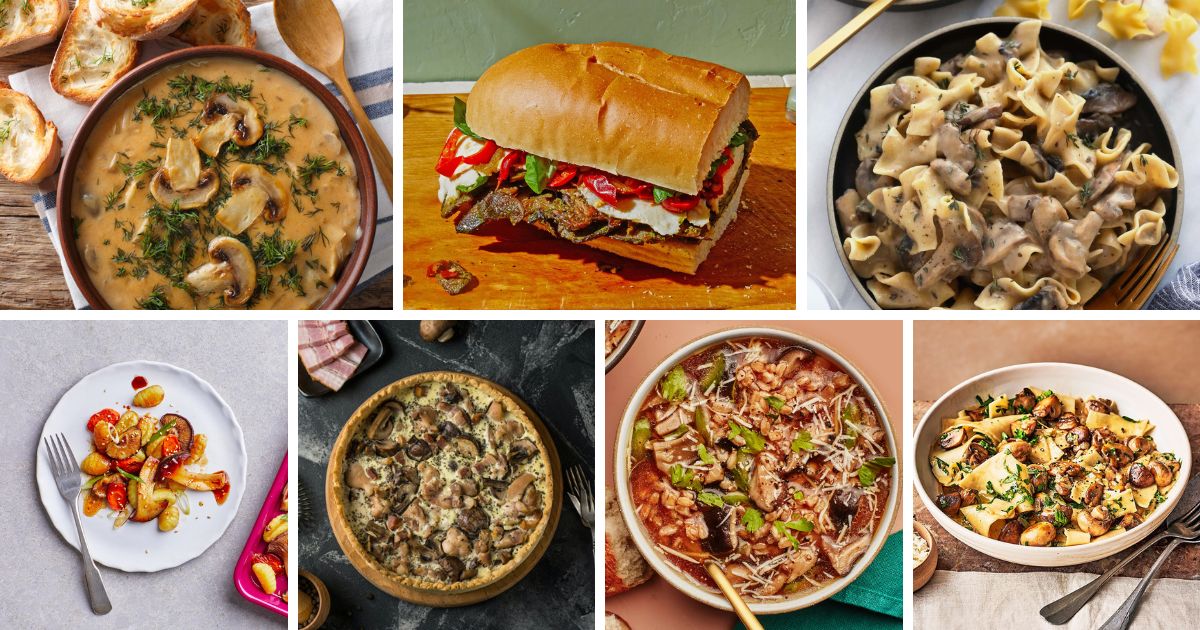 However, the magic of mushrooms goes beyond their taste. Packed with vitamins, minerals, and antioxidants, they contribute to a well-balanced diet while adding a delectable depth of flavor to any dish.
This collection of 40 frozen mushroom recipes showcases the delightful versatility of this ingredient. Whether you're a vegetarian looking for hearty meat substitutes, a foodie exploring exotic tastes, or a home cook in need of a quick and tasty meal, you'll find something to love in these recipes.
Contents
This delightful appetizer turns simple frozen mushrooms into a gourmet treat. With a crispy exterior and tender inside, they're perfect for a snack or side dish.
Warm yourself with this creamy wild mushroom soup. Packed with umami flavor, it's the perfect comfort food on a cold day.
This dish is a mushroom lover's delight. A medley of mushrooms, flavored with herbs, creates a simple yet satisfying side dish that pairs well with nearly any main course.
This recipe transforms ordinary mushrooms into a crispy, flavorful treat. Serve it at your next gathering and watch it disappear!
This side dish offers a perfect blend of crunch and savoriness. It's an ideal accompaniment to any meal and a great way to include greens in your diet.
This enticing recipe combines pillowy gnocchi with earthy mushrooms for a hearty meal. Topped with blue cheese, it's a feast for the senses.
This veggie and cheese-packed lasagna is bound to impress. The incorporation of mushrooms and spinach lends an appealing depth to its palate.
A stunning centerpiece for any holiday meal, this turkey wellington has a delicious mushroom and port filling. It's a flavor-packed recipe sure to impress guests.
This stir-fry dish features tender beef, fresh snow peas, and savory mushrooms. Perfect for a quick weeknight dinner, it's a delightful blend of flavors.
This vegetarian take on the classic stroganoff swaps beef for a variety of mushrooms. Enjoy its rich and creamy texture for a comforting dinner.
This classic French dish brims with a rich mix of chicken, bacon, mushrooms, and onions. It's a succulent stew perfect for a special weekend dinner or a festive occasion.
The essence of Italian cuisine, this recipe features a creamy mushroom sauce tossed with pasta. It's a heartwarming dish that will transport you to the streets of Rome.
This hearty stew, hailing from the Piedmont region of Italy, marries pork with a medley of vegetables and spices. It's an aromatic and comforting meal perfect for colder weather.
This unique pasta dish combines wild mushrooms, chestnuts, and rosemary. It's an earthy and satisfying meal that brings the flavors of the forest to your dining table.
Ignite your day with this filling breakfast strata, brimming with sausage, mushrooms, tomatoes, and cheese. It's a splendidly rich way to greet the morning.
This pasta entrée stars a lush mushroom sauce, spinach, and a subtle zing from the chili flakes. It's a speedy and straightforward dish ideal for a bustling weekday.
These savory egg muffins, packed with spinach and mushrooms, make for a perfect on-the-go breakfast or brunch dish. We recommend consuming them warm for a nutritious, comforting start to your day.
This creamy mushroom sauce is a versatile accompaniment that elevates any dish. Drizzle it over steak or toss with pasta for a flavorful meal.
This breakfast dish showcases shaved Brussels sprouts, mushrooms, and sausage in a delightful frittata. It's a wonderful brunch option that's both satisfying and nutritious.
This dish presents a well-rounded meal, with chicken served alongside a creamy mushroom purée and Swiss chard. It's a nutritious and flavorful option for any day of the week.
You can upgrade your pork tenderloin by slicing it into medallions and searing them to perfection. Combine with earthy sliced mushrooms, sweet marsala wine, and a homemade chicken stock to create a rich, mouthwatering sauce that perfectly complements the pork.
Imagine a warming winter dish with a delightful curry flavor. This Japanese curry integrates a variety of mushrooms with winter squash and a mix of rich spices for a robust, flavorful meal served over short-grain rice.
Design a delightful yet filling dish with tofu and an array of veggies including mushrooms, zucchini, and carrots. The dressing, a fusion of soy sauce, honey, and vinegar, accomplishes a perfect balance of flavors, and a dusting of sesame seeds offers a final touch of texture.
This hot pot broth is a real treat. It features an assortment of mushrooms and vegetables in a savory Shaoxing wine and soy-based broth, with additional nourishing Chinese medicinal herbs such as dried jujubes and dang GUI.
This entrée boasts all the elements to win over your family - succulent chicken, robust mushrooms, and a smooth, cheesy sauce. However, it's the sun-dried tomatoes, spinach, and basil that impart it a distinctive Tuscan flair.
Marinated mushrooms are the star of this recipe, but Greek yogurt, fresh lime juice, and spices form a tangy marinade that deeply flavors the mushrooms. Serve it on fresh flatbread for a delightful meal.
Nothing screams comfort like a hearty stew, and this one is packed full of nutrient-rich ingredients. Tender stewing beef, mushrooms, sweet potatoes, and kale simmer together in a rich tomato broth, making this a must-have dish for the colder months.
In this dish, the mushrooms are crisped to perfection, paired with creamy cannellini beans and fresh, wilted kale. Feta cheese and toasted sesame seeds add final touches of flavors and textures.
A twist on the traditional side dish, these stuffing muffins are a mix of rustic bread, mushrooms, celery, onion, apple, and a blend of savory seasonings. They're perfect for Thanksgiving or any family gathering.
Bursting with crisp mushrooms and molten cheddar cheese, these quesadillas are a taste sensation. The medley of coriander, cumin, fennel, and smoked paprika brings an unexpected twist of flavor to the plate.
This velvety mushroom bisque is a classic. The assorted mushrooms bring a deep umami flavor, which is perfectly complemented by the savory chicken or vegetable broth and the rich cream.
This recipe is a delightful fusion of flavors, combining earthy mushrooms, sweet coconut, and spicy ginger in a noodle dish that's packed with flavor. The black vinegar and soy sauce give it a deep, savory tang that's truly mouthwatering.
Simple yet decadent, this mushroom pasta is an ideal weeknight dinner. The mixture of different mushrooms combined with heavy cream creates a rich and earthy sauce, while the fresh parsley and Parmesan add a burst of flavor.
This hearty, comforting soup combines mixed mushrooms and semi-pearled farro in a savory broth. It's topped with thinly sliced celery and a dash of fresh lemon juice for a bright, tangy finish.
This pie brings together a mix of button and wild mushrooms in a creamy sauce, encased in a flaky puff pastry. The addition of leeks and thyme adds depth to the earthy flavor of the mushrooms.
This sandwich is a true celebration of mushrooms. Large mushrooms are smashed and sauteed until crispy, then layered with fresh mozzarella, pickled cherry peppers, and pesto on a toasted demi-baguette.
This simple yet flavorful rice dish is enhanced with a variety of mushrooms, fragrant garlic, and onions. The chicken broth makes the rice savory and hearty, while the optional Parmesan adds a nice touch of creaminess.
This recipe combines pillowy gnocchi and an assortment of mixed mushrooms for a hearty, comforting meal. The soy dressing lends a robust umami flavor that brings this simple dish to life.
The Vegan Mushroom Stew showcases an array of mushrooms in a thick, aromatic stew. Enjoy it with crusty bread on a chilly evening for a cozy, warming meal packed with hearty flavors.
Your taste buds are in for a treat with these Adobo Mushroom Tacos. The mushrooms' rich flavors are beautifully complemented by the spicy-sweet adobo seasoning, making for a truly satisfying vegan taco.