Having a pack of mixed vegetables in the freezer opens the door to a multitude of quick, tasty, and nourishing meals. Regardless of your taste – a comforting casserole, perfect stir-fry, or a robust soup – these 38 frozen mixed vegetable recipes will satiate any craving you might have.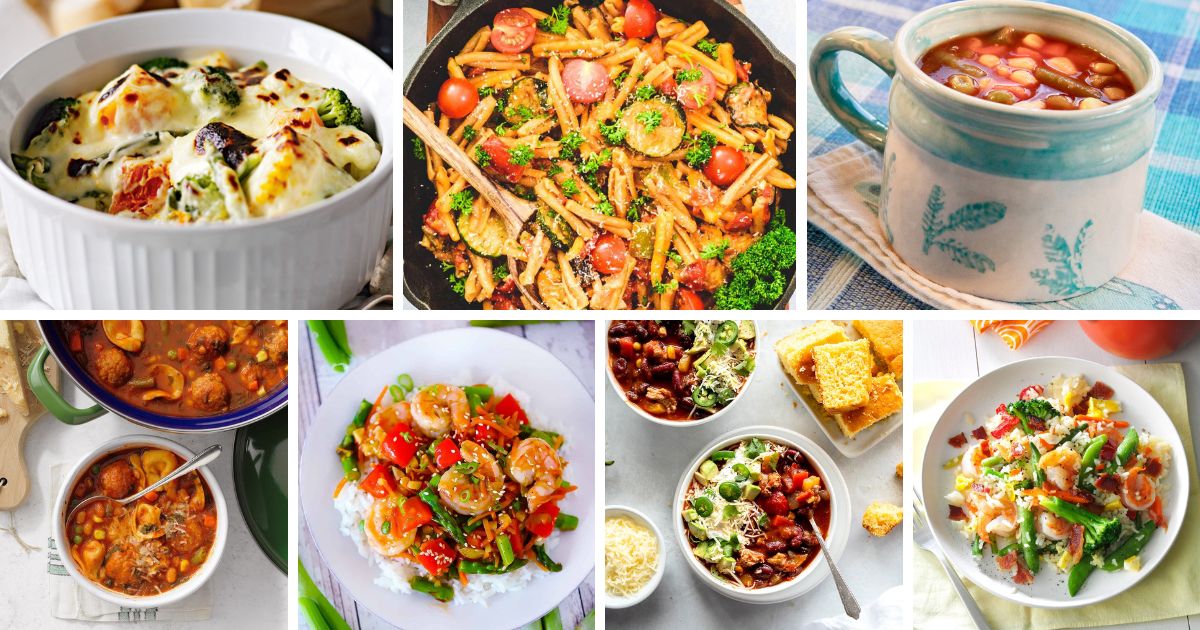 We've selected recipes that elevate frozen mixed vegetables from a humble side dish to a star ingredient in various cuisines. From a chicken lasagna, layered with colorful vegetables, to an easy yet aromatic vegetable curry, these meals are perfect for busy weeknights, casual brunches, or festive dinner parties.
With these recipes, you can transform a simple pack of frozen mixed vegetables into something extraordinary, providing wholesome meals that you and your family will absolutely love.
Contents
This dish features a hearty blend of chicken, mixed vegetables, and spinach, layered between lasagna noodles. It's the perfect comfort food, bringing warmth and satisfaction on a cold evening.
This recipe unites a variety of frozen vegetables under a blanket of smooth, rich cheese sauce. It's an ideal choice when you're craving something creamy and comforting yet packed with nutrients.
A fantastic way to combine convenience with flavor, this stir-fry utilizes frozen mixed vegetables and pantry staples. Consider pairing it with steamed rice or noodles for a quick, nutritious meal.
These vegetables, enveloped in cream of chicken soup and baked under a layer of cheddar cheese, make for a satisfying side or main dish. It's especially good when you need a hearty meal to share with loved ones.
For a meal that's rapid and satisfying, opt for this shrimp and vegetable fried rice. Accented with soy sauce, it's an immediate hit for weekday suppers or informal social gatherings.
This shepherd's pie is a comforting and rich dish that melds the flavors of ground round and mixed vegetables under a blanket of creamy potatoes. Savor it on a chilly day or whenever you need some hearty comfort food.
This recipe transforms beef stew meat and mixed vegetables into a warming, wholesome soup. It's the perfect dish to come home to after a long day, especially during the colder months.
This soup is a creamy, cozy treat, featuring mixed vegetables, cheddar cheese, and creamed corn. It's a fantastic option when you need something warm and comforting, yet full of nutritious veggies.
This lo mein packs a flavor punch with its mix of mixed vegetables, chicken, and vibrant sauce. It's a great way to satisfy your craving for takeout right at home.
Merging flavorful sausage, assorted vegetables, and cheddar cheese, this recipe offers a straightforward yet gratifying meal. It's ideal for a swift weeknight dinner that the entire family will appreciate.
This savory shepherd's pie pairs ground beef and mixed vegetables with creamy mashed potatoes. Enjoy this on a relaxed weekend or as a warming meal on a chilly day.
Cheese and vegetables combine in this simple, comforting pasta dish. Consider making this noodle dish when you want a meal that's easy to make but full of flavor.
This version of the classic Italian minestrone is hearty and full of vegetables, making it a nutritious and satisfying meal. It's especially good when you need a bowl of comfort food.
This slow cooker soup, loaded with beef and mixed vegetables, is a comforting meal that's easy to prepare. Enjoy it when you want a hearty dish that practically cooks itself.
This recipe orchestrates a culinary harmony between mixed vegetables, chicken, and dumplings in a velvety soup that's both soothing and delightful. It's the go-to option when you're in pursuit of a fast yet satisfying repast.
This mixed vegetable curry, packed with diverse veggies and fragrant spices, offers an intriguing way to add some zest to your weeknight dinners. Pair it with steamed rice or naan for a flavor-packed banquet.
This casserole amalgamates shredded chicken, assorted vegetables, and stuffing into a rich, comforting dish. It's perfect for a family dinner or a casual meet-up with friends.
This one-pot, vegetable and rice meal is simple, cheesy, and a surefire winner. We love recommending one-pot recipes for people seeking a meal that's effortless yet fulfilling and appetizing.
This pasta recipe, teeming with broccoli, peas, and fresh lemon, offers a fresh and nutritious alternative. Consider this when you're desiring a lighter meal that doesn't compromise on taste.
This wholesome soup features a base of tomato juice, enriched with a colorful medley of mixed vegetables. Lightly seasoned with dried oregano, it's a simple, warming dish ideal for a cool evening or a comforting lunch.
This dish features a medley of Mediterranean vegetables, whole wheat pasta, and a touch of chili. The integration of cherry tomatoes and cheddar cheese lends a delightful balance of flavors, perfect for a wholesome supper.
Brimming with chopped carrots, mixed vegetables, and homemade meatballs, this soup provides a hearty and satisfying meal. The addition of alphabet pasta adds a fun touch, making this soup an appealing option for children.
In this preparation, minced meat is combined with a unique blend of sloppy joe sauce and chili, topped with crispy hash browns and shredded cheddar cheese. This indulgent, substantial meal is perfect for a weekend brunch.
This slow-cooked vegetable soup is a fuss-free and substantial meal. Loaded with mixed vegetables, Lima beans, corn, and carrots, it can be served standalone or with ground beef for added protein.
Prepared in a skillet, this pot pie is loaded with shredded chicken, hash browns, and vegetables, all topped with a golden-brown pastry crust, ideal for a comforting family dinner.
This goulash features ground beef, elbow noodles, and a variety of fresh vegetables. The tomato sauce coupled with a whisper of brown sugar infuses it with a rich, sweet nuance, making it a top-notch selection for a fulfilling dinner.
This flavorsome dish merges shredded rotisserie chicken and a colorful medley of stir-fry vegetables. Served with a tangy chili-garlic sauce over steamed rice, it's a delectable meal for any day of the week.
This soup offers a hearty concoction of lean stew meat, frozen vegetables, and ditalini pasta, simmered in a savory broth. Served with a dollop of basil pesto, it's a warming, wholesome meal in the chillier winter evenings.
This dish combines a vibrant array of vegetables and shrimp stir-fried in a savory-sweet sauce. Serve it over cooked rice or noodles for a quick, nutritious, and fulfilling family meal.
This cornbread bake, an exquisite medley of Tex-Mex tastes, melds ground turkey, green chiles, and a layer of cornbread. Adorned with fresh cilantro, it's a creamy and pleasing plate that's ideal for a substantial lunch or dinner.
This dish takes thawed, frozen veggies and incorporates it with creamy mushroom or chicken soup, mayonnaise, and a mixture of spices, covered in a crust of melted cheddar and crunchy crackers. It pairs wonderfully with a simple roast chicken or turkey.
This dish is a graceful interplay of creamy sauce, ham, peas, mushrooms, and carrots, topped off with a golden pie crust. Consider this plate when you're brainstorming ways to repurpose remaining ham.
This jambalaya integrates a frozen vegetable mix, diced tomatoes, and an assortment of spices. If you're yearning for a robust meal with a hint of Southern flair, this dish will certainly please your palate.
This dish is an orchestration of tastes brought together by chicken, beef brisket, corn, and lima beans, slowly simmered with tomatoes, chili sauce, and an array of seasonings. It's the perfect meal for those chilly winter nights when you yearn for warmth and heartiness.
This chili assembles a sturdy blend of ground beef, assorted vegetables, chopped tomatoes, white beans, and salsa, all attentively slow-cooked. It's the ideal pick-me-up meal for those dynamic days when a prepped and substantial supper is essential.
This recipe integrates ground turkey, vegetables, beans, and beer in a slow cooker to produce a rich and robust chili. You can dress it with cheese, onions, and jalapeños to meet your preference.
This colorful macaroni salad is a medley of finely diced vegetables, mixed with pasta and a creamy vegan mayonnaise dressing, perfect for a summer potluck or picnic.
This spicy fusion of ground beef, pinto beans, green beans, corn, tomatoes, with a hint of beer, mirrors the robust flavors of a hearty taco. It's superb when topped off with corn chips and shredded cheese.